This Green Goddess Dip Recipe is a more sophisticated version of a typical veggie tray! Surrounded by a colorful crudité platter, you can have a beautiful spread in minutes for your next party.
Veggie Platters can be a busy host's best friend because they can be made in advance, and all you have to do is set it and forget it! Hosting a spring party? Try my Beet Hummus with Spring Vegetable Platter.

What is Green Goddess Dressing?
Green Goddess Dressing was invented in the San Francisco Palace Hotel in 1923. Chef Philip Roemer created the dressing to honor actor George Arliss, who was staying at the Palace Hotel while performing in the hit play "The Green Goddess".
It's a creamy dip that combines mayonnaise, sour cream, lemon juice, and garlic. It gets its beautiful green color from the variety of herbs blended into it.
It pairs beautifully with a crudite platter and is a wonderful appetizer idea for summer parties!
It tastes like a fresh summery salad dressing that is as beautiful as it is refreshing! All those herbs create a stunning green color!
I've seen bottled varieties of this dip at Trader Joe's, and while it's good for a weeknight salad, for a special occassion party dip, nothing beat homemade! And it's so easy to do!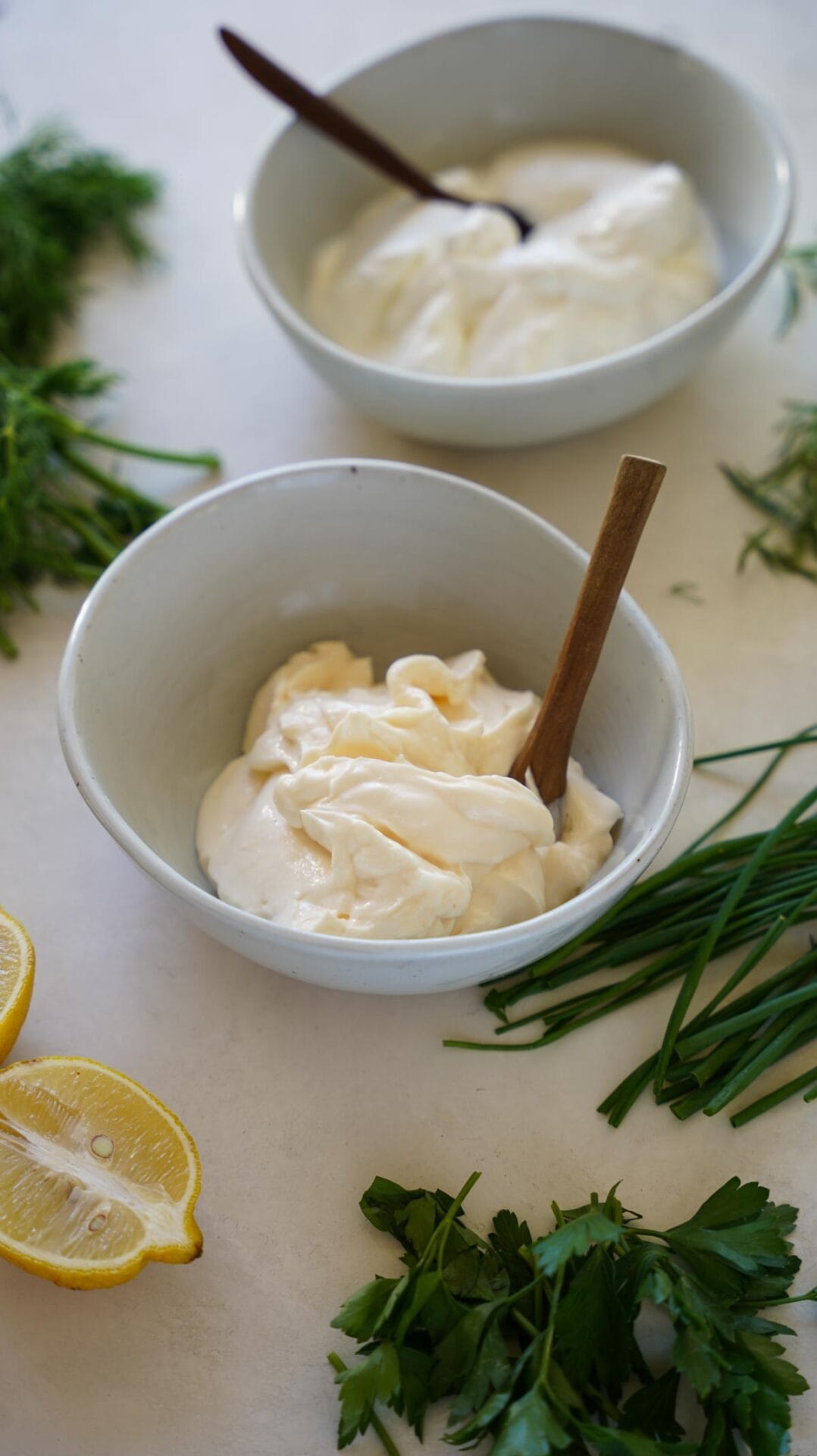 Ingredients:
Mayonnaise Gives the dip a smooth silky texture
Sour Cream Provides a nice tang to the dip. I like to use these ingredients in equal amounts, but feel free to add more of less of the other as desired.
Lemon Juice adds a nice brightness to the dip. Be sure to use a fresh lemon, not anything bottled. You'll get the best flavor that way.
Garlic Adds a lovely deth of flavor. I use 2 whole cloves, but feel free to pull it back to one if you prefer.
Dill Green Goddess dip can vary in what herbs are in it, but for me dill is a must-have for that light fresh flavor it provides.
Tarragon will give you a slightly anise flavor which is also nice. If you can't find tarragon you can replace with fresh basil.
Parsley is the boldest flavor of the herbs and will give you that pretty bright green color.
Chives adds a subtle onion flavor which is quite nice. If you grow your own chives it's nice to garnish the dip with a whole chive blossom if you have one.
Salt and pepper to taste will boost all the flavors. A crack or two of fresh pepper also looks nice as a garnish once the dip has been blended.
Step#1: Put everything in a blender
A lot of recipes for Green Goddess dip will call for using a food processor, but I find it's a lot easier, and less messy in a blender! Plus my blender is always on my counter top whereas I have to drag out my food processor, so there's that!
This is the easiest dip to make because everything gets put into a blender and you whirl it up!
I don't chop the herbs too much as the blender does much of the work for you.
Be sure to measure the quantities of the herbs after you've chopped them, you get a more accurate measurement that way.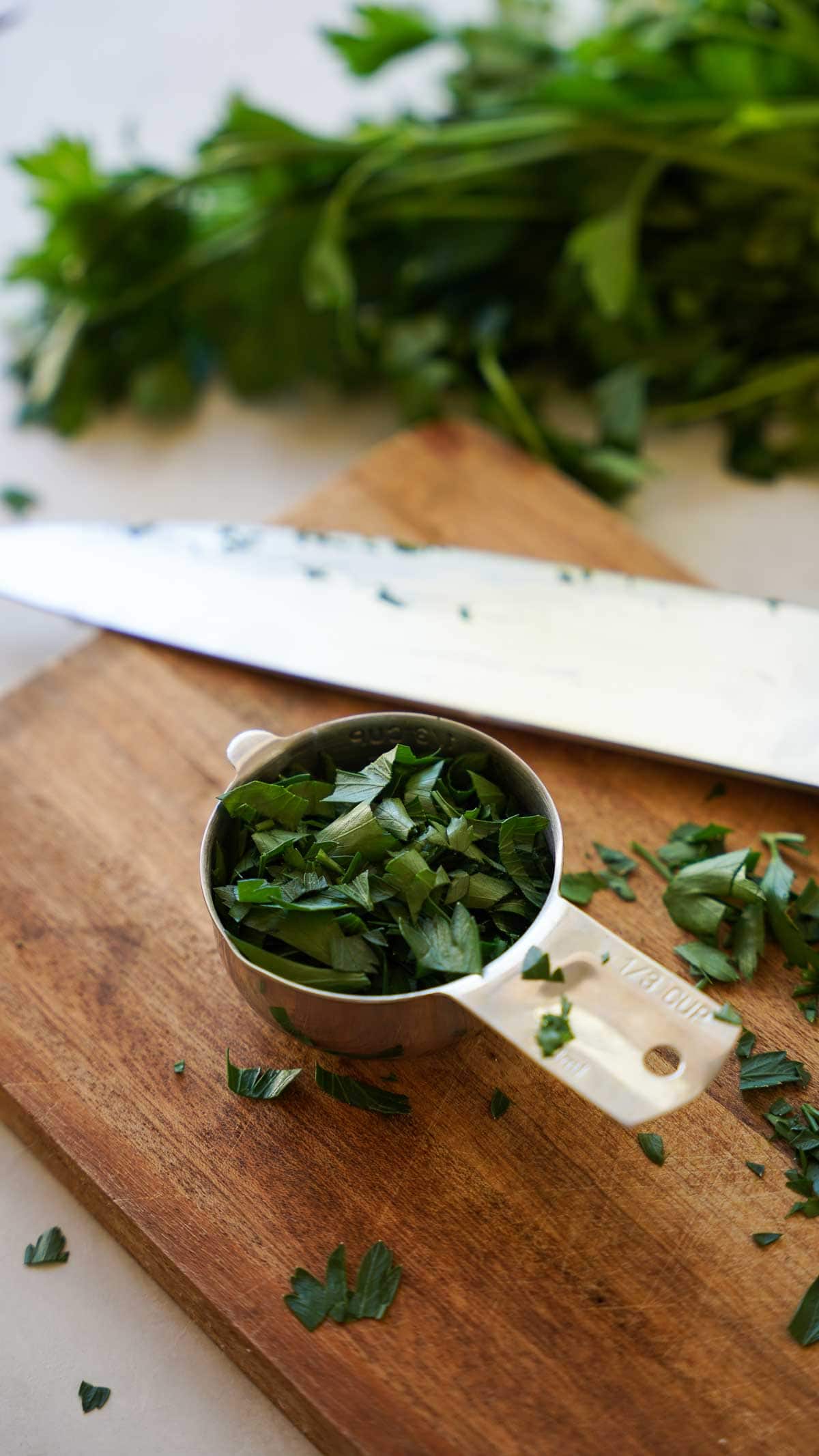 Do You Have to Use Anchovy Paste?
If you are sticking with tradition for this recipe, you'll also add Anchovy paste.
I usually skip this as most vegetarians gravitate towards the crudité platters because, well, it's veggies!
And if we add the Anchovy paste, we need to give fair warning to our vegetarian friends, so I always leave it out to be safe.
Step 2: Arrange the Crudité Platter
Green Goddess dip is best paired with a veggie platter of crudite platter if you are being fancy.
Crudité is pronounced cru-da-tay and is just a fancy French word for raw vegetables!
It's best to concentrate on a variety of colors and textures to create the best interest for your platter. And small bite-sized vegetables, or mini veggies work great too!
To prep ahead, arrange your veggie platter a few hours before serving.
Then wrap the veggies in a damp kitchen towel to keep them crisp and place them in the refrigerator until ready to serve.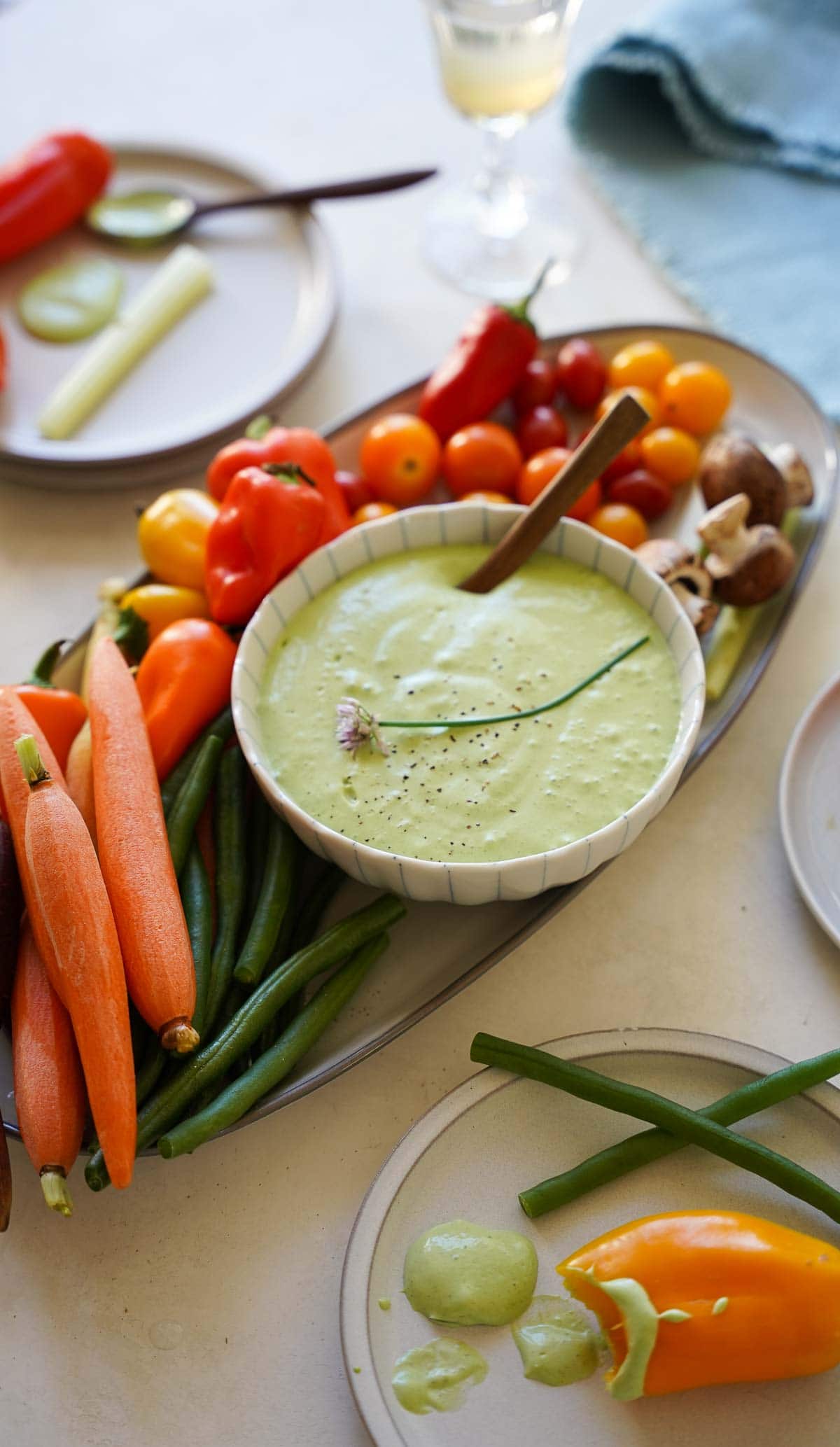 What Vegetables to Use for a Crudite Platter?
When choosing veggies for crudité platters, I like to focus on color texture, and size.
I pick carrots for color and length, radishes for that bite, and zucchini and broccoli for the summertime color and different shapes.
Endive leaves are also a great addition and give the arrangement a bit of interest.
I never thought cauliflower would add pizzazz to anything, but it really does look pretty against all of those bright colors!
Then, if I have room, I add a handful of cherry tomatoes.
After you are satisfied with the arrangement, add the dressing to a small ramekin-style bowl and place it in the center of the platter.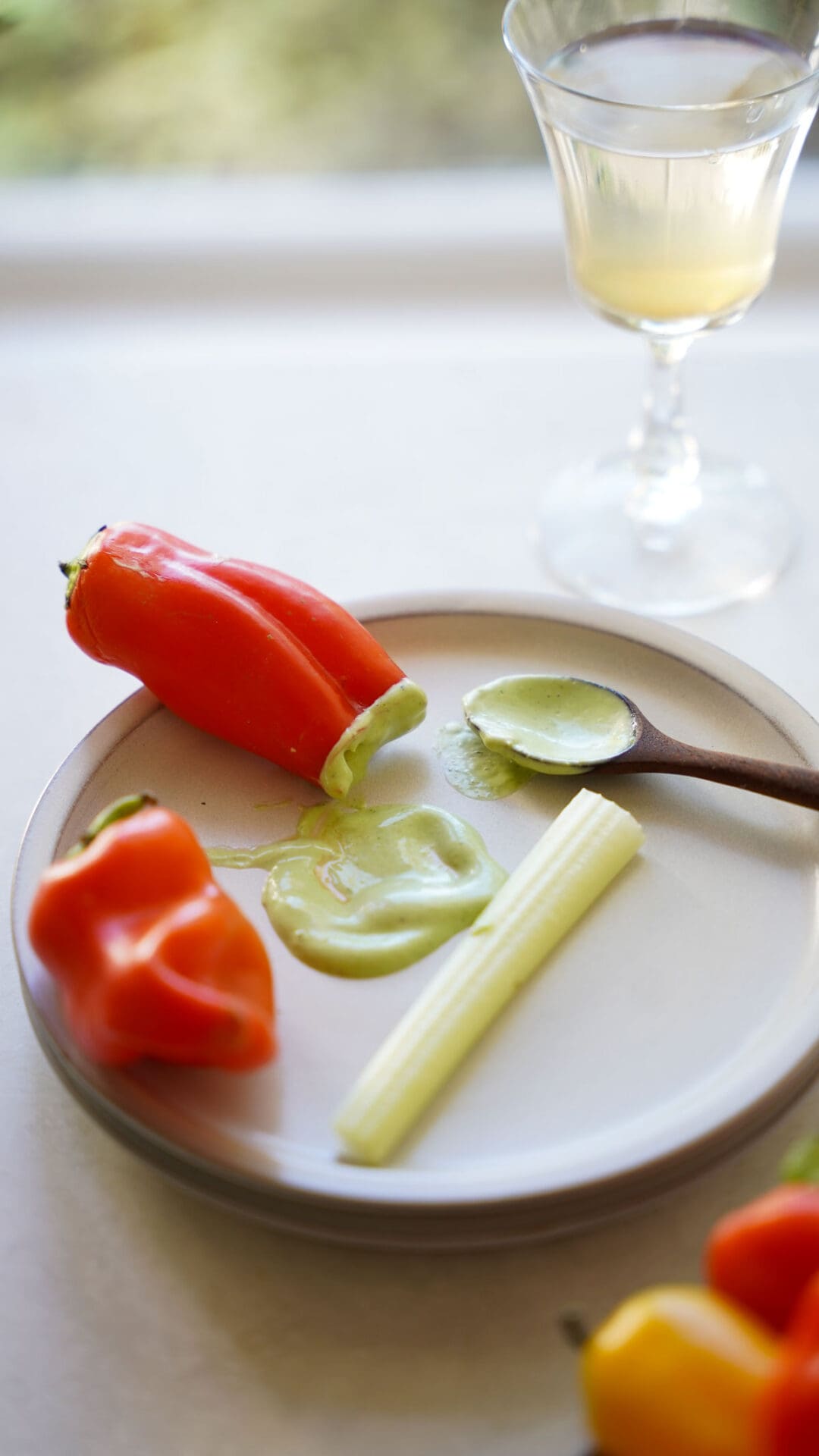 Serving Suggestions + Storage:
This dip is very flavorful, more than people think! So after they take their first bite, they will be tempted to double-dip.
You can avoid this awkward party "no no" but offering a spoon in your dip along with some appetizer plates.
That way guests will be encouraged to take some veggies, spoon a few dollops of dip, and then they can "double-dip" all they want!
You can store any leftover dip (assuming it wasn't sitting out for more than 2 hours) in the refrigerator, and use it for salads or for a BLT. I do this with my Parmesan Peppercorn Dressing and its fantastic!
If veggies are leftover, I just toss them in a container and use them for snacks in my kids' lunchboxes the next day.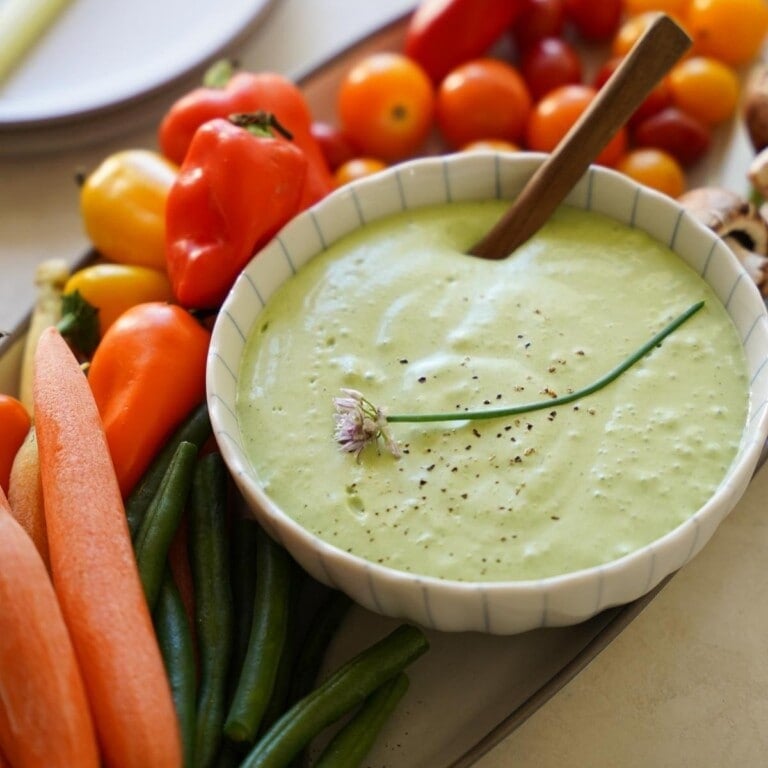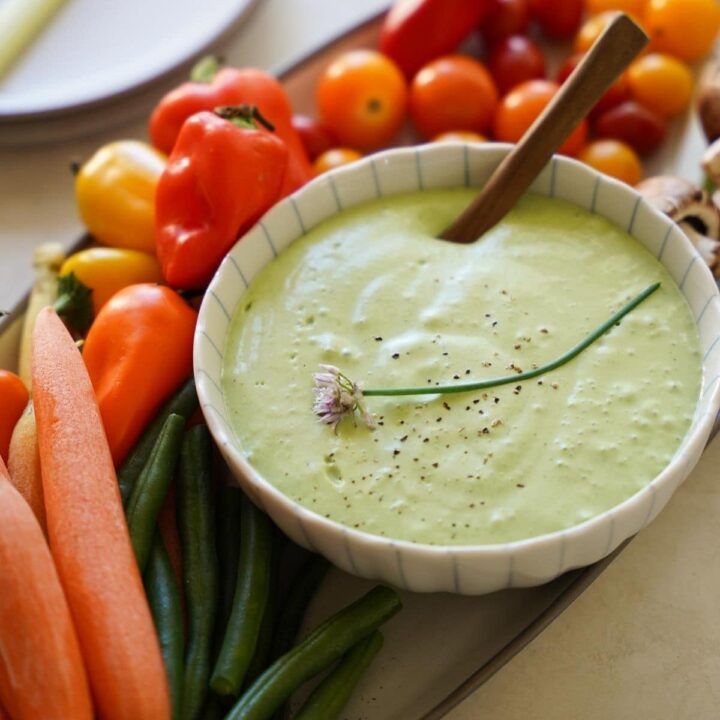 Green Goddess Dip with Crudite Platter
Green goddess dressing takes your vegetable platter up a notch from classic ranch.
Ingredients
1 cup (240 ml) Mayonnaise
1 cup (240 ml) Sour cream
¾ cup (180 ml) Parsley
¼ cup (60 ml) dill
¼ cup (60 ml) tarragon
¼ cup (60 ml) chives
1 tablespoon (15 ml) Lemon juice
2 cloves garlic
Salt and pepper
Instructions
Combine all ingredients in a blender and blend until smooth. Serve with your favorite veggies!
Red Peppers, Yellow Peppers, Cucumber Slices, Carrot Sticks, Cherry tomatoes, cauliflower, broccoli, zucchini and radishes. Mix up colors and textures for prettiest display!
Nutrition Information:
Yield:

6
Serving Size:

1
Amount Per Serving:
Calories:

40
Total Fat:

2g
Saturated Fat:

1g
Trans Fat:

0g
Unsaturated Fat:

1g
Cholesterol:

6mg
Sodium:

75mg
Carbohydrates:

6g
Fiber:

0g
Sugar:

5g
Protein:

0g