This Green Goddess Dressing Recipe is a more sophisticated version of a typical veggie tray! Surrounded by a colorful crudité platter, you can have a beautiful spread in minutes for your next summer party.
Veggie Platters can be a busy host's best friend because they can be made in advance, and all you have to do is set it and forget it! Hosting a spring party? Try my Beet Hummus with Spring Vegetable Platter.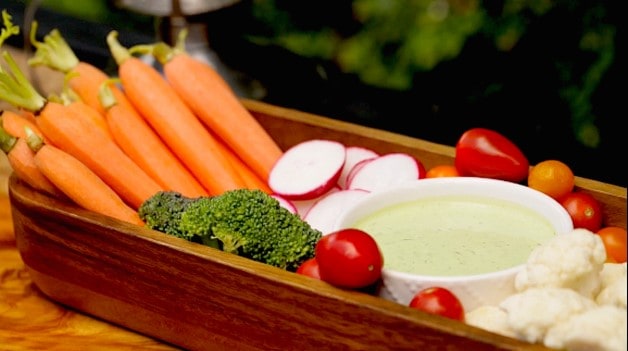 What is Green Goddess Dressing?
Green Goddess Dressing was invented in the San Francisco Palace Hotel in 1923. Chef Philip Roemer created the dressing to honor actor George Arliss, who was staying at the Palace Hotel while performing in the hit play "The Green Goddess".
It's a creamy dip that gets its color from the variety of herbs blended into it.
Watch My Video Demo of This Recipe Below!
Subscribe to My YouTube Channel and Never Miss a Video!
Also featured in this video is my recipe for Sweet and Salty Rosemary Cashews and my Brie and Pear Quesadillas. Both of these recipes are perfect for summer entertaining!
Step 1: Make the Green Goddess Dressing
In a blender, add mayo and sour cream. I find that using a smaller, smoothie-sized blender works much better than a full-sized blender. It's just so much easier to work with.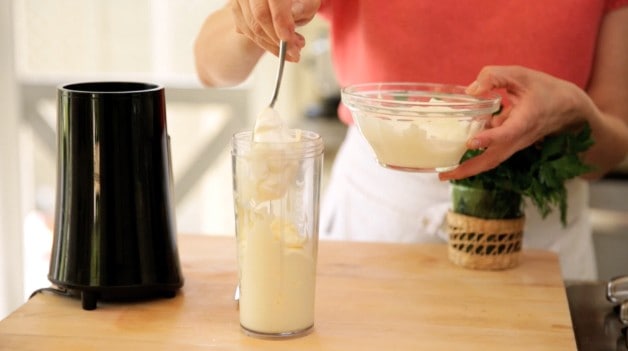 Then, add fresh Parsley and Dill or Tarragon to the blender. I don't chop the Parsley too much as the blender does much of the work for you.
Traditionally, Tarragon is used for this dressing but is also harder to find than Dill. So if your supermarket doesn't carry Tarragon, Dill will do just fine.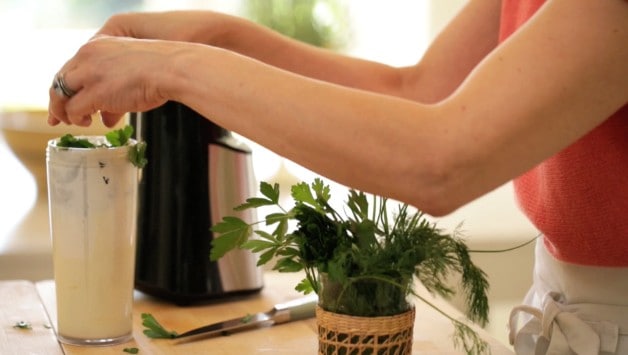 Add fresh chives, lemon juice, garlic, and water.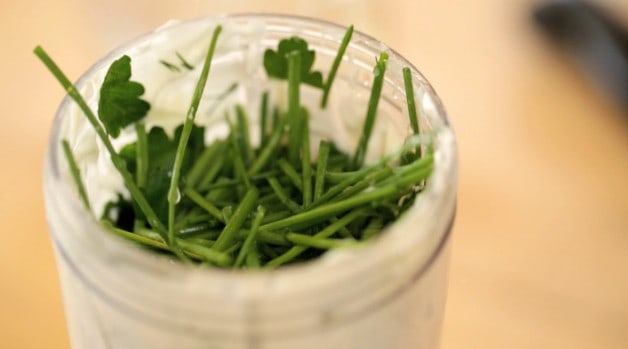 If you are sticking with tradition for this recipe, now is the time to add Anchovy paste. I usually skip this as most vegetarians gravitate towards the crudité platters because, well, it's veggies! And if we add the Anchovy paste, we need to give fair warning to our vegetarian friends, so I always leave it out to be safe.
Now, add salt and pepper and blend until smooth!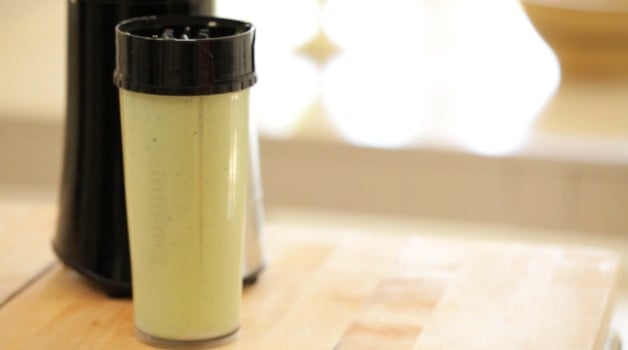 And that's all there is to the Green Goddess Dressing!
Step 2: Arrange the Crudité Platter
Crudités is pronounced cru-da-tay and is just a fancy French word for raw vegetables! Simply, crudités are a French appetizer of sliced or whole vegetables served with a vinaigrette or dipping sauce.
Can you prepare crudités in advance?
Yes! But, wrap your veggies in a damp kitchen towel to keep them crisp.
When choosing veggies for crudité platters, I like to focus on color texture, and size. I pick carrots for color and length, radishes for that bite, and zucchini and broccoli for the summertime color and different shapes. Endive leaves are also a great addition and give the arrangement a bit of interest.


I never thought cauliflower would add pizzaz to anything, but it really does look pretty against all of those bright colors! Then, if I have room, I add a handful of cherry tomatoes.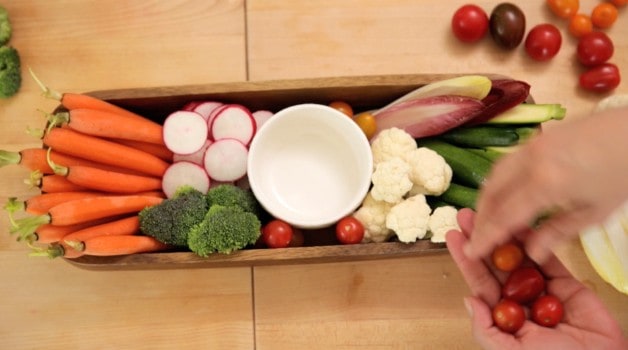 After you are satisfied with the arrangement, add the dressing to a small ramekin-style bowl and place it in the center of the platter.
If veggies are leftover, I just toss them in a container and use them for snacks in my kids' lunchboxes the next day. It doesn't get much easier than that!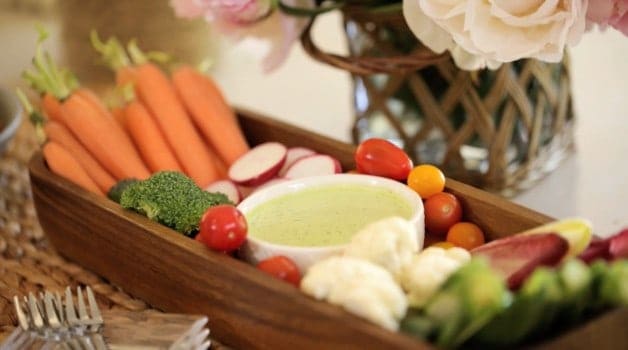 If you are sticking to lighter appetizers for your next party, make my Cold Italian Tortellini Salad for another quick and easy meal!
If You Enjoyed This Recipe
Please leave a Rating and a Review Below!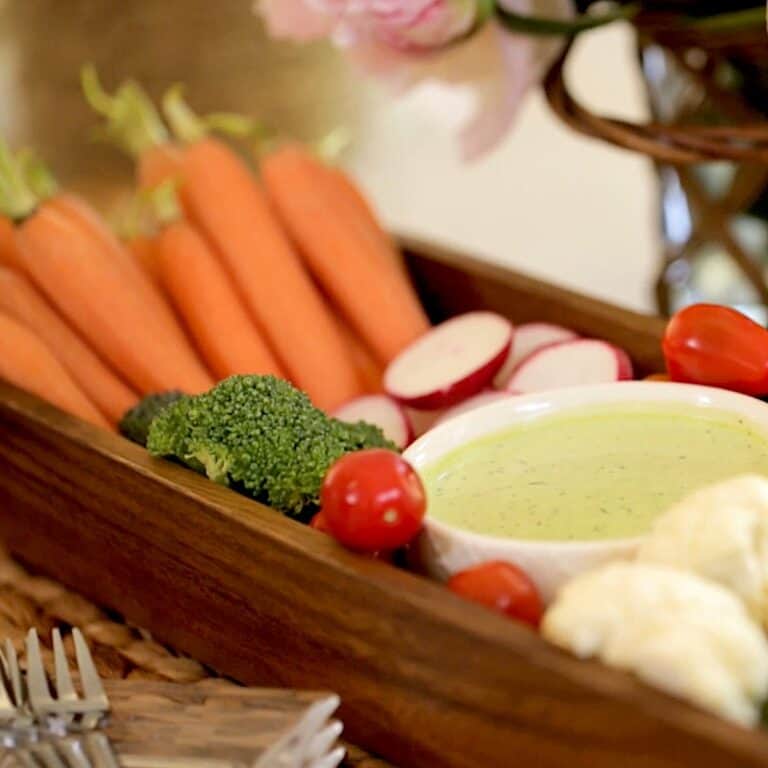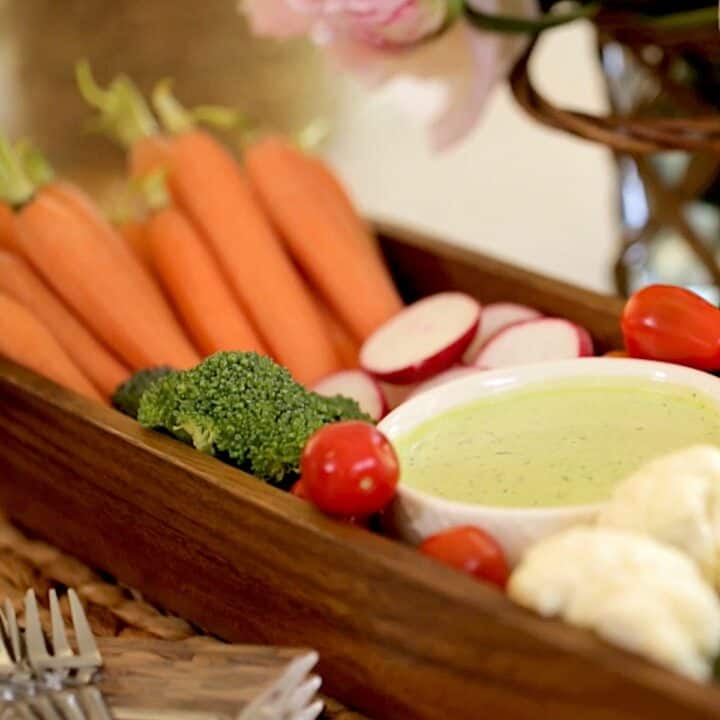 Crudité Platter with Green Goddess Dip
Green goddess dressing takes your vegetable platter up a notch from classic ranch.
Ingredients
1 cup (240 ml) Mayonnaise
1 cup (240 ml) Sour cream
¾ cup (180 ml) Parsley
¼ cup (60 ml) dill or tarragon
¼ cup (60 ml) chives
1 tbsp (15 ml) Lemon juice
2 cloves garlic
Salt and pepper
Instructions
Combine all ingredients in a blender and blend until smooth. Serve with your favorite veggies!
Red Peppers, Yellow Peppers, Cucumber Slices, Carrot Sticks, Cherry tomatoes, cauliflower, broccoli, zucchini and radishes. Mix up colors and textures for prettiest display!
Nutrition Information:
Yield:

6
Serving Size:

1
Amount Per Serving:
Calories:

40
Total Fat:

2g
Saturated Fat:

1g
Trans Fat:

0g
Unsaturated Fat:

1g
Cholesterol:

6mg
Sodium:

75mg
Carbohydrates:

6g
Fiber:

0g
Sugar:

5g
Protein:

0g