Fresh Green Bean Casserole
This Fresh Green Bean Casserole is an updated take on the Green Bean Casserole of my youth, one slathered in Cream of Mushroom Soup, and canned green beans.
We can do better! This version takes fresh green beans and covers them with a homemade creamy mushroom sauce (with three types of mushrooms!) and then gets topped with the classic crispy fried onions.
It's a Thanksgiving side dish recipe that can be made in advance the day before and all you have to do is top with the onions and bake while your turkey rests!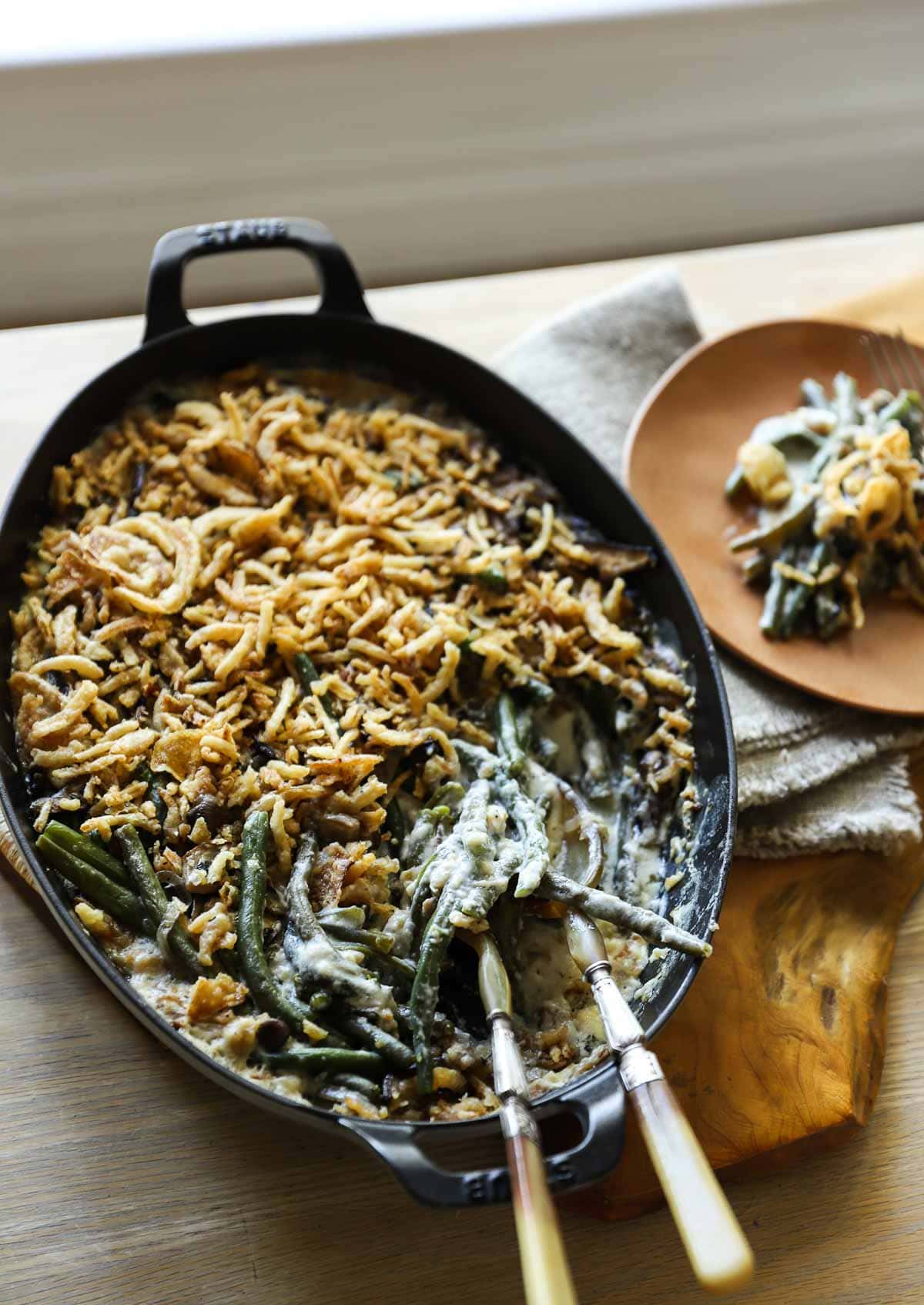 The Origins of Green Bean Casserole
Green bean casserole was invented by The Campbell's Soup Company in the mid-1950s. It was an easy way to create a make-ahead-side dish by combining frozen green beans with their cream of mushroom soup. In fact, each year Campbell's credits this retro recipe with selling over 40% of their Cream of Mushroom soup each year!
Subscribe for weekly recipes
and new videos!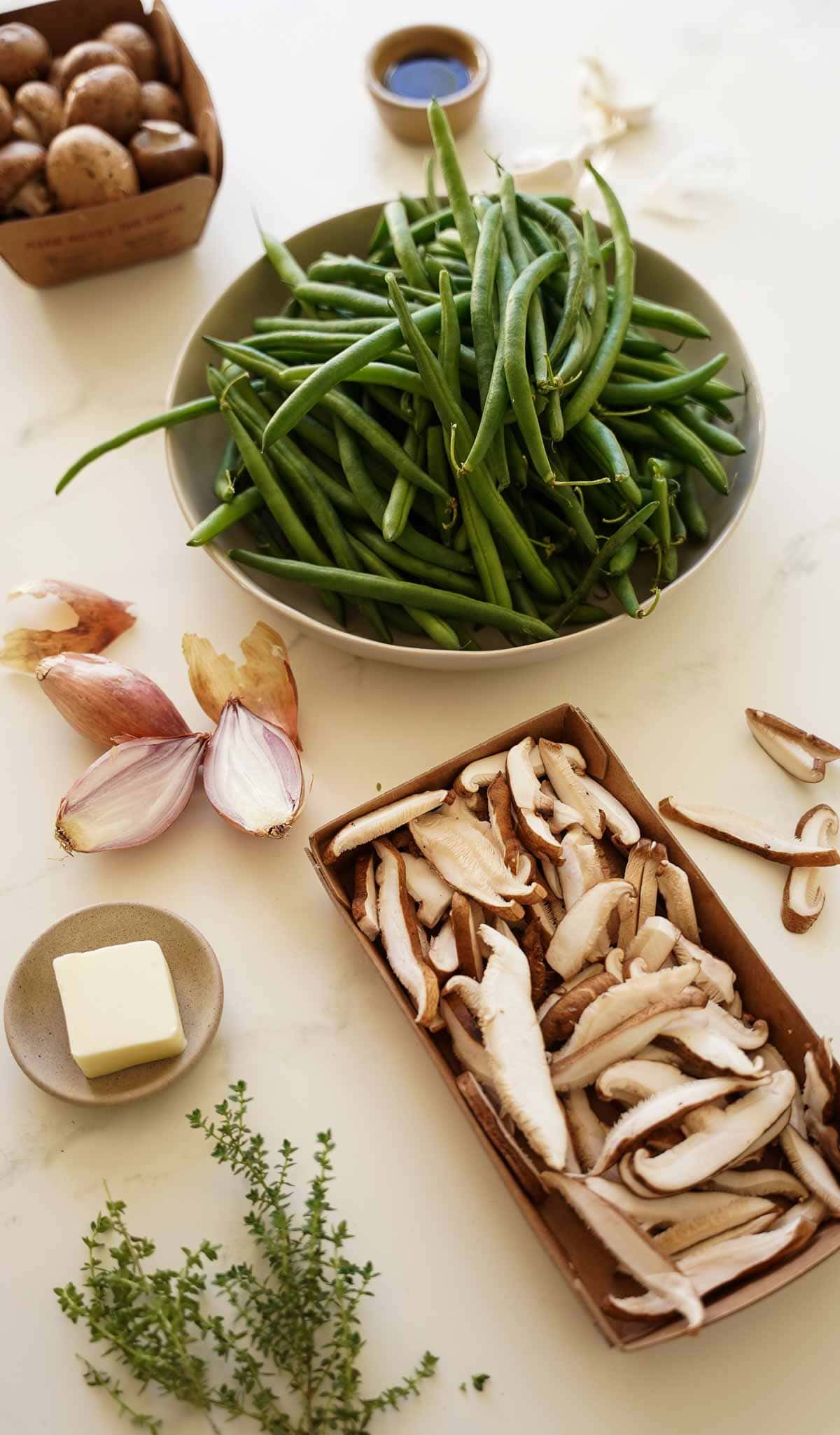 Ingredients:
Fresh Green Beans Personally, I think fresh green beans are best for this casserole. The frozen or canned green beans get too mushy for my taste. In fact, that is what turned me off from this dish as a kid!
Mushrooms I like to use a lot of mushrooms in this dish because they make the casserole much more interesting. I use a combination of cremini, shiitake, and portobello mushrooms for the best flavor and texture.
Worcestershire Sauce is a great flavor mate with mushrooms. It gives them a nice savory, earthy flavor and will prevent your casserole from being bland.
Fresh Thyme If you don't have fresh you can also use dried thyme.
Butter + Flour to make a roux which will become the basis of our creamy bechamel sauce.
Milk I know some people use chicken broth, but I like to keep this dish vegetarian in order to offer a few vegetarian dishes on my Thanksgiving buffet.
Garlic flavors the cream sauce with a nice depth of flavor.
Parmesan Cheese is a great finish to the sauce, making it more flavorful and velvety.
Fried Onions I do use the French's Crisp Fried Onions, and use the whole 6 ounces. Some classics never go out of style.
Bacon (optional) Bacon is also a popular addition to the dish, I don't use it to keep the dish vegetarian but if you want to add it cook it until crispy then crumble it into bite-sized pieces and add it to the cooked mushrooms in the casserole dish.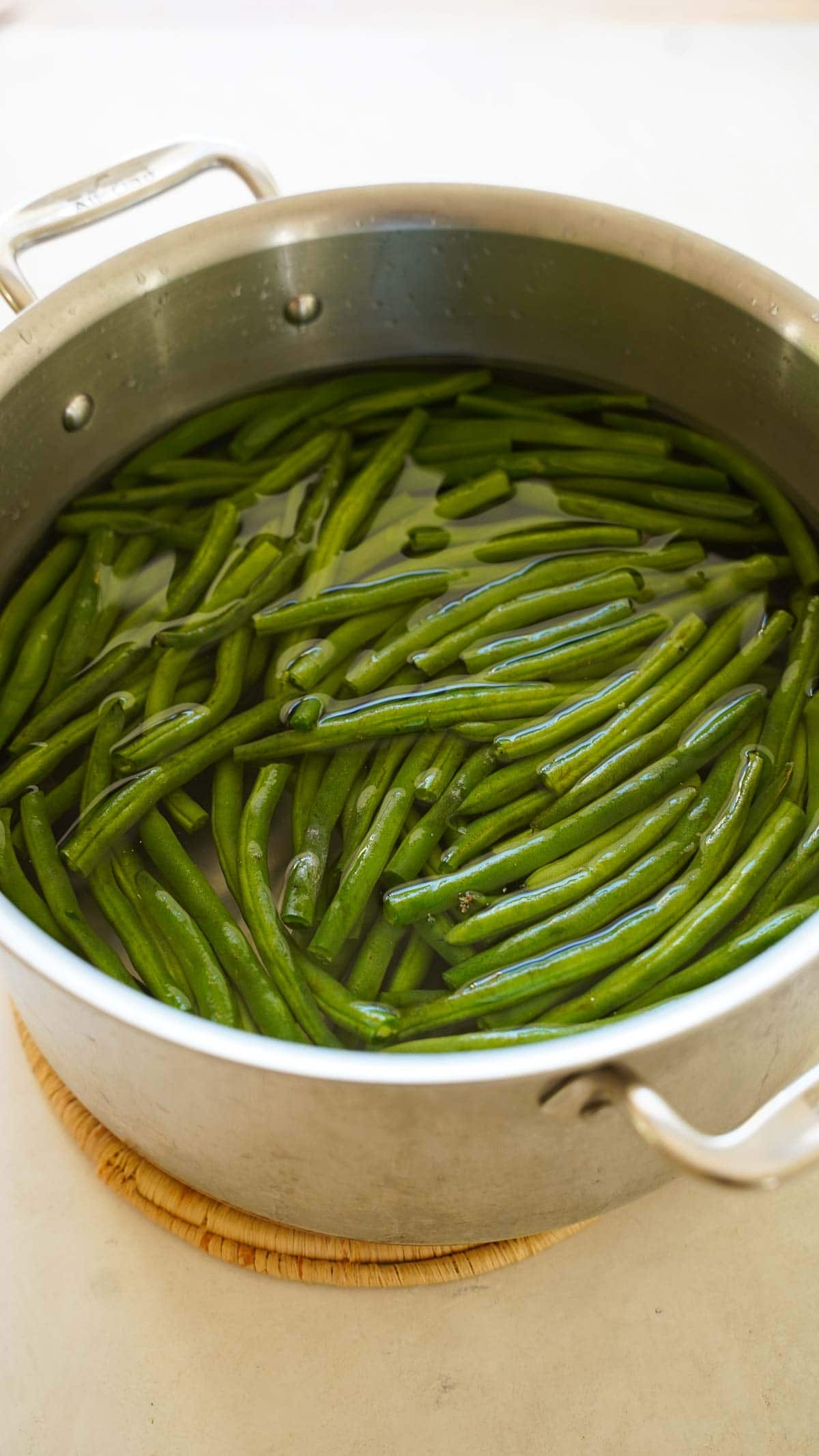 Watch the Video Demo Below
Preparing the Green Beans Before Cooking
You'll want to blanch the beans first before baking them in the casserole.
Then submerge the beans in cold water with ice cubes. The cubes will melt as the beans cool.
This will only take a few minutes. Once the beans are cool, drain them and pat them dry before placing them in an 9 x 13 baking dish.
You'll want the beans to be dry so the moisture does not dilute the cream sauce.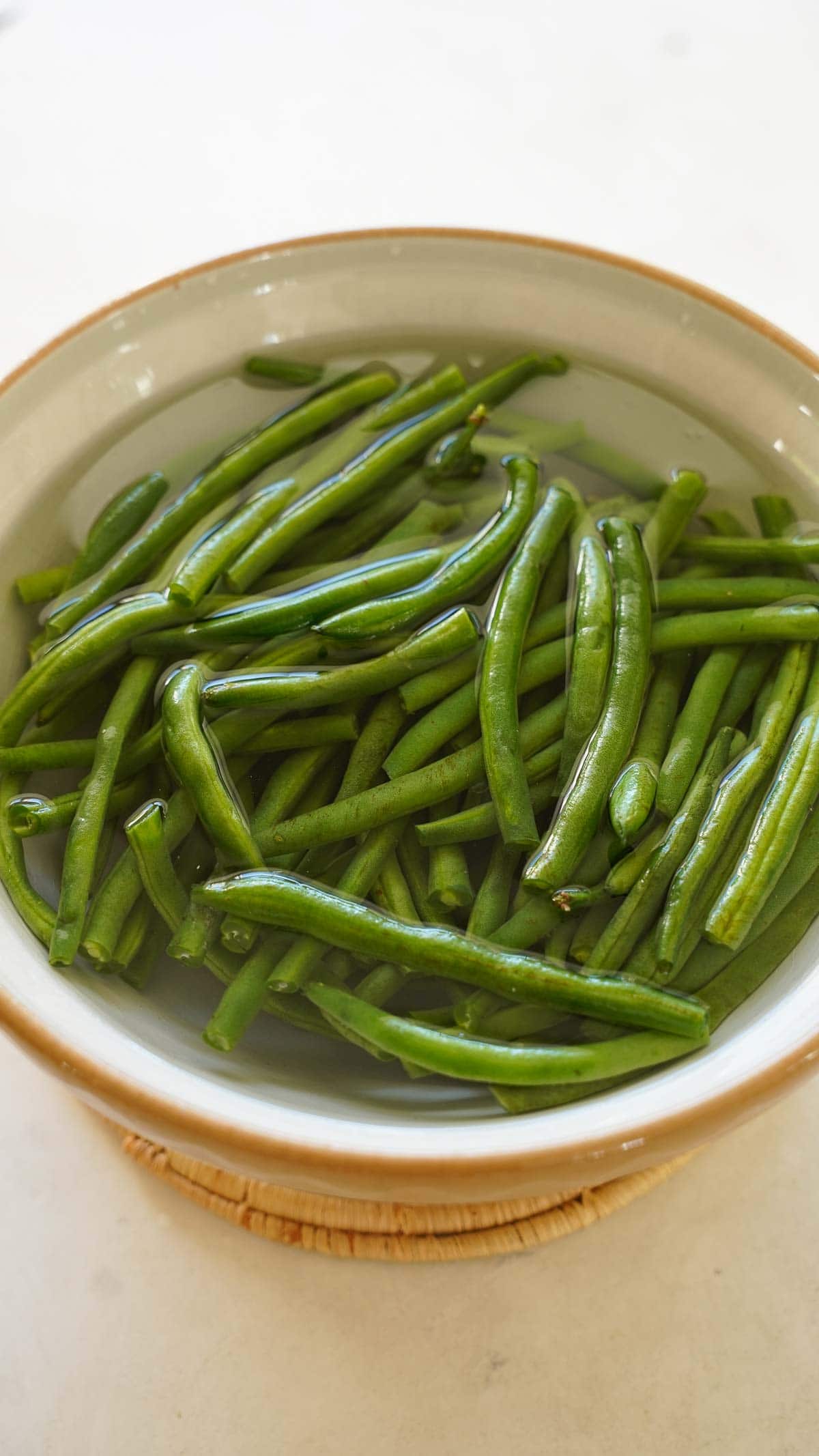 The Benefits of a Béchamel Sauce:
The béchamel sauce flavored with garlic and parmesan cheese is a lot more flavorful in my opinion, than canned mushroom soup.
It also has a better texture too and will prevent your casserole from being soupy.
I also think using fresh green beans, instead of canned green beans also prevents the casserole from being soupy, since there is not much water that is emitted as the casserole bakes with the fresh beans, the way that it does with frozen or canned green beans.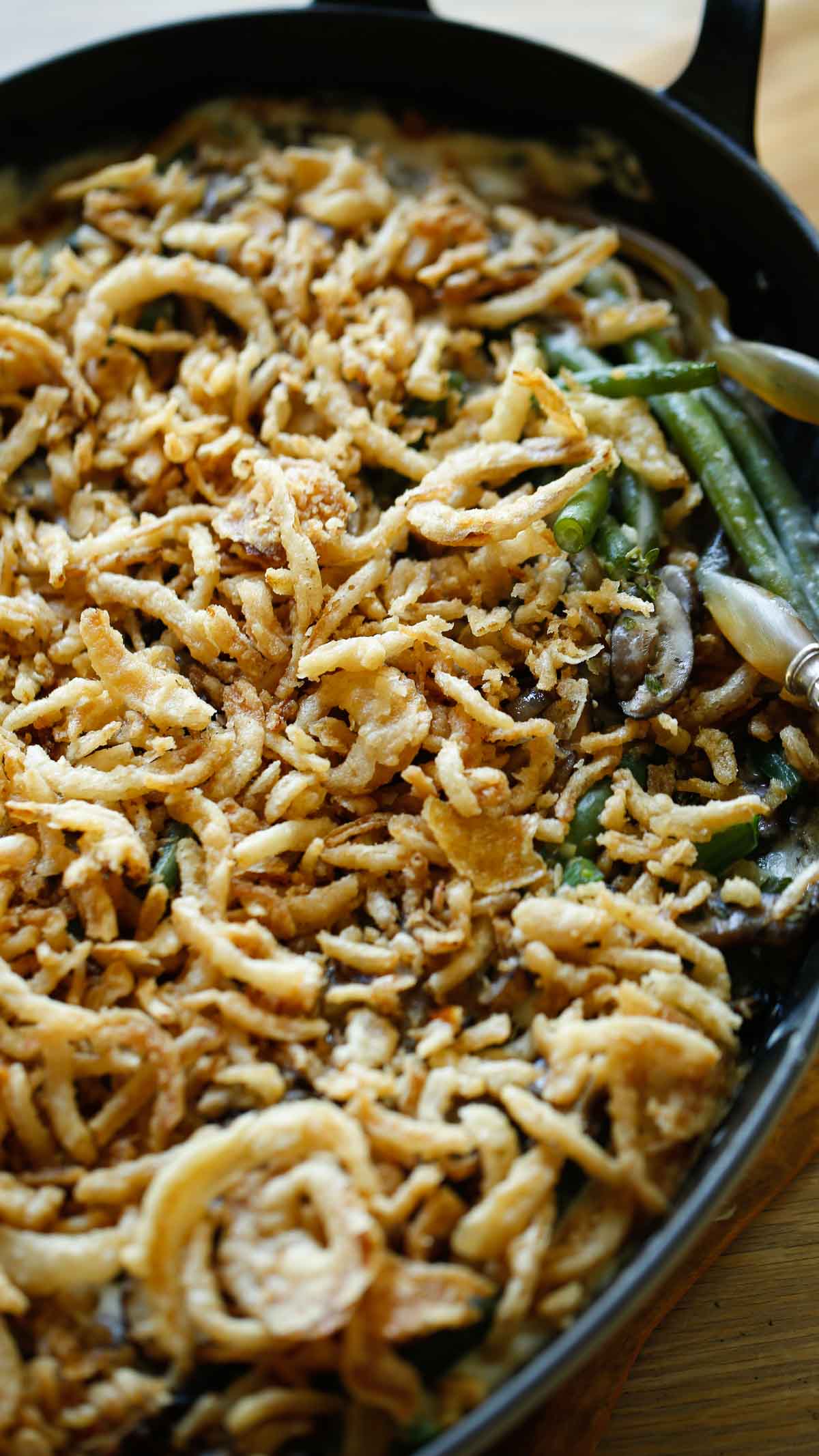 Make Ahead Tips:
The best part about this casserole is the fact that you can make it ahead of time!
Parboil the green beans and assemble the casserole the day before, or several hours before.
Cover and pop in the fridge.
Then right before baking sprinkle the top with the fried onions and bake covered for 25 minutes so that the casserole warms through.
Then bake uncovered for 5-10 minutes.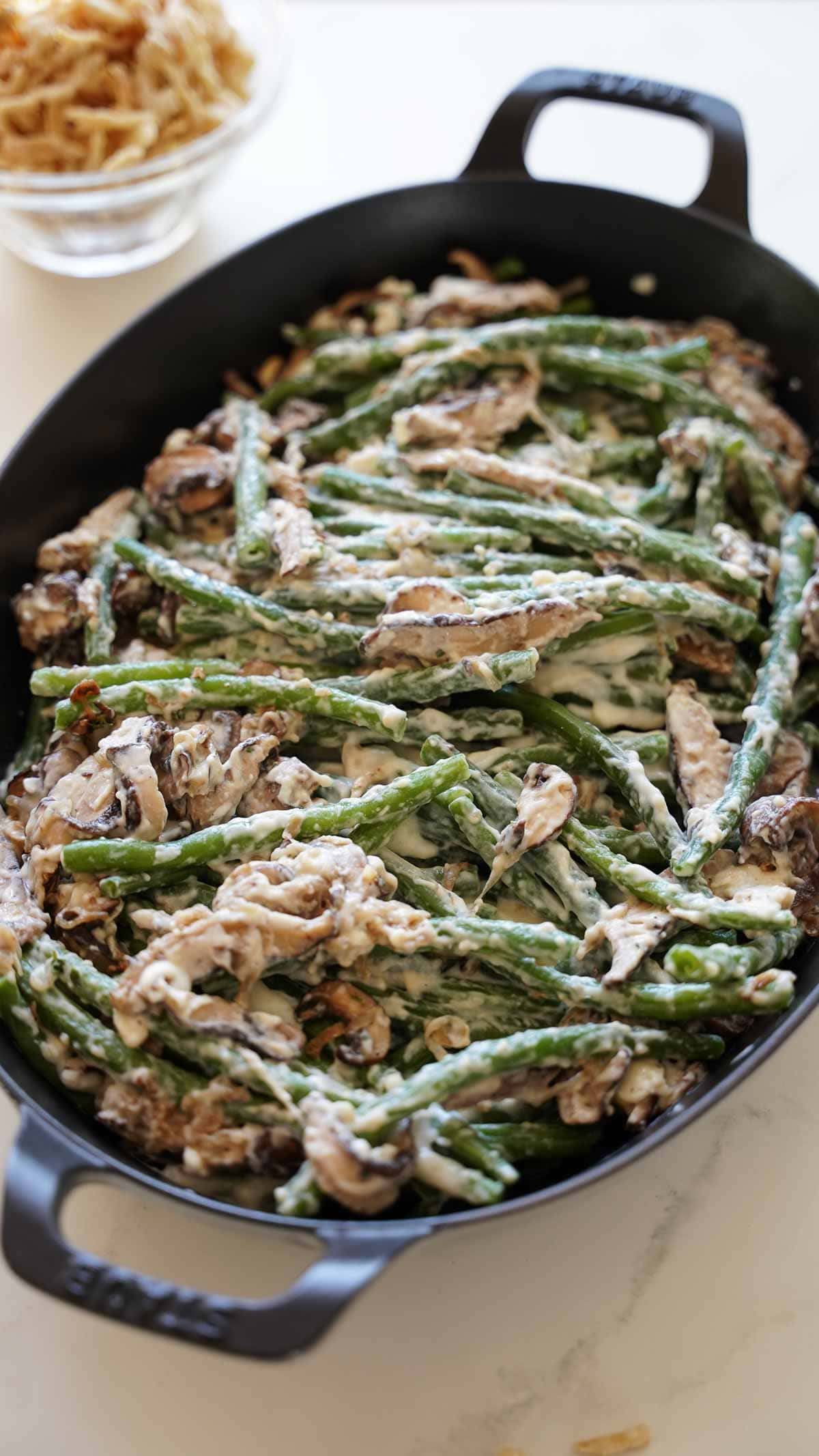 Serving and Storage Suggestions: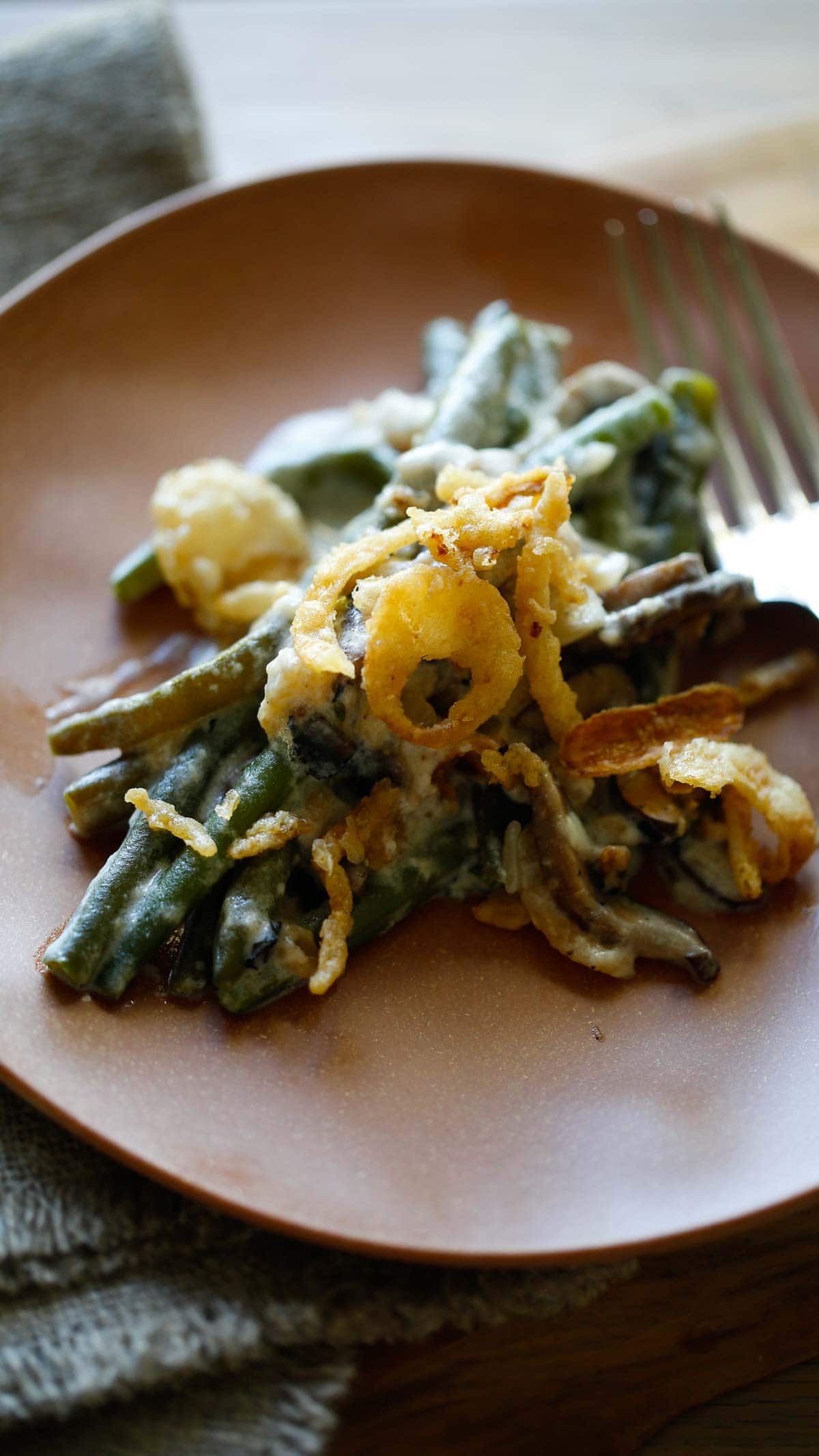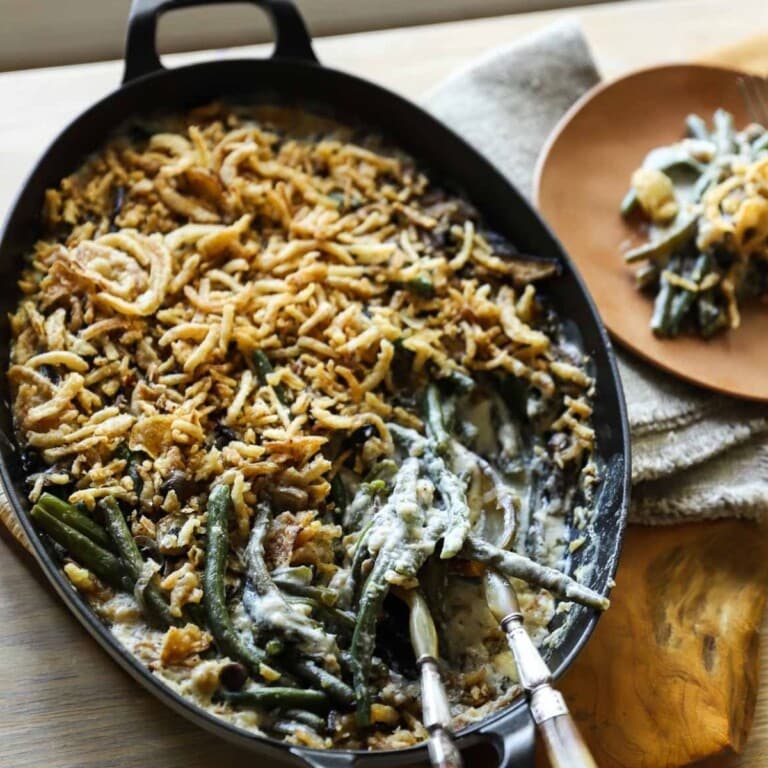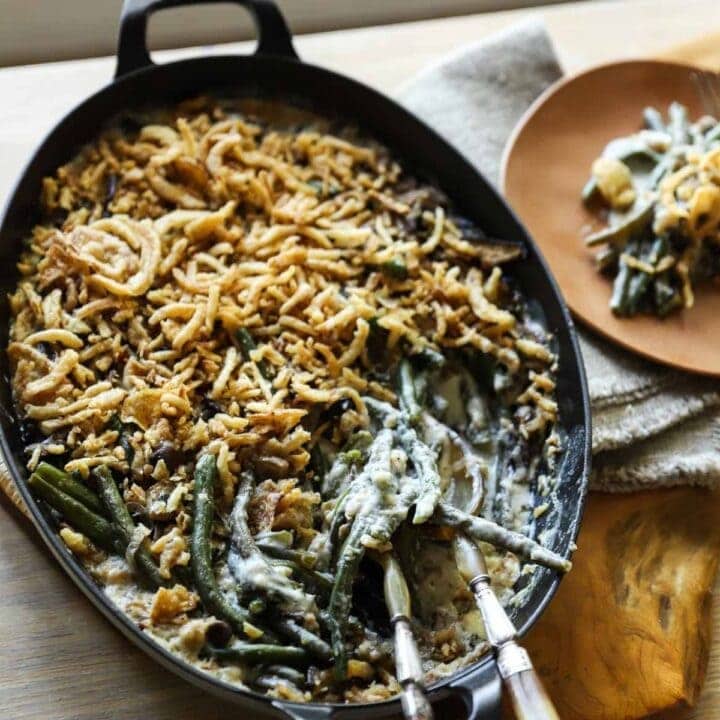 Fresh Green Bean Casserole
Additional Time:
1 minute
Total Time:
1 hour
16 minutes
An updated take on the classic Green Bean Casserole, made with fresh green beans, a homemade creamy mushroom sauce topped with crispy fried onions.
Ingredients
2 lbs (907 g) green beans
½ teaspoon (3 g) kosher salt
2 tablespoon (28 g) butter
¾ cup (85 g) shallots, cut into half moons
4 ounces (113g) shiitake mushrooms, sliced thinly
4 ounces (115g) cremini mushrooms, sliced
1 large (85 g) portobello mushroom, sliced and cut in half lengthwise
Salt and pepper to taste
2 tablespoon (30 ml) fresh thyme, chopped
1 Tablespoon (15 ml) Worcestershire Sauce
For the Bechamel Sauce
4 tablespoon (56 g) butter
¼ cup (34 g) all-purpose flour
4 cups (946 ml) milk
3 garlic cloves, minced
¾ teaspoon (5 g) salt
Freshly cracked Pepper
¼ cup (17 g) parmesan cheese, freshly grated
Topping:
6 ounces (170 g) French's fried onions
Instructions
Set a large pot to boil. Add salt. Drop the green beans into boiling water for 5-6 minutes. They should be tender but still a bit crisp. Transfer them into a large bowl of icy water. Stir the beans in the ice bath until the beans have cooled. Then drain through a colander, removing any ice cubes that remain.
Transfer the beans to a 9 x 13 casserole, and pat them dry with a clean kitchen towel, and set aside.
Meanwhile, heat a large skillet over medium-high flame. Melt the butter. Once it's foamy add the shallots. Cook until fragrant and wilted. Then add the mushrooms. Cook, stirring occasionally, until the mushrooms release their juices. Season with salt and pepper. Add the Worcestershire sauce and the thyme. Transfer the mushroom mixture to the casserole, and spoon them on top of the beans, to cover them.
For the bechamel sauce, add the butter to a large, deep skillet, over medium-high heat. Once melted and foamy, add the flour, and whisk until a loose paste forms. Then slowly whisk in the milk. Allow to come to a low boil, which will take 3-5 minutes. Once boiling, reduce to a simmer until thickened. Then add the salt, pepper, and garlic. Then add the parmesan cheese. Stir until melted and smooth.
Pour the sauce over the beans and mushroom mixture, making sure all areas are covered. Up until this point, the casserole can be made ahead. Cover and refrigerate until ready to serve.
Preheat the oven to 350F. Top the casserole with the crispy onions and bake at 350F for 25 minutes covered, then bake uncovered for 5 minutes. Serve immediately.
Nutrition Information:
Yield:

8
Serving Size:

1
Amount Per Serving:
Calories:

126
Total Fat:

3g
Saturated Fat:

1g
Trans Fat:

0g
Unsaturated Fat:

2g
Cholesterol:

1mg
Sodium:

435mg
Carbohydrates:

23g
Fiber:

4g
Sugar:

7g
Protein:

5g