Learn How to Make Orange Chicken. A quick and easy version of orange chicken, better than takeout! So easy and SO good!
Chicken is such a weeknight staple for many of us, and if you're your family is getting into a "chicken rut" then hit them with this little gem 🙂
Orange Chicken is a real crowd pleaser at our house. It's fast, easy and very kid friendly! (Must be the sweet sauce. But hey whatever works!)
WATCH MY VIDEO DEMO OF THIS RECIPE HERE
Subscribe to my YouTube Channel for more recipe videos! (it's free!)
A few years ago I treated myself to a wok pan and I must say it makes serving this for a crowd a lot easier.  Here's the one I bought that I'm loving (this link goes to Amazon where I am an affiliate) 
How to Make Orange Chicken?
Orange chicken is really easy to make.  You'll cut your chicken into bit-sized pieces and then dredge it in cornstarch, this will protect it and keep it moist and juicy inside.
What kind of meat is used for orange chicken?
Really it's personal preference but I think boneless, skinless chicken breast works best.  But if you prefer dark meat you could also use boneless, skinless chicken thighs.
How do you make an orange sauce?
The orange chicken sauce comes together in a snap and is so delicious and flavorful.
In a small bowl you'll combine, soy sauce, chili paste, honey (or even better orange marmalade!) garlic, rice wine vinegar, orange zest and orange juice, some toasted sesame oil (recipe is below) just whisk this sauce up and then add it to the chicken once it's cooked.
It will simmer and get syrupy as it cooks and coat the chicken, then just garnish with green onions, sesame seeds and a slice of orange.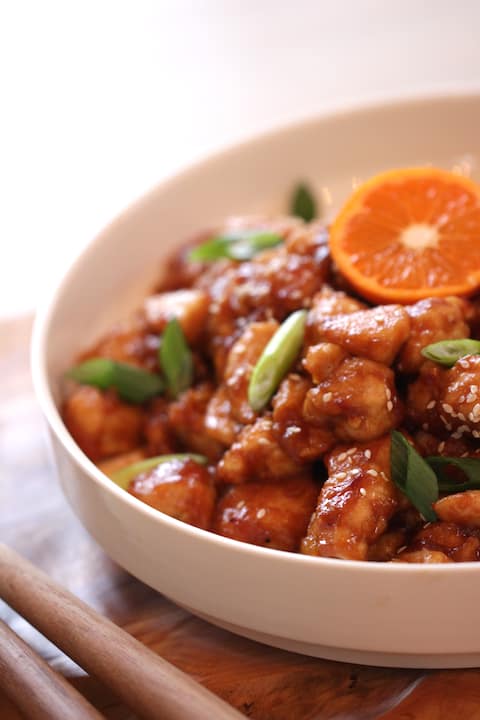 MORE QUICK AND EASY DINNERS!
Please let me know if you make this Orange Chicken Recipe by leaving a rating and review below!
Orange Chicken Recipe
Learn How to Make Orange Chicken. A quick and easy version of orange chicken, better than takeout! So easy and SO good!
Ingredients
2lbs (900g) Chicken Tenders
1/3 cup (35 g) cornstarch
1 tbsp (15 ml) vegetable oil
For the sauce:
1/3 cup (80 ml) low-sodium soy sauce
1 tbsp (15 ml) honey or 1 tbsp (15 ml) of Orange marmalade
1 tsp (5 ml) Sambal Chili Paste
1 tsp (5 ml) rice wine vinegar
1 1⁄2 tsp (7.5 ml) orange zest
1⁄4 cup (60 ml) orange juice
2 cloves garlic, minced
1 tsp (5 ml) ginger, minced
1 tsp (5 ml) toasted sesame oil
1 tbsp (15 ml) cornstarch
1 tbsp (15 ml) water
Garnish:
1 Scallion, sliced on the diagonal
Sesame seeds
Sliced mandarin orange wheel
Instructions
METHOD:
Slice chicken into bite sized pieces and toss in the corn starch.
Then prepare the sauce. In a small bowl combine all ingredients and stir.
Then in a wok or large pan heat the oil until shimmering. Place in chicken in batches browning on all sides, and cooking through.
Add sauce over chicken and simmer until sauce thickens.
Transfer to a serving platter. Sprinkle with sesame seeds, scallions and garnish with a sliced mandarin orange wheel.
Serve with white rice and enjoy!