Learn how to make Orange Chicken at home! This is a quick and easy version of the kind of orange chicken you get at restaurants, but way better than takeout!
It's SO easy and SO good! Kids go nuts for this one, so if you have picky eaters, tired of all your usual chicken recipes, try this one on them and watch them ask for seconds!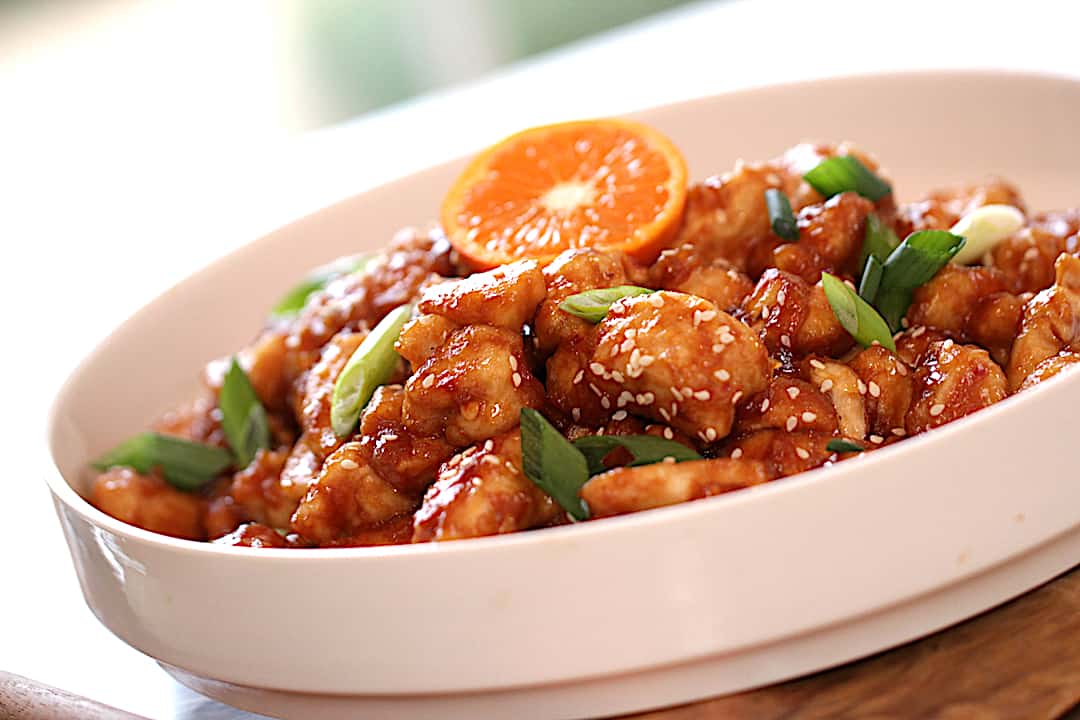 Make it a Menu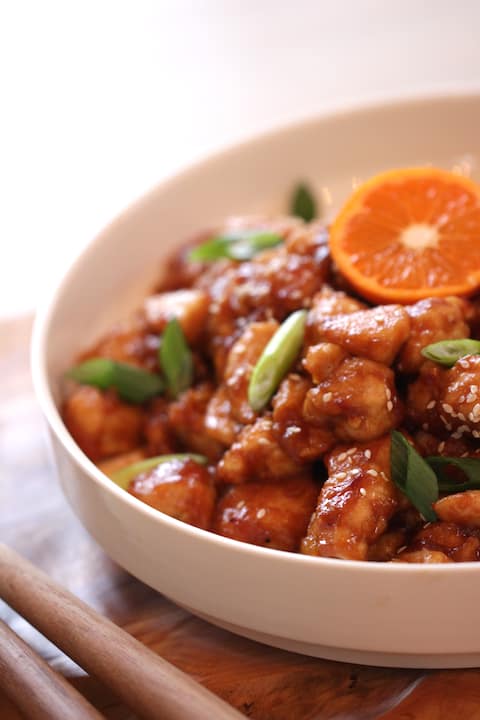 Watch My Video Demo of This Recipe Below!
Subscribe to my YouTube Channel for more recipe videos!
Step#1: Prep the Chicken
For this recipe, it's best to use chicken tenderloins. They will be easier to cut into bite-sized pieces and they are more tender too!
This will keep your chicken moist and juicy under the heat of the cooking.
Another thing that locks in the juiciness is dusting the chicken with cornstarch before frying.
The cornstarch protects the chicken as it cooks and also will help to thicken the sauce too.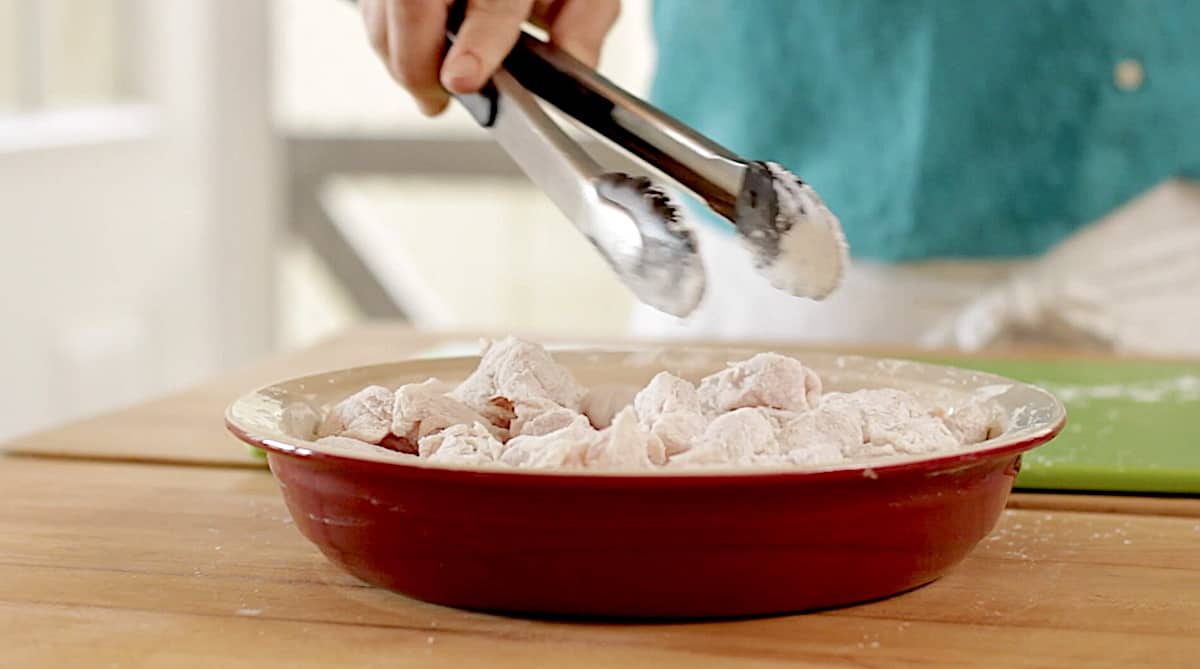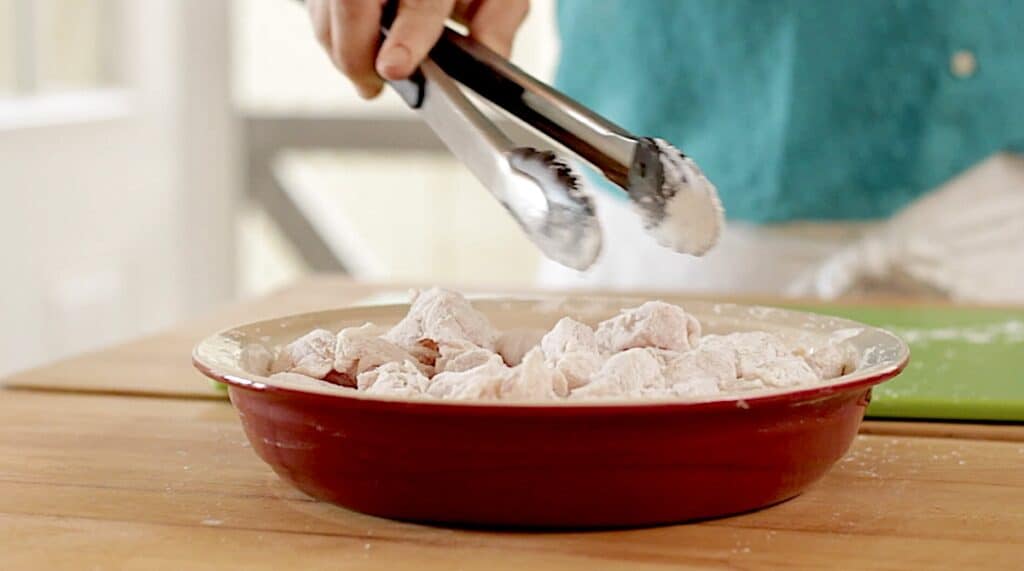 The Benefits of a Wok
A few years ago I treated myself to a wok pan and I must say it makes serving this for a crowd a lot easier!
It always amazes me how much food a wok pan can hold!
I also think it cooks the food faster too. It makes this recipe much easier to put together quickly as well.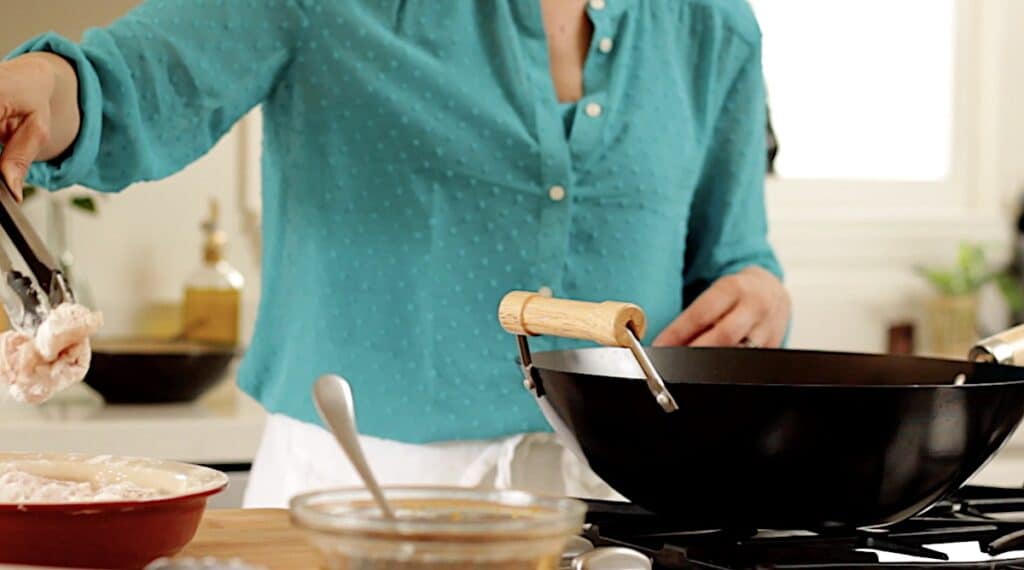 Step#2: Cook The Chicken in Batches
The best part of orange chicken is its crunchy exterior, for this reason, it's best to cook the chicken in batches.
It helps to add more oil in between batches to keep the crispy exteriors going.
It's not necessary that it's cooked all the way through at this stage, it will continue cooking once it's tossed with the sauce.
It's more important to get a nice sear on it and then set it aside.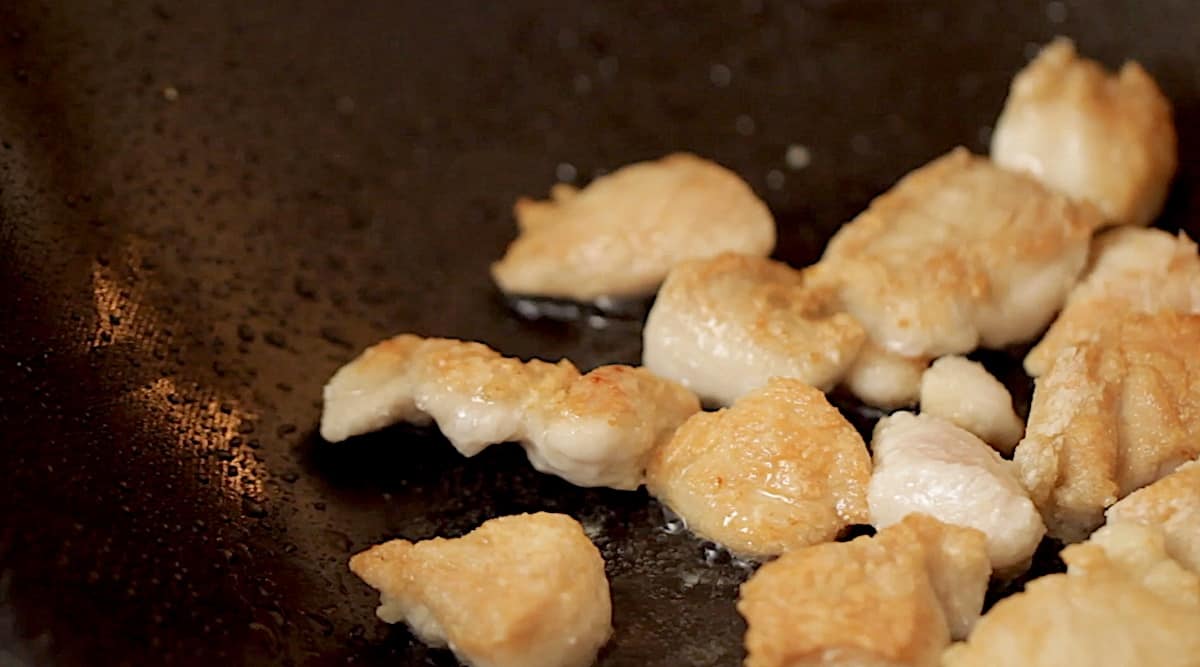 Step#3: Making the Orange Chicken Sauce
The orange chicken sauce comes together in a snap and is so delicious and flavorful.
To give it even more flavor and orange punch, swap the honey for orange marmalade. It adds so much orange flavor!
In a small bowl, you'll combine, soy sauce, chili paste, honey (or even better orange marmalade!) garlic, rice wine vinegar, orange zest, and orange juice, some toasted sesame oil just whisk this sauce up and then add it to the chicken once it's cooked.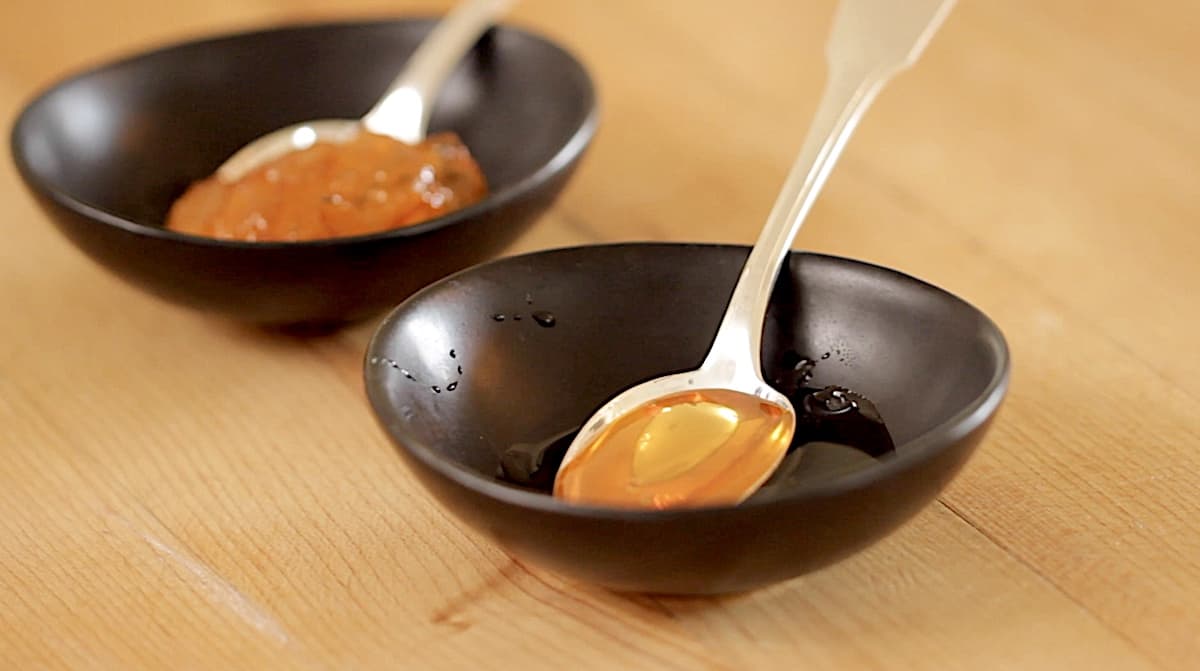 Step#4: Combine the Chicken with the Sauce
Once your sauce is all ready to go, add the chicken back in your wok, and add the sauce.
Continue to cook the chicken until the interior is cooked through and the sauce has thickened.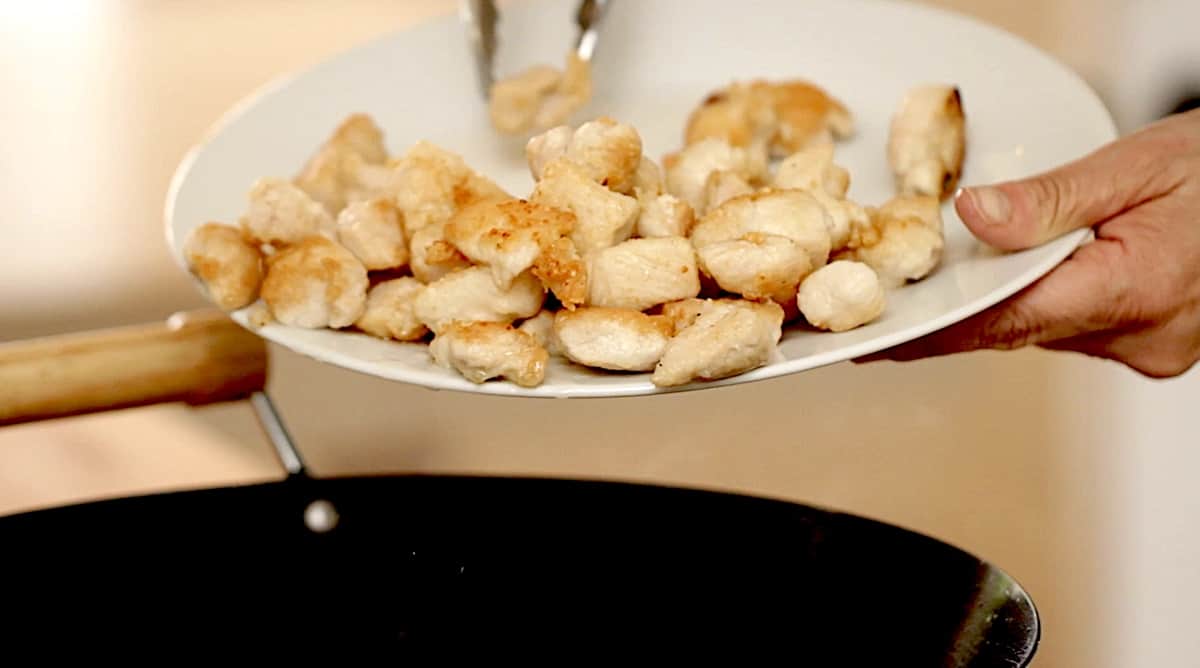 Creating a Syrupy Consistency to the Sauce
Keep cooking until the sauce has reduced and is coating the chicken in a thick syrup.
This will create the best consistency for your sauce. The secret ingredient here is the cornstarch used to coat the chicken before browning.
Once it combines with the liquid and reaches a high temperature it will react and will thicken.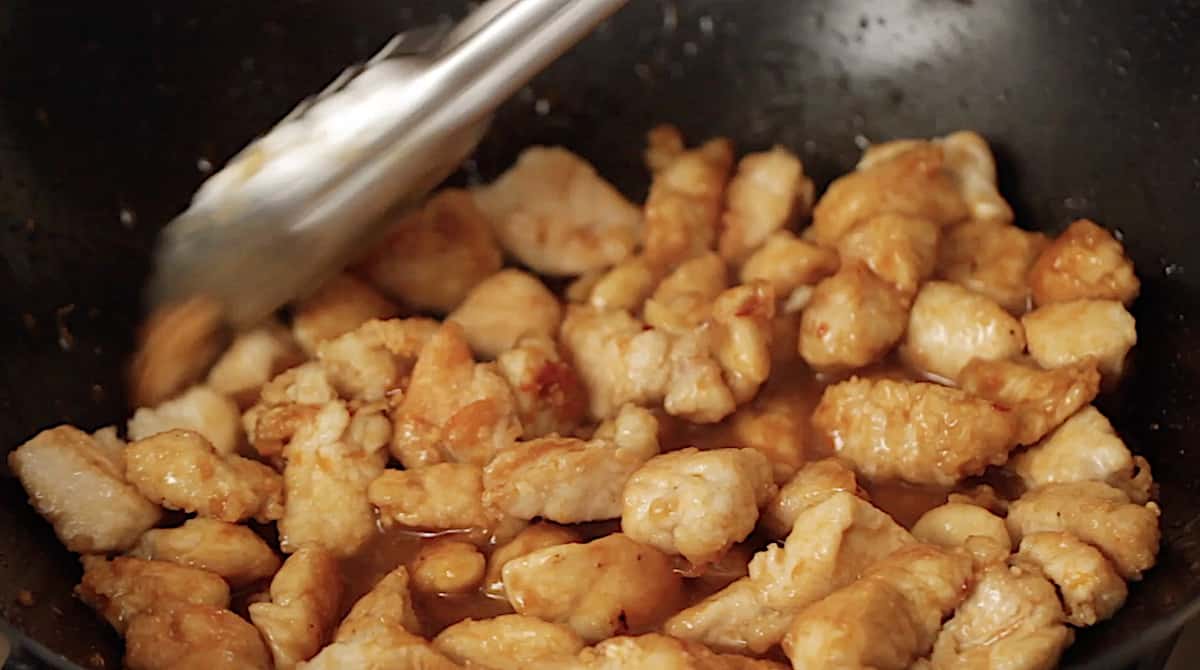 Step#5: Garnish and Serve
I like to slice the green onions on the diagonal to create a pretty fresh garnish on top along with some sesame seeds and a slice of mandarin orange.
Serve with your favorite rice or quinoa!

More Quick and Easy Dinner Ideas!
Please let me know if you make this recipe
by leaving a rating and review below!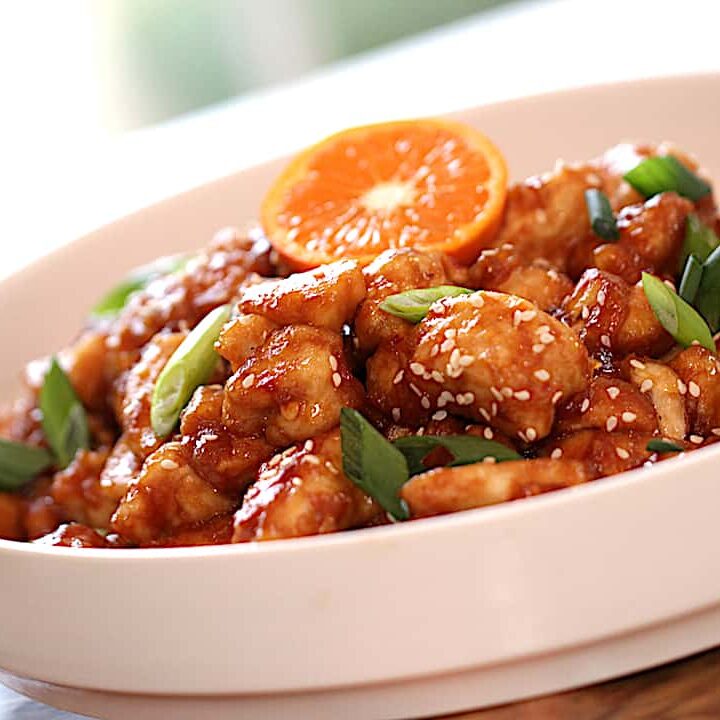 Orange Chicken Recipe
This orange chicken recipe is quick and easy and delicious! A great alternative to take-out!
Ingredients
For Chicken
2lbs (900g) Chicken Tenders
⅓ cup (35 g) cornstarch
1 tablespoon (15 ml) vegetable oil
For the sauce:
⅓ cup (80 ml) low-sodium soy sauce
1 tablespoon (15 ml) honey or 1 tablespoon (15 ml) of Orange marmalade
1 teaspoon (5 ml) Sambal Chili Paste
1 teaspoon (5 ml) rice wine vinegar
1 1⁄2 teaspoon (7.5 ml) orange zest
1⁄4 cup (60 ml) orange juice
2 cloves garlic, minced
1 teaspoon (5 ml) ginger, minced
1 teaspoon (5 ml) toasted sesame oil
1 tablespoon (15 ml) cornstarch
1 tablespoon (15 ml) water
Garnish:
1 Scallion, sliced on the diagonal
Sesame seeds
Sliced mandarin orange wheel
Instructions
Slice chicken into bite sized pieces and toss in the corn starch.
Then prepare the sauce. In a small bowl combine all ingredients and stir.
Then in a wok or large pan heat the oil until shimmering. Place in chicken in batches browning on all sides, and cooking through.
Add sauce over chicken and simmer until sauce thickens.
Transfer to a serving platter. Sprinkle with sesame seeds, scallions and garnish with a sliced mandarin orange wheel.
Serve with white rice and enjoy!
Notes
Be sure to use the cornstarch and not flour to coat the chicken. The cornstarch thickens the sauce quicker and easier!
Nutrition Information:
Yield:

4
Serving Size:

1
Amount Per Serving:
Calories:

225
Total Fat:

12g
Saturated Fat:

1g
Trans Fat:

0g
Unsaturated Fat:

10g
Cholesterol:

4mg
Sodium:

385mg
Carbohydrates:

21g
Fiber:

2g
Sugar:

12g
Protein:

4g