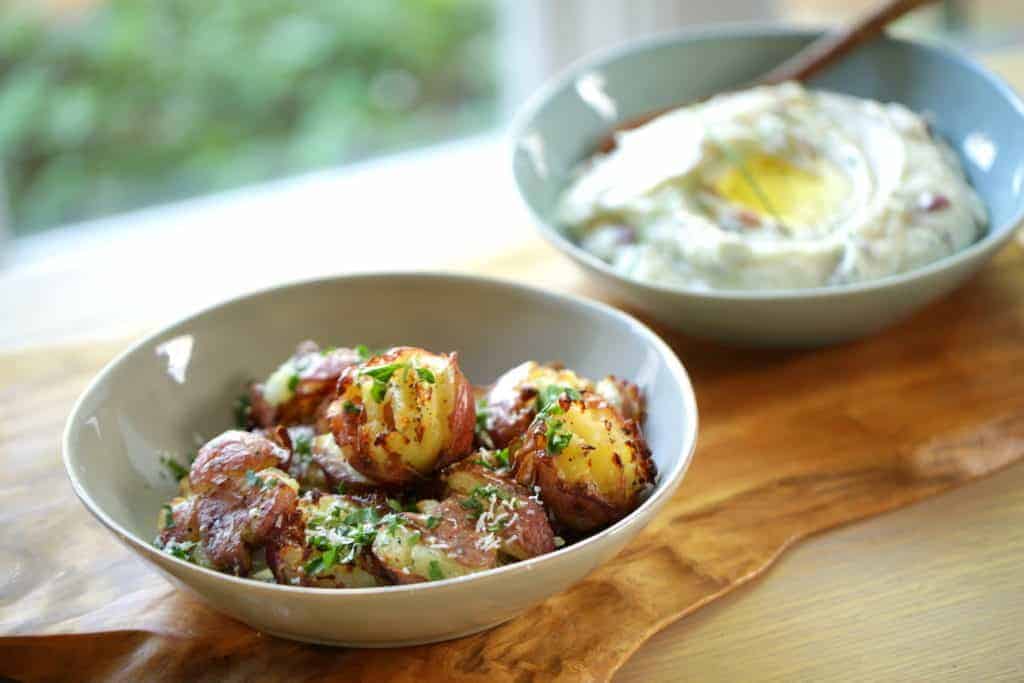 This time of year a great potato side dish is just so comforting! Theuy pair beautifully with a chicken or beef main course and make for a perfect addition to a Sunday night dinner or Sunday lunch. These are  two of my favorites.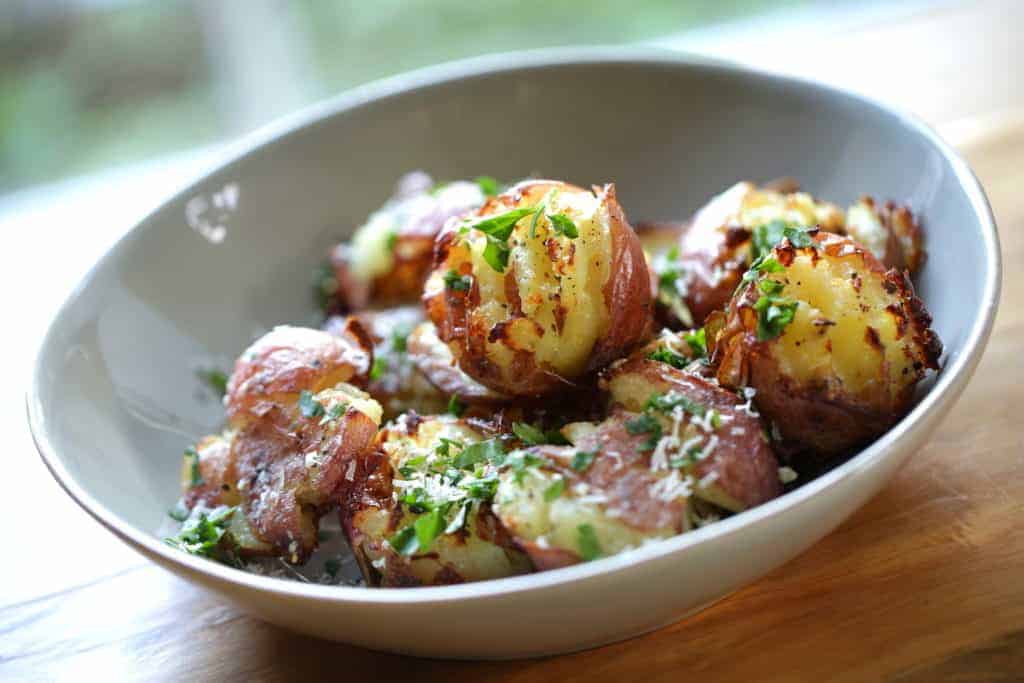 Smashed Potatoes with garlic, parsley and parmesan. They are buttery and crispy on the outside and warm and fluffy on the inside. They also are fun to make with a potato masher and just get better while sitting in a warm oven (if you are still prepping the main course)
My other favorite are these simple, skin-on, mashed potatoes.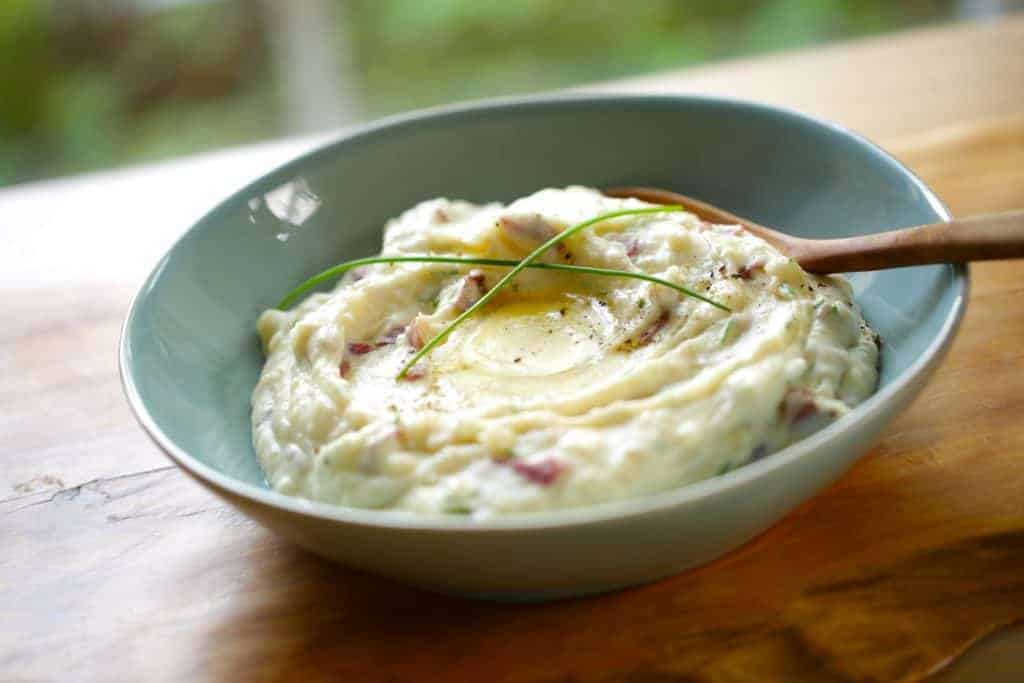 Leaving the skin on, makes these really quick to prepare and also adds a little texture which is also nice. Beaten with sour cream and chives these potatoes have just the right buttery flavor with a pinch of tang coming from the sour cream.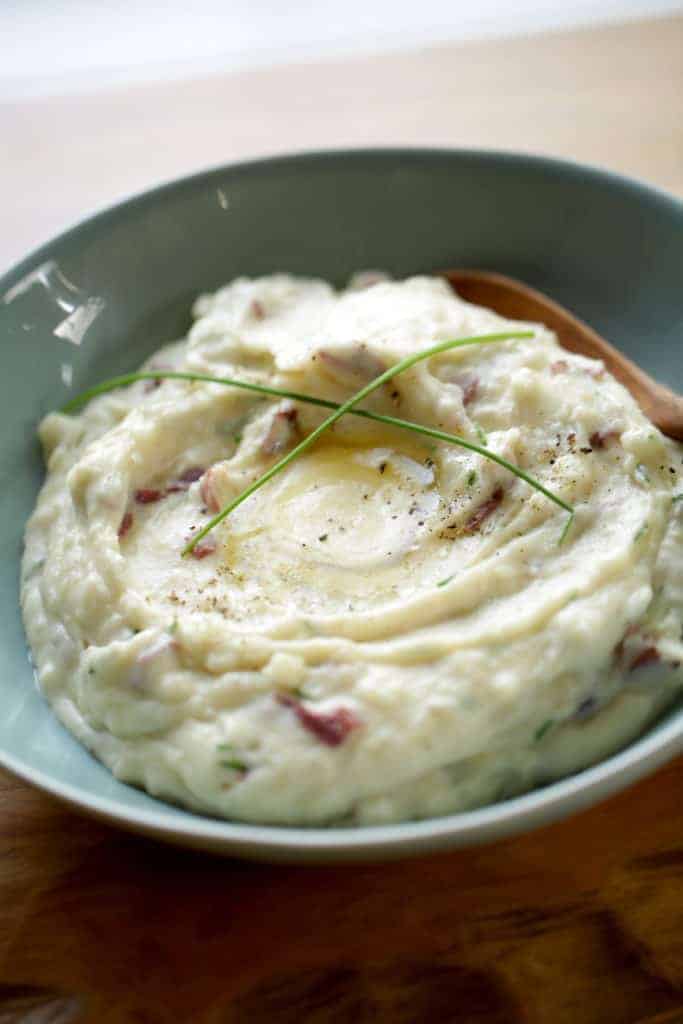 For a step-by-step demo of both these recipes you can watch my video below!
CLICK HERE TO SUBSCRIBE to my YouTube Channel and never miss a recipe (it's free!)
Looking for more potato recipes?  You might also enjoy my Foolproof Roasted Potatoes or my Sausage and Potato Casserole.  Two other winners!
Print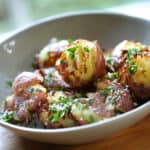 Smashed Potato Recipe
---
Author:

Prep Time:

30 mins

Cook Time:

25 mins

Total Time:

55 mins

Yield:

serves 3

Category:

Side Dish

Cuisine:

American
Description
Smashed potato recipe with garlic, parmesan and chives. The perfect side dish for a Sunday night dinner. Pairs beautifully with Chicken, Pork or Beef.
---
Ingredients
16 oz (450 g) red baby potatoes
1 tbsp (15 ml) olive oil
salt and pepper to taste
2 tbsp (30 ml) melted butter
1 garlic clove, minced
1 tbsp (15 ml) fresh parsley, chopped
1 tsp (5 ml) freshly grated parmesan cheese
a sprinkle of fleur de sel sea salt, optional
---
Instructions
Preheat oven to 425F (218C)
Boil potatoes until soft and tender. Drain and pat dry.
Place potatoes on a rimmed lined cookie sheet and press each one down, gently, with a potato masher. It's OK if they crumble a bit a fall apart, just bring the crumbs together to form a cohesive disk, they will come together once roasted.
Drizzle olive oil over smashed potatoes and season with salt and pepper. Roast for 20 mins.
Meanwhile in a small bowl whisk melted butter with minced garlic clove. Set aside.
After potatoes have roasted for 20 minutes, pull the tray out and with a pastry brush, gently brush each potato with the melted butter mixture and place the tray back in the oven for 5 more minutes.
Then remove potatoes with a spatula and place in a shallow bowl. Sprinkle with some fleur de sel sea salt. Add the chopped parsley and freshly grated parmesan cheese.
Keywords: Potato Recipes, Smashed Potatoes, Mashed Potatoes, Side Dishes, Thanksgiving recipes, Thanksgiving Side Dishes
Print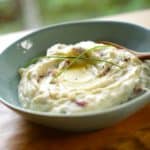 Sour Cream and Chive Mashed Potato Recipe
---
Description
Great Potato Recipe for a Sunday Night Dinner or Thanksgiving!
---
Ingredients
16 oz (450 g) red baby potatoes, scrubbed clean. Skins on
15 tbsp (75 g) of unsalted butter, separated
¼ cup (60 ml) of sour cream
¼ cup (60 ml) of milk
½ tsp (2.5 ml) salt
freshly cracked pepper to taste
1 tbsp (15 ml) fresh chives, minced
3.5.3226
---
Instructions
Boil potatoes, with skins on, until tender. Transfer to the bowl of an electric mixer.
Add 4 tbsp (60 ml) of butter and beat until potatoes are mashed and butter is melted.  Add sour cream and milk and beat just until combined. Add salt, pepper and chives. Beat to combine.
Transfer to a serving bowl and with a spatula create a divot. In the divot place remaining 1 tbsp (15 ml) of butter and garnish with freshly cracked pepper and 2 long chives in a slender "X" pattern.
Notes
DO NOT OVER BEAT OR YOUR POTATOES WILL BE GLUEY! EASY DOES IT!
Keywords: Potato Recipes, Smashed Potatoes, Mashed Potatoes, Side Dishes, Thanksgiving recipes, Thanksgiving Side Dishes