This Apple Spice Cake Recipe with Cream Cheese Frosting and Dehydrated Apples is a wonderful fall dessert recipe that guests go nuts for. It's great for a special occasion like Thanksgiving or Christmas and when it comes to creating a spectacular-looking cake, you can't beat a Bundt pan to help you get that WOW factor.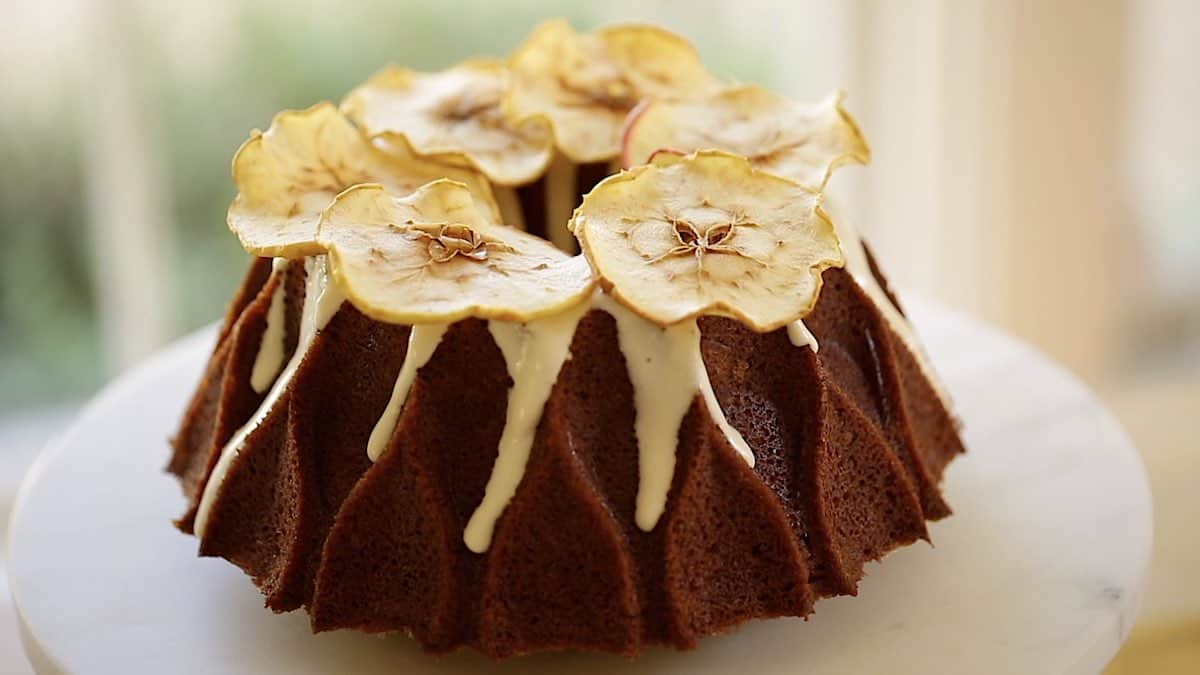 Seriously, folks these pans do all the work for you! If you don't have a bundt pan, but you do have a loaf pan, you can try my Pear Spice Cake. This is an equally delicious spice cake recipe that's a bit quicker and easier if you need something fast!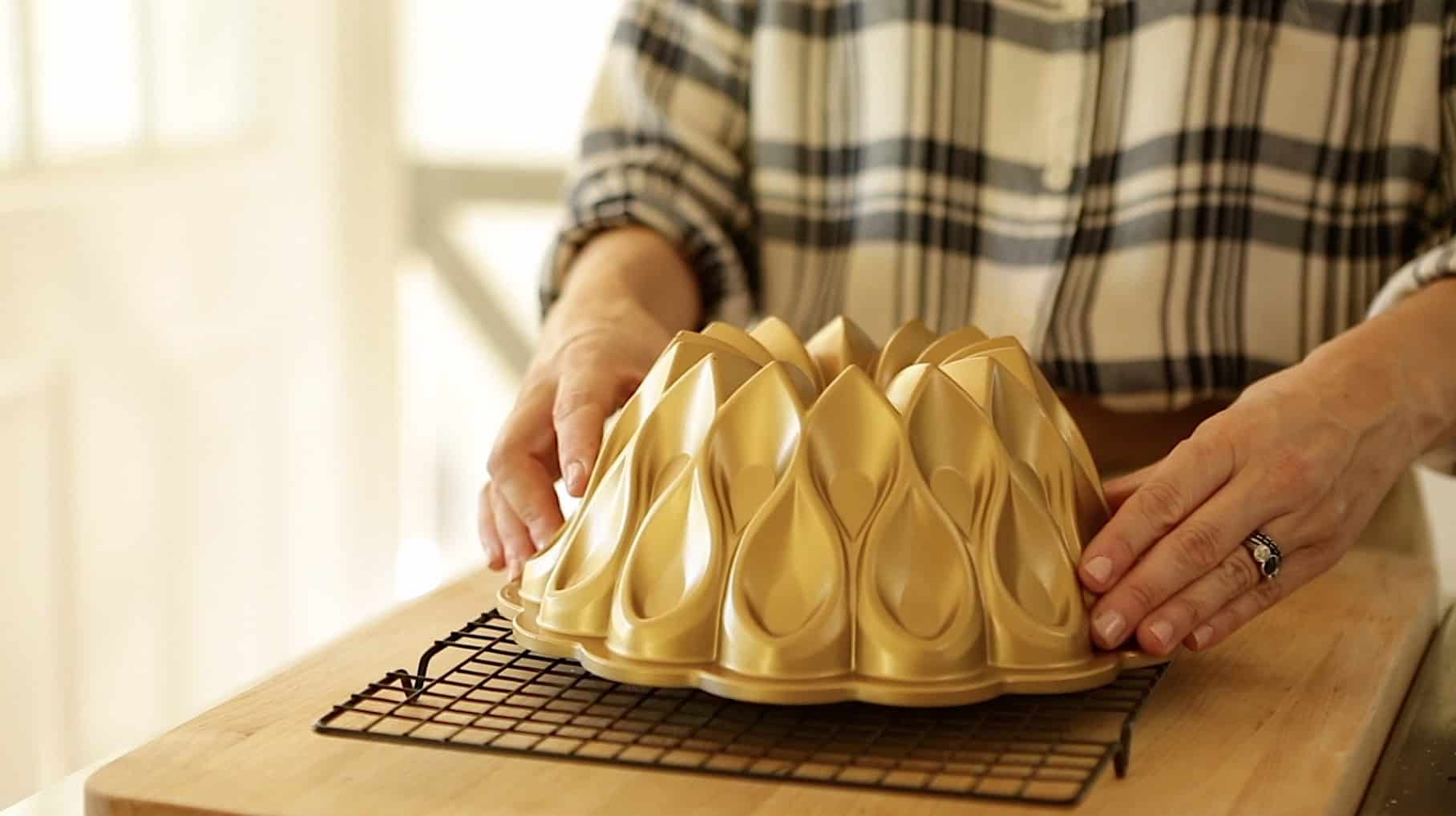 The Best Bundt Pan to Use:
I'm using a pan from Nordic Ware, I think they make the best Bundt pans, their designs are just terrific! You can find this model known as a "Crown Pan" on Amazon. 
Watch a Video Demo of This Recipe Below!
Don't Forget the Baking Spray
There is something so empowering about that very moment when you release the cake from the pan and you see a perfect design emerge! It's like magic!
But be sure to grease it well with the baking spray!
I find it works much better than butter, and for added insurance distribute the spray well with a pastry brush to get into all those nooks and crannies.
Decorating the Cake
I like to decorate this cake with a cream cheese frosting and some rustic-looking dehydrated apples. Which are much easier to make than you might think, and no need for any fancy dehydrator gadgets or machines. You can make these beautiful apples right in your oven!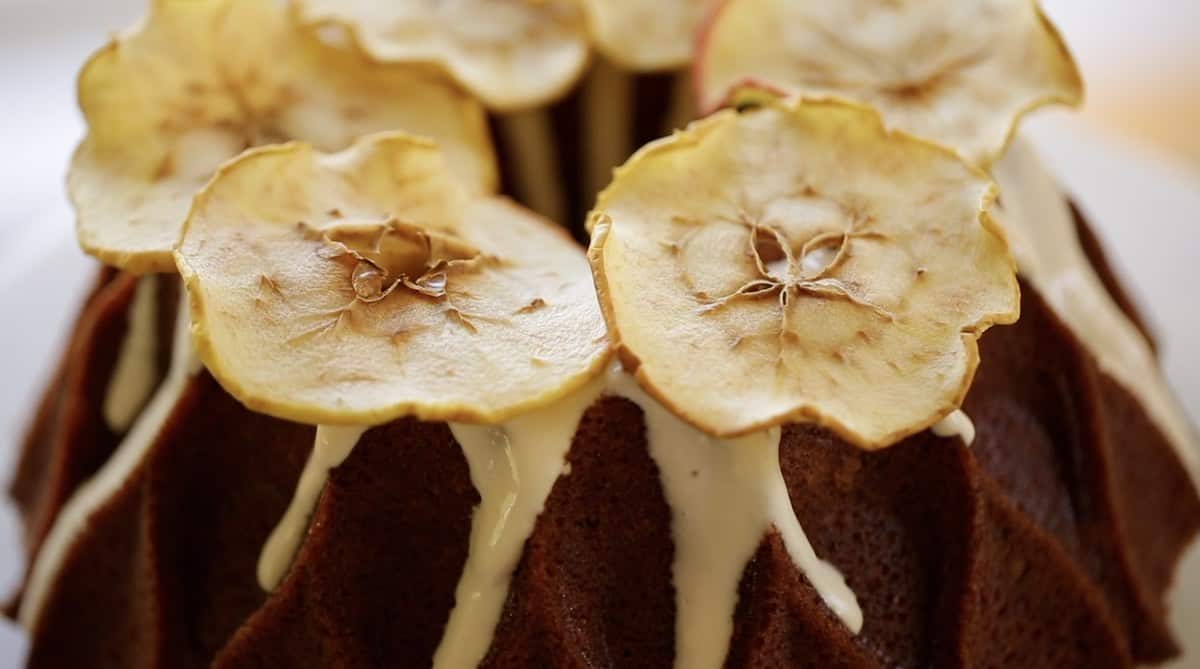 Making the Cream Cheese Frosting:
The secret to a pourable cream cheese frosting is milk. But all cream cheese brands can vary in weight and thickness.
So for this reason, start with adding one tablespoon of milk, and increase if needed until you get the right consistency.
Because there is so much flavor in the cake, and the bundt cake is so beautiful, I just add a little bit, but you can certainly add more or bring extra served on the side to the table.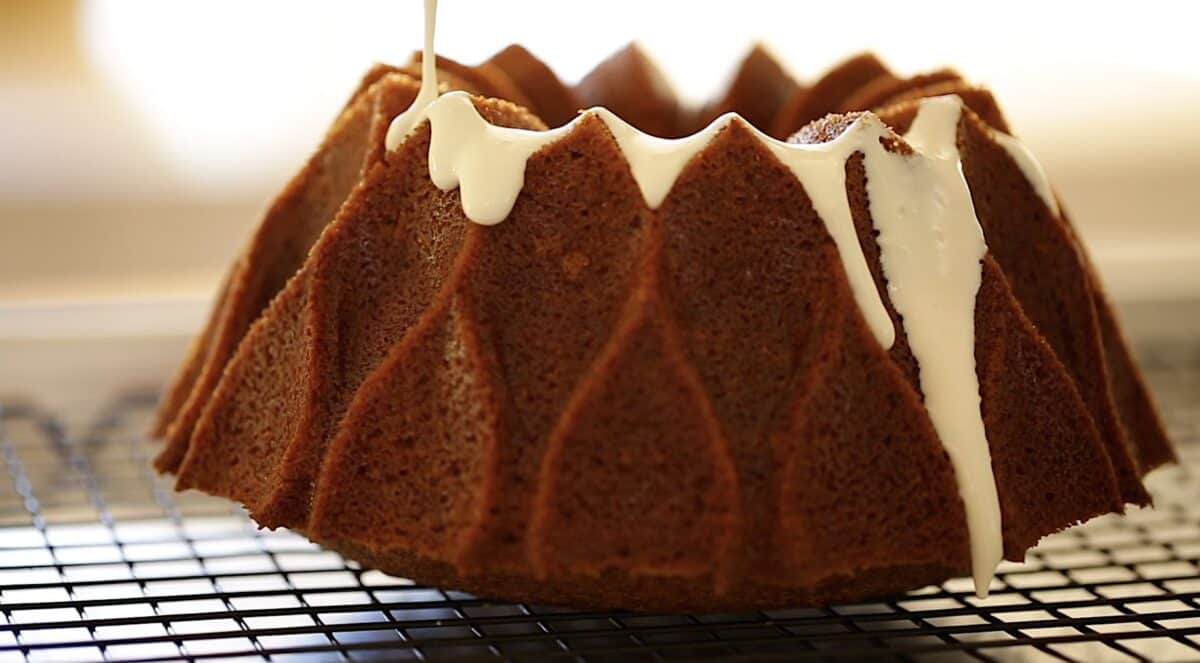 The Frosting is a Great Match with The Spice
I find this frosting is a great match against the spice of the cake. A little dab will do you and guests always remark at how the cream cheese pairs so beautifully with the richness of the cake, they balance each other out.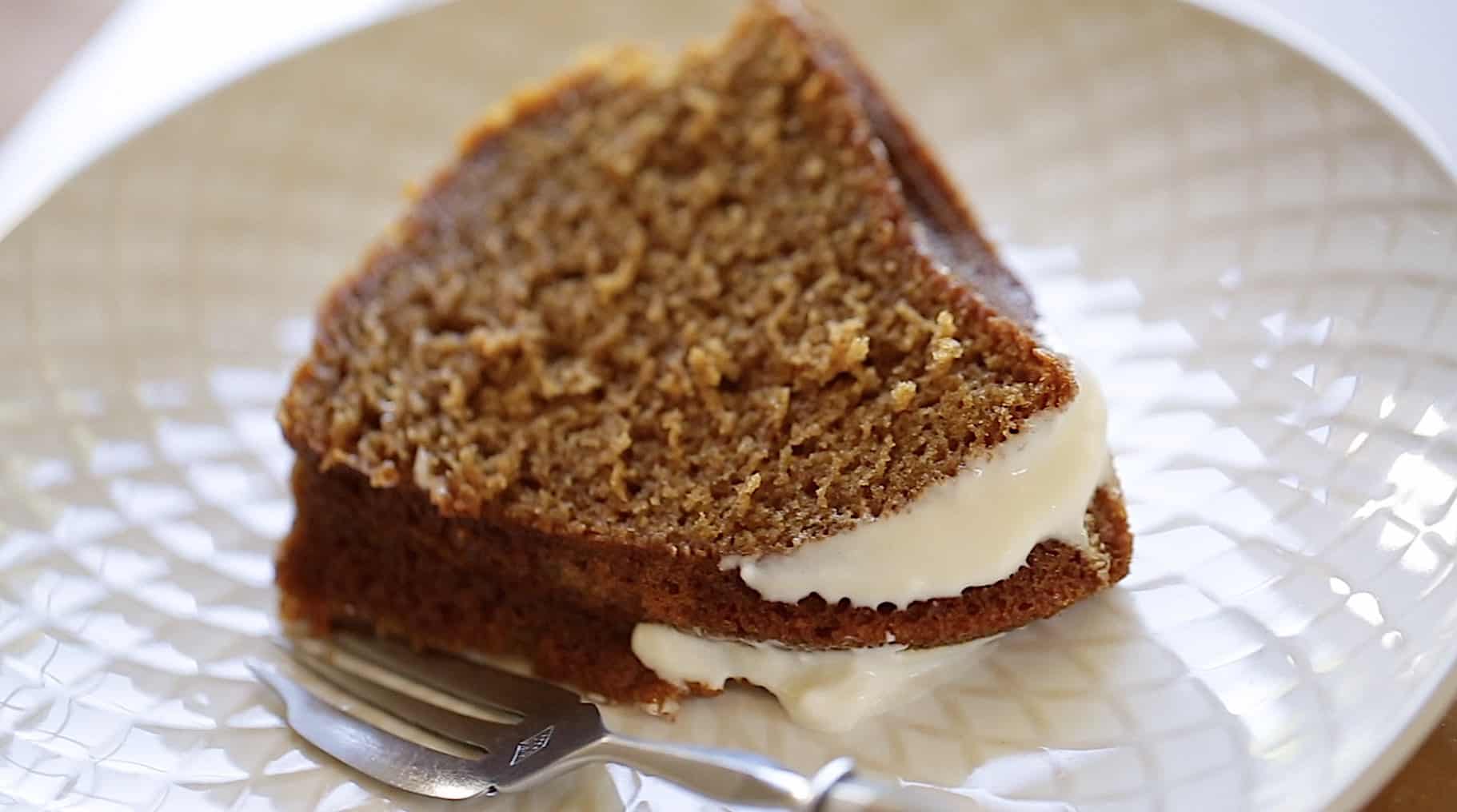 How to Dehydrate Apples?
The first step for making dehydrated apples in your oven is to slice the apples very thinly. You'll get many slices from one apple. But not all will be created equal.
Take the slices that are the thinnest, these work best for decoration since they will curl up as they dehydrate in the oven.
Any apples that are too thick you should save those for snacking. The thick apples won't curl or look as pretty on the cake.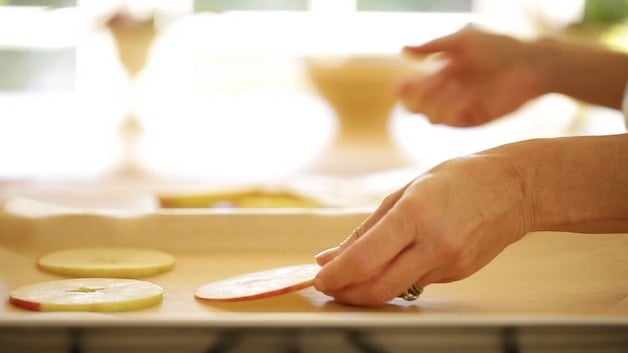 How Long Does it Take To Dehydrate Apples? 
Place the apple slices on a baking tray lined with parchment paper and place them in a 200F oven, for 2 hours.
I know it does take time, but it really goes fast if you have other things to do around the house! (i.e laundry, bill paying, cleaning, etc)
At the 1 hour mark, flip the apple slices with some tongs. If you have them, use the rubber-ended tongs, they will be more gentle with the apples which start to become a bit more fragile at this stage.
Then let the apples go for another hour in the oven and after their 2 hours in the oven, they will become dehydrated and curled.
Cooling the Dehydrated Apples
Place the dehydrated apples on the counter to cool and completely dry out. They will have the most beautiful rustic charm to them. Perfect for cake decorating!
I like to make between 6-8 apple slices for decorating on top of the cake.
This allows you to overlap the apples on the cake and assures that each slice of cake gets a decorative, dehydrated apple on the side.
Not only is this cake beautiful, but it's so delicious too! Incredibly moist and flavorful it's the perfect fall cake for Thanksgiving or holiday entertaining.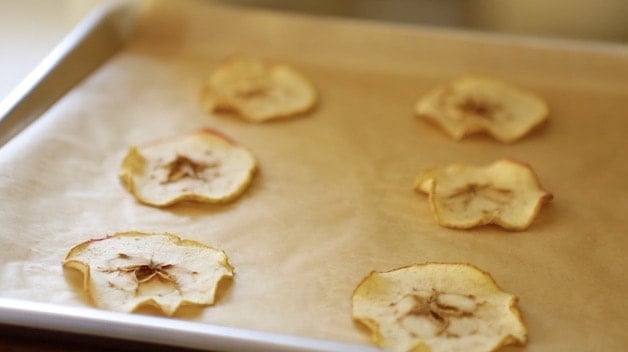 More Fall Treats to Try!
If You Enjoyed the Recipe
Please Leave a Rating and a Review Below!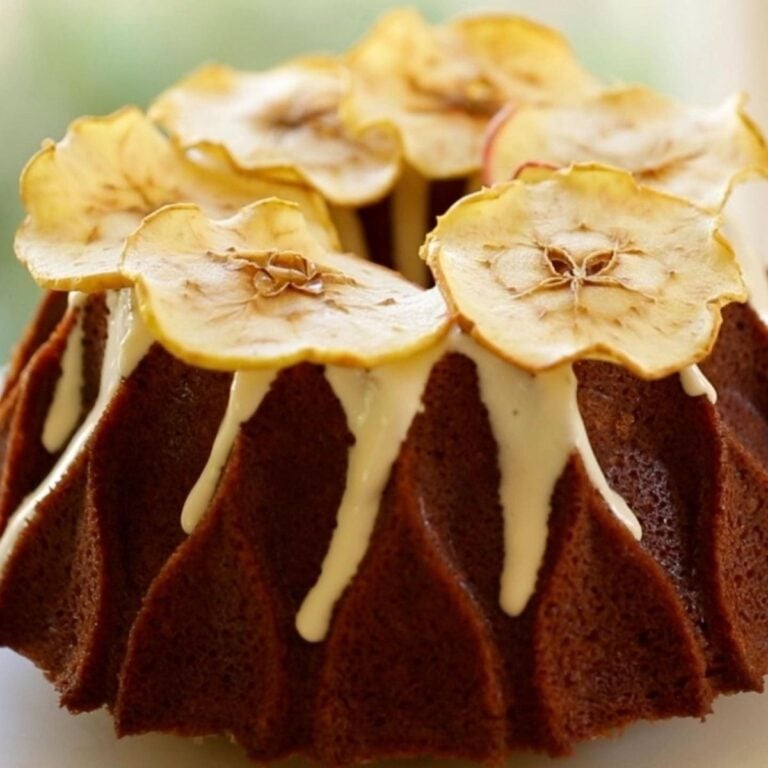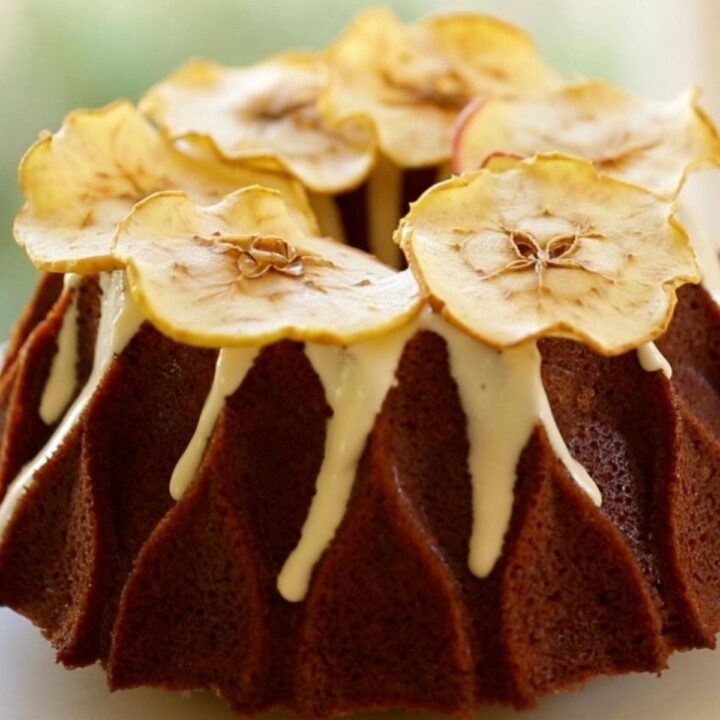 Apple Spice Cake with Cream Cheese Frosting
Prep Time:
2 hours
30 minutes
Total Time:
3 hours
5 minutes
Apple Spice Cake with Cream Cheese Frosting and dehydrated apples is a great fall cake recipe that also makes for a wonderful Thanksgiving dessert idea too!
Ingredients
For Cake:
1 ½ cup (270 g) brown sugar
¾ cup (180 ml) vegetable oil
¼ cup (60 ml) molasses
4 eggs
½ cup (120 ml) apple sauce
1 teaspoon (5 ml) vanilla extract
½ cup (120 ml) water
2 cups (240 g) flour
2 teaspoon (10 ml) baking powder
1 teaspoon (5 ml) salt
1 ½ teaspoon (7.5ml) ground cinnamon
1 ½ teaspoon (7.5 ml) ground ginger
½ teaspoon (2.5ml) ground cloves
½ teaspoon (2.5 ml) nutmeg
For Garnish:
2 Honeycrisp Apples, sliced horizontally into slices
For Cream CHeese Frosting:
¼ cup (48 g) whipped cream cheese
1 tablespoon (7 g) powdered sugar
1 teaspoon vanilla
1-2 tablespoon (15-30ml) milk, or more to reach a pourable consistency
Instructions
Preheat oven to 200F (93C).
Line a baking sheet with parchment paper. Slice apples into very thin wheels, cutting the apple horizontally.
Place on baking tray in a single layer. Bake for 1 hour, then flip and bake for 1 hour more. Once done, turn off oven, open oven door and allow to cool for 30 mins. Once done keep at room temperature until ready to decorate cake.
Preheat Oven to 350F (175C).
Prepare a Bundt pan with baking spray (preferably the spray that also has flour in it) coating with a pastry brush to get into all the nooks and crannies and set aside.
In a large bowl, mix together the brown sugar, vegetable oil, molasses, 4 eggs, apple sauce, vanilla and water.
In a medium bowl whisk together the flour, baking powder, salt, cinnamon, ginger, cloves and nutmeg.
Slowly add the dry ingredients to the wet ingredients and whisk gently to combine.
Pour batter into prepared Bundt pan. Bake for 35-40 mins until a long skewer comes out clean.
Once completely cooled, transfer to a cooling rack.
Prepare the cream cheese frosting by mixing the cream cheese with the powdered sugar and vanilla, whisk until smooth. Add milk and whisk until frosting is pourable, may need to add more milk depending upon which brand of cream cheese you use, some brands are denser than others.
Ladle the frosting over the top of the cake crown, allowing it to drip over the sides. Top with the dehydrated apples, transfer to cake stand. Enjoy!
Notes
Be sure to use baking spray over butter and flour. Especially when baking cakes with very decorative bundt pans, the baking spray will help the cake release a lot easier than butter and flour.
Nutrition Information:
Yield:

10
Serving Size:

1
Amount Per Serving:
Calories:

62
Total Fat:

3g
Saturated Fat:

1g
Trans Fat:

0g
Unsaturated Fat:

2g
Cholesterol:

75mg
Sodium:

60mg
Carbohydrates:

5g
Fiber:

1g
Sugar:

4g
Protein:

3g