These pumpkin cheesecake bars with a gingersnap crust are creamy and decadent, with just the right amount of fall flavors coming from the pumpkin swirl and spicy gingersnap crust.
They would make a fantastic dessert idea for Halloween or Thanksgiving too! For more great pumpkin recipes try my Pumpkin Spice Biscotti, Pumpkin Pie with Marshmallow Topping or my Ultimate Pumpkin Bread recipe.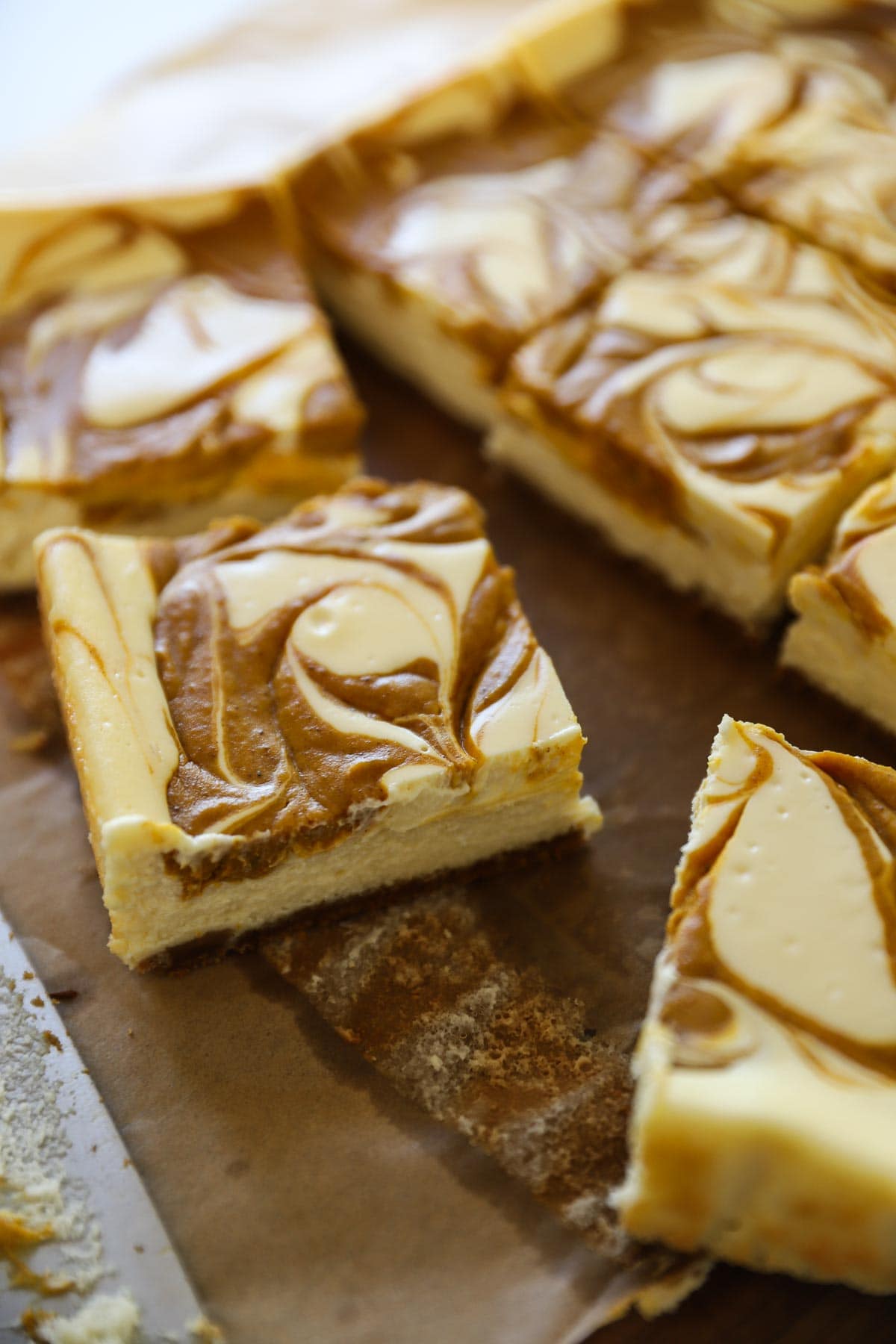 A Pumpkin Swirl with Two Batters
The great thing about this dessert is how it tastes like a mash-up between pumpkin pie and cheesecake. So you have that great decadent creamy cheesecake texture, with a burst of pumpkin flavor.
When the two batters are swirled together it forms a beautiful decorative top as well.
For a variation on this recipe try my Raspberry Swirl Cheesecake, a great dessert idea for Christmas or Valentine's Day.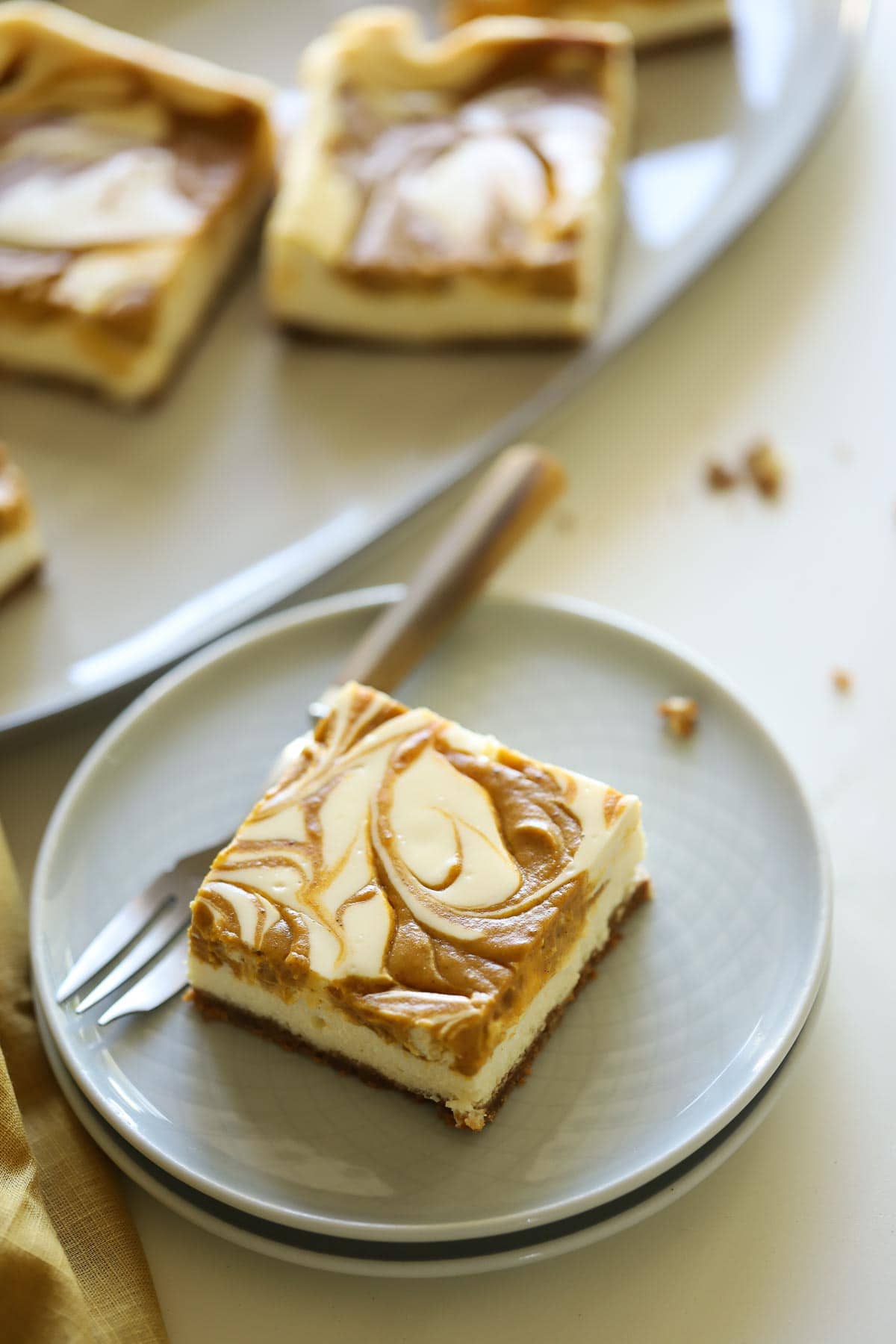 Ingredients:
Cream Cheese Normally when making my Raspberry Cheesecake Recipe, I typically use whipped cream cheese for the lightness it provides. But for cheesecake bars, I prefer the regular brick cream cheese because it gives them a bit more structure.
White Granulated Sugar I don't use too much sugar in these because the gingersnap crust is pretty sweet and it's better to have the cream cheese filling compliment the crust and not compete with it.
Sour Cream always adds a nice tang to cheesecake recipes, or you could also use creme fraiche as well.
Eggs I use two room-temperature eggs to make sure they combine well with the cream cheese. If you forget to take the eggs out, place them in a bowl of warm water for 5 minutes and they will come up to room temperature.
Vanilla Extract or you could also use 1-2 vanilla beans as well.
Kosher Salt will enhance all the flavors.
Flour I add 3 tablespoons of flour to the cheesecake batter of these bars to help them set up better in the fridge and make them easier to slice too.
Pure Pumpkin Puree, not pumpkin pie filling. They look very similar in the store. But the difference between canned pumpkin and canned pumpkin pie filling is big! The canned pumpkin, or "pure pumpkin puree", is unsweetened and not spiced, whereas the pumpkin pie filling is sweetened and spiced so you can use it directly in a pie, but you can't control the level of sweetness or spice, which I prefer to control myself depending upon the recipe.
Pumpkin Pie Spice In the States we can buy this spice blend easily, but outside the U.S.A it can be hard to find. Not to worry, I have a recipe for Homemade Pumpkin Pie Spice which is a cinch to make at home.
Brown Sugar to sweeten the pumpkin filling
Gingersnaps for the crust. I really love the Triple Ginger Gingersnaps from Trader Joe's because they have chunks of crystalized ginger in them, which adds a wonderful little burst of chewy ginger flavor to the crust. Alternatively, you could also use graham cracker crumbs, for a traditional graham cracker crust or chocolate cookie wafer cookies would also be great.
Melted Butter I use 3 tablespoons for a slightly firm and crispy crust but use 2 tablespoons for a more crumbly crust.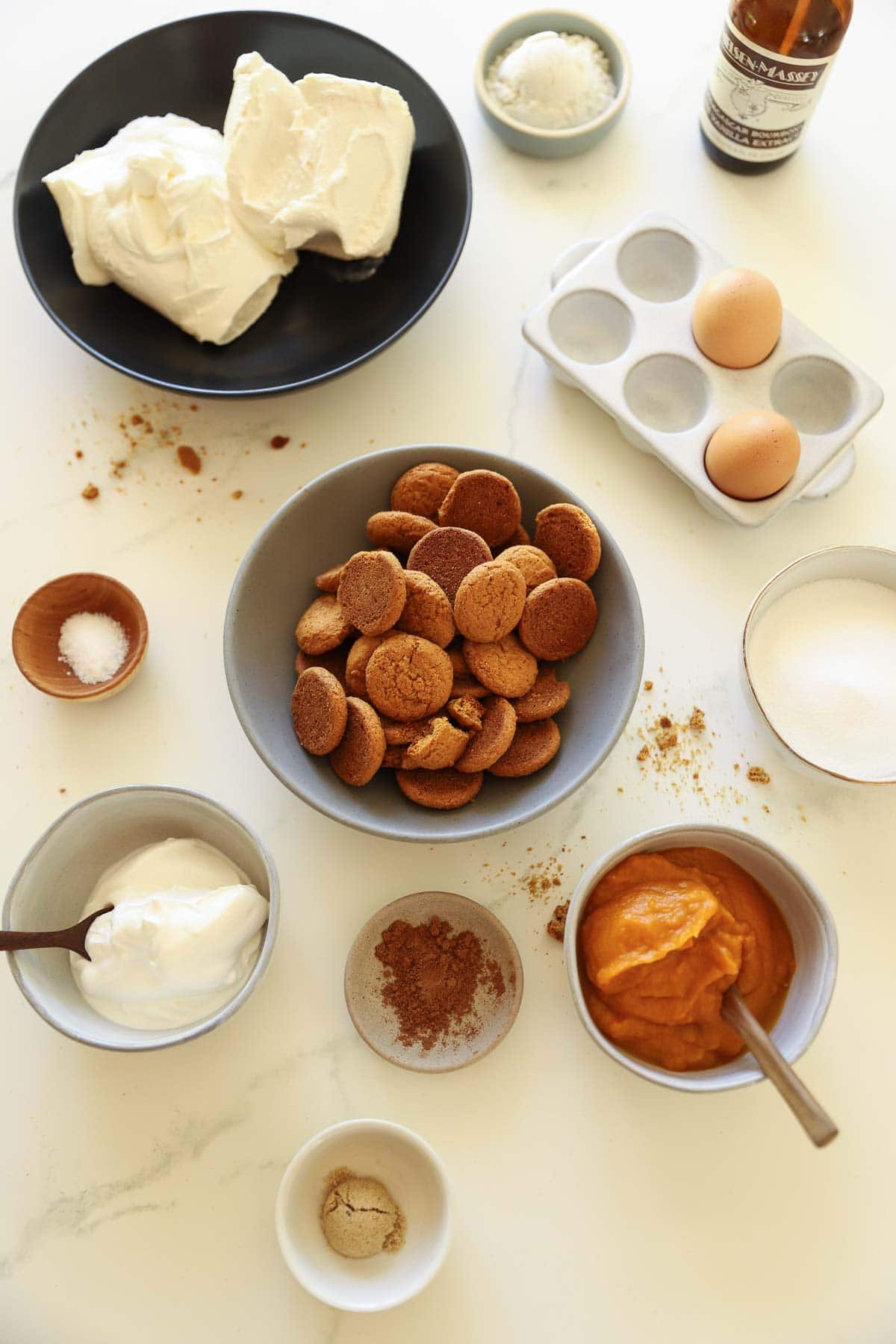 Bake the Cheesecake in a Brownie Pan
If you don't have a removable bottom square cheesecake pan, bake your pumpkin bars in a 9x9 brownie pan lined with parchment paper.
The parchment paper will prevent the cheesecake from sticking to the sides of the pan, but also make the cheesecake easier to remove from the pan once it's cooled.
Just simply life the cheesecake out of the pan, with two hands, from the parchment paper overhangs.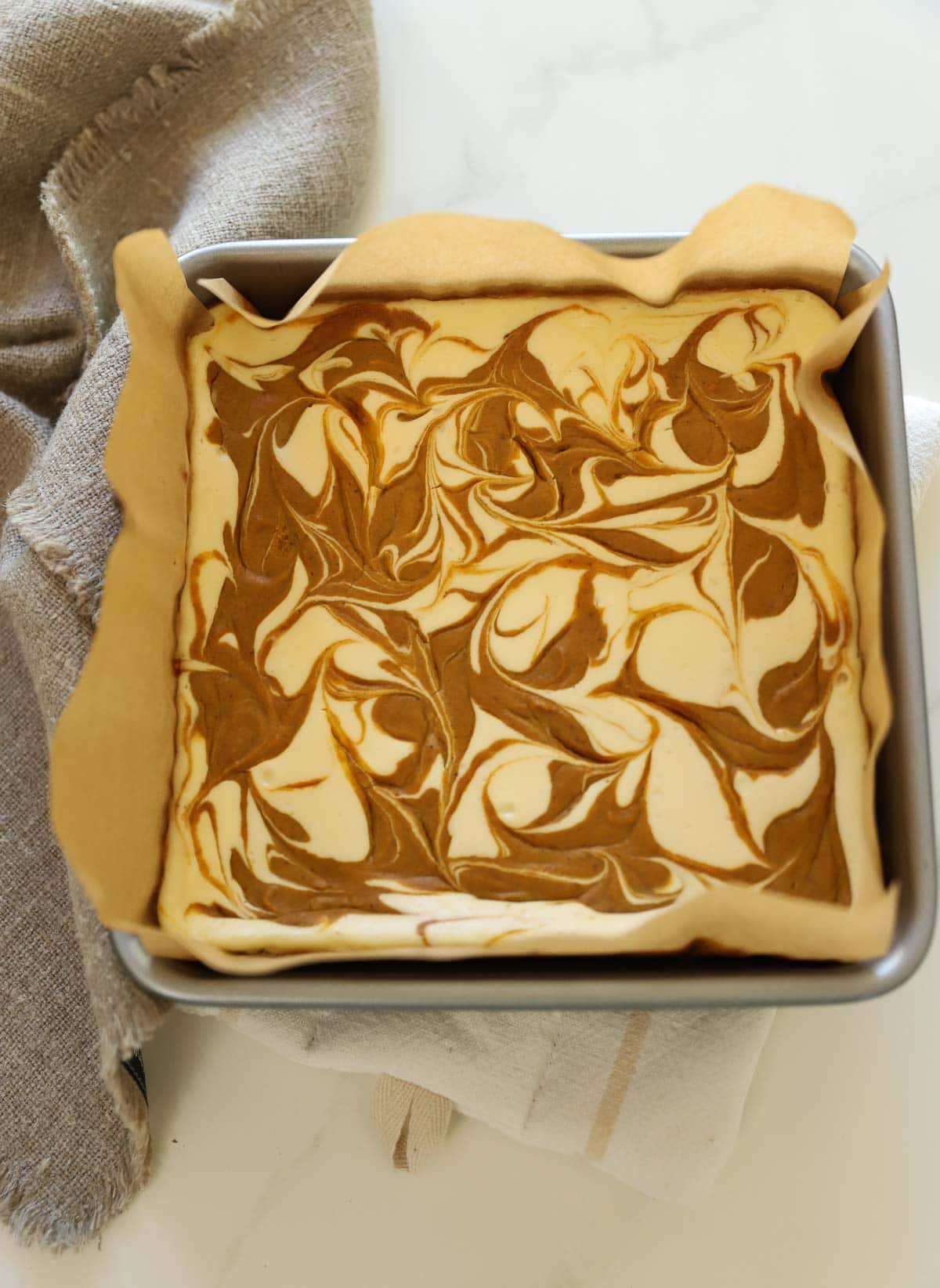 How Long to Refrigerate Cheesecake to Set
The first step is setting your cheesecake is to make sure you allow it to cool completely, or until just warm, but not hot.
Then place it in the refrigerator, still in its pan, uncovered so that condensaton does not form.
Refrigerate it for a minimum of 4 hours to set up. It will continue to firm up as it refrigerates.
It should be firm to the touch and not jiggly, that's how you know it's set.
Personally, I always allow for overnight refrigeration because it will be nicely set, and chilled and much easier to slice into clean cuts.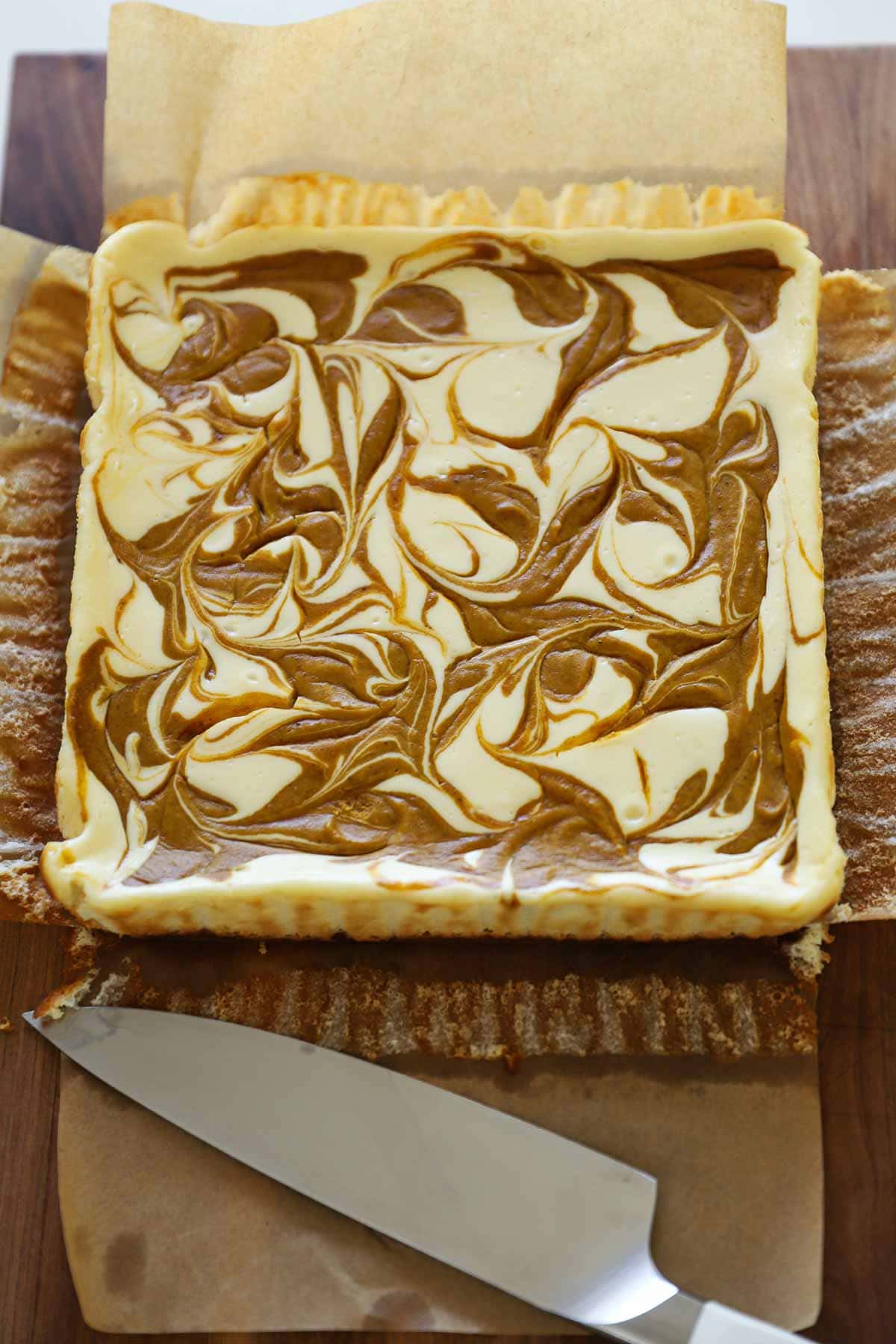 Slicing the Cheesecake
Place the cheesecake on a cutting board and peel back the parchment paper.
Make sure you have a sharp Chef's knife to cut through the three layers, especially the cookie crust which will be crisp and a bit harder to slice than the interior layers.
Cut the bars into 9 squares.
Or slice the squares again, on the diagonal to create triangles, which are better for a large gathering or Halloween party where other desserts may be served.
My decadent Baked Chocolate Donuts would be a great addition to these bars for a Halloween Party!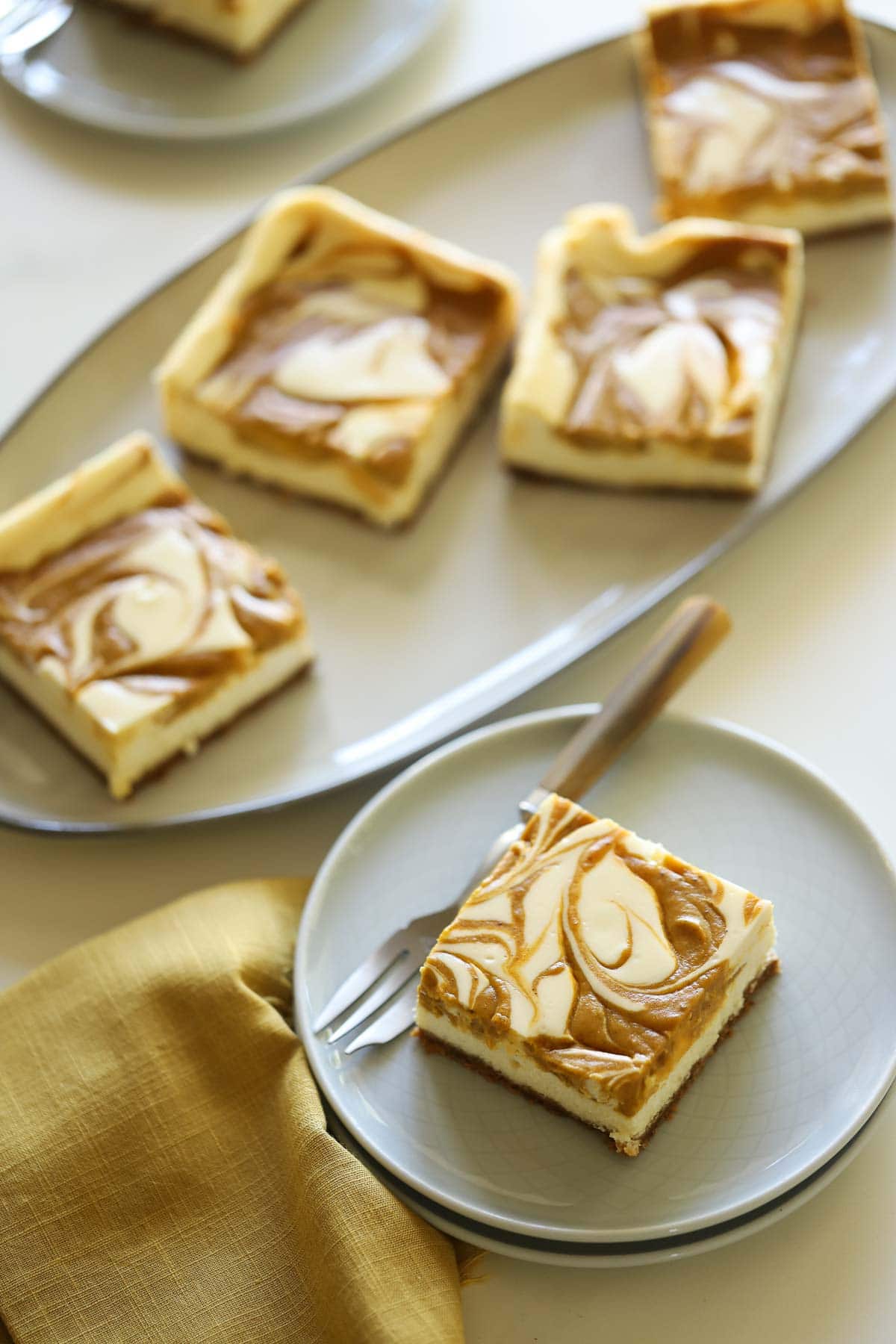 Storage and Serving:
Keep the cheesecake whole, refrigerated until ready to serve.
Then moments before serving, slice it into squares and serve on a platter or individual plates.
Cover any leftovers in foil and keep them refrigerated. They will stay fresh for 2-3 days.
I would not advise freezing these bars, as it would alter the creamy, decadent texture.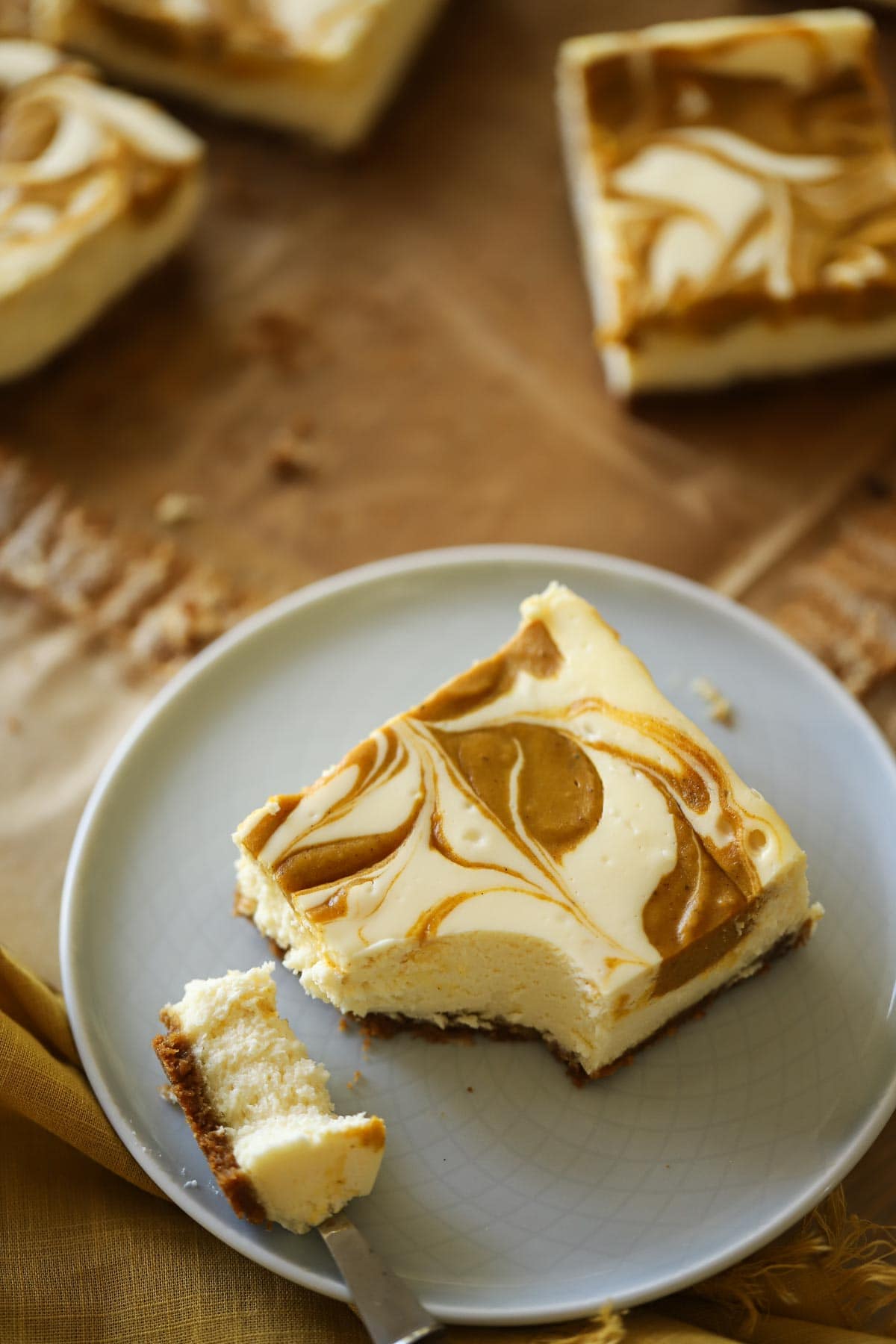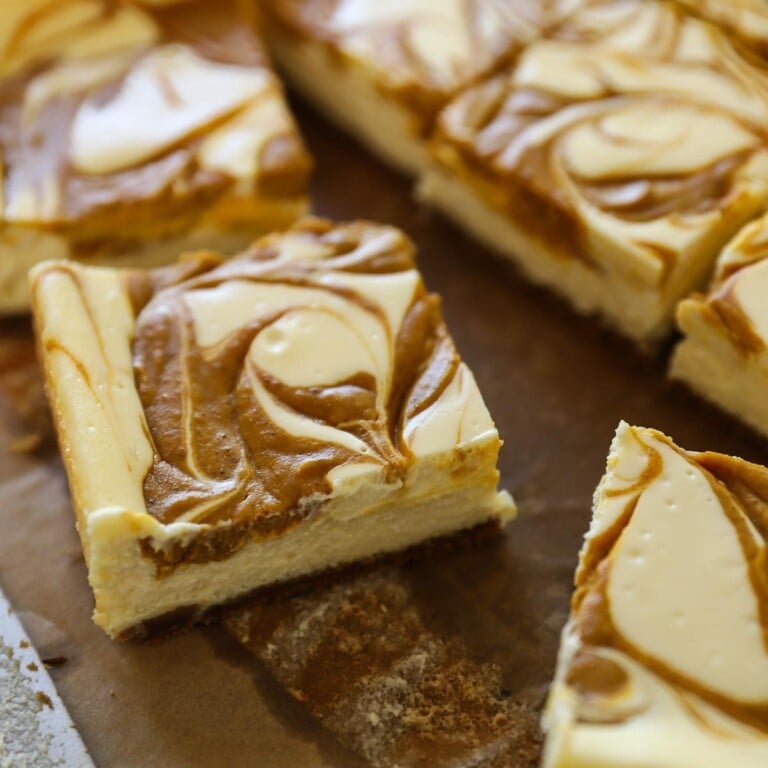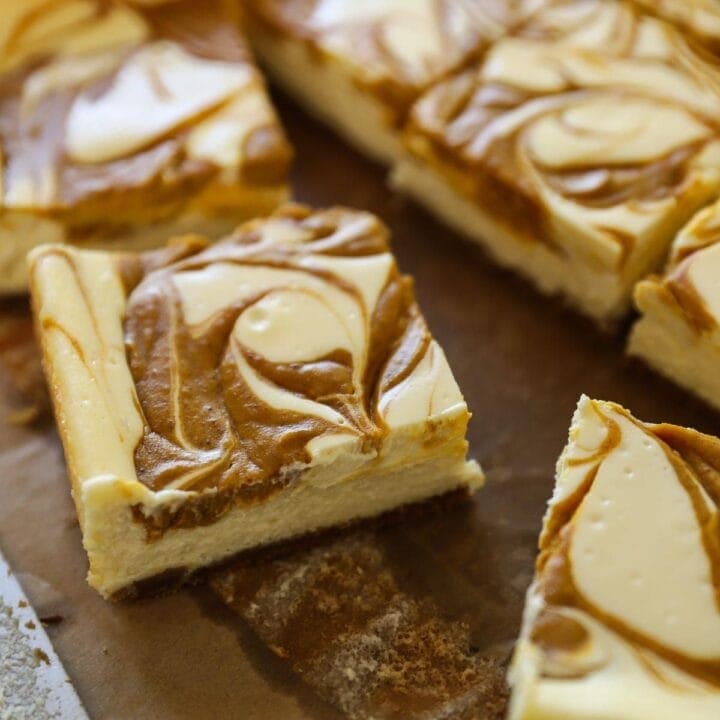 Pumpkin Cheesecake Bars
Total Time:
5 hours
20 minutes
These pumpkin cheesecake bars are a fantastic treat for the fall! They combine a decadent cheesecake filling, with a spiced pumpkin swirl topping and a crunchy gingersnap crust! So many wonderful fall flavors in every bite. Make them for a Halloween party or Thanksgiving!
Ingredients
Cream Cheese Filling:
24-ounces (678g) cream cheese, softened
¾ cup (178g) white granulated sugar
¾ cup (180 ml) sour cream
2 eggs
½ teaspoon (2.5ml) salt
2 ½ teaspoon (12.5ml) vanilla extract
3 tablespoon (24 g) flour
Pumpkin Filling:
¾ cup (180 ml) pumpkin puree
1 ½ teaspoon (7.5ml) brown sugar
½ teaspoon (2.5ml) pumpkin pie spice (Recipe here if needed: https://bit.ly/2zPINCN)
¼ teaspoon (1.25ml) vanilla extract
Pinch of salt
(Plus add ¼ cup (60ml) cream cheese mixture once combined, see below)
Crust:
195g Ginger Snap Cookies (Trader Joe's if you have them nearby)
3 tablespoon (45ml) melted butter
Instructions
Preheat oven to 325F (165C). Line a 9 x 9 (23cm) brownie pan with 2 cut sheets of parchment paper laid down in opposite directions. Set aside.
Place gingersnaps in a food processor, pulse until crumbs form. Then add butter, pulse until combined. Transfer crumbs to prepared pan. Tamp down the crumbs to a single, compacted layer and bake at 325F for 8-9 minutes. Set aside to cool.
In the bowl of a stand mixer (or hand mixer) combine the cream cheese, and sugar, beat until smooth. Add the sour cream, beat to combine. Add eggs, one at a time, beating in between each addition. Add salt and vanilla extract, and beat to combine. Add flour, and beat until just combined. Set aside.
Whisk together the pumpkin, brown sugar, pumpkin pie spice, vanilla and salt. Then add ¼ cup (60 ml) of the cream cheese mixture to the pumpkin mixture, whisk to combine.
Pour the cream cheese mixture into the prepared pan, smoothing out with a spatula. Then dollop pumpkin filling with a small spoon or mini cookie scoop, all over the top, around 16 dollops spaced ½ inch apart, and run a skewer through the pumpkin dots vertically and horizontally, until a swirled pattern forms.
Bake 35-40 mins allow to cool. Refrigerate overnight, uncovered, and then slice into 9 squares. Wipe off the knife after each slice, to create clean cuts.
Nutrition Information:
Yield:

9
Serving Size:

1
Amount Per Serving:
Calories:

481
Total Fat:

35g
Saturated Fat:

19g
Trans Fat:

1g
Unsaturated Fat:

12g
Cholesterol:

131mg
Sodium:

682mg
Carbohydrates:

23g
Fiber:

1g
Sugar:

7g
Protein:

20g