Panna Cotta with Cranberry Compote
This festive Panna Cotta with Cranberry Compote is one of my easiest Thanksgiving or Christmas dessert recipes since the whole thing can be made ahead! The panna cotta is rich and creamy which is a great match against the tart cranberries on top. And when served in footed bowls they look extra festive too!
So if the thought of making your own pie dough has you in a panic, consider making a holiday-themed panna cotta instead. It's way easier and just as tasty too!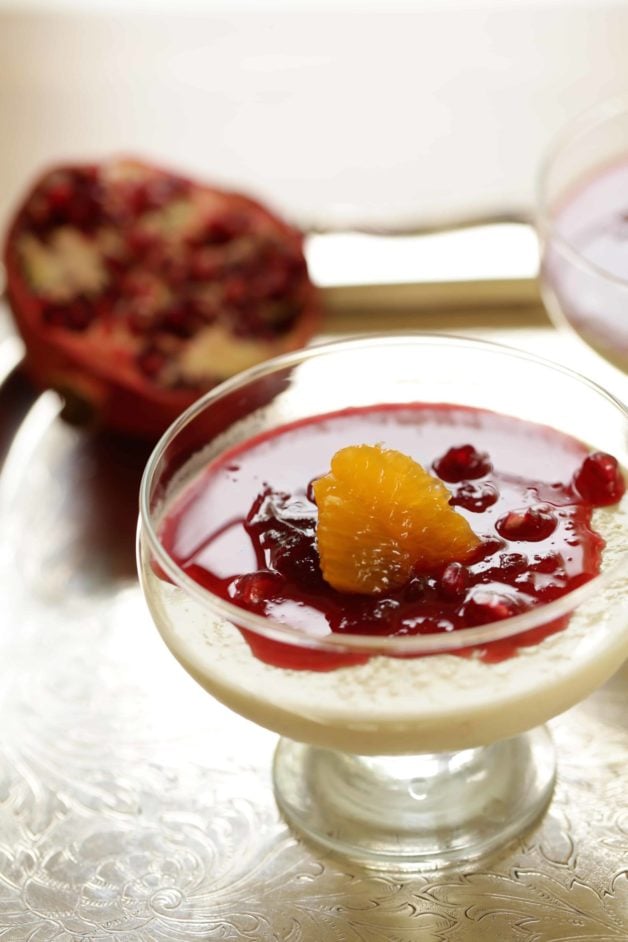 What are the ingredients?
The ingredients for panna cotta are very simple which is what makes this dessert so easy. You may even have everything you need sitting in your pantry and refrigerator.
Essentially, it's heavy cream, milk, sugar, vanilla bean, and gelatin (full recipe below).
This is the base of panna cotta and you can add any type of flavoring to the type you like.
In the summertime, I make a Strawberry Basil Panna Cotta recipe which is equally delicious and easy too and for breakfast, you can try my Greek Yogurt Panna Cotta another yummy one!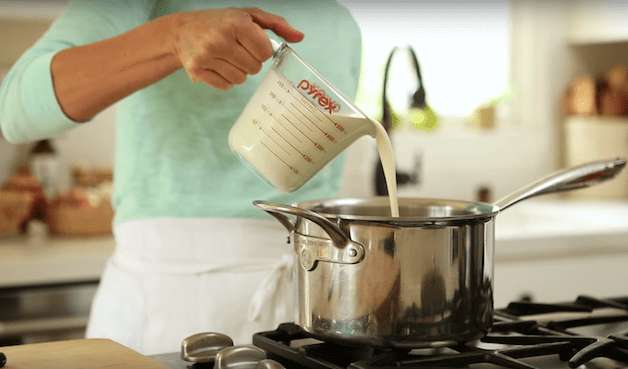 Subscribe for weekly recipes
and new videos!
How To Create a Smooth and Creamy Texture
The secret to a great-tasting panna cotta is the texture!
To create the best texture, after simmering the cream mixture to dissolve the sugar and gelatin, pass it through a fine-mesh sieve, this will catch any bits of gelatin that didn't dissolve or pieces of vanilla bean pod that ended up in the mixture due to the scrapping of the vanilla seed paste.
It's an extra step that's worth doing because it will create the smoothest, creamiest texture.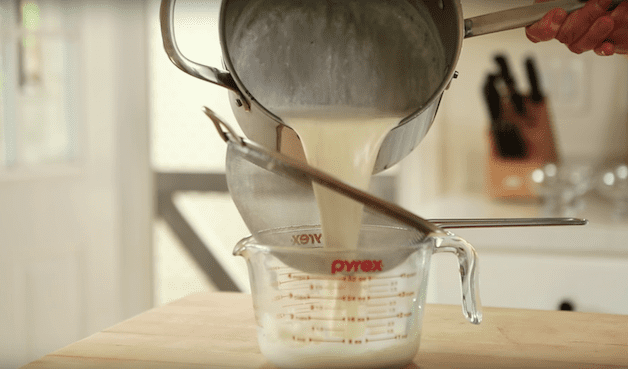 How long does it take to set?
Panna cotta needs at least 4 hours in the refrigerator to set up, but overnight is even better since it will allow it to completely chill. In addition to the texture, a great panna cotta is also nicely chilled.
Serving Idea:
For an elegant presentation serve your panna cottas in ice cream dishes or something clear and footed. That way your guests can appreciate the layers and fall colors and it makes a very simple dessert feel extra special and festive!
Avoiding Condensation
To preserve the smooth consistency on top of the panna cotta, don't cover them when refrigerating. Otherwise, condensation can form and the moisture will seep into the panna cottas and make them runny. Just place them in the refrigerator uncovered. They'll be fine that way for 24-hours.

Making the Cranberry Orange Compote
The compote on top is also really easy to make, all that's needed is a quick simmer on the stovetop until the mixture is reduced by half.
Then it will thicken and become more syrupy as it cools.
You can transfer it to an air-tight container and refrigerate it until ready to serve.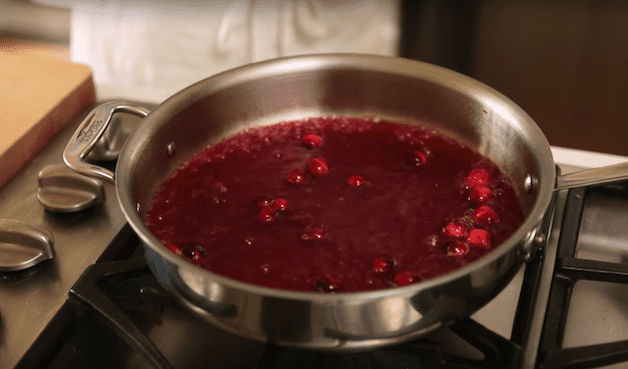 Serving and Garnishing
Right before serving remove the panna cottas and the compote from the refrigerator.
Top each panna cotta with a spoonful of the compote, top with a few pomegranate seeds and an orange segment and they're ready to bring to the table!
You'll love the combination of the creamy decadent panna cotta underneath, the tart cranberry compote, and the freshness of the pomegranate seeds and orange segments on top.
More Thanksgiving Dessert Ideas!
Please let me know if you make this recipe
by leaving a rating and review below!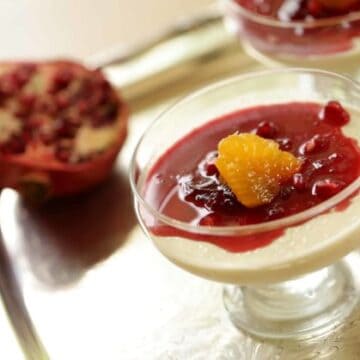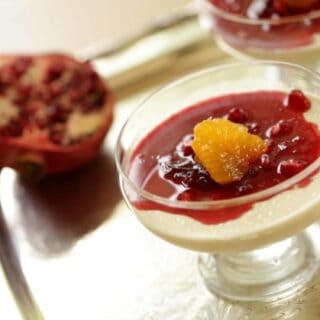 Panna Cotta with Cranberry Compote
Total Time:
5 hours
30 minutes
Learn how to make this easy Cranberry Panna Cotta Recipe. This is a great Thanksgiving or Christmas dessert idea. Includes recipe video.
Ingredients
FOR PANNA COTTA:
2 cups (480 ml) heavy cream
1 cup (240 ml) milk
¼ cup (50 g) sugar
1 vanilla bean, scraped of seeds
1 packet gelatin (2 ½ tsp)
FOR COMPOTE:
1 ½ cups (340 ml) cranberry juice
¼ cup (60 ml) fresh orange juice
½ cup (100 g) sugar
1 teaspoon (5 ml) orange zest
⅓ cup (50 g) fresh cranberries
For Garnish:
1 Orange segmented
2 tablespoon (30 ml) Pomegranate seeds
Instructions
In a large sauce pan combine heavy cream, milk, sugar and vanilla bean seeds and pod. Heat on medium high until simmering and vanilla seeds have risen to the top.
Add gelatin, whisk to combine and simmer for 5 minutes stirring occasionally until gelatin is dissolved.
Set aside to cool.
Pour cream base through a fine mesh sieve, transferring to a heat safe Pyrex pitcher. Then pour into serving glasses. Refrigerate uncovered 4 hours or overnight.
For the compote, add juices, sugar, zest and cranberries in a shallow sauté pan. Bring to a boil and reduce by at least half. Break down cranberries by mashing with a fork. Continue to simmer until sauce is slightly syrupy and coats the back of a spoon. Transfer to a heat safe container and refrigerate for at least 2 hours. Sauce will continue to thicken as it cools.
To serve, dollop compote on the center of each panna cotta, and top with orange segments and fresh pomegranate seeds.
Notes
NOTE: Both the panna cottas and compote can be made the day ahead, just don't top with compote until moments before serving.
Nutrition Information:
Yield:

4
Serving Size:

1
Amount Per Serving:
Calories:

128
Total Fat:

5g
Saturated Fat:

3g
Trans Fat:

0g
Unsaturated Fat:

2g
Cholesterol:

17mg
Sodium:

59mg
Carbohydrates:

19g
Fiber:

1g
Sugar:

16g
Protein:

1g