Apple Tart with Raisins and Walnuts
Fall baking wouldn't be complete without a stand-out apple recipe and this year, my Apple Tart with Raisins and Walnuts is one is my favorite holiday recipes. It's a great one for Thanksgiving or Christmas and always gets rave reviews!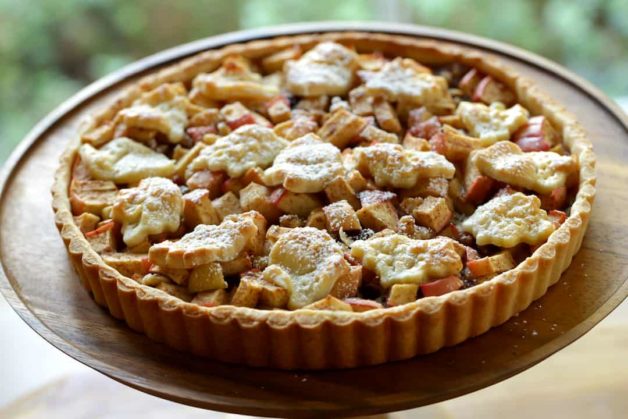 Why You'll Love it:
This tart pairs really beautifully with some homemade whipped cream spiked with a little Calvados liquor (recipe follows) or of course a big scoop of vanilla ice cream!
It's a wonderful alternative to a classic apple pie recipe because it's a bit more unexpected when made in a fluted tart pan and decorated with fall pastry cut-outs.
Creating the Decorative Cut Outs
I found these darling cookie cutter stamps online which became the inspiration for this tart and I just couldn't resist them!
They are super easy to use and come in a set of 4 autumn motifs. I fell in love with the oak leaves and acorns, but you really could use all four to decorate your tart.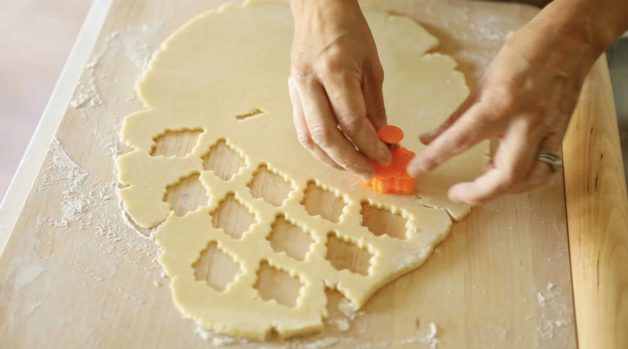 Subscribe for weekly recipes
and new videos!
Place Them on Top of The Tart
They bake on top of the tart and are beautiful when dusted with a little powdered sugar too! I love to add walnuts to this tart, but you could also throw in some raisins and that would also be delicious too.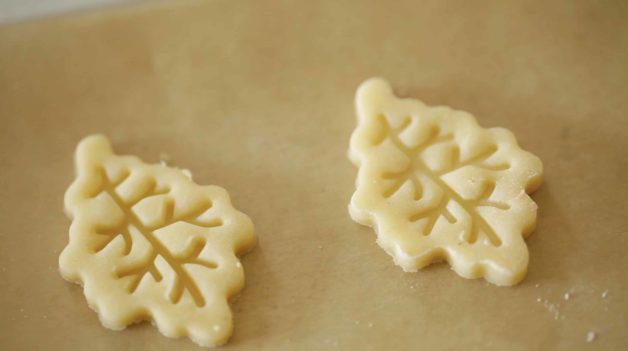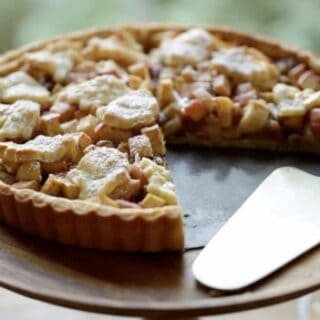 Apple Pie with Raisins and Walnuts
Total Time:
1 hour
30 minutes
A beautiful Apple Pie with Raisins and Walnuts decorated with pastry leaves and acorns perfect for Thanksgiving dessert!
Ingredients
For Crust base:
1 ¼ cups (150g) flour
3 tablespoon (31 g) powdered sugar
½ teaspoon (2.5 ml) salt
½ cup (120 g) butter, chilled and diced into cubes
1 egg yolk and egg white separated
2 tablespoon (30 ml) ice water
For decorative leaves:
1 ¼ cups (150g) flour
3 tablespoon (31 g) powdered sugar
½ teaspoon (2.5 ml) salt
½ cup (120 g) butter, chilled and diced into cubes
1 egg yolk and egg white separated
2 tablespoon (30 ml) ice water
Filling:
½ cup (120 ml) unsweetened apple sauce
3 cups (450g) gala apples, skin on, diced (approximately 3 apples)
2 tablespoon (23 g) brown sugar
1 ½ teaspoon (7.5ml) pumpkin pie spice
2 teaspoon (10 ml) fresh lemon juice
2 tablespoon (30 ml) water
1 tablespoon (7 g) cornstarch (or cornflour)
½ cup (75 g) chopped walnuts
½ cup (75 g) raisins (optional)
1 tablespoon (15 g) butter dicedGarnish:
1 egg white
a dusting of powdered sugar
Calvados Whipped Cream:
2 cups (475 ml) heavy cream
2 tablespoon (13 g) powdered sugar
½ teaspoon (2.5ml) vanilla extract
2 teaspoon (10 ml) Calvados
Instructions
In the bowl of a food process combine flour, powdered sugar and salt, pulse to combine. Then slowly add butter pulsing until a coarse meal forms.
In a small bowl whisk, together the egg yolk and ice water and then slowly add this mixture to the food processor pulsing until a dough ball forms.
Turn dough out onto a floured surface, flatten into a disk and wrap in plastic wrap. Chill in refrigerator for at least 1 hour.
(you will make this dough twice, 1 for crust and 1 for decorative topping. This can be done the day before)
Preheat heat oven to 400F (200C)
Once dough is chilled, roll out 1 disk to ⅛" thickness and fit into a removable bottom tart tin. Trim edges of dough around rim and then fold crust into tin to create a double crust and trim edges. Place in freezer until ready to fill.
Meanwhile, in a large bowl add apples, brown sugar, pumpkin pie spice, fresh lemon juice, cornstarch and water. Toss to combine. Then add walnuts and toss to coat. Set filling aside.
Then roll out second disk to ⅛ inch (3 mm) thickness and cut out favorite fall shapes (leaves, acorns etc) transfer shapes to a baking sheet lined with parchment paper.
Remove tart shell from freezer. Add ½ cup of apple sauce to bottom of the shell, smoothing out to cover the bottom of the surface. Add apple filling on top, smoothing out to form an even layer. Tuck in diced butter in and around the apples, burying it under the apples.
Add decorative shapes on top. Brush shapes lightly with egg white.
Bake at 400F (200C) for 15 mins. Then reduce temperature to 350F (175C) and bake for another 15 minutes.
Allow to cool completely. Remove from tin and dust lightly with powdered sugar. Serve with homemade whipped cream.
For whipped cream, combine cream, sugar, vanilla and calvados, in an electric mixer, whip on high until soft peaks form. Keep refrigerated until ready to use. Serve with tart! Enjoy!
Recommended Products
As an Amazon Associate and member of other affiliate programs, I earn from qualifying purchases.
Nutrition Information:
Yield:

8
Serving Size:

1
Amount Per Serving:
Calories:

221
Total Fat:

7g
Saturated Fat:

3g
Trans Fat:

0g
Unsaturated Fat:

3g
Cholesterol:

55mg
Sodium:

78mg
Carbohydrates:

39g
Fiber:

2g
Sugar:

32g
Protein:

3g