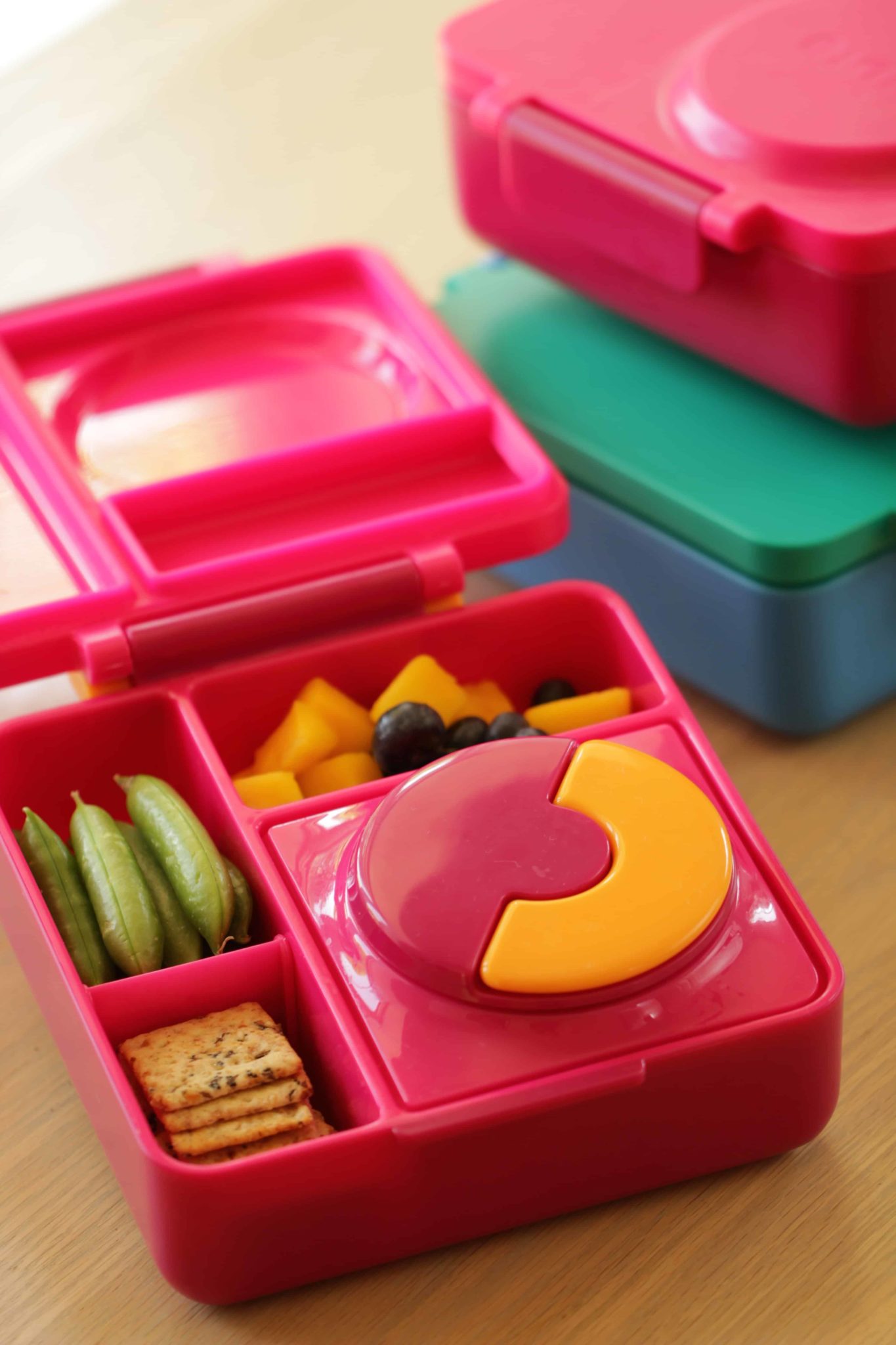 Back-to-School is finally here and with it, comes the grind of the daily lunchbox…sigh.  If you're looking for some new inspiration this year, you're in luck!  These recipes are easy, healthy and use up leftovers that may already be sitting in your fridge!
These lunchbox ideas are great for kids, grownups and students.  They also look especially appetizing in the ultra-chic Omie Box (my newest lunchbox obsession!) Not only do they look great and come in fun colors, but they come with a built-in thermos, adjustable compartments, and go in the dishwasher! My kind of lunchbox 🙂
To see a video demo of these 3 lunches you can watch my tutorial below. SUBSCRIBE TO MY YOUTUBE CHANNEL and never miss a recipe! (not to worry it's free!) and new videos post each Saturday!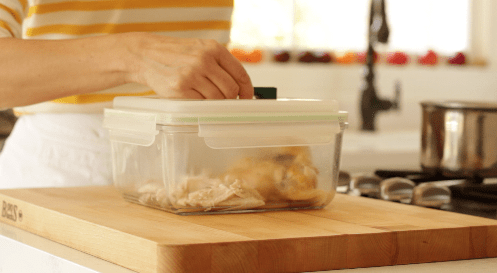 Take the roast chicken from Sunday Night's Dinner, add chicken broth, frozen peas and carrots and a little dried basil…et voila! Instant chicken soup.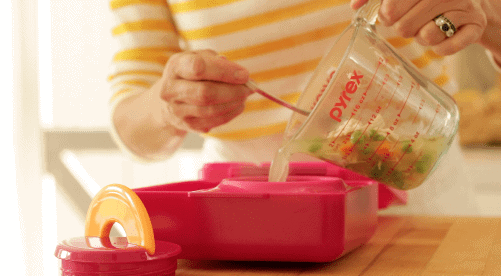 Print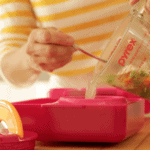 Leftover Chicken = Easy Chicken Soup
---
Author:

Prep Time:

5 mins

Cook Time:

5 mins

Total Time:

10 mins

Yield:

1 serving

Category:

Lunch

Cuisine:

American
Ingredients
1 cup (240 ml) Chicken Broth
2/3 cup shredded chicken
1/4 cup frozen peas and carrots
pinch of dried basil
salt and pepper to taste
---
Instructions
Combine all ingredients in a pot and simmer until hot and warmed through. Transfer to a thermos.PACK WITH:
Crackers
Mangoes and Blueberries
Snap Peas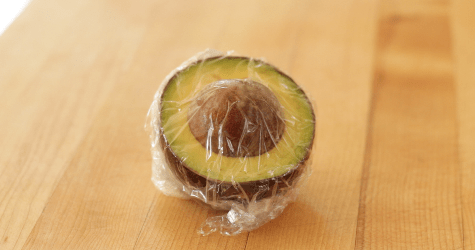 Take that half of an avocado that is turning brown in your fridge and turn it into a delicious Avocado Sandwich! Add a little tahini for some extra protein. Something you may also have on hand if you make homemade hummus. Whaaaaat?? Not making homemade hummus?! Give my homemade hummus recipe a try and I promise  you'll never go store-bought again! 🙂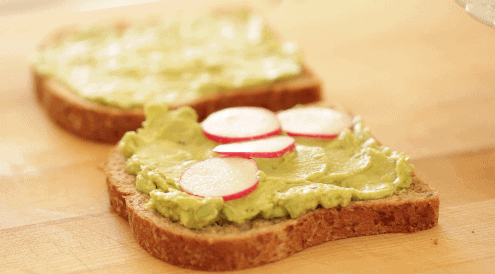 Print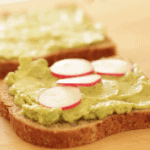 Brown Avocado = Avocado Sandwich
---
Author:

Prep Time:

10 mins

Total Time:

10 mins

Yield:

1 serving

Category:

Lunch

Cuisine:

Vegan
Ingredients
1/2 Avocado
1 tsp (5 ml) Tahini Paste
1/2 tsp (2.5ml) lemon juice
salt and pepper to taste
5 sliced radishes
2 sliced tomatoes
2 slices whole grain bread
---
Instructions
Remove pit from avocado. Scoop out flesh. Add Tahini paste, lemon juice, salt and pepper to taste. Mash with a potato masher or fork.
Spread on bread, top with radishes and tomatoes.
PACK WITH:
Veggie Chips
Roasted Cashew/Golden Raisins
Kiwis Cut in half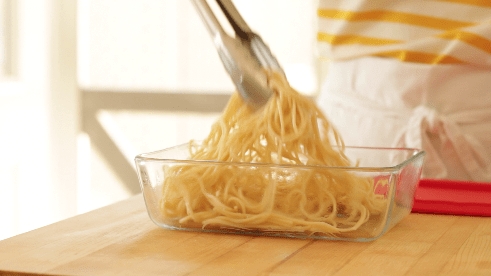 Take that extra pasta sitting in your fridge and turn i into a delicious bowl of cold sesame noodles!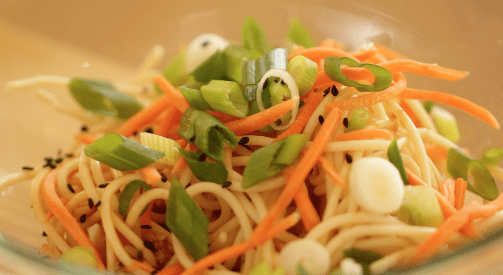 Print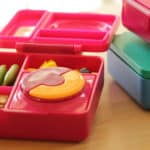 Leftover Pasta = Cold Sesame Noodles
---
Author:

Category:

Vegetarian

Cuisine:

Asian
Ingredients
1 cup (240 ml) cooked spaghetti
1 tbsp (15 ml) soy sauce
1 tsp (5 ml) rice wine vinegar
1 small garlic clove, minced
1/8 tsp (.60 ml) fresh ginger, grated
1/8 tsp(.60 ml) chili paste
1 tbsp (15 ml) Toasted sesame oil
1 scallion, sliced on the bias into 1/4 inch slivers
2 tbsp (30 ml) grated carrots
1/4 tsp (1.25ml) black sesame seeds
---
Instructions
Combine soy sauce, vinegar, garlic, ginger, chili paste, sesame oil in a bowl. Whisk to combine. Drizzle sauce over pasta add carrots and scallions. Toss well to coat pasta and veggies with the sauce.
Add sesame seeds on top.
PACK WITH:
Dried Apples, Raisins and Shredded Coconut and Pretzel nuggets and cheddar cheese