If you are tired of the same sweet potato casserole for Thanksgiving, try these smashed sweet potatoes with crispy sage butter instead. They are sweet and decadent in a different way, but just as delicious! And they are a side dish that can be prepped ahead of time too!
If you have enjoyed my traditional Smashed Potato Recipe, you will love this sweet potato twist on the same concept!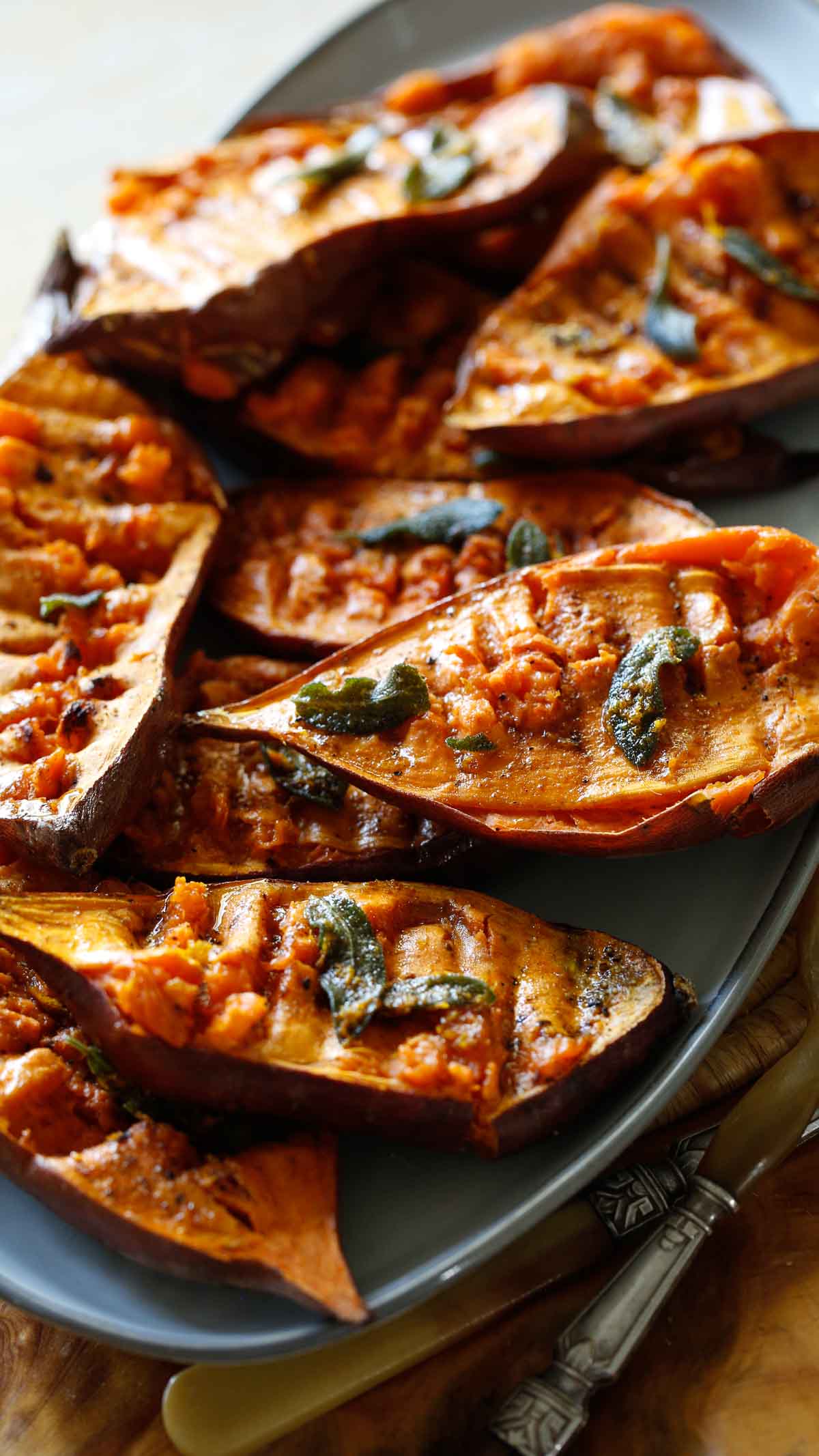 Step#1: Season the Sweet Potatoes
You'll slice the sweet potatoes in half, drizzle with olive oil and season with salt, pepper and a sprinkle of pumpkin pie spice.
If you live outside the U.S.A and can't get pumpkin pie spice you can make your own with my Homemade Pumpkin Pie Spice Recipe. Or you can substitute with cinnamon instead.
For more flavor I roast the sweet potatoes instead of boiling them.
You'll roast them until they are fork tender which will make them easier to "smash".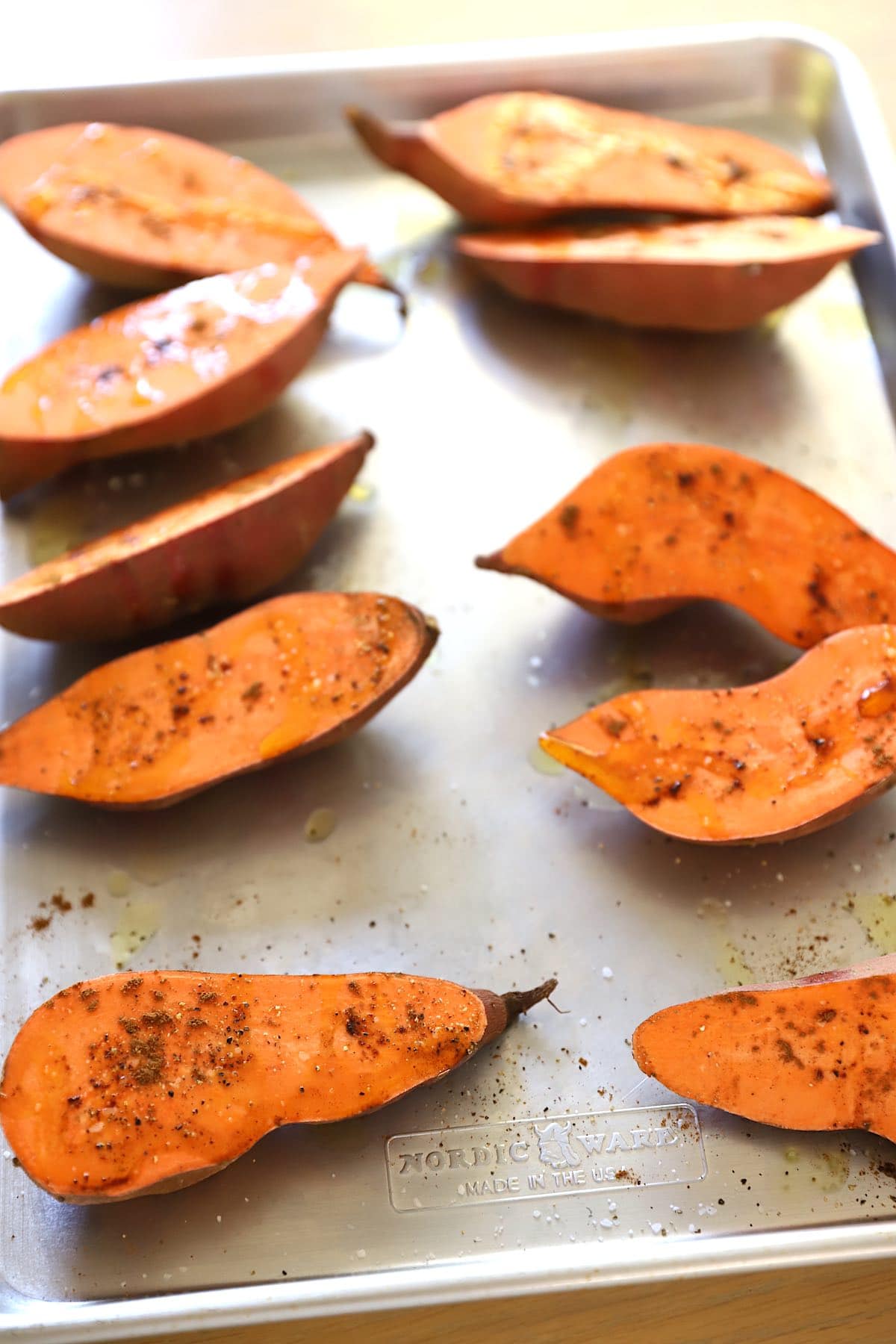 Step#3: Smash the Potatoes
Using a potato masher, gently smash each sweet potato half. You can do this right on the baking sheet.
The nooks and grannies that develop from the smashing, create nice divets for the browned sage butter in which to settle.
Spay some olive oil on the potato masher to prevent it from sticking too much to the sweet potato.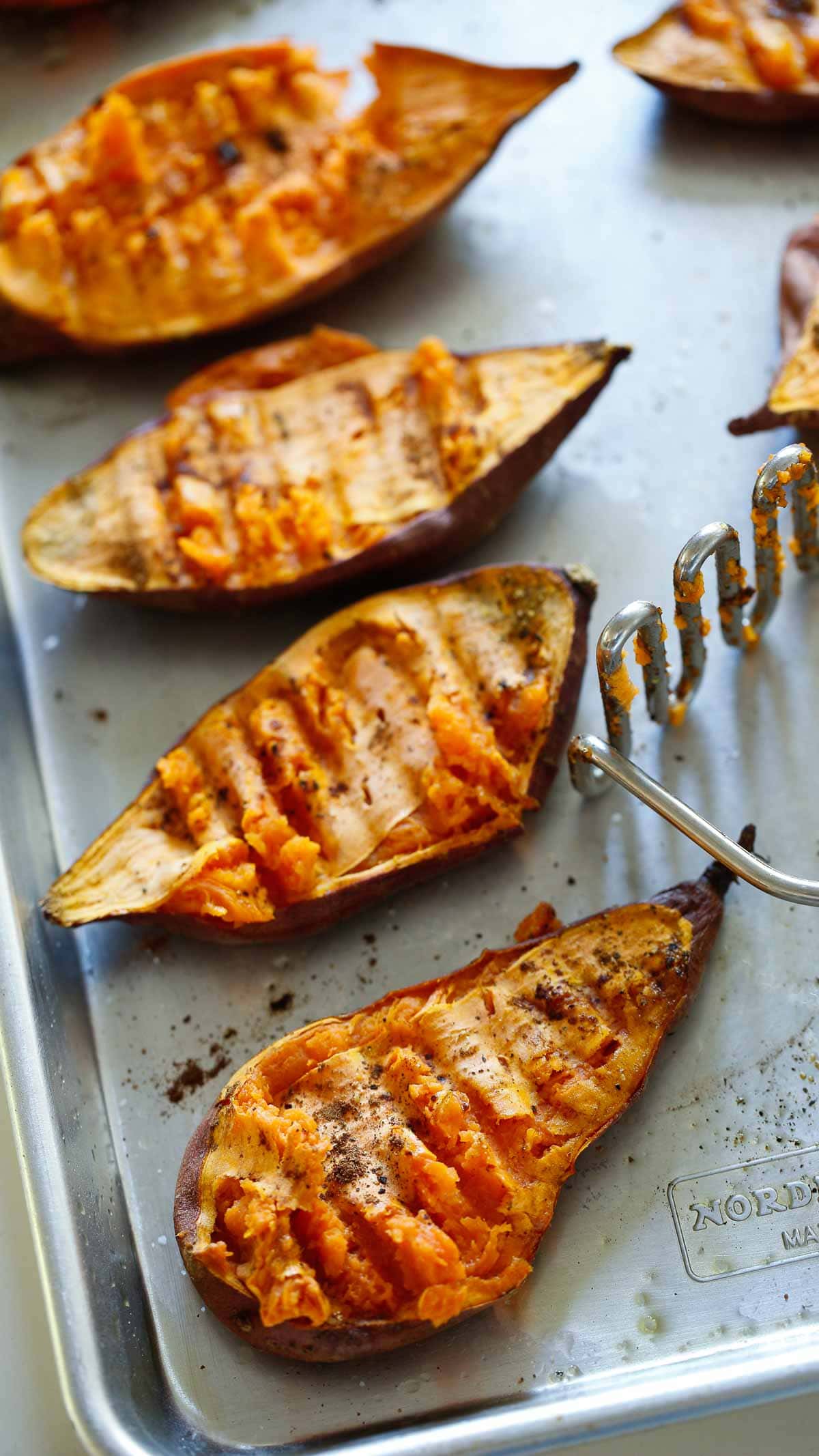 Step#4: Make the Sage Butter
You'll brown the butter in the pan, just until it's a soft amber color.
Then fry the sage leaves until crispy. This is the same technique I use in my Sweet Potato Gnocchi Recipe which is so good!
To add even more flavor to the browned butter I add maple syrup and orange zest. Two flavors that pair so well with sweet potato.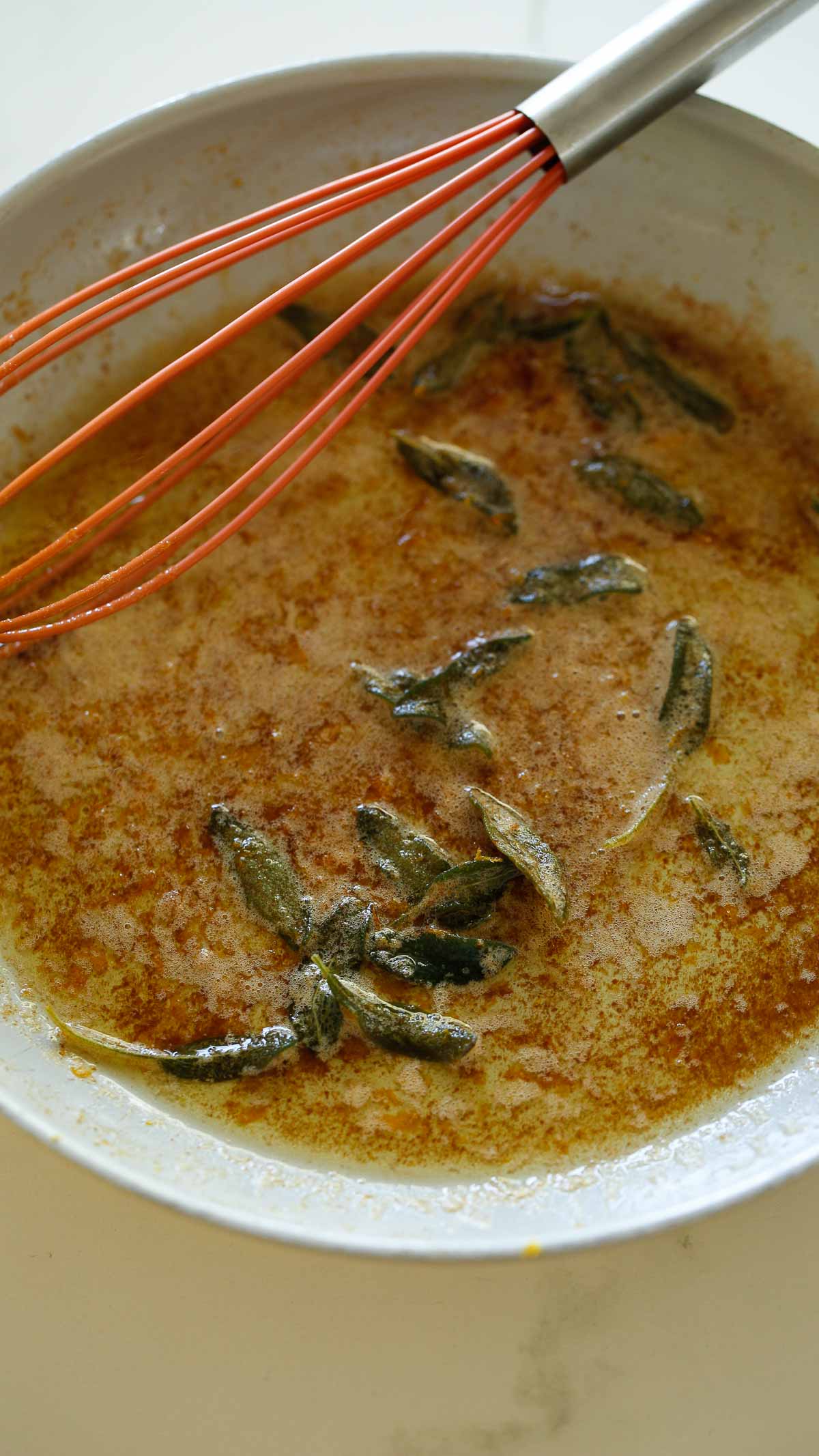 Step#5: Brush the Sage Butter
Brush each sweet poato with the brown butter and top with 1-2 crispy sage leaves.
Not only do the leaves look beautiful on the sweet potato but the flavor combination is so great too! I also add fresh sage to my Sweet Potato Biscuits which look just as beautiful.
Then place the sweet potatoes back in the oven to set the butter for 10-15 minutes.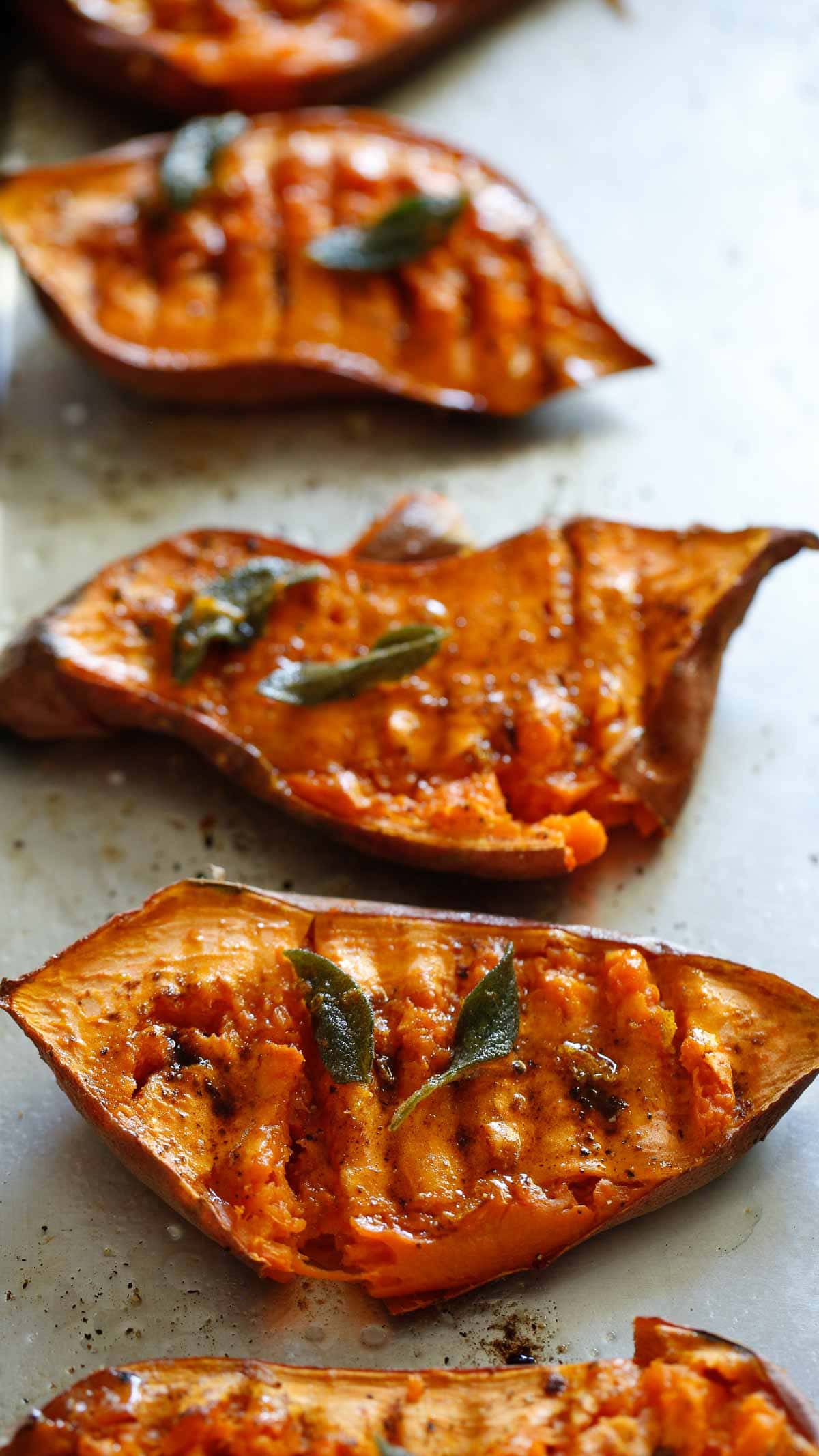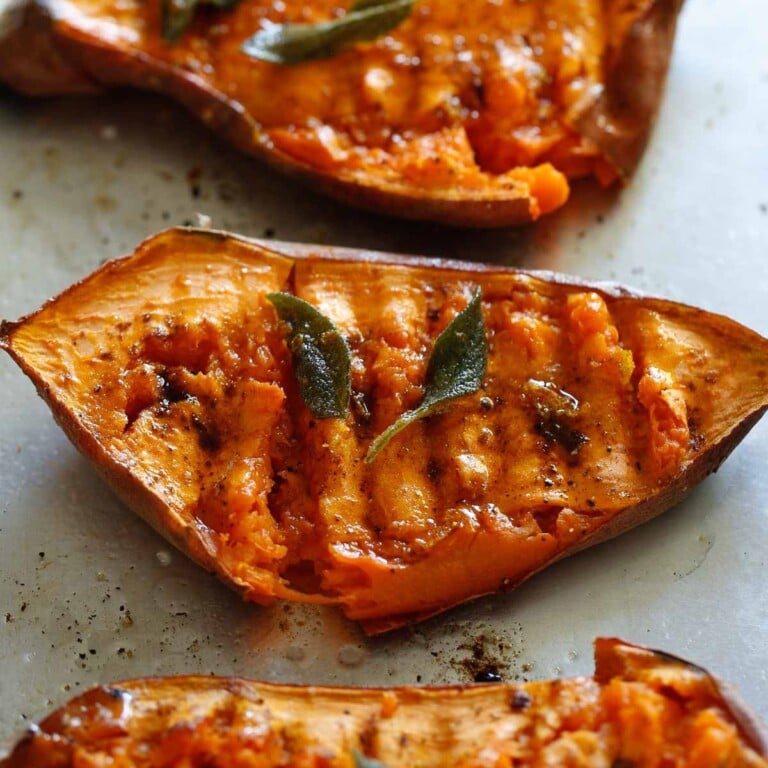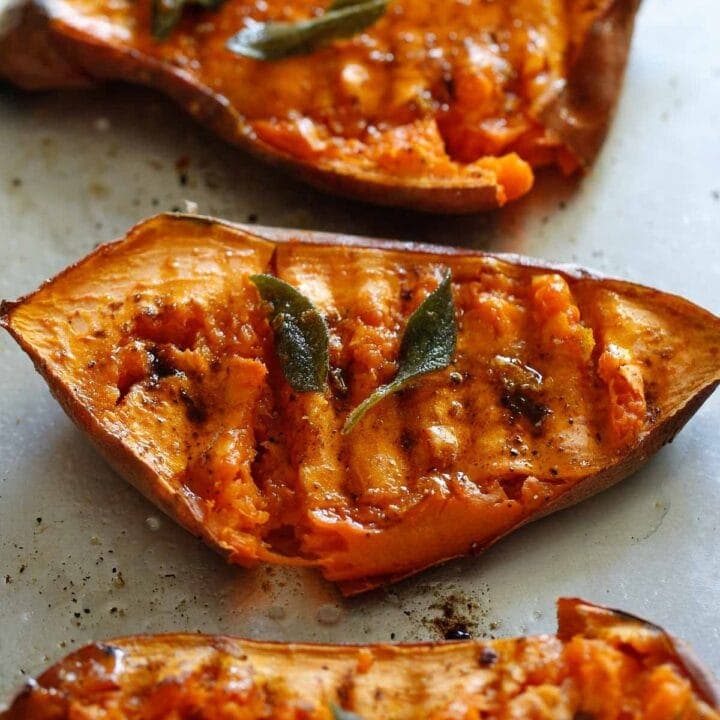 Smashed Sweet Potatoes
Total Time:
1 hour
20 minutes
A delicious sweet potato recipe that is just as delicious and decadent as sweet potato casserole, but way easier!
Ingredients
5 large sweet potatoes, cut lengthwise in half
1 tablespoon (15 ml) olive oil
Salt and pepper to taste
Pumpkin Pie Spice to taste
4 tablespoon (56 g) butter
20 Fresh Sage leaves
1 ½ teaspoon (7.5 ml) orange zest
1 teaspoon (5 ml) maple syrup
Instructions
Preheat the oven to 400F (200C).
Slice the sweet potatoes in half, lengthwise.
Drizzle each sweet potato half with a little bit of olive oil and season to taste with salt, pepper, and a sprinkle of pumpkin pie spice.
Bake for 40 minutes or until fork tender.
Spray a potato masher with olive oil, and gently press down on each potato half until flattened and "smashed". Set aside.
Melt butter in the pan, add sage leaves, and fry in butter for a few minutes until crispy.
Add the maple syrup and orange zest and whisk to combine.
Brush the butter on each sweet potato half, and add 2 sage leaves to each half.
Bake again at 350F for 10-15 minutes to set butter.
Notes
You can make these ahead of time by mashing the sweet potatoes, then cover and refrigerate. Then when ready to serve, make the butter sauce, and bake at 350F for 20 minutes.