When it comes to the month of September it's officially time to start rolling out the fall recipes! You'll love this Easy Apple Fritter Recipe! It's the perfect "first-bite" of fall!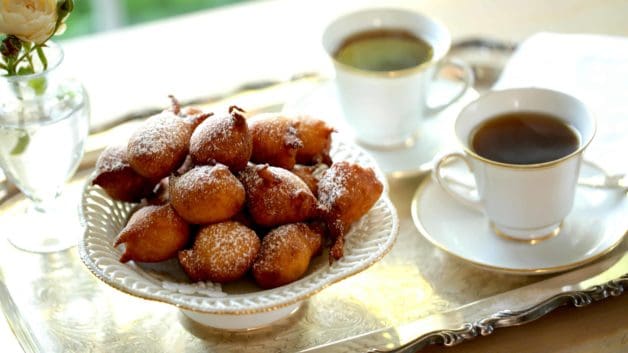 They are great served with a cup of coffee or they also make for a fun dessert idea after a dinner party.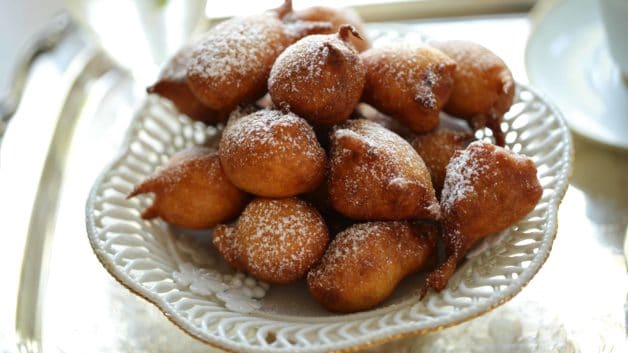 SHOP THIS EASY APPLE FRITTER RECIPE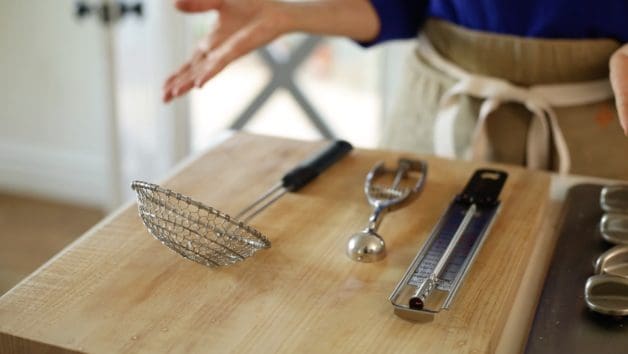 Frying is always a bit of an "art" and I have found these 3 products help to achieve frying success! (these links go to Amazon where I have an Influencer Page and receive a commission on the products sold)
1.) A Candy Thermometer is critical for maintaining an even temperature. If your oil is too hot (above 375F your fritters will burn and be raw inside, too cool (below 375F) your fritters will be greasy and heavy
2.) A 1-inch cookie dough scooper This is the perfect size for bite-sized fritters and easier frying. If your fritters are too large they don't cook as quickly and can be more difficult to make sure they are cooked through
3.) A Spider Strainer These are so much better than a slotted spoon for removing your fritters and allowing them to drain (I find the slotted spoons take too much oil to your draining station and can make a bit of a mess!)
For more fall recipes you might enjoy my Apple Cider Pancake Recipe, or my Sweet Potato and Sage Biscuits or my Apple Spiced Cake. All easy and delicious!
Please let me know if you make this Easy Apple Fritter Recipe
by leaving a rating and review below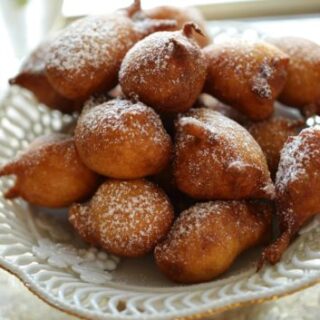 Easy Apple Fritters
Total Time:
1 hour
45 minutes
An easy Apple Fritter Recipe that is a great fall recipe for fall entertaining!
Ingredients
For Dough:
1 ¾ cups (210g) flour
1 ¾ teaspoon (8.75ml) baking powder
½ teaspoon (2.5ml) salt
⅓ cup (65g) sugar
1 cup (240ml) milk
1 egg
1 vanilla bean, scrapped of its paste
For filling:
2 tablespoon (30g) butter
2 cups (300g) gala apples, peeled and diced
1 tablespoon (13g) sugar
¾ teaspoon (3.75ml) cinnamon
powdered sugar for dusting
Vegetable oil for frying
Instructions
In a medium-sized bowl toss apples with sugar and cinnamon and set aside. In a large non-stick skillet melt the butter, sauté the apple mixture until apples are caramelized and very tender, set aside.
In a heat-safe pitcher, measure out 1 cup of milk and add the vanilla bean paste and pod. Microwave for 1-2 minutes until milk is hot, set aside and allow vanilla to steep while you mix the rest of the ingredients.
In a large bowl, whisk together the flour, baking powder, salt and sugar. Remove vanilla pod from milk, whisk seeds that have floated to the top, add vanilla milk to the flour mixture. Add egg. Mix well, and then stir in the apple mixture.
Before you fry, prepare a draining station for your fritters. A cooling rack set into a sheet pan lined with paper towel, works really well.
In a large Dutch oven heat 3-4 inches of oil to exactly 375F degrees. Really important to use a candy thermometer to regulate the oil temperature and maintain the heat at 375F. Otherwise if it's too hot, fritters will burn on the outside and be raw on the inside. Too low and you'll have greasy fritters.
Keeping thermometer in the oil as you fry, dollop 3 spoonfuls of batter (about 2 teaspoon worth. A 1-inch cookie dough scooper works really well for this)
Fry each fritter on each side until golden brown. Remove fritters to drain and then lightly dust with powdered sugar. Serve immediately!
Notes
The batter can be made ahead of time and refrigerated. Then bring to room temperature for 20 minutes or so before frying
Recommended Products
As an Amazon Associate and member of other affiliate programs, I earn from qualifying purchases.
Nutrition Information:
Yield:

20
Serving Size:

1
Amount Per Serving:
Calories:

42
Total Fat:

1g
Saturated Fat:

0g
Trans Fat:

0g
Unsaturated Fat:

1g
Cholesterol:

9mg
Sodium:

4mg
Carbohydrates:

9g
Fiber:

0g
Sugar:

8g
Protein:

0g