This is a delicious, and nutritious, vegan take on my Hachis Parmentier Recipe, a classic French dish that's made with seasoned ground beef and mashed potatoes. This vegan recipe switches out the ground beef in favor of French lentils and sauteed mushrooms with shallots and seasonings.
For a lighter take on the mashed potatoes, I serve this with a cauliflower mash. This silky smooth topping is a wonderful combination against the hearty lentil and mushroom mixture.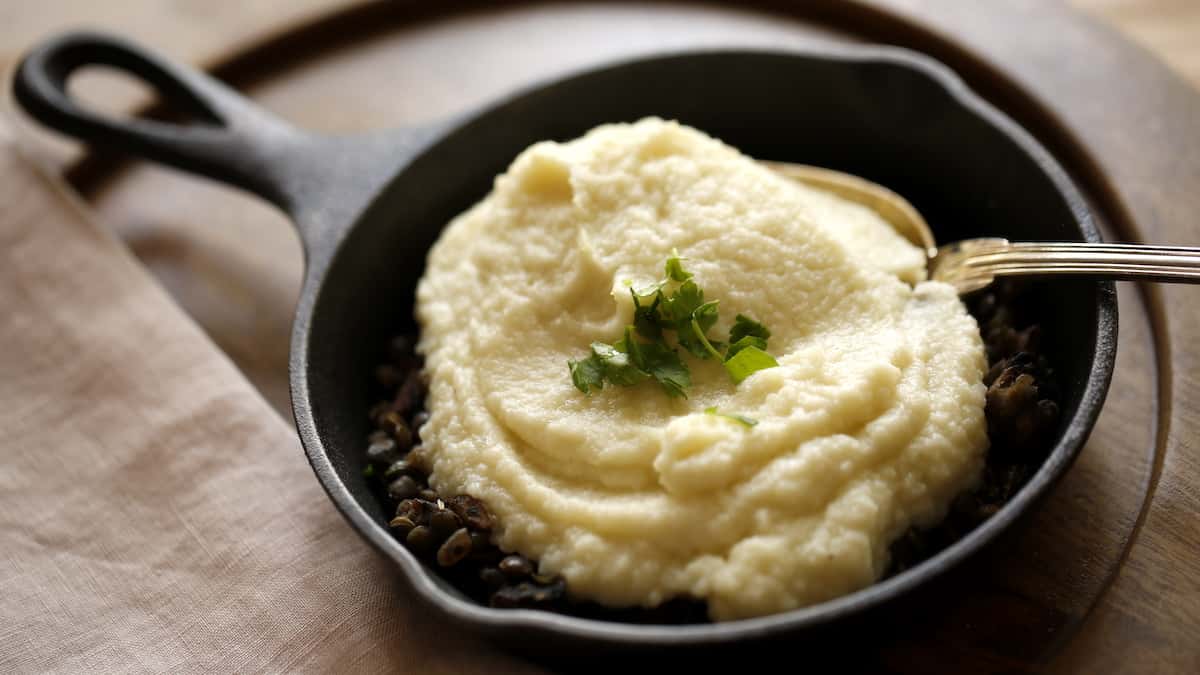 WHY YOU'LL LOVE THIS:
The lentils are full of fiber and protein making it a nutritional choice for vegan diets
You can precook the lentils in advance or buy already cooked lentils to make the recipe even easier
You can make the cauliflower mash as a side dish to serve with other meals too!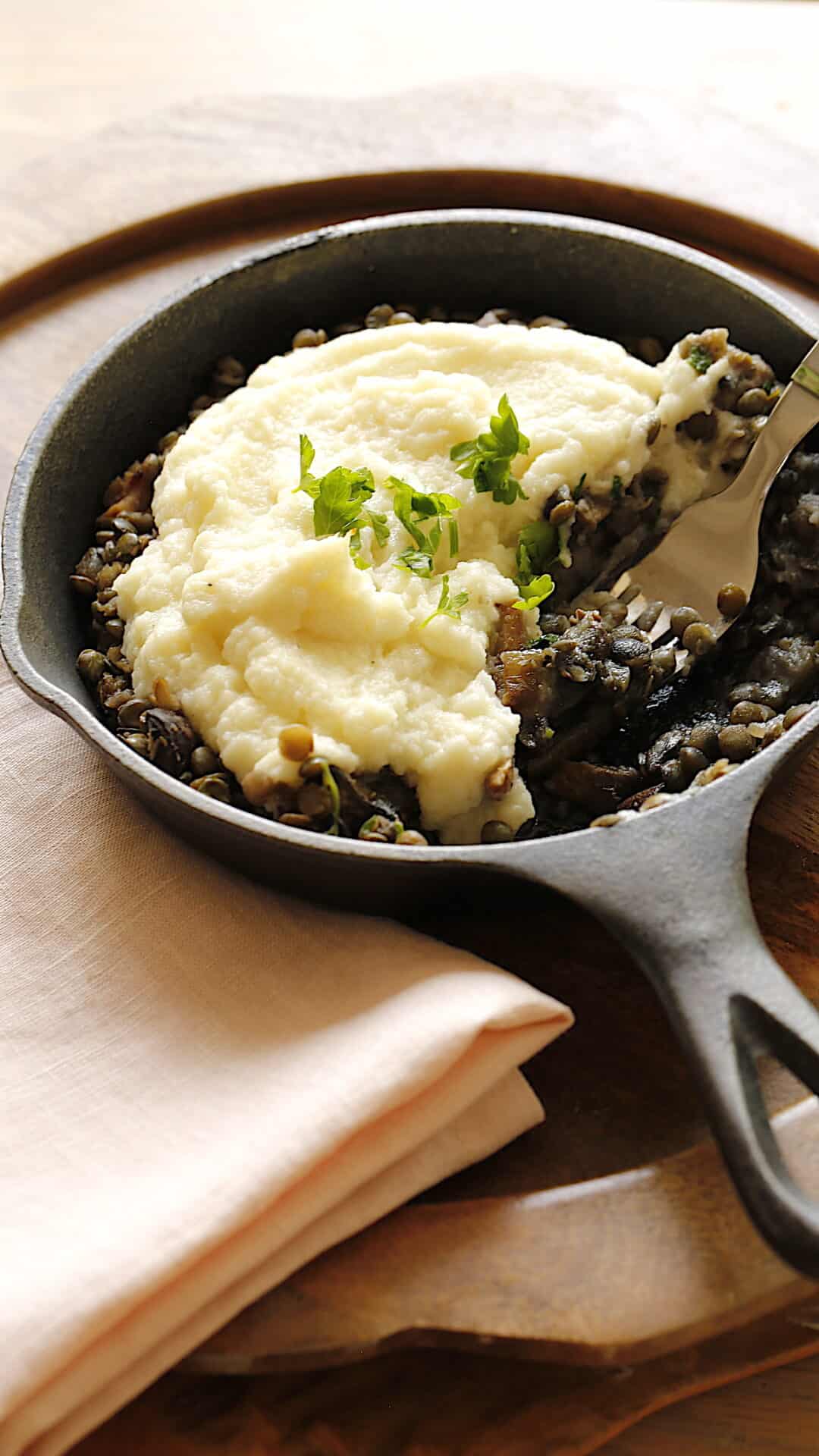 The cauliflower mash is also really great on its own and delicious for a spring side dish for anyone looking to cut down on the carbs.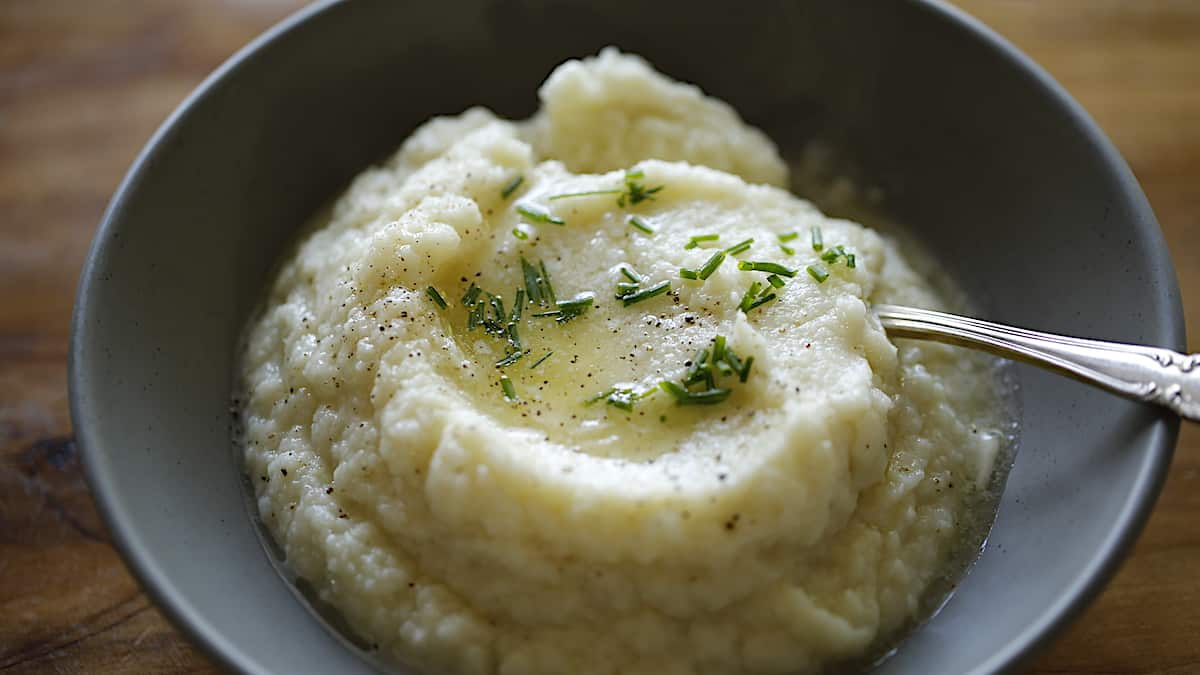 Watch my Video Demo of this Recipe Below!
STEP#1: Cook the Lentils
French green lentils work best for this recipe because they hold their shape while cooking and won't become mushy. You can precook the lentils the day before, and just reheat them with the mushroom mixture.
I think this recipe is really fun when served as mini skillets. But you can also serve it in a 9" oven-safe casserole dish too.

STEP#2: Cook the Mushroom Mixture
The mushrooms add a wonderful hearty, earthy flavor to this recipe. The longer the mushrooms have to cook and become deep brown, the more flavor they will have. So it's best not to rush this part.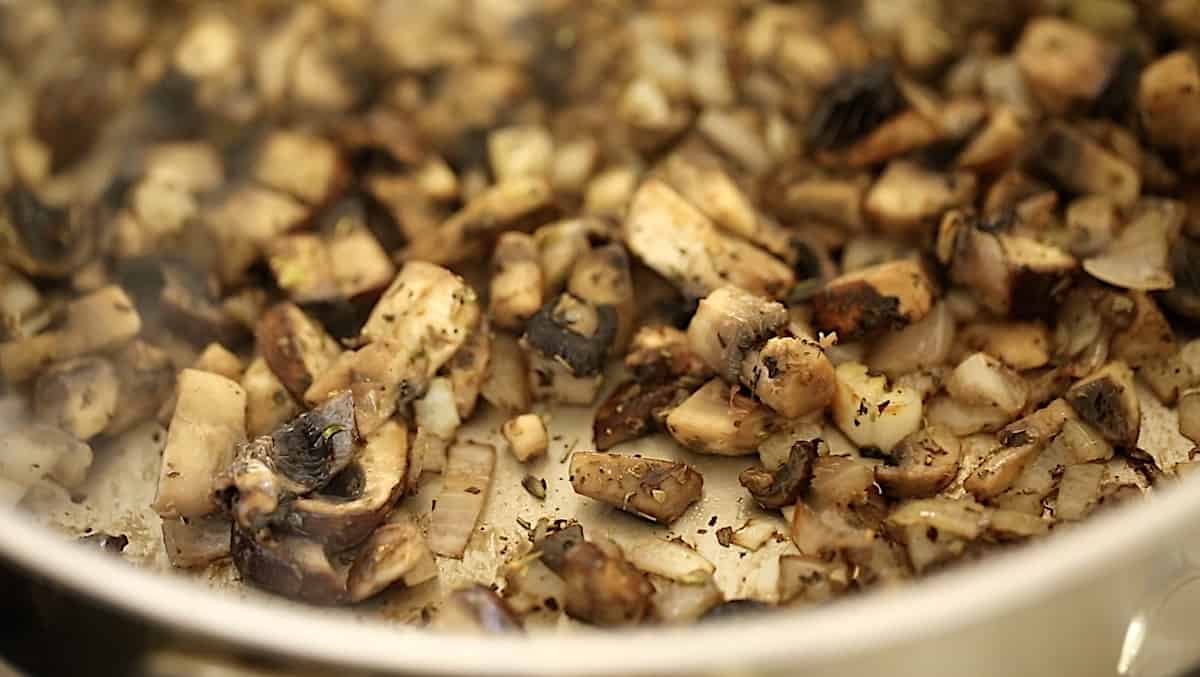 I use a combination of white button mushrooms and portobello mushrooms, but you could also use cremini, or shitakes mushrooms too.

STEP#3: Top with Cauliflower Mash
If you are on a low-carb diet and haven't yet tried my cauliflower mash recipe, then you are in for a treat! Cauliflower is a miracle vegetable and it becomes silky smooth when cooked.
In fact, I use it to thicken my Potato and Leek Soup recipe which has the creamiest texture to it thanks to a little bit of cauliflower. Cauliflower is also great in the air fryer and if you own one, try my Air Fryer Cauliflower recipe too!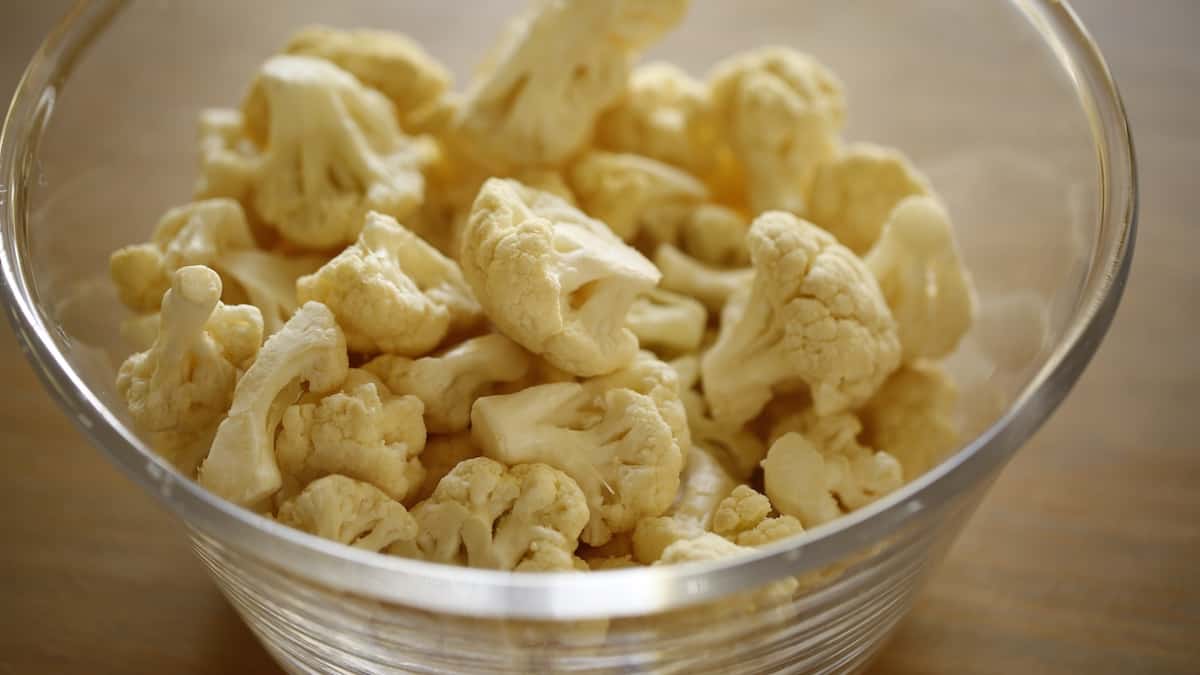 The Best Way to Cook Cauliflower for Mash
Personally, I think the best way to cook cauliflower is to boil it. The secret lies in the fact that the cauliflower retains a bit of water this way, which allows it to process to a nice smooth creamy texture. I think the food processor works best, but in a pinch, a blender would work too!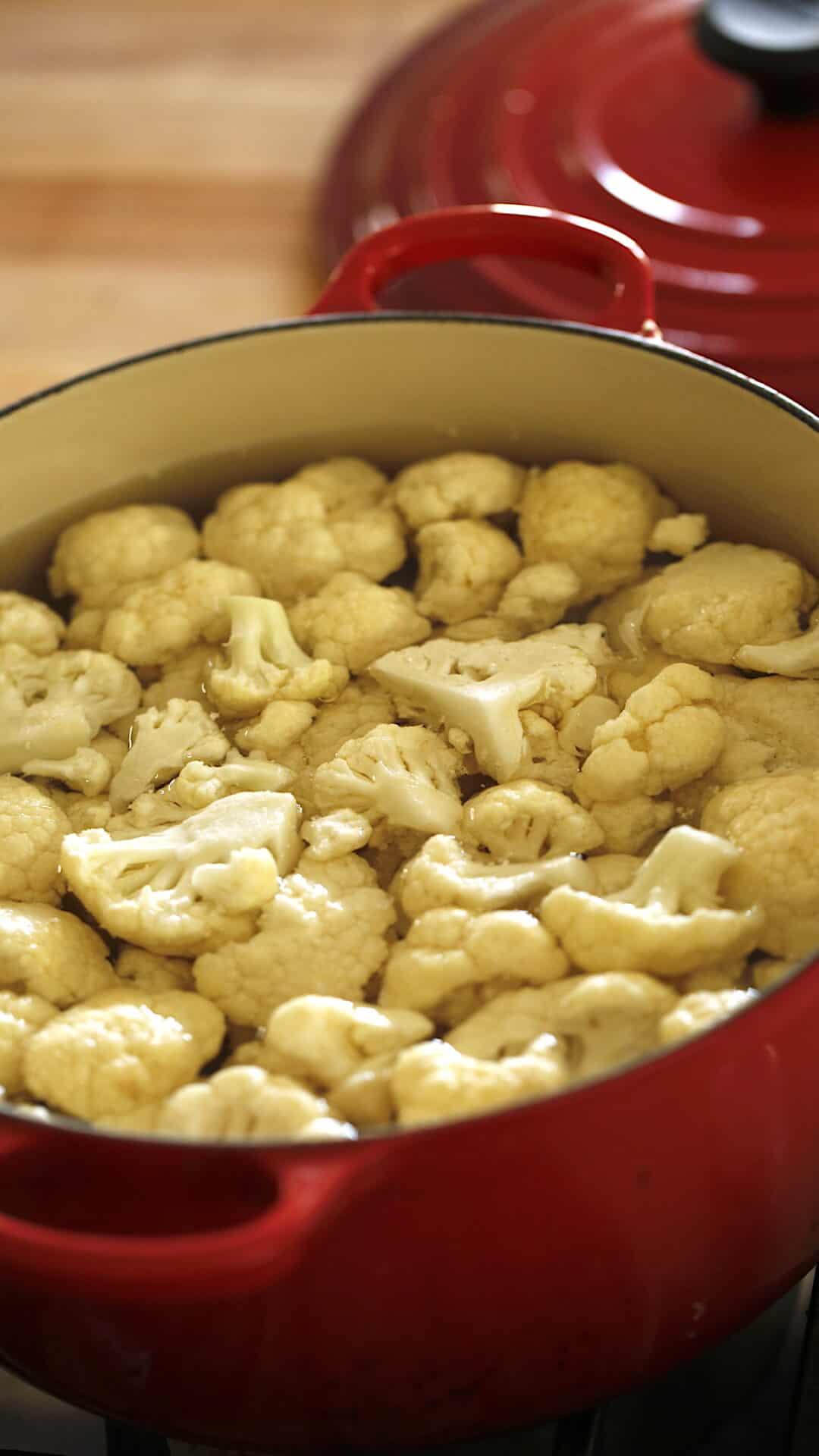 Once the cauliflower mash is made, gently smooth it over the lentils. I don't cover the lentils completely because there's something pretty in the presentation about allowing the lentils to peek through.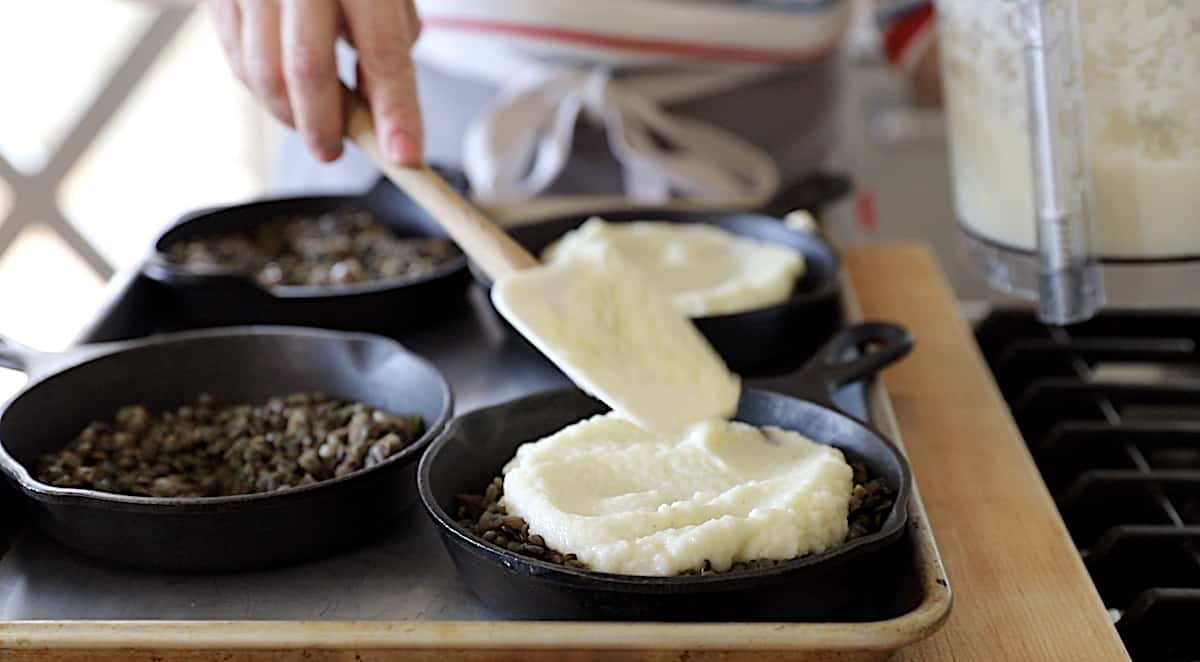 STEP#5: Bake to Reheat
Place the skillets back in the oven to reheat the filling and the topping. It only takes 15 minutes and then you can garnish with a little fresh parsley, or snipped chives.
More Vegan Recipes!
If You Enjoyed this Recipe
Please Leave a Rating and a Review Below!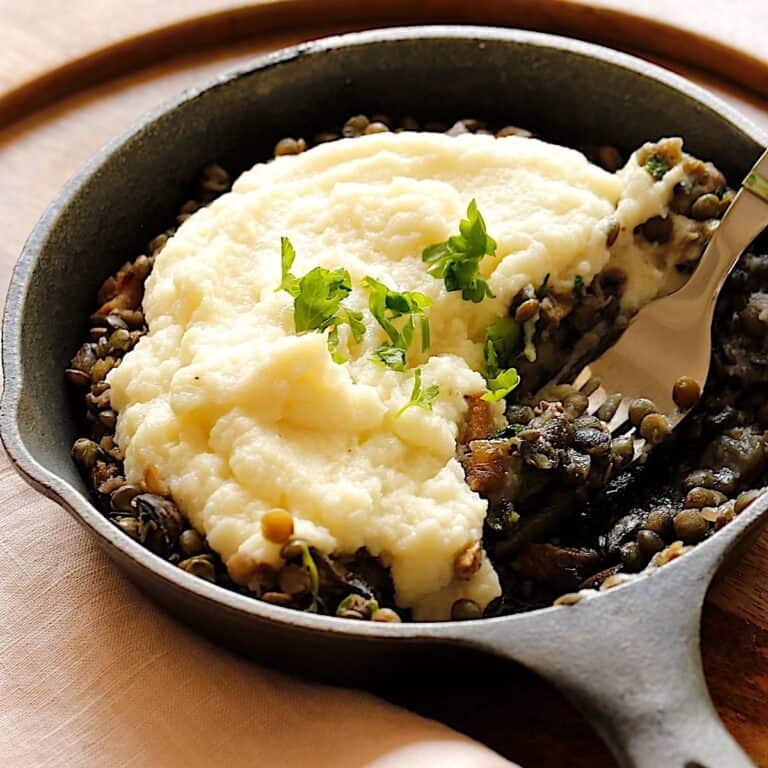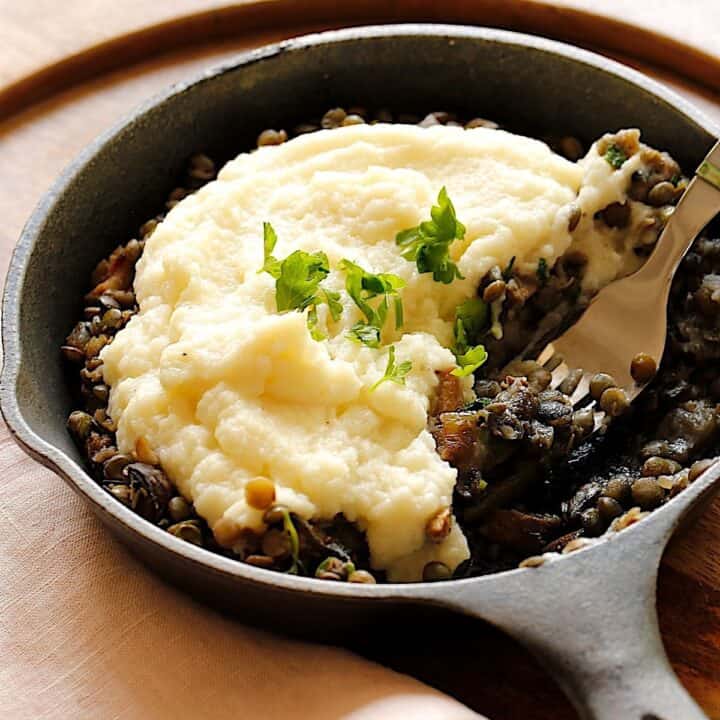 Vegan Hachis Parmentier
Total Time:
1 hour
45 minutes
A Vegan take on my Hachis Parmentier Recipe, made with French lentils and sauteed mushrooms and topped with a silky smooth cauliflower mash.
Ingredients
3 cups (700ml) water
1 cup (180ml) French Green Lentils, rinsed
1 tablespoon (15ml) Olive Oil
1 cup (180ml) Shallots, chopped
1 ½ cups (200g) white mushrooms, quartered
1 ½ cups (200g) portobello mushrooms, quartered
1 teaspoon (5ml) Herbs de Provence
Salt and Pepper to Taste
1 garlic clove, minced
2 tablespoon (30ml) Fresh Parsely
CAULIFLOWER MASH:
30 ounces (875g) Cauliflower florets
1 tablespoon (30ml) olive oil
2 tablespoon (30g) Vegan Butter
Salt and pepper to taste
Instructions
Boil water for lentils. Simmer lentils, covered, for 20 minutes until tender.

Meanwhile, saute shallots until tender. Season with salt and pepper. Add the mushrooms and cook until browned and tender, season with salt, pepper, herbs de Provence, garlic, and parsley. Set aside.

Place cauliflower in a pot of water, until submerged. Cover and cook for 10 minutes or until tender.

Add cooked cauliflower to a food processor with olive oil and vegan butter, until smooth.

Fill skillets, or a 9-inch casserole, with the lentils, then top with the cauliflower mash. Reheat in a 350F until warmed through. About 15 minutes. Garnish with fresh parsley.
Notes
French Green lentils work best for this recipe since they retain their shape and won't turn mushy.
Nutrition Information:
Yield:

4
Serving Size:

1
Amount Per Serving:
Calories:

208
Total Fat:

14g
Saturated Fat:

4g
Trans Fat:

0g
Unsaturated Fat:

8g
Cholesterol:

15mg
Sodium:

217mg
Carbohydrates:

17g
Fiber:

8g
Sugar:

4g
Protein:

8g