Double Chocolate Chunk Cookie Recipe
There are times when a chocolate craving is so strong that only a Double Chocolate Chunk Cookie will suffice! I will give you fair warning: This Cookie is Dangerous! It's the type of cookie recipe you can't get out of your mind once you've tried it, the kind that will get you out of bed once the house is asleep to sneak another bite!
It's the combination of its chewy texture mixed with a rich chocolate flavor, balanced out with the tartness of the dried cherries, and the buttery crunch of walnuts! For a simpler cookie recipe that's great as a Christmas cookie try my Chewy Chocolate Cookie Recipe.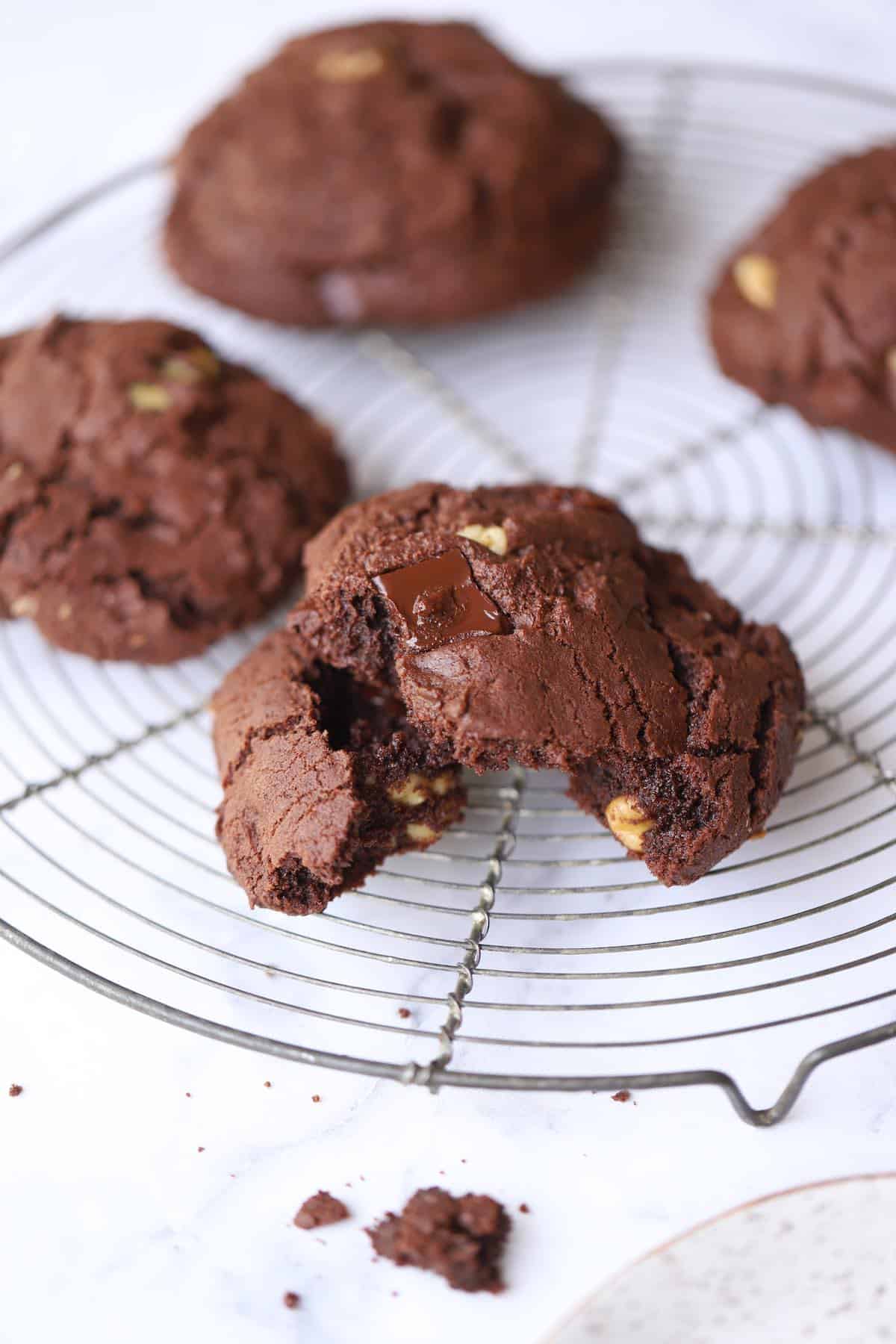 Quick, Easy and Delicious!
Another great thing about this recipe is that it can be made in one bowl which means less washing up! Simply prepare your wet and dry ingredients then combine them as instructed below. This double chocolate cookie recipe is also a quick one because there is no chill time. Serve these yummy cookies during the holidays or when you are in the mood for something chocolatey.
The Ingredients:
Butter For cookie recipes I prefer to use Salted Land O' Lakes Butter. It's not salty, just more flavorful than unsalted. And I leave the addition of the salt the same. But if you are outside the U.S.A I would use unsalted butter since international salted butters can be pretty salty!
Bittersweet Chocolate I like the Ghirardelli Premium Baking Chocolate 60% Cacao. I find it has the right bittersweet flavor without being too bitter. You'll use it in the dough as well as they chunks.
Unsweetened Cocoa Powder For added chocolate flavor and richness. Chocolate bars will only get you so far, for the really deep chocolate flavor you'll need some unsweetened cocoa powder too!
Sugar This recipe takes quite a bit of sugar because the unsweetened cocoa powder is so bitter.
Vanilla Extract For sweetness and flavor
Eggs I use two eggs in this recipe for more richness and lift.
All-Purpose Flour All my recipes use all-purpose flour unless otherwise noted.
Baking Soda For a little lightness.
Salt to heighten the flavors of the chocolate
Dried Cherries The dried cherries are a great combination against the chocolate but you could also substitute them for dried cranberries too.
Walnuts Add a wonderful buttery crunch to these cookies, but you could also swap them out for pecans too.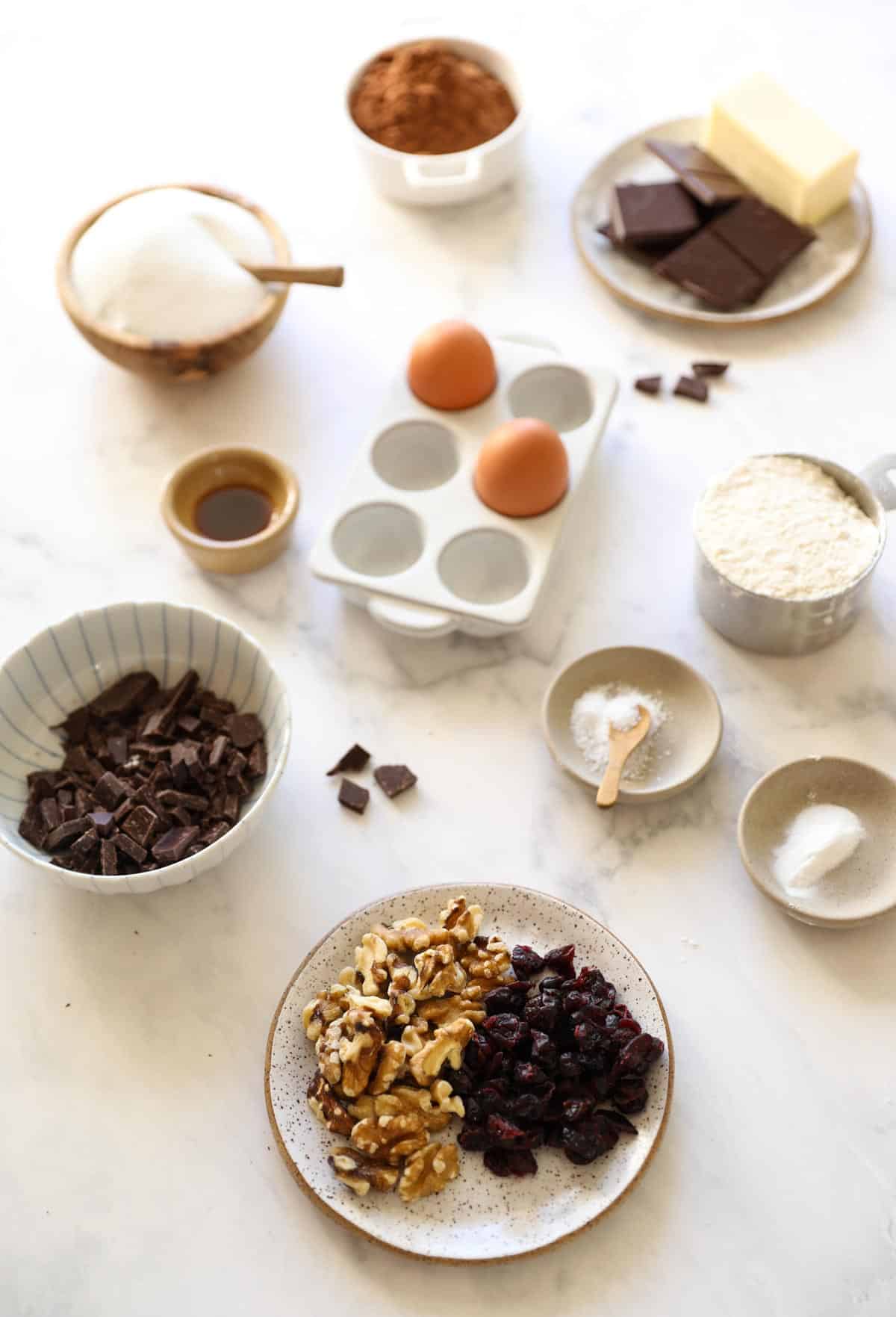 Why is it called double chocolate?
It is referred to as double chocolate cookies because it includes unsweetened cocoa powder and chocolate chunks or chips. Normal cookies do not include unsweetened cocoa powder but have chocolate chips or chunks.
A Cookie Dough That Needs No Electric Mixer
The thing you'll love best about this cookie recipe, is the fact that the dough can be made without a mixer!
All you'll need is a bowl and a whisk or wooden spoon. Or even better my favorite whisk for doughs is a Danish Dough Whisk.
It allows you to whisk up doughs without too much of the dough clumping in the whisk, the way that it would with a regular whisk.
It also prevents you from over-mixing your doughs, which is key to creating a flakey scone like my Blueberry Lemon Scones or Pumpkin Scone Recipes.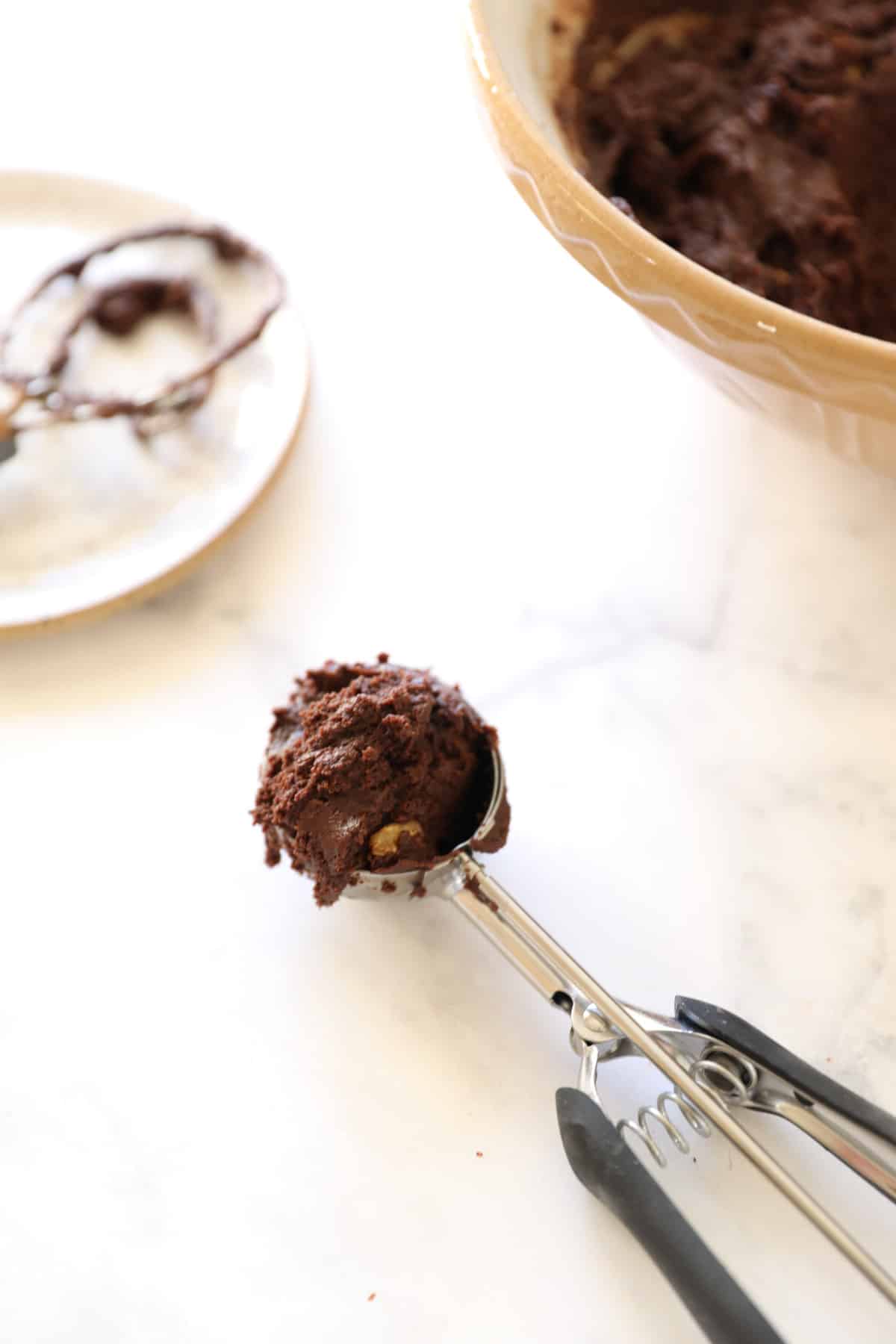 Tips For Baking the Cookies
Use a standard size cookie scoop (4 tablespoons) for large 3-inch cookies. I think these cookies work best as large cookies because of the added mix-ins of cherries, chocolate chunks and walnuts.
But you could also chop the walnuts (I normally leave them as whole halves) and go with a Medium Ice Cream Scoop (2.6 Tablespoons) which would create a 2-inch cookie.
Use parchment paper on your cookie sheet to prevent overly browning the bottoms of the cookies.
Bake on the lower-third part of your oven to prevent the tops from overly baking and the walnuts from burning.
Take them out once the cookies start to crack a bit.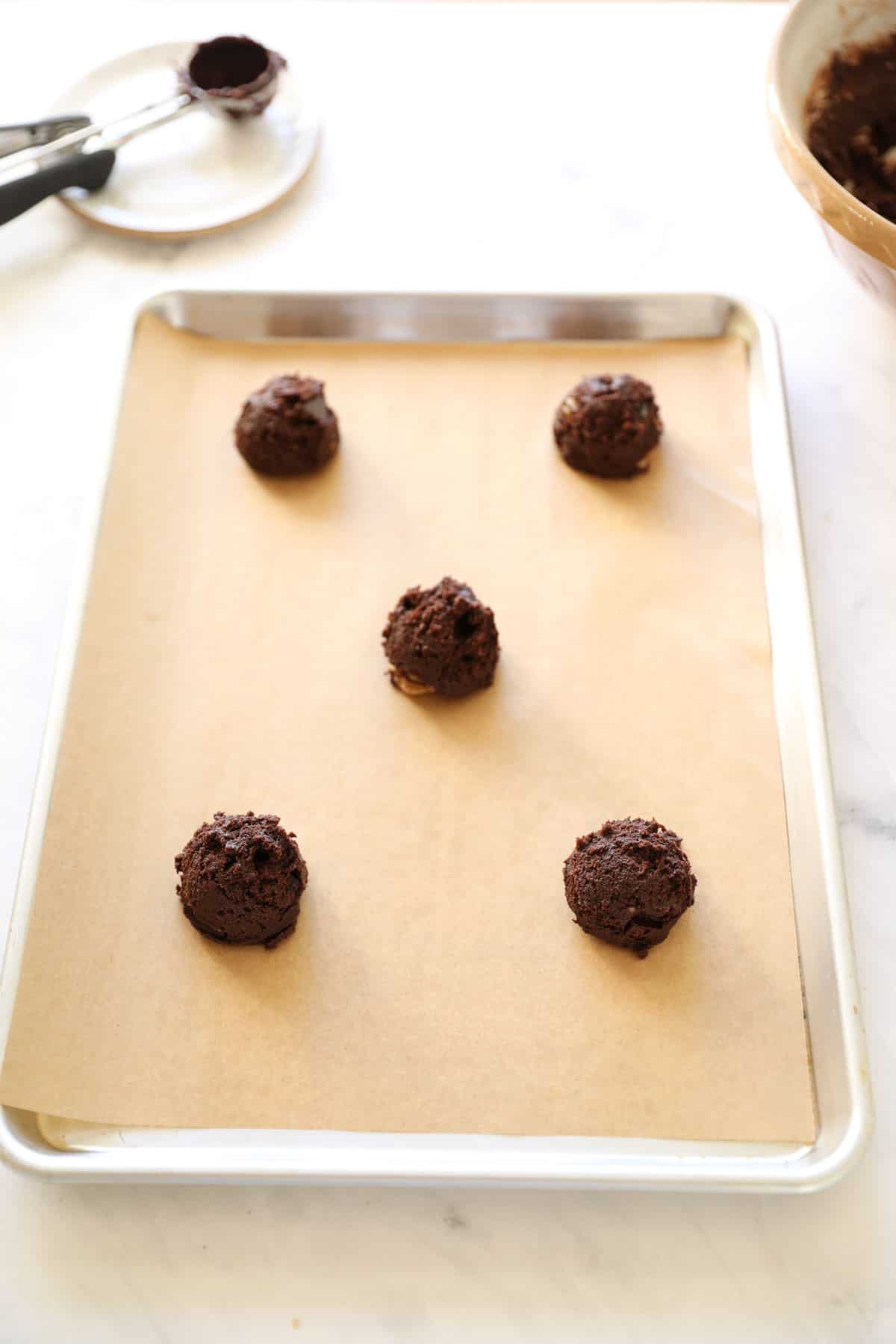 Storage and Freezing
These cookies are best eaten a day or two after they are made. Keep them in the refrigerator and then pop in the microwave for :10 (wrapped in a paper towel) for that freshly baked appeal.
The cookie dough also freezes beautifully! My favorite way to freeze it is with the Souper Cubes Cookie Dough Tray.
You can portion out the dough into single servings and freeze it. Then when the chocolate craving strikes you can bake off 1-2 cookies or more!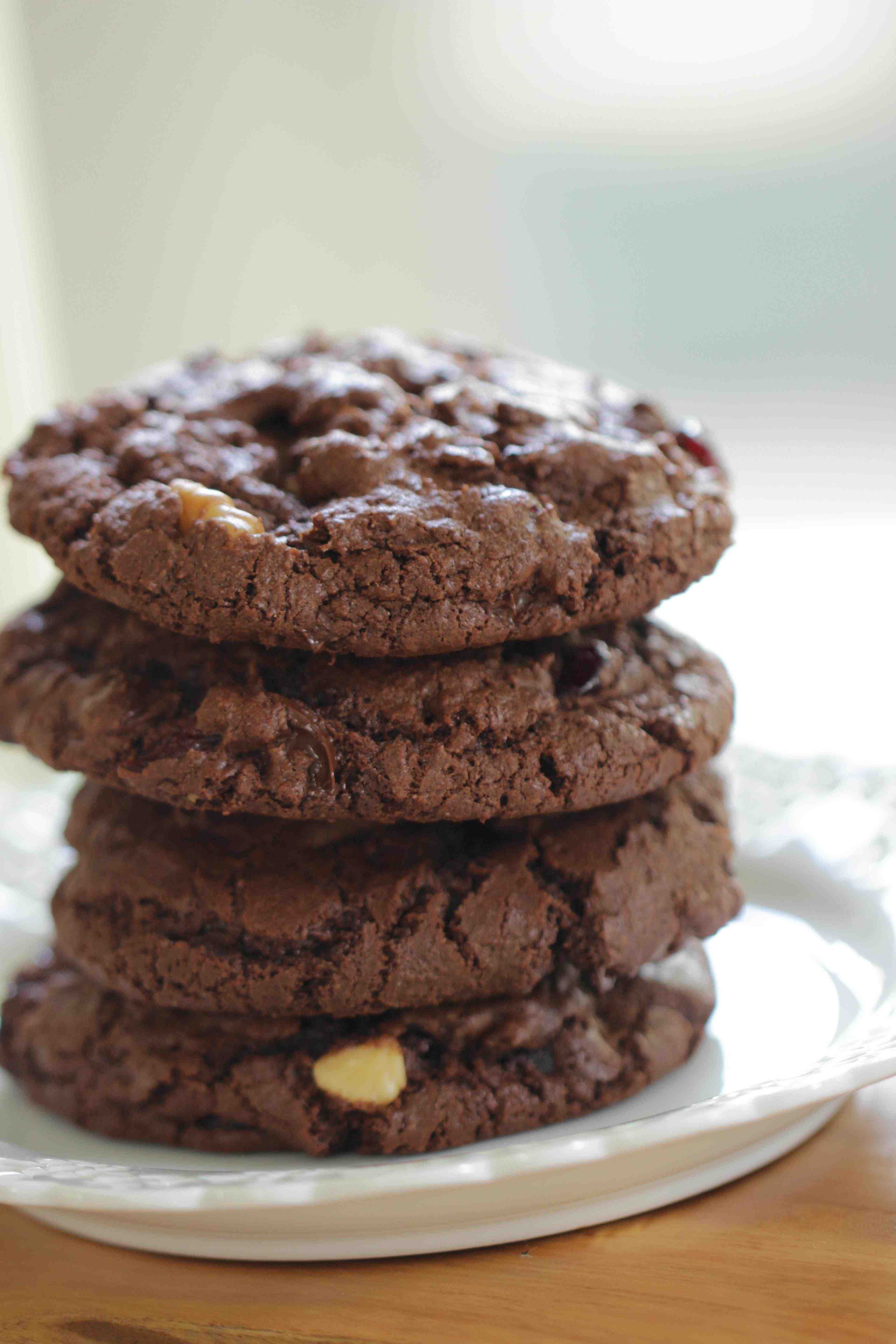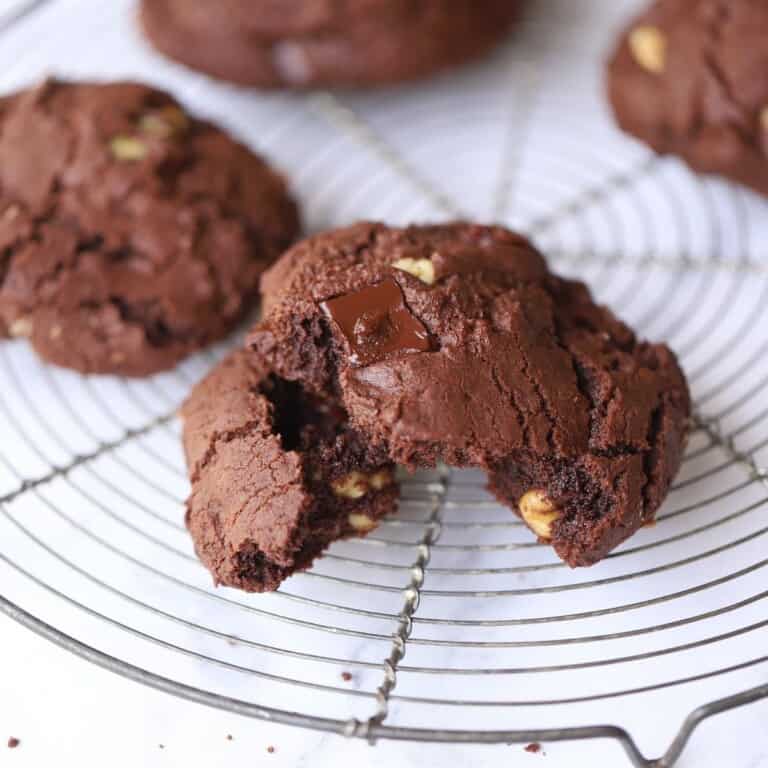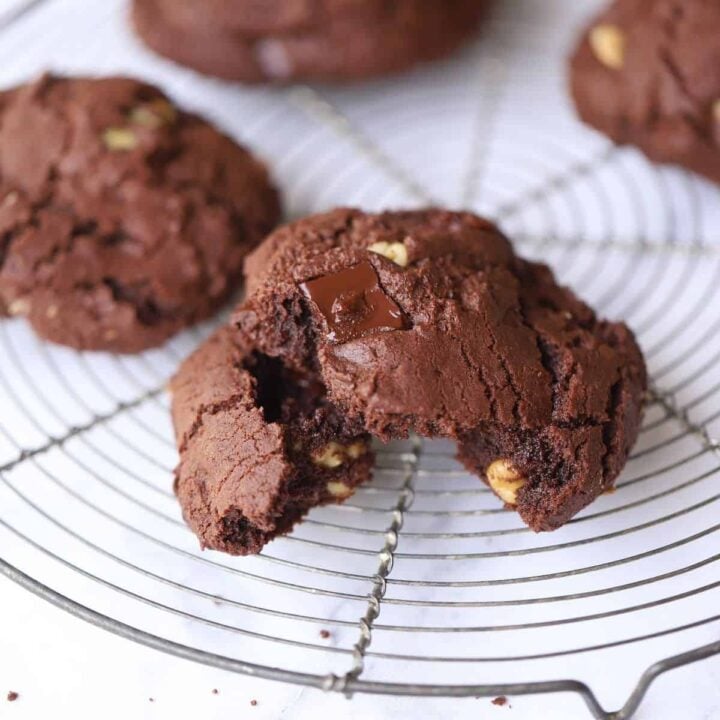 Double Chocolate Chunk Cookies
Yield:
1 dozen 3-inch cookies
I will give you fair warning: This Cookie is Dangerous!  It's the type of cookie you can't get out of your mind once you've tried it, the kind that will get you out of bed once the house is asleep to sneak another bite!
Ingredients
½ cup (120 g) butter
4 ounces (113 g) bittersweet chocolate
1 ¼ cup (250 g) sugar
2 eggs
¾ teaspoon (3.75 ml) vanilla
1 cup (120 g) flour
½ cup (50g) unsweetened cocoa powder
½ teaspoon (2.5 ml) baking soda
½ teaspoon (2.5 ml) salt
½ cup (75 g) chopped bittersweet chocolate
½ cup (75 g) dried cherries
½ cup (75 g) walnuts
Instructions
Pre-Heat oven to 350F (175C)
Melt butter and 4 ounces (113 g) bittersweet chocolate in a large bowl in the microwave at :30 increments until melted. Stir to cool.
Add sugar, eggs and vanilla. Set aside.
In a smaller bowl whisk together flour, cocoa powder, baking soda and salt. Add dry ingredients to the chocolate mixer in thirds and stir to combine.
Add in chopped chocolate, cherries and walnuts. Stir to combine.
Scoop out batter with an ice cream scoop onto a baking sheet lined with parchment paper. Only place 6 cookies to a tray allowing room to spread.
Bake 350F 15-17 mins. Allow to cool slightly and then transfer to a cooling rack. Then devour.
Nutrition Information:
Yield:

12
Serving Size:

1
Amount Per Serving:
Calories:

478
Total Fat:

26g
Saturated Fat:

13g
Trans Fat:

0g
Unsaturated Fat:

10g
Cholesterol:

379mg
Sodium:

173mg
Carbohydrates:

43g
Fiber:

4g
Sugar:

34g
Protein:

17g