This Grilled Cinnamon Chicken with Sweet Potatoes, could quite possibly be the easiest summer Chicken Recipe for entertaining. And the best part is it can all be made on the grill....at the same time! You probably even have everything you need on hand, and all you need to pick up at the store is the chicken and the sweet potatoes!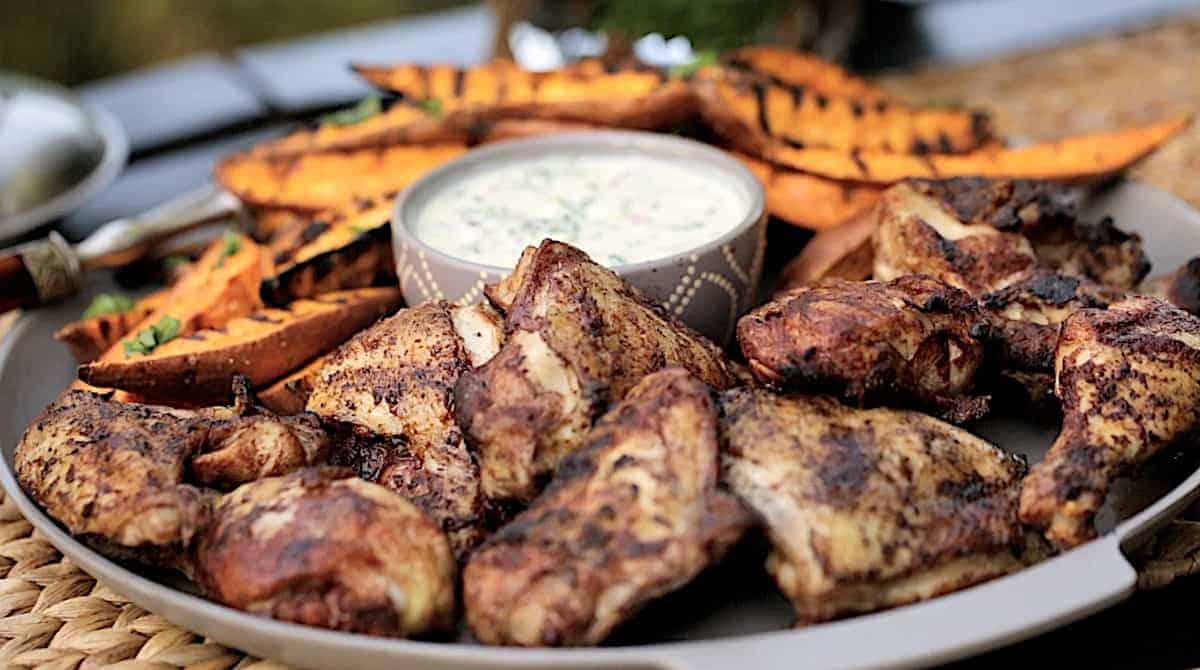 No grill? That's OK you can make my other version of Cinnamon Chicken with Curried Veggies that bakes in the oven.
WATCH MY VIDEO FOR CINNAMON CHICKEN GRILLED WITH SWEET POTATO WEDGES
STEP#1: Prep the Chicken
For this recipe, I like to use an 8-piece cut up chicken. That way, you'll have both white and dark meat and each guest can have the cut of meat they like best. I cut the chicken breasts in half so that al the meat is roughly the same size and will cook at the same rate.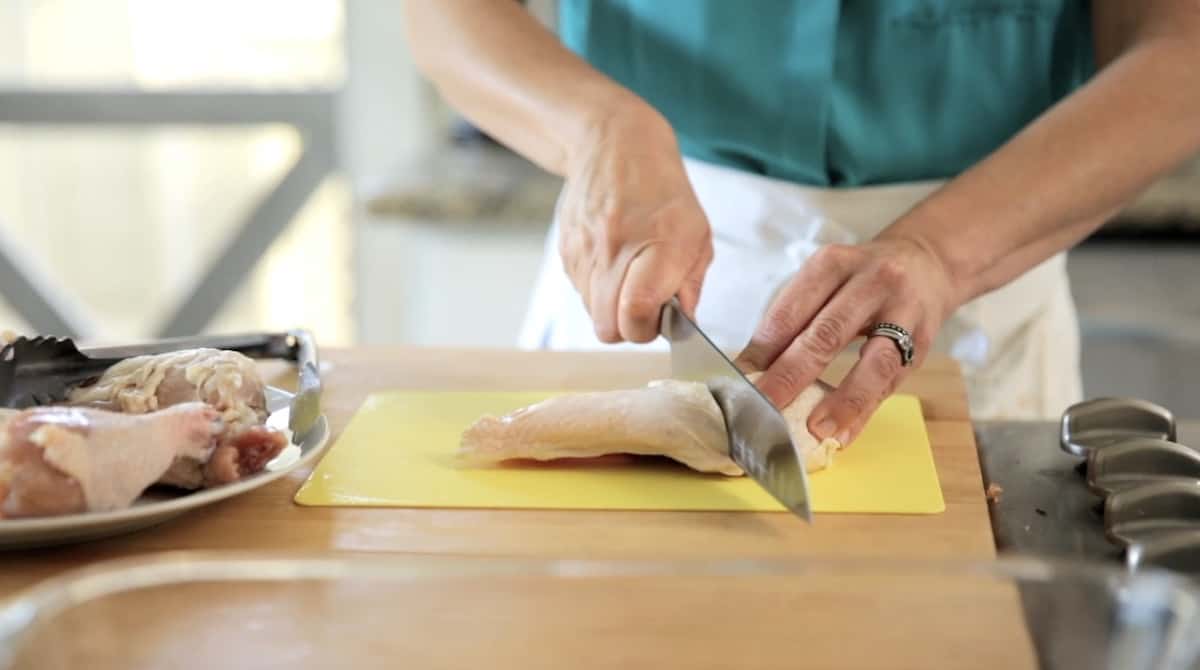 Seasoning Chicken for the Grill
You'll season the chicken with cinnamon, salt and pepper, and place in a large casserole and set in the fridge until it's time to grill. Cinnamon might seem like a strange spice to use with something the savory, but trust me it's really fantastic with the smokeiness of the grill, the sweet potato and the coolling yogurt sauce. And it couldn't be easier too!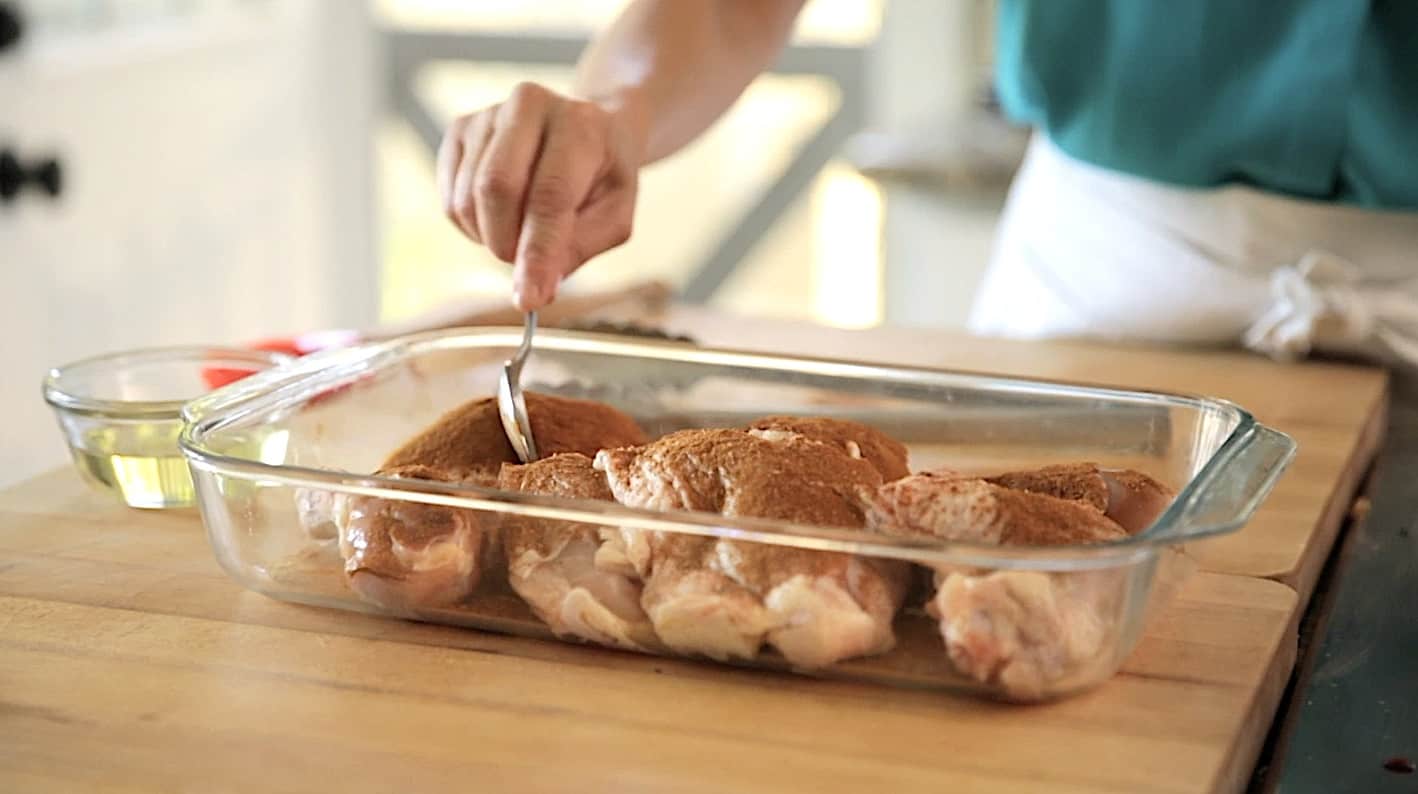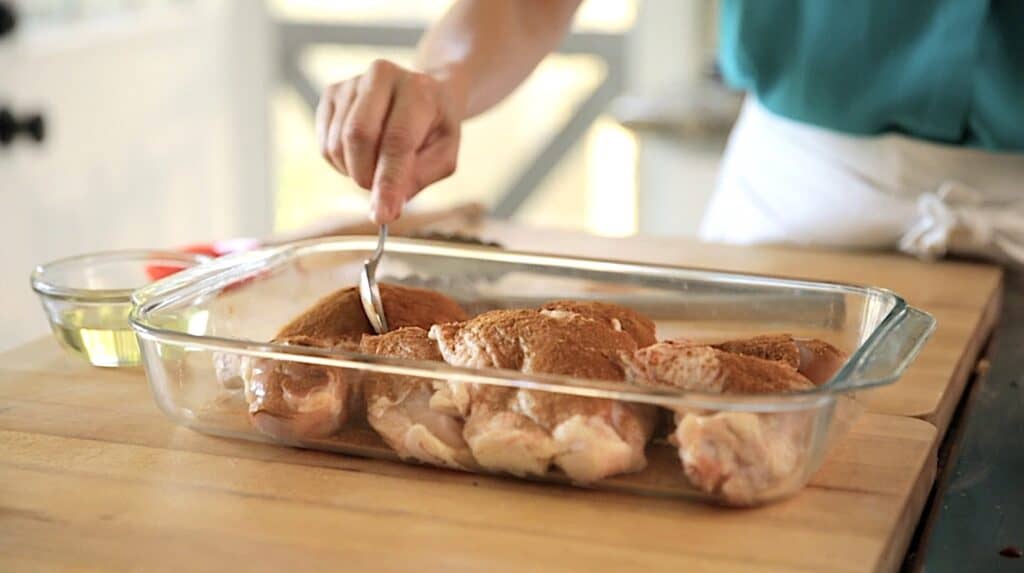 Grilling the Chicken and Sweet Potatoes
The easiest way to grill the chicken it to first make sure your grill racks are well greased with a little non-flavored oil, like vegetable oil. Set your inside burners to medium-high. Once you can no longer hold your hand above the grill for 5 seconds it's ready!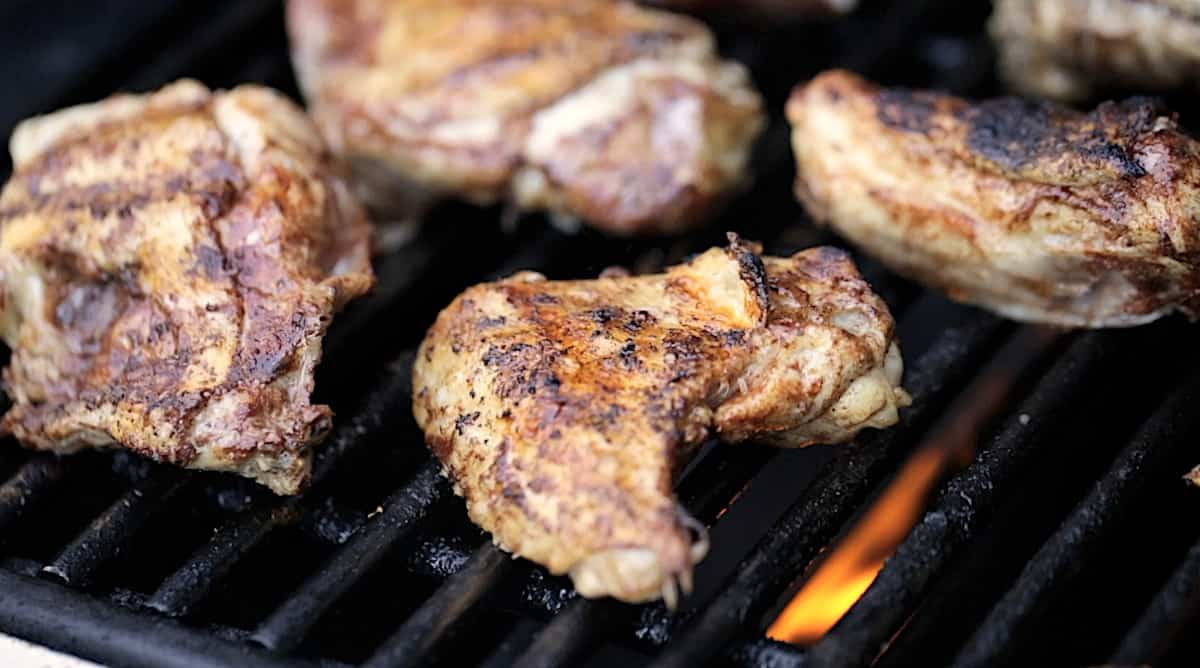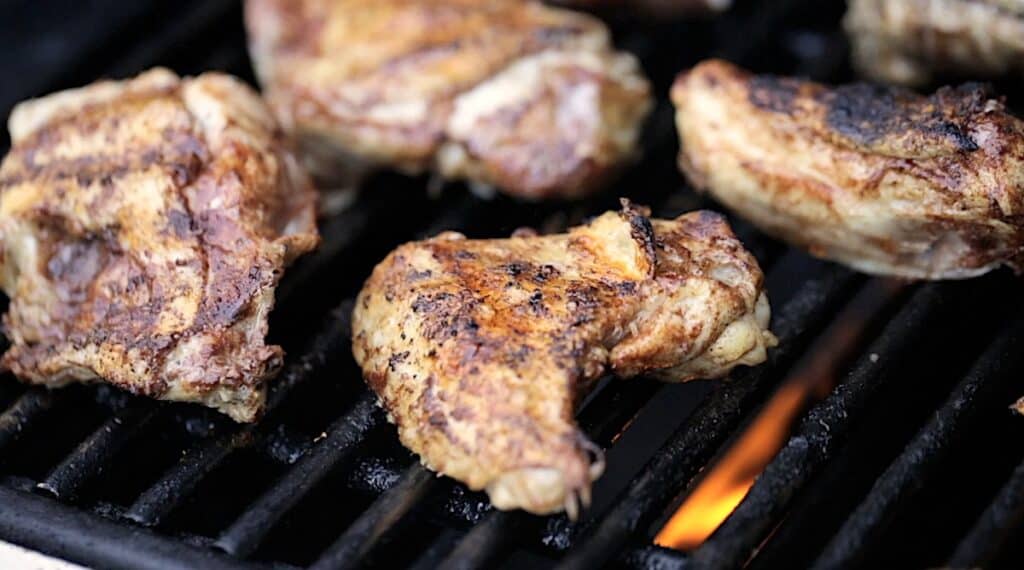 Grill chicken on each side until it is golden brown and caramelized about 5-7 minutes each side. Then move the chicken to the perimeter of the grill where it will be hot and continue to cook the inside of the chicken, but won't have a flame that will continue to char the chicken.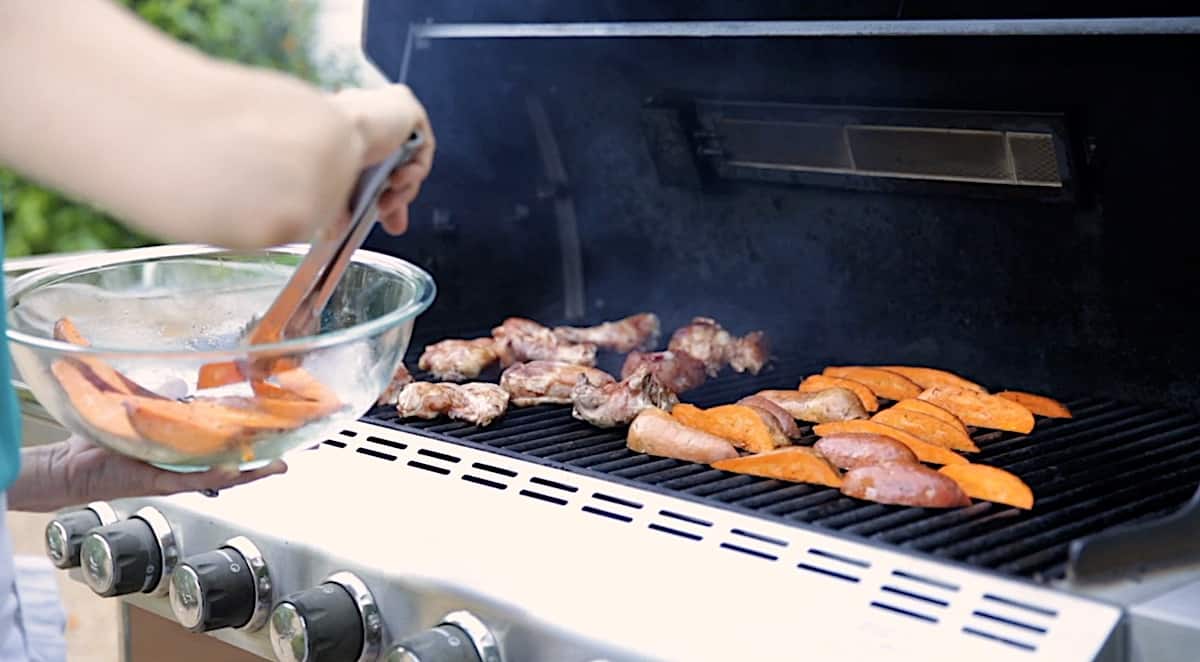 You can pile everything on one platter and let guests serve themselves. The chicken, thanks to the cinnamon, achieves a lovely golden color that is both sweet and savory. And the sweet potatoes are even better the more charred they get! Creates an almost candied effect. Then all you have to do is whip up the cucumber yogurt sauce, which is a wonderful compliment to the chicken.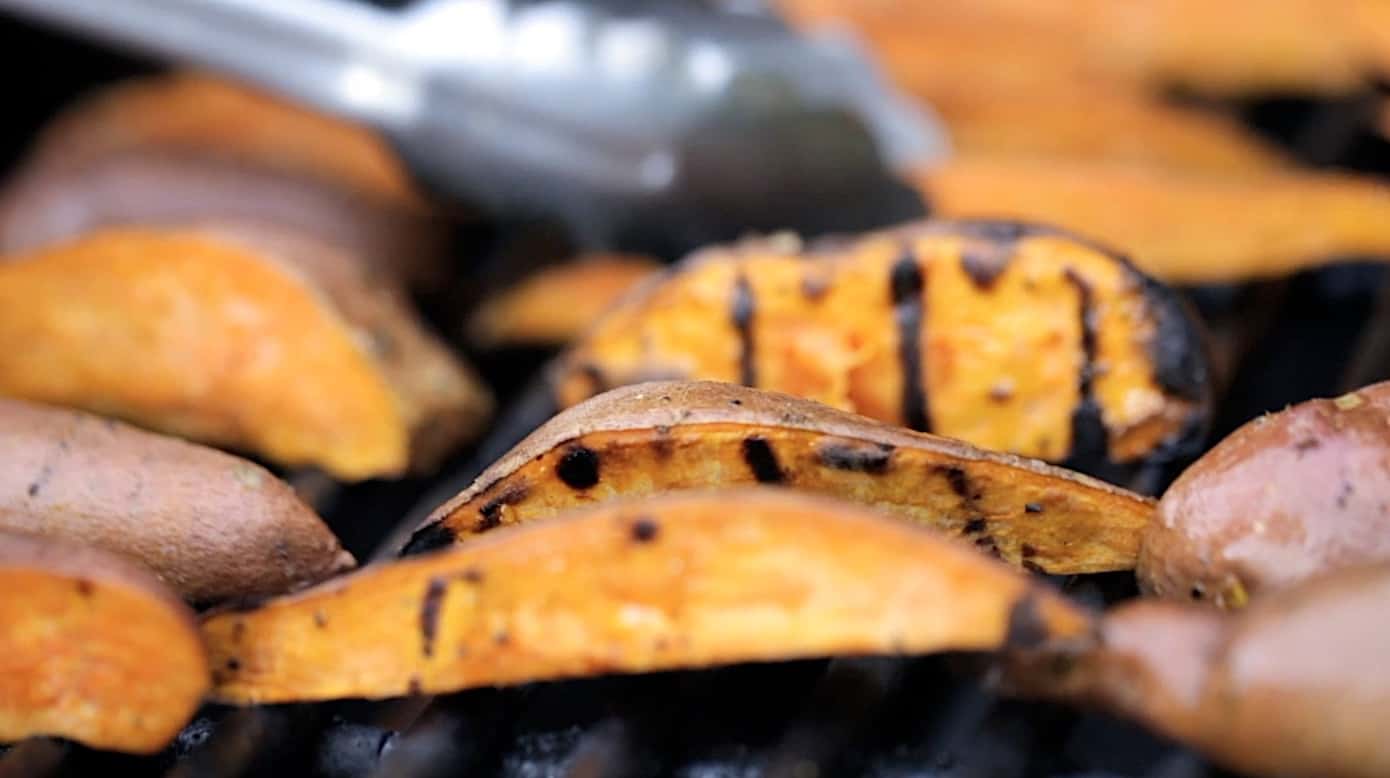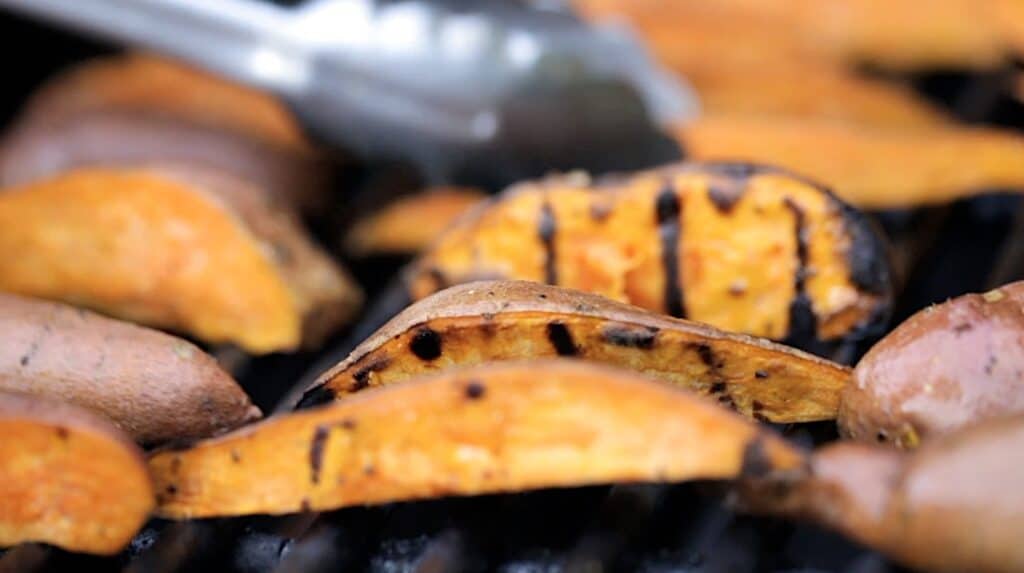 How do you make a Cucumber Yogurt Sauce?
This Cucumber Yogurt Sauce is really easy to make! You'll combine plain Greek yogurt in a mixing bowl, with shredded cucumbers, diced red onion, lime juice, cumin and cilantro. The nice thing about the yogurt sauce is it can be made ahead of time, in fact, it's even better if made a few hours beforehand.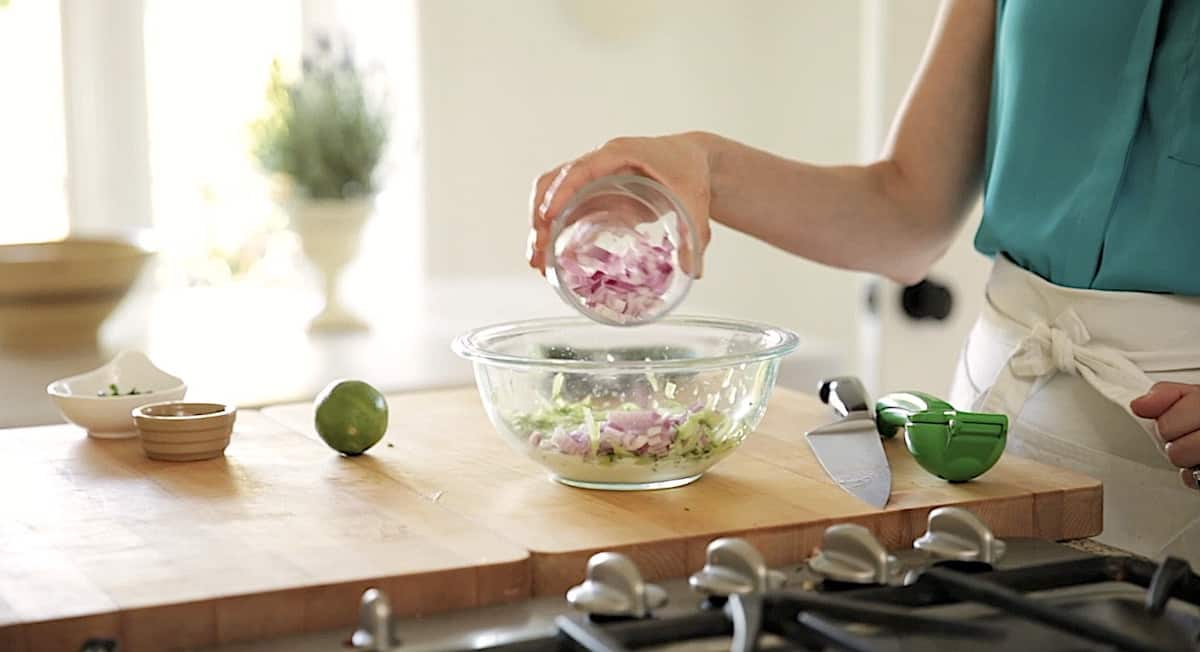 I'd recommend using a grater to slice the cucumbers that way you'll get nice fine pieces. It's so quick and easy to do and will allow the flavor of the cucumber to be even more pronounced in the sauce, as opposed to if you only diced it.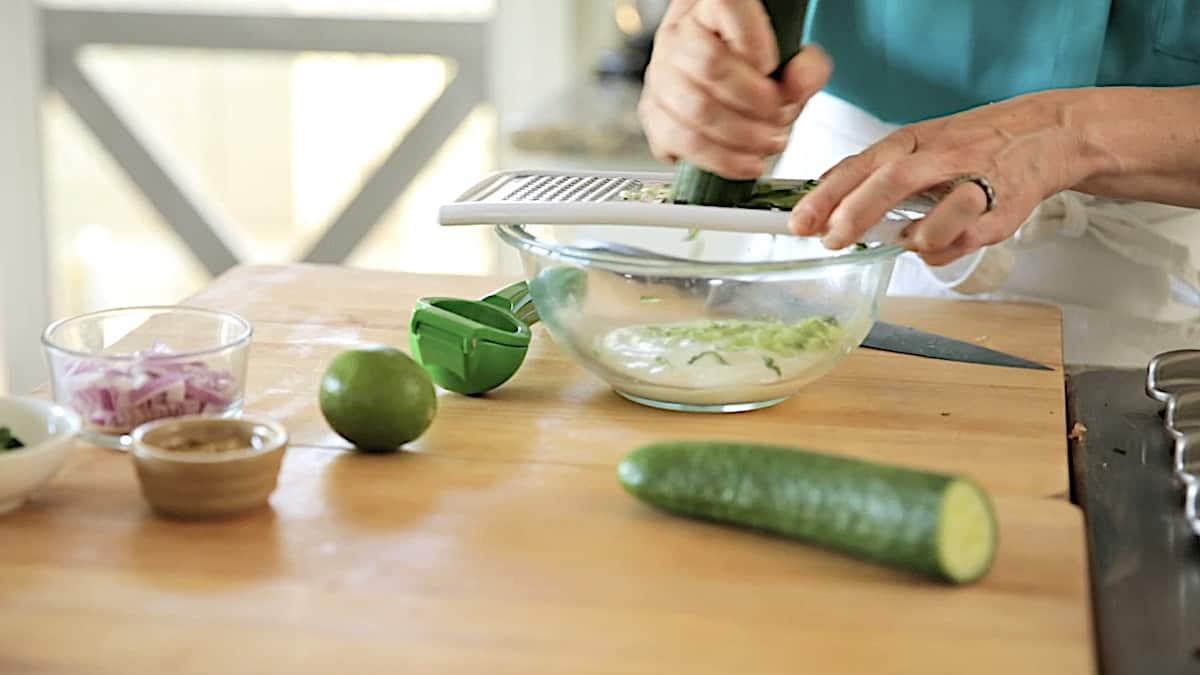 Serving your Grill Chicken Dinner
This dinner works really well on a round platter. Place the sauce in a small bowl in the center and then arrange the chicken on one side, and the sweet potatoes on the other. You can also garnish with a little righly chopped cilantro or parsley.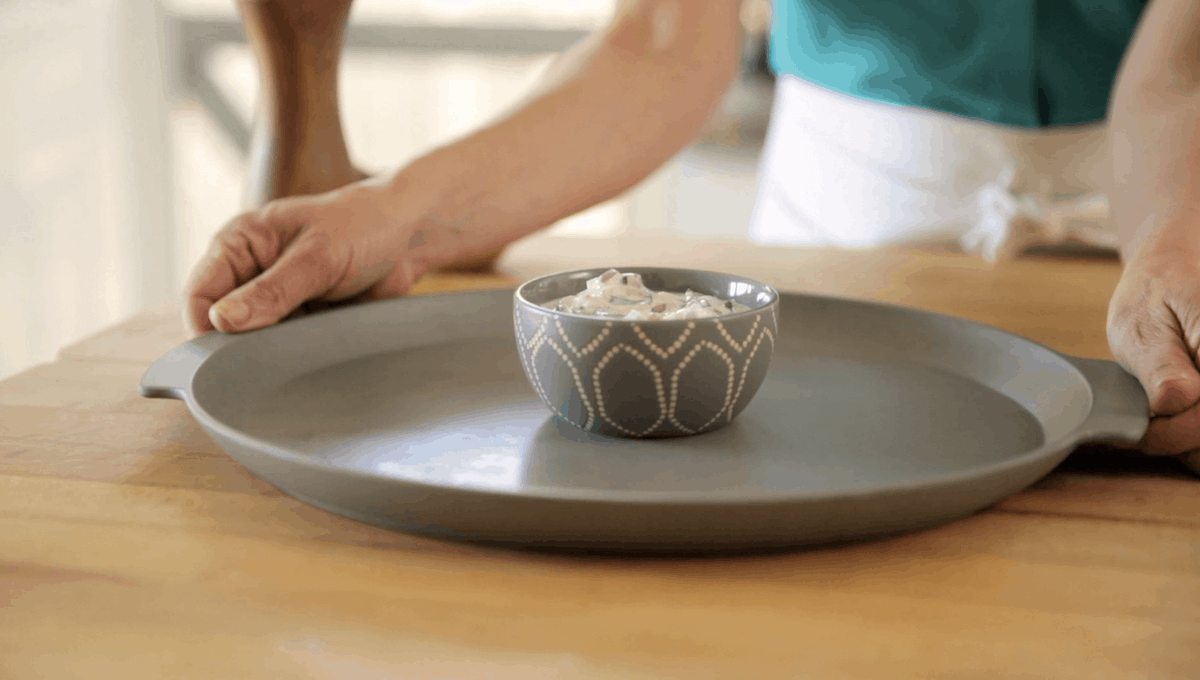 It makes for such an easy, and delicious summer dinner idea when you are stuck for something new to "throw on the grill!"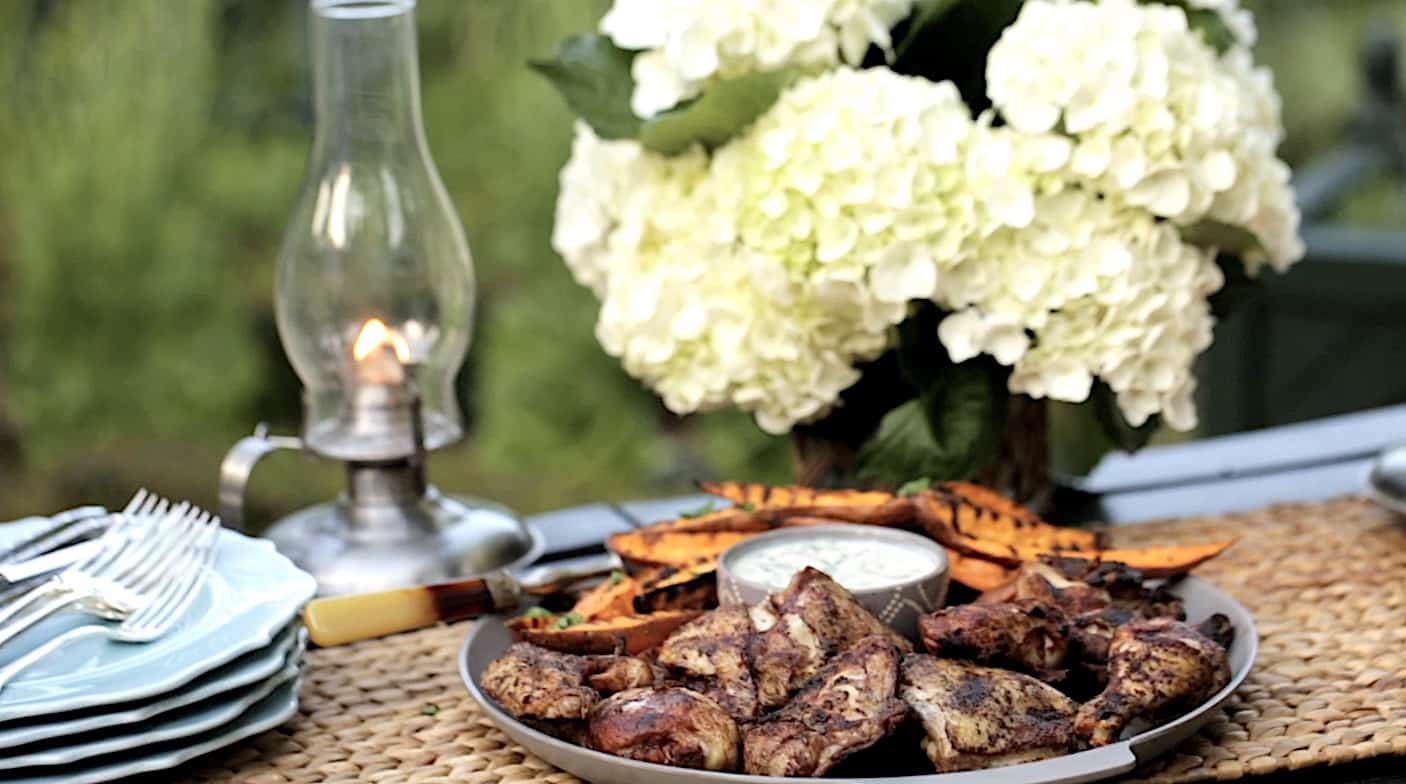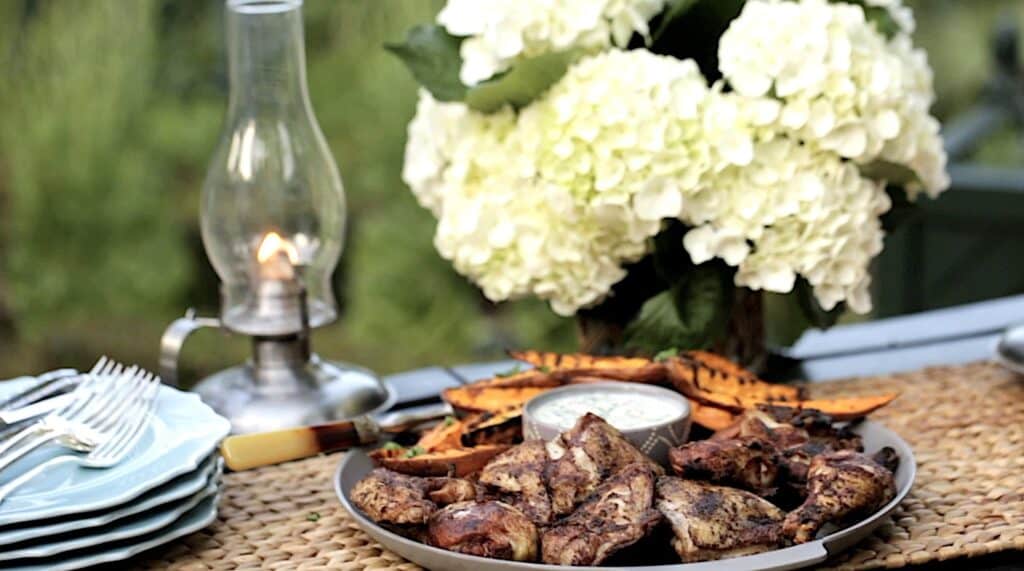 Please let me know if you make this grilled cinnamon chicken recipe
by leaving a rating and review below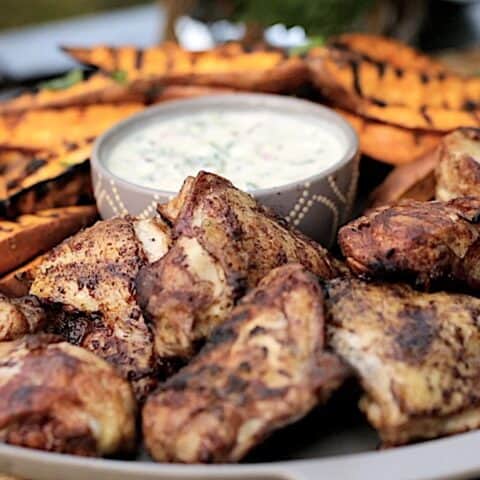 Grilled Cinnamon Chicken with Sweet Potato Wedges
Learn how to make my recipe for Cinnamon Chicken Grilled with Sweet Potato Wedges the EASIEST dinner party food EVER! Includes video tutorial too.
Ingredients
CHICKEN
1 chicken, cut into 8 pieces. Skin on bone-in
1 tablespoon (15 ml) cinnamon
1 teaspoon (5 ml) salt
¼ teaspoon (1.25 ml) freshly cracked pepper
1 tablespoon (15 ml) vegetable oil.
SWEET POTATOES
8 small sweet potatoes
1 tablespoon (15 ml) olive oil
salt and pepper to taste
CUCUMBER SAUCE
1 cup (240 ml) plain yogurt
½ cup (120 ml) English cucumber, shredded
½ cup (120 ml) red onion, diced
juice of 1 lime
¼ (1.25 ml) teaspoon cumin
¼ cup (60 ml) cilantro
salt and pepper to taste
Instructions
Prepare grill to medium high heat.
Meanwhile, combine cinnamon, salt and pepper in a small bowl. Rub chicken with cinnamon rub. Brush chicken lightly on both sides with vegetable oil.
Cut sweet potatoes into wedges lengthwise. Toss with oil oil, season with salt and pepper.
Place chicken on grill skin side down and grill for 5-7 mins on each side. Place sweet potatoes on grill flesh side down for 5-7 mins each side.
Once nice color forms on chicken and sweet potatoes turn grill down to medium to allow chicken to cook through, flipping occasionally.
Meanwhile you can prepare the dipping sauce.
In a small bowl add all the ingredients and stir to combine. Transfer to a serving bowl.
Place dipping sauce in the center of a large platter. On one side arrange the chicken, on the other arrange the sweet potatoes. Garnish potatoes with cilantro. And serve
Nutrition Information:
Yield:

6
Serving Size:

1
Amount Per Serving:
Calories:

251
Total Fat:

7g
Saturated Fat:

1g
Trans Fat:

0g
Unsaturated Fat:

6g
Cholesterol:

15mg
Sodium:

184mg
Carbohydrates:

40g
Fiber:

5g
Sugar:

14g
Protein:

8g