If you are looking to switch up your stuffing for this year's Thanksgiving feast, then try my decadent cornbread stuffing with sausage. It's made with light and fluffy cornbread made from scratch, with flavorful Italian sausage, and caramelized vegetables. I like to serve it in a shallow gratin dish so that everyone gets a good bit of the crispy part on top.
It's sure to be the hit of the table and a new family favorite!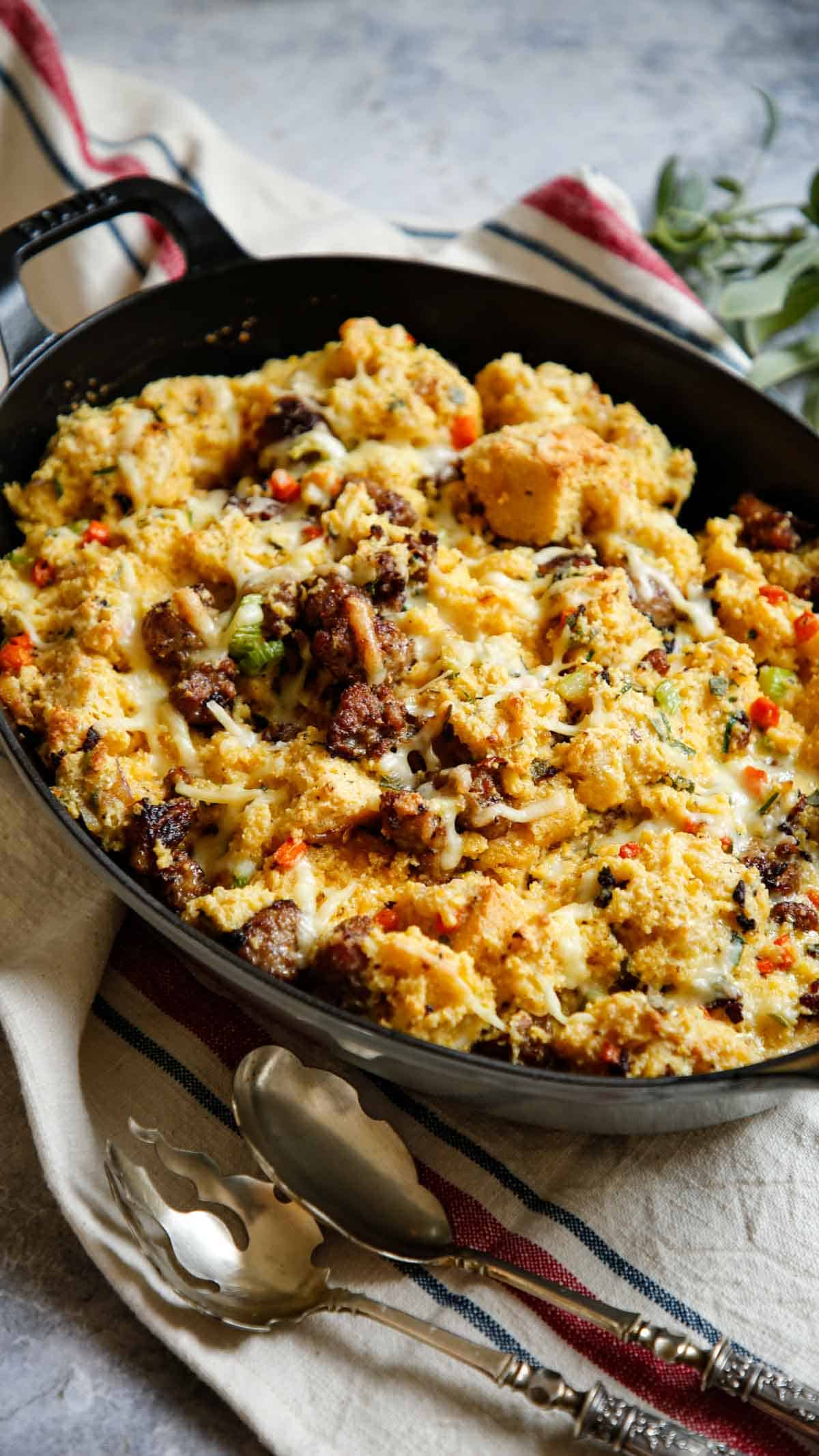 Watch My Video Demo of This Recipe Below!
Creating a Moist Cornbread Stuffing:
I prefer homemade cornbread because you can control the moisture that's in it. This recipe calls for 3 eggs and ¾ cup of melted butter which adds richness and moisture to the cornbread
The stuffing assembly also includes a base that's similar to bread pudding, which includes eggs, heavy cream, and chicken broth. This assures that the stuffing is rich and moist and without any of the dryness some cornbread stuffing can have.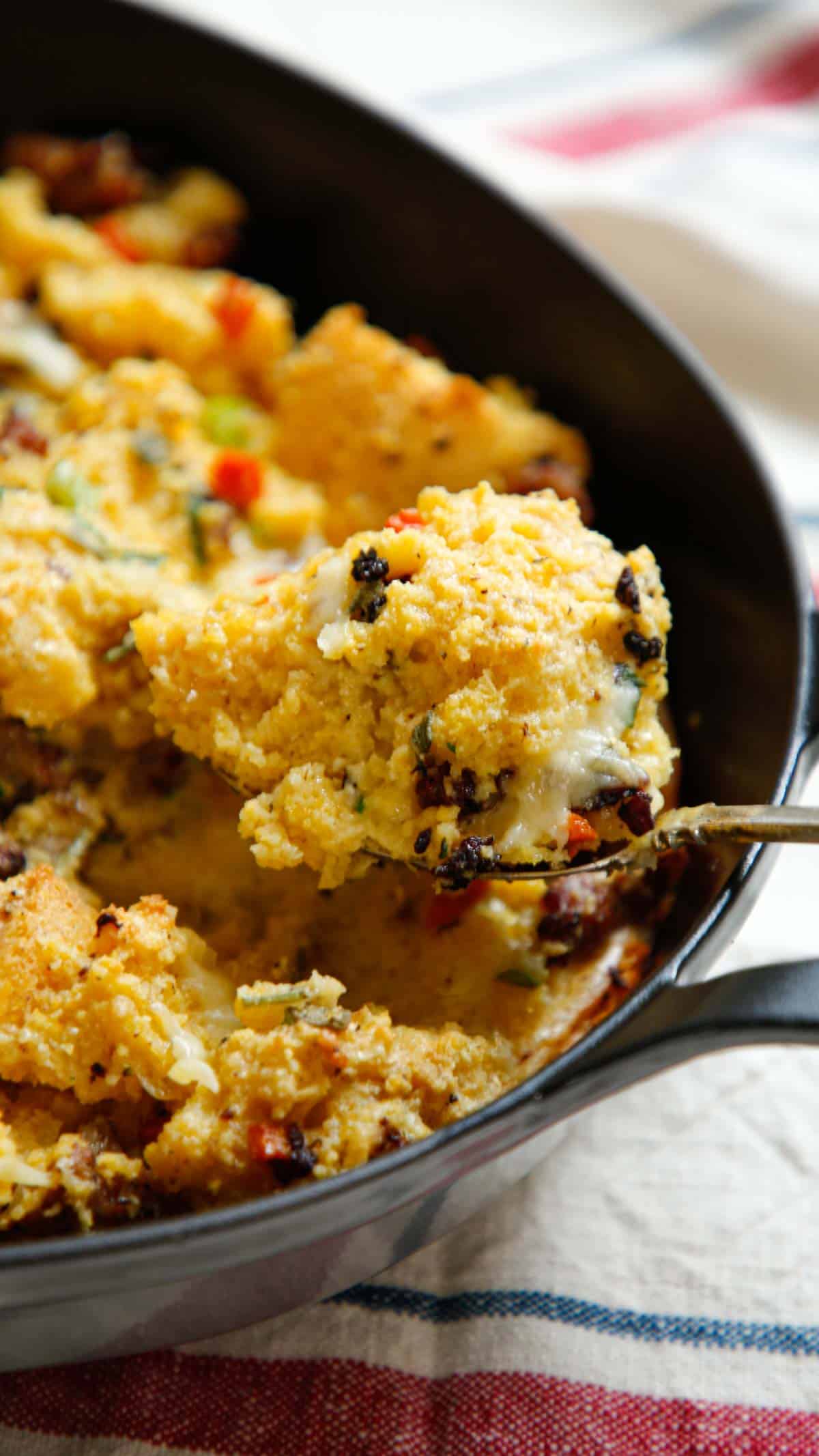 The Ingredients:
Cornmeal If you can find it search out Bob's Red Mill Cornmeal with a Medium Grind. It's a coarser grind over something like the Albers Brand, which is a finely milled cornbread. I prefer the fine grind for cakes, like my Blackberry Cornbread Cake, or for making cornbread to enjoy on its own. But for stuffing, coarse cornmeal holds up better.
All-Purpose Flour Regular all-purpose flour is all you need, no need for cake flour. I like to use a ratio of one part flour to one part cornmeal for the best texture.
Sugar For a savory stuffing recipe you don't want the cornbread to be too sweet. So I stop at ½ cup.
Baking Powder Will give your cornbread a nice lift
Salt will enhance the flavors of the cornbread
Eggs will provide richness and moisture
Milk You can use whole milk, 2 percent, or almond milk too!
Melted Butter It might be tempting to pull back on the butter, but if you want the best flavor and texture use the full amount the recipe calls for which is ¾ cup.
Sweet Italian Sausage I prefer the mild sweet Italian sausage for large gatherings, but if your family likes a bit of heat, try the hot Italian sausage, the spiciness is a great combination against the sweetness of the cornbread
Dry White Wine The wine adds even more flavor to the sausage and prevents it from drying out. But to skip the alcohol you can also swap it out for chicken broth.
Shallots You can swap for onions, but I love the sweetness the shallots provide
Carrots The carrots add a nice sweetness and color to the stuffing
Celery The celery adds a delicious freshness and crunch, you could also swap for 2 sliced leeks, white parts only.
Fresh Sage The sage is a delicious Thanksgiving flavor, and pairs beautifully with the sausage. For another great Thanksgiving Recipe with sage try my Sweet Potato Biscuits with Fresh Sage.
Fresh Chives Adds a bit of freshness to balance the richness of the stuffing, but you could also swap it out for fresh parsley too.
Heavy Cream The heavy cream creates the delicious texture of this stuffing, but if you wanted to swap it for half and half you could.
Chicken Broth adds additional flavor and moisture to the stuffing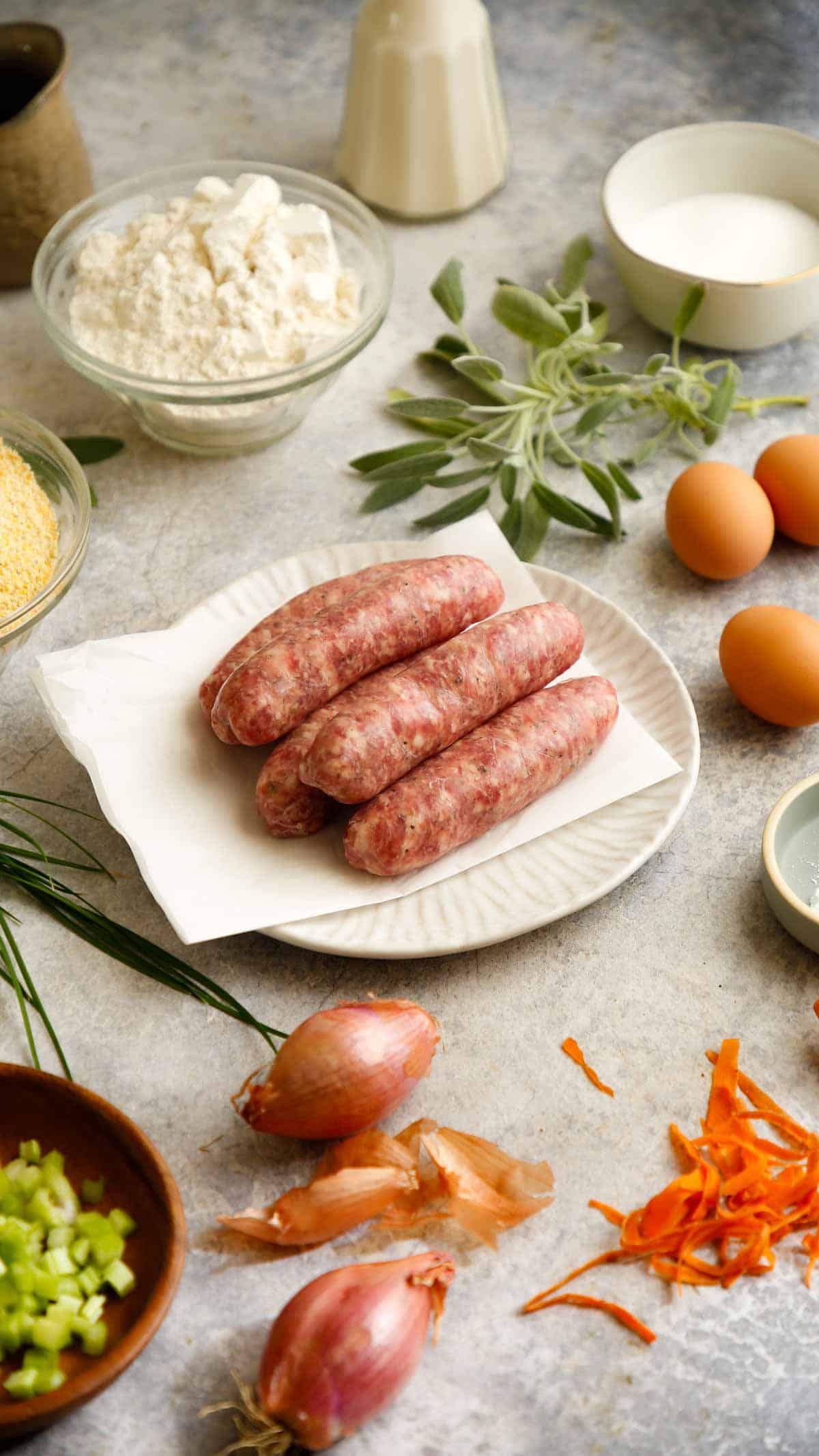 The Benefits of Using Homemade Cornbread:
The best part about making the cornbread from scratch is the fact that you can control the amount of sweetness.
Sadly, most cornbread mixes can be too sweet for a savory stuffing, but in a pinch, if you really wanted to save time and use a boxed mix, I'd recommend the Jiffy Brand of Cornbread.
Once the cornbread is cooled, remove it from the tin and cut it into 1 ½-inch cubes.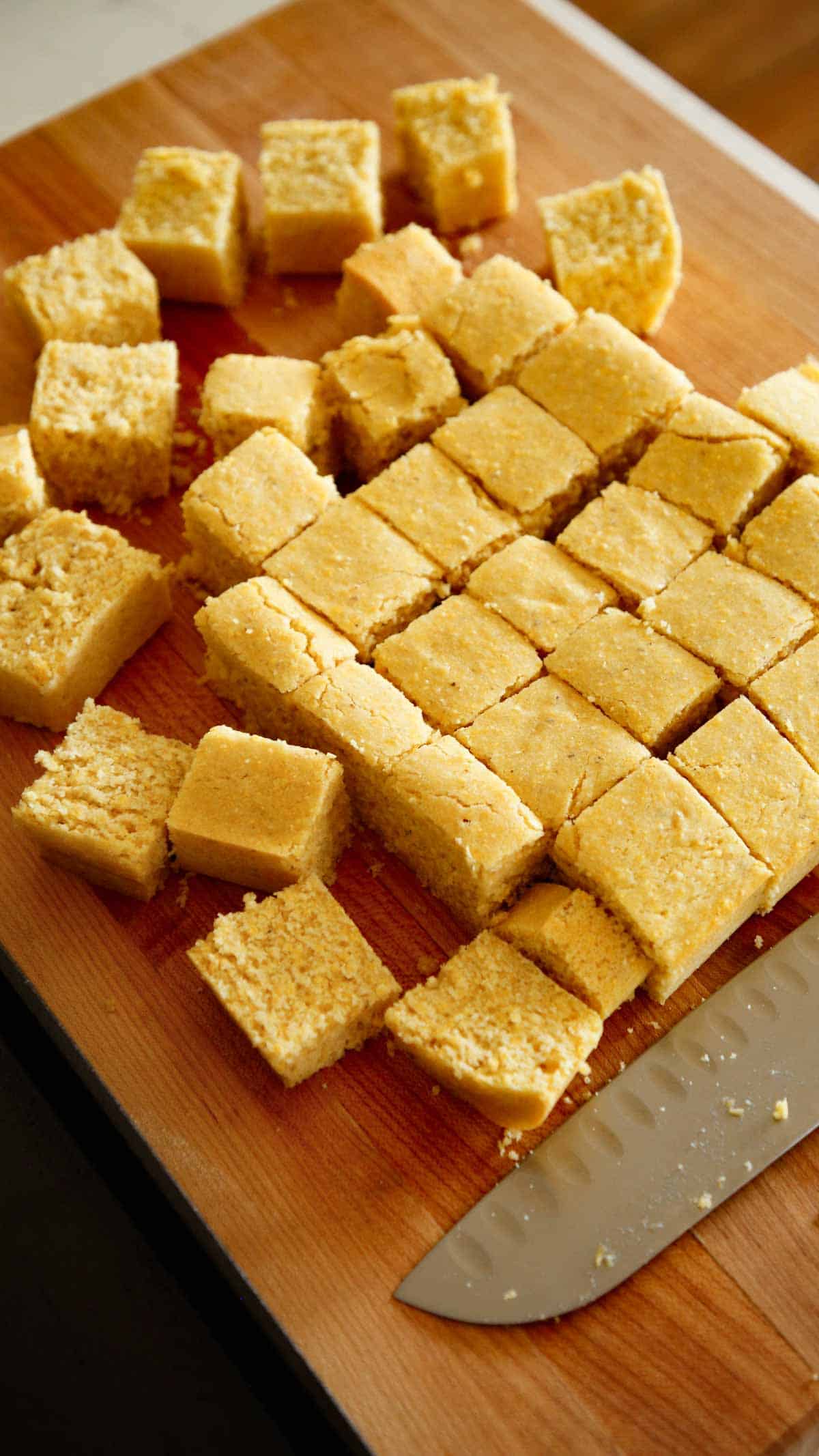 Toasting the Cornbread:
Toast the cornbread cubes, before assembly, so that the texture holds up to the weight of the egg and cream mixture
Otherwise, if you use fresh cornbread that has not been toasted, once it hits the liquid it will become too mushy.
For this reason, you could also make the cornbread 1-2 days ahead of assembling the stuffing, to dry out even further.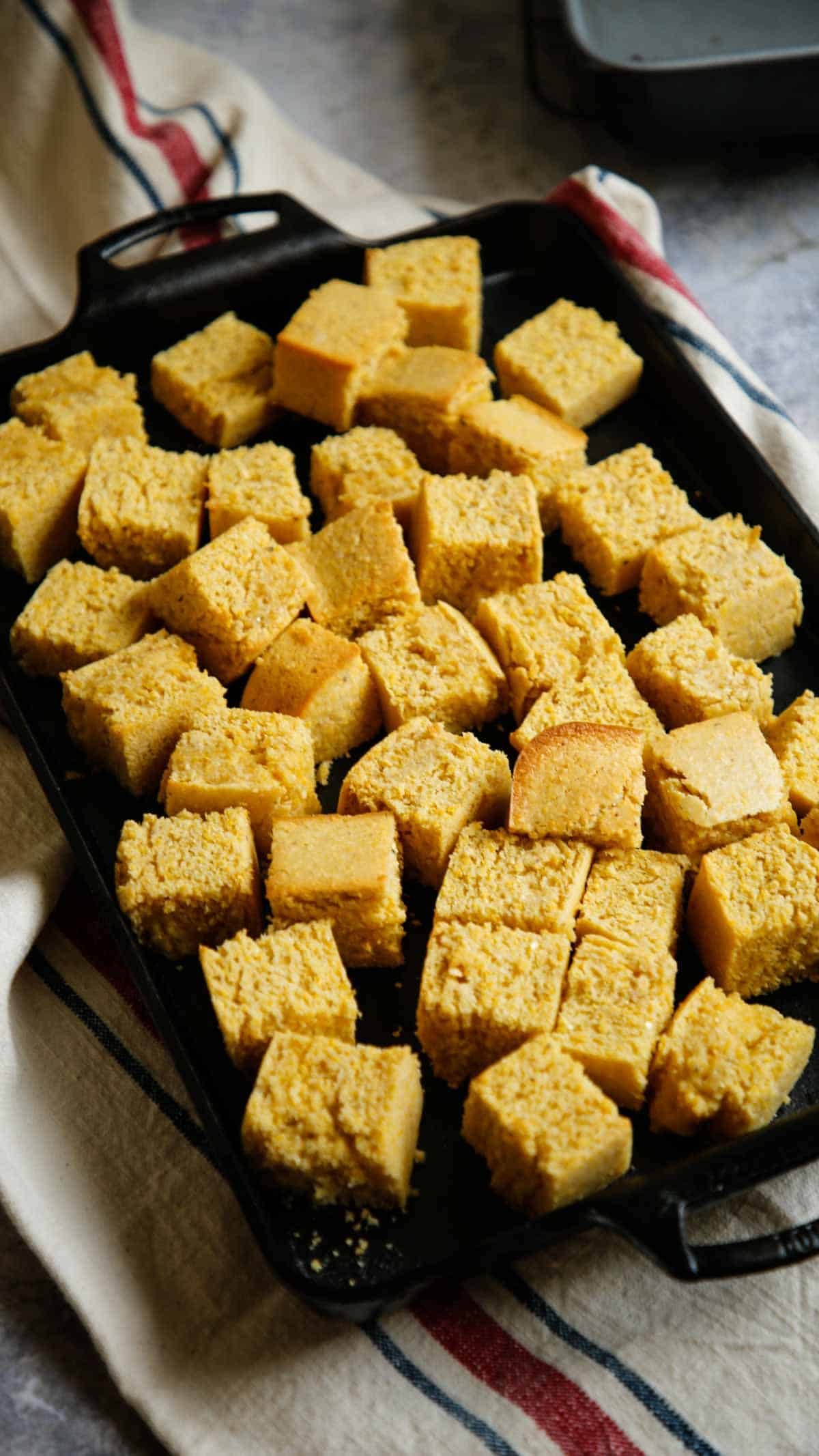 Make-Ahead and Reheating Tips:
You can make the cornbread 1-2 days ahead of time and leave tightly covered at room temperature.
You can assemble and bake the stuffing the day before serving, cover, and refrigerate it.
To reheat the stuffing, place it in a 350F oven covered, and bake for 20 minutes, then remove the cover and bake for an additional 10-15 minutes more.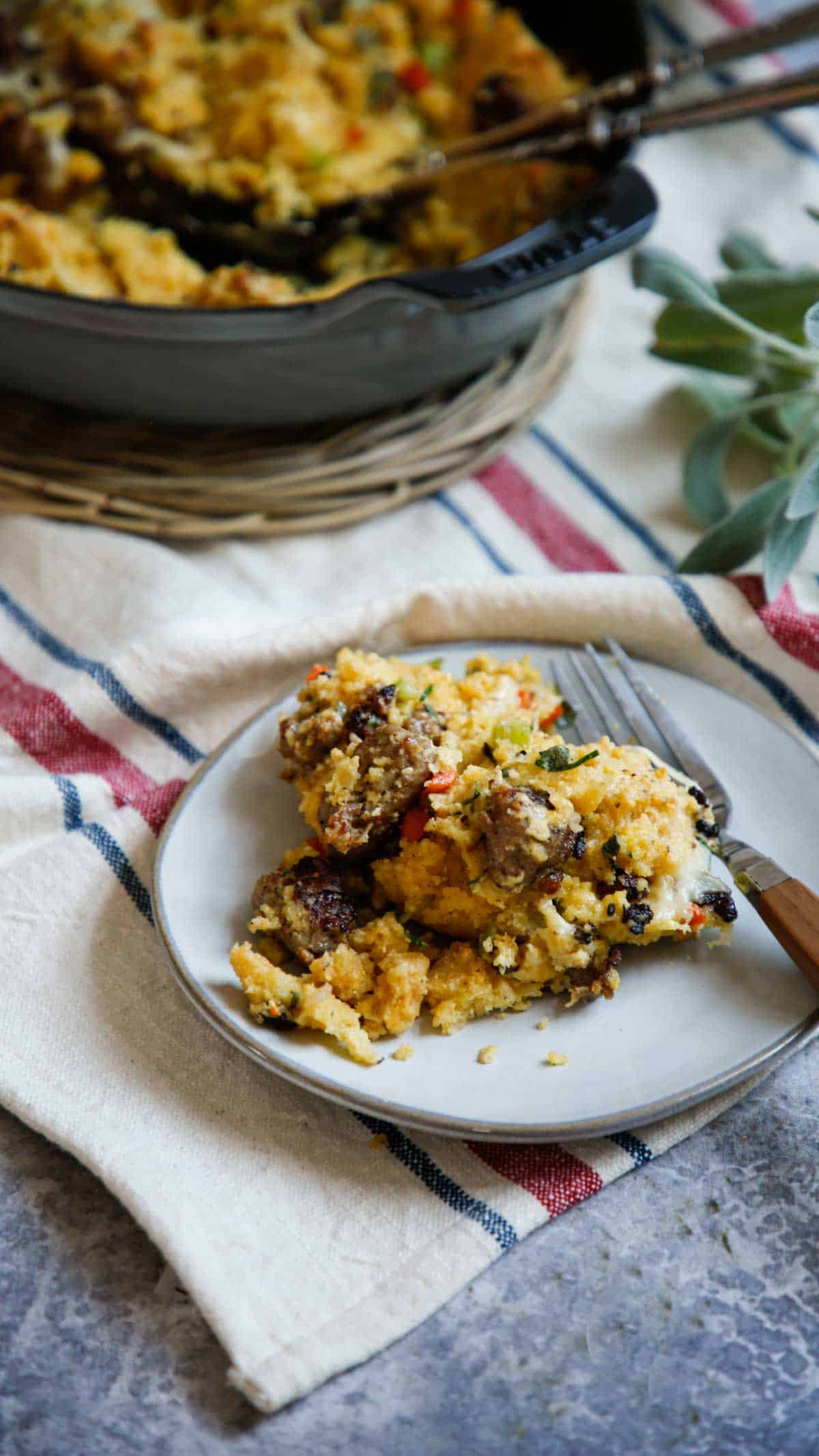 More Thanksgiving Recipes
If You Enjoyed This Recipe
Please Leave a Rating and a Review Below!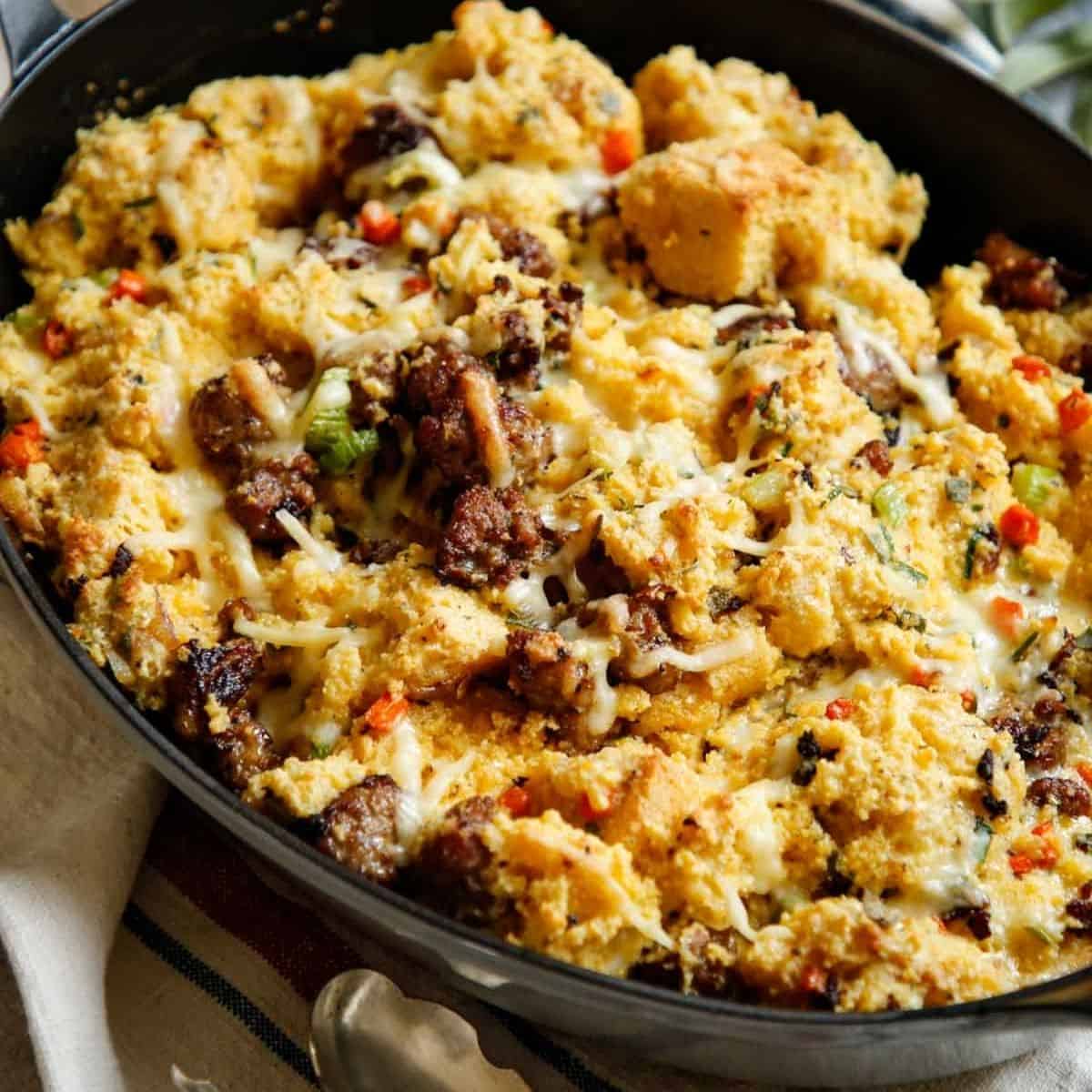 Cornbread Stuffing and Sausage
Cook Time:
1 hour
15 minutes
Total Time:
2 hours
15 minutes
A delicious cornbread stuffing recipe made with sweet Italian Sausage and homemade cornbread. An easy make-ahead side dish for Thanksgiving. Also travels well to a potluck!
Ingredients
For The Cornbread:
1 ¾ cup (280g) cornmeal (Medium Grind)
1 ¾ cup (210g) all-purpose Flour
½ cup (100g) sugar
2 teaspoon (10ml) baking powder
1 ½ teaspoon (7.5ml) salt
3 eggs
1 ½ cups (350ml) Milk
¾ cup (180ml) melted butter, unsalted
FOR THE STUFFING:
2 tablespoon (30ml) olive oil
5 sweet Italian Sausage Links
2 tablespoon (30g) Butter
¾ cup (110g) shallots, diced
½ cup (75g) carrots, diced
½ cup (75g) celery diced
⅓ cup (80ml) dry white wine (Chardonnay, Sauvignon Blanc etc)
2 tablespoon (30ml) fresh sage, chopped
2 Tbsp, (30ml) fresh chives, minced
6 eggs
1 cup (240ml) heavy cream
1 cup (240ml) chicken broth
¼ cup (45g) Gruyere Cheese, grated
Instructions
preheat oven to 350F (175C).
Grease a 9" (23cm) x 9" (23cm) brownie pan with baking spray and set aside.
In a large bowl whisk together the flour, cornmeal, sugar, baking powder, and salt.
Then add the eggs, the milk, and the cooled butter.
Whisk until combined and smooth. Transfer the batter to the prepared pan and bake for 25-30 minutes or until a toothpick combines out clean. Allow cornbread to cool at room temperature.
Once cooled remove the cornbread and slice into 1 ½ inch cubes. Place the cubes on a baking sheet and toast at 375F (190C) for 15-20 minutes or until dried out a bit and golden brown. Set aside to cool.
In a large skillet heat the olive oil until hot, add the sausage, and cook, breaking apart with a wooden spoon, into bite-sized pieces. Continue to sautee until cooked through. Then add the wine, and simmer until the liquid is reduced by half. Transfer to a bowl and set aside.
Then in a cleaned-out pan, melt the butter and saute the shallots, carrots, and celery until fragrant and tender. Season with salt and pepper to taste and set aside.
In a large bowl add the eggs and the cream, whisk to combine, then stir in the herbs. Then add the toasted cornbread, sausage, and vegetables and toss gently to coat.
Transfer mixture to an 11 X 14 shallow gratin dish and sprinkle with the grated cheese on top.
Bake at 350F (175C) for 45-50 minutes until baked through and golden brown on top.
Serve immediately. Or Allow to cool, cover and refrigerate and reheat at 350F (175C) covered for 20 minutes and uncovered for 10-15 minutes.
Notes
Make-Ahead and Reheating Tips:
You can make the cornbread 1-2 days ahead of time and leave tightly covered at room temperature.
You can make and bake the stuffing the day before serving, cover, and refrigerate.
To reheat place the stuffing in a 350F oven covered, and bake for 20 minutes, then remove the cover and bake for 10-15 minutes more
Nutrition Information:
Yield:

8
Serving Size:

1
Amount Per Serving:
Calories:

331
Total Fat:

17g
Saturated Fat:

6g
Trans Fat:

0g
Unsaturated Fat:

10g
Cholesterol:

234mg
Sodium:

430mg
Carbohydrates:

24g
Fiber:

1g
Sugar:

1g
Protein:

19g