If you want an easy cake that is sure to impress, this Blueberry Almond Cake is it! It's one of my favorite brunch recipes because the whole thing can be mixed up with 2 bowls and a whisk.
No need to drag out the electric mixer, and clean all the attachments. This is a "dump and stir" recipe that punches well above its weight class!
Why You'll Love This Recipe
The great thing about this cake is its texture, it's so light and fluffy with just the right amount of sweetness coming from the almond extract. It's a great alternative to my Blueberry Crumb Cake, because it's much quicker and easier too!
You'll love it for a brunch or an easy springtime dessert.
You can also swap out the fruit too. It's also great with strawberries, raspberries, cherries, or apricots, all pair very well with almond. For another great almond flavored cake, try my Bakewell Cherry Tart.
It uses 2 types of fat, melted butter for flavor and a little bit of oil for added moisture. Since they are both liquids they whisk up easily with a whisk.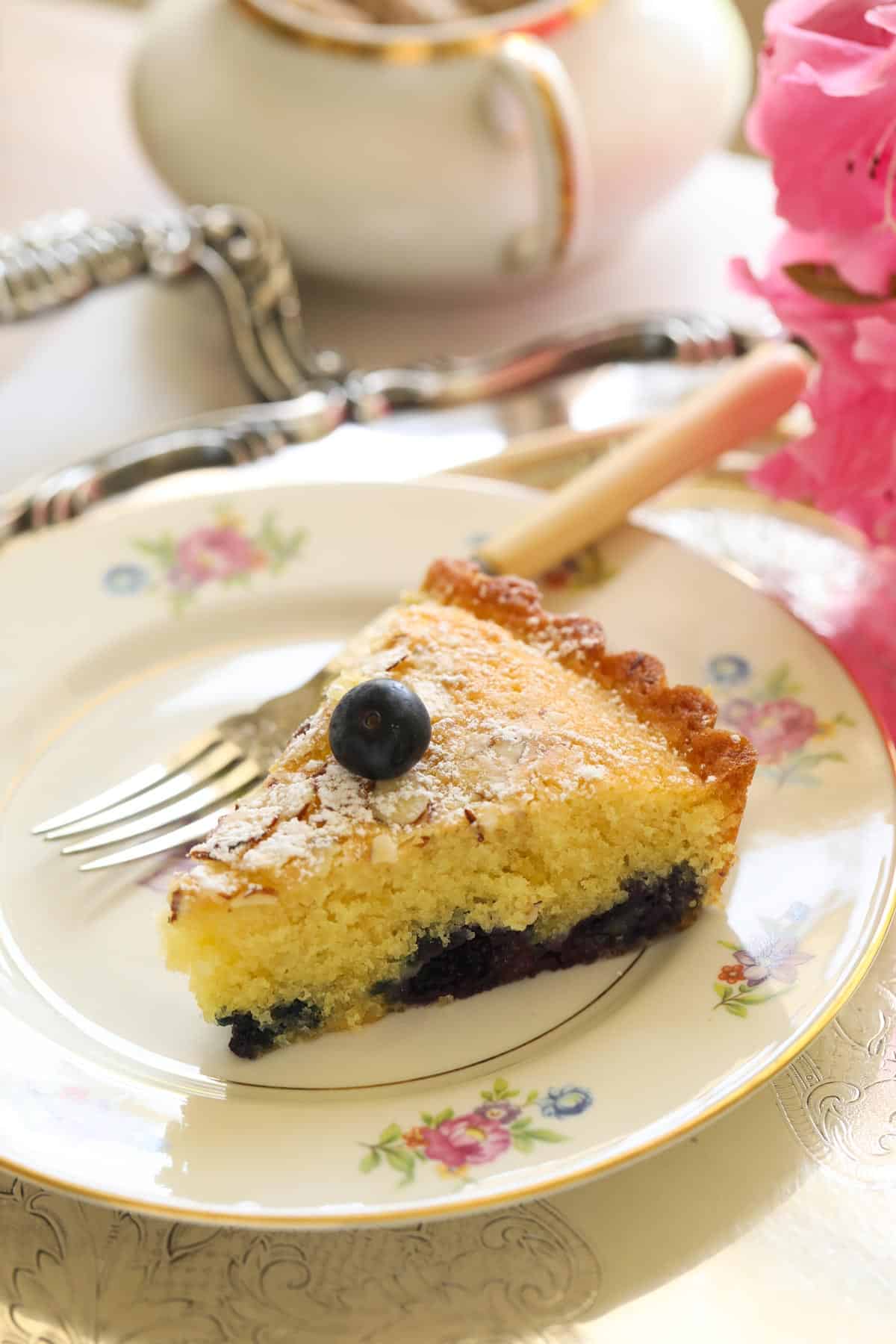 A Lot Of Look for Minimal Effort
This is a very basic cake recipe that uses pantry staples you probably already have on hand. But what dresses it up, is the cake pan.
I like to bake it in a removable bottom 9" deep dish quiche Pan which allows for beautifully fluted edges and an unexpected design.
You can also use this pan for making my Spinach Quiche Recipe too!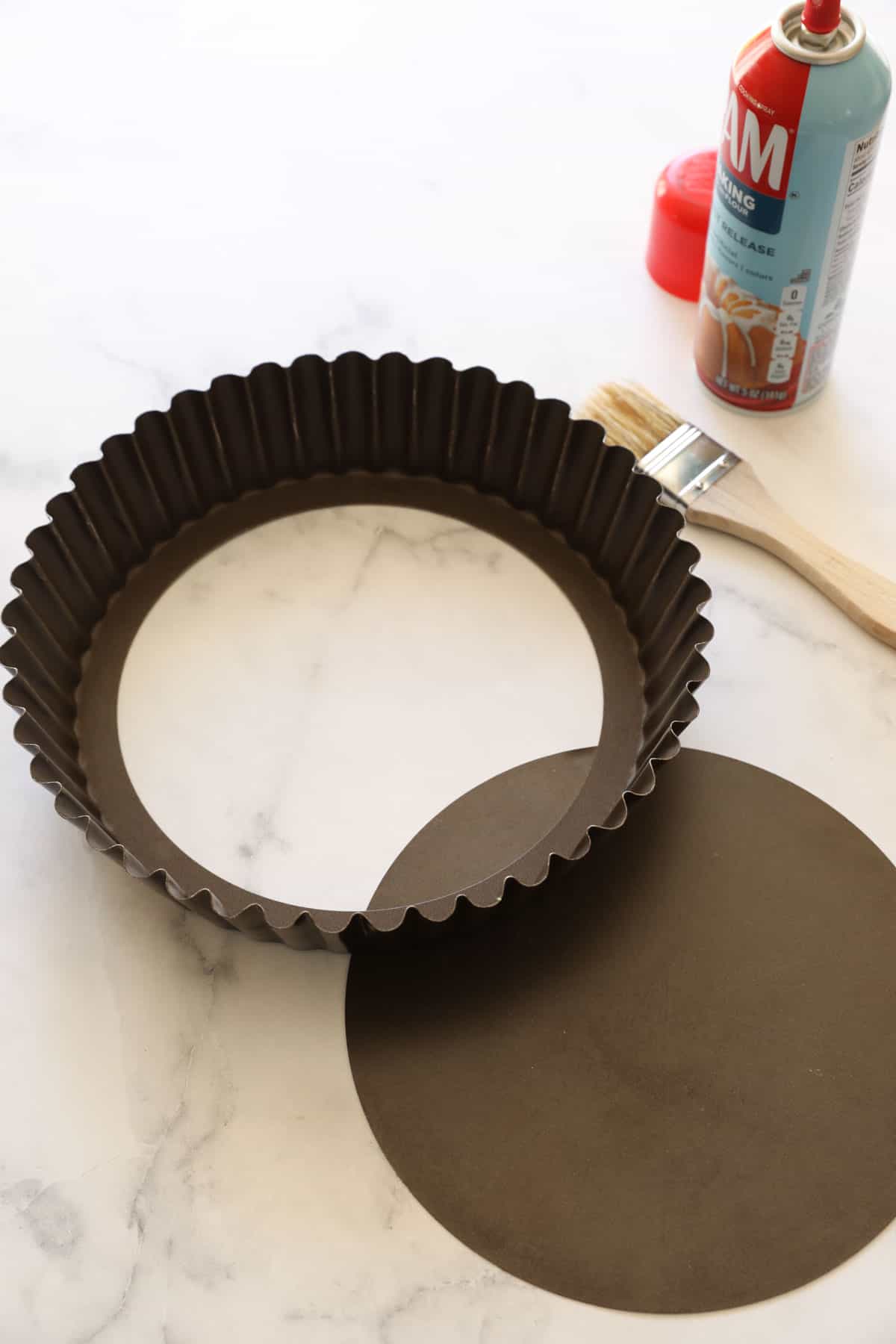 Liquid Fat Makes a Lighter Cake
I've found any time I want a very light tea cake, I use liquid fats, instead of softened butter. It creates the softest texture.
This is the same idea I use in many of my muffin recipes too that are fan favorites like my Classic Blueberry Muffins, Strawberry Lemon Muffins, and Orange Pecan Crumb Muffins. It always amazes me how much of a difference it makes.
It's a wonderful cake to serve with tea or coffee, especially for a special occasion like a bridal shower, baby shower or Mother's Day!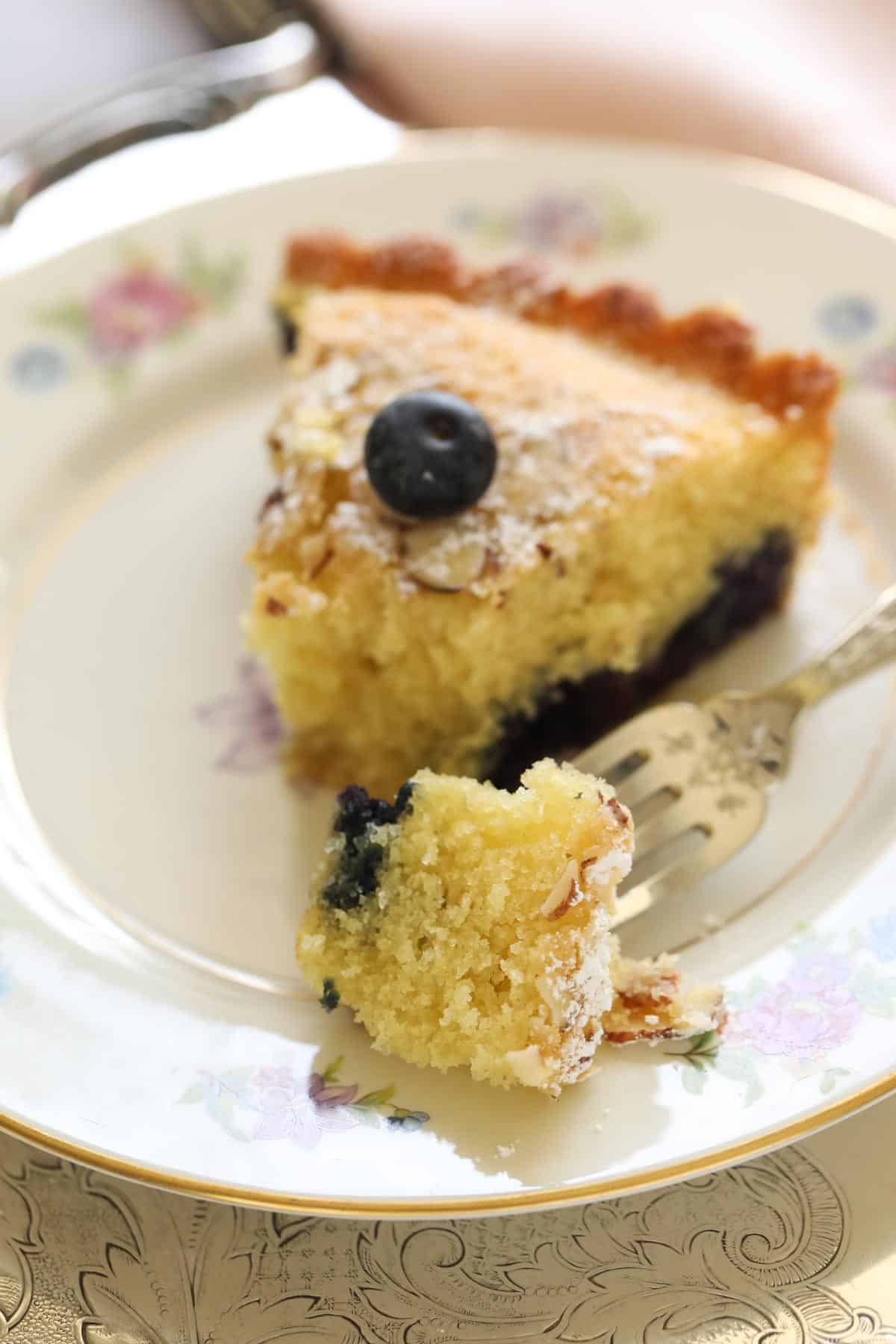 Make Ahead Tips:
You can bake the cake in the morning to serve at lunch, dinner or tea time. Leave it in the tin, and once cooled cover with foil.
If serving the same day leave at room temperature. If serving the next day, refrigerate.
To serve warm, place the cake, in its tin, in the oven covered at 350F for 15 minutes and 5 minutes uncovered.
This cake also freezes well too! Allow it to cool and then take the cake out of the tin, wrap the whole cake in wax paper and then foil. And freeze for up to 1 month.
Then defrost it in the refrigerator overnight. Reheat the slices in the microwave or place the whole cake on a sheet pan in a 350F oven, lightly covered with foil for 15 minutes. Then uncovered for 5 minutes.
Sprinkle with powdered sugar and top with a few blueberries before serving.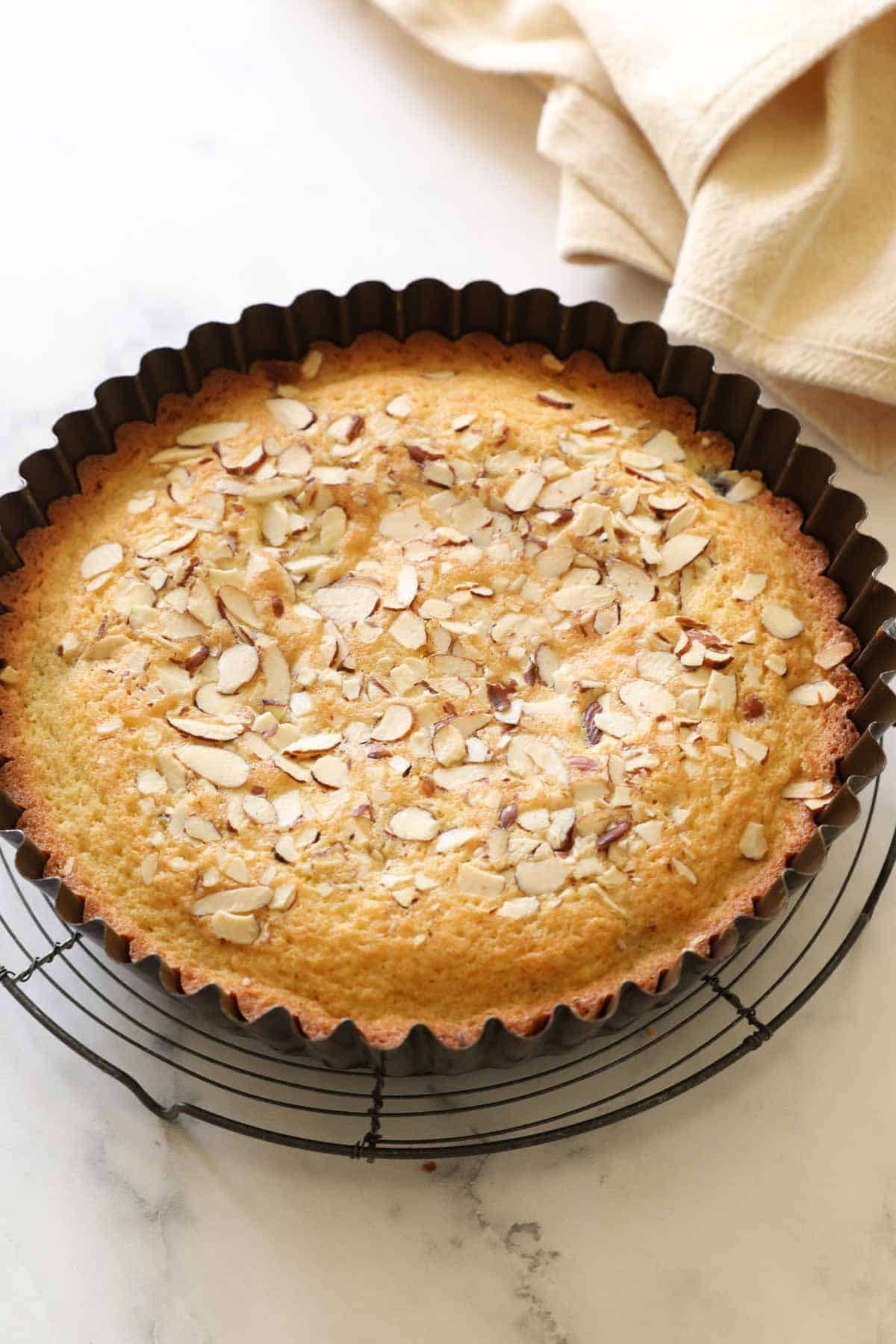 Serving Suggestions:
This cake is a wonderful tea time cake to serve with tea or coffee.
Or serve it with some homemade whipped cream as a dessert.
Or it also makes a wonderful brunch cake too! Serve it as a follow up to my Puffy Egg Bake and Smashed Potatoes or Roasted Potatoes.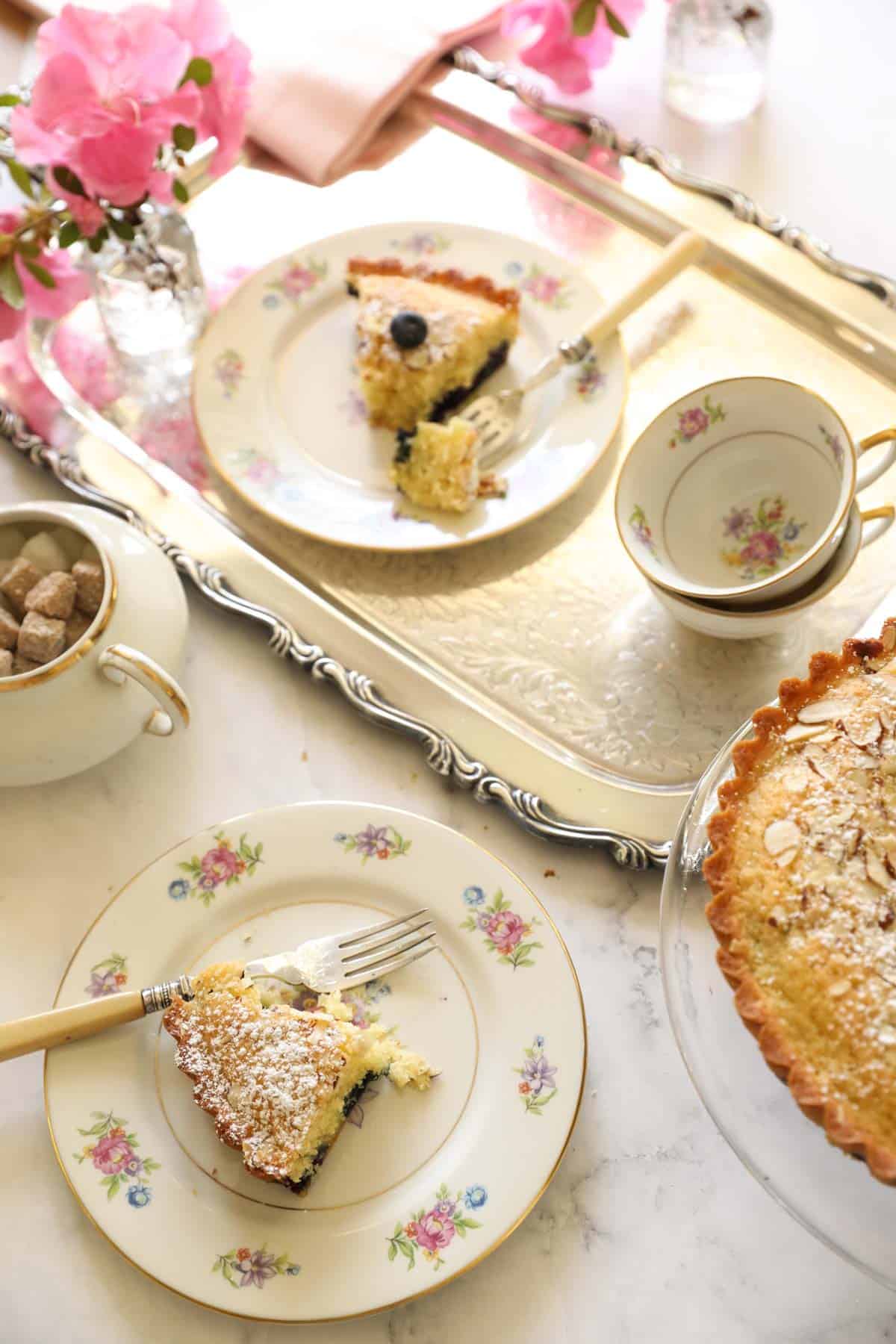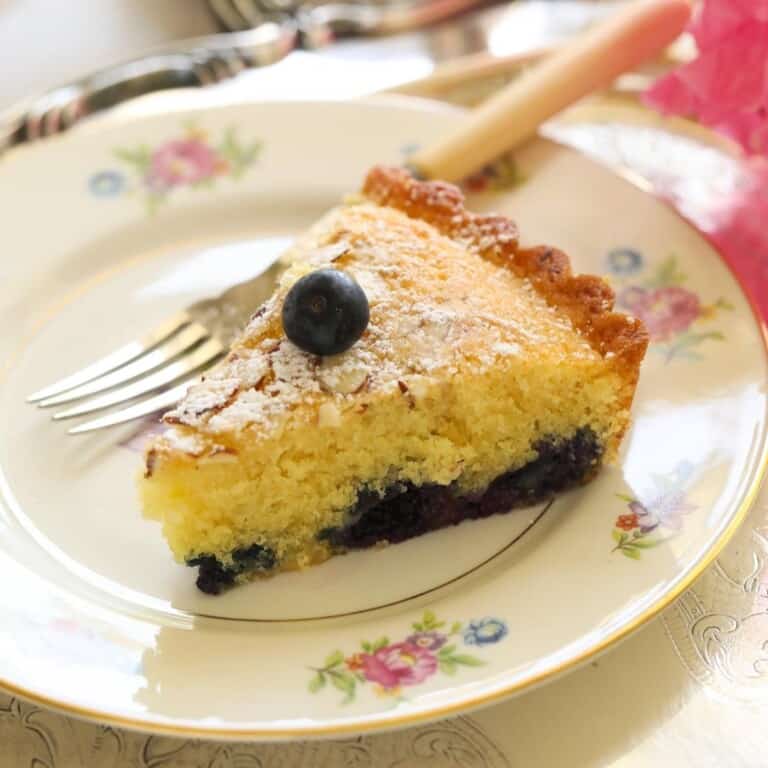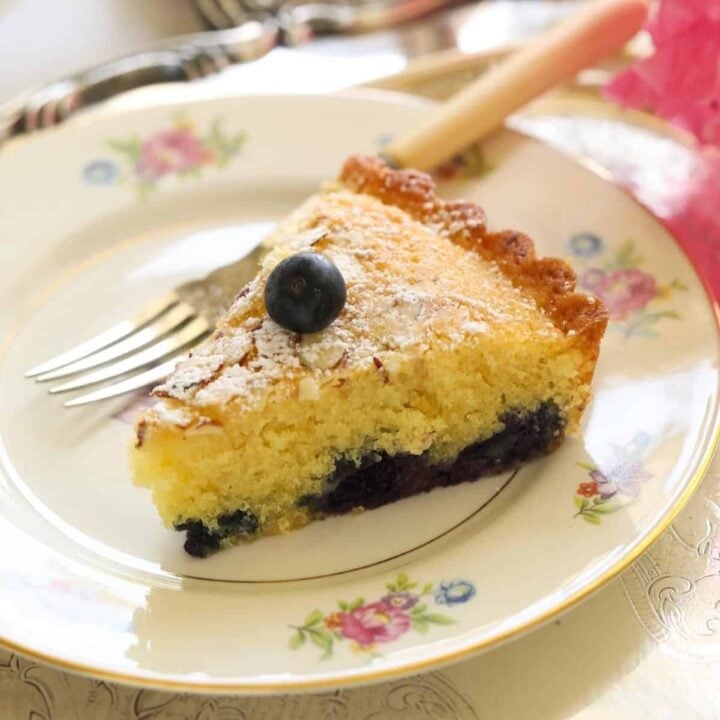 Blueberry Almond Cake
This Blueberry Almond Cake recipe is light and fluffy with just the right amount of sweetness coming from the almond extract. The crunch of the almonds on top gives it a great finish.
Ingredients
¾ cup (180ml) of melted unsalted butter
¼ cup (60 ml) canola oil
1 cup (200 g) sugar
2 eggs
1 ½ (7.5 ml) teaspoon pure almond extract
¼ cup (60 ml) water
1 ½ cups (180 g) flour
2 teaspoon (10 ml) baking powder
1 teaspoon (5 ml) salt
6 oz (170 g) fresh blueberries
¼ cup (50 g) raw sliced almonds
1-2 tablespoon (13 g) of powdered sugar for garnish
Instructions
Preheat oven to 350F/(176C) degrees.
Spray a 10" (25 cm) deep dish, removable bottom, fluted tart pan with baking spray. Set aside. (you can also use a regular cake pan, or turn this into muffins too)
In a large bowl combine melted butter, canola oil, and sugar. Mix well until combined. Then with a wire whisk whip in eggs, whisking until combined. Add almond extract and water and stir well.
In a small bowl combine flour, baking powder and salt whisk until combined. Add flour mixture to wet mixture, stir gently with a wooden spoon or spatula. Add blueberries, stirring in gently.
Pour batter into prepared pan and top with a sprinkle of raw almonds. Bake for 25-30 mins until golden brown and a toothpick comes out clean.
Remove cake from the tin. Place on a cake stand and dust with powdered sugar.
Notes
The crumb of this cake is delicate! Allow it to cool for at least 30 minutes in the tin before you try to release it. It will be more stable that way.
Nutrition Information:
Yield:

8
Serving Size:

1
Amount Per Serving:
Calories:

166
Total Fat:

4g
Saturated Fat:

1g
Trans Fat:

0g
Unsaturated Fat:

3g
Cholesterol:

49mg
Sodium:

19mg
Carbohydrates:

31g
Fiber:

0g
Sugar:

30g
Protein:

2g