Beth's Carrot Cake Cupcake Recipe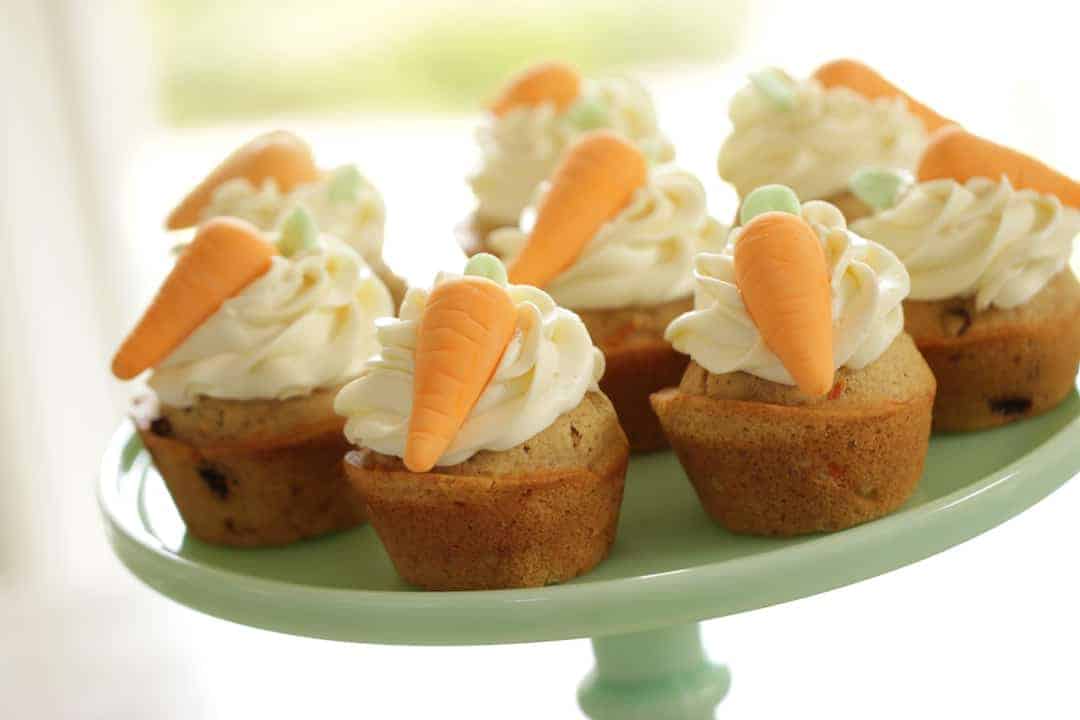 There's something so charming about a carrot cake cupcake decorated with little fondant carrots. A dessert sure to please the multi-generational guest list at your Easter lunch. This is such an easy recipe to master because the cake comes together very quickly and the fondant carrots can be made the day before. (They're actually better to make the day before so they harden up a bit and hold their shape)
For a full step-by-step video tutorial you can watch my demo here.
Subscribe to my YouTube Channel and never miss a recipe (It's free!)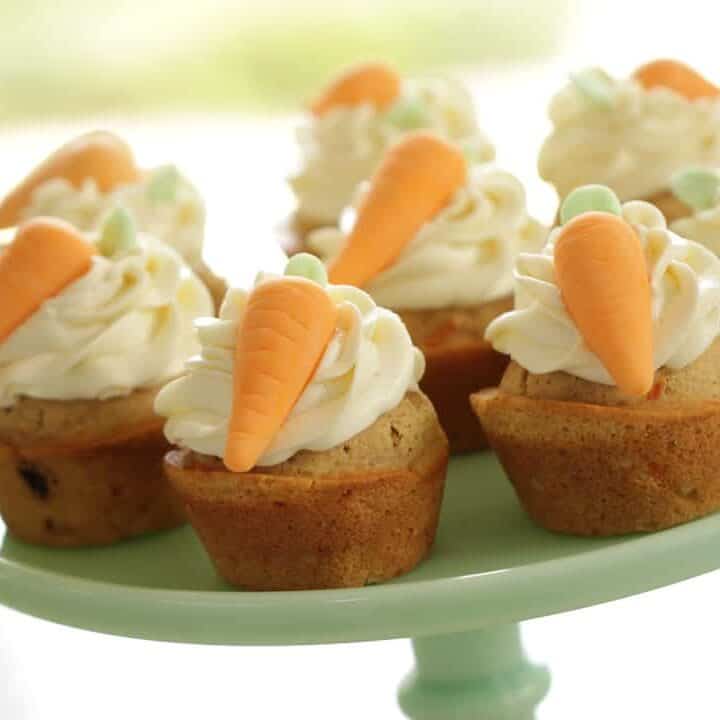 Beth's Carrot Cake Cupcakes
Total Time:
2 hours
20 minutes
This is such an easy recipe to master because the cake comes together very quickly and the fondant carrots can be made the day before. Carrot cake cupcakes are the perfect portion control.
Ingredients
CUPCAKES
3 eggs
1 cup (200 g) sugar
¾ cup (180ml) melted butter
½ cup (120 ml) water
1 ¾ cup (210 g) flour
2 teaspoon (10 ml) baking powder
½ teaspoon (2.5 ml) salt
1 ½ teaspoon (7.5 ml) cinnamon
½ teaspoon (2.5ml) nutmeg
1 cup (150 g) grated carrots
½ cup (75 g) raisins
FROSTING:
18 ounces (504 g) softened cream cheese
1 cup (240 g) softened unsalted butter
1 cup (100 g) powdered sugar
1 teaspoon (5 ml) vanilla extract
FONDANT CARROTS
8 ounces (224 g) fondant
2-3 drops orange food coloring
1-2 drops green food coloring
1 tablespoon (7 g) of powdered sugar for work surface
Instructions
Preheat oven to 350F/176C.
In a large bowl combine the eggs and sugar. Whisk together until combined. Then add the melted butter and water and whisk until combined, and set aside.
In a smaller bowl whisk together the flour, baking powder, salt and spices. Add the dry ingredients to the wet ingredients, in thirds, stirring gently until combined.
Add the carrots and raisins stir until combined.
Fill a muffin tin that has been lightly greased with baking spray, ¾ of the way full with the batter.
Bake cupcakes for 20 mins or until slightly puffed and set.
Meanwhile prepare the fondant carrots. Pinch off 6 oz of fondant. Roll it out to a flat disc. Add 2-3 drops of orange food coloring in the center. Fold the disc in half. Pop into a zip lock bag and begin to knead the fondant until the color starts to distribute, when you see it incorporated and starting to work through, remove the disc and place on a powdered sugared surface (to avoid sticking). Once all the color is incorporated. Pinch off a small mound (about the size of a large gum ball or jaw breaker). Roll it into a ball. Then turn the ball into a 3-d triangle, then between your hands roll it out shaping it length-wise until it start to resemble a carrot.
Place carrot on your board and gently with a dull knife make horizontal impressions into the sides of the carrot to give it dimension. Set aside.
For the green tops, repeat the fondant coloring process with 1-2 drops of green food coloring. Pinch off a small ball the size of a pea. Roll flay and with a knife form 2 leaves. Set aside.
Repeat this process until you have 12 carrots and 12 leaves. This can all be done the day before and left to set at room temperature. The fondant will harden and make the carrots and tops less fragile.
TO MAKE FROSTING:
Place cream cheese and butter in an electric mixer, beat until combined and whipped. Slowly add the sugar in thirds, beating until combined, then add the vanilla.
Transfer frosting to a piping bag fitted with your favorite tip. I like Wilton's 2D tip for these.
Once cupcakes are completely cooled, pipe a decorative mound of frosting on top, starting at one end and piping in a counter clockwise motion. Place the carrot on top, and leaves nestled close to the carrot top. The frosting will keep them secure.
Notes
If not serving right away, you can refrigerated the frosted cupcakes and just take them out and allow to sit at room temp for 30 mins to allow frosting tops to come to room temperature. Then store the carrots and stems at room temp and place on cupcakes just before serving.
Nutrition Information:
Yield:

12
Serving Size:

1
Amount Per Serving:
Calories:

244
Total Fat:

18g
Saturated Fat:

10g
Trans Fat:

0g
Unsaturated Fat:

6g
Cholesterol:

95mg
Sodium:

163mg
Carbohydrates:

18g
Fiber:

1g
Sugar:

15g
Protein:

5g