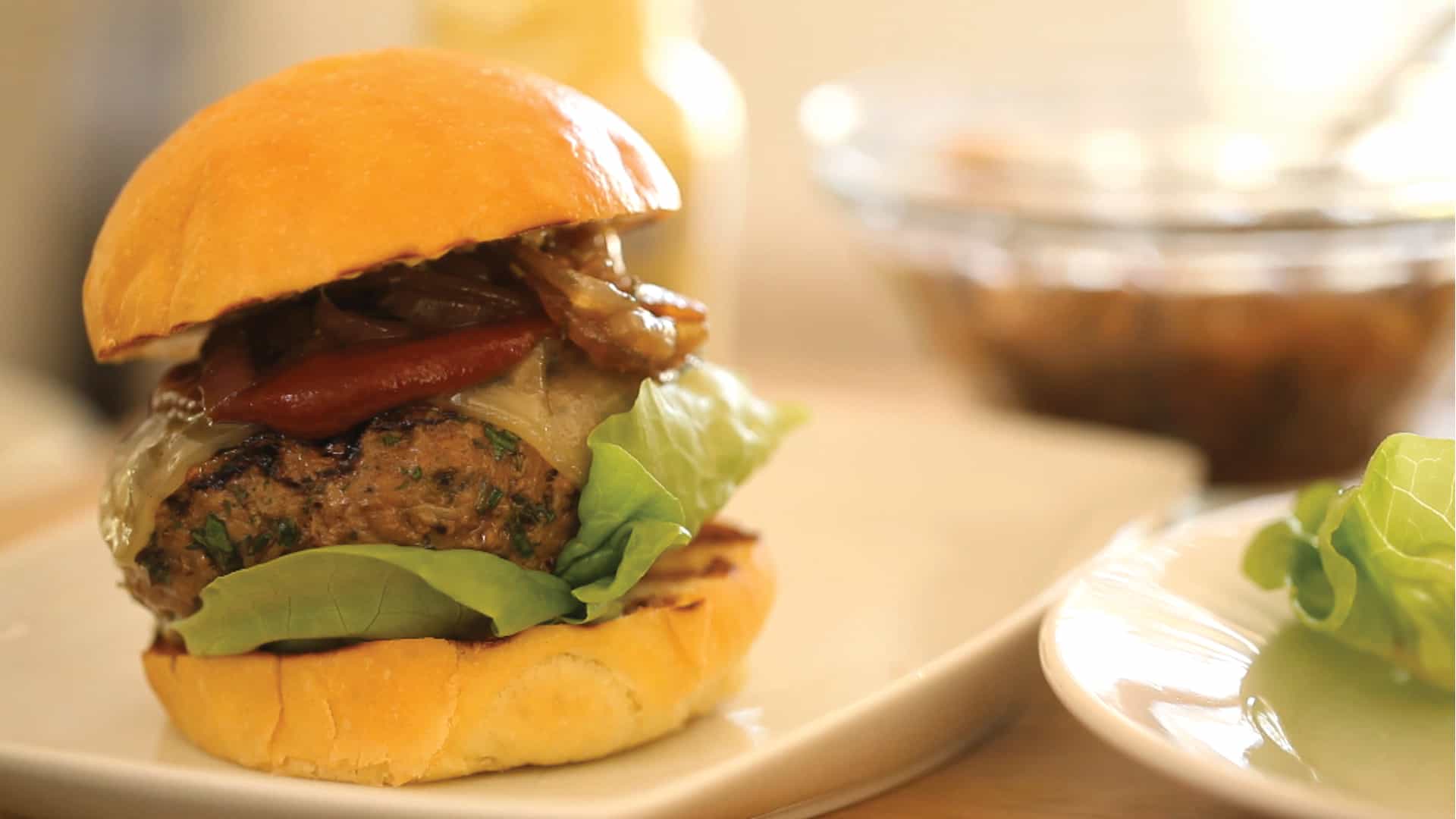 The fourth of July presents the opportunity to get creative with our burgers!  And for me, this one is hands-down the family favorite.  A little bit American, a little bit French and you have the ultimate "mash up of flavors" may I present The Franglais Burger for this year's backyard feast?
For a step-by-step tutorial you can watch my video demo here. Subscribe to my YouTube Channel and never miss a recipe! (It's free!)

Print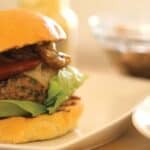 The Franglais Burger
---
Author:

Prep Time:

1 hour

Cook Time:

10 mins

Total Time:

1 hour 10 mins

Yield:

5

Category:

Main

Cuisine:

American
Ingredients
2 lbs (900g) ground beef (80-85% lean, you need some fat to keep the burger moist)
2 egg yolks
2 tbsp (30 ml) Worcestershire sauce
2 tbsp (30 ml) Herbs de Provence
2 tbsp (30 ml) fresh parsley, finely diced
1 tsp (5 ml) salt
½ tsp (2.5 ml) pepper
5 tsp (15 g) butter
5 Brioche Buns
5 slices Swiss Cheese
5 slices Bibb Lettuce
5 tsp (60ml) Dijon mustard
Smokey Ketchup
½ cup (120 ml) of Ketchup
1 tsp (5 ml) smoked paprika
Caramelized Onions
2 tbsp (30 ml) olive oil
2 red onions
salt and pepper to taste
2 tsp (10 ml) balsamic vinegar
1 tbsp (15 ml) fresh thyme
---
Instructions
To begin, start by caramelizing the onions. Place oil in a pan until shinny, add onions, salt and pepper and saute occasionally until soft and nicely browned. Then add vinegar and cook until evaporated and onions are limp and well caramelized. Set aside.
Then combine the ketchup with the paprika and set aside.
In a large bowl mix together eggs, Worcestershire sauce, herbs de provence, parsley, salt and pepper. Place in your meat and gently mix with your hands. Do not overmix or you will have a tough burger.
Form into gentle patties, and tuck a pat of butter into the center, this will keep it moist. Grill on a well oiled grill or a grill pan, 4-5 mins for medium rare, flip, add the cheese immediately and grill for another 4-5 mins.
GRILL NOTE: The secret to a juicy burger is flip once and don't press down the burger, that only will force it to release its juices and dry out! Don't touch and just let them do their thing uninterrupted ☺
Once the burgers are done allow them to rest for 5 mins (for the juices to set and redistribute), while you grill your buns to lightly toast them.
To assemble, place Bibb lettuce on the bottom bun, top with burger. Place a dollop of ketchup on the burger, and top with a little pile of onions, spread Dijon mustard on the top bun, and place on top. Et Voila! Enjoy!