This Easy Madeleine Recipe will have you whipping up Madeleines like a pro in no time! They are pretty easy to master if you follow my foolproof tips! You can flavor them with lemon zest, or vanilla extract, but my favorite is orange zest!
This is one of my favorite French Recipes to master because people are always so impressed with them, thinking you bought them at the local French bakery. Much like my Foolproof Macaron Recipe or my Classic French Apple Tart; two other great French recipes that will impress your friends!

What To Serve With Madeleines?
Madeleines are a lightly flavored dessert that pairs well with tea or coffee. They are great for an afternoon snack or as a light dessert for a brunch or baby shower. I also think they work well on a cookie platter too or as a food gift for Mother's Day or Teacher's Appreciation Week!
Watch My Video Demo of This Recipe Below!
Subscribe for weekly recipes
and new videos!
Subscribe to my YouTube Channel for more recipe videos!
Is a Madeleine a Cookie or a Cake?
Well, it depends on how you look at it. Technically, it is a small sponge-like cake. But over the years it has "functioned" more like a cookie since they are typically served alongside tea or coffee.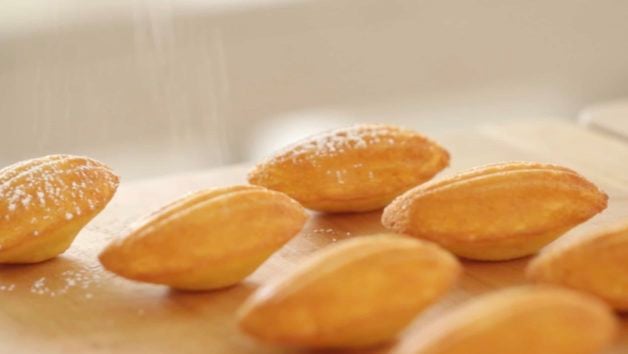 How Long Do Madeleines Stay Fresh?
Personally, I think Madeleines are best eaten the day they are made. But they will last in the refrigerator for 2-3 days. After baking, omit the powdered sugar, place them in an air-tight container, and then bring them to room temperature. Just before serving you can dust with powdered sugar.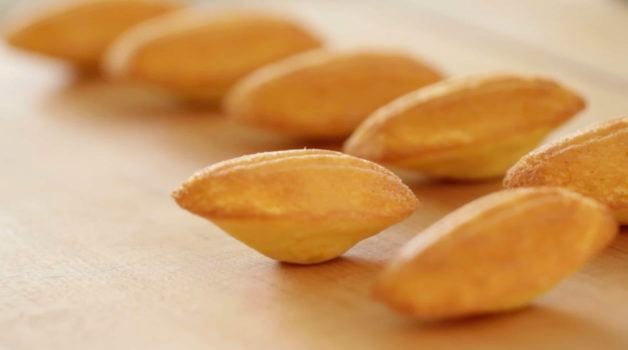 Can you Freeze Madeleines?
Yes! After baking allow them to cool completely. Omit the powdered sugar.
Then wrap in wax paper, then in aluminum foil. Place in the freezer for up to one month.
The day you plan to serve them, allow your Madeleines to thaw at room temperature, then dust with powdered sugar just before serving.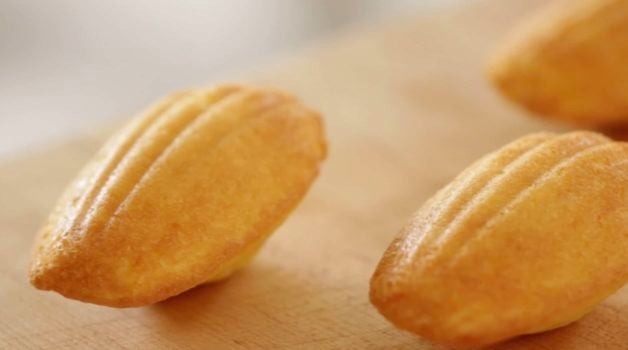 How Do You Achieve The Traditional Madeleine Hump?
In order to get that traditional "hump" of a madeleine cookie (the true mark of success!), you must refrigerate the batter at least one hour before baking.
This is a step often overlooked, and really does make all the difference!
The madeleine hump is created due to the differences in temperature between the chilled batter and the hot oven. The steam that is produced creates the hump. So no chilling, no hump.
The hump also allows them to prop themselves up showing off their beautiful scalloped detail!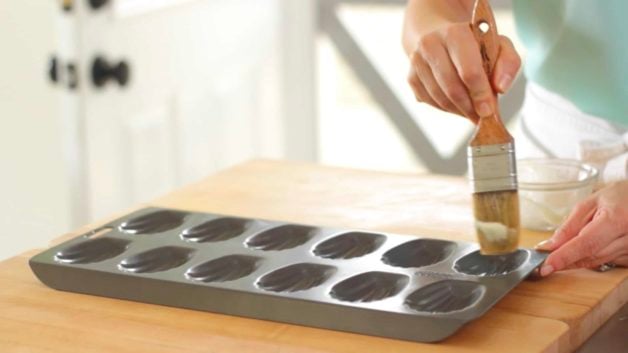 How Do You Avoid Madeleines Sticking to the Pan?
Stay away from those metal pans that you have to butter and flour! Madeleine pans have so many crevices that you really need a non-stick surface for the most foolproof results!
And don't fall for those silicone models either!
They may look easy enough the way they pop right out, but you have to put them on a baking tray to stabilize them, and then you'll be left with a little mark on the bottom of your madeleine form where it became too hot against the pan.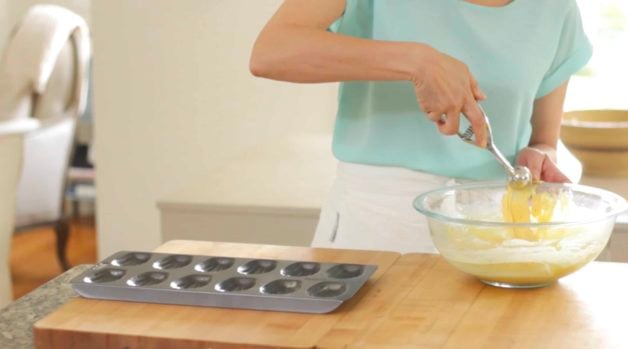 Which Pan is Best?
Trust me I've tried them all, and the best bet is a non-stick metal pan.
My recommendation for my favorite pan is The Chicago Metallic Non-Stick, Madeleine Pan.
I would not waste your time on a Madeleine pan that is not non-stick.
They are too many crevices in the scallop design, and half your Madeleine will end up sticking in the grooves with this time of pan.
Allow them to cool and then remove them with a small butter knife or icing spatula then dust with powdered sugar.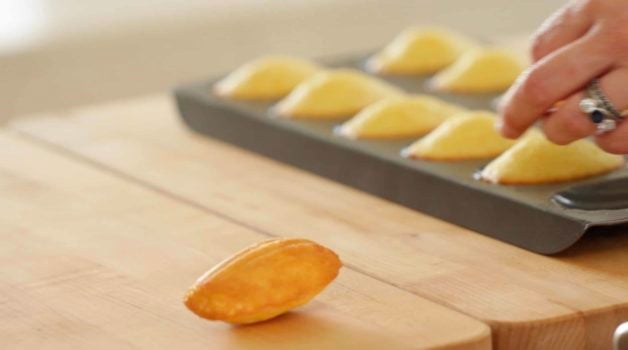 Can You Make Madeleines Without The Pan?
Technically you can. You can use a muffin tin or a mini muffin tin for a smaller portion. They won't have a hump, per se, but rather a dome.
They will still taste delicious and will give you a good sense of what the taste is like. If you enjoy them, then you can invest in the pan.
More French Desserts!
Please let me know if you make this recipe
by leaving a rating and review below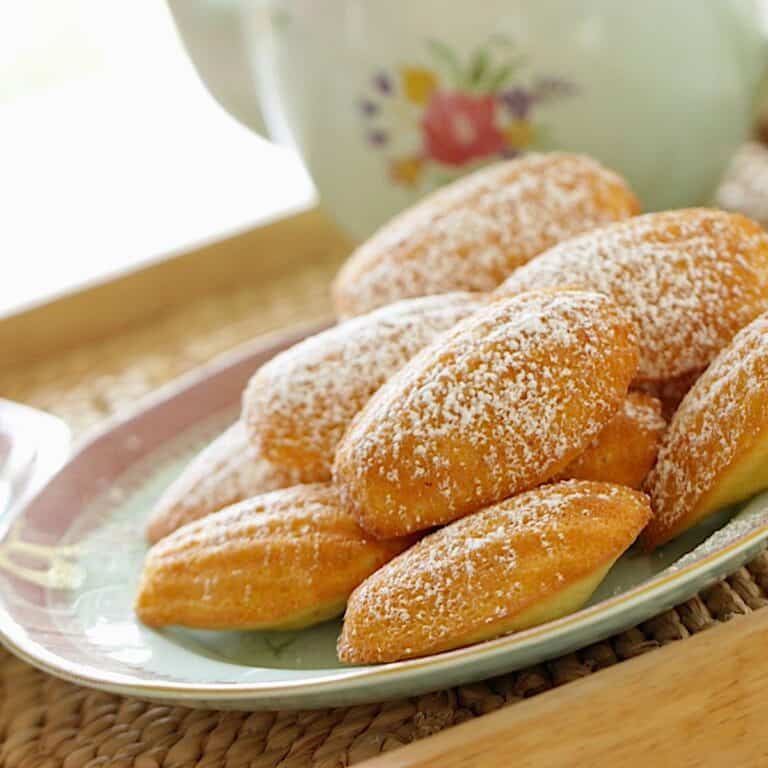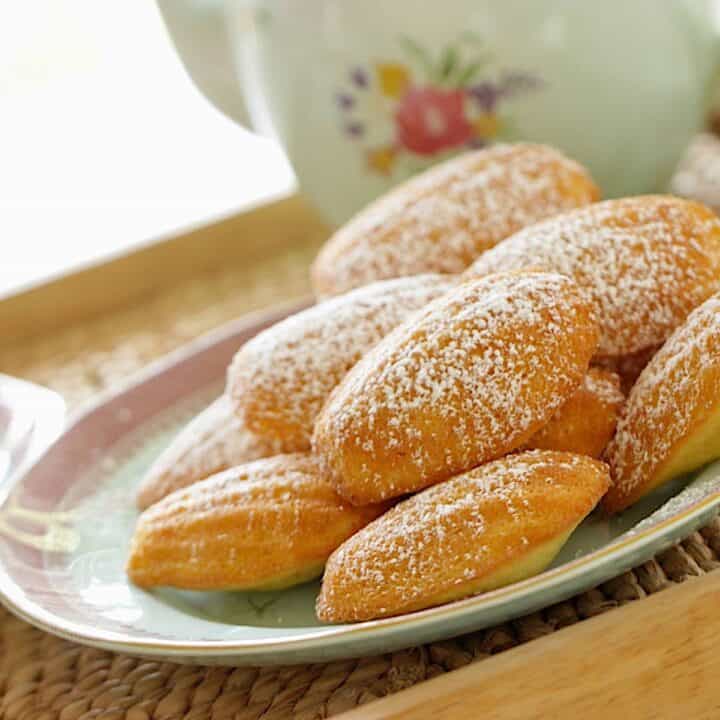 Easy Madeleine Recipe
Prep Time:
1 hour
20 minutes
Total Time:
1 hour
28 minutes
This Easy Madeleine Recipe will have you whipping up Madeleines like a pro in no time! A dainty little sponge-cake served like a cookie Madeleines are wonderful served with coffee or tea.
Ingredients
3 eggs
⅔ cup (130 g) sugar
1 ½ (7.5 ml) teaspoon orange zest
1 cup (120 g) flour
1 teaspoon (5 ml) baking powder
¼ teaspoon (1.25 ml) salt
6 tablespoon (90 ml) melted butter
1 tablespoon (7 g) powdered sugar
Instructions
Beat eggs with sugar until pale yellow. Add the orange zest.
Whisk together dry ingredients add to the egg mixture gently, until just combined. Then add melted butter.
Refrigerate the batter for at least 1 hour! Or overnight. This is really critical for getting the "hump" of a Madeleine, the traditional mark of this classic French cookie.
Preheat oven to 350F/(176C).
Lightly coat a non-stick, Madeleine pan with baking spray using this technique. Spray the baking spray into a small bowl and with a pastry brush lightly grease each well.
Spoon 1 tablespoon (15 ml) of batter into the center of the well and don't touch it. It will spread out by itself and keep a more uniform shape that way.
Bake 7-8 mins until slightly golden around edges and centers look set and a slight hump has appeared. Allow to cool slightly and remove from the tin and allow to cool.
Once cooled completely and dust with powdered sugar and serve!
These are best eaten the day they are made. Batter can be made 2 days ahead of time.
Notes
Batter can be made 2 days ahead. Batter MUST rest for at least 1 hour in the fridge in order to get that "traditional madeleine hump".
This is not the time for those silicone wonder molds. Non-stick metal all the way! I find those silicone molds don't allow for even browning like the non-stick metal does.
Nutrition Information:
Yield:

18
Serving Size:

1
Amount Per Serving:
Calories:

47
Total Fat:

5g
Saturated Fat:

3g
Trans Fat:

0g
Unsaturated Fat:

2g
Cholesterol:

41mg
Sodium:

42mg
Carbohydrates:

0g
Fiber:

0g
Sugar:

0g
Protein:

1g