This easy Chicken Brochettes and Zucchini Salad is perfect for summer entertaining!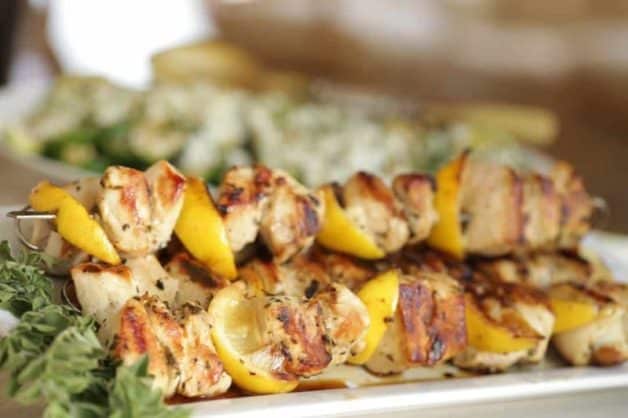 A few years back we started growing zucchini in our garden and I was completely shocked to understand that the longer you left it unpicked the bigger it grew, and grew! Until they were the size of a butternut squash. No seriously, not kidding they were massive!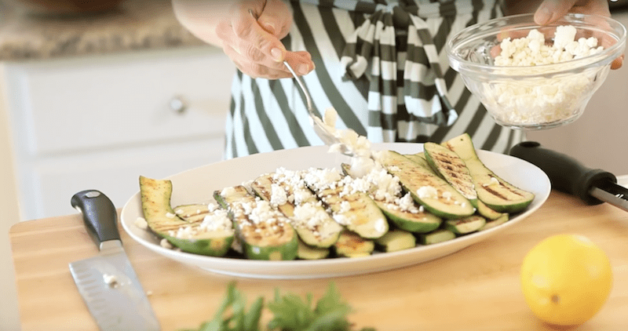 So we quickly put them to work in the kitchen; grilling them, sautéing them, and of course all the zucchini bread we could eat! But it was this salad we really loved best. It pairs beautifully with chicken brochettes and is a staple at our house all summer long.
How do you make Chicken Brochettes?
Chicken brochettes are so easy to make for summer entertaining because you can marinate the chicken ahead of time, in olive oil, vinegar, garlic and fresh or dried oregano. Then thread the skewers and have them all ready to go.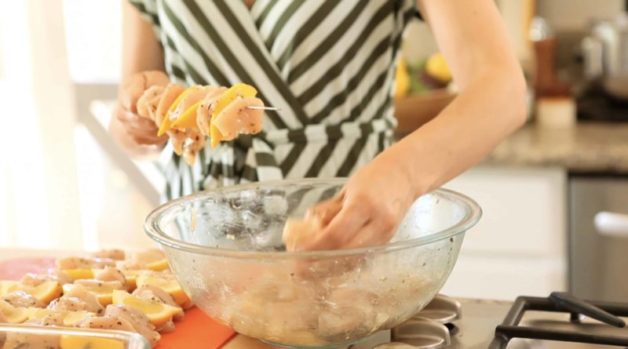 Then all you have to do when guests arrive is throw them on the grill!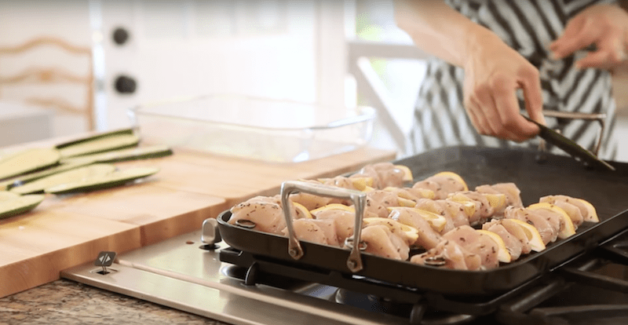 The slightly charred lemons on the brochettes makes for a wonderful sauce as you squeeze them on the warm chicken.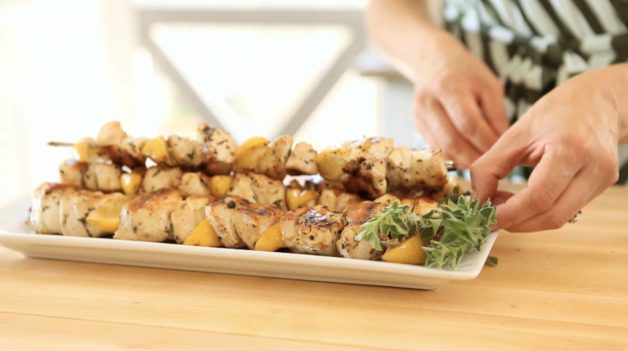 WATCH MY CHICKEN BROCHETTES WITH ZUCCHINI SALAD VIDEO BELOW
SUBSCRIBE TO MY YOUTUBE CHANNEL and never miss a recipe (it's free!) and new videos post each Saturday!
This dinner pairs really well with my Avocado Shrimp Cups as a starter and for dessert I love to serve my Pluot Sundaes with Almond Brittle to finish things off 🙂 Happy Summer! xx
Avocado Shrimp Salad Cups
Pluot Sundaes with Almond Brittle
Please let me know if you make these Chicken Brochettes with Zucchini Salad by leaving a rating and review below
Sign up to get recipes in your inbox- click here to sign up! And make sure to follow us on Youtube, Pinterest, Instagram, Facebook & Twitter!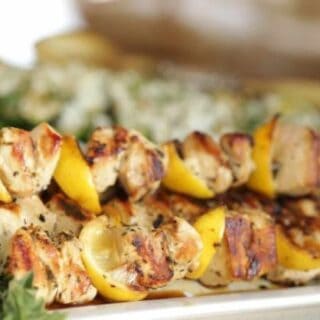 Grilled Chicken Brochettes with Zucchini Salad
This easy Chicken Brochettes and Zucchini Salad is perfect for summer entertaining!
Ingredients
4 Boneless, Skinless Chicken Breasts, cubed into 2 " chunks
1 garlic clove, minced
½ cup (120 ml) of olive oil
1 tbsp (15 ml) red wine vinegar
½ tsp (2.5 ml) salt
¼ (1.25 ml) tsp pepper
1 tbsp (15 ml) oregano
4 lemons, quartered
4 zucchini
½ cup (45 g) crumbled goat cheese
¼ (60 ml) cup olive oil
2 tbsp (30 ml) parsley
2 tbsp (30 ml) pine nuts
sea salt and pepper to taste
4 metal skewers
Instructions
In a large bowl combine garlic, olive oil, red wine vinegar, salt, pepper, and oregano. Whisk to combine and set aside.
Slice chicken breasts into 2" chunks and place in the marinade and toss to coat.
Allow chicken to rest in the marinade at least 1 hour and no more than 4 hours.
Prep zucchini by cutting off tops and slicing into ¼" slices, lengthwise. Brush with olive oil on both sides and season with salt and pepper. Set aside.
To prepare the brochettes thread 2-3 pieces of chicken, and then thread a lemon quarter, cut side facing the chicken. Continue to thread 2-3 pieces of chicken, to 1 lemon wedge, alternating pattern until skewer is complete.
Heat grill pan, or BBQ to a medium high heat. Grill zucchini and chicken together. Zucchini is done when it has nice grill marks on each side and softens slightly. It may be done before the chicken, which is OK since it is meant to be served at room temperature.
Arrange zucchini on a plate, top with the crumbled goat cheese (the warmth of the zucchini will soften the cheese which is really nice!) top with pine nuts and chopped flat leaf parsley.
Serve zucchini with the grilled chicken brochettes.
Notes
Really nice to squeeze the grilled lemon wedges over the chicken and zucchini while eating. Happy Summer! Enjoy!
Nutrition Information:
Yield:

4
Serving Size:

1
Amount Per Serving:
Calories:

517
Total Fat:

29g
Saturated Fat:

5g
Trans Fat:

0g
Unsaturated Fat:

22g
Cholesterol:

104mg
Sodium:

226mg
Carbohydrates:

18g
Fiber:

6g
Sugar:

6g
Protein:

44g