This Sticky Buns Recipe was just made for Christmas morning breakfast! It's one of my favorite recipe holiday recipes that you should give yourself permission to dive into at least one time a year!
Yes, they take a little work, but for me, I find it's well worth the effort. Looking for something quicker? Try my overnight cinnamon buns they rise while you sleep or my Sticky Buns with Puff Pastry which are even easier!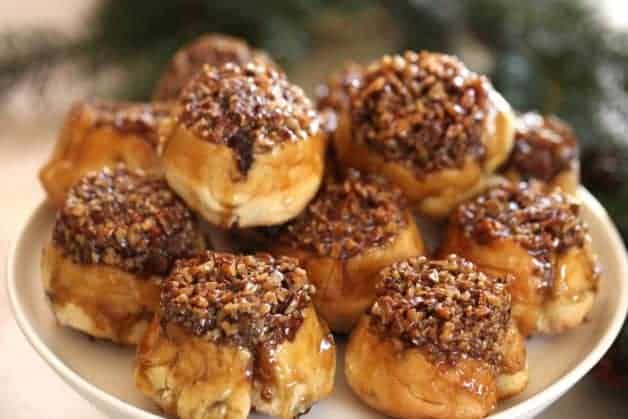 This recipe comes from my Christmas Morning Breakfast Menu I did for the Kin Community YouTube Channel a few years back. You can watch the full video below!
Need more menu ideas? Watch all my Kin Community Menu Videos.
More Recipes from this video include:
STEP 1: Make the Dough and Allow it to Rise
You'll make the dough, knead it and then allow it to rise in a warm place for 1 hour.

What's The Difference Between a Cinnamon roll and a Sticky bun?
The main difference between the two boils down to the sauce or frosting. A traditional cinnamon roll will be glazed with cream cheese frosting on top.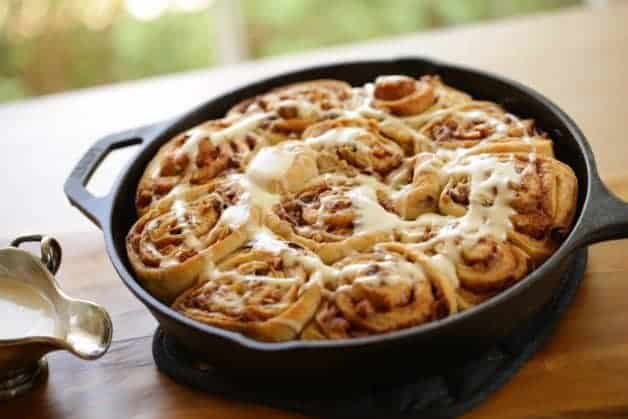 A sticky bun typically has nuts and is covered in a sticky caramel sauce.
How Do You Make Caramel Sauce for Sticky Buns?
You'll melt butter and sugar in a saucepan, add orange zest and juice, simmer and then add heavy cream. Whisk until a caramel sauce develops.
Remove from the heat and allow to cool. How easy is that? The orange zest and juice add a wonderful flavor to the sweetness of the caramel.
STEP 2: Make the Sticky Sauce. Fill Muffin tin.
Once your sticky bun sauce is done you'll pour 1 tablespoon of sauce into each muffin well. This will become the topping of the bun, since your buns will ultimately become inverted, with the bottoms becoming the tops.
Tip:
When your sauce has cooled pour it into a Pyrex pitcher. This makes pouring the sauce into the wells so much easier.
You could also make the sauce the day before. Place in the pitcher, cover, and refrigerate. Then just warm it up in the microwave so it's pourable.

Then you'll add chopped pecans on top. You could also use walnuts if you prefer. Just make sure they are finely chopped so they stick easily to the sauce when your buns are inverted.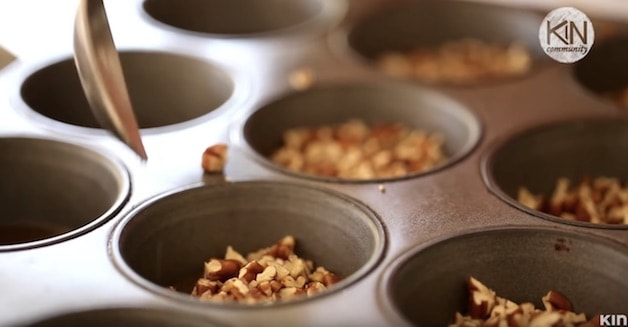 STEP 3: Add the Filling
Roll out the dough into a large rectangle. Spread softened butter on top and add the filling. I love to also add orange zest to the filling since it gives these decadent buns a nice freshness to them.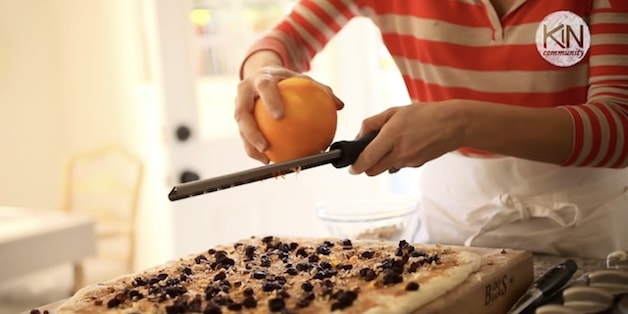 Then gently roll up your dough into a large log.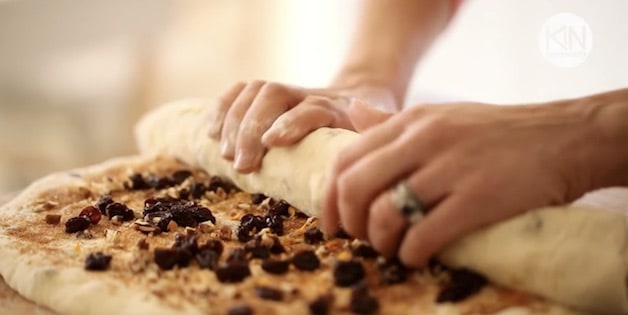 STEP 4: Cut and Bake
Slice sticky bun log and add them into a non-stick muffin tin and bake!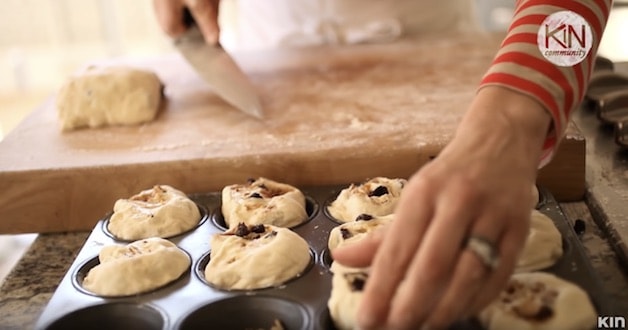 How To Release the Sticky Buns
This can be quite a talent! Here's my favorite way to do it for an easy flip.
First place a cooling rack on top of the muffin tin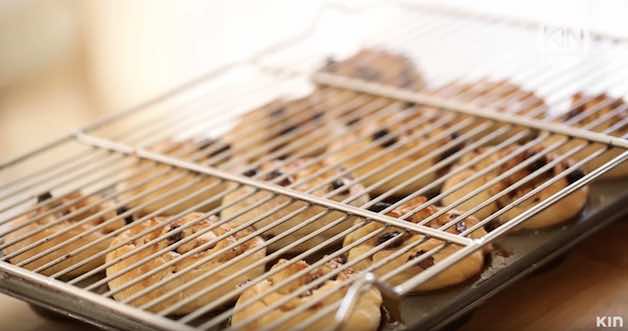 Then place the cookie sheet on top of the cooling rack.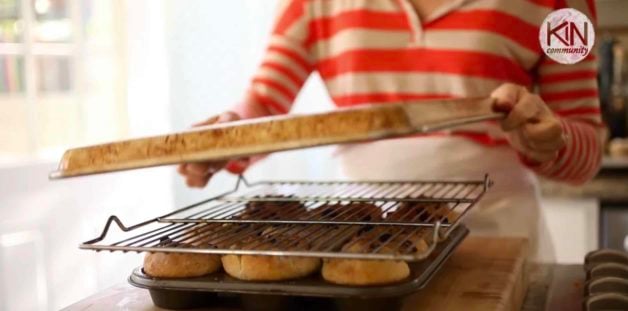 Then with one fluid motion, flip the whole thing upside down. Remove the muffin tin...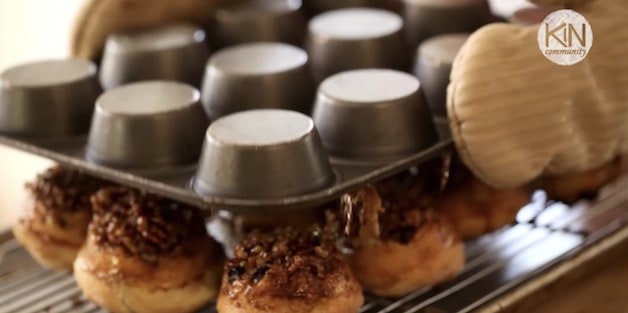 ...and now the sticky buns are "right side up, and already on a cooling rack, allowing you to pour some extra sticky sauce on top and allow the cooling rack to catch the drippings. Genius!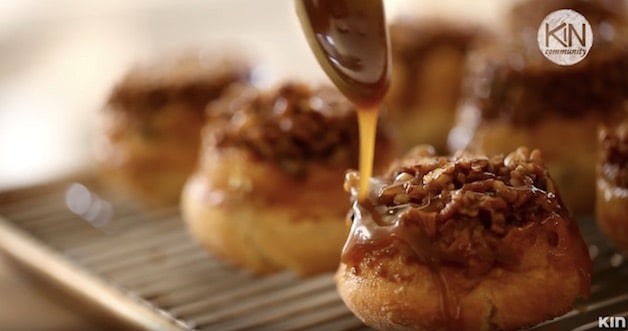 You can allow the sauce to set for 5-10 minutes, then bring them to the table and let everyone dig in! Merry Christmas!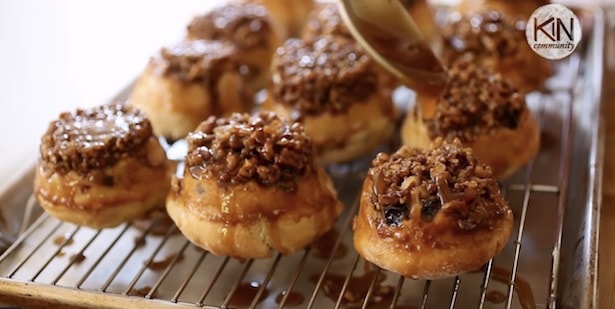 PLEASE LET ME KNOW IF YOU MAKE THIS RECIPE
BY LEAVING A RATING AND REVIEW BELOW!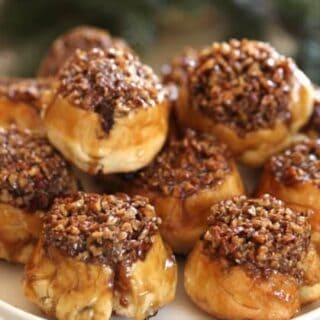 Sticky Buns
Total Time:
2 hours
15 minutes
A delicious treat for Christmas morning breakfast! These sticky buns are worth indulging in at least once a year!
Ingredients
Buns
3  ½ cups (420 g) flour
2 ¼ teaspoon (1 package) (¼ ounce/7g)  dry active yeast
2 tablespoon (25 g) + 1 ½ teaspoon (8 g) of sugar
1 teaspoon salt (6 g)
1 tablespoon orange zest
½ cup of raisins (75 g)
1 ½ cup warm water (between 110-125F or 43-51)
2 tablespoon (30 ml) melted butter, divided
Sticky Sauce
12 tablespoon (180 g) butter
1 ½ cup (250 g) of brown sugar
2 tablespoon (20 g) orange zest
⅓ cup (80 ml) fresh orange juice
¼ cup (60 ml) of heavy cream
2 cups (300 g) of chopped pecans
Filling
1 tablespoon (12 g) brown sugar
1 tablespoon (10 g) white sugar
1 teaspoon (5 g) cinnamon
1 tablespoon (10 g) orange zest
½ cup (60 g) chopped pecans
½ cup (60 g) raisins
3 tablespoon (45 g) softened butter
Instructions
Combine flour, yeast, sugar, salt, orange zest, raisins. Then add water and slowly mix into a dough, and then into a ball. Add 1 tablespoon (15 ml) of melted butter to the top of the dough, and then knead on a floured surface for 20 turns.
Place other 1 tablespoon (15 ml) of butter in a clean bowl, and grease the sides of the bowl with it. Place dough inside and cover with plastic wrap. Set in a warm place for 1 hour.
Meanwhile, make the sticky sauce. Melt butter and sugar in a sauce pan, add orange zest and juice, simmer and then add heavy cream. Whisk until a caramel sauce develops. Remove from the heat and allow to cool.
Then make the filling. Combine sugars and cinnamon. And set aside.
Place 1 tablespoon (15 ml) of sticky sauce in each well of a muffin tin, then add 1 tablespoon (10 g) of chopped pecans on top. You will have some sticky sauce left, set aside for topping the buns once they are baked.
Remove the dough from the bowl and place on well-floured surface; roll out to a 13 x 15 rectangle (32.5 x 37.6 cm). Smear with softened butter, then sprinkle with cinnamon sugar, then zest, then raisins then nuts.
Roll up, like a jelly roll. Slice into (12) 2" (5cm) slices. Fit, cut side up, into muffin wells.
Bake at 375 (190 C) for 12-15 mins until golden brown and puffed up. Allow to cool. Then place cooling rack on top of muffin tin, and then top with sheet pan, flip the tin while holding rack and sheet pan, and now all your buns will be right side up on the cooling rack.
Pour additional sticky sauce on top of the buns and allow to set for 5 mins. Transfer buns to a cake stand. And dig in!
Notes
Be sure to use a non-stick muffin tin.
Do not grease the muffin wells otherwise the sticky sauce rolls off the buns after they are baked. Plus there's so much butter in the recipe it releases as it bakes and allows the buns to release from the pan with a jiggle.
But it can be helpful to run a knife around the buns before flipping the tin.
These buns live up to their name! They are sticky and are meant to be eaten with a knife and fork!
Nutrition Information:
Yield:

12
Serving Size:

1
Amount Per Serving:
Calories:

202
Total Fat:

18g
Saturated Fat:

4g
Trans Fat:

0g
Unsaturated Fat:

13g
Cholesterol:

13mg
Sodium:

234mg
Carbohydrates:

10g
Fiber:

2g
Sugar:

7g
Protein:

2g