Charred Corn Salad Recipe
This Charred Corn Salad Recipe is a fantastic summer side dish! It's packed full of smoky and spicy flavors. It's super simple to put together and makes for a great side dish when grilling outdoors!
The great thing about this simple salad is that you can use fresh corn or frozen corn and it also makes for a great topping for Carne Asada Tacos! Defrost and drain the corn in a colander in the refrigerator the night before and then you'll be all ready to reheat and assemble it the next day!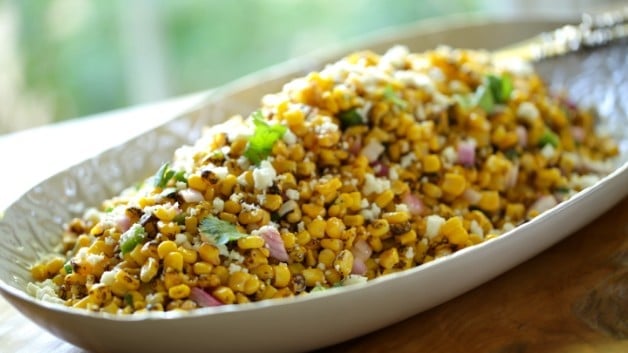 The flavors are fresh and summery and when combined with the soft cotija cheese and spicy dressing it ticks all the boxes! Especially when you see how quick and easy it is!
Subscribe for weekly recipes
and new videos!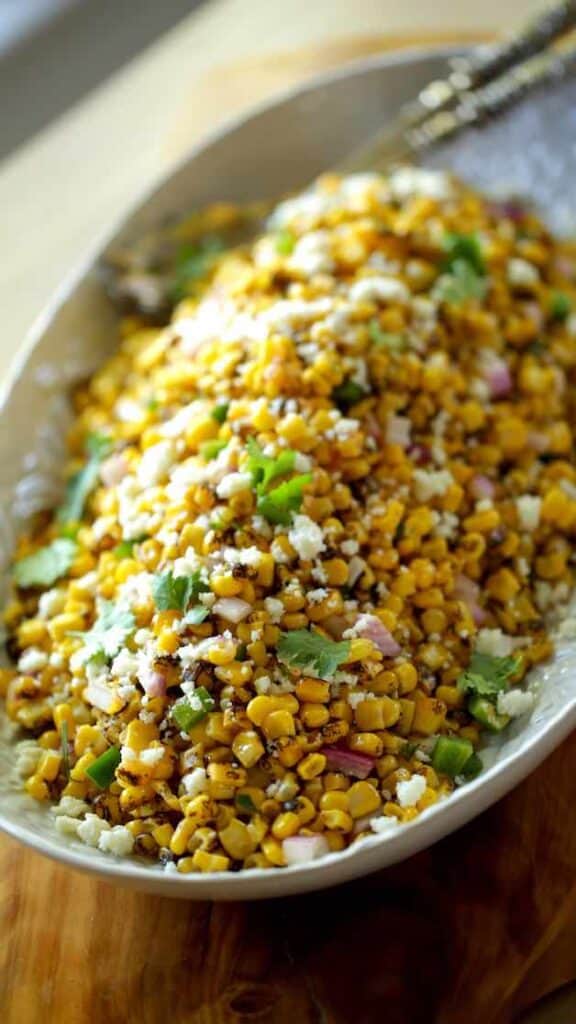 Save Time. Use Frozen Corn!
My secret to easy prep is the frozen, charred corn!
Typically, I cringe at anything frozen, but as the season slowly fades here and the busyness of summer is still in full swing - I make an exception.
I love to use Trader Joe's brand of charred corn. It's easy to find and perfectly charred and a great price!
It elevates the need of having to shuck several ears of corn!
And the best part is, it's already taken off the cob and the corn kernels have an equal amount of lovely char on each one. Adding to the great taste, without a lot of effort!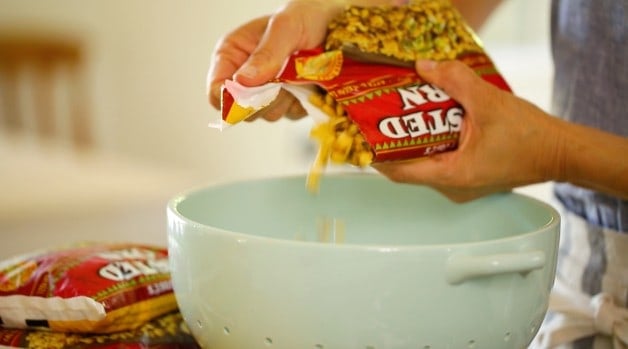 Watch My Video Demo of This Recipe Below!
Related Recipes:
Also featured in this video are my recipes for Cantaloupe Aqua Frescas, Carne Asada Tacos and Churro Sundaes for dessert!
Prep the Corn
Pour the frozen corn into a colander and rinse under warm water for a few minutes to accelerate the thawing process.
Place the colander over a large stockpot to catch the water as it continues to thaw and place in the refrigerator overnight.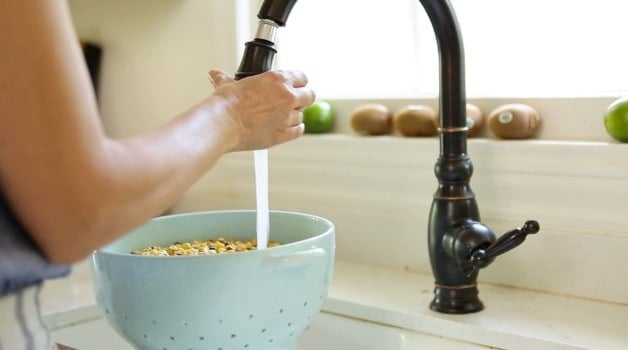 Grilling the Corn
If corn is still plentiful at the grocery store or Farmer's Market, this recipe is also great using grilled corn.
Just place the cobs on the grill for a few minutes until nicely charred.
Then cover and refrigerate until ready to use.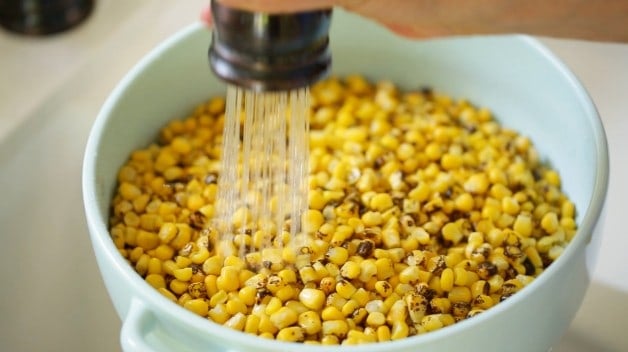 Serving at Room Temperature
This recipe is so flexible that you can serve this recipe cold or at room temperature.
If you are serving it cold, remove the corn from the fridge and combine it with the chopped red onion, jalapeno, and dressing in a large serving bowl, and serve with the garnish of cheese and cilantro.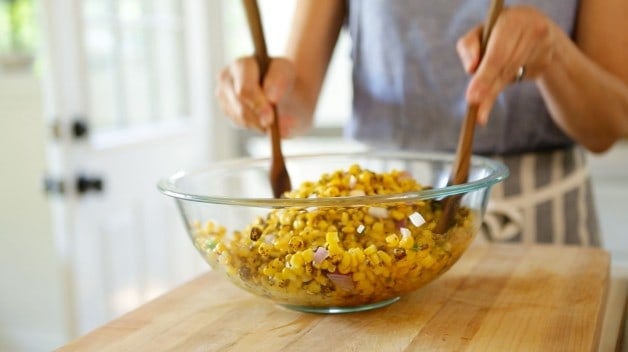 To Serve Cold Vs. Warm?
To bring the recipe up to room temperature, spread the corn and red onion on a baking sheet and put in a 350F (175C) degree oven for about 15 minutes.
Serving it slightly warmed really brings out the flavors of the onion and softens the creamy Queso Fresco cheese on top.
It's best if you spread it out on a large baking sheet so that the corn and the onion heat at the same rate. It will also be quicker than putting it in a casserole dish.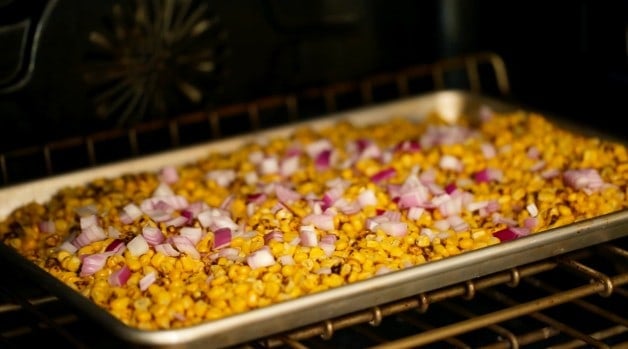 Step 2: Make the Dressing
While the corn is in the oven, whisk up the dressing.
It's a super simple dressing of fresh lime juice, olive oil, and spices. For a little more heat you could also add a few drops of hot sauce too.
But if you were in a hurry you could just toss with olive oil, salt and pepper, and a squeeze of lime.
This is the great thing about this salad recipe, there is so much flavor and great textures in it, you don't need much dressing to spiff it up!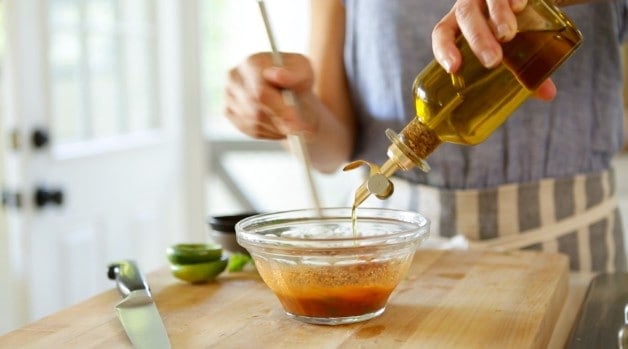 Don't Forget The Heat
I like adding the addition of the jalapenos to this salad because I think a little heat works well with the cheese and the avocado.
But if you aren't a fan, you could also substitute the jalapenos for regular green bell peppers, or red bell peppers, or cherry tomatoes for more color. That would be great too!
For a more filling salad, or for a main course option for vegetarians, consider adding some black beans as well.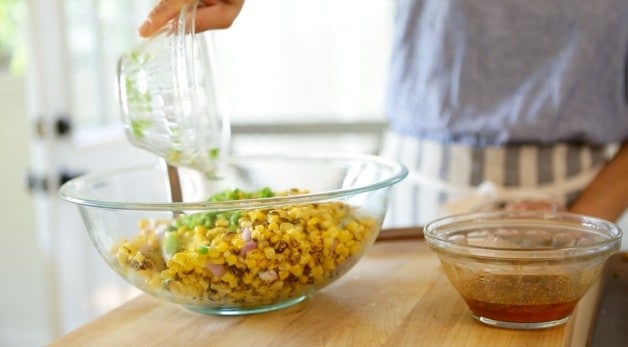 Plating Is Everything
With a simple salad like this, you might be tempted to just pop it in a bowl and be done.
But I find sometimes the simpler the recipe, the fancier the plating. It can elevate the whole experience for your guests.
I like to transfer the salad into something long and shallow to show off all the beautiful colors and textures.
You'll see more of it that way, and the ingredients would get buried the way they would in a bowl. It also keeps the avocado and queso fresco from getting too compacted and smushed!
Top with freshly chopped cilantro and if desired some sliced green onions.
And for a stronger flavor you can also sprinkle with Cotija or feta cheese.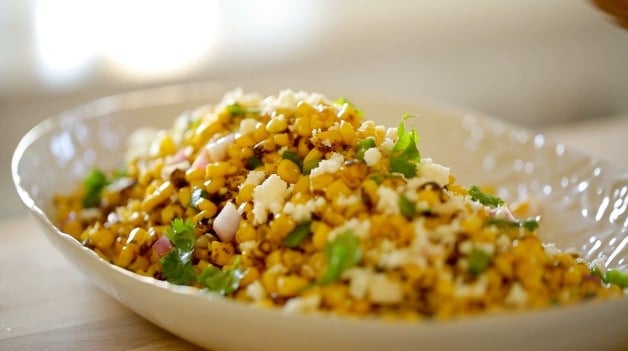 Serving Tips: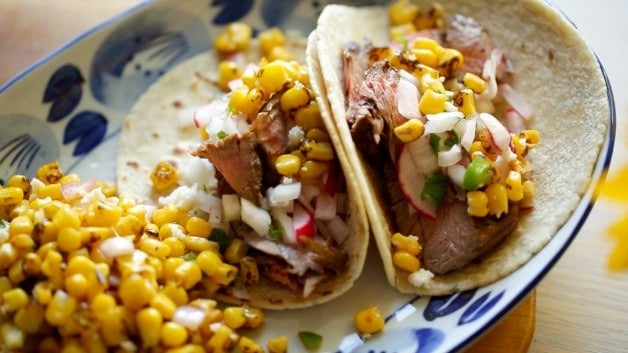 More Great Summer Recipes!
If You Enjoyed this recipe
Please Leave a Rating and a Review Below!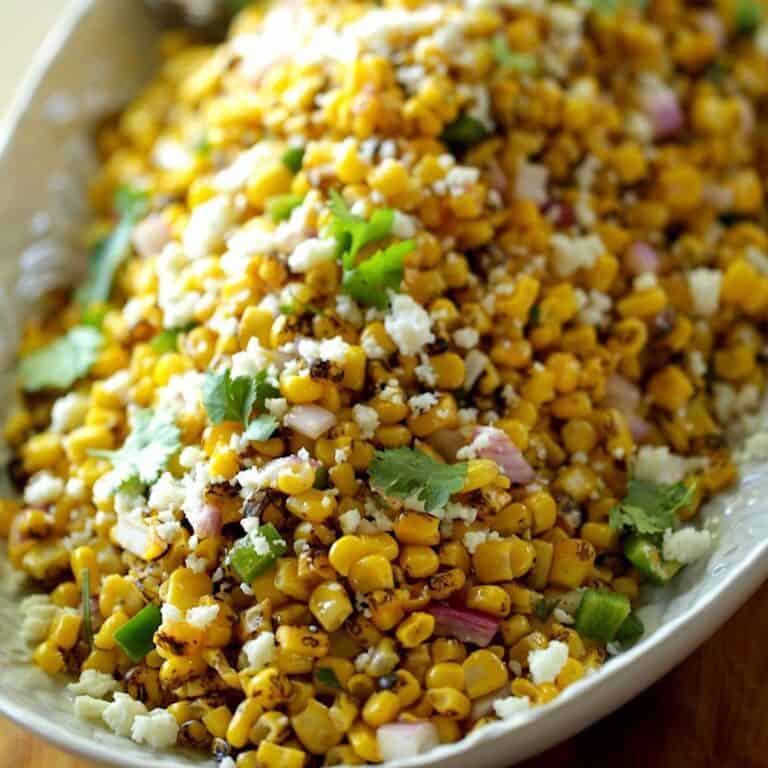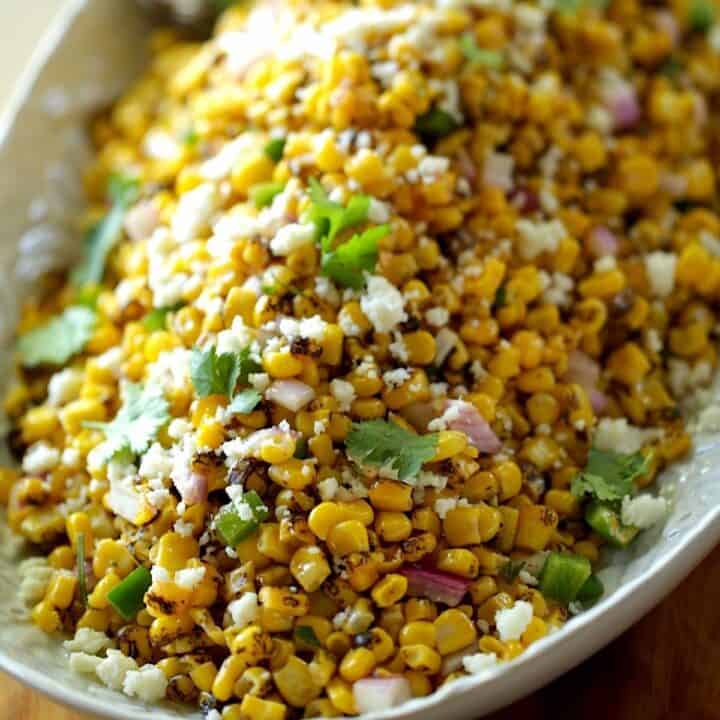 Charred Corn Salad Recipe
This Charred Corn Salad Recipe is packed full of smoky and spicy flavors. The great thing about this simple salad is that you can serve as a side dish or use as a topping for your tacos or nachos.
Ingredients
(4) 10 oz bags of Fire Roasted Frozen Corn
⅔ cup red onion, diced
2 avocados, diced
1 jalapeno pepper, seeded and diced
1 lime, juiced
½ teaspoon ground cumin
½ teaspoon smoked paprika
4 tablespoon olive oil
1 tablespoon cilantro
Queso Fresco Cheese
Instructions
Thaw frozen corn in a colander under warm water, allow to drain overnight in the colander, set in a large pot, covered in the fridge.
Whisk together the lime juice, cumin, smoked paprika. Add the oil in a steady stream whisking all the while until combined.
Preheat oven to 350F. Place corn and red onion on a baking sheet and bake for 15 mins to warm through.
Toss corn mixture with dressing, and jalapeno transfer to a serving platter.
Top salad with avocado, queso fresco and cilantro.
Sliced green onions are also nice as a garnish as well.
Notes
This salad can be made with fresh or frozen corn.
I like the charred frozen corn from Trader Joe's. Great flavor at a great price!
This salad works as a great topping for Carne Asada tacos as well.
For a more filling salad consider adding black beans as well.
Nutrition Information:
Yield:

8
Serving Size:

1
Amount Per Serving:
Calories:

231
Total Fat:

19g
Saturated Fat:

5g
Trans Fat:

0g
Unsaturated Fat:

13g
Cholesterol:

14mg
Sodium:

143mg
Carbohydrates:

12g
Fiber:

4g
Sugar:

3g
Protein:

6g