Labor Day is in just a few weeks and this Mexican Street Food Party Menu is the perfect opportunity to gather your friends around the table and toast the end of summer!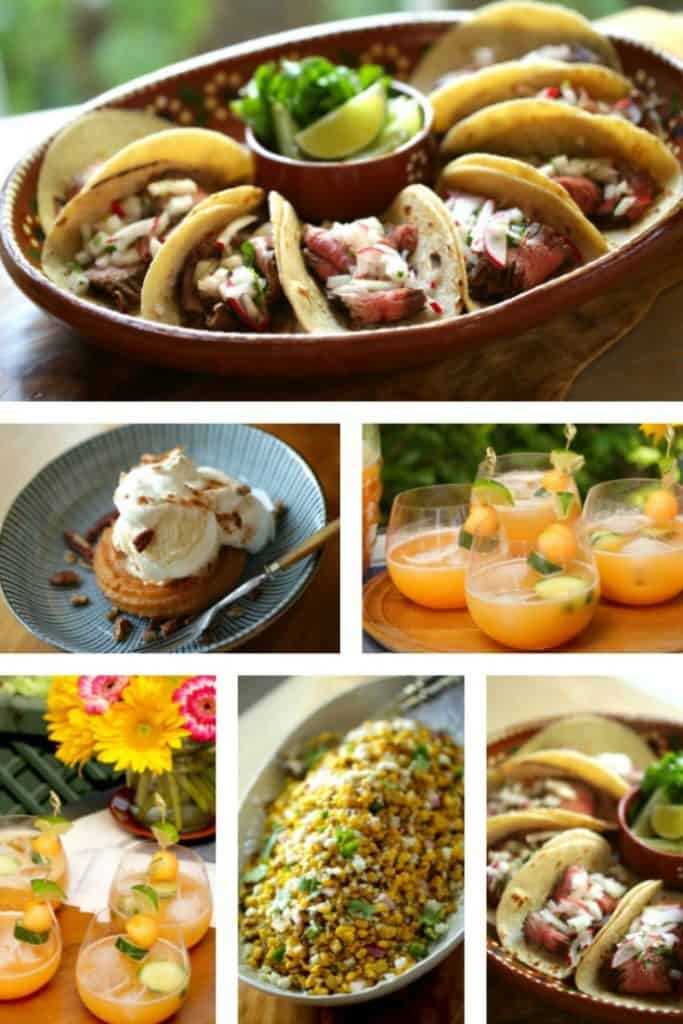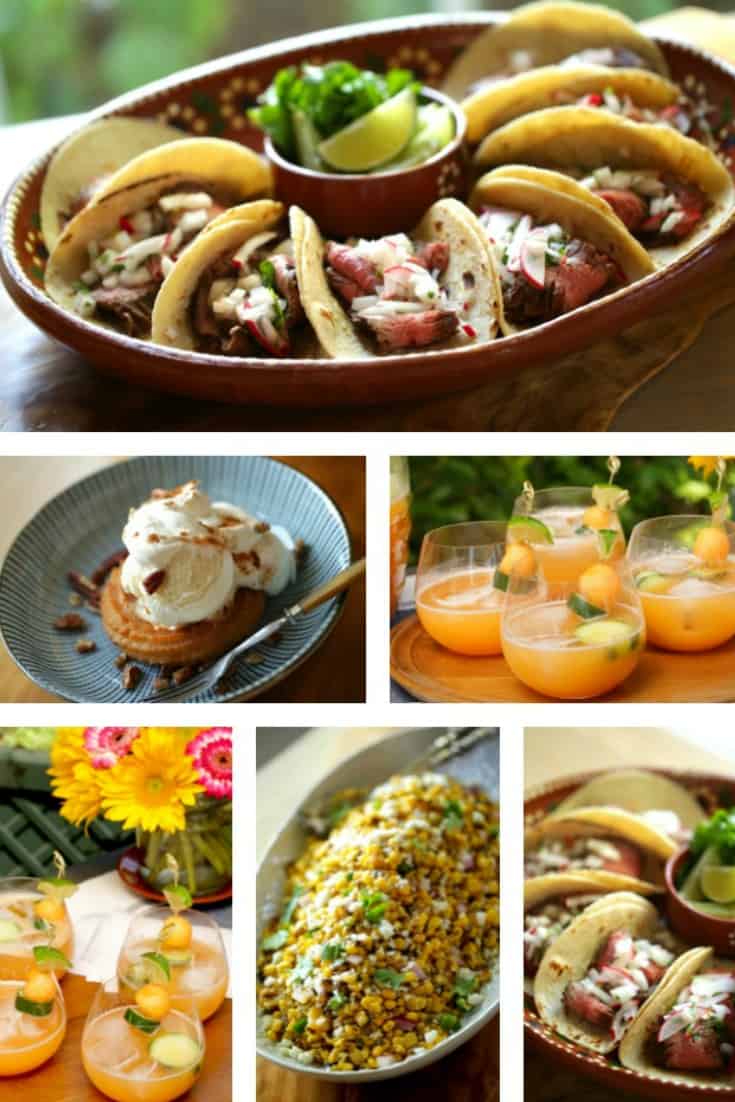 For this menu I was thrilled to work with  Gladiator® who supplied me with their beautiful All Refrigerator and Upright Freezer to help pull off this party with ease. You can watch the video below to see why these units are truly an entertainer's best friend!

When ordering these appliances, you can specify which way you want the doors to swing open.  If you specify one door to swing open left, and the other to swing open right, you'll have an impressive armoire design that makes for such amazing storage for a avid entertainer like me!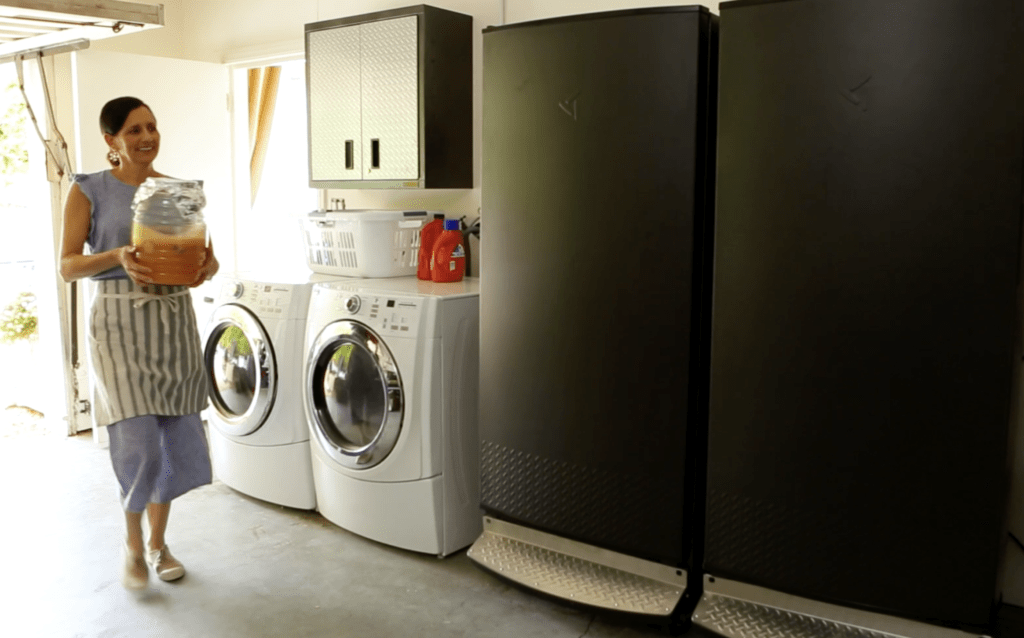 You can watch the full tutorial of this menu below and see how these beautiful appliances and their features, helped me organize all the prep!
WATCH MY MEXICAN STREET FOOD PARTY MENU VIDEO
Mexican Street Food Party Recipes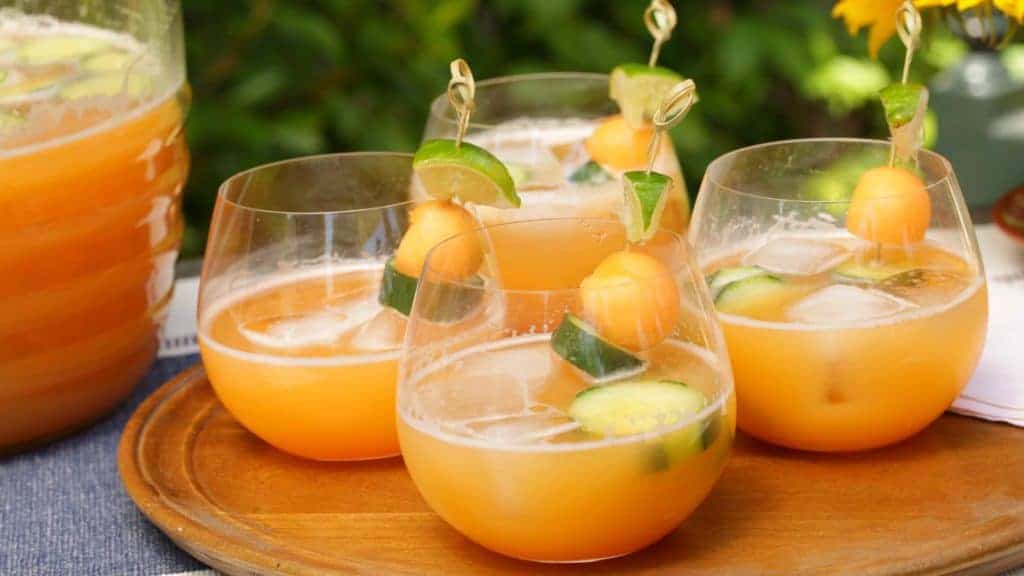 We're going to kick things off with some refreshing Cantaloupe and Cucumber Aqua Frescas! These drinks are so refreshing in the summertime and they are even better if you make them the day before because it will allow the flavors to marry.
Print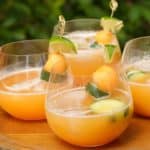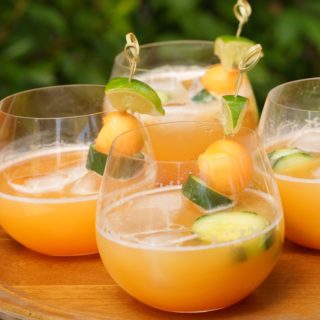 Cantaloupe and Cucumber Aqua Fresca
---
Author:

Prep Time:

1 hour

Total Time:

1 hour

Yield:

serves 8
Description
A refreshing party drink that serves a crowd!
---
Ingredients
12 cups cantaloupe (roughly 2 cantaloupe)
2 limes, juiced
6-8 cups of water (my favorite is 7 cups for the right sweetness)
1 sliced English cucumber
Simple Syrup:
1 cup water
1 cup sugar
Garnish:
Melon Balls (optional)
Cucumber slices (optional)
---
Instructions
Place 1 cup of water and 1 cup of sugar in a sauce pan. Simmer until sugar dissolves. Set aside to col.
Meanwhile dice cantaloupe into cubes. Transfer to a blender, add lime juice, 6 cups of water to start and the simple syrup. Blender until smooth. (Depending upon size of your blender you may need to do this in batches) Taste for sweetness, add more water in 1 cup increments if too sweet.
Strain if a smoother consistency is desired. Transfer to a pitcher of Aqua Fresca Jar. Add 1 sliced cucumber to float in Aqua Fresca and provide more flavor. Chill until ready to serve.
To serve pour aqua fresca in a glass, garnish with a toothpick threaded with melon ball and melon chunk and a sprig of fresh mint.
You can also add a splash of prosecco or champagne too!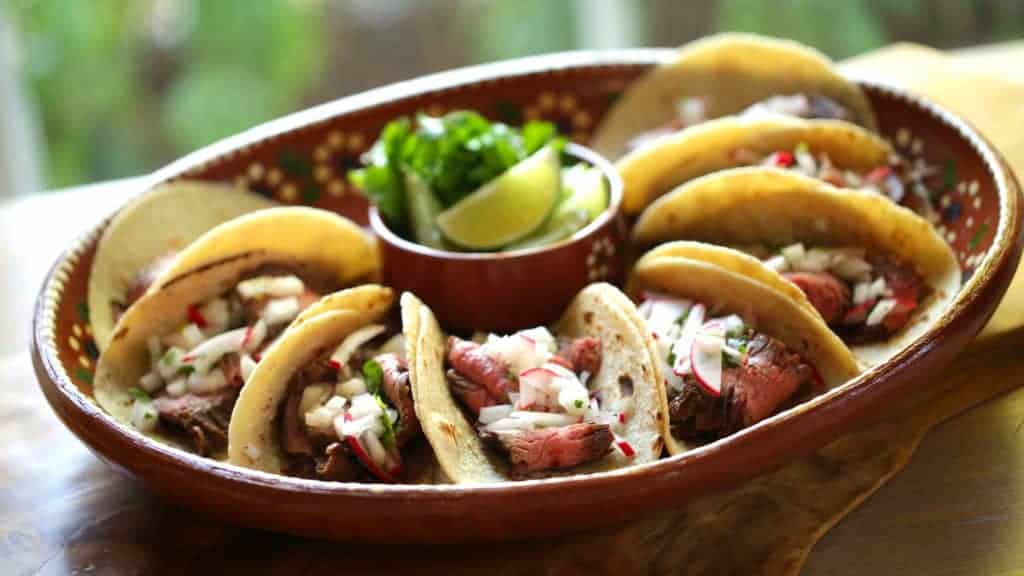 For the main event it's My Carne Asada Tacos, the perfect main course that will feed a crowd! You can marinade the meat the day before, and this will result in the most flavorful tacos. Then just grill, top with relish and serve!
Print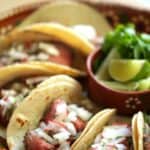 Carne Asada Taco REcipe
---
Author:

Prep Time:

1 day

Cook Time:

15 mins

Total Time:

24 hours 15 minutes

Yield:

serves 8
Description
A great taco platter of carne asada tacos for feeding a crowd!
---
Ingredients
3 lbs of flank steak
Marinade:
1 cup red wine vinegar
¾ cup fresh orange juice
¼ cup Worcestershire Sauce
3 tbsp soy sauce
1 tsp salt
freshly cracked pepper
2 tsp ground cumin
2 tsp smoked paprika
2 tsp dried oregano
2 tsp ground coriander
¼ cup cilantro, chopped
3 garlic cloves, mashed
Onion Radish Topping:
1 ½ cups white onion, diced
1 lime, zest and juice
4 radishes, diced
2 tbsp cilantro
Corn Tortillas
---
Instructions
Whisk together the marinade ingredients in a large bowl. Place the meat in 2 shallow 13 x 9 casserole dishes so they can be single layer. Pour half the marinade in one casserole dish and the other half in the other casserole dish. Cover and refrigerate overnight or a minimum of4 hours.
To serve whisk together the onion and radish topping. Set aside.
Heat a stove top grill pan or a barbecue to medium high. Be sure grill is greased. Wipe off marinade from meat and blot with paper towels so no moisture remains and meat is as dry as can be. You'll get a better sear this wear.
Grill meat on each side about 7-8 minutes for medium rare. Remove meat from grill and allow to rest for 15 mins. This will preserve the juiciness.
Meanwhile grill the tortillas on each side.
Slice meat into very thin slices, across the grain, this will make the meat tender.
Fill each tortilla with a few slices of meat, top with relish and serve with a variety of hot sauces on the side.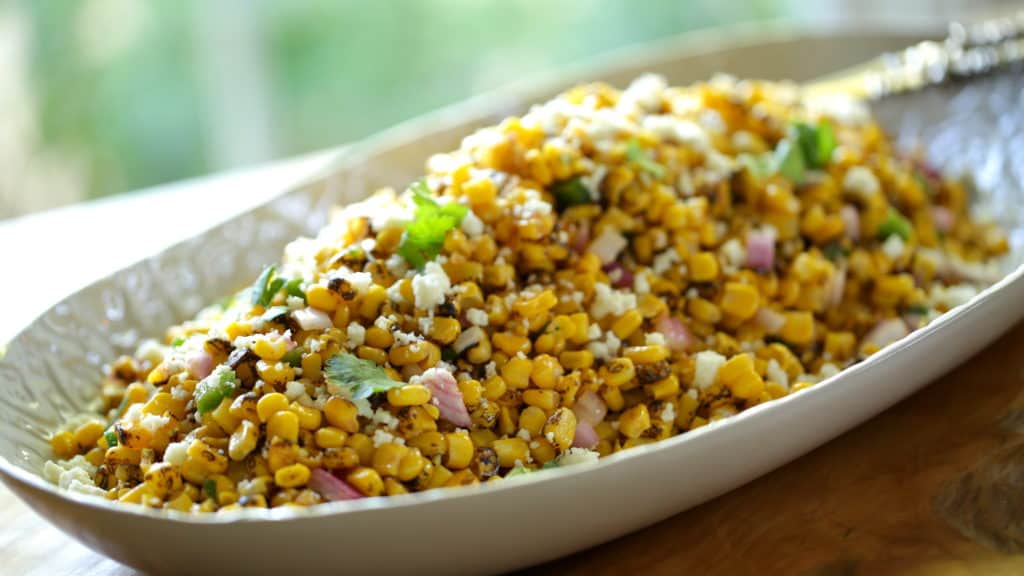 For a side dish, this easy corn salad cannot be beat! Nowadays you can find frozen charred, corn in the freezer section and it's what makes this dish so quick and easy! Add a spicy lime dressing, some cilantro, top with queso fresco and you have one delicious side salad waiting for you.
Print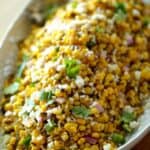 Spicy, Smoky Corn Salad Recipe
---
Author:

Prep Time:

2 hr 30 mins

Cook Time:

15 mins

Total Time:

-25802629.4 minute

Yield:

serves 8
Description
A terrific side salad on a hot summer night!
---
Ingredients
(4) 10 oz bags of Fire Roasted Frozen Corn
2/3 cup red onion, diced
2 avocados, diced
1 jalapeno pepper, seeded and diced
1 lime, juiced
½ tsp ground cumin
½ tsp smoked paprika
4 tbsp olive oil
1 tbsp cilantro
Queso Fresco Cheese
---
Instructions
METHOD:
Thaw frozen corn in a colander under warm water, allow to drain overnight in the colander, set in a large pot, covered in the fridge.
Whisk together the lime juice, cumin, smoked paprika. Add the oil in a steady stream whisking all the while until combined.
Preheat oven to 350F. Place corn and red onion on a baking sheet and bake for 15 mins to warm through.
Toss corn mixture with dressing, and jalapeno transfer to serving platter.
Top salad with avocado, queso fresco and cilantro.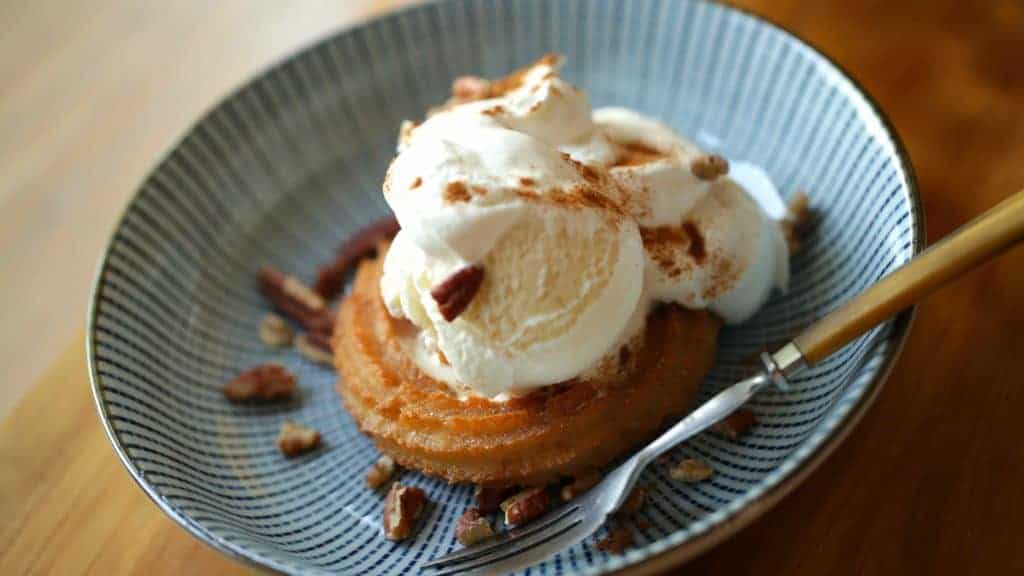 No Mexican Street Food Menu would be complete without a churro! These Churro Sundaes are an updated take on this classic treat! You can pipe out the dough ahead of time, freeze, and then all you have to do is fry them up, dust with cinnamon sugar and add your toppings!
Print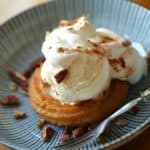 Mexican Street Food Party (Sponsored Post)
---
Author:

Prep Time:

3 hours

Cook Time:

20 mins

Total Time:

3 hours 20 minutes

Yield:

serves 8
Ingredients
2 cups water
½ cup butter
½ tsp salt
3 tbsp sugar
2 cups flour
½ tsp cinnamon
1 tsp baking powder
2 eggs, beaten
1 tsp vanilla extract
Topping:
¼ cup sugar
1 tsp cinnamon
Garnish:
Vanilla Ice cream
¼ tsp cinnamon
¼ cup pecans
Homemade Whipped Cream
2 Cups Heavy Cream
2 tbsp powdered sugar
1 tsp vanilla extract
---
Instructions
METHOD:
In a medium sized bowl whisk together flour, cinnamon and baking powder. Set aside.
Then in a small bowl whisk together eggs and villa extract. Set aside.
In a large saucepan combine water, butter, salt and sugar. Bring to a boil until butter is melted and sugar dissolved.
Add the flour butter to the butter mixture, mixing with a wooden spoon until combined. Then turn off the heat and move pan to a cool burner. Allow mixture to cool slightly and then add the beaten egg mixture, beating quickly with the spoon until eggs are incorporated and batter is formed.
Transfer batter to a pastry bag, fitted with a large star tip.
Line a cookie sheet with parchment paper. Pipe 8 large circles of batter on paper, creating a circle with 3 rings.
Place cookie sheet in freezer for a minimum of 2 hours.
When time to serve, heat vegetable oil in a large Dutch oven until a candy thermometer registers 375F.
Combine 1/4 cup of sugar with 1 tsp of cinnamon whisk together and set aside.
Slowly drop in 2 circles of frozen churro dough into the oil with a slotted spoon or spider. Fry on both sides until golden brown and cooked through. Allow oil to get back up to temperature in between frying.
Transfer to a cookie sheet lined with paper towel and rack to allow grease to drain. Sprinkle churro disks with cinnamon sugar topping. For homemade whipped cream, place all ingredients in a stand mixer and whip on high until soft peaks form.
Place 1 churro disk on plate, top with scoop of ice cream, top with a dollop of whipped cream, dusting of cinnamon and sprinkle of pecans.
Note: Refrigerator contents may freeze if room temperatures reach 32°F (0°C) or below. Monitor food and beverages frequently for freezing, freshness and taste when using the refrigerator in cold locations. Note: And even in extreme temperatures from 0˚F to 110˚F, Gladiator Upright Freezer keeps all items properly frozen. Ice maker not included and not compatible with ice maker kit.