This creamy sun-dried tomato and spinach pasta is a quick and easy pasta recipe for when you find yourself scouring the pantry looking for dinner ideas!
I love a good "pantry pasta" recipe that begins with what I already have sitting in the pantry. You can then add any fresh veggies you like for a bit of "green". I like to use spinach or kale but broccoli or frozen peas work well too!
For another creamy pasta recipe try my Creamy Tuscan Chicken with Gnocchi.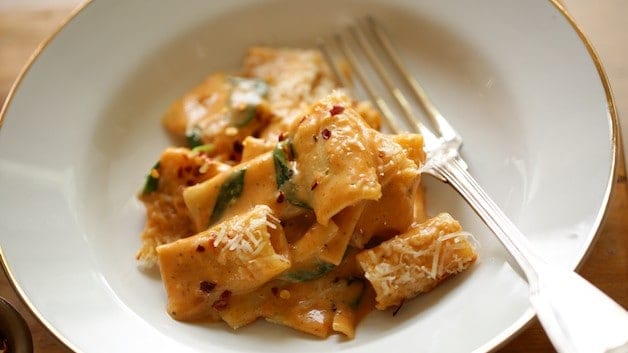 Why You'll Love This:
The sauce is made by whirling up that jar of sun-dried tomatoes (that have been sitting in your pantry and you don't know what to do with!) into a sun-dried tomato pesto, of sorts, and then combining it with a quick and easy béchamel sauce.
And let me tell you, for an easy pasta recipe, the results are fantastic!
And like most

pasta recipes,

this one makes great leftovers for the lunchbox the next day!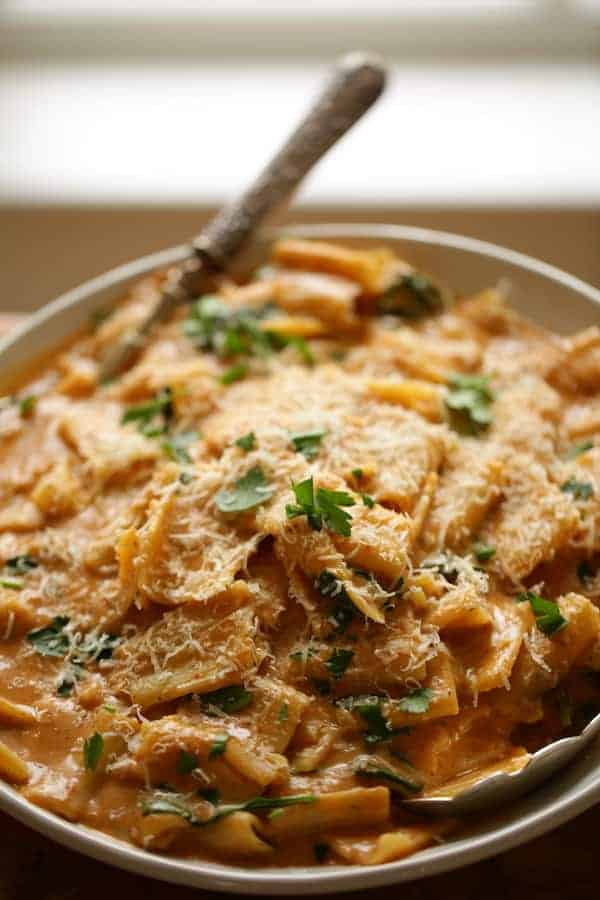 Watch My Video Demo of This Recipe Below!
How To Make an Easy Sun-Dried Tomato Pesto
I often wondered if I could create a sort of "sun-dried tomato pesto" with a jar of sun-dried tomatoes?! And oh yes you can! It's such a delicious flavor combination that can be whirled up in your blender. But if you prefer a traditional pesto recipe then try my Pesto Pasta Sauce. 
Another great recipe to try with my homemade pesto is my Pesto Chicken Bake!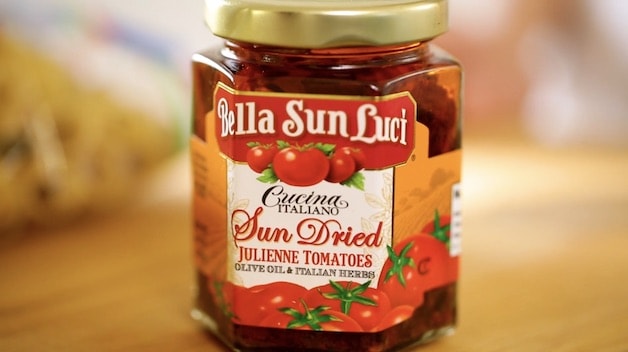 The Pesto Blends Up Quickly in A Blender
The best part is you can drop the whole jar in the blender, oil and all. I love my Vitamix Blender for creating a smooth and creamy pesto. Amazing for blended soup recipes too!
Then you'll add some garlic and fresh parsley, salt, and pepper as well as some Italian seasoning as well.
Or you could also use dried oregano or basil.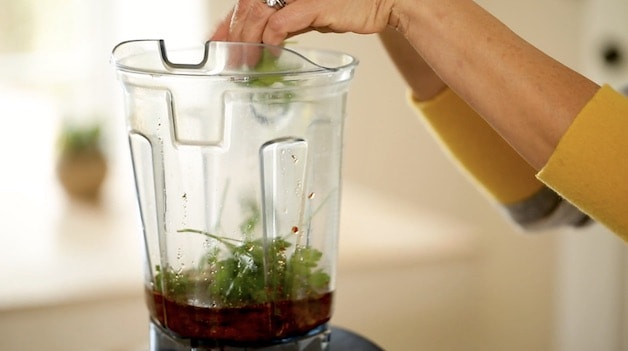 Making the Sauce Creamy
After adding a jar's worth of water (about ¾ cup) it creates this delicious sun-dried tomato pesto.
You could remove it from the blender and stir in some parmesan cheese as well, but I prefer to leave that to the pasta and grate it on top when the pasta is tossed with the sauce.
You could stop right here and toss your sun-dried tomato pesto with some pasta, but I like to create a bit more decadence to this pasta recipe by whipping up a homemade béchamel sauce.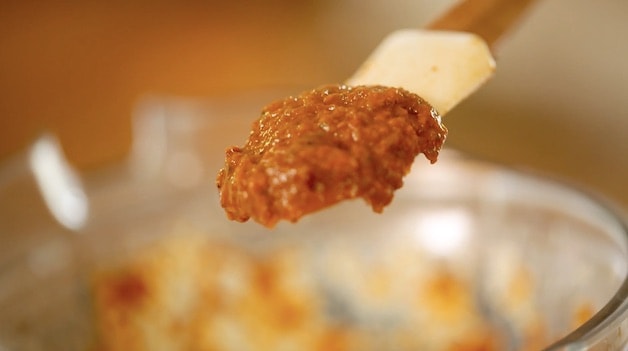 What is Béchamel Sauce?
Béchamel sauce is a creamy white sauce that involves melting butter in a skillet, adding a bit of flour until paste forms, cooking this paste of "roux" as it's called, and then adding a good amount of milk to form a sauce. It's the basis of my Endive Bechamel Recipe which is another fantastic weeknight dinner to try!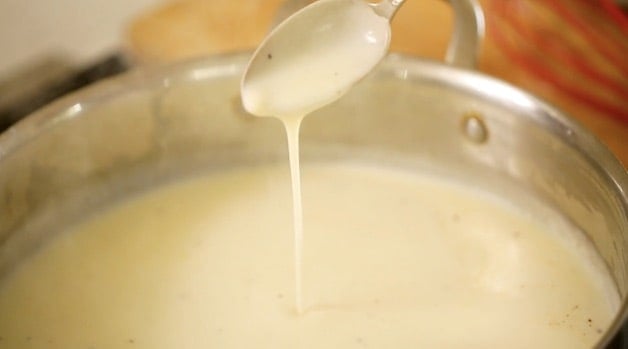 The Benefits of Béchamel Sauce
The best part about homemade béchamel sauce is that it uses ingredients you probably already have on hand. Butter, flour, and milk.
It's best if you make it in a large deep skillet, rather than a deep pot, it will heat up quicker and thicken faster in a shallow pan.
But at this point you do need to season it, otherwise, it will be pretty bland. I like to season mine with salt, pepper, and garlic.
Once you master it, it forms the base of so many other great recipes like my Creamy Chicken and Mushroom Crepes, Ultimate Mac and Cheese Bites, or my decadent Cheese Souffle.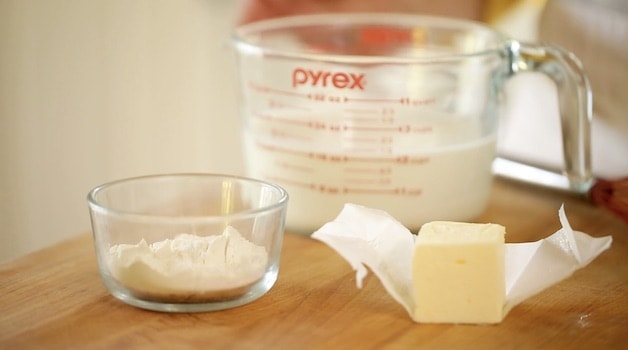 Combine the Sun-Dried Tomato Pesto with the Béchamel Sauce
Béchamel sauce takes on a whole new flavor once you add in the sun-dried tomato pesto. It creates this beautiful creamy, tomato sauce that's just perfect as a quick and easy pasta sauce.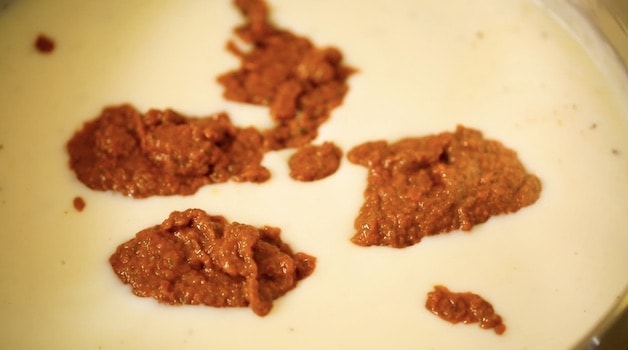 How-To Thin The Pasta Sauce
If your sauce is too thick for your liking, you can add in a ladle or two of the hot pasta water.
This will thin out your sauce while keeping it hot.
The starch in the pasta water also helps to keep the sauce creamy and helps to thin it out without making it too watery.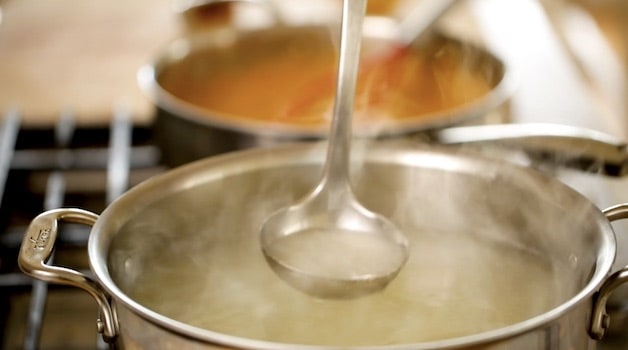 How-To Get the Right Consistency for Pasta Sauce
I think the perfect thickness for pasta sauce is a similar consistency to pancake batter. But sometimes as your sauce sits on simmer, the flour in the béchamel sauce can continue to thicken so if that happens just thin it out with the pasta water.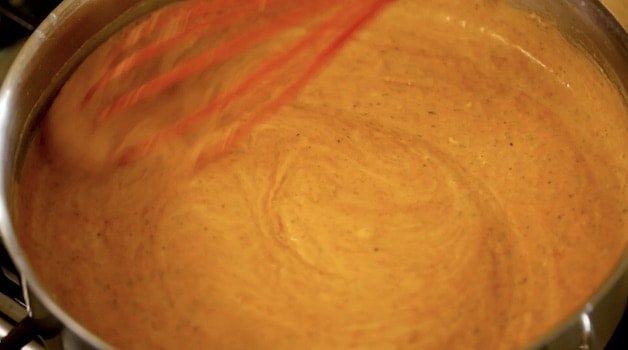 Add Spinach or Another Power Green
At this stage, I like to add some fresh spinach to the sauce for a little more nutritional value.
But you could also use kale or swiss chard, or pop in some broccoli or frozen peas too.
It's a great way to sneak in a few more nutrients for the kids since they are distracted by the creamy tomato sauce.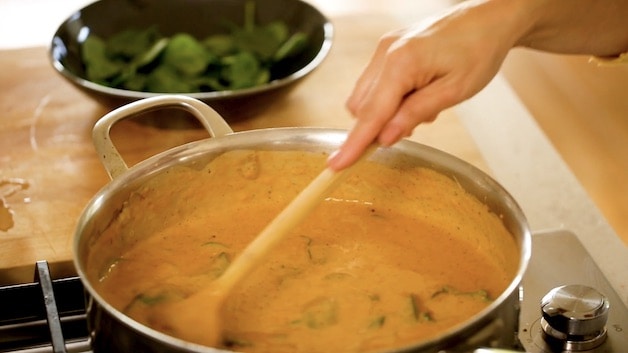 Combining the Sauce with The Pasta
Then drain your pasta and place it back into your large pasta pot. This will help coat the pasta with the sauce. Pour your sauce into the pot and stir gently until all the pasta is coated.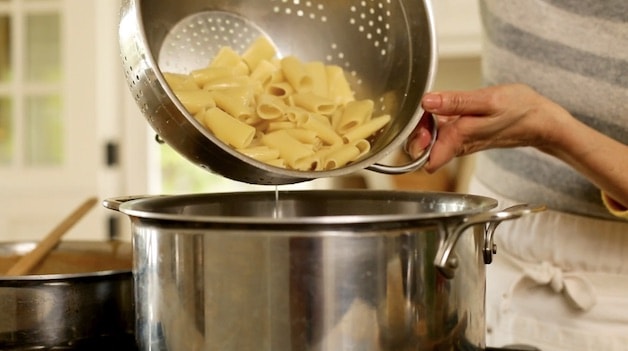 Serve Family Style
I like to serve pasta recipes like this "family style" that way your family can serve as much or as little as they like. It's also great topped with some grated parmesan cheese, fresh Italian parsley, and a dash or two of some red pepper flakes.
I find the red pepper flakes give a nice zing to the creaminess of this dish. I serve them on the side so guests can add their own, as opposed to topping the whole platter with them.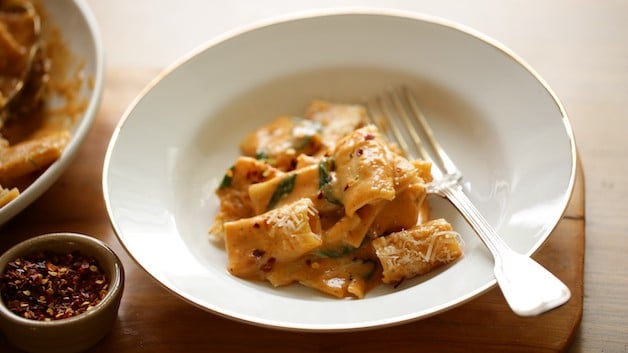 A great dessert idea to pair with this dinner would be my Tiramisu Cupcakes. They are also easy to make and would help you to continue to the Italian theme!
If You Enjoyed This Recipe
Please Leave a Rating and a Review Below!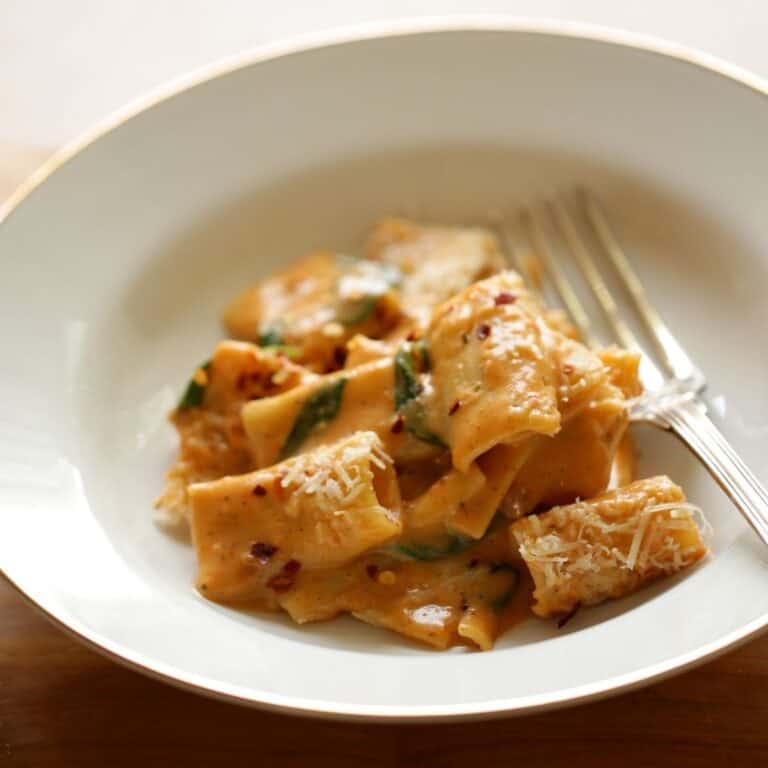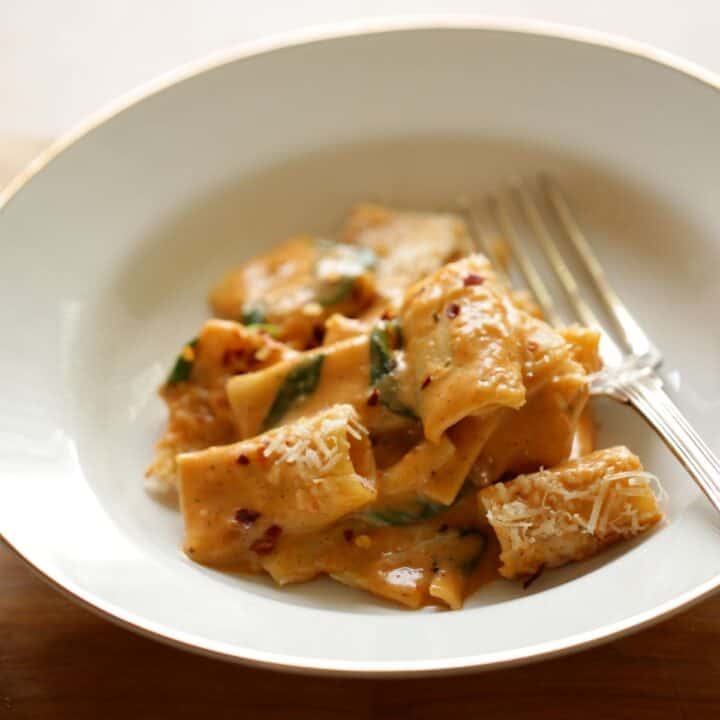 Creamy Sun-dried Tomato Pasta Recipe
This creamy sun-dried tomato and spinach pasta is a quick and easy weeknight meal for when you find yourself scouring the pantry looking for dinner ideas!
Ingredients
1 lb (450g) Rigatoni Pasta
1-6.5 oz jar (182g) of sundried tomatoes in oil
2 garlic cloves
¾ cup (180ml) of water
1 tablespoon (15ml) of Italian Seasoning
¼ teaspoon (1.25ml) salt
freshly cracked pepper
¼ cup (60ml) fresh parsley
For Béchamel Sauce:
4 tablespoon (60g) butter
3 tablespoon (22g) flour
2 cups (480ml) milk
½ teaspoon (2.5ml) salt
freshly cracked pepper
1 garlic clove, minced
1-2 handfuls fresh baby spinach
Garnish:
Freshly grated parmesan cheese
Fresh parsley
Red pepper flakes
Instructions
Add the sun-dried tomatoes to a blender, oil and all, along with the garlic, water, Italian seasoning, salt, freshly cracked pepper, and parsley. Blend until a chunky paste forms. Set aside.

Cook rigatoni in boiling water until al dente.

Meanwhile, prepare the béchamel sauce, in a deep skillet melt the butter, then add the flour, whisk until combined, and then cook for 1-minute. Slowly add the milk, salt, pepper, and garlic, whisk to combine.

Add the sundried tomato paste to the béchamel sauce, whisk to combine. Add a ladle of hot pasta water if needed to thin out a bit. Add the spinach, whisk until wilted.

Drain pasta, then place it back in the pot. Add sauce on top and stir to cover the pasta with the sauce.

Transfer pasta to a large serving bowl. Top with freshly grated parmesan cheese and fresh parsley.

Notes
You can also use pesto sauce if you don't have sun-dried tomatoes
This sauce is also great with a few sliced kalamata olives added to the sauce with the spinach.
Nutrition Information:
Yield:

6
Serving Size:

1
Amount Per Serving:
Calories:

586
Total Fat:

27g
Saturated Fat:

12g
Trans Fat:

1g
Unsaturated Fat:

13g
Cholesterol:

46mg
Sodium:

850mg
Carbohydrates:

72g
Fiber:

7g
Sugar:

2g
Protein:

18g