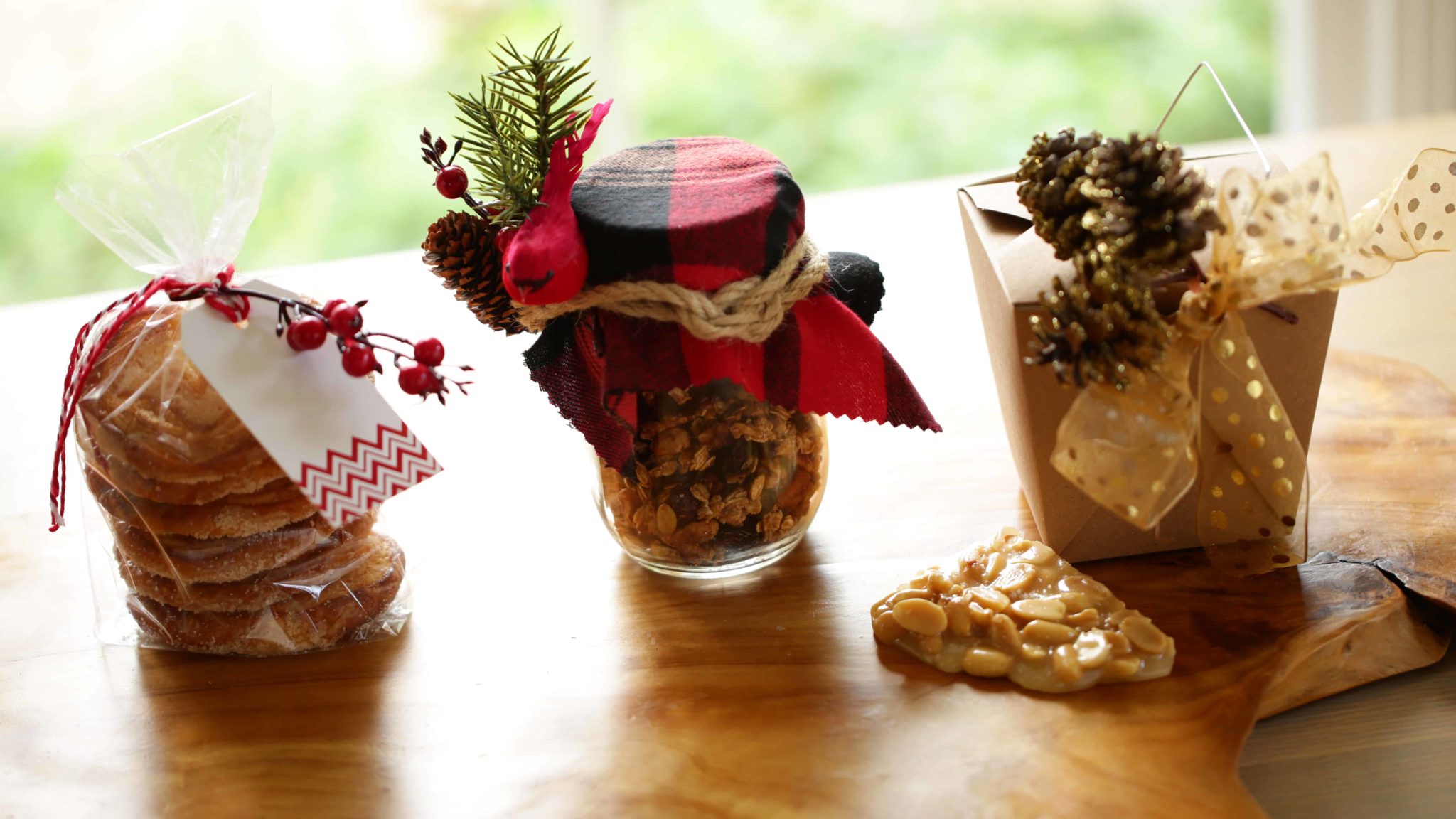 When the thought of gift giving has you feeling a bit overwhelmed, turn to food gifts!  They are easy, affordable and can provide enough gifts for just about everybody on your list. To make your dollar stretch even further, I recommend buying in bulk at places like Health Food Stores, Costco etc.  This will make these gifts really cost effective! (Some of the links below go to Amazon where I am an affiliate partner)
Here are my favorite 3 DIY Food Gift Ideas. First up, a classic peanut brittle.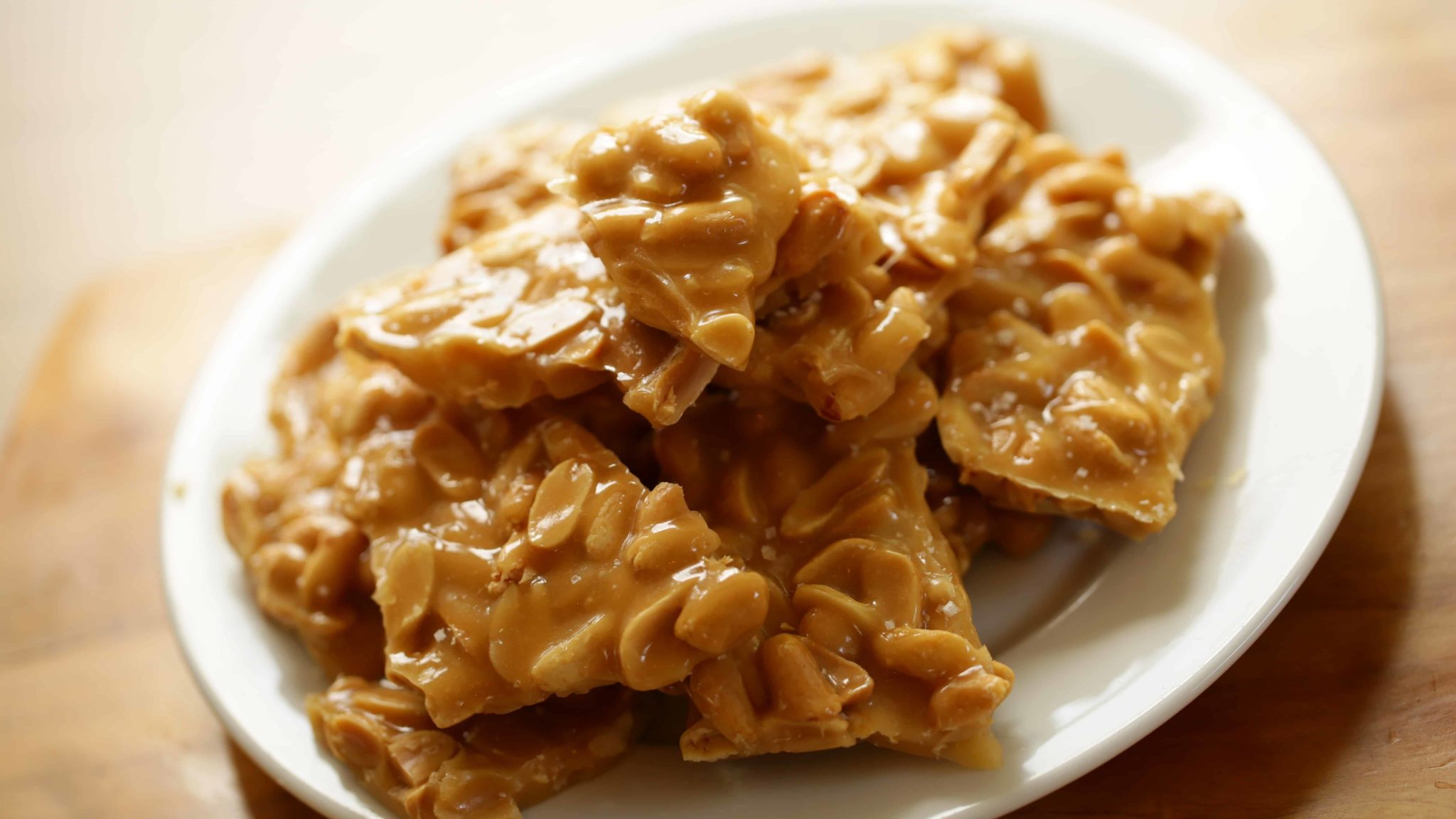 Peanut brittle is really easy to do.  Most of the work involves heating the ingredients on your cooktop, then transferring this beautiful, sugary mass to a greased cookie sheet.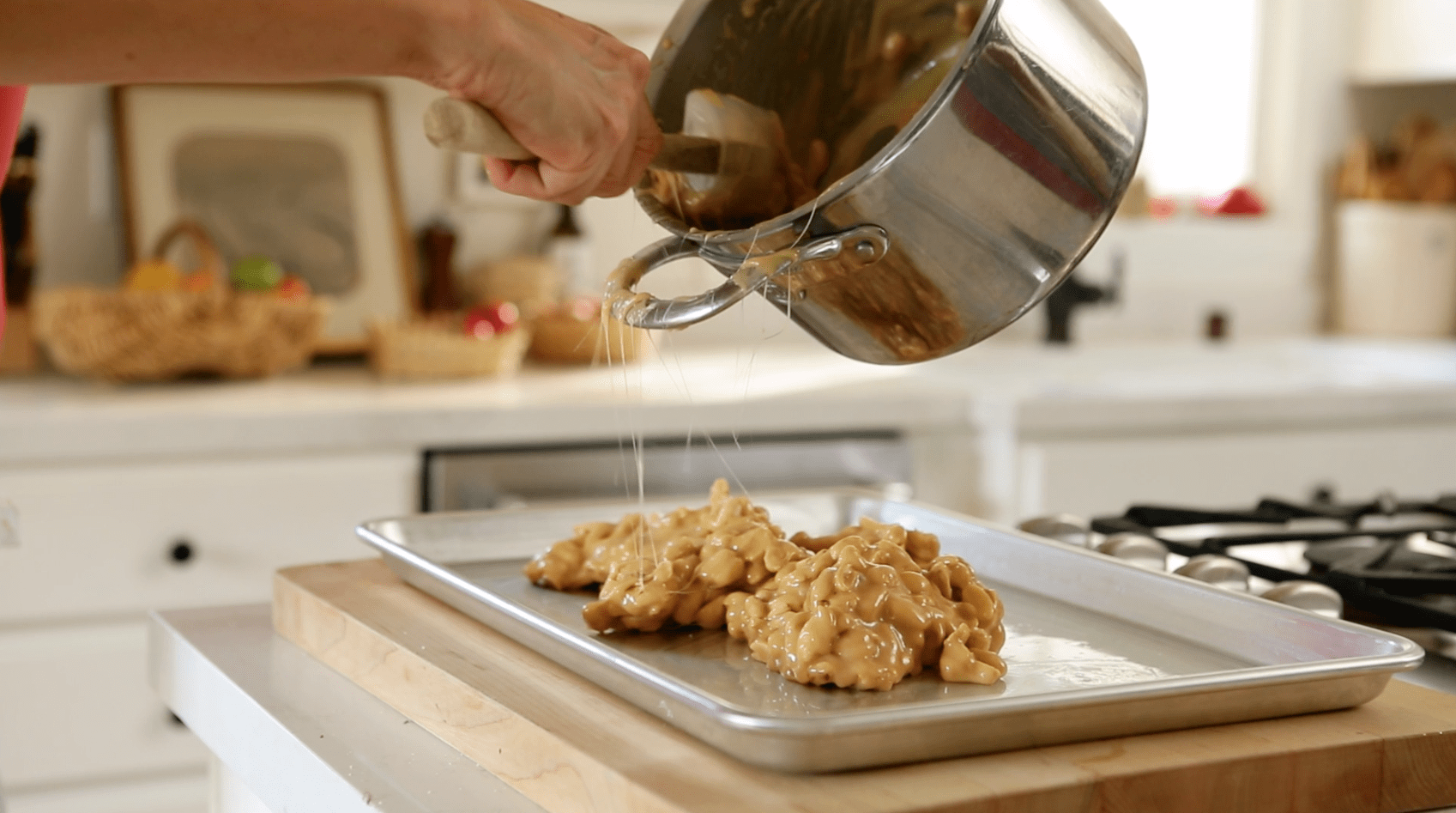 Sprinkle with some fleur de sel sea salt…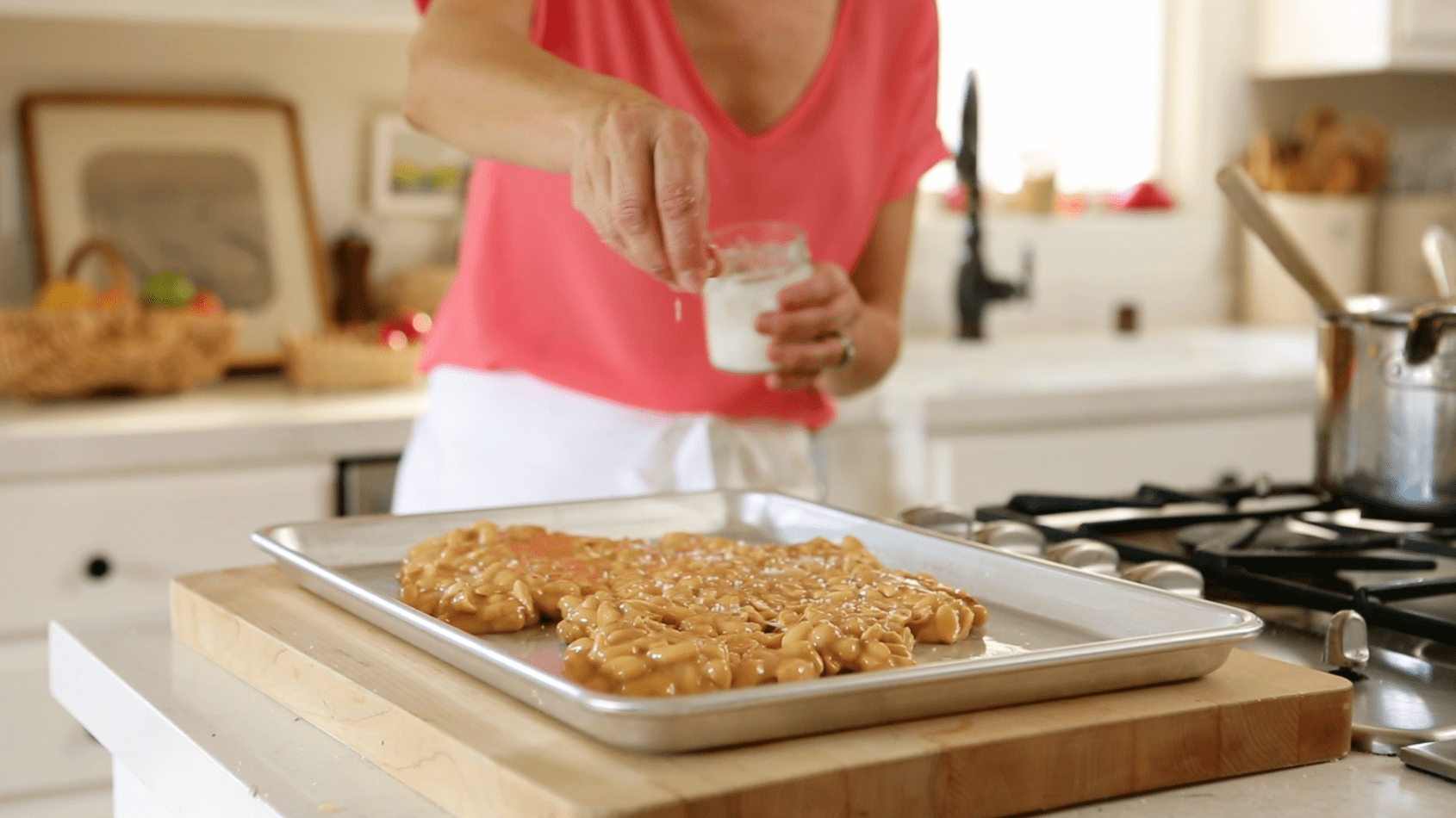 The sea salt will set into the peanut brittle and create a nice sweet and salty flavor combination. Quite delicious!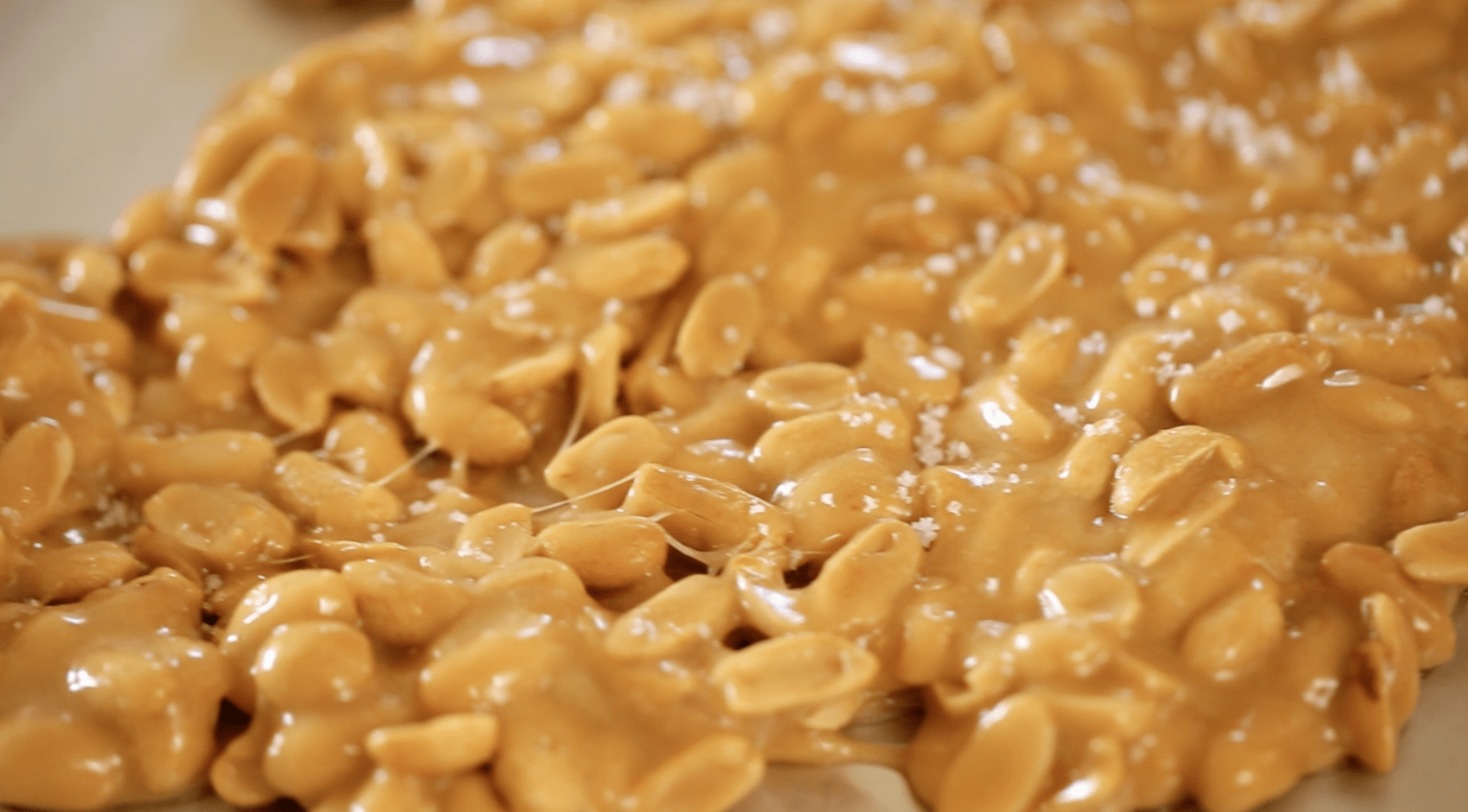 Allow your peanut brittle to rest for 40 minutes.  After this time you will have a solid mass of brittle you can break into large shards.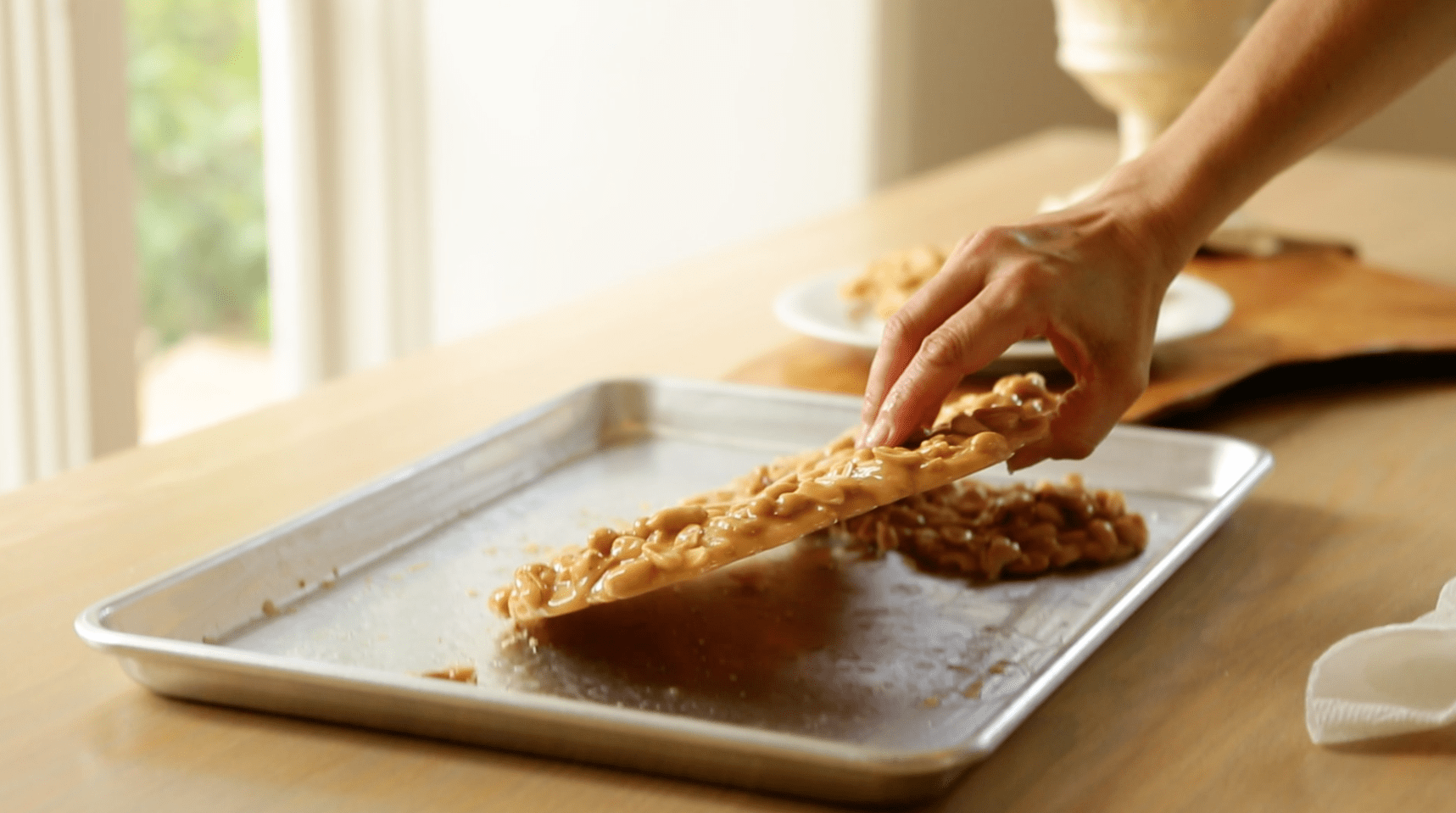 I like to package these up in some parchment to-go containers and affix with some gold wire ribbon and a few gold dusted pine cones. Both available at Michaels.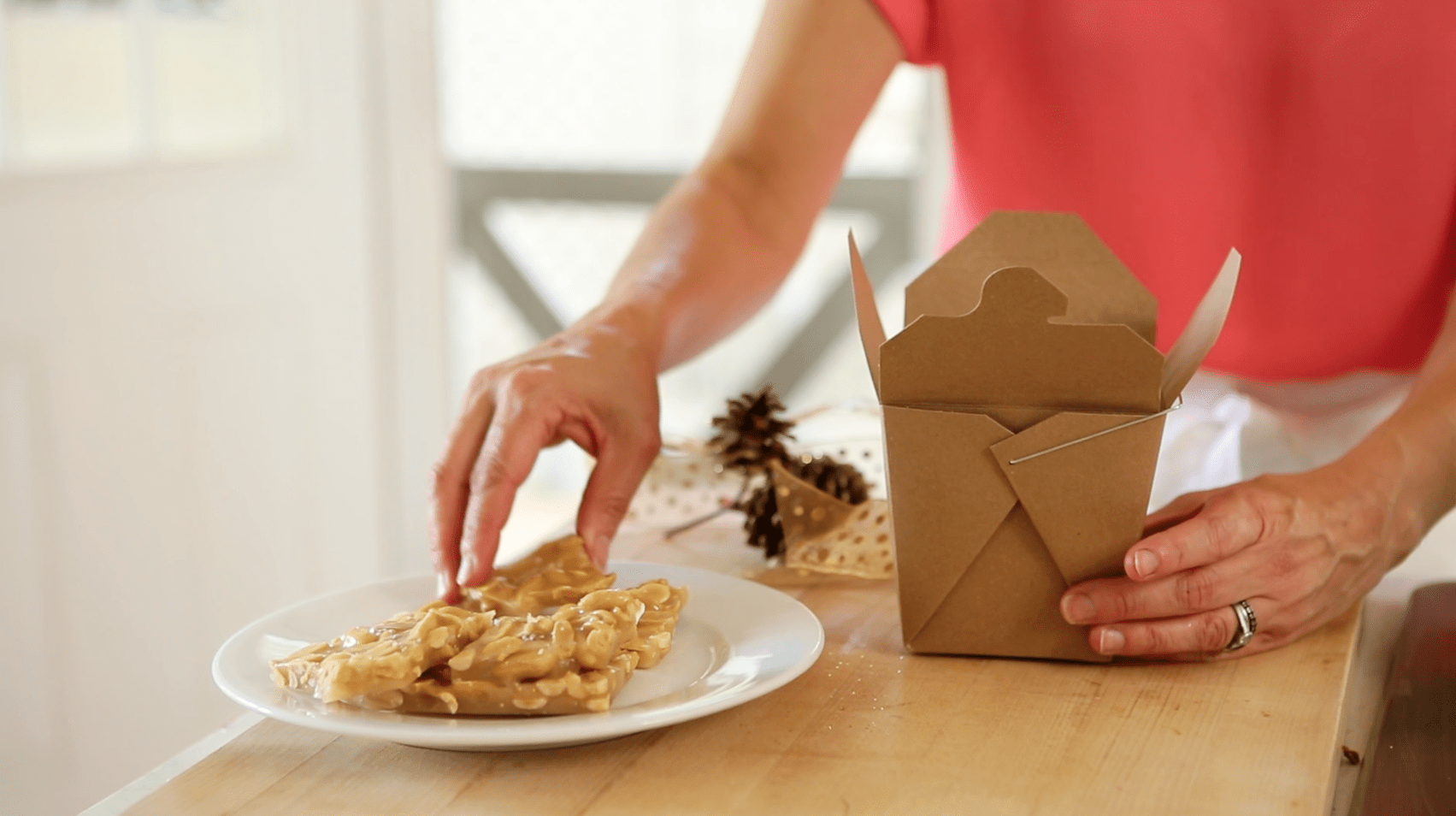 Nice packaging can instantly transform something simple into something fancy and elegant.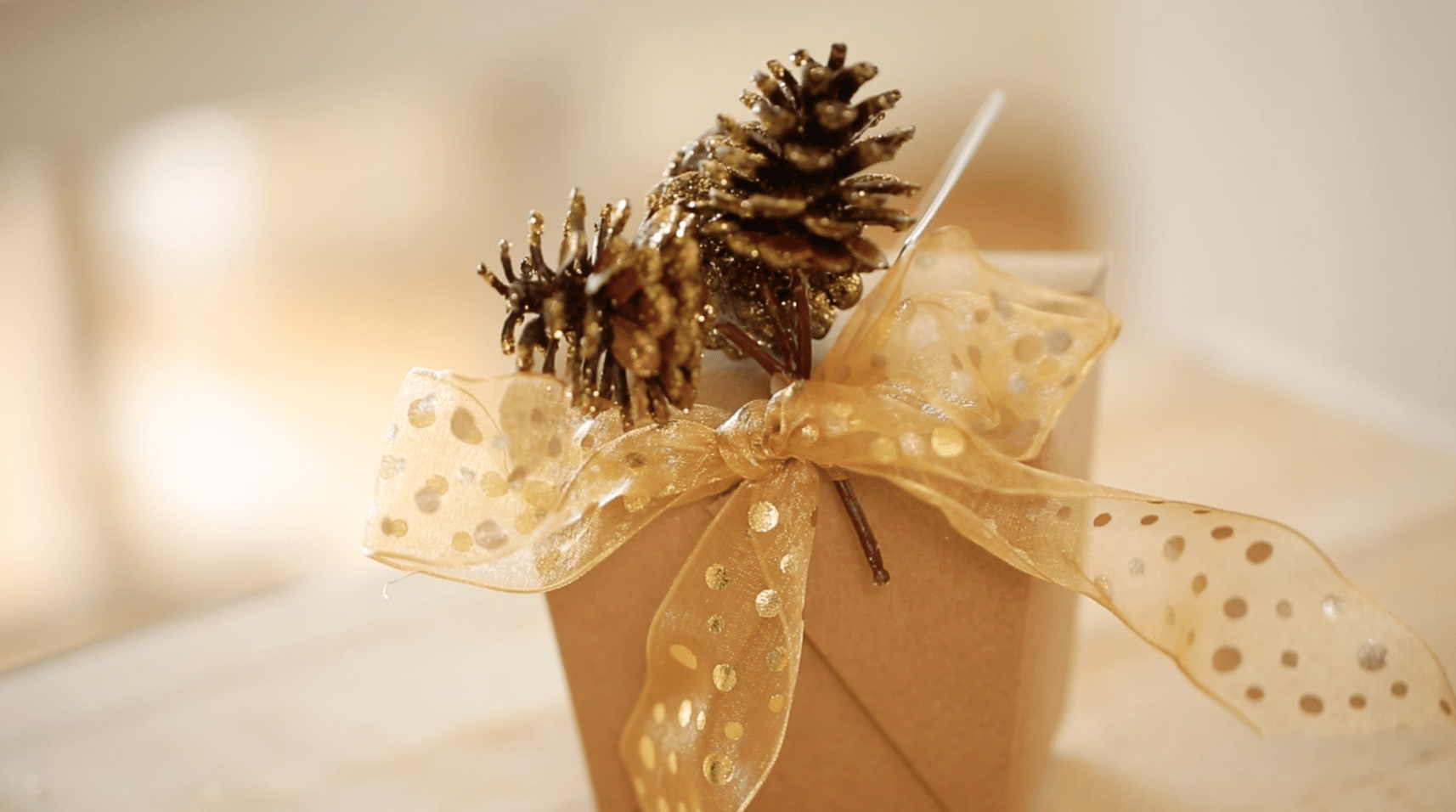 Print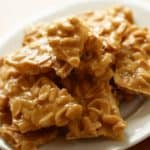 Beth's Classic Peanut Brittle
---
Author:

Prep Time:

1 hour

Total Time:

1 hour

Yield:

2 1/2 pounds

Category:

Dessert

Cuisine:

American
Ingredients
2 1/2 cups (500g) white sugar
1/4 cup (60 ml) water
6 tbsp (90g) unsalted butter + 1tbsp (15g) for greasing
1/2 cup (120ml) light corn syrup
1 tsp (5ml) vanilla
1 tsp (5ml) baking soda
¼ tsp (1.25ml) fleur de sel + a sprinkle for garnishing
14 ounces (396g) unsalted, peanuts
---
Instructions
Grease a rim-lined cookie sheet and heat safe spatula with butter. Set aside.
In a large saucepan, combine the sugar, water, butter, corn syrup and vanilla. Bring to a boil.
Cook over medium high heat, stirring periodically until mixtures registers at 302F degrees on a candy thermometer, it should take between 10-15 minutes.
Then turn off the heat and stir in the baking soda. Caution, mixture will bubble up a bit. This is a necessary step to allow the brittle to have the right brittle texture and break off into pieces. Add the salt.
Stir in the nuts, quickly making sure to incorporate all the nuts with the sugar mixture
Press mixture down with spatula to form a single even layer about ½" thick. Sprinkle with salt. Allow to cool completely 40 mins.
Break the brittle into shards and package up for friends!
Next up, homemade granola. I love to give granola during the holidays because with a few additions you can give it so many wonderful holiday flavors.  I like to add ground cloves, orange zest and dried cranberries for a delicious seasonal twist.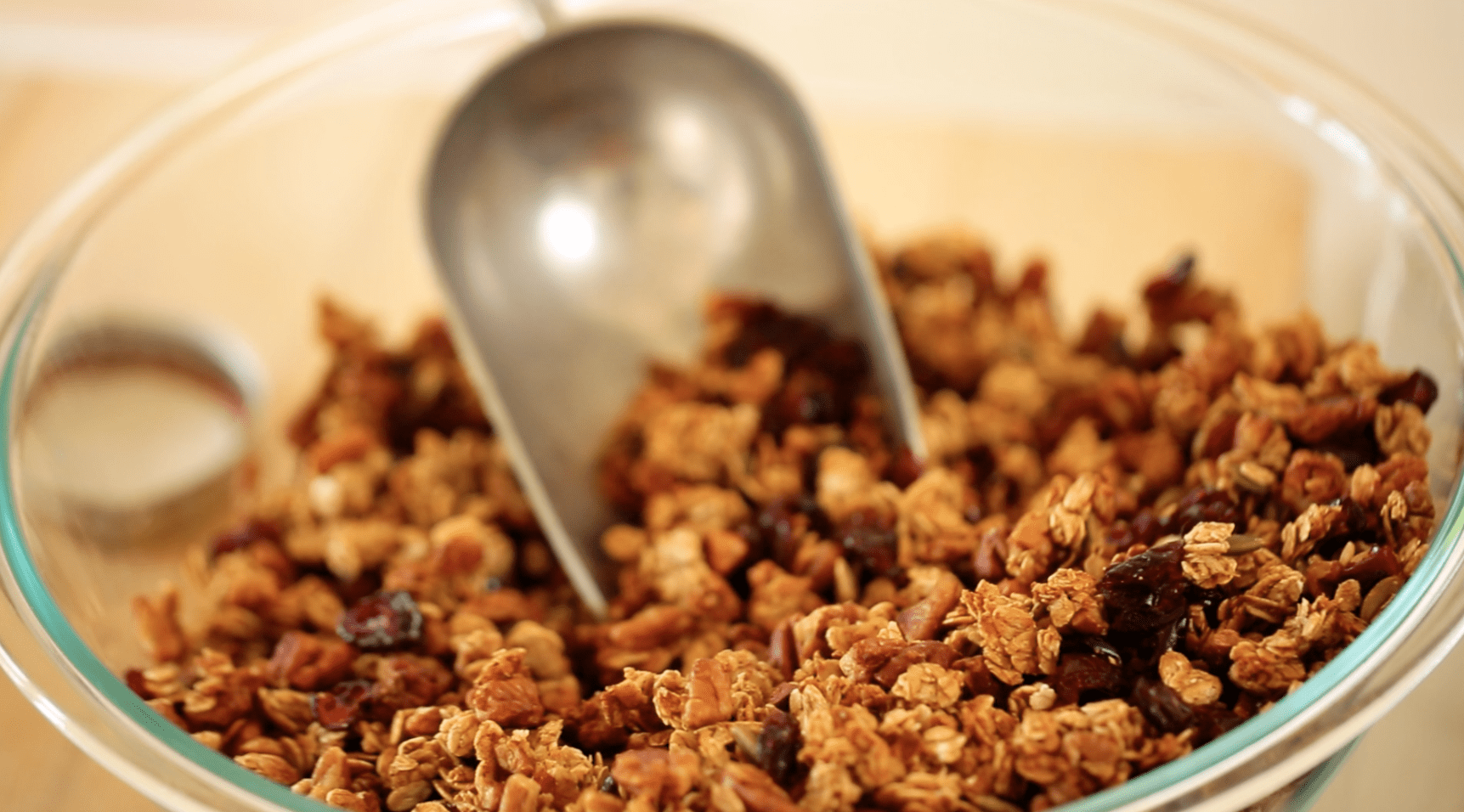 It also fills your house with the most amazing aroma! (NOTE: Be sure to make a batch for yourself!  It's great eaten plain as a snack or topped on top of yogurt in the morning)
I then scoop it into some mason jars (you can get a 12-pack of these jars on Amazon for less than $2.00 a jar!)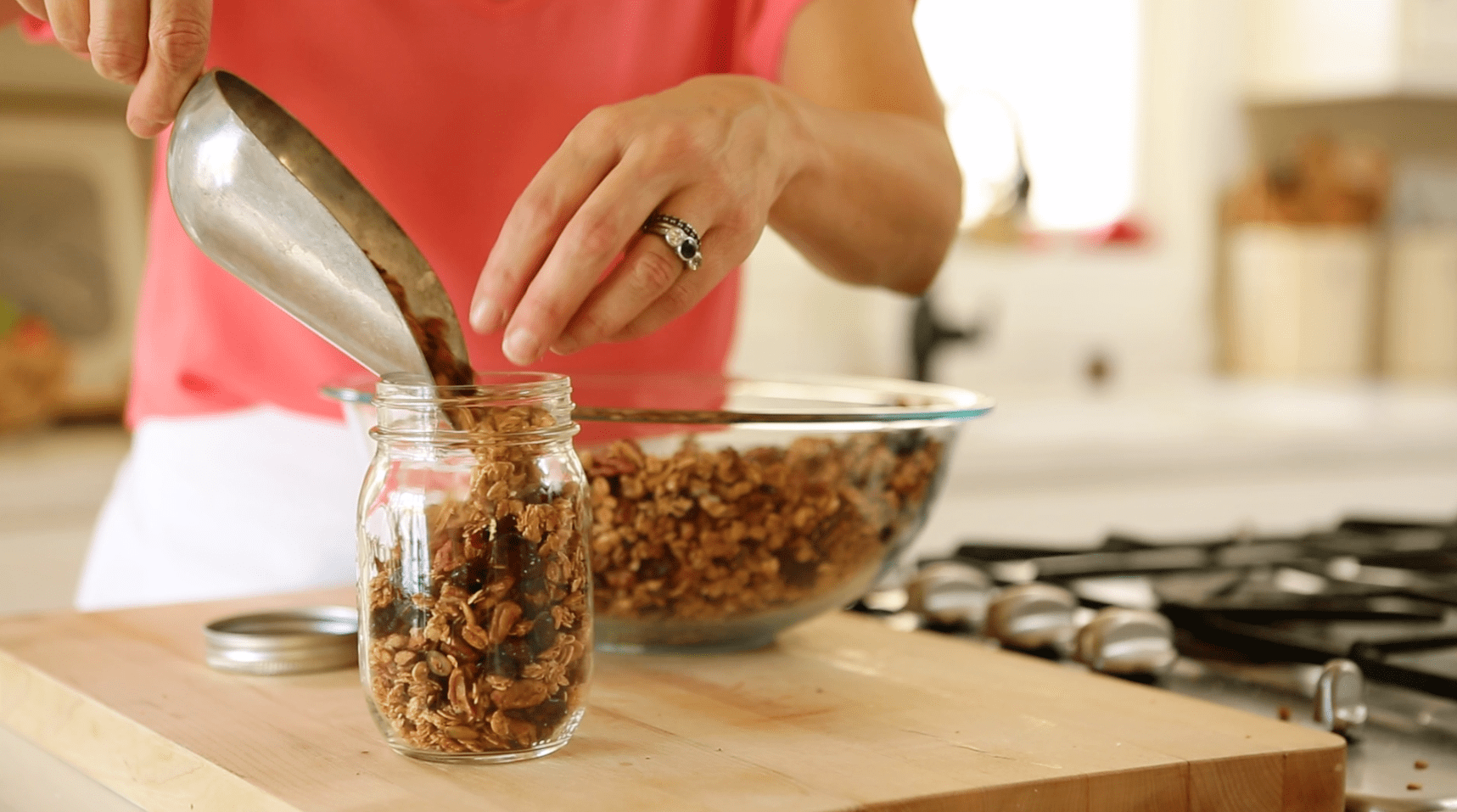 Cut out a square of red flannel fabric with some pinking shears for a nice decorative edge. I bought the fabric pictured at JoAnn's Fabrics in their store but you can also find similar ones online they have a lot of great patterns to choose from.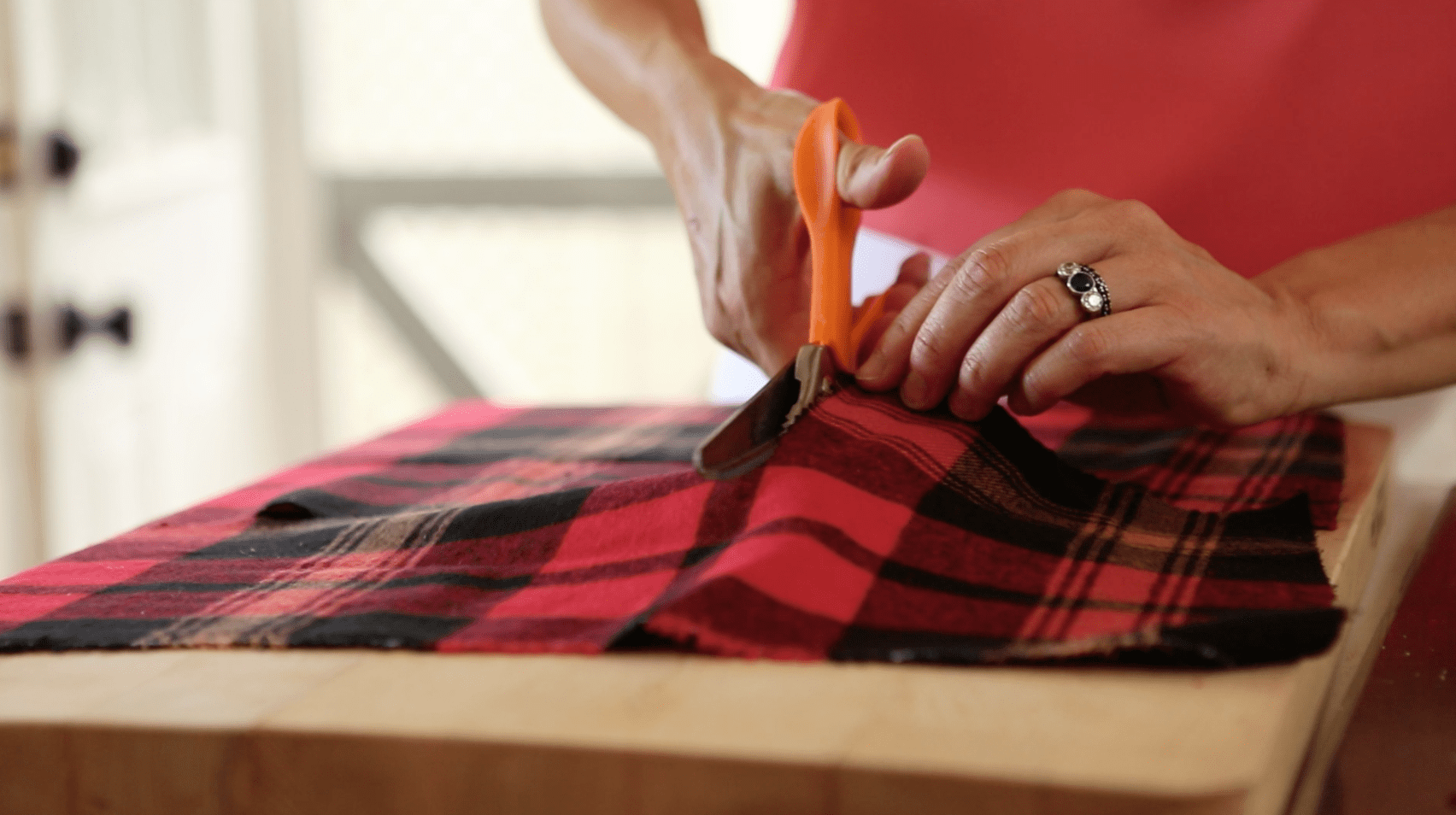 Then affix the fabric to the jar with a rubber band. Tie with some rope twine and tuck in a little faux evergreen, the kind that comes with some berries and pinecones.  Just buy a branch at your local craft store and snip off what you need. Then top with a little red cardinal. This is a great gift idea for those who love the outdoors!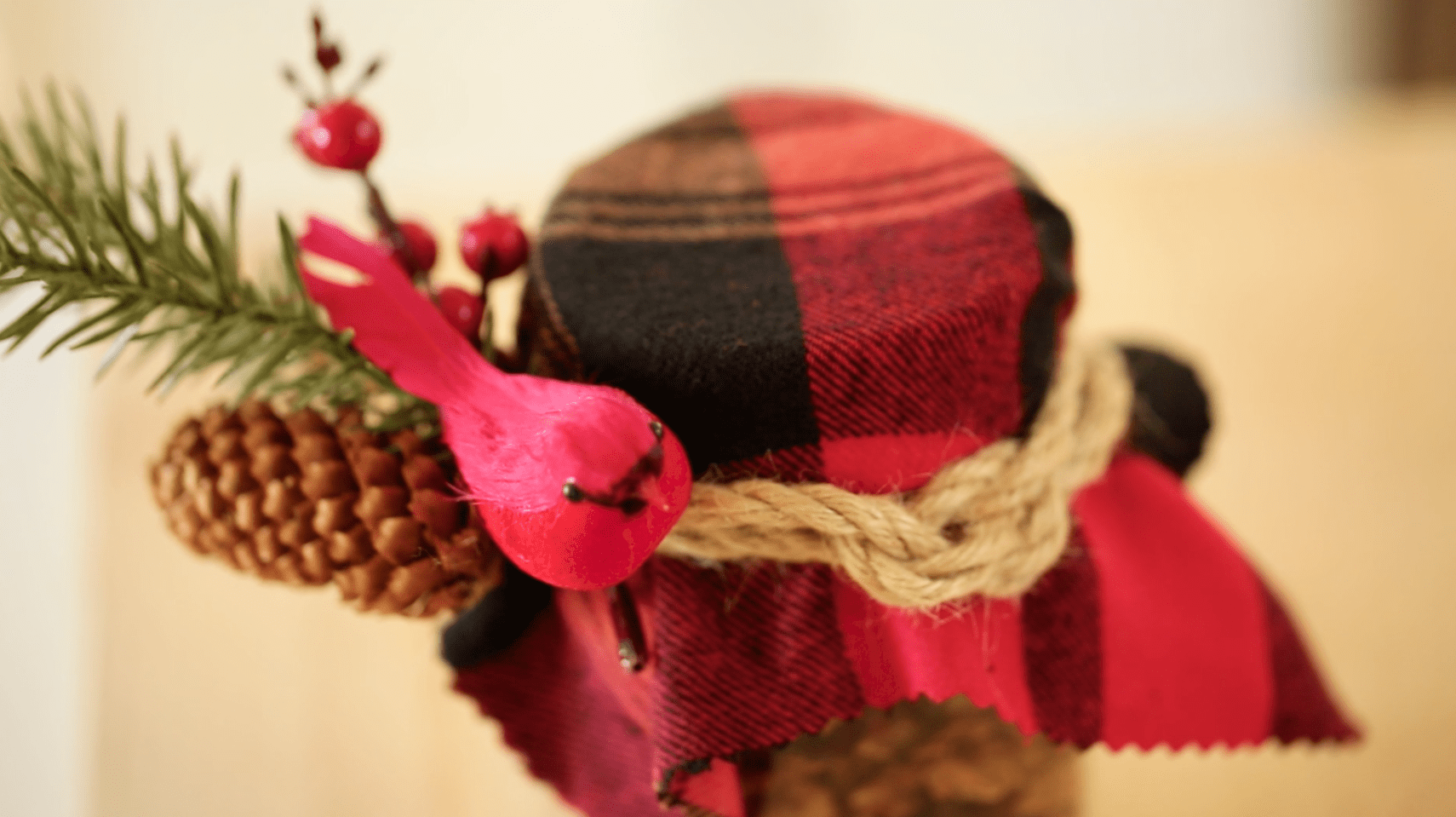 Print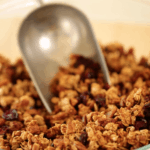 Beth's Homemade Holiday Granola
---
Author:

Prep Time:

20 mins

Cook Time:

30 mins

Total Time:

50 mins

Yield:

8 cups

Category:

Breakfast

Cuisine:

American
Ingredients
4 cups (950ml) of old fashioned oats
3 egg whites
1/2 cup (120 ml) of honey
3 tbsp (37g) brown sugar
2 tsp (10 ml) cinnamon
1 tsp (5 ml) ground cloves
1 tbsp (15 ml) Orange Zest of 1 tbsp of the fresh juice
2 cups (300g) of Raw Pecans, chopped
1 ½ cups (350ml) dried cranberries
¼ cup (60 ml) of pumpkin seeds
---
Instructions
Preheat oven to 350F/(176C)
Whisk together egg whites, honey and brown sugar. Add oats and nuts. Turn out onto 2 rim-lined cookie sheets single layer and bake for 12-15 mins or until golden, tossing occasionally.
Remove from the oven and toss in the dried cherries while the granola is still warm.
Place back in the oven, flipping trays and bake for another 12 mins until granola is golden brown. Remove from the oven and allow to cool.
The granola will dry out and crisp up while it cools. Store in an air-tight container until ready to use or gift.
And finally, who doesn't love a good Christmas cookie?  Always a great idea!
The French-style palmier is a great cookie for gifting because they only take 3 ingredients! Store-bought puff pastry, sugar and salt. That's it!  Just roll up your sugar encrusted pastry log…this part is the trickiest part. You can watch my video demo below on how to do this to achieve the 6 layers.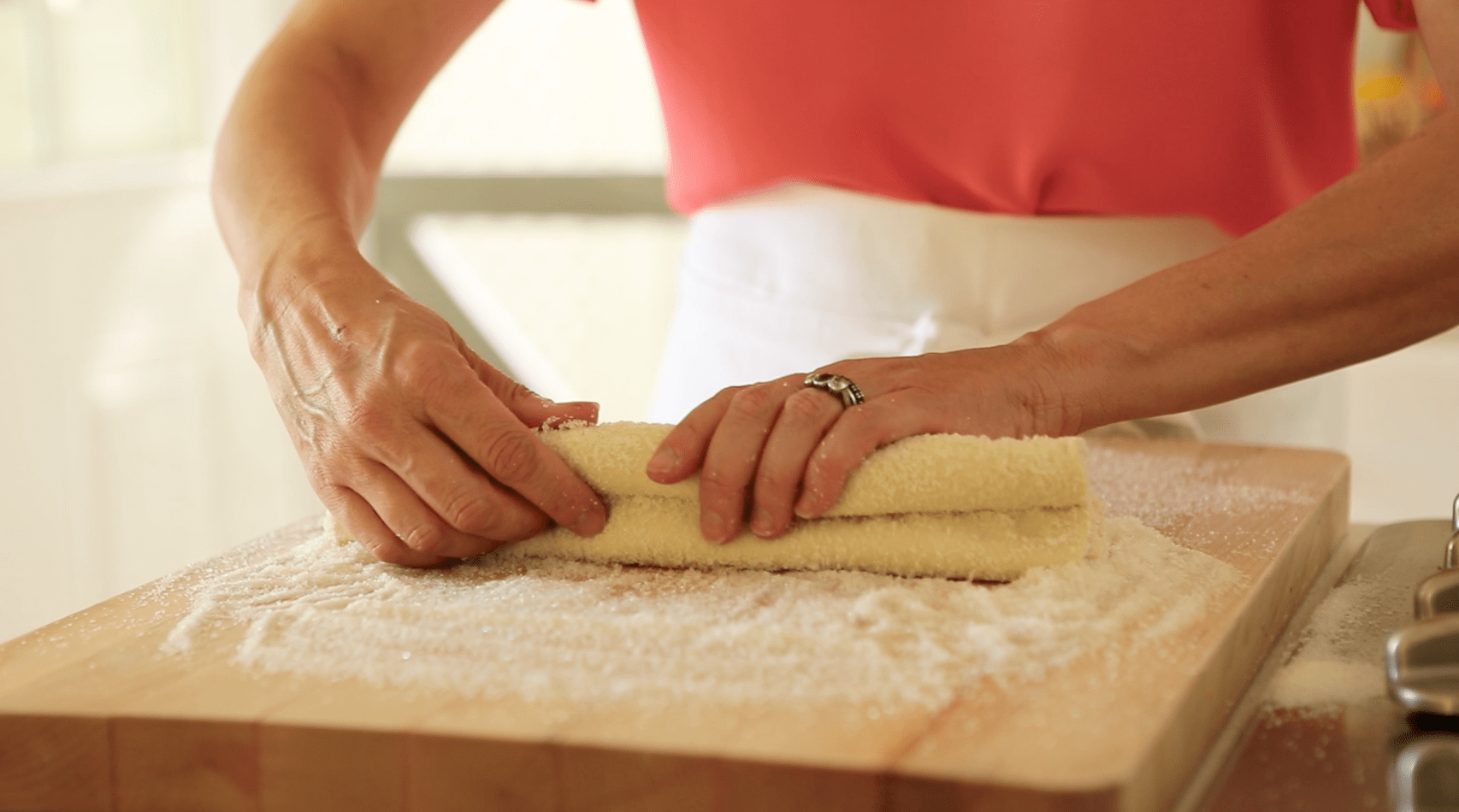 WATCH DEMO BELOW. BEGINS at 6:53…SUBSCRIBE TO MY YOUTUBE CHANNEL and never miss a recipe! (it's free) and new videos post each Saturday!

Slice into 1/2″-1″ pieces..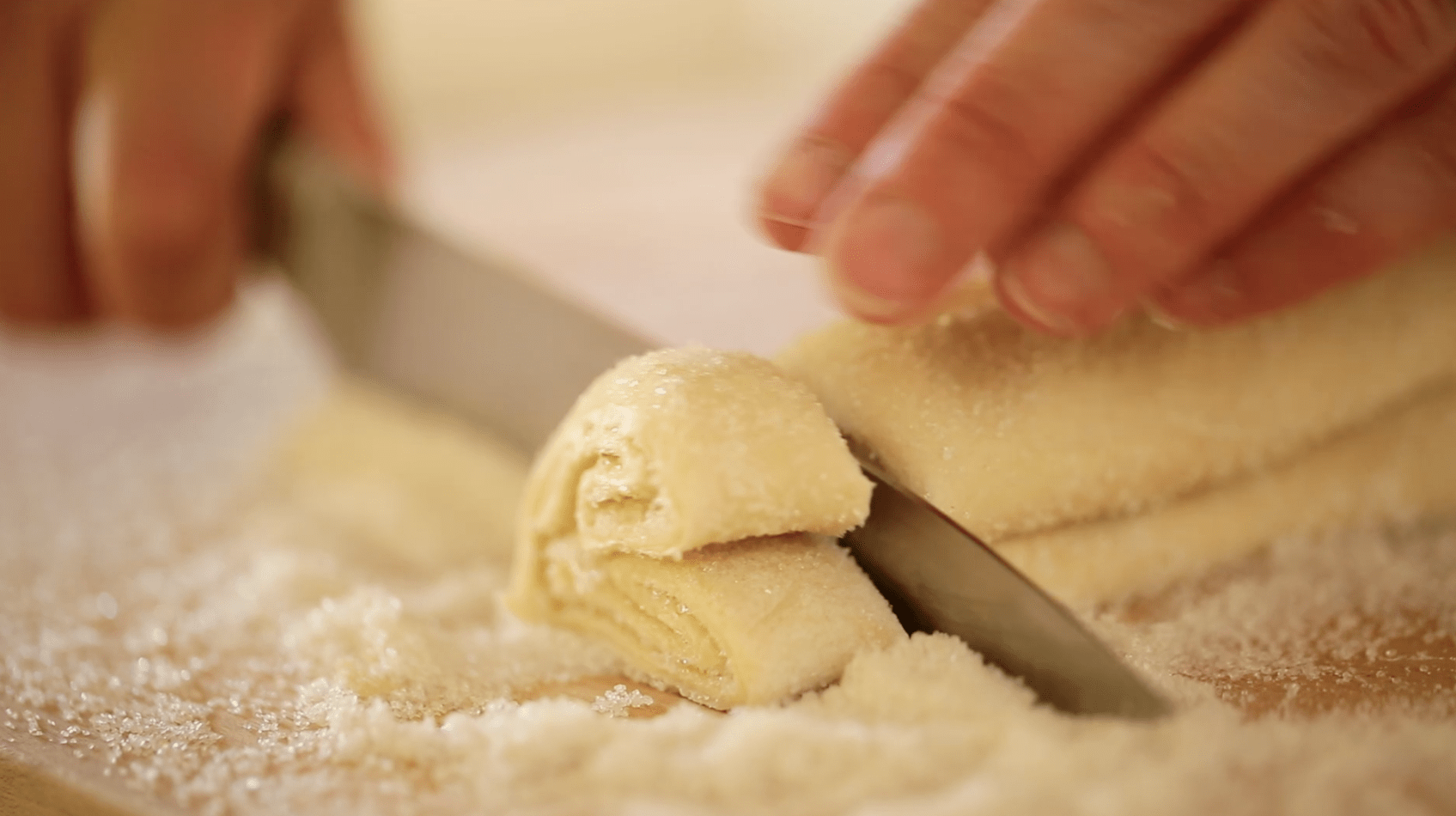 Place on a parchment lined cookie sheet. They'll look like little hearts.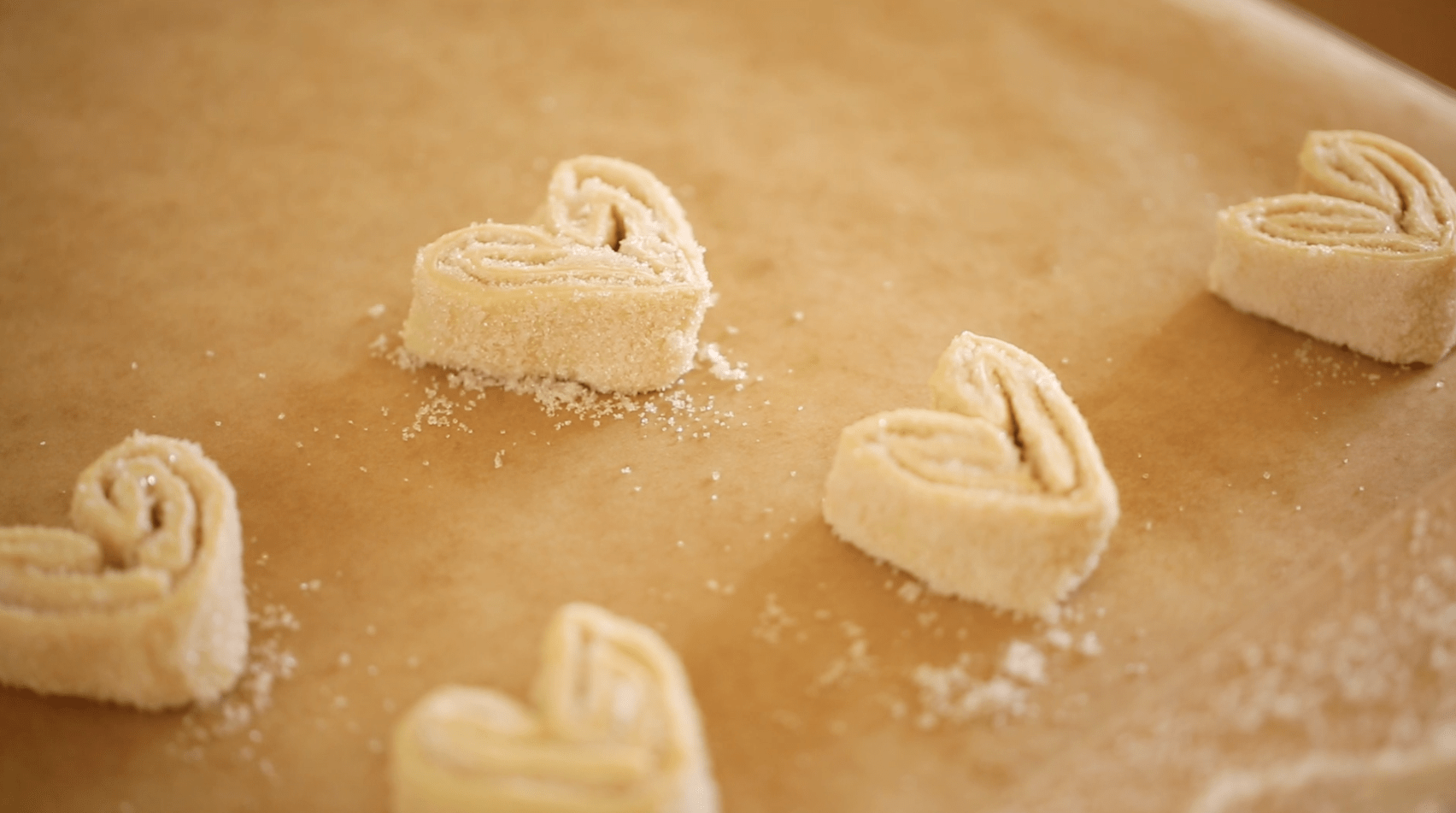 Give them room to spread out, at least 2 inches apart..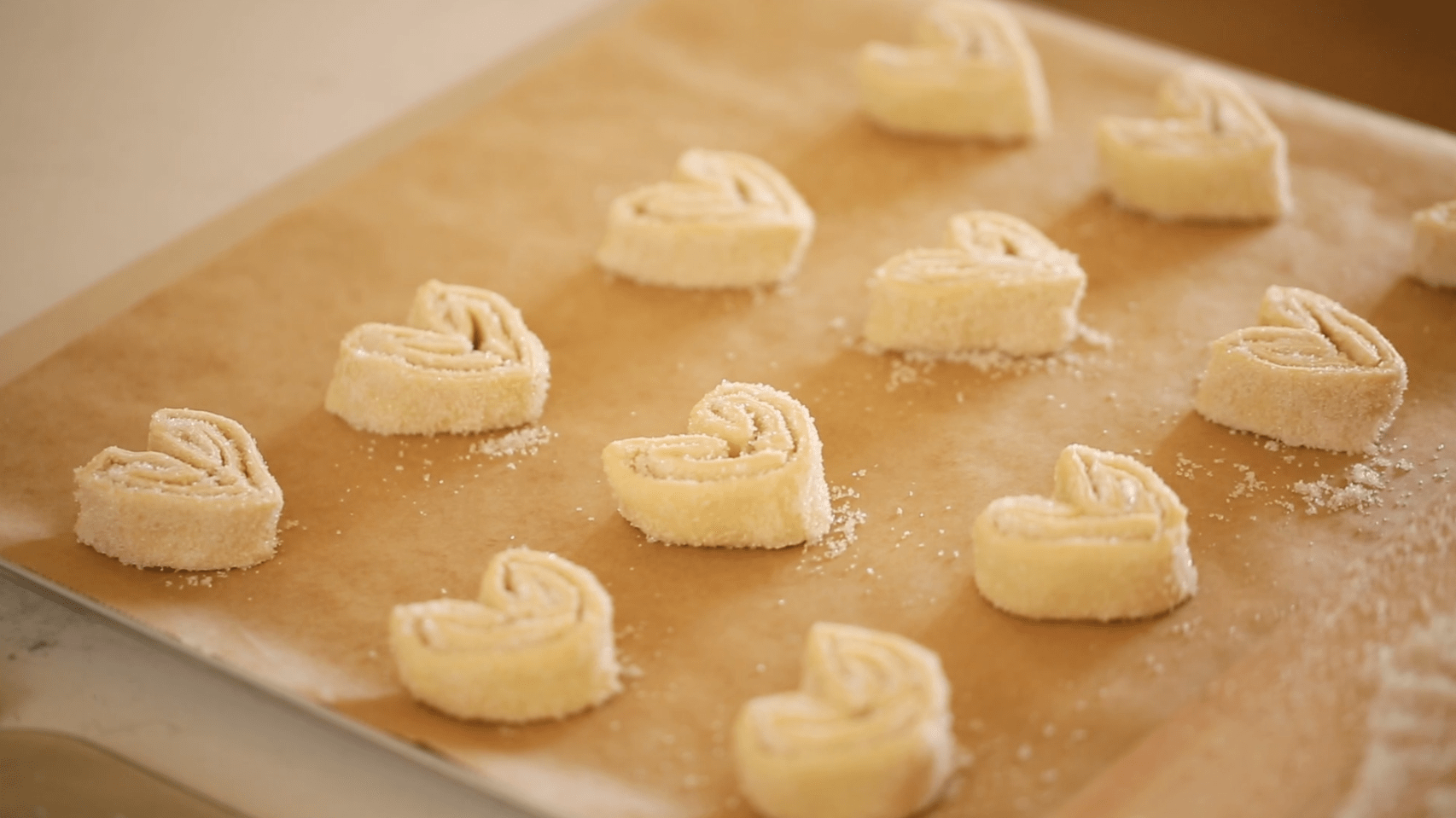 Package your cookies into clear treat bags that are 4″x2″x91/2 inch. It's the perfect size to allow them to fit snugly.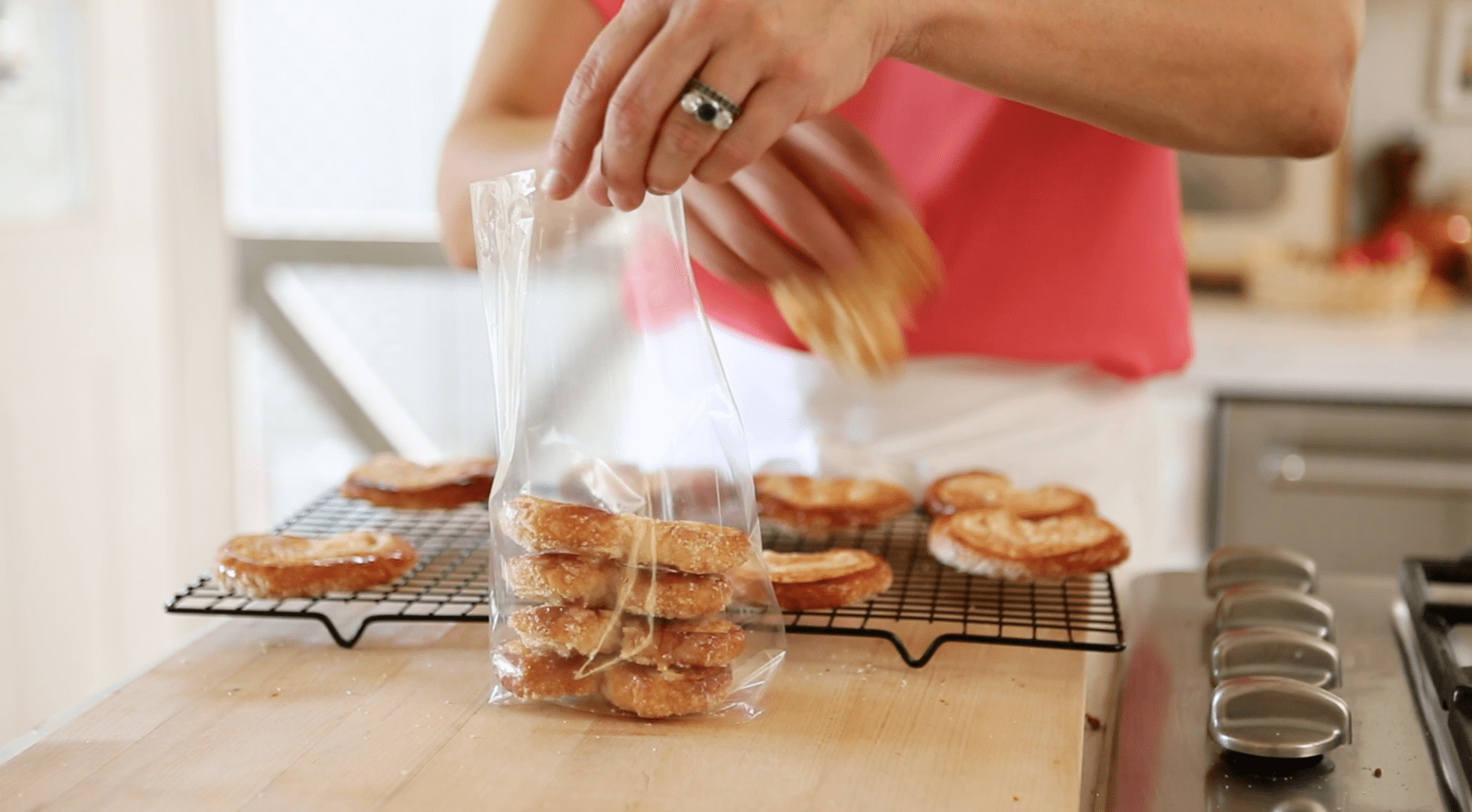 Fasten your bag with a rubber band and then add a red gift tag. I bought the one pictured at Micheals in their store but this style  would also be great. Then fasten gift tag to bag with some red yarn and bakers twine and a few faux berries which you can find at your craft store or these are also cute.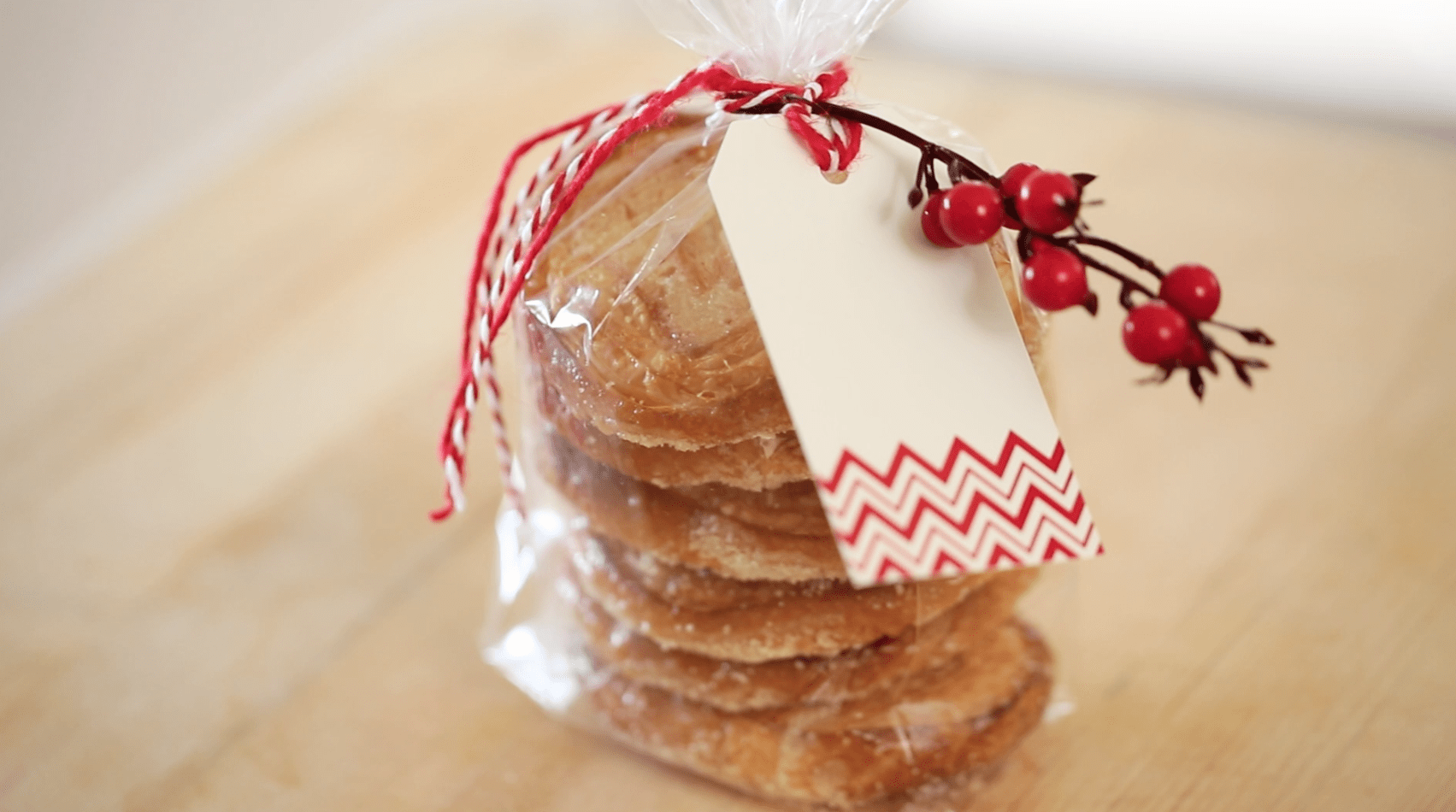 Print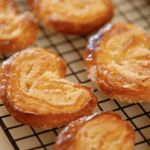 Beth's Palmier Recipe
---
Author:

Prep Time:

30 mins

Cook Time:

13 mins

Total Time:

43 mins

Yield:

30 cookies

Category:

Dessert

Cuisine:

French
Ingredients
1 Box Store-bought Puff Pastry, will include 2 sheets
1 1/2 cups (300g) sugar separated into ¾ cup (150g) measurements (NOTE: you will use ¾ cup (150g) per pastry sheet)
½ tsp (2.5ml) of salt, separated into ¼ tsp (1.25ml) measurements (NOTE: You will use ¼ tsp (1.25ml) for each ¾ cup (150g) of sugar)
---
Instructions
Preheat Oven to 450F (232C).
Combine ¼ tsp (1.25ml) of salt with ¾ cup (150g) of sugar.
On a large cutting board sprinkle the sugar mixture on a cutting board. Place one sheet of puff pastry on top. Sprinkle the remaining sugar on top of the pastry. With a rolling pin roll the pastry making sure the sugar is adhering well into the pastry on either side.
Then to fold bring the sides of the pastry to the middle, meeting in the center. Then fold those panels again so they meet in the center once more.
Then fold one half over the over, like a book. You will now have 6 layers. Cut into 1/2" (13mm) slices. The shape will look like a little heart. You should get 15-16 slices per pastry sheet
Place cookies on a parchment lined cookie sheet at least an 1-2 inches apart as these will spread out. Bake for 10 mins one side until caramelized and then flip with a skinny metal spatula and bake for another 2-3 mins the other side.
Remove from the oven and transfer cookies to a cooling rack to cool completely. Package up in treat bags that are 4 x 2x 9.5 inches and give!