Wickedly Good Chocolate Cake
This wickedly good chocolate cake recipe is the perfect finish to my Halloween Themed Dinner Menu for adults.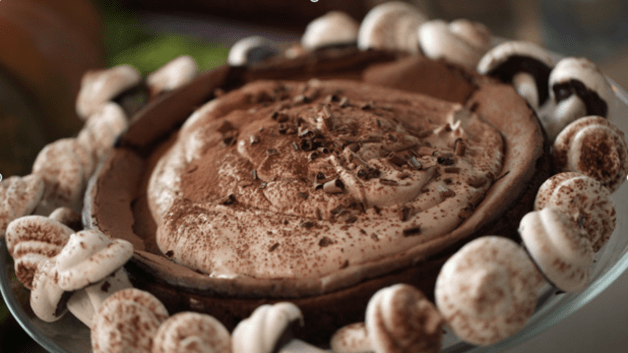 This recipe comes from my Halloween Menu I created for the Kin Community YouTube Channel.
You can watch the full episode and get all the other recipes below.
Subscribe for weekly recipes
and new videos!
I this this cake recipe because it's so decadent and delicious and the spooky meringue "poisonous" mushrooms add an eerie (yet delicious!) touch.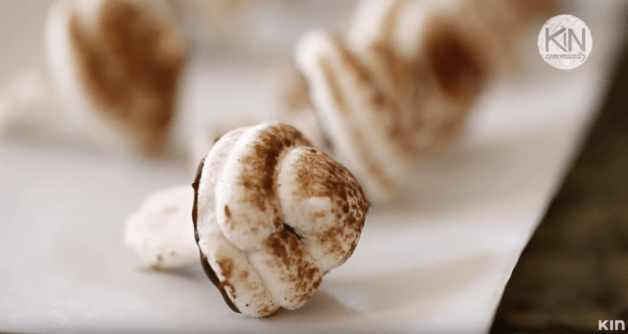 The mushrooms can be made the day before and just keep out at room temperature. That makes the prep on this cake a lot easier!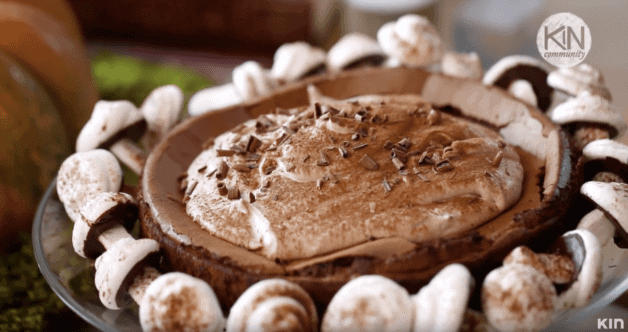 To create the full menu for this dinner you might also enjoy the other recipes from this episode:
Chicken and Mushroom Witches Stew, Pumpkin Punch, Bug Bites, and Cheesy Cornbread Muffins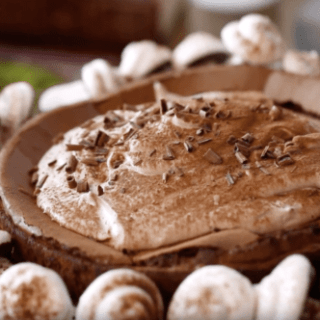 Wickedly Good Chocolate Cake
Wickedly Good Chocolate Cake with spooky Meringue Mushrooms. The perfect Halloween Dessert Recipe for a Halloween Themed Dinner Menu for Adults.
Ingredients
For Cake:
4 oz bittersweet chocolate
4 oz semi-sweet chocolate
1 stick of butter
1 cup of sugar, separated
6 eggs, separated
1 teaspoon cream of tartar
1 teaspoon vanilla
For Frosting:
2 cups heavy cream
¼ cup of cocoa
2 tbsp  powder sugar
1 teaspoon of vanilla
For Meringue Mushrooms: 
4 egg whites
½ teaspoon cream of tartar
¼ teaspoon salt
½ teaspoon vanilla
1 cup of sugar
¼ cup of cocoa powder
1 cup of semi-sweet chocolate chips, melted
¼ cup of cocoa for dusting
Instructions
FOR CAKE:
Preheat oven to 350F.
Cut a round of parchment paper and line the bottom of a spring form pan.
Melt butter and chocolate in microwave at 30 second increments until melted.
Beat egg yolks with ½ cup of sugar. Add in melted chocolate and vanilla and transfer mixture to a large bowl.
Whip egg whites and cream of tartar until soft peaks form. Slowly add the sugar, whipping gently until combined.
Place about 1 cup of the eggs whites into the chocolate mixture to lighten them, then add the remaining egg whites, folding them in gently so as not to deflate.
Transfer batter to prepared pan and bake for 40 mins. Once cooled cake will sink and become cracked and "fallen".
FOR MUSHROOMS:
Preheat oven to 225.
Line 2 sheet pans with parchment paper.
Whip egg whites, tartar, salt and vanilla until stiff peaks form. Then add sugar slowly until combined.
Transfer to a pastry bag fitted with a ½ round tip. Pipe 1-2 in mounds (for the mushroom tops) and 1 inch lines for the stems.
Dip a spoon in water and flatten down any peaks that are created in meringues. You want a smooth top and stem.
Dust with powder cocoa either with a shaker or a fine-mesh sieve. Bake for 1 hour.
Allow to sit until meringues are hard and no gummy-ness remains.
Place chocolate in a microwave safe bowl, microwave on high in 30 sec increments until chocolate has melted.
Core out a small hole under the meringue tops (the flat side) top, smooth on a layer of chocolate on surface and in hole. Insert stem and allow to dry.
Keep in an airtight container, at room temperature, until ready to use.
FOR WHIPPED CREAM:
Place all ingredients in a the bowl and whip until soft peaks form.
To assemble fill top of cake crevice with chocolate whip cream and meringue mushrooms all around the base of cake.
Nutrition Information:
Yield:

8
Serving Size:

1
Amount Per Serving:
Calories:

871
Total Fat:

55g
Saturated Fat:

33g
Trans Fat:

1g
Unsaturated Fat:

18g
Cholesterol:

237mg
Sodium:

269mg
Carbohydrates:

87g
Fiber:

6g
Sugar:

75g
Protein:

13g