Mini Egg Strata Recipe in a Muffin Tin
I love this mini egg strata recipe for quick and easy breakfasts. Back-to-School breakfast recipes are a parent's secret weapon during the month of September when the "reentry" to a morning routine can be rough!
Especially, this year when a lot of us are having to start new routines around getting our kids settled in for e-learning!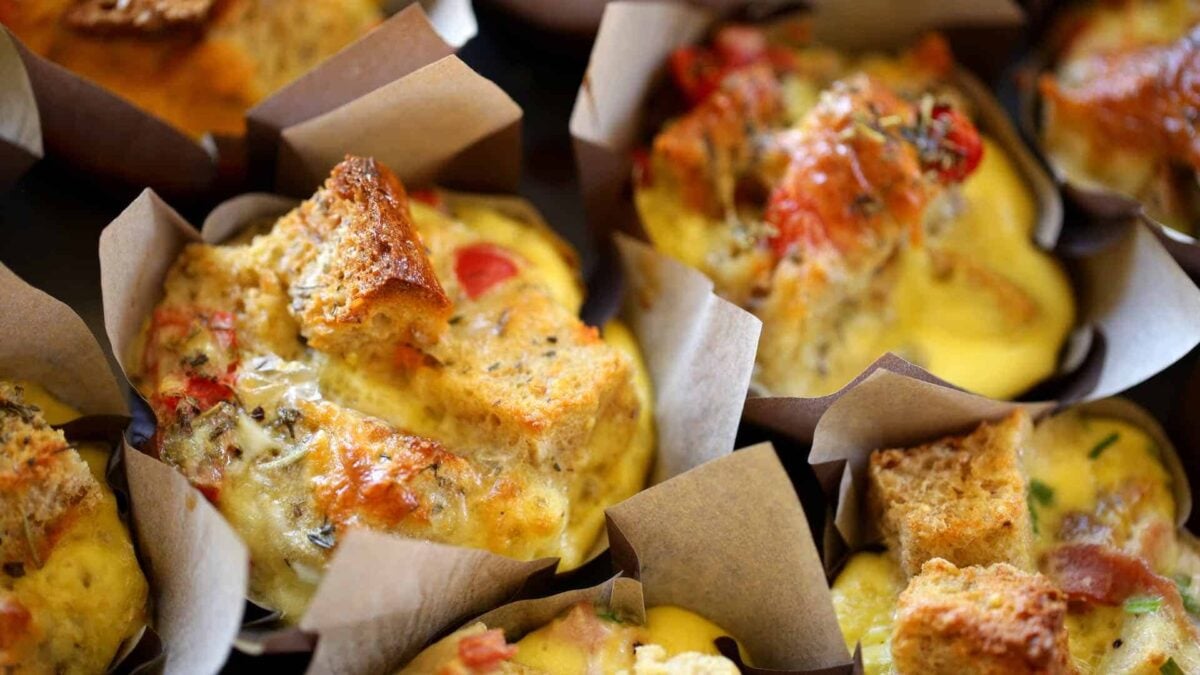 That's why I love these 3 Mini Egg Stratas in a Muffin Tin. I find a muffin tin breakfast is a Mom's best friend. You can make so many fun things in them! The ideas are endless and everyone's tastes can be represented! Another great muffin tin breakfast is my Make-Ahead Oatmeal Cups!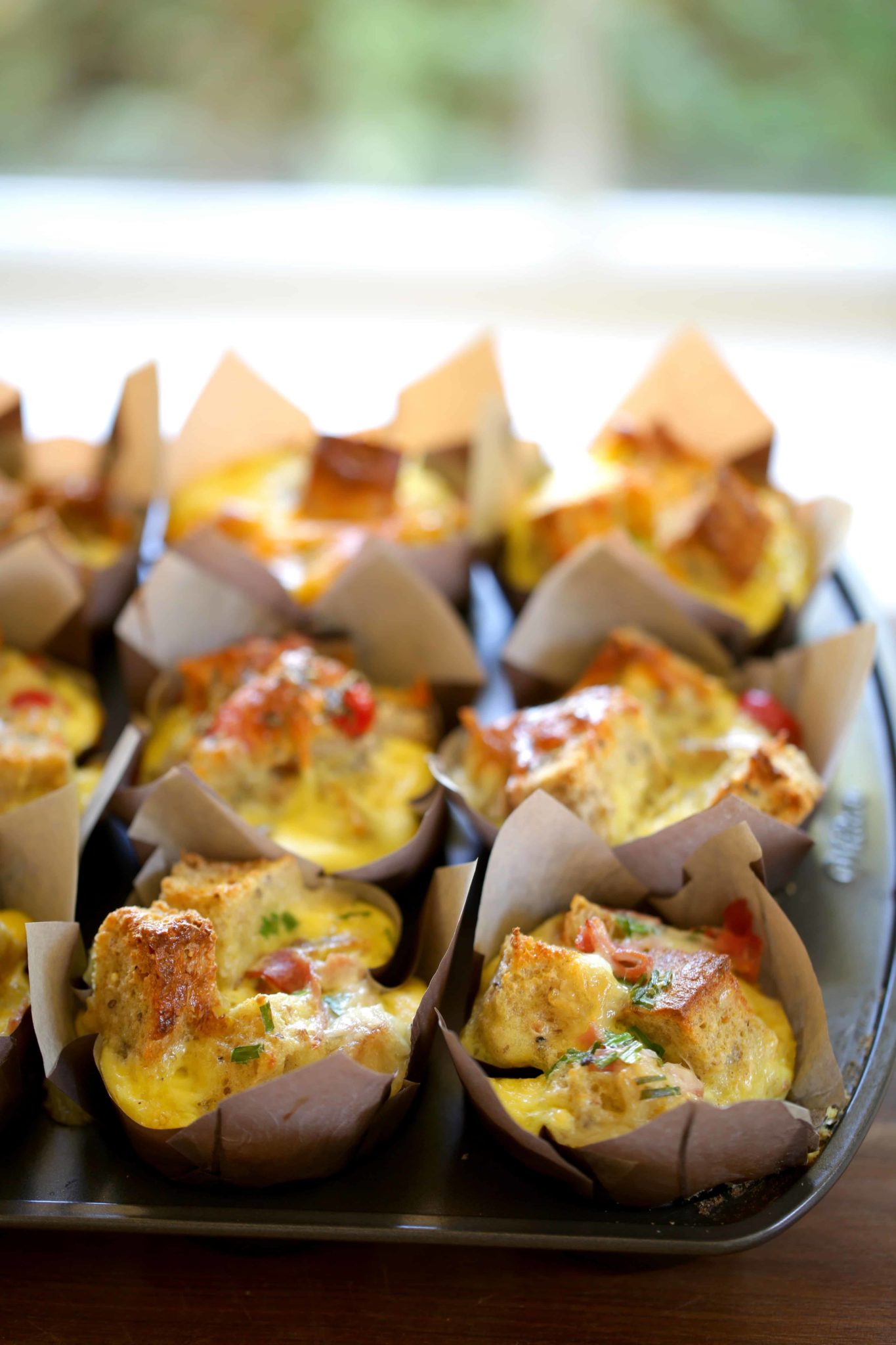 Subscribe for weekly recipes
and new videos!
A Make-Ahead Breakfast Idea!
Make a big batch of these on Sunday and freeze for the week ahead! You can also switch up the toppings to allow everyone their favorite combos. It's really easy since they all use the same batter, so just add the toppings as you like, and then pour the batter on top!
WATCH MY VIDEO DEMO ON THIS RECIPE BELOW!
STEP#1: Make the Egg Custard
It really helps to pour the custard into a Pyrex pitcher. This will make it much easier to pour into your muffin papers without spilling it everywhere!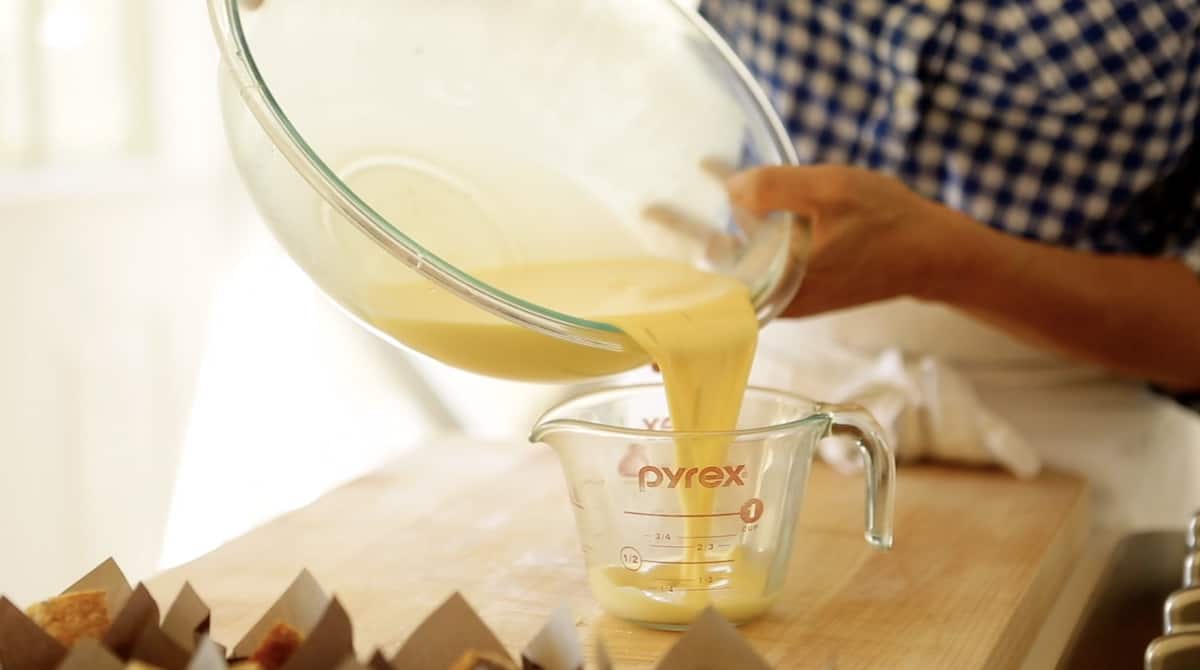 STEP#2: Cube the Bread
These mini stratas work best when you use a rustic loaf of bread. Since it needs to soak up all the egg custard you need a hearty bread like this that can hold up when soaked with custard. I also find heartier bread has more nutritional value too which will keep the kids going longer between snacks and lunch.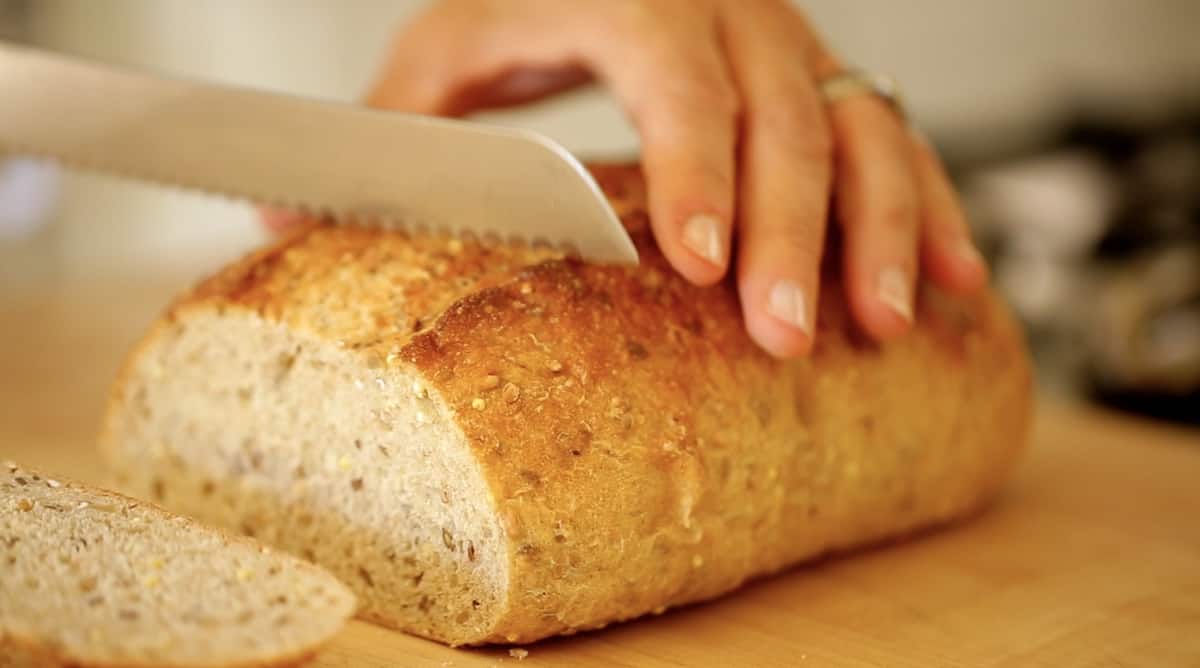 Cut the bread into 1-inch cubes and fill your muffin papers with them. These work really well in tulip muffin papers (link to buy in the recipe card below). In fact, I think they are better that way because it will allow for a bigger muffin and will prevent the egg from spilling over as it cooks.
And when you unfurl them they act like a little plate, which comes in handy if you are having that kind of morning where these need to be eaten in the car!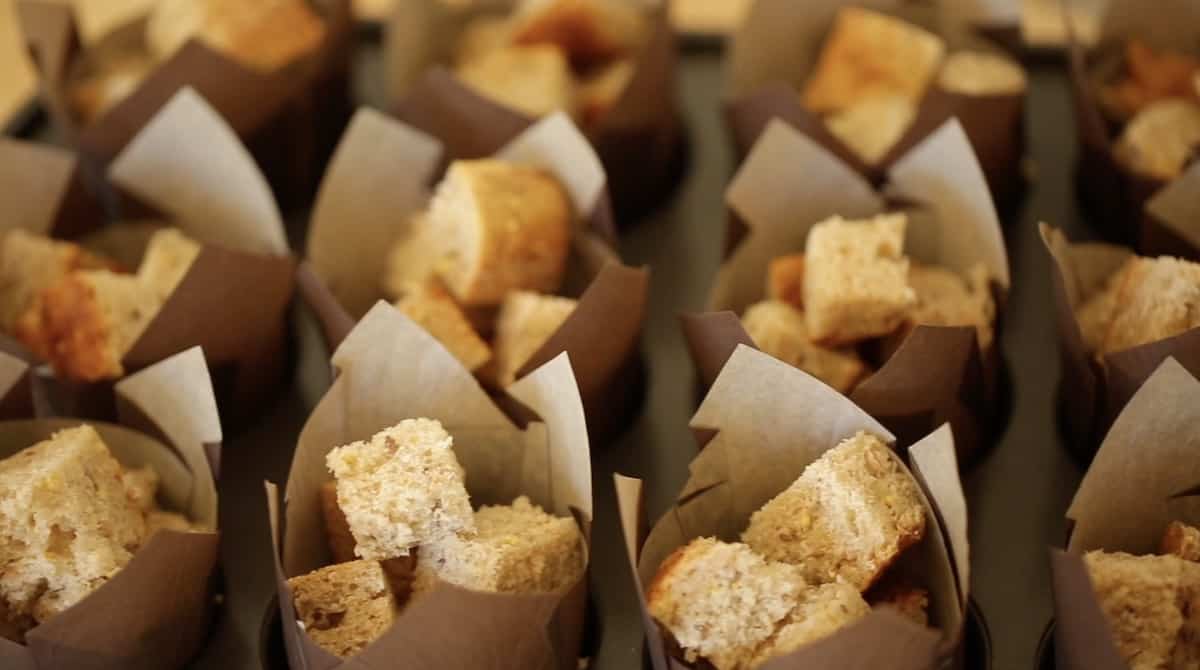 Step#3: Add your Favorite Toppings!
The best part of this recipe is the fact that you can customize the toppings to suit everyone's tastes. Since the muffin tin provides 12 wells, I dedicate 4 wells to each topping.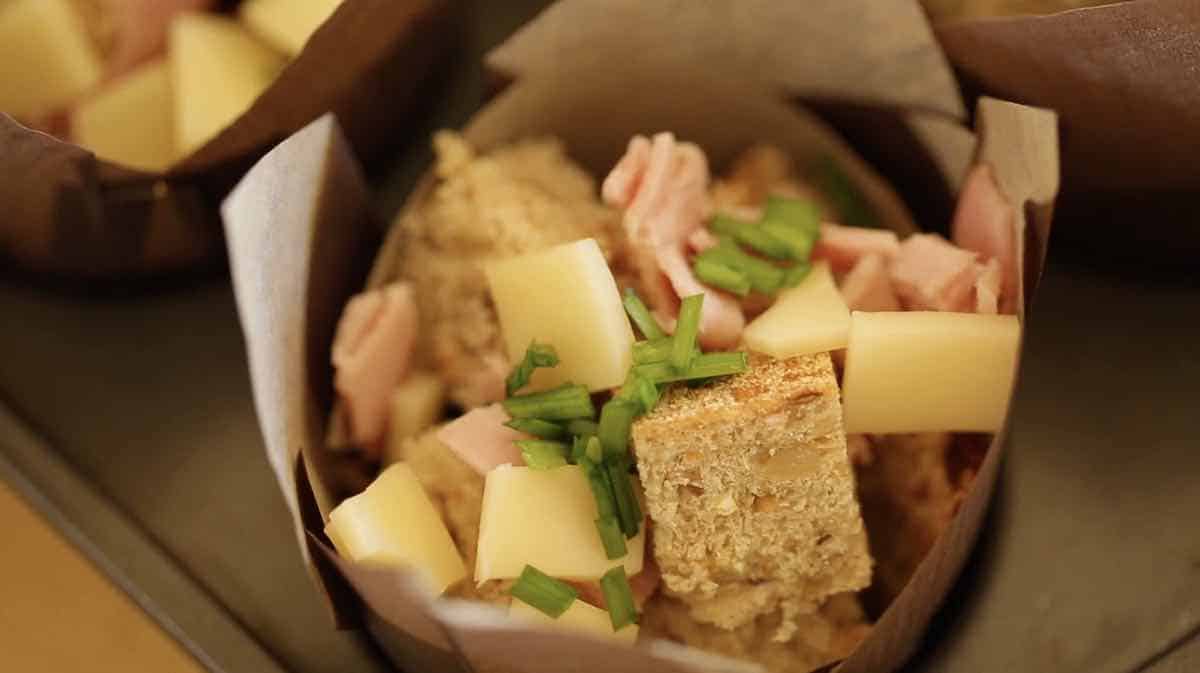 STEP#4: Fill the Muffin Tin
Once all your toppings are placed, then go over the tin by filling each well with the custard. You may need to go over each well 1-2 times in order to allow the custard to soak into the bread.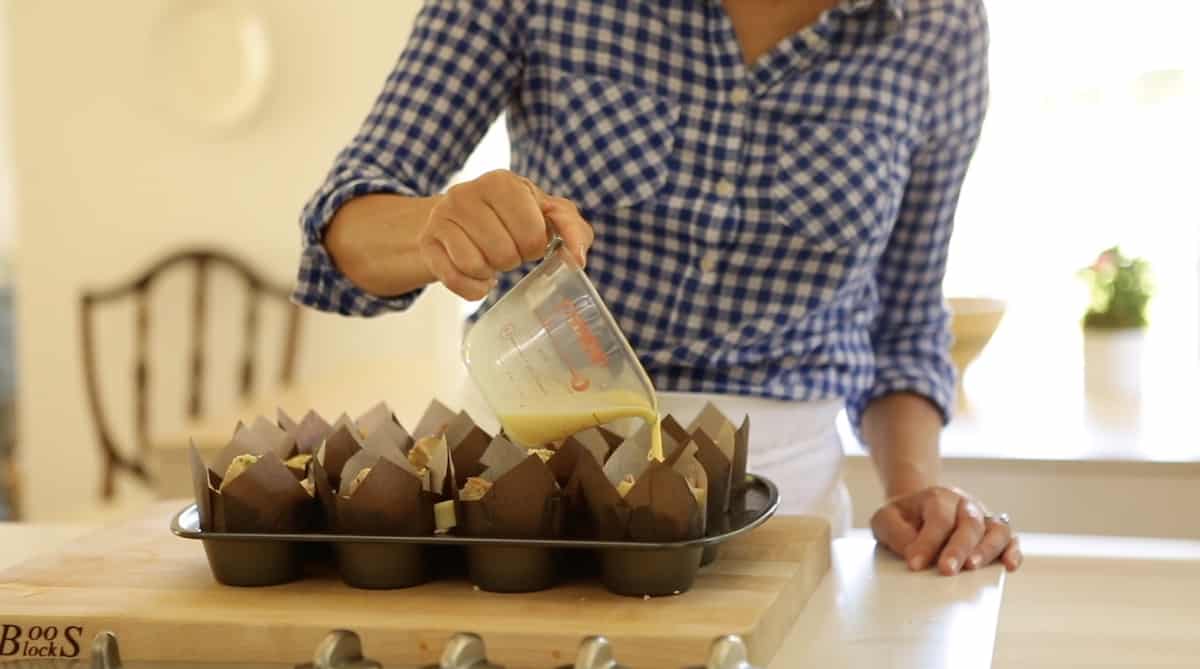 The egg will puff up as the custard bakes so try not to fill the papers too full. I also make sure that the bread cubes on top aren't completely covered so that they can crisp up on top.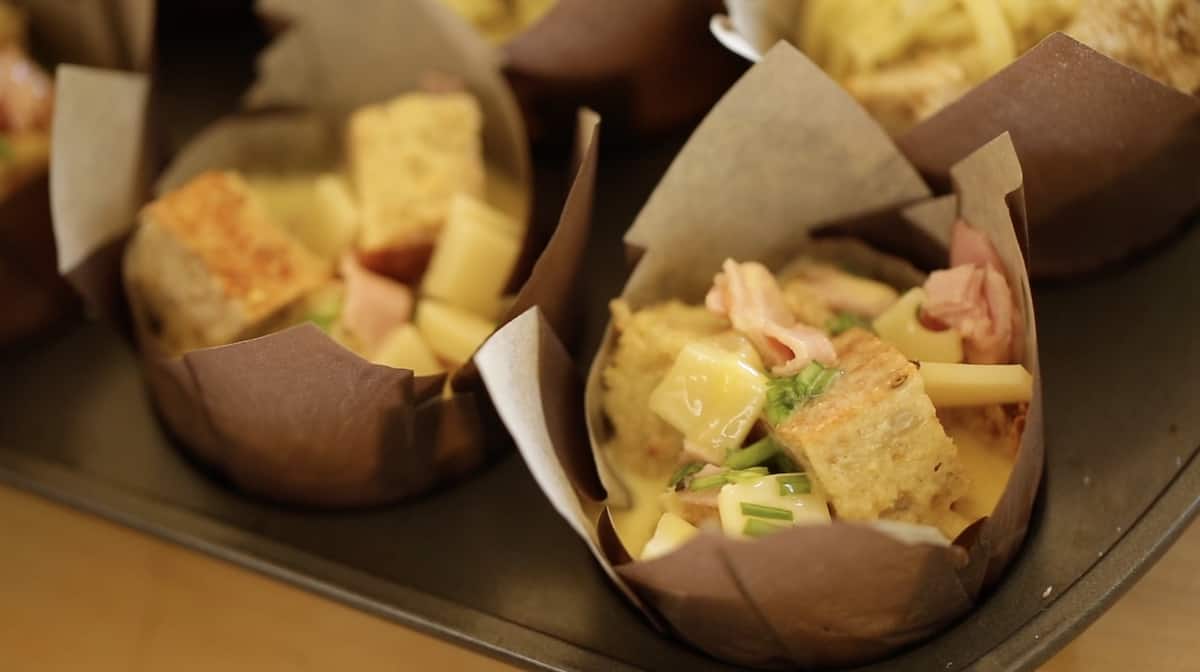 These Mini Egg Strats Feeze Beautifully!
Place the cooled stratas in a freezer-safe container then reheat in the microwave at :30 intervals until warmed through. As the months turn colder there's nothing quite like a warm breakfast!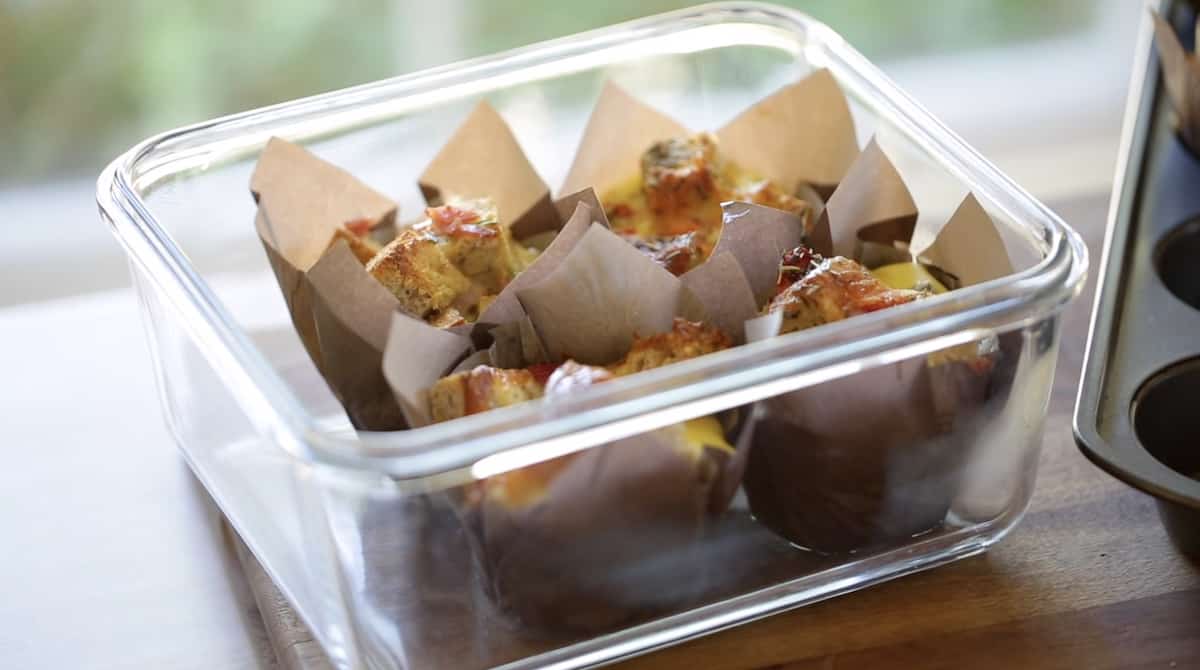 There's something about the crispy bread, the cheesy topping and custardy egg underneath that just makes these such a winner for a breakfast on the go!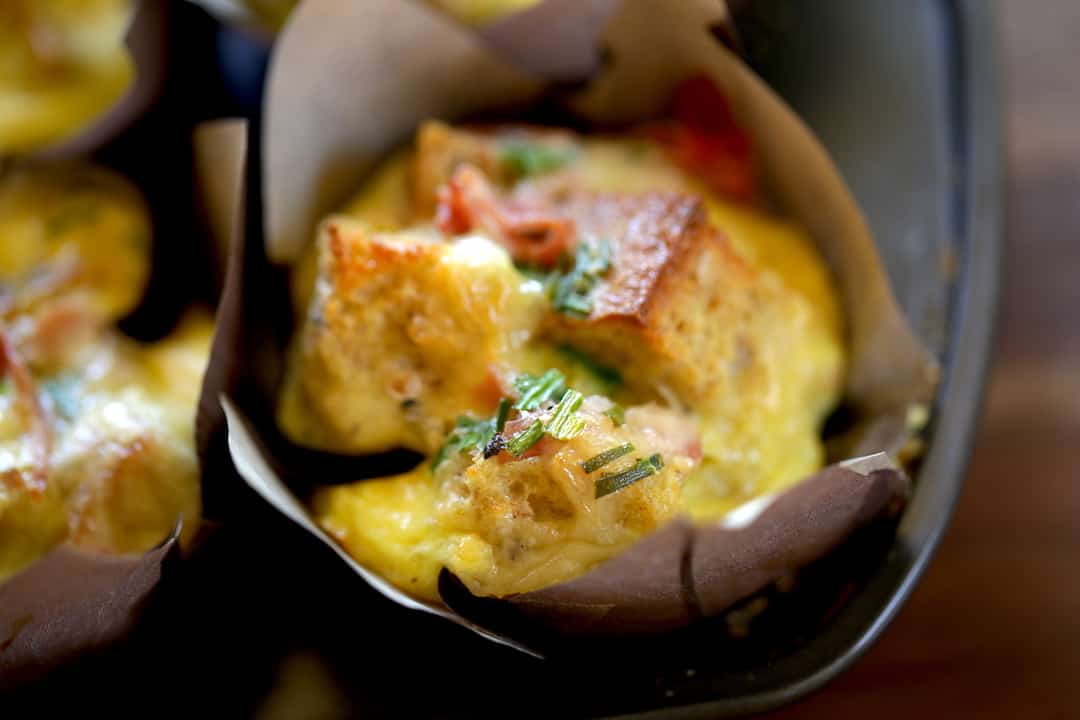 MORE GREAT BREAKFAST IDEAS!
If you enjoy this Mini Strata Recipe
please leave a rating and review below!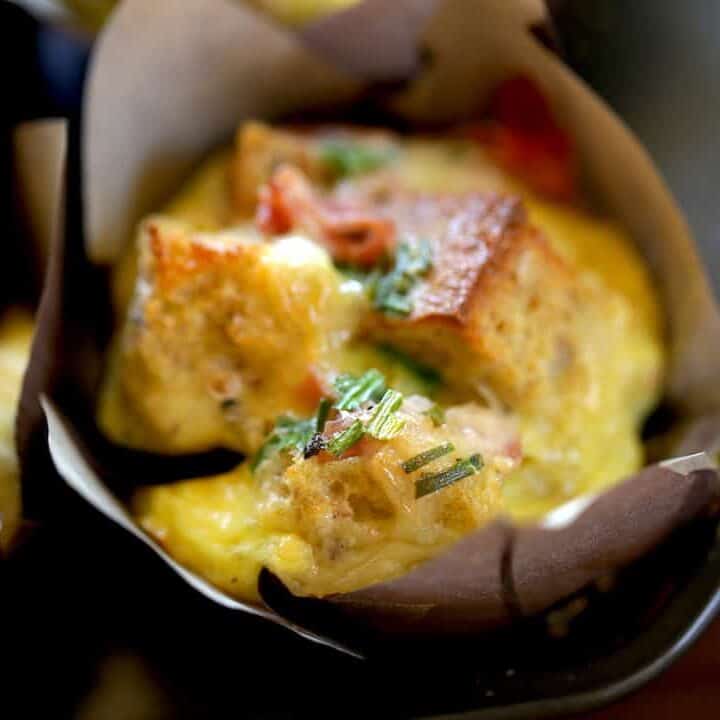 3 Mini Egg Stratas in a Muffin Tin
Delicious Mini Egg Stratas for a make-ahead breakfast idea that's perfect for hectic Back-to-School Mornings!
Ingredients
EGG BATTER:
10 eggs
½ cup (120 ml) of heavy cream
¼ teaspoon salt
freshly cracked pepper
1 lb (450 g) of bread (Italian Loaf, French Bread) cut into 1" cubes
FILLINGS:
⅓ cup (80 ml) Grated Cheddar Cheese + 1 jalapeno, Diced
⅓ cup (80 ml) Grated Mozzarella Cheese + 12 Cherry Tomatoes, quartered + 2 tablespoon (30 ml) Herbs de Provence
3 slices of Swiss Cheese+ 4 slices Black Forrest Ham + 2 tablespoon (30 ml) freshly snipped Chives
Instructions
Preheat oven to 375F (190C).
Line a 12-cup muffin tin with muffin papers.

Whisk together the egg batter. Transfer to a Pyrex pitcher for easy pouring. Fill each well with the bread cubes and the fillings of your choice, yop with egg batter covering the bread and coming to the top of a tulip paper or ¾ of the way full if using a regular muffin paper.

Bake for 20-25 mins until puffed up and golden brown. Serve immediately or allow to cool and freeze for up to 1 month. Microwave on high for:30-:45 secs or until warmed through.
Notes
OTHER FILLING IDEAS INCLUDE:
Cooked Bacon + Cheddar Cheese
Cooked Italian Sausage + Asiago Cheese + Dried Oregano
Goat Cheese + Fresh Dill + Fresh Parsley
Recommended Products
As an Amazon Associate and member of other affiliate programs, I earn from qualifying purchases.
Nutrition Information:
Yield:

12
Serving Size:

1
Amount Per Serving:
Calories:

138
Total Fat:

9g
Saturated Fat:

3g
Trans Fat:

0g
Unsaturated Fat:

4g
Cholesterol:

194mg
Sodium:

359mg
Carbohydrates:

2g
Fiber:

0g
Sugar:

1g
Protein:

13g