Brined Pork Chops with Grilled Nectarines and Roasted Fennel
Grilled Pork Chops seasoned with fresh rosemary and served with grilled nectarines and roasted fennel is a fantastic pork recipe for the summer when you are looking for something new to grill.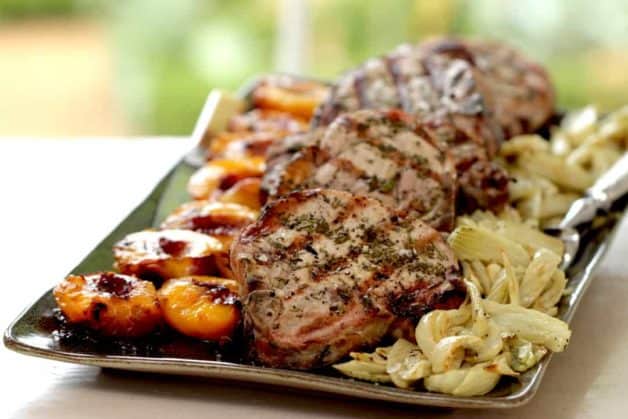 Sunday night Dinners are always something I make time for, even in the summer when everyone's schedules are a bit off. It provides one consistent ritual that sets everyone up for a great week ahead.
What cut of pork should I use?
Pork can easily dry out, especially on the grill when it can be hard to control the exact temperature. For this, I really like to use thick, bone-in pork chops that retain moisture (anything on the bone is always go to dry out slower than boneless and I actually think it looks most impressive on the plate) the other secret for deliciously moist grilled pork, is to brine the pork first.
Subscribe for weekly recipes
and new videos!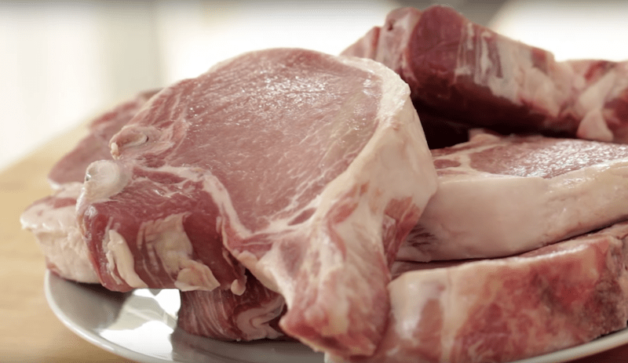 What ingredients are in a brine?
For this brine, you'll use water, salt, brown sugar, rosemary, garlic, fennel seeds, and peppercorns (exact recipe below). The brown sugar gives it a nice sweetness and the rosemary and garlic give it great flavor!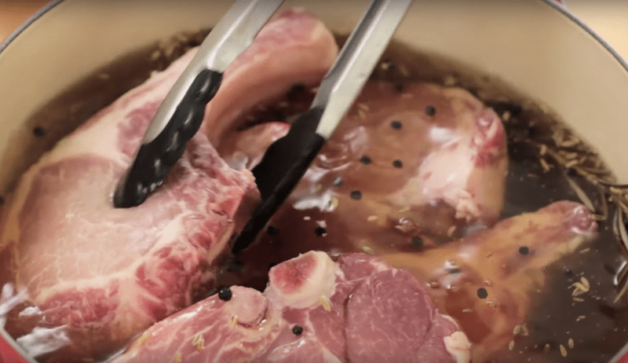 How do you grill pork chops
Before you set out to the grill, make sure your grill is well-greased with a non-flavored oil before you heat it. Then heat to medium-high. While your grill is heating up you can remove the pork from your brine and pat dry. You want to make sure the pork isn't wet when it hits the hot grill or you'll get a "steamed" chop instead of a nicely seared chop. Then grill on each side 6-9 minutes until an internal temperature of 145F is reached with a meat thermometer. Then allow the pork to rest at least 10 minutes before serving to retain its juiciness.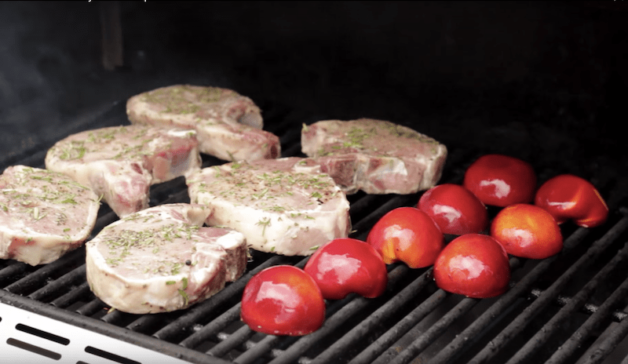 This is a wonderful pork recipe to add to your rotation, especially if you are looking for more items to throw on the grill this summer. It's a great combination of flavors between the succulent pork, the sweet charred fruit, and the caramelized fennel. Three flavors that were just born to be together 🙂
WATCH MY HOW TO GRILL PORK CHOPS VIDEO BELOW
Subscribe to my YouTube Channel and you'll never miss a recipe! (Don't worry it's free) and new recipes post each weekend! Enjoy! xx
Love the grill? Try some of my other grilling recipes. Grilled Chicken Teriyaki Sandwiches, Recipe for Cinnamon Chicken with Sweet Potatoes,or my BBQ Ribs Recipe.
Please let me know if you enjoyed this pork chop recipe
by leaving a rating and review below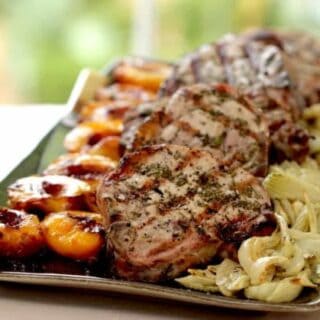 Rosemary Pork Chops with Grilled Nectarines and Roasted Fennel
Grilled Pork Chops seasoned with fresh rosemary and served with grilled nectarines and roasted fennel. Learn how to grill pork chops in this easy Sunday night dinner idea!
Ingredients
FOR BRINE:
6 cups (1400 ml) water
3 tablespoon (38 g) salt
3 tablespoon (38 g) brown sugar
4 sprigs fresh rosemary
3 garlic cloves mashed
1 tablespoon (15 ml) fennel seeds
1 tablespoon (15 ml) black peppercorns
FOR PORK:
6 bone-in pork chops
1 tablespoon (15 ml) olive oil
3 tablespoon (45 ml) fresh rosemary
freshly cracked pepper
Finishing salt like Maldon Sea Salt
FOR NECTARINES:
6 medium-ripe nectarines
1 tablespoon (15 ml) grapeseed or vegetable oil
FOR FENNEL:
4 medium sized fennel bulbs, tops removed, sliced into wedges
2 tablespoon (30 ml) olive oil
salt and pepper to taste
Instructions
Heat water, salt, sugar, rosemary and garlic in a saucepan on medium high heat until sugar and salt is dissolves. Transfer to a large heat safe bowl. Allow brine to cool completely, otherwise it will cook your chops before you are ready! You can pop in the fridge or freezer to quicken the cooling process.
Once the brine completely cooled add your pork chops. Cover and refrigerate 4-6 hours is best. But if you only have an hour that will still work. It's just the longer it sits the more flavorful it will be.
Toss fennel wedges with olive oil, season with salt and pepper. Place on a baking tray single layer and roast at 425F for 30-40 mins until wilted and caramelized.
TO GRILL:
Remove chops from the brine. Pat dry. Brush both sides with grapeseed oil or vegetable oil. Season with freshly cracked pepper (no salt needed due to the brine, better to add a sprinkle of fleur de sel at the end once grilled), and freshly minced rosemary.
Slice nectarine in half, remove the pits with a melon baller or spoon. Brush both slides with grapeseed oil.
Grill pork chops for 6-9 mins each side depending on thickness, less time for thinner chops, more time for thicker chops. And grill peaches cut side down alongside of pork,
Flip chops and peaches and grill them 5-7 mins more each side.
On a large platter arrange the chops in the center, and place roasted fennel on one side, and charred nectarines on the other. Garnish pork with a sprinkle of fleur de sel sea salt.
Nutrition Information:
Yield:

4
Serving Size:

1
Amount Per Serving:
Calories:

758
Total Fat:

41g
Saturated Fat:

9g
Trans Fat:

0g
Unsaturated Fat:

26g
Cholesterol:

198mg
Sodium:

541mg
Carbohydrates:

34g
Fiber:

7g
Sugar:

23g
Protein:

64g