During the 1970s my father used to make this Chocolate "Wacky Cake" at the drop of a hat! They call it wacky cake because it uses none of the traditional ingredients associated with cake making. No eggs, no butter, no milk. But yet, it is the lightest, most delicious chocolate cake recipe you will ever try! It's like some kind of mysterious magic! Top with vanilla ice cream, nuts, and my classic Hot Fudge Sauce and sail off into chocolate lovers' heaven!
Our family found this cake recipe back in 1976 when it was published in a magazine article and called 6-minute chocolate cake, but I think Wacky Cake is a better name for it! Because it's really a bit crazy that it even works!
It's also a great vegan cake recipe or a cake for anyone with egg or dairy allergies too! I recently put it to the test with my father during our annual Christmas episode on my YouTube Channel, and according to my Mom the wacky cake won out over my Chocolate Turtle Recipe! But if you ask me, they are both fantastic and worth making!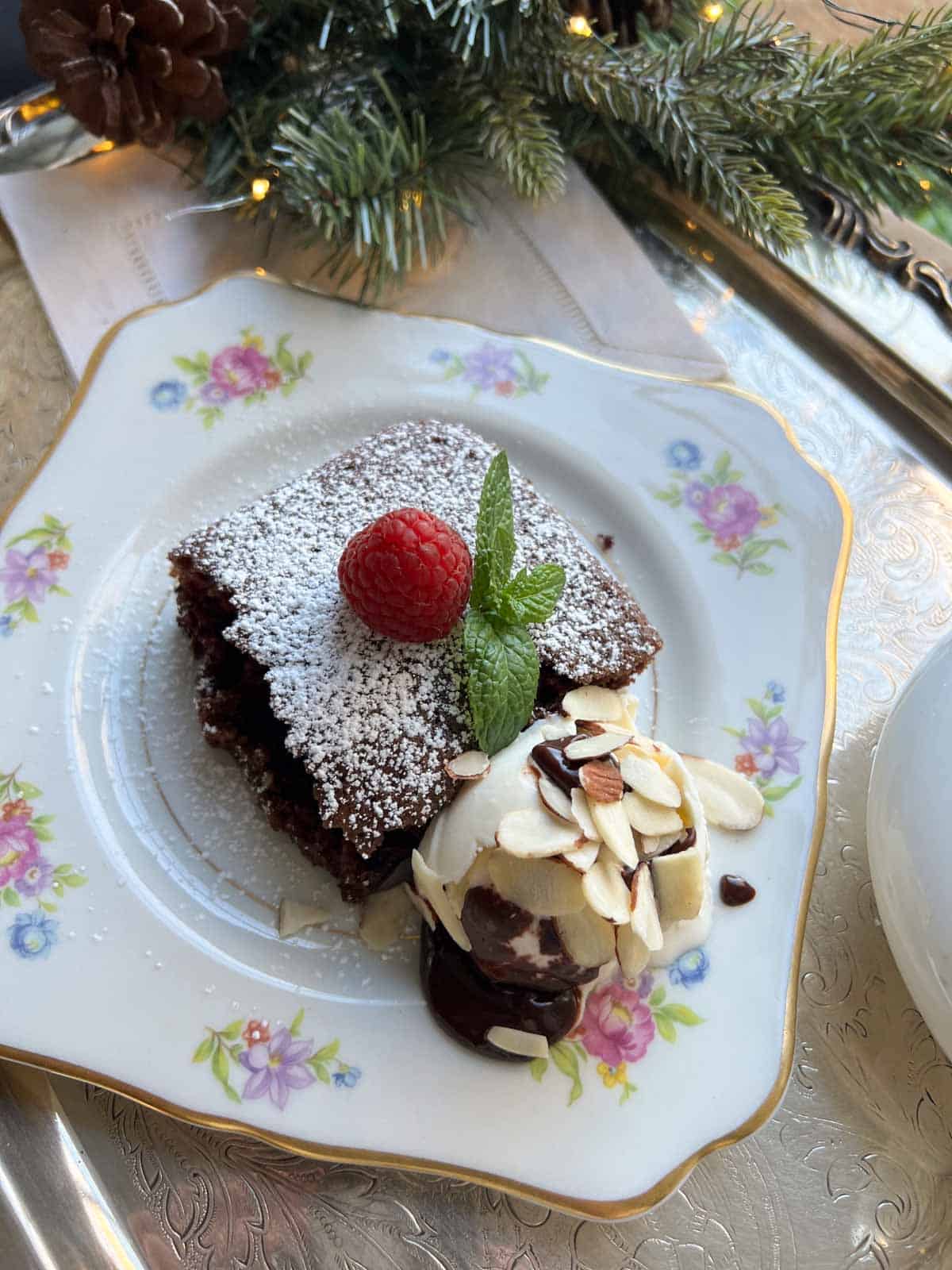 Subscribe for weekly recipes
and new videos!
Watch The Video Demo Below!
The Ingredients:
All-purpose flour Wacky Cake is so light and airy even with all-purpose flour. No need to use cake flour. To make this cake gluten-free you could also use a gluten-free baking flour that is formulated for an exact swap for regular flour. My favorite is the Cup4Cup Brand.
White sugar it takes a full cup of sugar but don't skimp on the sugar, it's needed to balance out the bitterness of the unsweetened chocolate
Unsweetened Cocoa Powder The vintage recipe called for ⅓ cup of cocoa powder, but I find it's better with a full ½ cup. You get a lot better chocolate flavor this way and it's richer too.
Baking Soda will react with the acid in the cocoa powder to give you a wonderful lift which will then be helped by the secret ingredient below!
Kosher Salt I find Kosher salt brings out the best flavor in desserts and is not as harsh as table salt.
Water Is used as a substitute for milk. And in fact, I think it contributes to its lightness since there's no fat weighing the liquid down. It's a secret ingredient that makes my Ultimate Banana Bread and Pumpkin Bread Recipes so light and fluffy.
Vegetable oil is used in place of the butter. And personally I find oil over butter makes cakes and muffin recipes a lot more moist when there is not an electric mixer involved.
Vanilla Extract gives the cake a bit more depth of sweetness. Always use pure vanilla extract for the best flavor (over anything labeled imitation vanilla extract)
White Vinegar (A.K.A The Secret Ingredient) OK here's where things get interesting! The addition of the white vinegar at the end, creates this weird chemical reaction, like a science experiment, which causes the batter to start bubbling up and literally becoming lighter right before your eyes! It's what gives the cake it's final lift and is used in place of the eggs. This is why this cake recipe is also known as "Depression Era" cake because it was popular during the depression and World War 2 when eggs were rationed.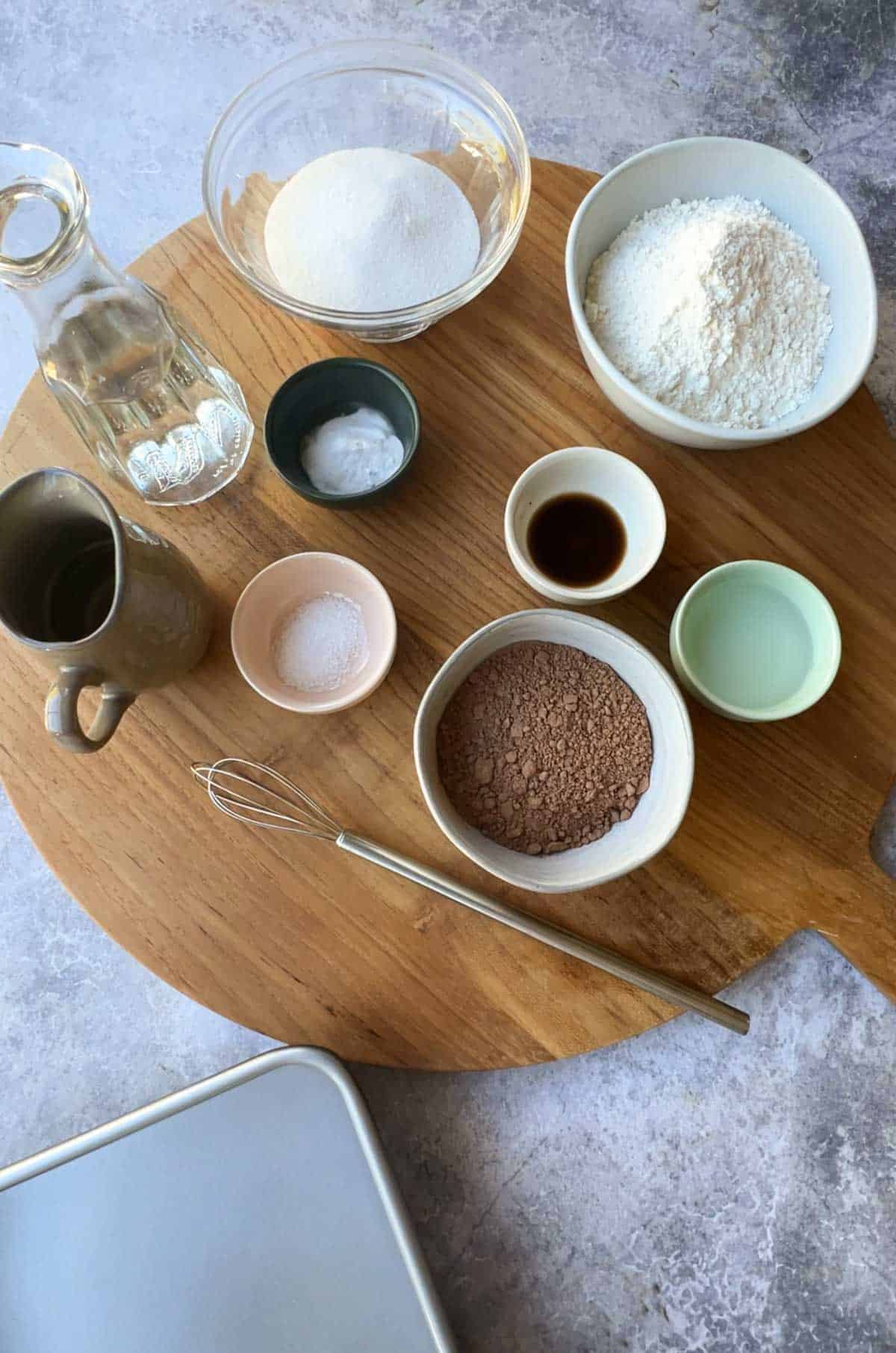 Step#1: Mix the Dry Ingredients
The other thing that is a bit wacky about this cake recipe is the fact that it gets mixed up, right in the pan!
This makes clean up a snap! It also makes me wonder if during the depression and WWII soap might have been rationed? Less dishes, less soap! Either way it sure makes this cake easy to prepare!
Just be sure you spray the pan well with baking spray first. I use a 8"x8" non-stick pan and still spray it for added insurance. You can also use a 9" cake pan too.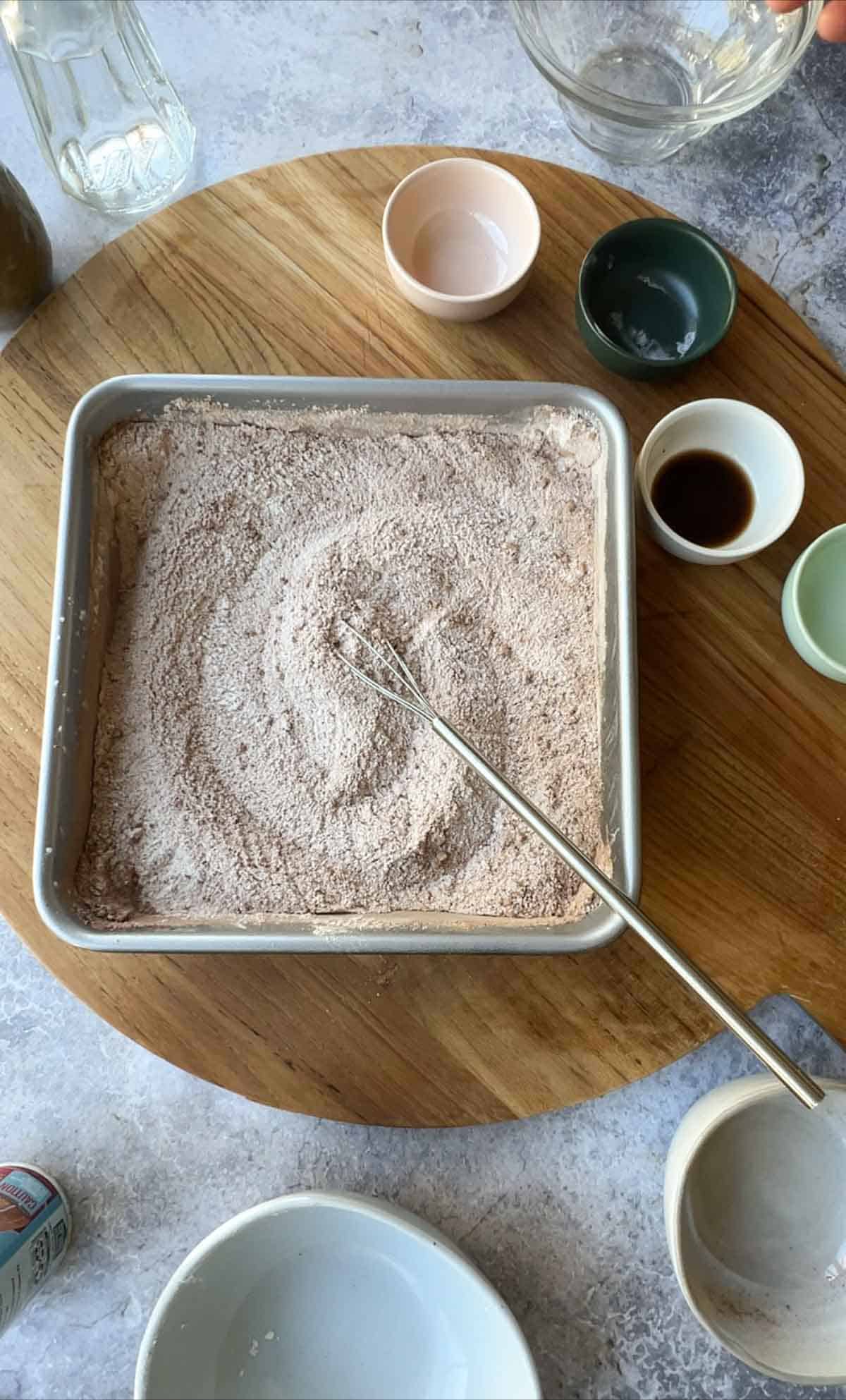 Step#2: Mix the Wet Ingredients
Then you'll add all the wet ingredients EXCEPT the vinegar
You'll notice as you whisk it up the batter is thick and resembles a normal cake batter
Don't worry about cleaning the edges yet, you'll do this right before the cake goes into the oven
Just be sure you mix well, in fact I think it helps to mix the cake batter with a mini whisk, to get into the corners. But apparently Wacky Cake was originally mixed up with just a fork so you could try that too!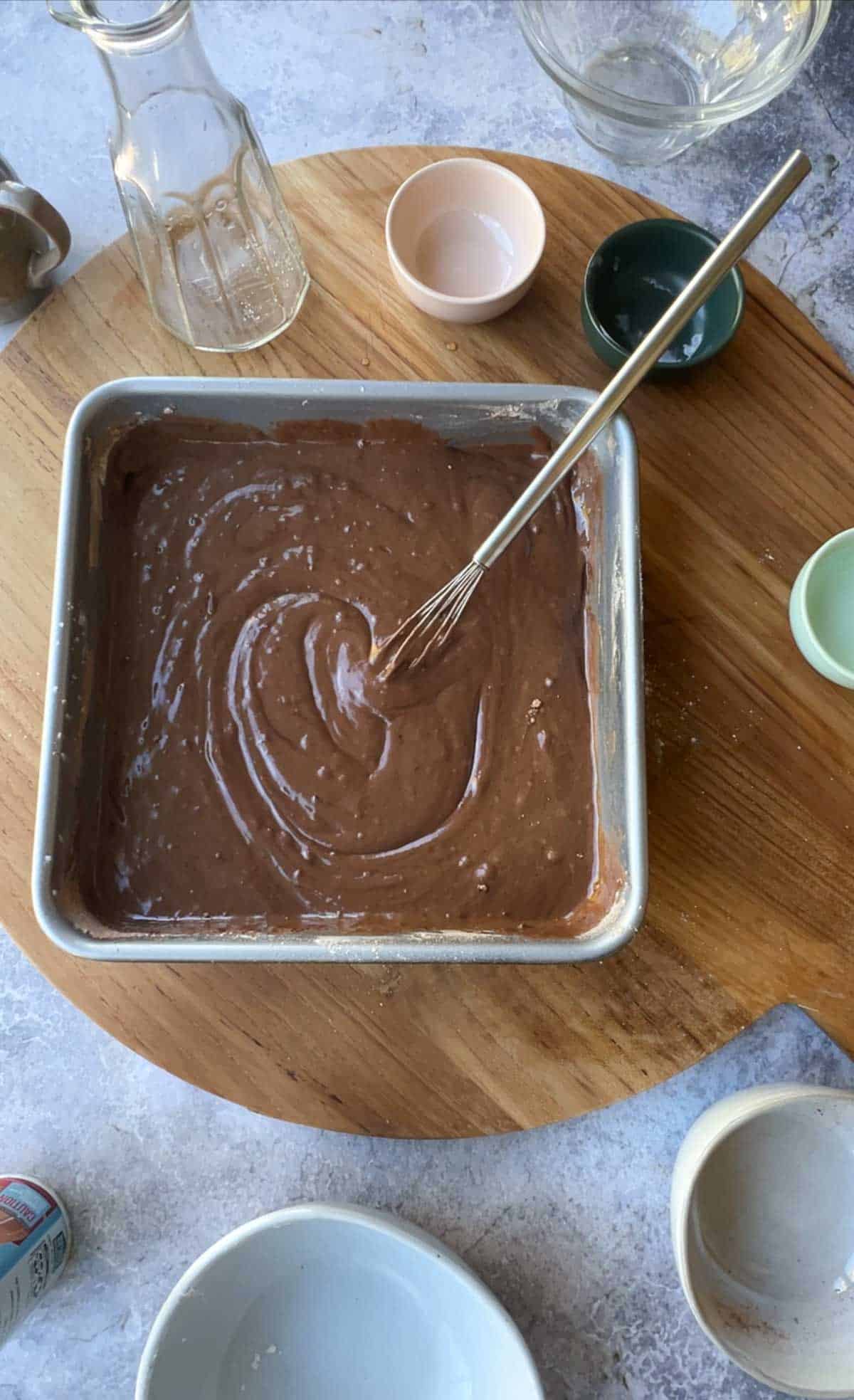 Step#3: Add the Secret Ingredient! (The Vinegar)
This is the fun part! As soon as you add the white vinegar right on top of the batter, you'll see the batter will start to bubble!
This bubbles are created by the vinegar reacting with the baking soda, and in fact it's also the chemical reaction with the cocoa powder that makes the cake slightly red in color after it's baked. It must have been the precursor to red velvet cake, before food coloring was added. But you'll notice Wacky cake has a similar light and airy texture as red velvet cake.
After the vinegar is mixed in the cake, place the cake IMMEDIATELY in a pre-heated oven. After wiping off the edge's of the pan of any excess batter.
Do not delay this step because you want to take advantage of the chemical reaction, while it's still reacting! So place it in the oven right away.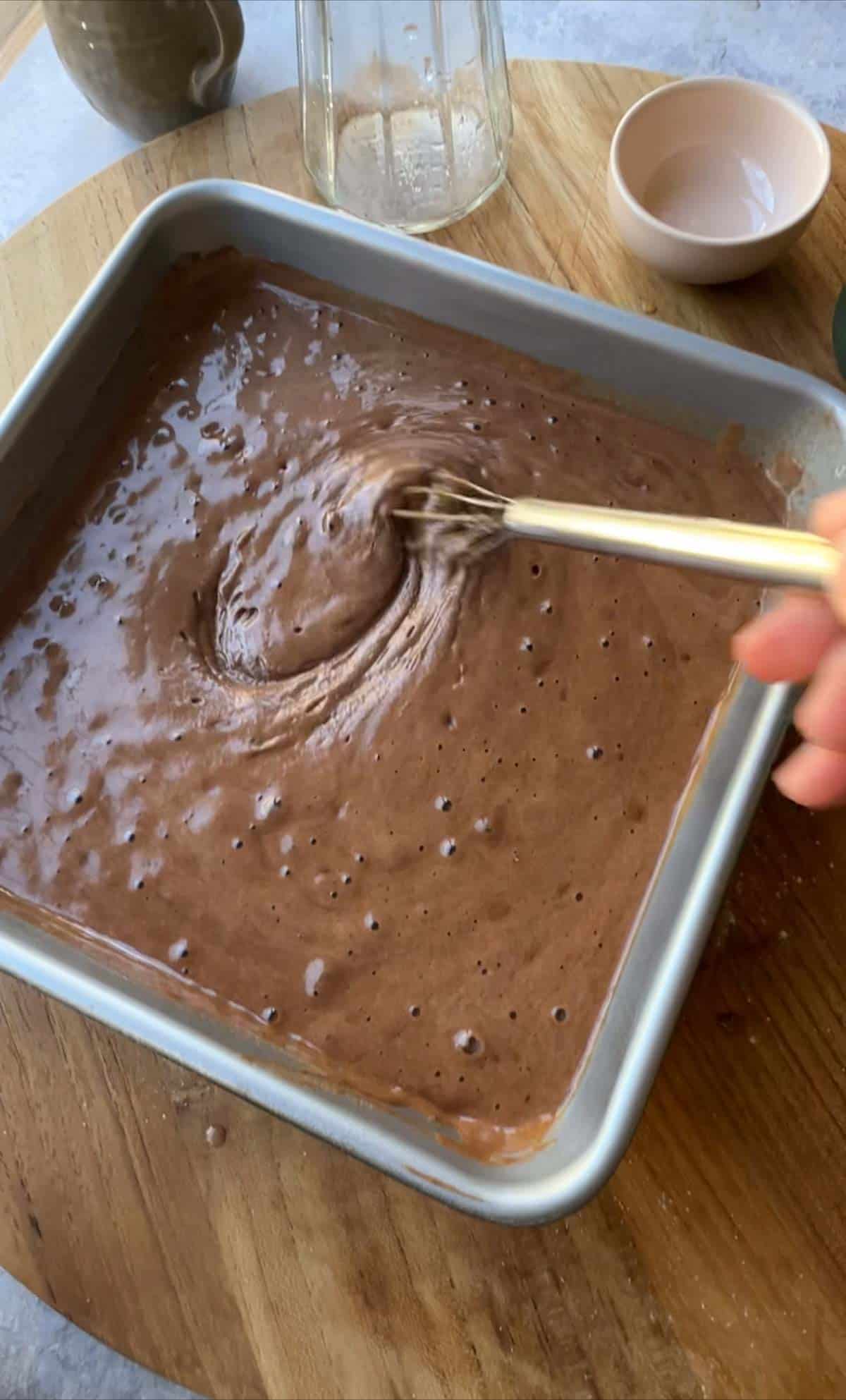 Step#4: Allow the Cake to Cool
The cake is done once its lightly risen and a toothpick comes out clean.
Because this is such a light and fluffy cake, it will be easier to slice once the cake has cooled.
My Dad likes to "gussy up" this simple cake for holidays by dusting each slice with powdered sugar.
Personally, I like this cake unfrosted and served with ice cream and hot fudge sauce, BUT if you wanted a frosting I would highly recommend my vanilla cream cheese frosting. I use on my Banana Cake recipe and the flavor and the silky texture is fantastic!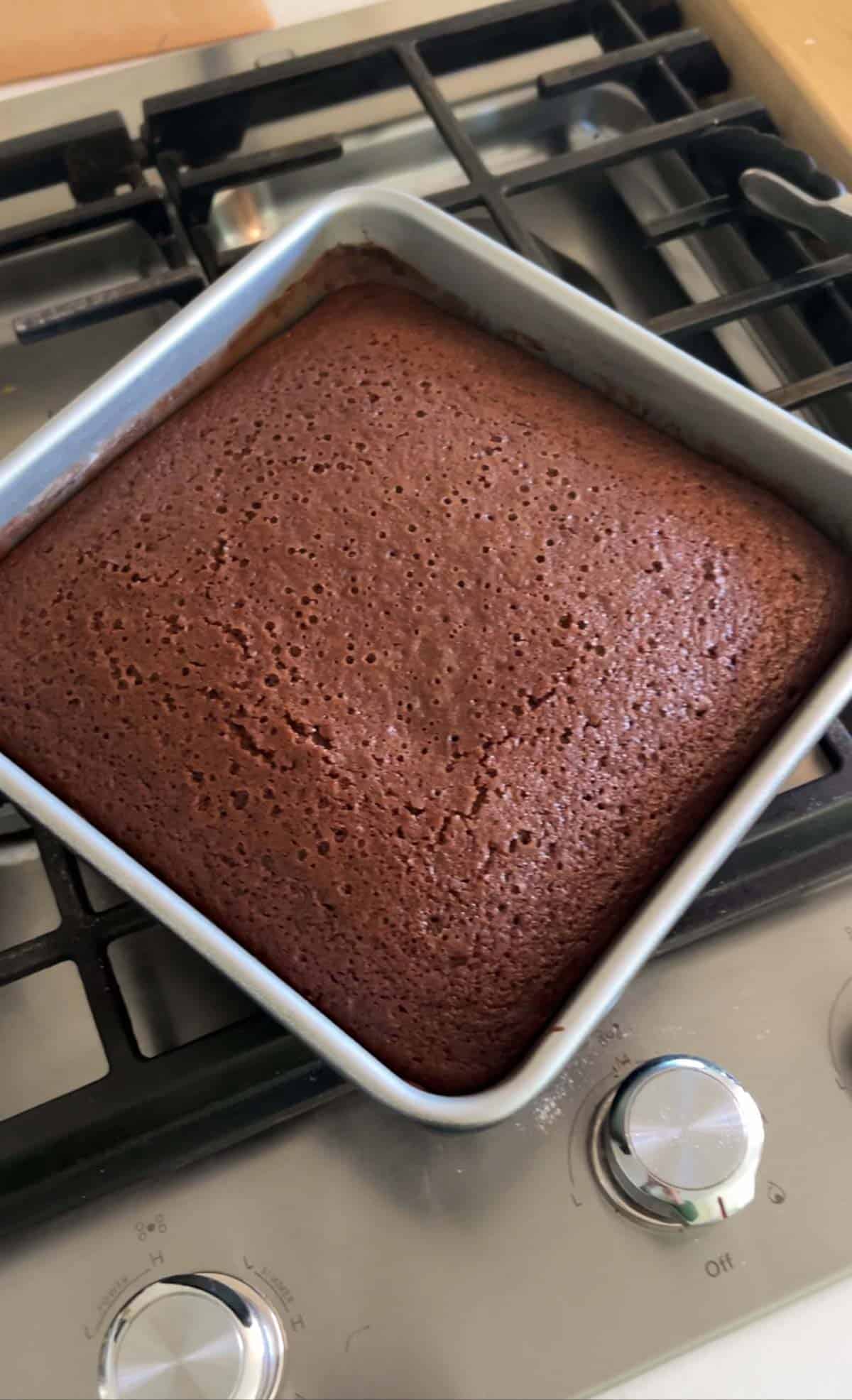 To Serve:
Add a fresh raspberry in the center of the cake, a small sprig of fresh mint, and a scoop of vanilla ice cream, and don't forget a generous dollop of hot fudge sauce! You can also add a few chopped nuts as well. Pecans, almonds, or walnuts would all be great choices.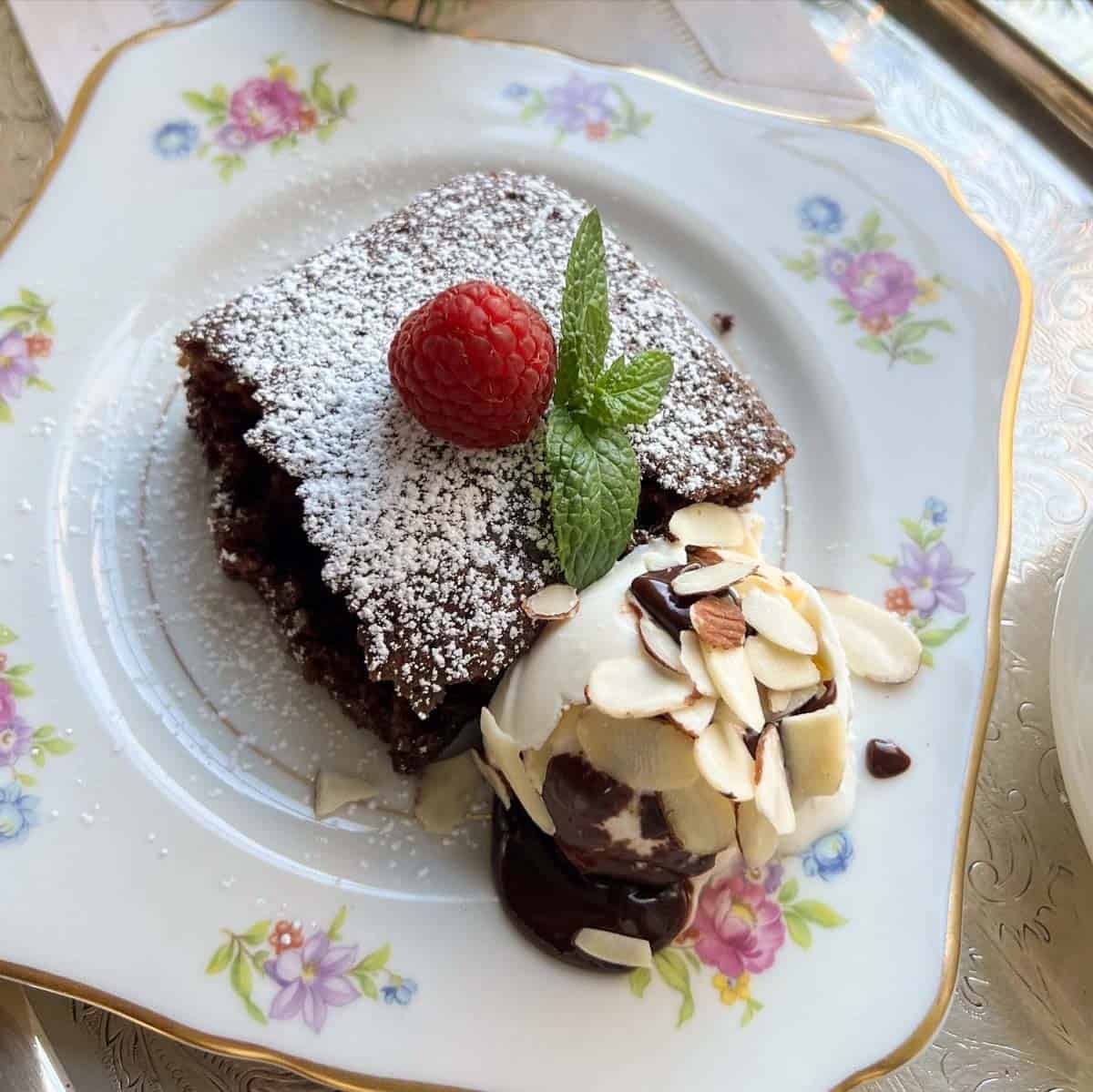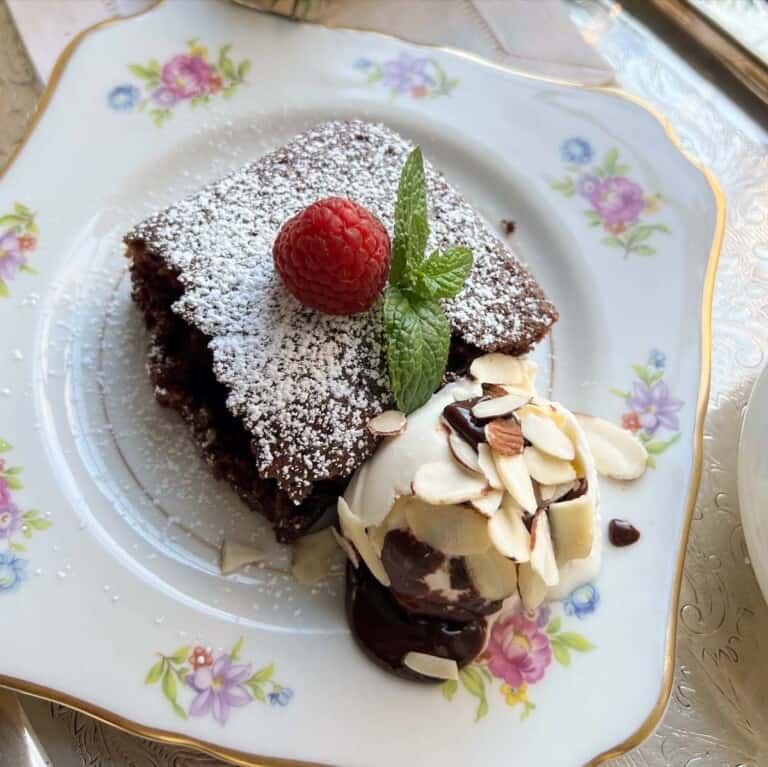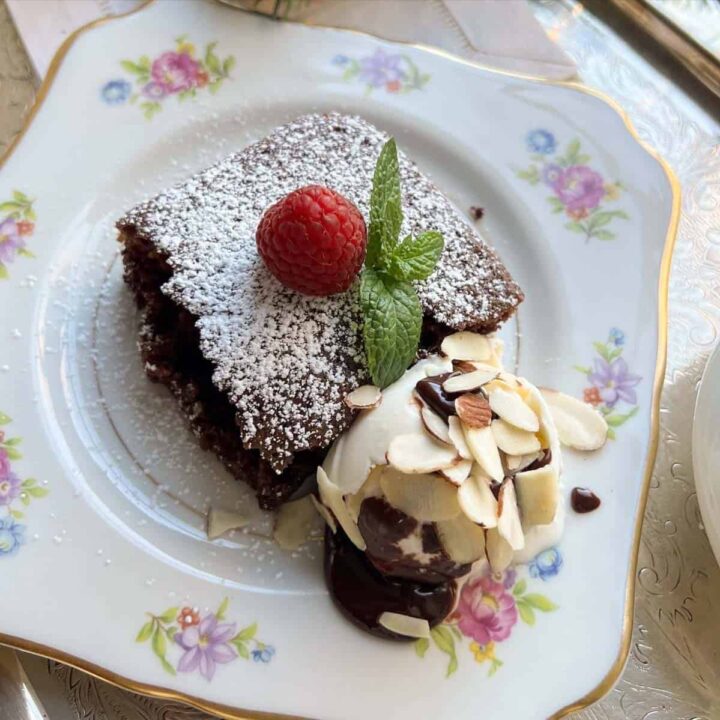 Chocolate Wacky Cake
Chocolate Wacky Cake is a fantastic cake recipe that uses no eggs, butter, or milk! But yet it creates the lightest, fluffiest chocolate cake you'll ever eat. The fact that it works is seriously wacky!
Ingredients
1 cup (200g) sugar
1 ½ cups (180g) flour
½ cup (50g) unsweetened cocoa powder
1 teaspoon (5ml) baking soda
½ teaspoon (2.5ml) salt
2 teaspoons (10ml) vanilla extract
½ cup (125ml) vegetable oil (or melted coconut oil)
1 ¼ cup (295ml) cold water
2 Tablespoons (30ml) white vinegar
Powdered sugar, raspberries, mint leaves, sliced raw almonds, ice cream, and hot fudge sauce for garnishing
Instructions
Pre-heat oven to 375F
Spray a 8x8-inch non-stick pan with baking spray (or a 9-inch cake pan).
Place all the dry ingredients in the pan, and whisk to combine. Then add all the wet ingredients, EXCEPT the vinegar. Whisk to combine. THEN add the vinegar and watch it bubble and foam, whisk quickly to combine, wipe down the edges of the pan with a paper towel, and place in the oven for 20 minutes or until a toothpick comes out clean.
Allow to cool. Then slice into squares, and top with powdered sugar, one raspberry, and a sprig of mint leaves. Serve with vanilla ice cream, hot fudge, and nuts. Enjoy!
Notes
This cake is easiest without frosting and personally if you serve it with ice cream and hot fudge you really don't need it.
But if you wanted to add a frosting I would use the vanilla cream cheese frosting I use in my Easy Banana Cake Recipe. That would be delicious with the chocolate cake underneath.
Nutrition Information:
Yield:

9
Serving Size:

1
Amount Per Serving:
Calories:

124
Total Fat:

3g
Saturated Fat:

1g
Trans Fat:

0g
Unsaturated Fat:

1g
Cholesterol:

6mg
Sodium:

30mg
Carbohydrates:

24g
Fiber:

0g
Sugar:

22g
Protein:

1g