Try my Savory Breakfast Board for a fun and interactive way to serve breakfast to Mom this year on Mother's Day! You can prep most of the items in advance and then at the last minute just before serving, scramble the eggs!
It's fun to see all the unique combinations your family will come up with pairing these ingredients to their liking. Some of our favorite combinations are below!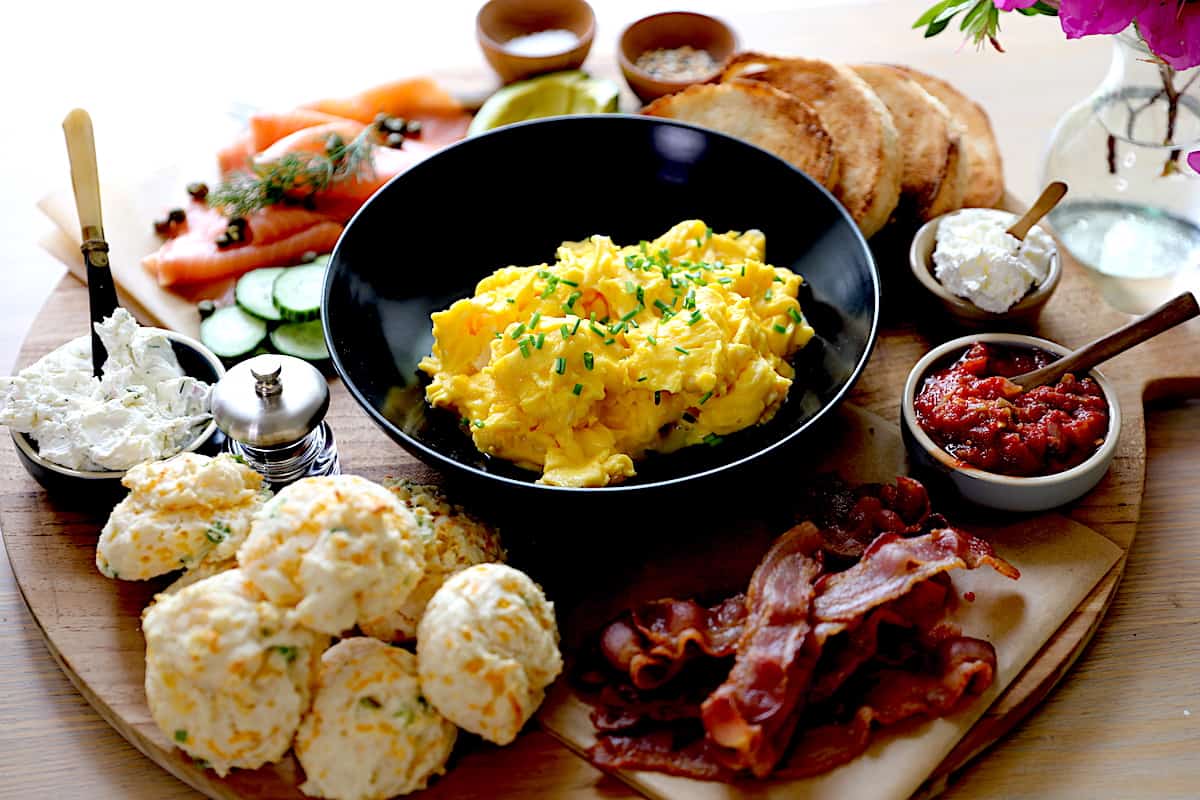 Watch my Video Demo Below for Tips on Assembling the Board!
Make an Egg Sandwich
The light and flakey drop biscuits can be split in two and loaded with eggs and salsa for a tasty breakfast sandwich. The combination of the cheese, green onions, eggs, and salsa is just divine!
The biscuits are so easy to make because there is no rolling of dough, they can be scooped out with an ice cream scooper and baked! For traditional biscuits which would also be fantastic with this board, try my Buttermilk Biscuit Recipe.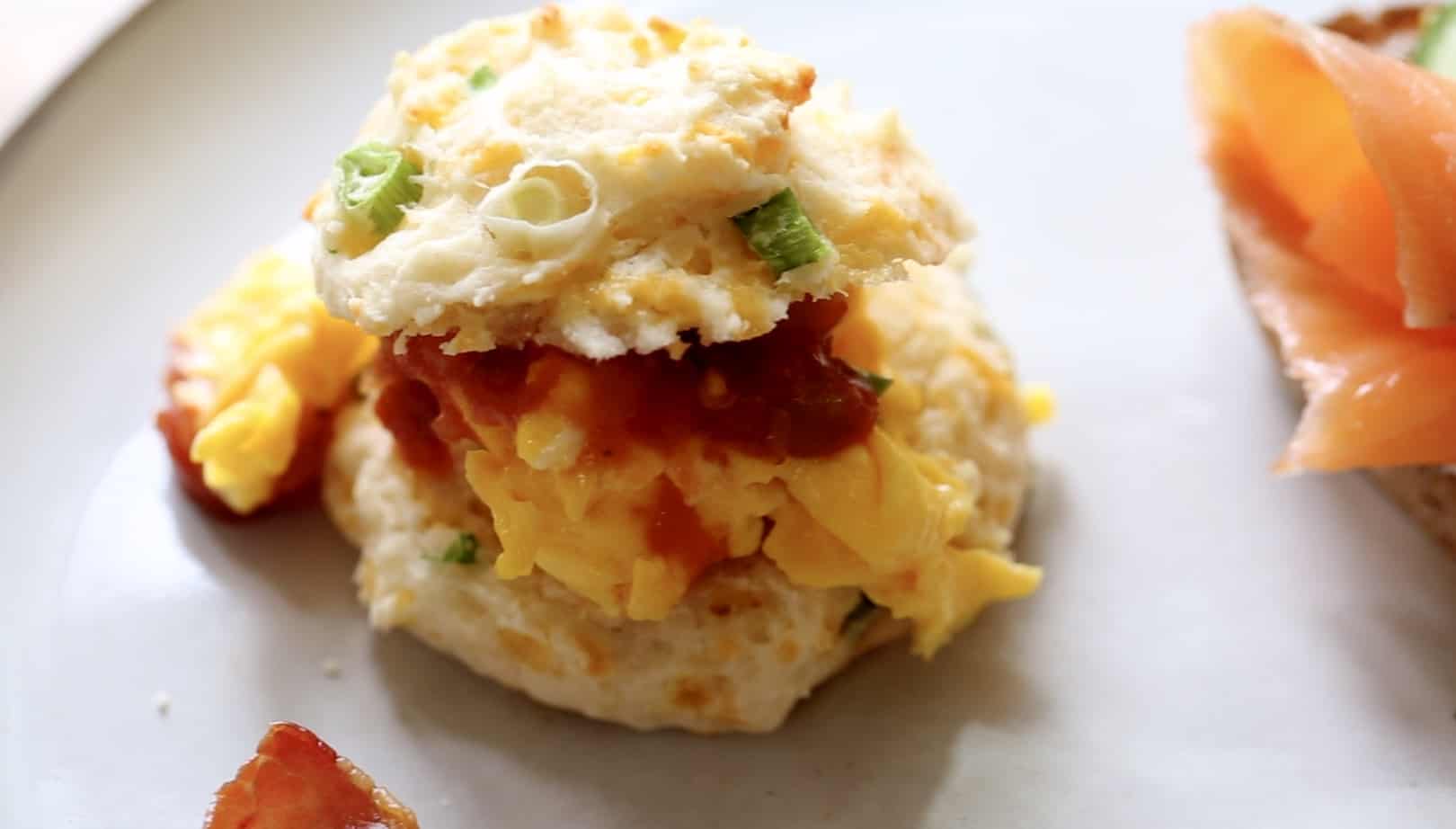 Multi-Purpose Toast
I also like to serve a selection of toast that can be paired with the eggs, the smoked salmon, and used to create avocado toast!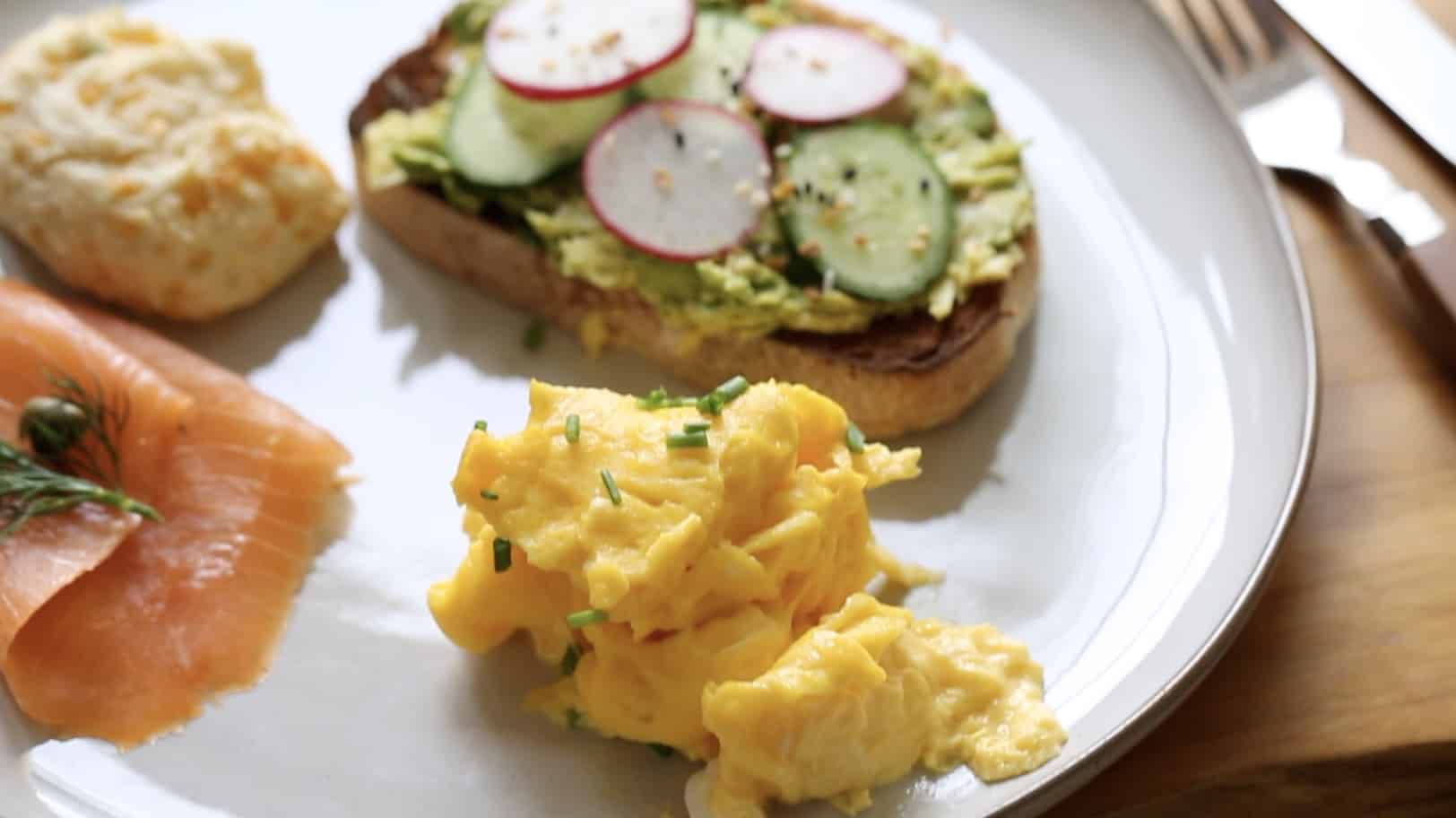 Add Butter and Jam
You can also include some whipped butter (easier to spread) and jam for those who want to eat the toast as traditional toast.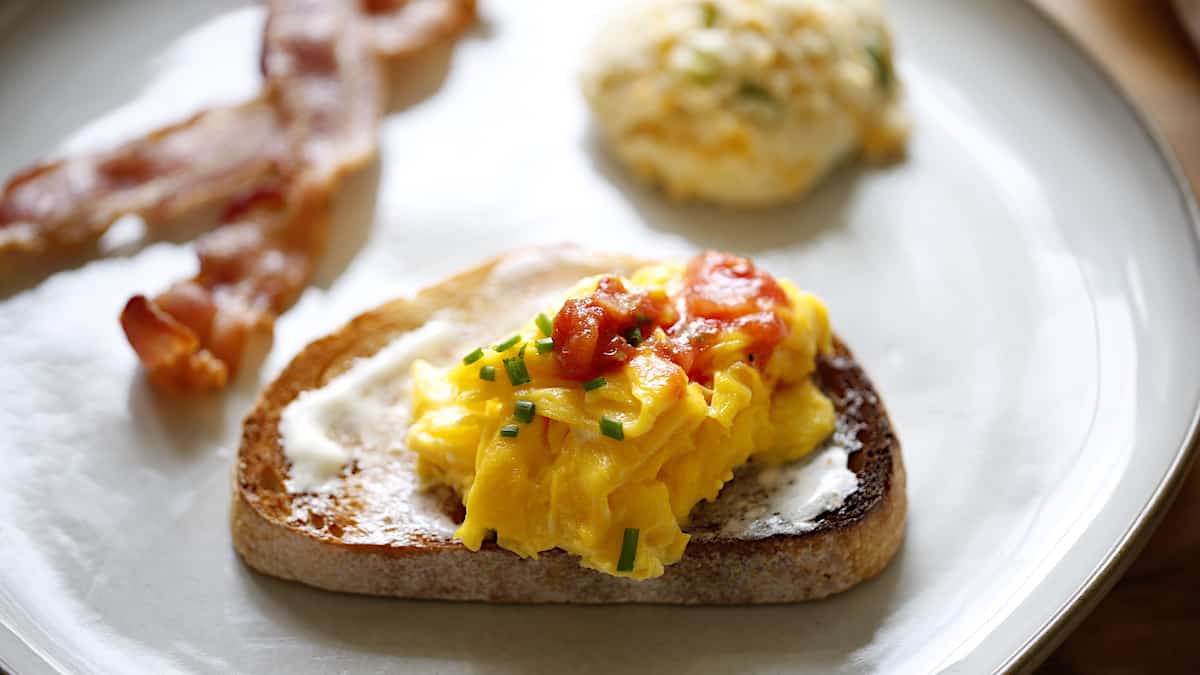 Assembling the Board:
Select a large round board. I think they are a bit "friendlier" since guests can access the ingredients a bit easier. You can also use a board that also functions as a lazy-Susan. I like the eggs to be in the center, so you can place your bowl in to see how much more room you have to lay out ingredients around it.
I use folded parchment paper sheets for placing the salmon and the bacon which can both be a bit oily. The parchment paper sheets will protect your board from staining.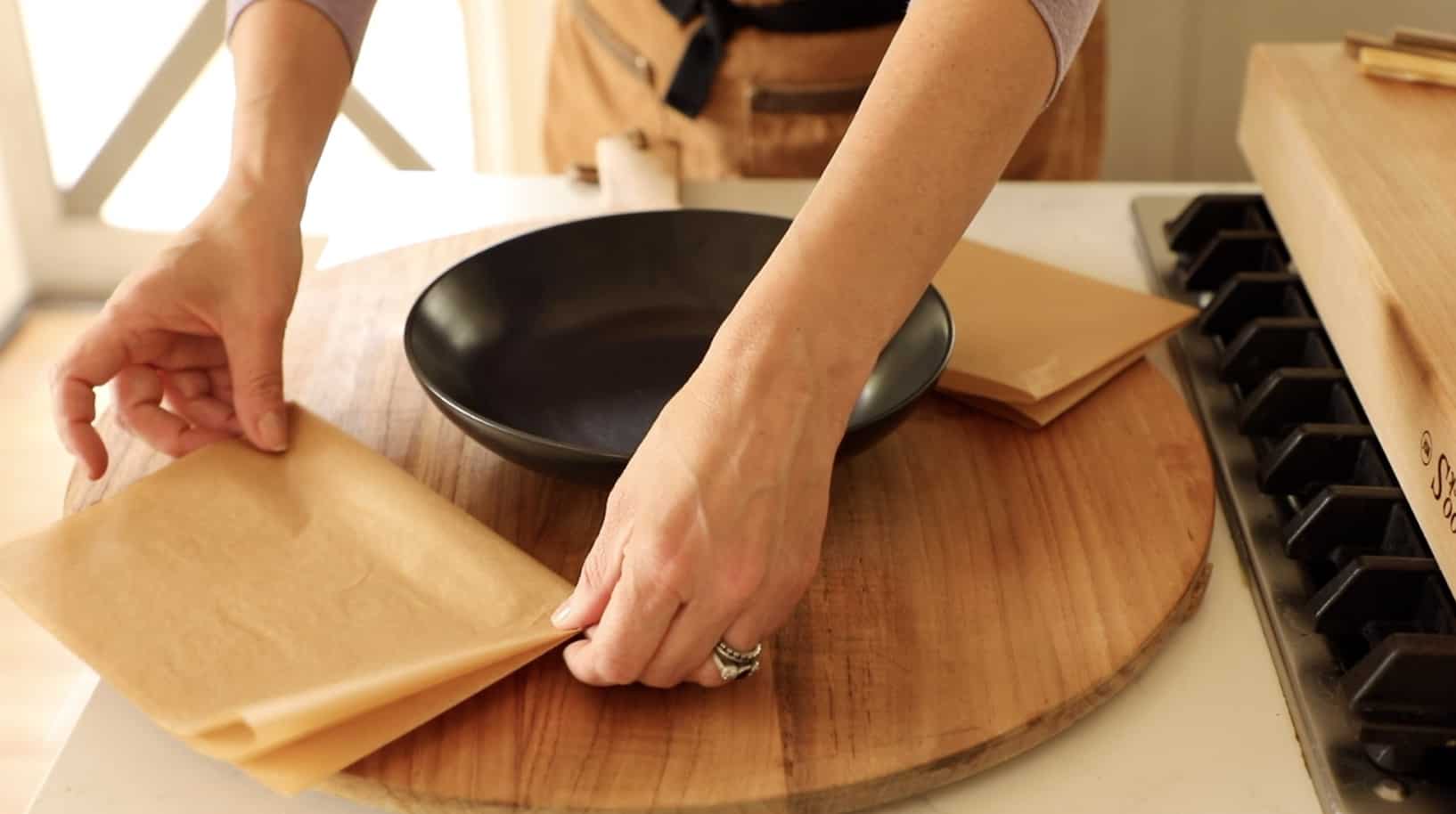 Fold the Salmon:
To make the salmon more decorative, peel off each slice from the package and gently fold it back and forth decoratively. It will look prettier that way. Add some capers and fresh dill on top.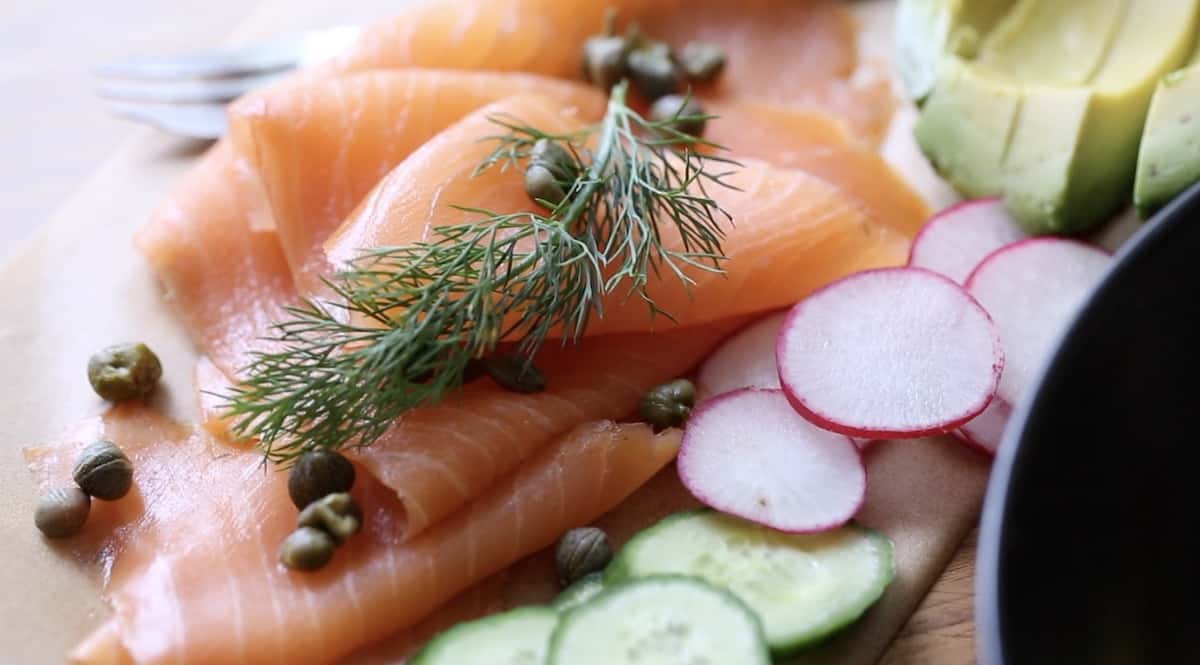 Slice the Bread:
I like to use a rustic loaf for the toast since the texture and presentation will be better than sandwich bread. Slice the bread and then place it on a sheet pan under the broiler.

Use the Broiler for Toasting
Keep an eye on the toast as it can burn quickly! I usually do 3 minutes turning halfway through. You can toast both sides, or leave only one side toasted for "softer toast".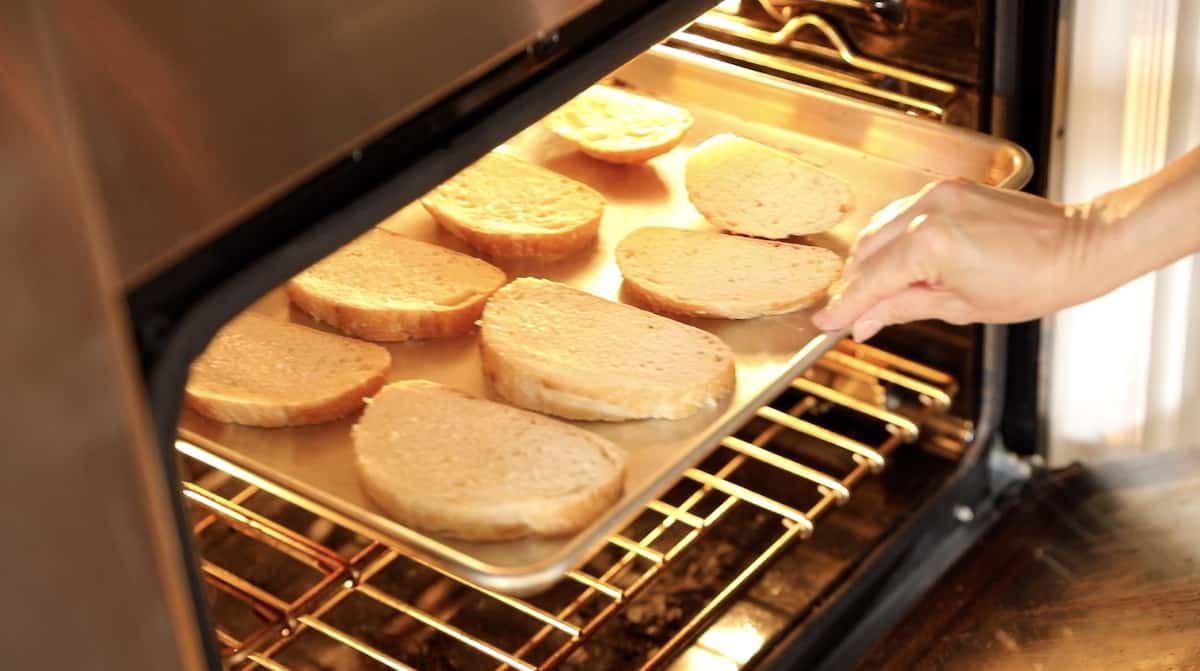 Pre-Assemble and Serve
It's best to get all the room temperature items displayed on the board first. That way the only thing you need to do once the eggs are done, place them on the bowl. This will assure you guests enjoy hot eggs.
Ideally, it's best to assemble your board on the table you plan to serve it on, that way you won't have to move it once everything is already on it! (Like I'm trying to do here!)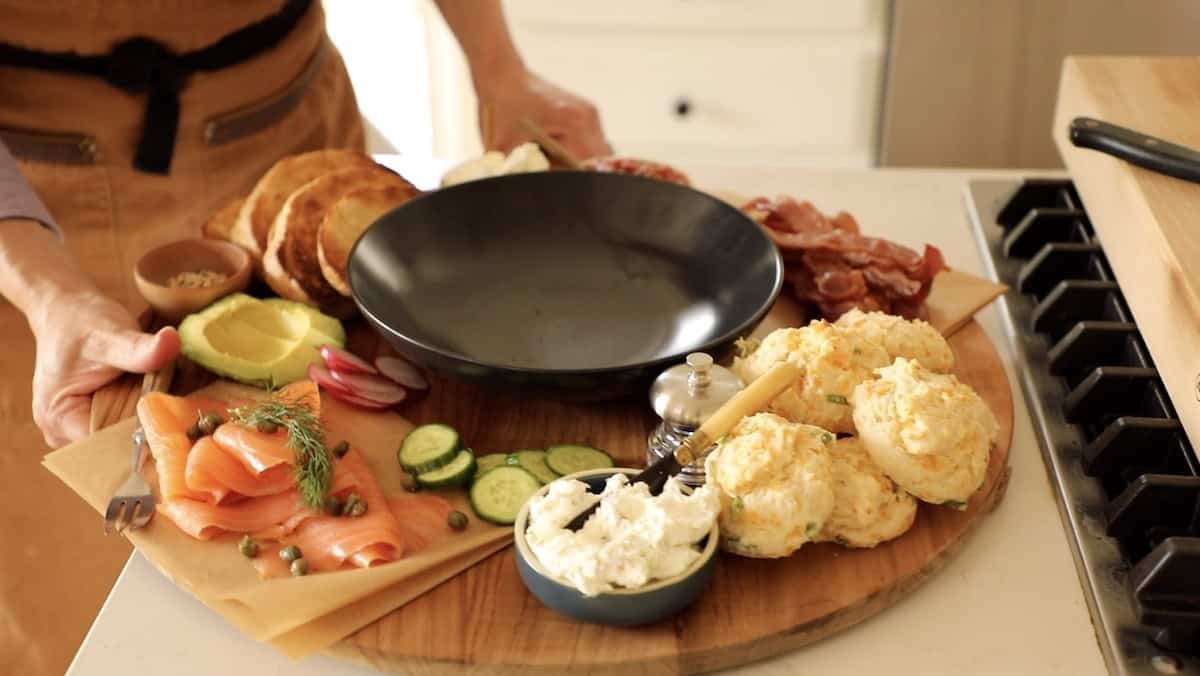 Garnish the eggs with chives and enjoy! To add some sweet items to your board, try adding my Strawberry Lemon Muffins, or my Blueberry Lemon Scones. Both would be delicious additions!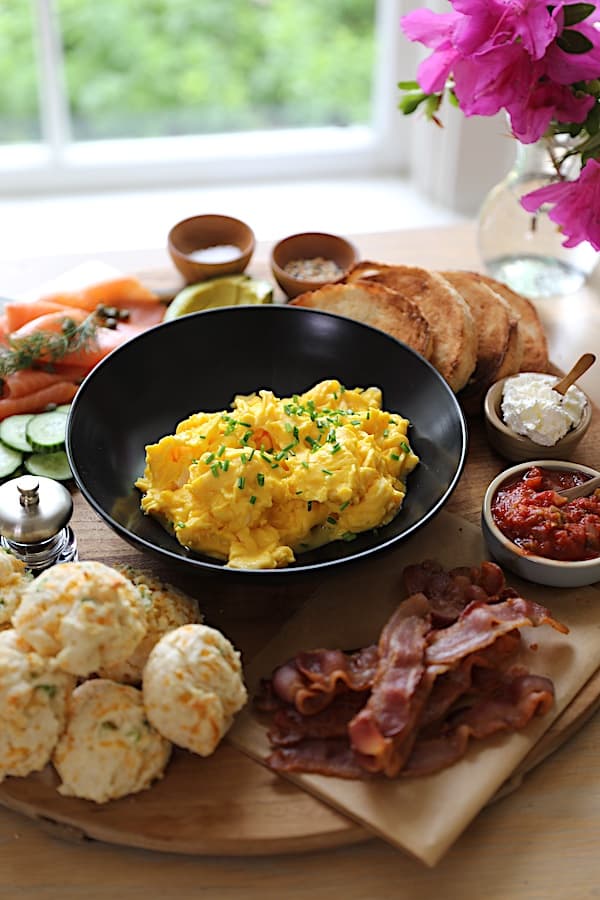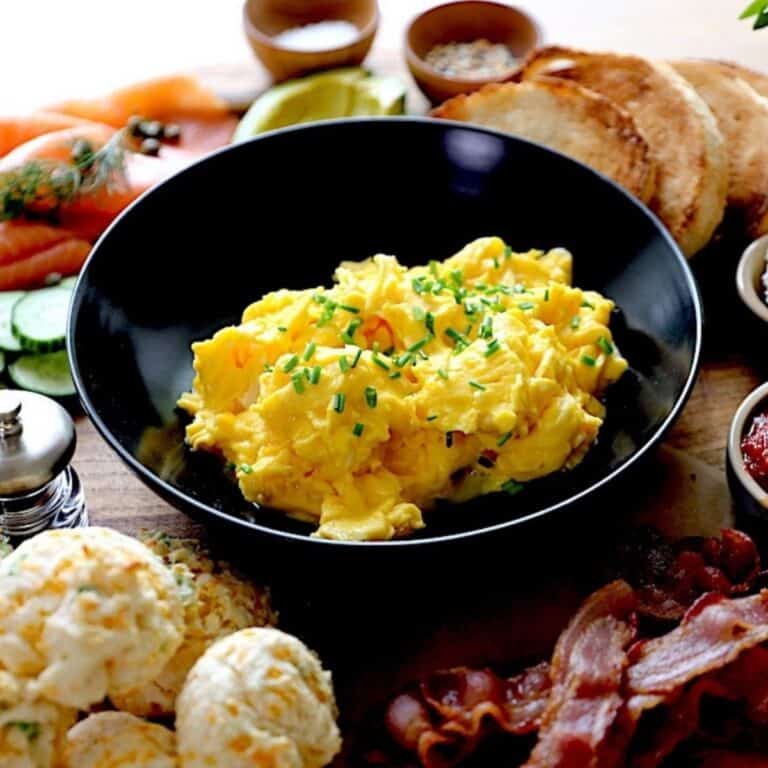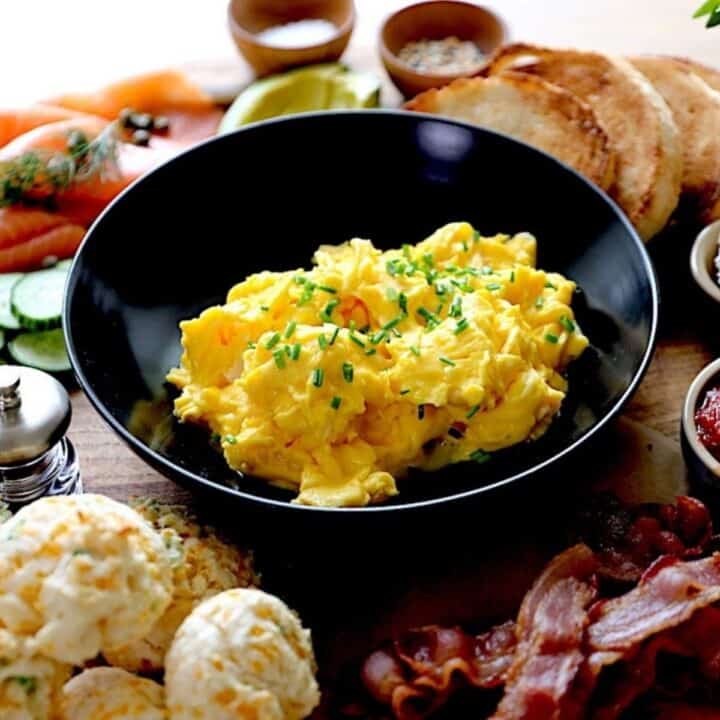 Easy Breakfast Board
Prep Time:
2 hours
2 seconds
Total Time:
2 hours
40 minutes
2 seconds
A fun and delicious way to serve breakfast! Lay out a series of breakfast foods and let your friends and family come up with their own combinations!
Ingredients
For the Biscuits:
2 cups (240g) of flour
1 tablespoon (15 ml) Baking Powder
1 teaspoon (5 ml) salt
4 tablespoon (60g) unsalted butter, cold and diced into cubes
⅔ cup (100g) cheddar cheese, shredded
½ cup (120ml) green onions (scallions) white and green parts
1 cup (240 ml) whole milk
For the Cream Cheese Spread:
1 cup (240g) of Whipped Cream Cheese
2 tablespoon (30 ml) diced shallots
½ teaspoon (2.5ml) lemon zest
1 teaspoon (5ml) lemon juice
1 tablespoon (15ml) fresh dill, minced
freshly cracked pepper to taste
For the Eggs:
9 eggs
1 tablespoon (15ml) heavy cream
1 tablespoon (15 ml) butter
1 tablespoon (15 ml) freshly minced chives
Store-Bought Items:
2 Avocados, ripe
1 cucumber
5-6 radish sliced
Everything Bagel Seasoning, or Chile Lime Seasoning (for the Avocado Toast)
6 oz Smoked Salmon
Capers
Fresh Dill
1 small sourdough loaf, sliced
10 slices bacon
1 cup (240 ml) salsa
Instructions
To prepare the biscuits and bacon. Preheat oven to 425F (215C)
Whisk together the flour, baking powder, and salt. Then add the butter
Work the butter into the flour with your hands until a coarse meal forms.
Then whisk in the cheese and scallions.
Add the milk, stir to combine.
Line a baking sheet with parchment paper.
Scoop out 12-14 biscuits with a 2-inch ice cream scooper. Set aside.
Place the bacon on a baking sheet lined with foil and fitted with a rack.
Place the biscuits on the middle rack of your oven. Place the bacon on the lower rack.
Bake the biscuits for 15-17 minutes until golden brown.
Remove the biscuits, and then move the bacon to the middle rack. Continue baking bacon until it reaches the desired amount of cripiness. 5-7 minutes more.
Prepare the cream cheese spread, bu=y combining everything in a bowl and mixing it with a spatula. Keep refrigerated until ready to serve.
Remove the bacon. Then place the sliced bread under the broiler for 2-3 minutes to toast.
At this stage. Assemble the board with all the fixings. Leaving room in the center for a bowl of scrambled eggs.
For the eggs, melt the butter in an 8-inch non-stick pan on medium-low heat.
Whisk the eggs with heavy cream.
Once the butter is sizzling. Add the eggs. Allow them to set before moving them.
Then gently pull away from the cooked sides with a spatula, allowing the uncooked egg to run around over the hot pan. Continue the gentle motion of pulling and pushing with the spatula to create large egg curds. (Video above will show you the exact technique).
Continue the process until all the eggs are cooked.
Transfer eggs to a bowl and garnish with chives and serve immediately.
Notes
The cream cheese spread can be made a day ahead and covered and refrigerated.