These easy Cheddar Cheese Biscuits are soft and cheesy, and flavored with the freshness of the green onion, and the kick of a little cayenne pepper.
I love to serve them with my Creamy Corn Soup, but really they would be great with any soup recipes! Or split them open and fill with turkey, ham or chicken and serve them as little sandwiches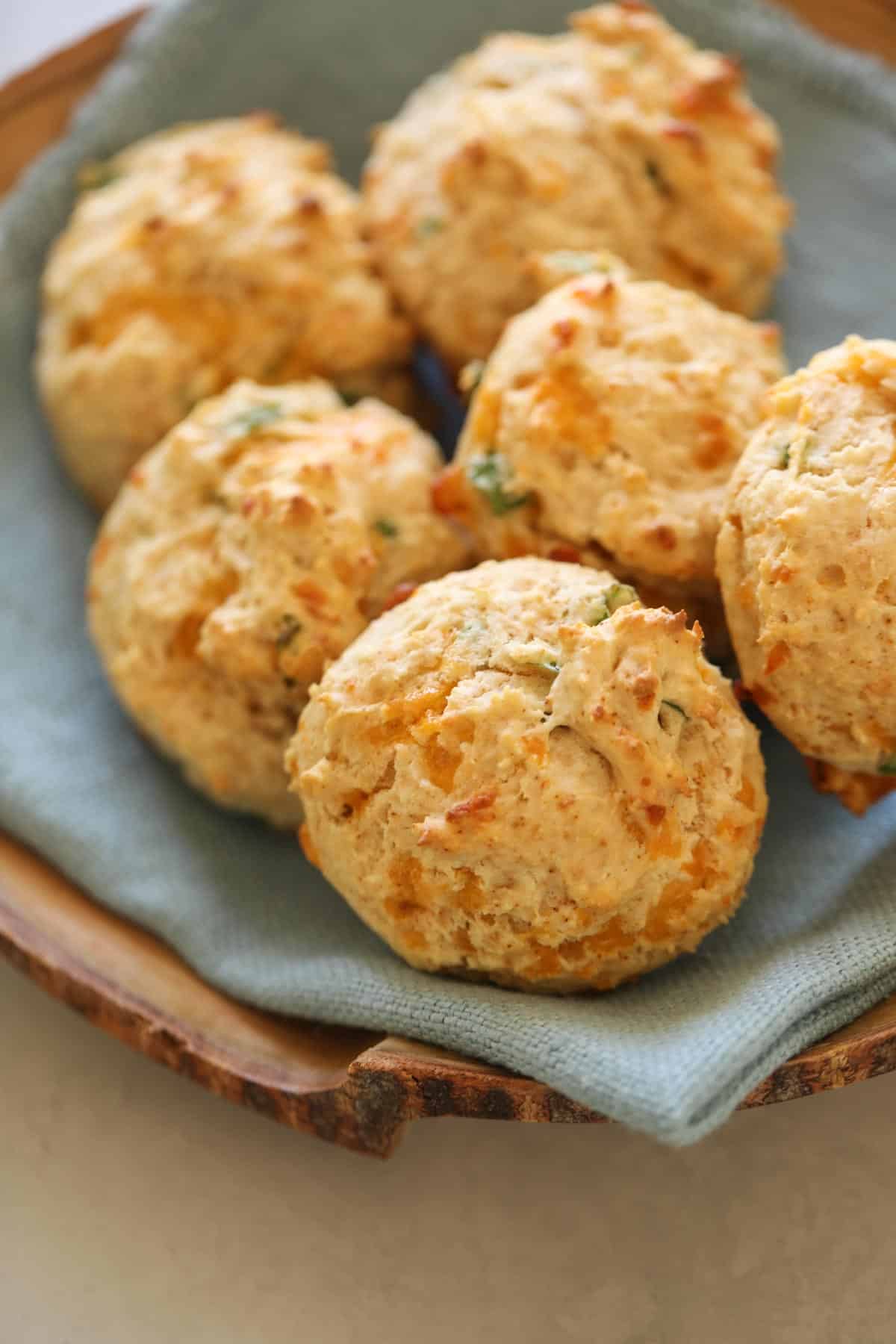 Nothing as Easy as a Drop Biscuit
You'll love how easy these biscuits come together! There's no rolling or cutting out biscuits on a messy floured board.
All you do is whisk the dry ingredients, work the butter in with your hands, add the fresh ingredients and milk and stir!
Then all you have to do is scoop them out with an ice cream scooper and bake!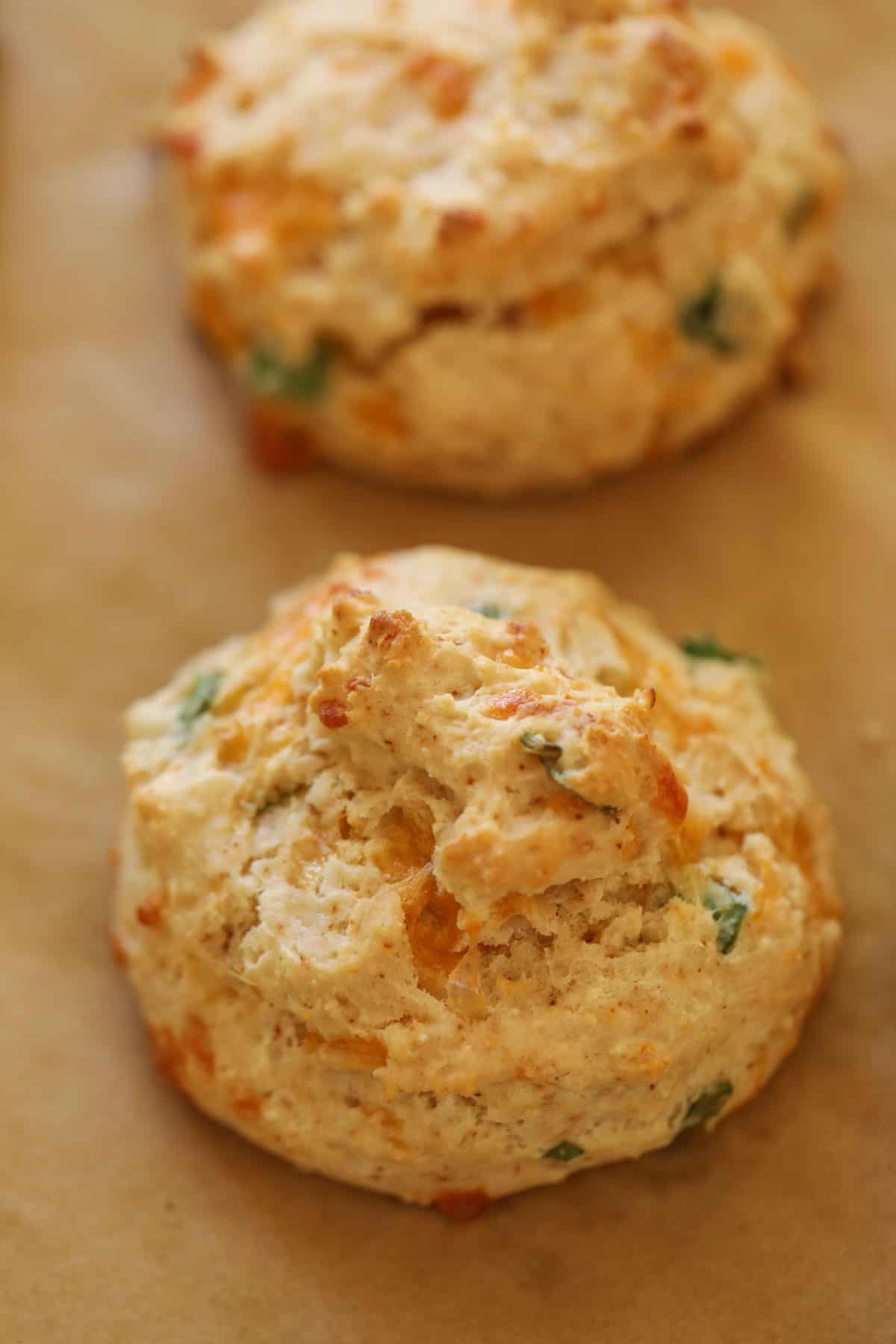 Watch My Video Demo of This Recipe Below
The Texture:
The texture is light and fluffy, and you'll love the freshness or the green onions. You could also leave out the cayenne pepper and add diced Jalapeno peppers too. They also make a great brunch bread too when served alongside my Puffy Egg Bake Casserole Recipe.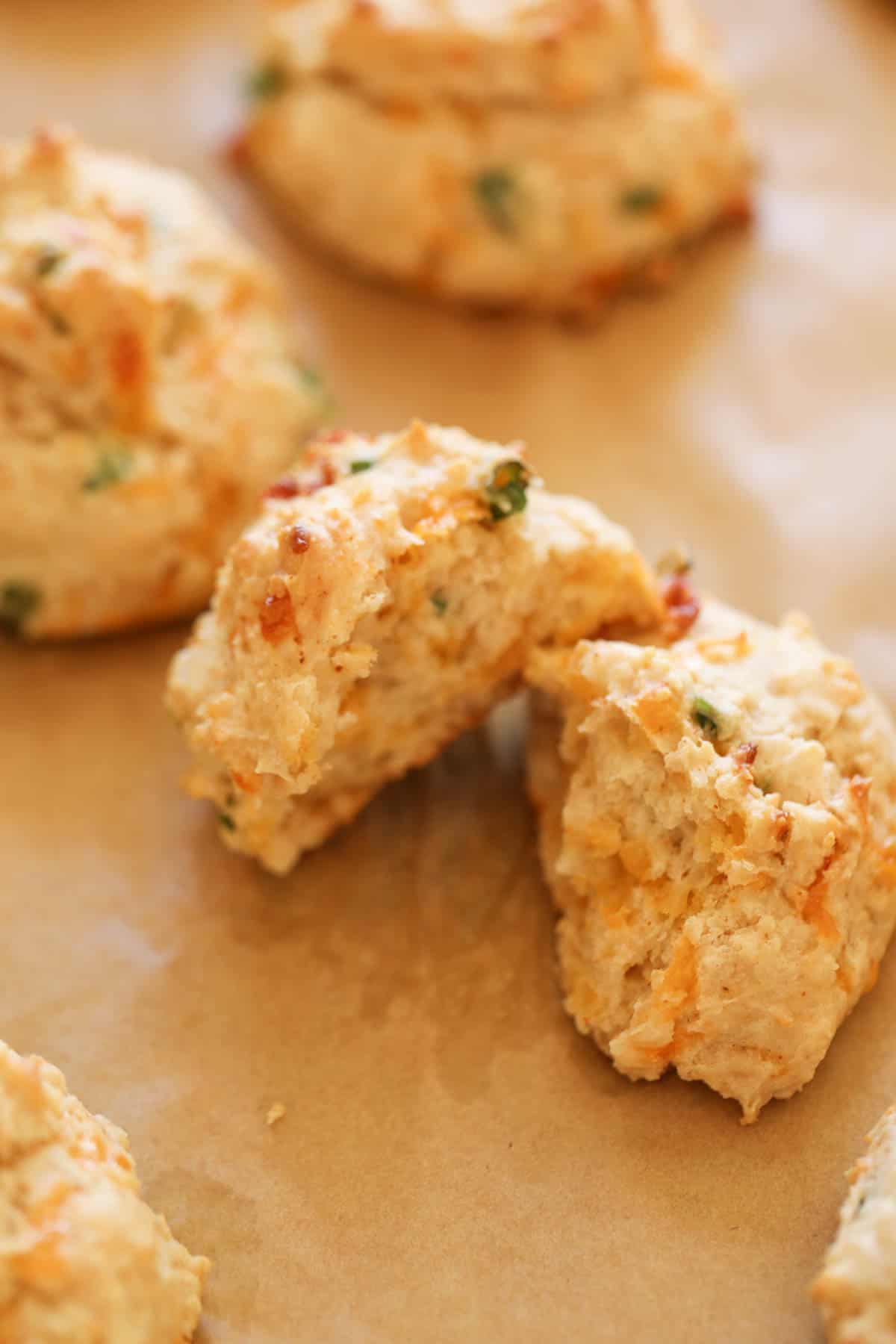 Serving Suggestions:
I love to serve these biscuits with my corn soup recipe, but they are also great with my Tortilla Soup recipe, Creamy Broccoli Soup, or Potato and leek soup too!
If you have any leftover, you can allow them to cool, and pop them in a ziploc bag and freeze.
Then to reheat either microwave them in :30 increments, wrapped in a paper towel, or pop in your air fryer at 300F.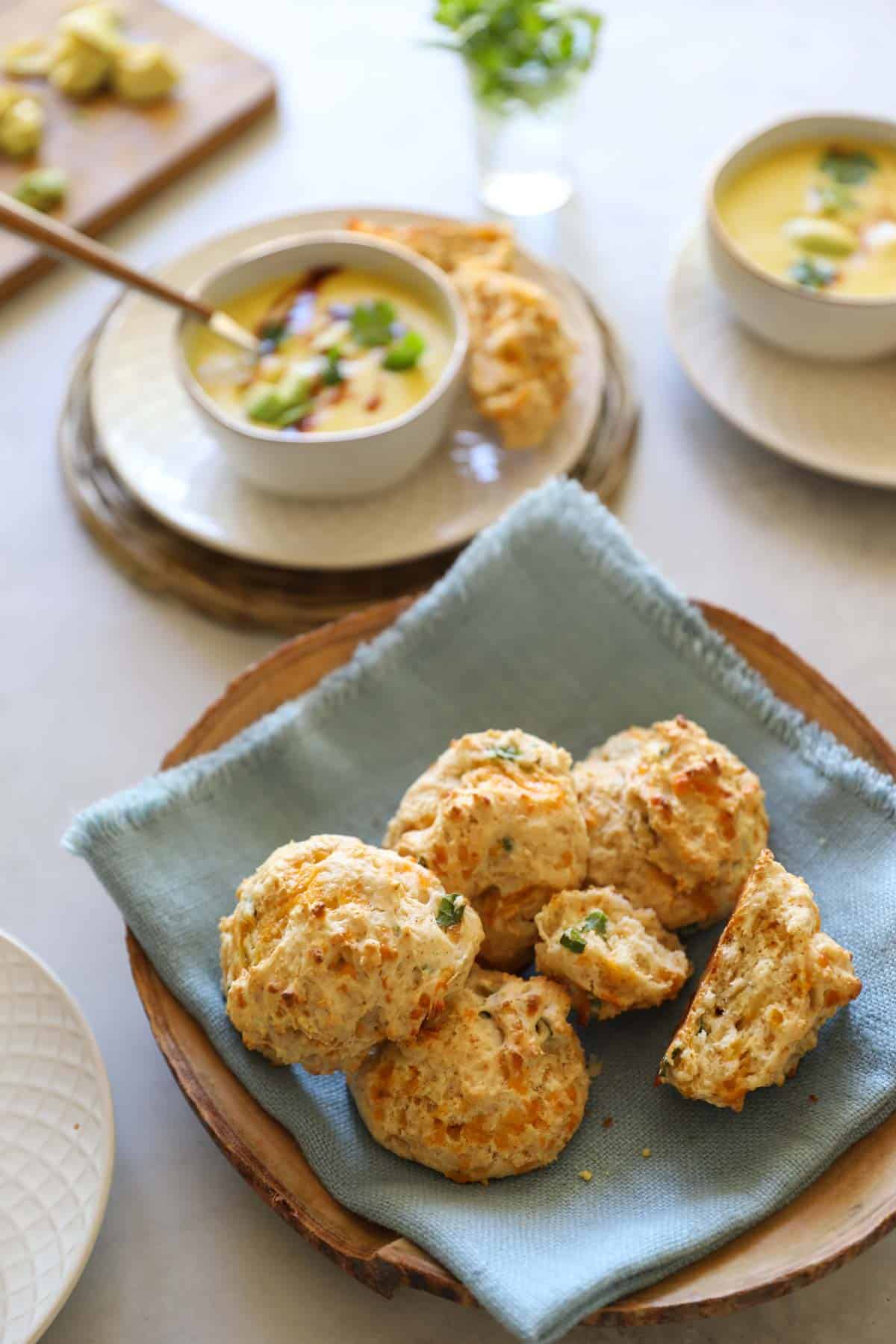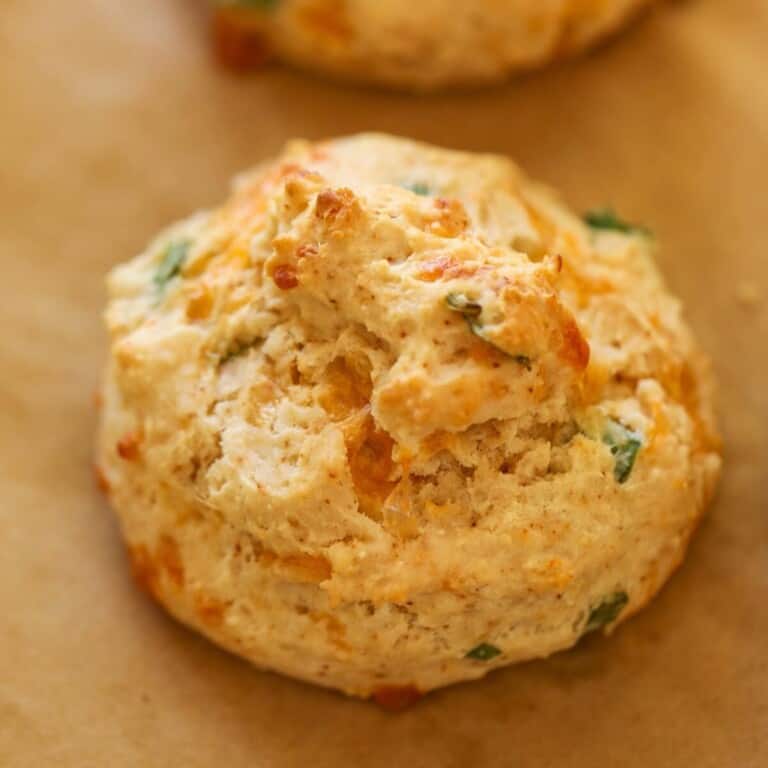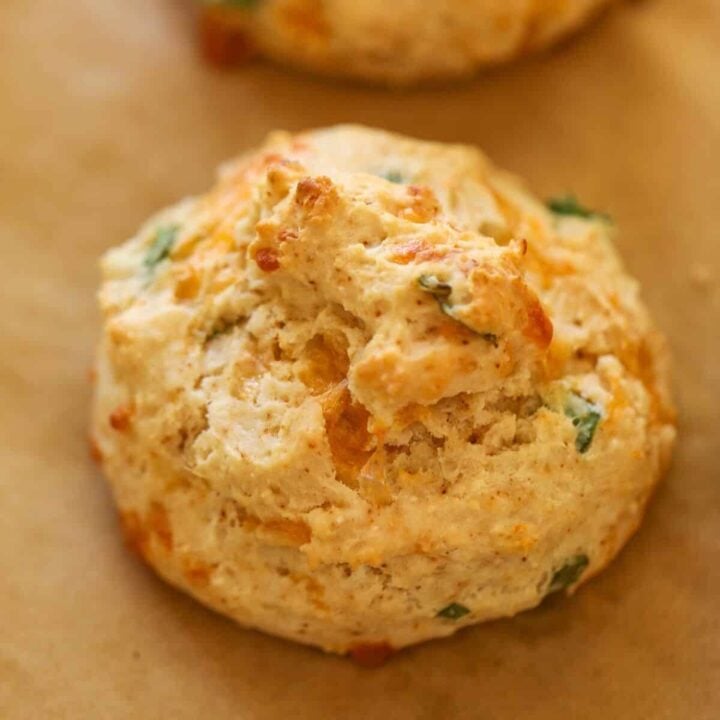 Cheddar Cheese Biscuits
These cheddar cheese biscuits are the perfect match for your favorite soup recipe! Light and flakey with just a little cheesy kick!
Ingredients
2 cups (240 g) flour
1 tablespoon (15 ml) baking powder
¾ teaspoon (4 grams) salt
1 teaspoon (5 ml) smoked paprika or ⅛ teaspoon cayenne pepper
4 tablespoons (60 g) butter, cubed
¾ cup (62g) grated Cheddar Cheese
½ cup (52g) green onions (white parts and green parts)
1 cup (240ml) of milk
Instructions
Preheat oven to 400F (200C).
Line a baking sheet with a baking mat or parchment paper.
In a large bowl whisk together the flour, baking powder, salt, and smoked paprika or cayenne pepper. Then add the butter and work it in between your fingers smushing it in between the flour until a coarse meal forms.
Then add the cheese and the green onions. Whisk to combine.
Then add the milk and stir with a spatula or a Danish dough whisk.
Use an ice cream scooper to spoon out 8-drop biscuits. Top each one with freshly cracked pepper.
Bake for 25 mins.