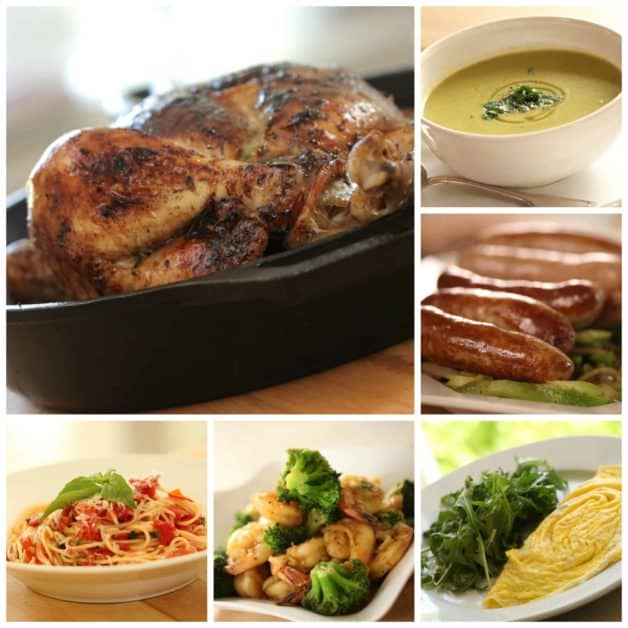 Hi guys! What's for Dinner this week? Today's Weekly Meal Plan incorporates something for the whole family. Roast chicken, pasta and eggs oh my! And of course, a bonus recipe for Saturday morning, because we all need to indulge once we "make it" to Saturday!
For a sneak peak at what's on this week's menu you can watch the teaser video below. Gather the family around and let them see what's coming!

Keep me posted on how it goes and feel free to leave tips or hints you feel might help others. I'm excited to kick off this "supper club" with all of you!
Let's make it a great week! xx Beth
OK here's what's on tap for this week....
SUNDAY: Roast Chicken in a Skillet with Caramelized Root Vegetables
Easiest, best roast chicken recipe ever! Also makes enough for the lunch box the next day!
PRINT ROAST CHICKEN RECIPE HERE
MEATLESS MONDAY: Creamy (Vegan!) Broccoli Soup
Creamy and rich, without the use of cream! Thanks to my secret ingredient...
PRINT BROCCOLI SOUP RECIPE HERE
TUESDAY: Sausage and Peppers
A budget-friendly dinner idea that takes hardly any prep!
PRINT SAUSAGE AND PEPPER RECIPE HERE
WEDNESDAY: Easy Shrimp and broccoli Stir Fry
It will use up any leftover broccoli from Monday night's soup and you can use raw frozen shrimp making this more affordable. Cooks up in a flash!
PRINT SHRIMP STIR FRY RECIPE HERE:

THURSDAY: 3 Homemade Pasta Sauces (Pick your favorite!)
Once you try homemade pasta sauce, you'll never go back to that stuff in a jar! This tastes 10x better and is so easy you'll be hooked!
PRINT PASTA SAUCE RECIPES HERE
FRIDAY: The Perfect Omelette
Perfect for the end of the week when eggs might be all you have left. Dinner in less than 15 mins!
SATURDAY MORNING TREAT: Pain Perdu (The Original French Toast)
It will use up any stale bread from the week. Quick and easy and oh so good!
Ok folks you are armed with a week worth of recipes! Go forth and conquer! Happy Cooking! xxx Beth