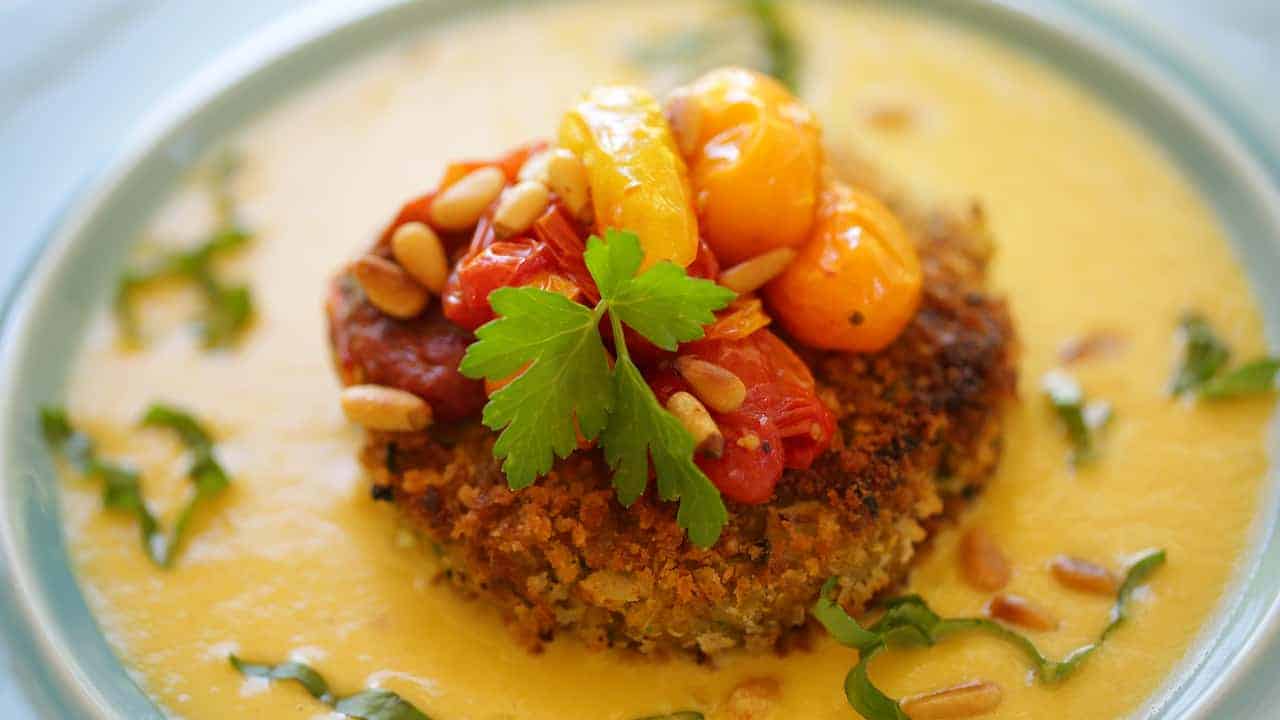 If you need a great meatless entree for summer entertaining this one is it! My Vegan Quinoa Cakes with Corn Puree and Roasted tomatoes is a sensation of flavors!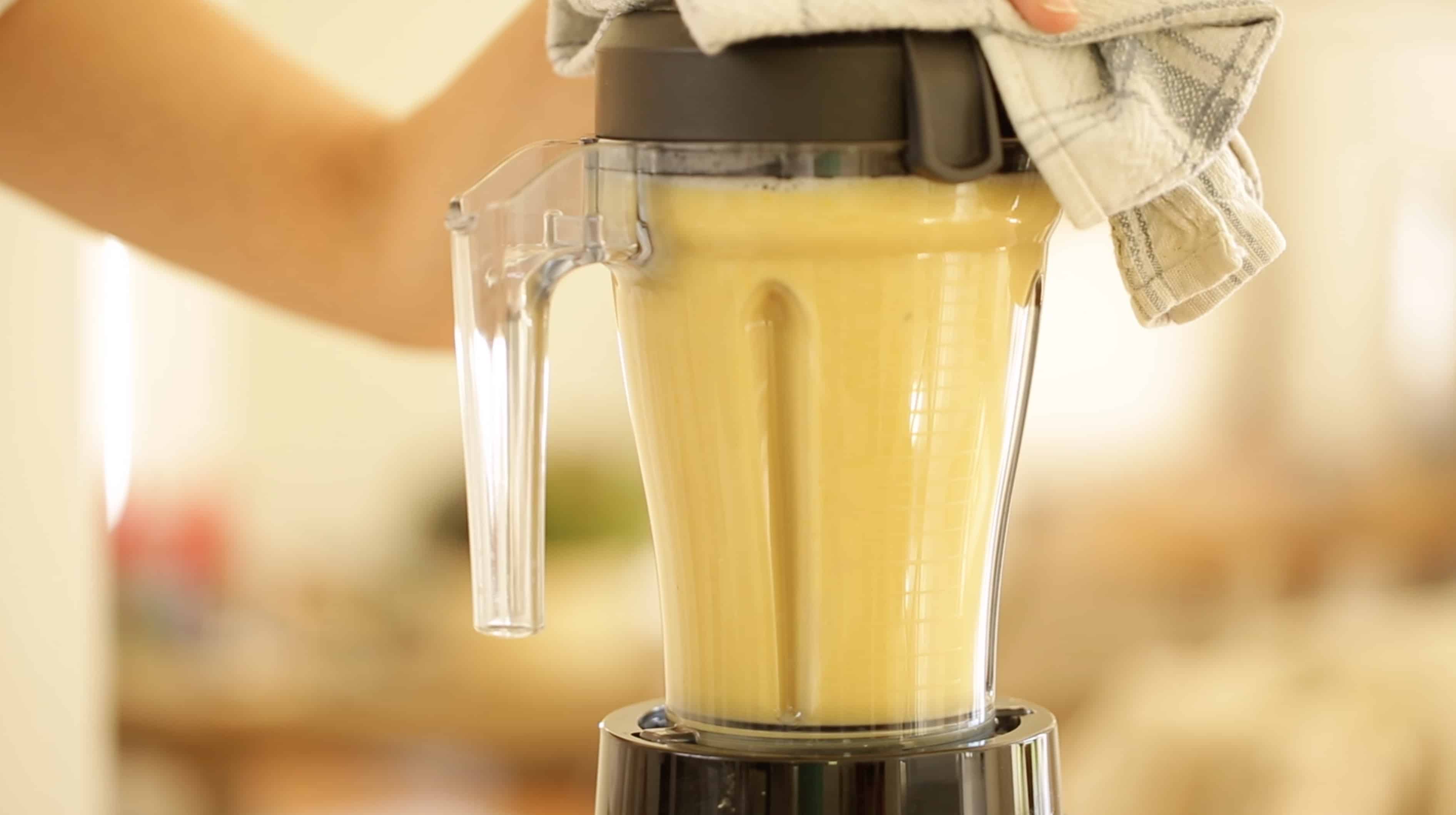 You can make most of the components in advance. I typically make the corn puree the day before and then fry the quinoa cakes the day of.
That way all you have to do is roast the tomatoes before guests arrive and leave at room temperature.  You can then pop them back in a 300F oven for 10 mins to warm before serving.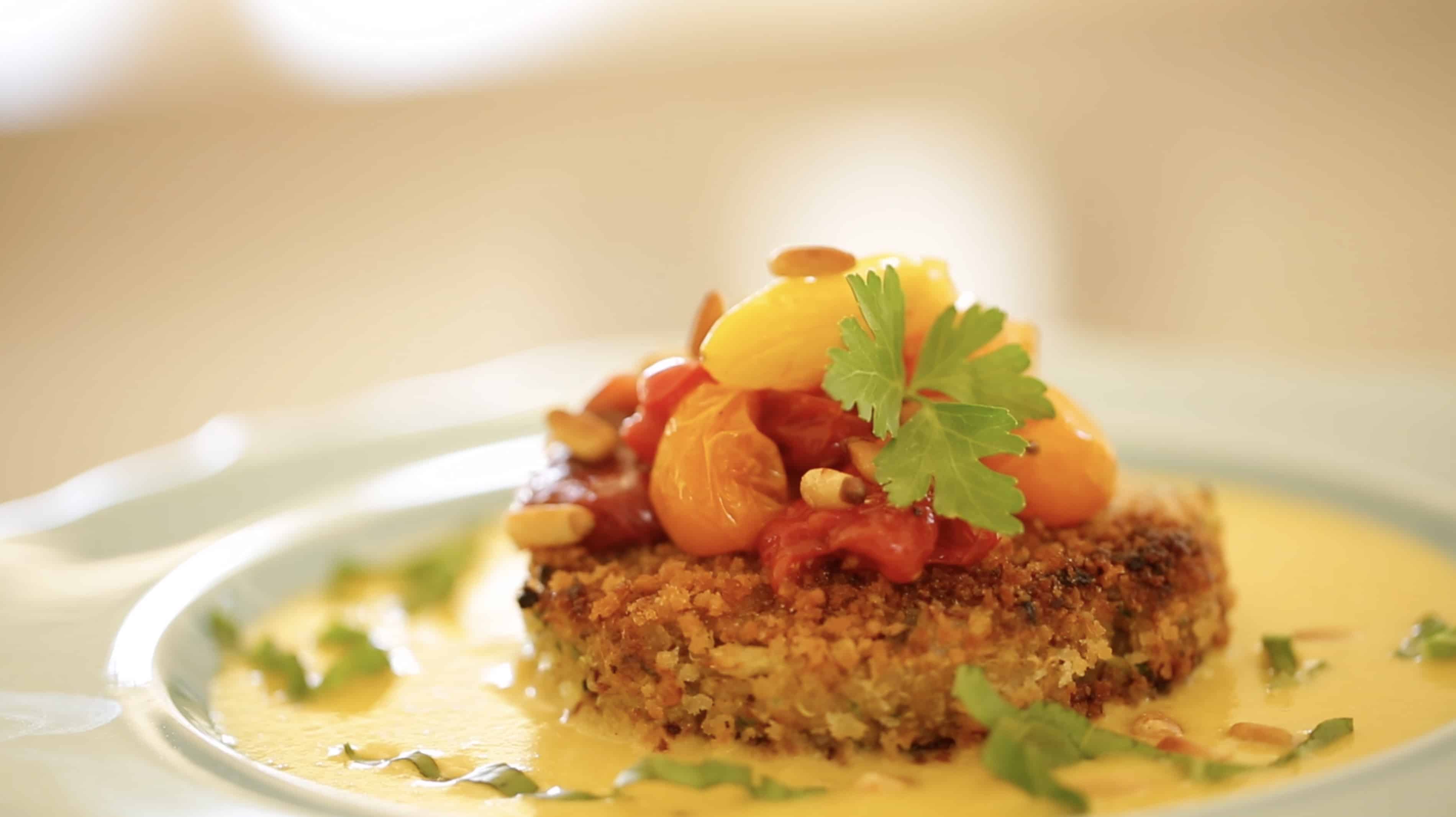 For a step-by-step tutorial of this recipe you can watch my video below.
SUBSCRIBE TO MY YOUTUBE CHANNEL and never miss a recipe! (it's free!) and new videos post weekly.
Print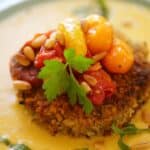 Vegan Quinoa Cakes with Corn Puree and Roasted Tomatoes
---
Author:

Prep Time:

2 hours

Cook Time:

1 hour

Total Time:

3 hours

Yield:

6

Category:

Main

Cuisine:

Vegan
Ingredients
For Corn puree:
1 tbsp (15 ml) olive oil
½ cup (75 g) white onion, diced
1 garlic clove, roughly chopped
2 cups (475 ml) vegetable broth
2 ½ cups (375 g) frozen corn
Salt and Pepper to taste
Red pepper flakes to taste
garnish: fresh basil, thinly sliced (1/3 cup (80 ml) for 6 people)
For Quinoa Cakes:
2 cups (475 ml) of vegetable broth
1 cup (240 ml) of quinoa, rinsed
½ cup (75 g) zucchini
½ cup (75 g) onion, diced
2 tbsp (20 g) grated carrots
2 tbsp (30 ml) fresh parsley
2 flax "eggs" (2 tbsp ground flax seed (30 ml) mixed with 5 tbsp (75 ml) water)
½ cup-1 cup flour (60-120 g) whichever you feel you need to bind it together
2 tsp curry powder (30 ml)
½ tsp of salt
freshly ground pepper to taste
1 ½ cups (90 g) of panko bread crumbs
¼ cup (60 ml) olive oil for frying
Topping:
3 pints (1500 ml) cherry tomatoes, multi-color
2 tbsp (30 ml) olive oil
salt and pepper to taste
6 tbsp (90 ml) pine nuts, roasted
fresh parsley sprigs
---
Instructions
To make corn puree, sauté ½ cup of oil in olive oil until tender and fragrant. Add garlic and sauté for another minute. Add vegetable broth and corn. Simmer until corn is cooked through.
Transfer corn mixture into a blender and puree until smooth. Add salt and pepper to taste and blend. Then ad red pepper flakes and blend. Transfer to an air tight container and refrigerate until ready to serve.
For the quinoa cakes, cook quinoa in 2 cups of vegetable broth under boiling, then lower flame and simmer for 15 mins until broth is evaporated and quinoa has puffed up. Fluff with a fork. .
Place warm quinoa in a large bowl, add zucchini, onion and carrots, parsley. In a separate small bowl combine ground flax meal with water and allow to thicken at room temperature for 5 mins. Then add "Flax Eggs" to quinoa and veggie mixture. Combine with your hands until mixed. Then add flour, curry powder and salt and mix.
Scoop out ½ cup (120 ml) of the quinoa mixture and form into 6 cakes. Fry cakes, 1-2 at a time in a cast-iron skillet in at least ½ inch (13 mm) of olive oil for 3-4 mins until crispy and then flip for another 2-3 minutes. Remove cakes and allow to drain on paper towel. Serve immediately OR cover and keep refrigerated until ready to serve. (To reheat place on a cookie sheet and bake at 350F (175C) for 10-15 mins until warmed through and crispy)
For topping place tomatoes on a rimmed lined cookie sheet, drizzle with olive oil and season with salt and pepper. Roast at 450F (230C) for 10 mins. Last 3-5 minutes place pine nuts on a separate baking sheet to toast on bottom rack. Watch them because they do burn quickly! And might only take 3-4 mins.
To assemble! Pour the corn puree on a plate (about 1 ladle full) add basil, place quinoa cake on top, a few roasted tomatoes, sprinkle pine nuts and top and garnish with a parsley leaf.