I'm rarely "taken aback" by flowers. I mean, don't get me wrong, I love a good bouquet as much as anybody, but what usually stops me in my tracks is a perfectly ripe tomato hanging off the vine, or a sweet little strawberry blossom peeking out from around a pot.
But that was all before I met the "Nuccio's Gem Camellia". This flower might just be the most beautiful flower I've ever met. It's exquisitely "perfect" in every way. Like in a double-take kinda way. No seriously, in a "Is that a real or fake flower?" kind of way.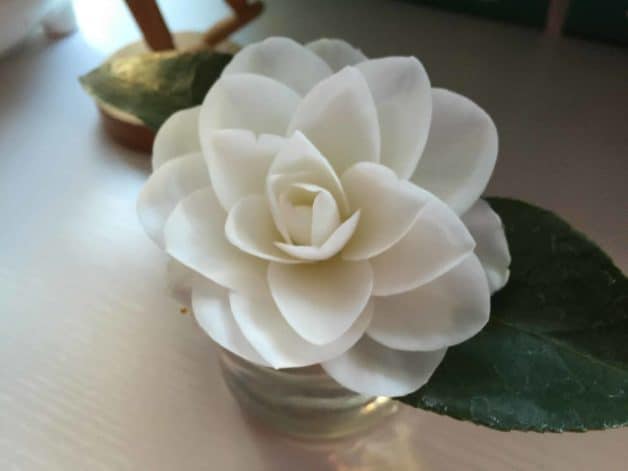 We just planted 5 camellia bushes to soften the area between our house and my husband's newly built office and I have to say I am completely smitten. And so are my daughters.
My littlest daughter, who is 4, keeps plucking them on her way out the door as she heads to preschool. She just can't resist them and she loves to give them to her teachers. As much as I wince every time she does this (knowing there soon will be none left if she keeps up the practice) it does warm my heart to see her acting in such a kind and loving way. And my eldest daughter, who is 8, has also fallen in love with them even more once I told her they were Coco Channel's favorite flower.
We've planted five different varieties so we can have an assortment of these little beauties to treasure, and they all kind of remind me of wedding dresses. Some contemporary and intricate others lose and flouncy like little ball gowns. Their petals are so perfect they almost look like they are made of paper or silk.
And the best part about these wonderful flowers? They LOVE shade! (sigh, I knew we were made for each other) All the sunny parts of our yard have been taken up by vegetable plants and fruit trees, so all I have to work with IS shade! Truly, a match made in heaven!
But the clock is ticking because camellias only bloom from November to March so there isn't much time left to admire them. So, we will enjoy these last few moments together, until we meet again next year! xx