This Southwestern Chicken Salad Recipe is one of my favorite salad recipes! It's easy to prep the ingredients on Sunday to have everything ready to last throughout the week. When paired with my creamy avocado lime dressing it will have you rethinking the notion that salads for lunch are boring!
If you like this salad you may also like these other lunchbox salads featured in this video such as my Roasted Beet, Goat Cheese and Hazelnut Salad or my Roasted Cauliflower, Quinoa and Kale Salad.
Watch My Southwestern Chicken Salad Demo Below!
STEP#1: Chop the Lettuce
For a Southwestern Chicken Salad, you really can use any lettuce you like, but I prefer romaine lettuce for this recipe. It provides a really refreshing texture and crunchiness that serves as a great base.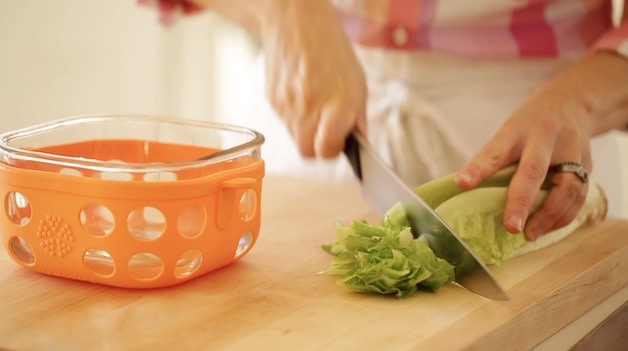 I typically prep the salad in the morning and place all the ingredients right in the salad container so it's all ready to go.
STEP#2: Add the Veggies
What makes this recipe so easy is the fact that the veggies can be prepped quickly. In the summertime, you can certainly use fresh corn, but this time of year I use frozen corn that I rinse in a colander under hot water for a few minutes.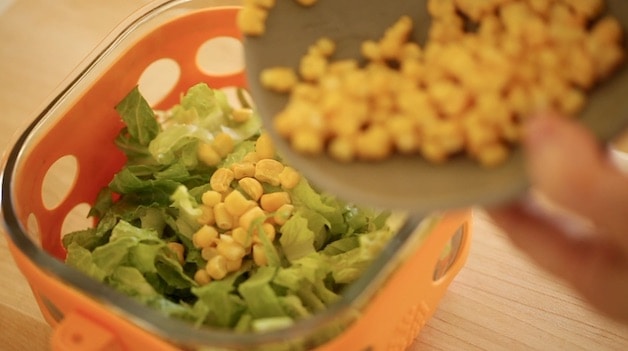 Then you'll add a few cherry tomatoes. I like to slice them in half, lengthwise because I find they are easier to eat that way.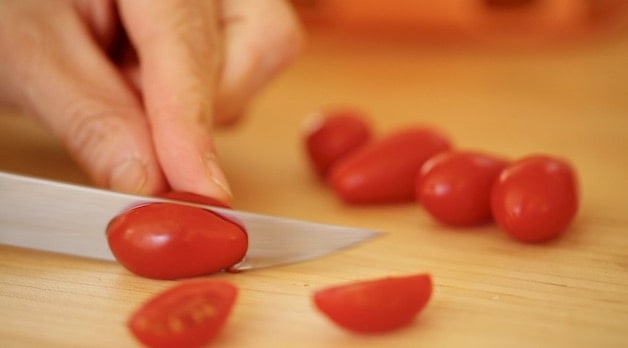 Then add some diced bell peppers. I like to use orange peppers because it adds another nice color to this salad, they are also sweet and crunchy which adds another great texture.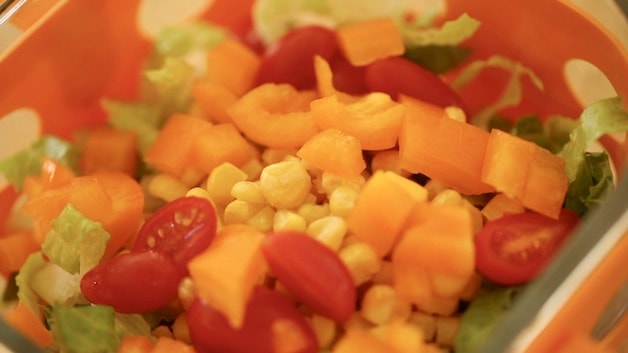 STEP#2: Toast the Tortillas
I think what makes for a great Southwestern Chicken Salad are the textures. Between the crunchy lettuce, and the sweet refreshing vegetables, another great addition to this recipe are the crispy, toasty tortilla strips. You can also prep these to last throughout the week as well.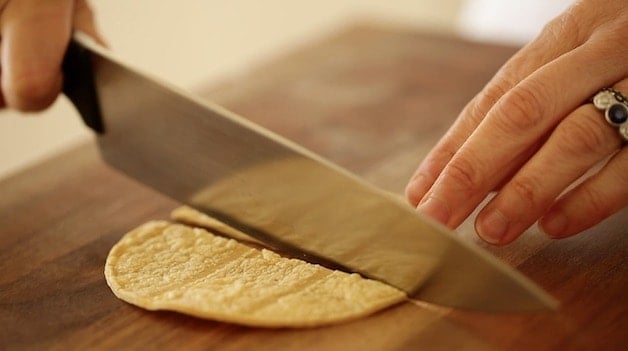 Cut the corn tortillas in half and then cut each half into thin strips.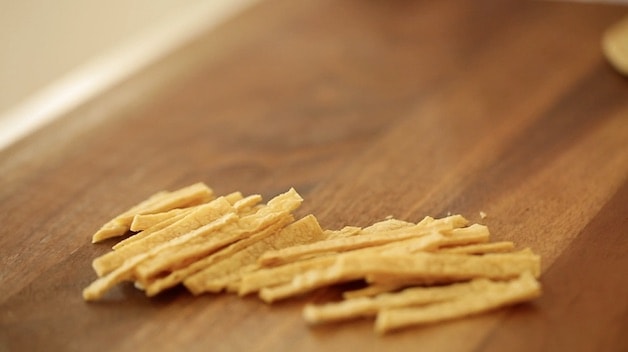 Place the tortilla strips on a baking sheet and bake until they are golden brown and crispy. Toss them occasionally as they bake to assure they are getting toasted on all sides.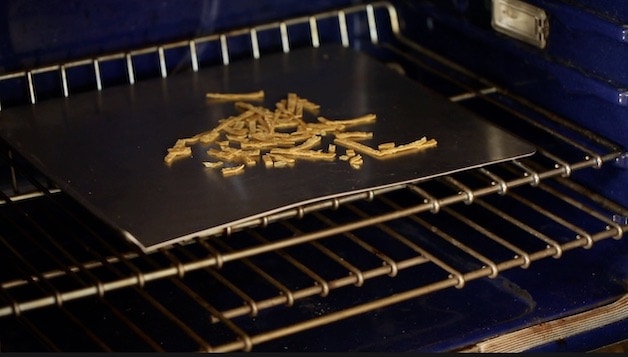 You can store the tortilla strips in an airtight container on your countertop and use them in your salad or sprinkle on top of my easy Chicken Tortilla Soup or my White Chicken Chili too!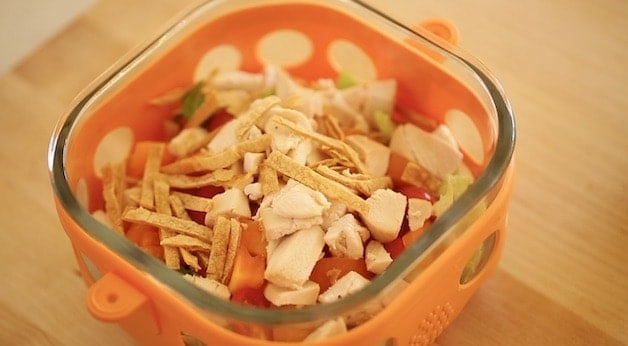 Prepare the Southwestern Chicken Salad Dressing
What really makes this Southwestern Chicken Salad sing is the dressing! It combines creamy avocado, lime and cilantro, garlic and cumin. All you need to do is blend all these ingredients up in a blender and that's it!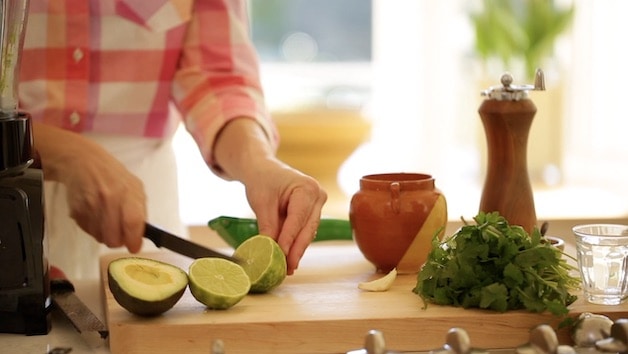 You can transfer the dressing into small containers to pack with your lunch or store it in a larger container to last throughout the week.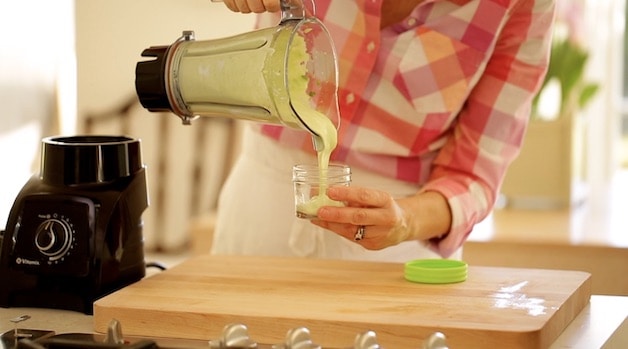 I sometimes store the dressing in the blender pitcher and then whirl it back up again before serving. This will freshen up the flavors and the texture too.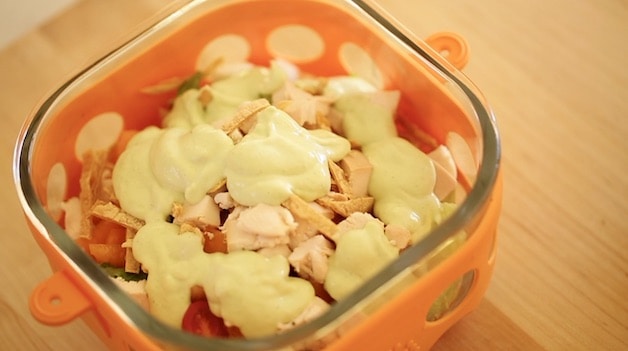 Toss the dressing with the salad and you'll be treated to a healthy, flavorful salad that will make your day!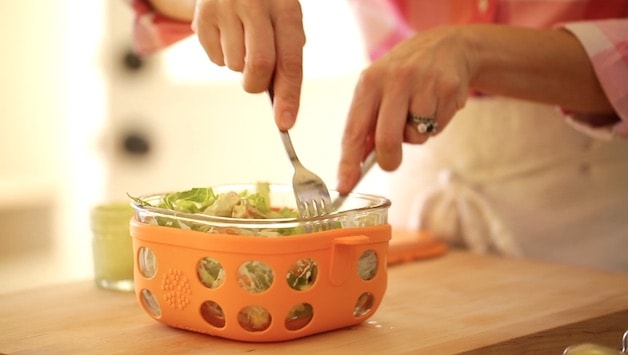 The combination of the creamy, tart dressing with that hint of smokiness coming from the cumin, along with the sweet veggies and crunchy tortilla strips is such a great flavor combination!
MORE SALAD RECIPES!
If You Enjoyed this Southwestern Chicken Salad Recipe
please leave a rating and a review below!
This helps others find and enjoy the recipe too.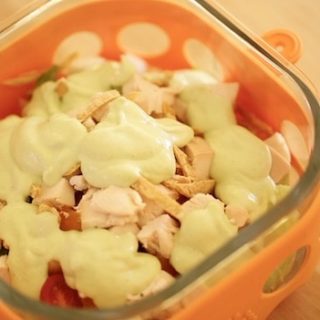 Southwestern Chicken Salad
My Southwestern Chicken Salad is packed with colorful vegetables, rotisserie chicken, crunchy tortilla strips and a spicy, creamy avocado, lime dressing.  It packs a powerful punch!
Ingredients
1 cup (240 ml) Romaine lettuce
½ cup (120 ml) frozen corn, thawed
5-6 cherry tomatoes
⅓ cup (80 ml) sliced orange bell peppers
1 cup (240 ml) sliced rotisserie chicken
1 corn tortilla
FOR DRESSING:
1 cup (240 ml) low-fat sour cream or plain Greek Yogurt
1 lime, juice and zest
½ avocado
¼ teaspoon (1.25 ml) salt
1 garlic clove
2 tablespoon (30 ml) cilantro
¼ teaspoon (1.25ml) cumin
2 teaspoon (10 ml) jalapeno
1-2 tablespoon (30 ml) water
Instructions
Slice tortilla in half, then slice each half into strips. Place on baking sheet and toast for 10 mins at 375F (190C). Allow to cool and set aside.
For the salad build by starting with Romaine lettuce, then add corn, tomatoes, peppers, and chicken. Place tortillas strips on top.
For the dressing, place all ingredients in a blender and whirl up.
Transfer to a small container and serve with the salad.
Nutrition Information:
Yield:

2
Serving Size:

2
Amount Per Serving:
Calories:

516
Total Fat:

22g
Saturated Fat:

5g
Trans Fat:

0g
Unsaturated Fat:

14g
Cholesterol:

151mg
Sodium:

567mg
Carbohydrates:

30g
Fiber:

7g
Sugar:

10g
Protein:

54g