Roasted Beet Salad with Goat Cheese
I'm a huge lover of beets! I think they are such a wonderful vegetable for a quick and easy lunch. This Roasted Beet Salad with Goat Cheese and Hazelnuts makes for a wonderful lunchbox lunch or as a starter for a dinner party too!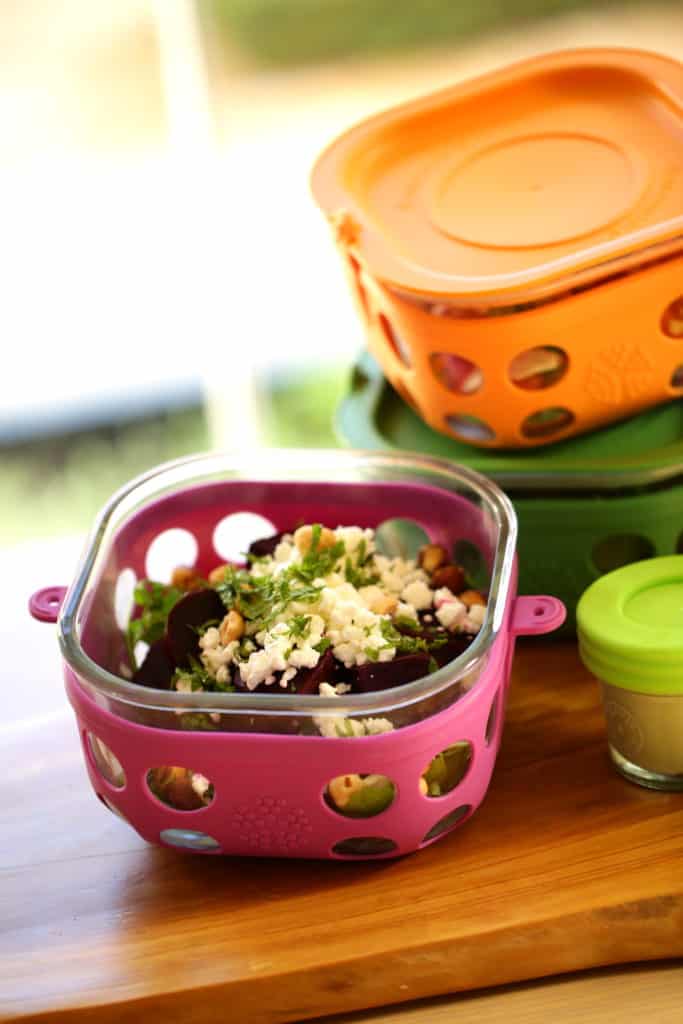 The combination of the sweet earthy beets with the creamy goat cheese is such a great flavor combination against the fresh mint and the crunchy hazelnuts. It will become your new favorite salad recipe!
Watch my Roasted Beet Salad Demo Below!
You may also enjoy the other salads featured in this video such as my Southwestern Chicken Salad and my Roasted Cauliflower, Quinoa and Kale Salad
Subscribe for weekly recipes
and new videos!
How To Cook Beets for a Beet Salad?
The best way to cook a beet is to roast it! I find those who dislike beets have probably never had a roasted beet. But rather something boiled instead. Roasting brings out the full flavor of a beet as well as its sweetness. It's a much easier way to cook them too!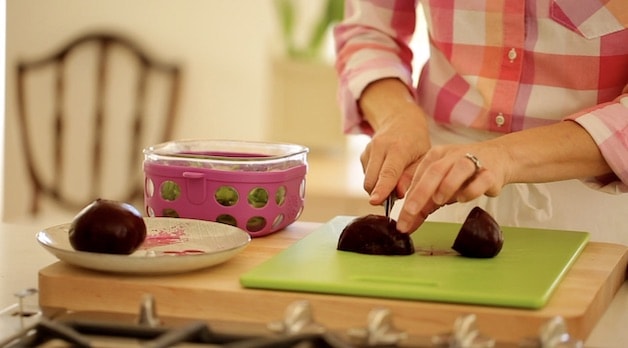 You can make a big batch of them to last throughout the week. It makes putting this salad together super simple!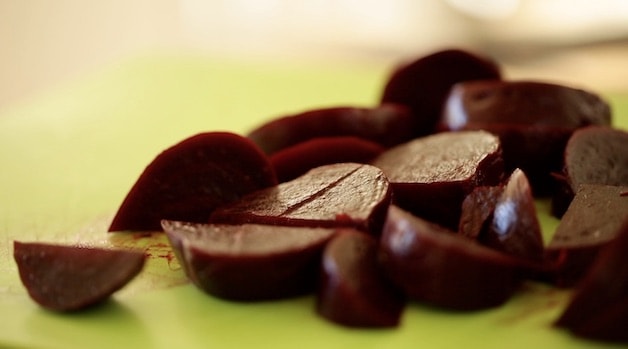 What to Serve with a Roasted Beet Salad?
Personally, I think the best combination with roasted beets is creamy goat cheese, roasted nuts and fresh mint. The combination of these flavors is really fantastic! If you have a little goat cheese left over you can put it to good use in my delectable Goat Cheese Tartlettes with Carmelized Onions.
But blue cheese is another great cheese that pairs wonderfully with roasted beets too.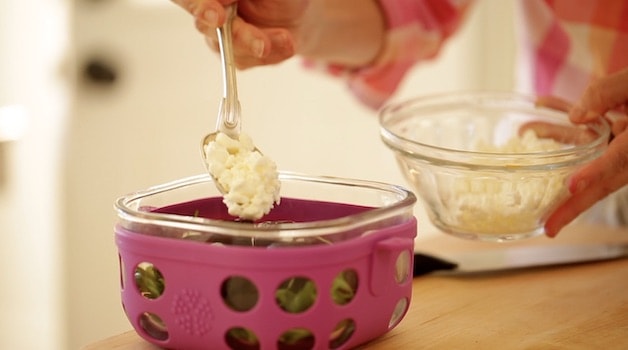 But if you are not a goat cheese fan, you can omit the goat cheese and substitute fresh orange segments instead. Orange, beet and mint is another great flavor combination too!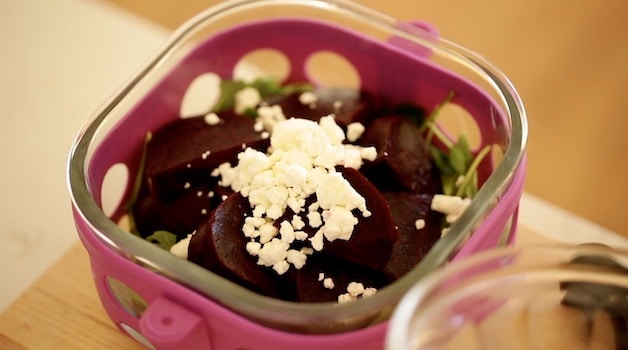 Place the roasted beets, which are sweet, on the bed of arugula which has a nice bitter bite to it and is also full of health benefits too!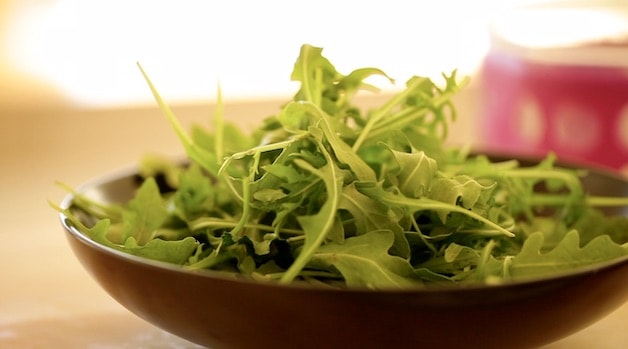 Then I like to add roasted hazelnuts and pinenuts for some wonderful flavor and texture. But you could also use walnuts, almonds or pistachios would be great too!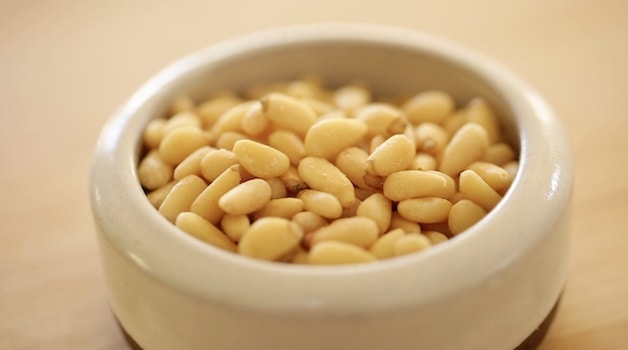 The best way to buy hazelnuts is already roasted if you can find them, otherwise, place them on a rimmed sheet pan at 350F roast for 10 minutes or until fragrant, then transfer them to a clean kitchen towel and wrap them up in the towel. Let them steam in the towel for 10 minutes, then rub their skins off with the towel and then they are ready to use.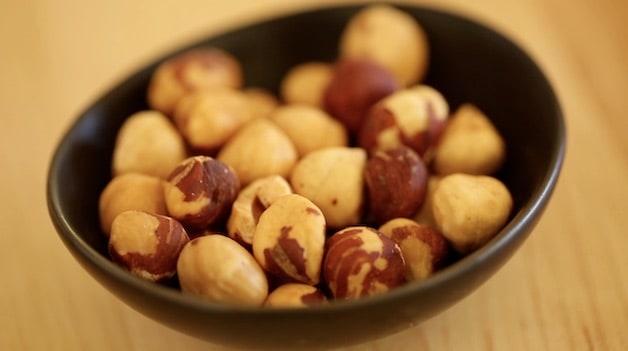 I like to serve this salad with a balsamic vinaigrette which compliments the sweetness of the beets nicely.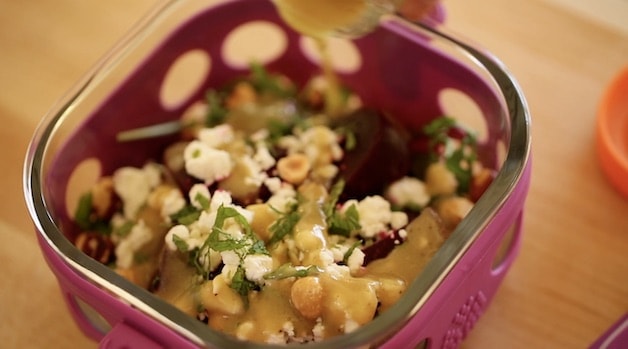 MORE SALAD RECIPES!
If You Enjoyed this Roasted Beet Salad Recipe
Please leave a rating and a review below!
This helps others find and enjoy the recipe too.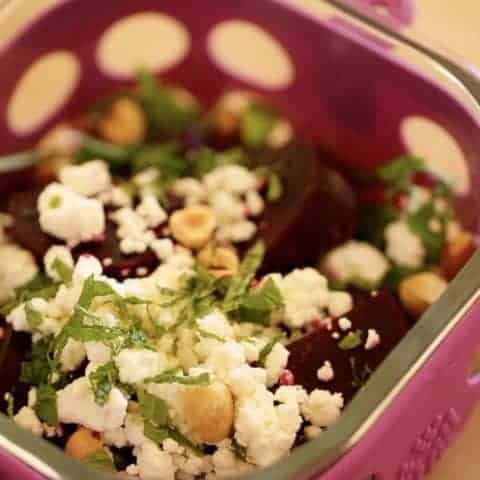 Roasted Beet Salad with Goat Cheese and Hazelnuts
My Roasted Beet Salad with Goat Cheese, Arugula and Hazelnuts is a really great vegetarian option for those who eat cheese.  The beets can be roasted ahead of time and will last throughout the week.
Ingredients
FOR SALAD:
1 cup (240 ml) Arugula, or Rocket
1-2 large beets that have been roasted
⅓ cup (80 ml) goat cheese
3 tablespoon (45 ml) hazelnuts, roasted
1 tablespoon (15 ml) mint
FOR DRESSING:
1 teaspoon (5 ml) Dijon mustard
1 teaspoon (10 ml) white balsamic vinegar
3-4 tablespoon (30-45ml) grapeseed oil
salt and pepper to taste.
Instructions
To roast beets, wash them and remove their greens.
Wrap each one in aluminum foil and place on a baking tray. Roast at 450F (230C) for 1 hour 15 mins or until they are tender. Unwrap from foil and run them under cold water to remove their skins. Keep in a ziplock bag until ready to use.
Nutrition Information:
Yield:

1
Serving Size:

1
Amount Per Serving:
Calories:

594
Total Fat:

59g
Saturated Fat:

5g
Trans Fat:

1g
Unsaturated Fat:

51g
Cholesterol:

9mg
Sodium:

492mg
Carbohydrates:

13g
Fiber:

2g
Sugar:

10g
Protein:

4g