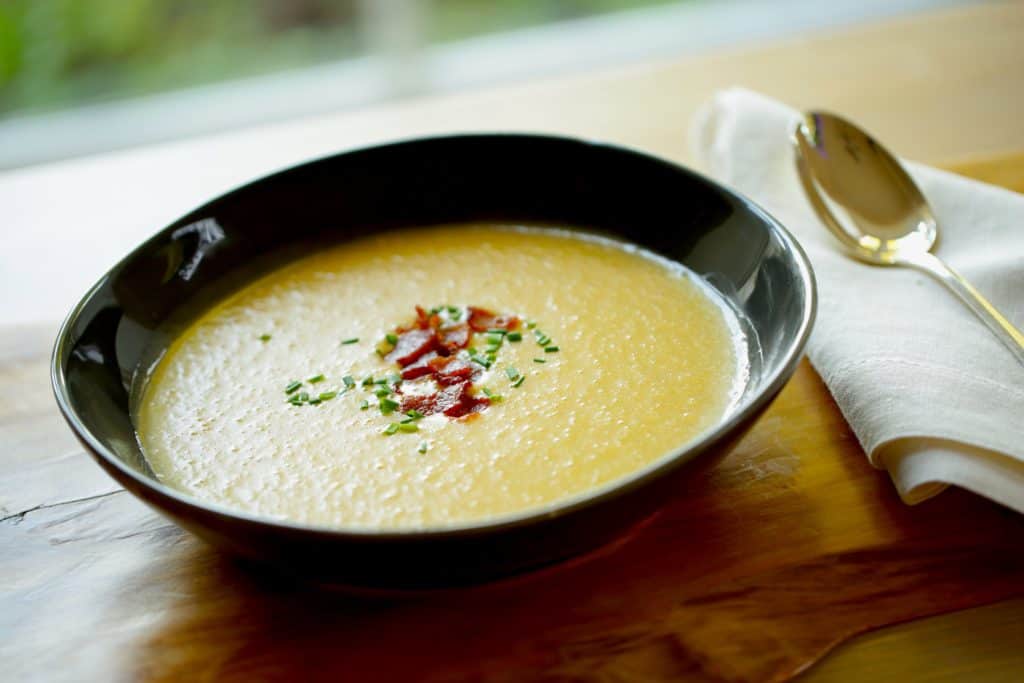 This Potato Cheddar Bacon Soup Recipe is the perfect comfort food for cold weather cooking! It's one of the simplest soups to make and will last throughout the week.
How To Make a Potato Cheddar Bacon Soup Recipe in 6 Easy Steps!
This soup is so easy to whip up on a weeknight, you'll be making it all winter long…it's THAT good!
STEP#1: Dice and fry the Bacon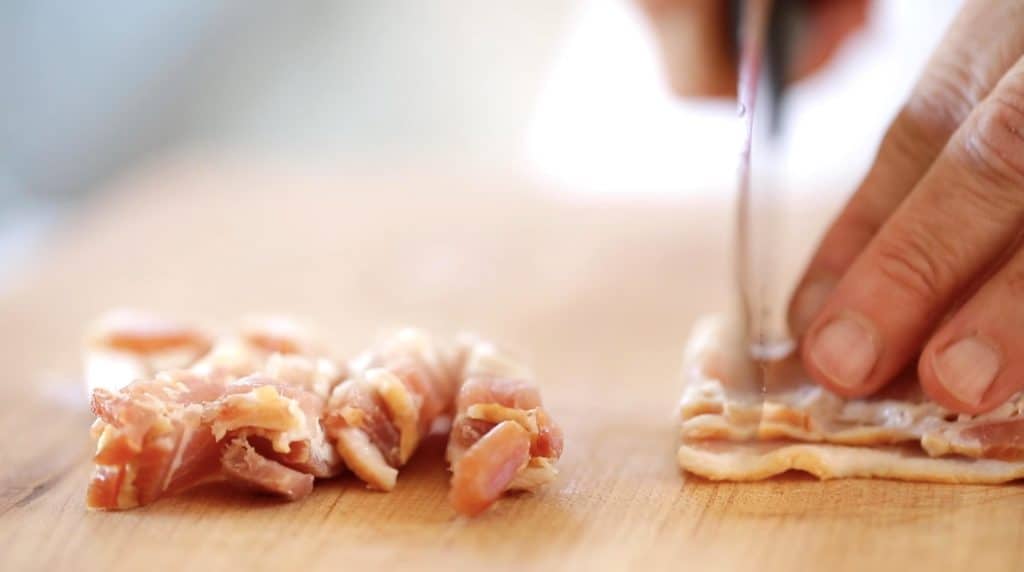 Cut the bacon into bite-sized pieces then fry it in a dutch oven until crispy. I find the bacon fat is enough to fry the bacon in, no need to add any additional fat.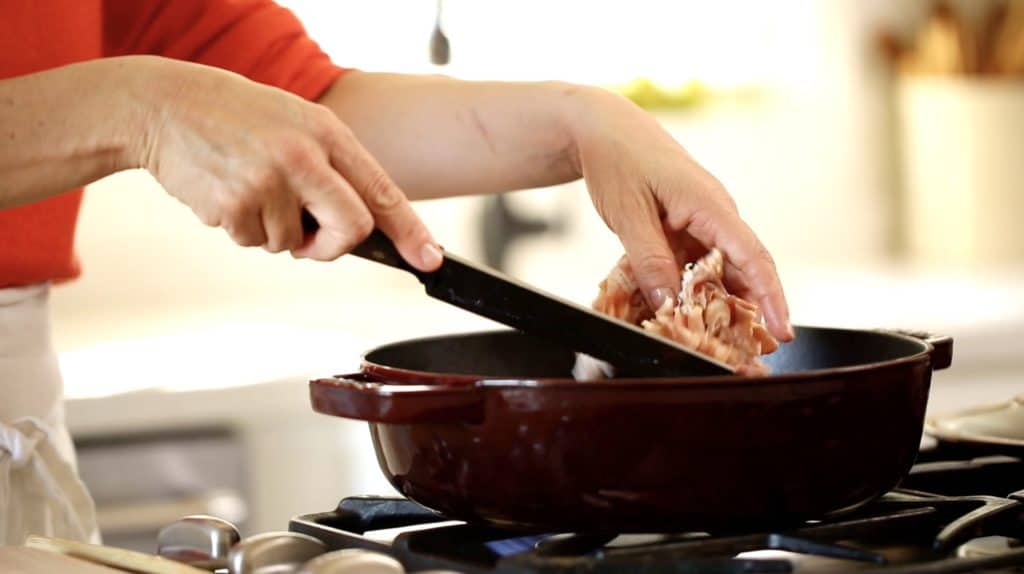 STEP#2: Cook Veggies
Next sauté some onions and celery until soft and fragrant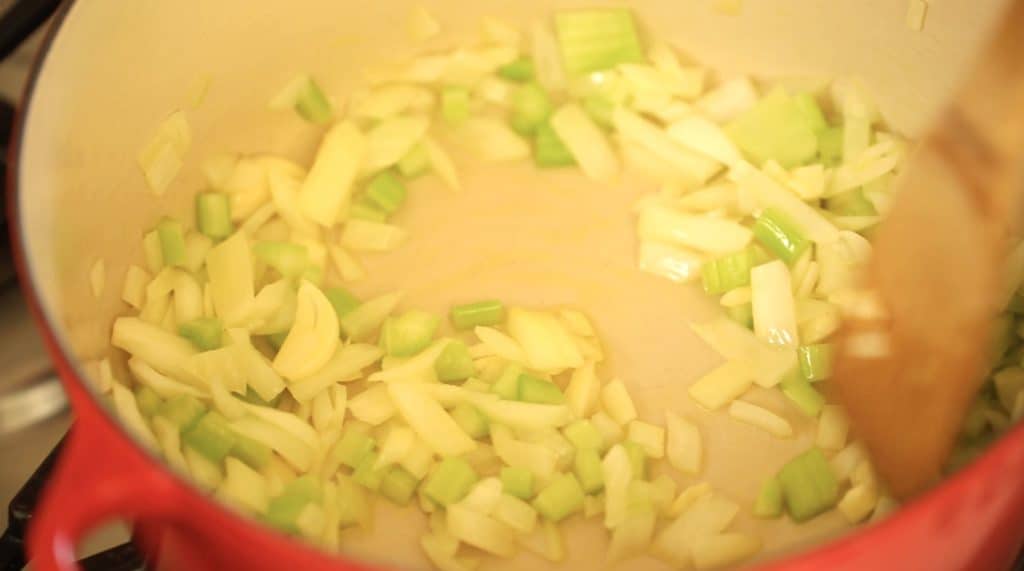 STEP#3: Add Potatoes
Just be sure they are cut into cubes, the same size so that they will cook at the same rate. I like to use russet potatoes for this recipe.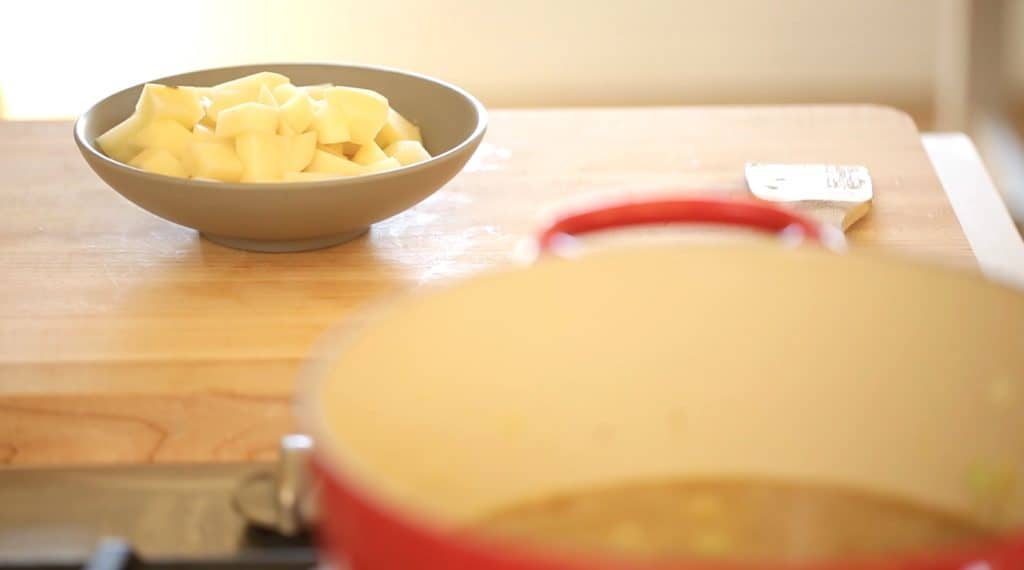 STEP#4: Add Chicken Broth
You could use vegetable broth too, but I find the chicken broth will give you more flavor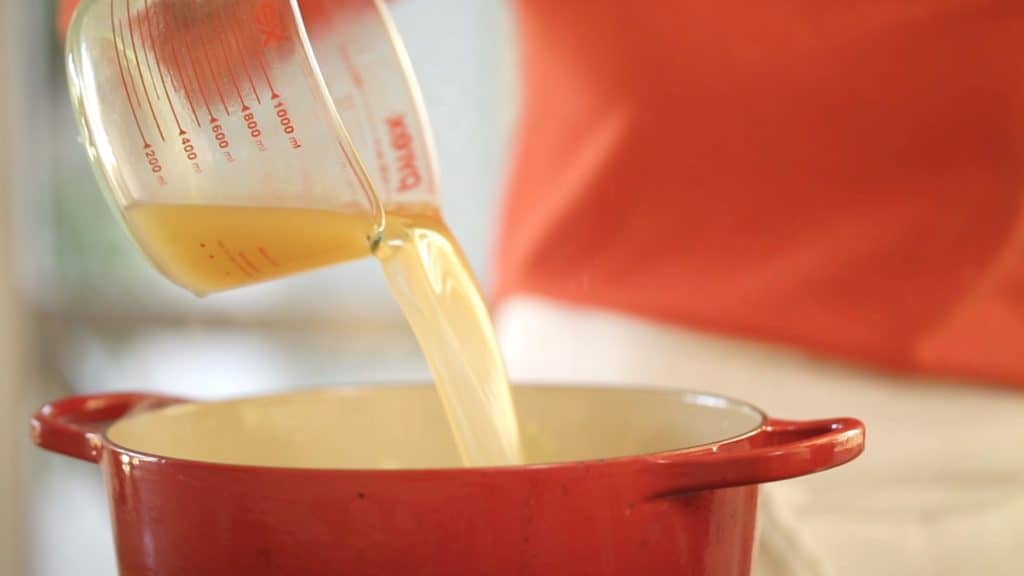 STEP#5: Blend!
Once the potatoes are tender you can blend the soup up on high until smooth.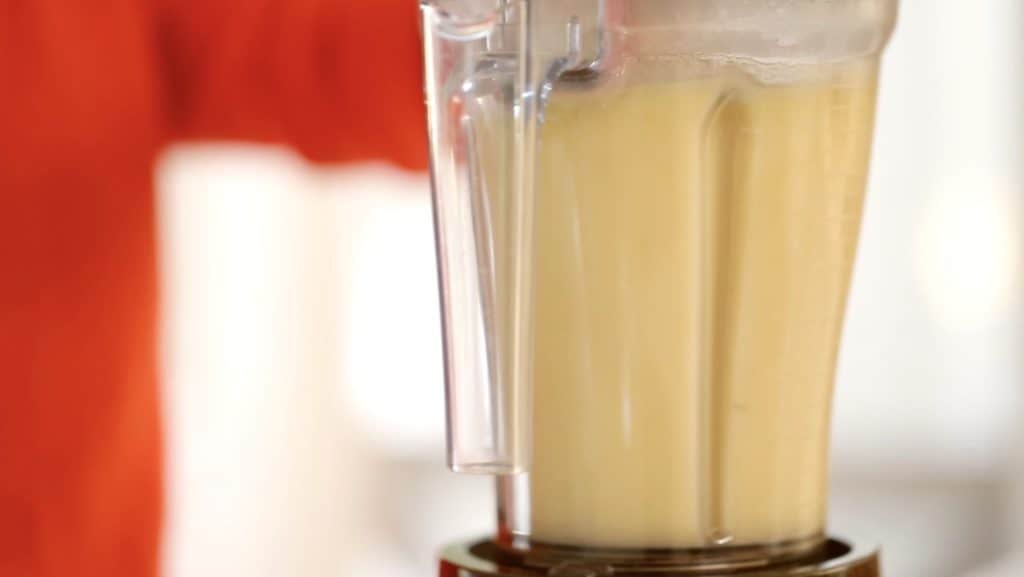 Then place it back in the pot to re-heat.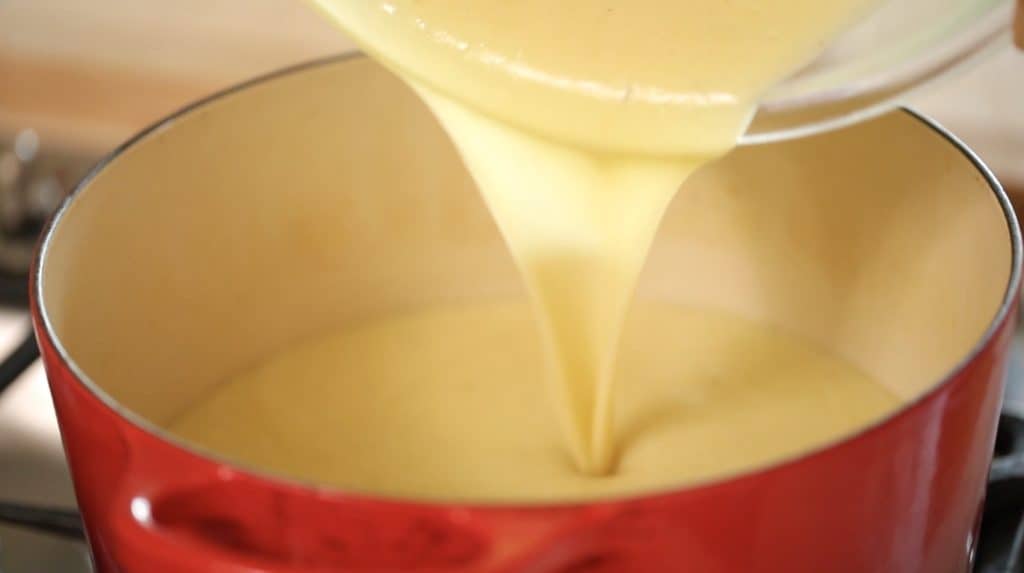 STEP#6: Add the Cheese, Chives and Bacon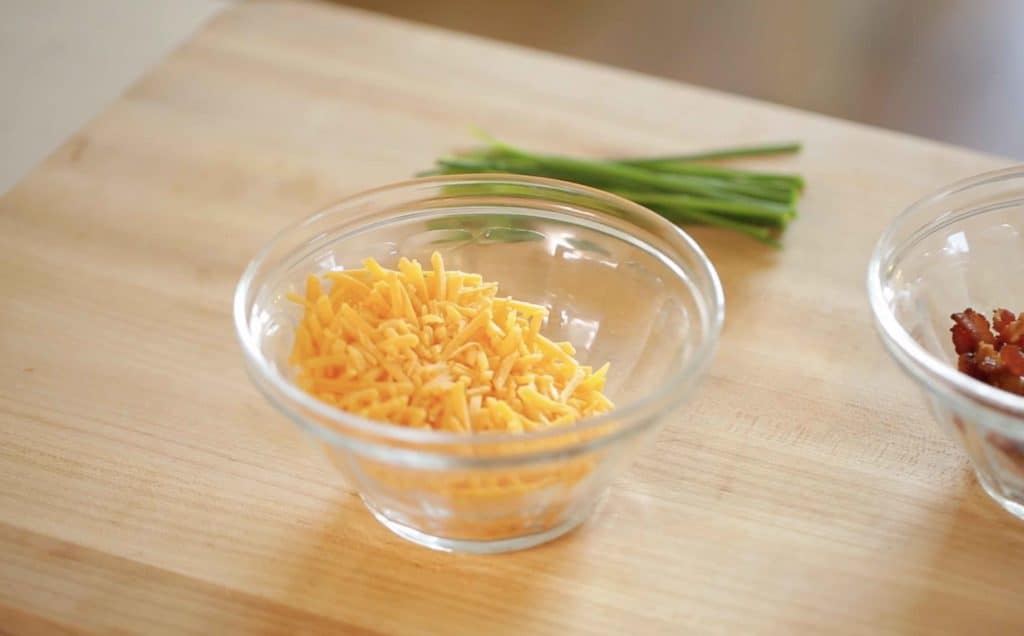 Et voila! The most delicious Potato Cheddar Bacon Soup is yours!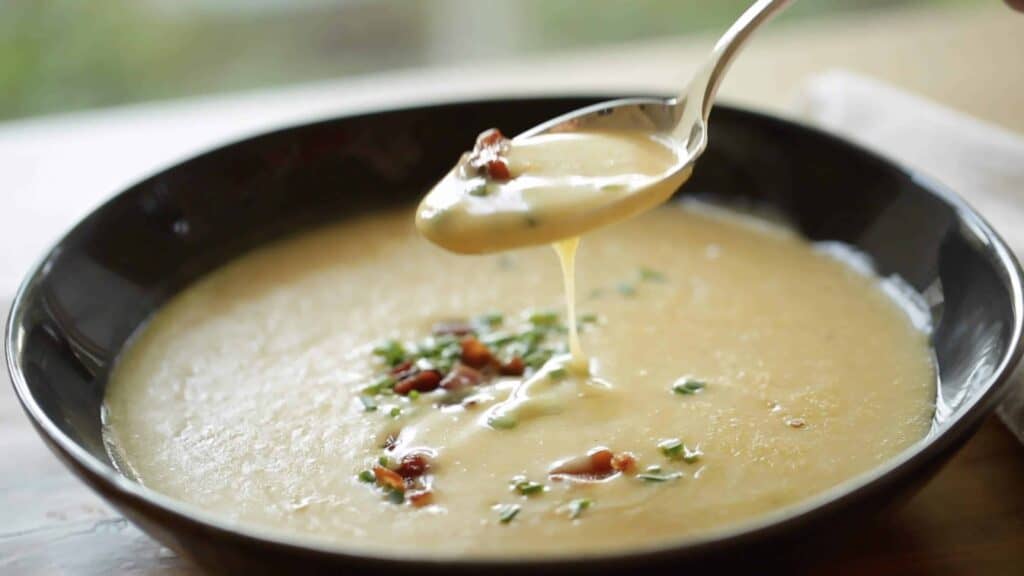 As far as soup recipes go, this one is hands down, my favorite.  It's like a warm, cozy blanket that's sure to soothe the body and soul.
For a step-by-step demo of my Potato Cheddar Bacon Soup Recipe you can watch my video below.
CLICK HERE TO SUBSCRIBE TO MY YOUTUBE CHANNEL and never miss a recipe! (It's free!) and new videos post each Saturday!
LOOKING FOR MORE SOUP RECIPES?
You might enjoy my Roasted Tomato Eggplant Soup or my French Onion Soup.  Both terrific options for cold weather!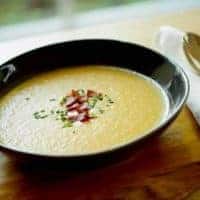 Potato, Cheddar and Bacon Soup Recipe
Ingredients
5 slices of bacon, cut into ½" (13 mm) strips
1 tbsp (15 ml) olive oil
1 ½ (225 g) cup onion
¾ cup (110 g) celery, diced
2 garlic cloves sliced
4 cups (950 ml) chicken broth
1 large russet potato, peeled and cut into 1" (2.5cm) cubes
¾ cup (180 ml) sharp cheddar cheese
1 tbsp (15 ml) chives, minced
Instructions
Heat a large Dutch oven over medium-high heat. Cook bacon until golden brown and crispy. Transfer with a slotted spoon to a plate lined with a paper towel to drain. Set aside.
In a large clean Dutch oven, heat olive oil. Add onion, celery and garlic and cook until fragrant and fork tender. Add chicken broth. Add potatoes. Cover and simmer for 15 mins or until potatoes are soft.
Transfer soup to a blender and puree until smooth. Transfer back into the Dutch oven and add cheese, season with salt and pepper to taste.
To serve ladle into shallow bowls, top with minced chives and crispy bacon.