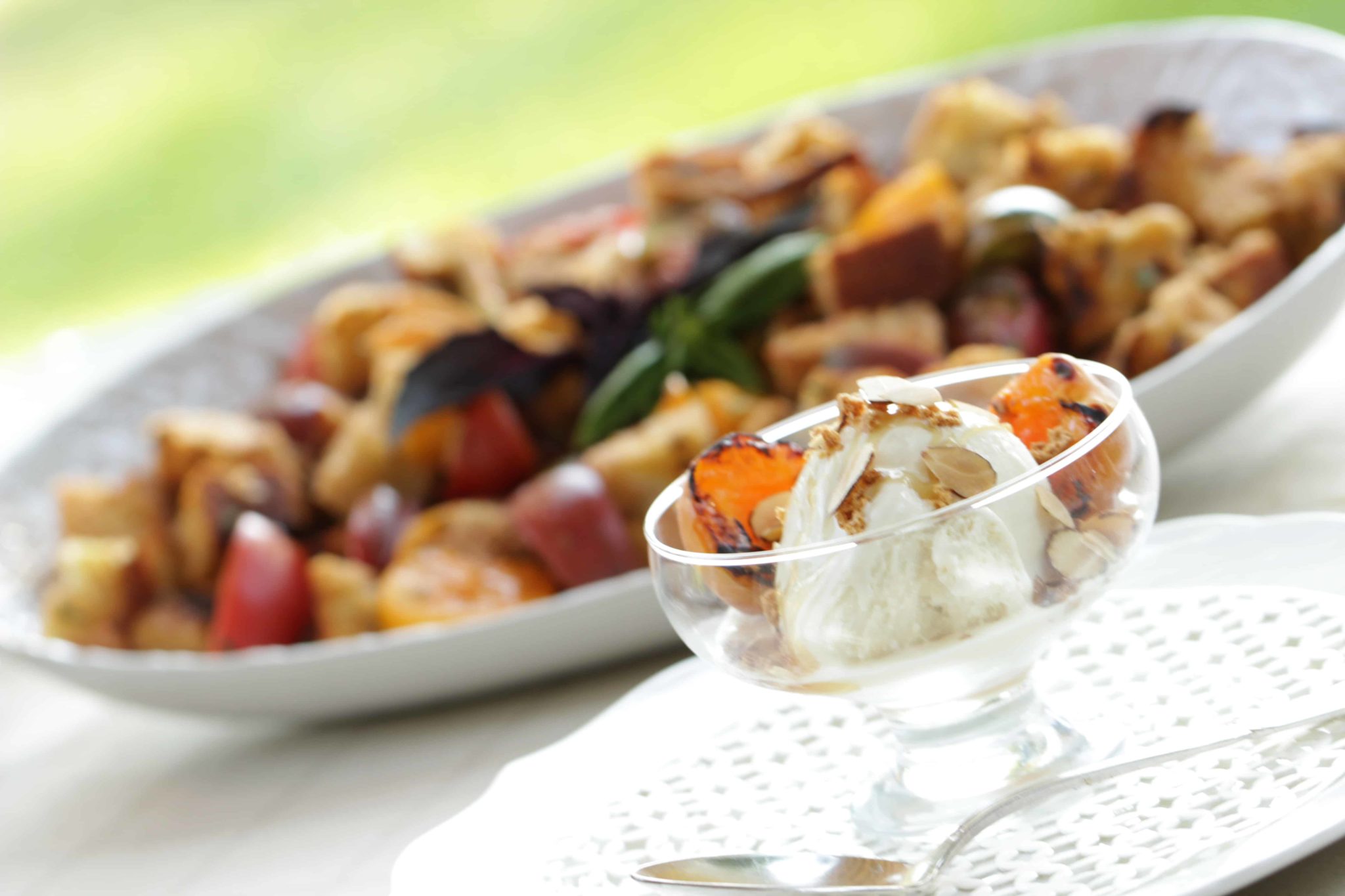 This week it is Part 2 of my summer grilling series with Coyote Outdoor Living.  If you missed Part 1 you can get caught up here.
If you haven't entered the sweepstakes, for a chance to win one of these beautiful Coyote grills, there's still time! You can ENTER HERE.
This week's recipes include the starter and the dessert for my summer grilling menu.  Both recipes are quick and easy and celebrate all the flavors of the season. The best part is that most of it can be prepared in advance as well.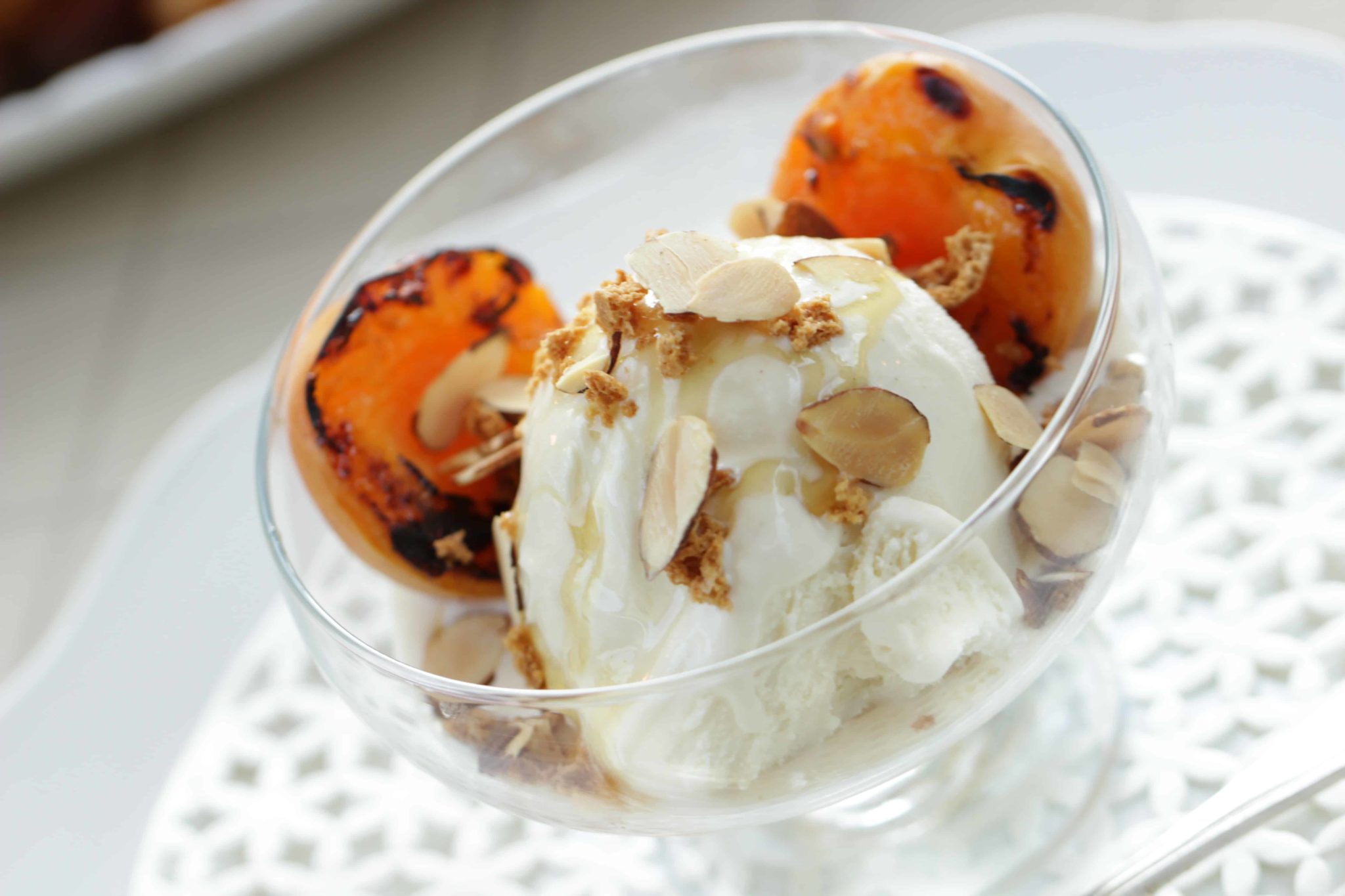 To watch a step-by-step tutorial of these recipes you can watch my video below.  Subscribe to my YouTube Channel and never miss a recipe!
For starters, it's my Grilled Panzanella Salad, a refreshing way to kick off this menu. It is as delicious as it is beautiful. It's also is a wonderful dish to serve family-style because it gets your guests mixing and mingling as they have to pass the platters around the table.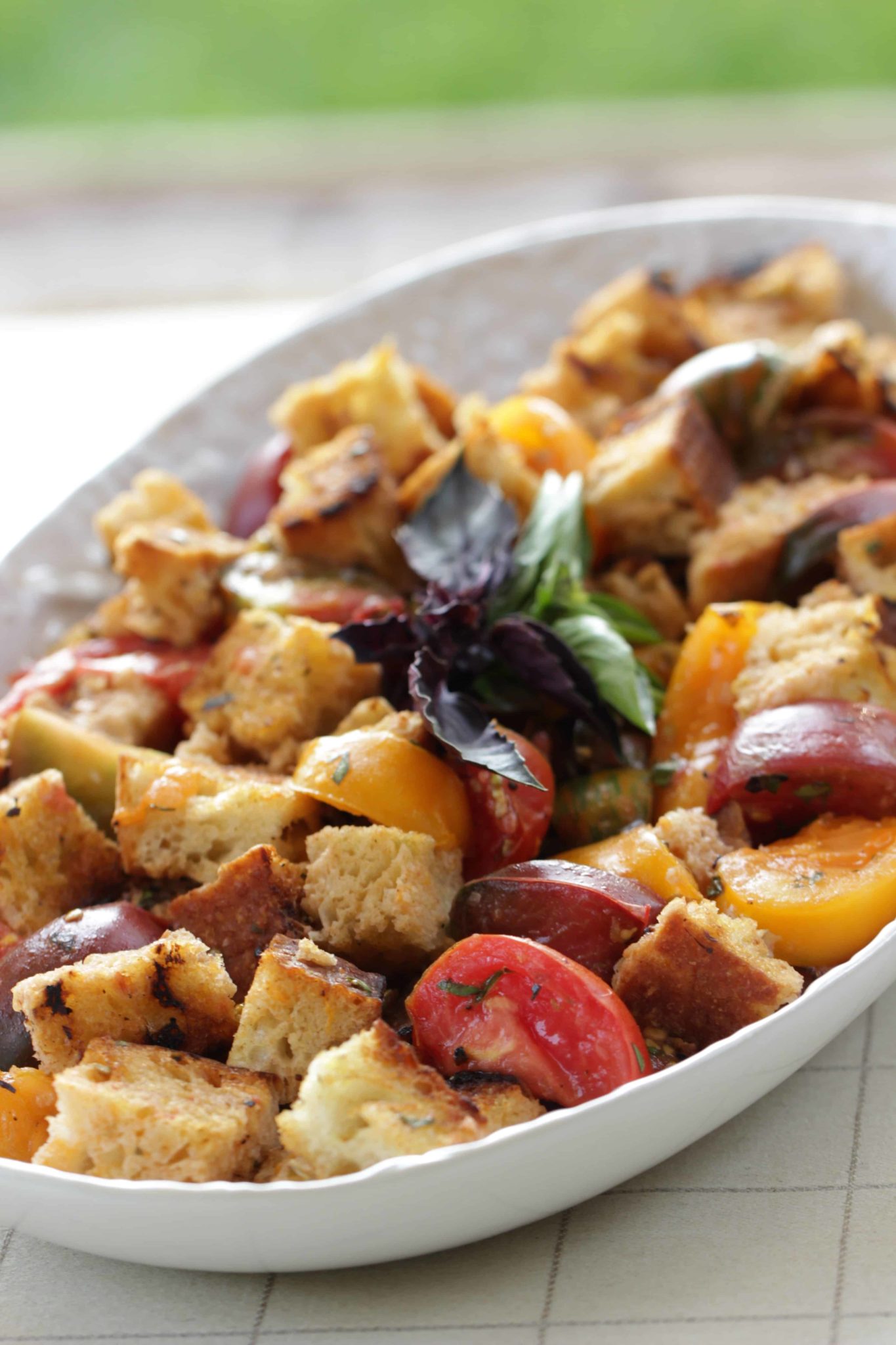 Print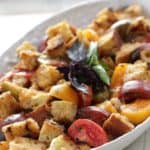 Grilled Panzanella Salad Recipe
---
Author:

Prep Time:

45 mins

Cook Time:

4 mins

Total Time:

49 mins

Yield:

serves 4

Category:

Appetizer

Cuisine:

Italian
Ingredients
FOR BREAD:
6 thick slices of rustic Italian bread
1 tbsp (15 ml) olive oil
1 garlic clove
salt and pepper to taste
FOR SALAD:
6 cups (14 ml) tomatoes, different colors cut into chunks
2 tbsp (30 ml) fresh basil
3 tsp (15 ml) red wine vinegar
1 garlic clove, minced
3 tbsp (45 ml) olive oil
A pinch of Italian seasoning
salt and pepper to taste
---
Instructions
Prepare the vinaigrette. In a small bowl, combine the vinegar, garlic, salt, pepper and seasonings.
Then slowly add the oil in a steady stream, whisking all the while until a dressing forms. Taste for acidity. If too acidic for your liking, add more oil, if not acidic enough, add more vinegar. Dressing can be made several hours before and left covered at room temperature.
Cut tomatoes into 1 inch chunks and leave at room temperature until ready to serve. This can be done 1 hour before guests arrive and left covered at room temperature.
Prepare the bread. Place olive oil in a small bowl with minced garlic and salt and pepper to taste. Combine with a fork.
Brush bread on both sides with the garlic oil. Grill bread for a few minutes each side until nicely toasted. Remove from grill and set aside to cool.
When salad is ready to serve, place tomatoes in a large bowl. Add dressing and freshly chopped basil, mix to combine.
Then chop bread into 1 inch chunks and toss with the tomato mixture to lightly coat the tomatoes first, then add the bread and toss. It's better to add the bread last so it doesn't get too soaked with the dressing.
Transfer to a serving platter and garnish with fresh basil.
For dessert, it's Grilled Apricot Sundaes topped with amaretto cookie crumble and toasted almonds.  I love this dessert idea because it gives you the same effect as a warm fruit pie, but it requires much less time and effort!  You can also prep the cookie crumble and almonds in advance leaving just the apricots to grill. Easy peasy! 🙂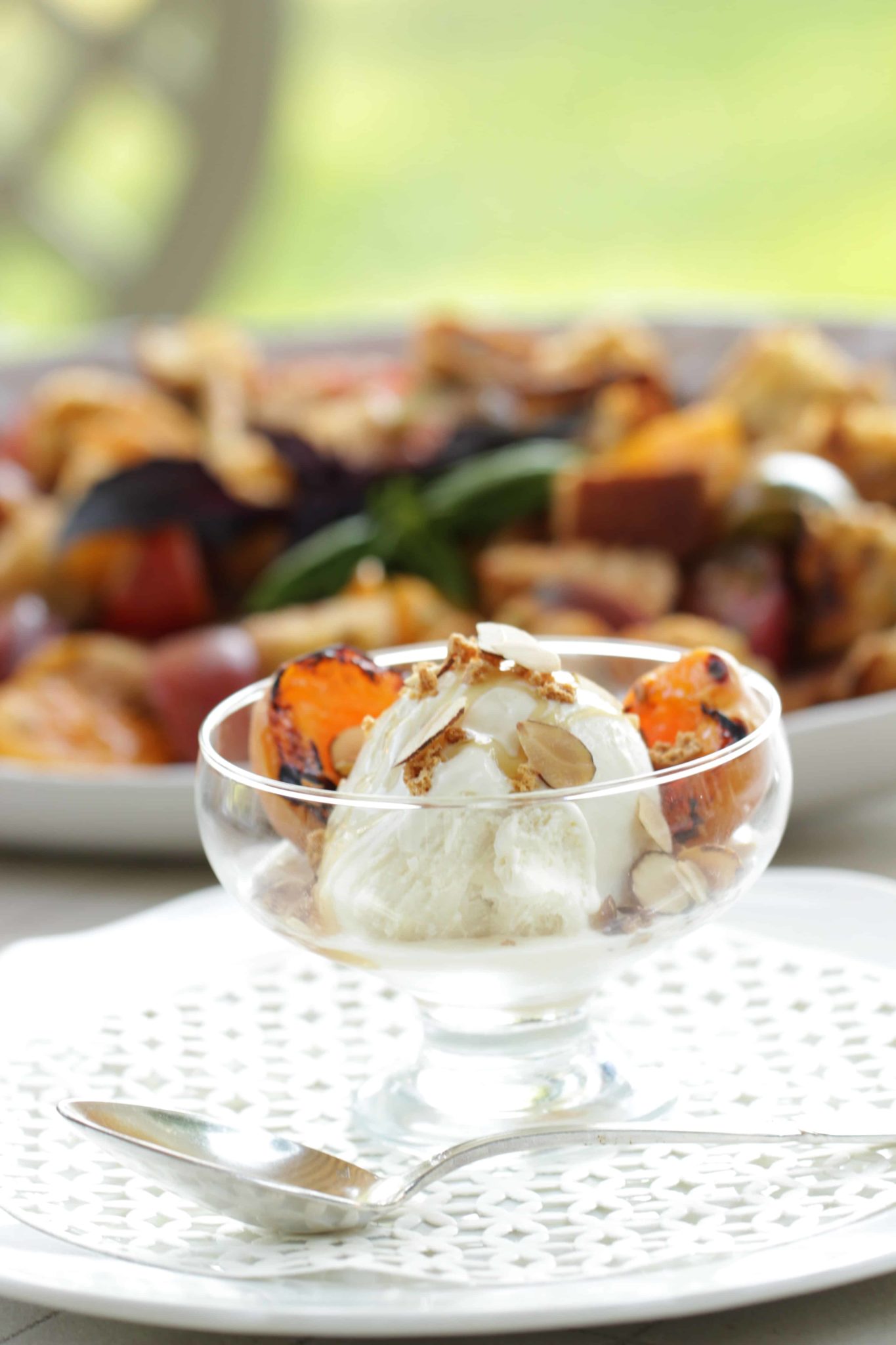 Print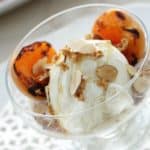 Grilled Apricot Sundae Recipe
---
Author:

Prep Time:

25 mins

Cook Time:

7 mins

Total Time:

32 mins

Yield:

4 servings

Category:

Dessert

Cuisine:

American
Ingredients
4 medium ripe apricots
3 tsp (15 ml) vegetable oil
¼ cup (60 ml) sliced almonds
8 amaretti cookie snaps
4 scoops vanilla ice cream
Drizzle of honey
---
Instructions
Place almonds on a cookie sheet and bake at 375F(190C) for 5-7 mins until lightly toasted and fragrant. Set aside to cool. This can be done hours in advance and left at room temperature in a tightly sealed container.
Place amaretto cookies in a re-sealable bag. Whack with a rolling pin to create a cookie crumb. Leave crumbs in bag at room temperature until ready to serve.
Moments before serving, cut apricots in half and remove pit. Lightly brush each half with vegetable oil.
Grill apricots cut side down for 5 mins each side until nice grill marks form and fruit is tender. Remove from grill and set aside.
Place 1 large scoop of vanilla ice cream in small bowls. Place 2 grilled apricot halves on either side. Drizzle ice cream and fruit with honey.
Top with cookie crumbs and toasted almonds.