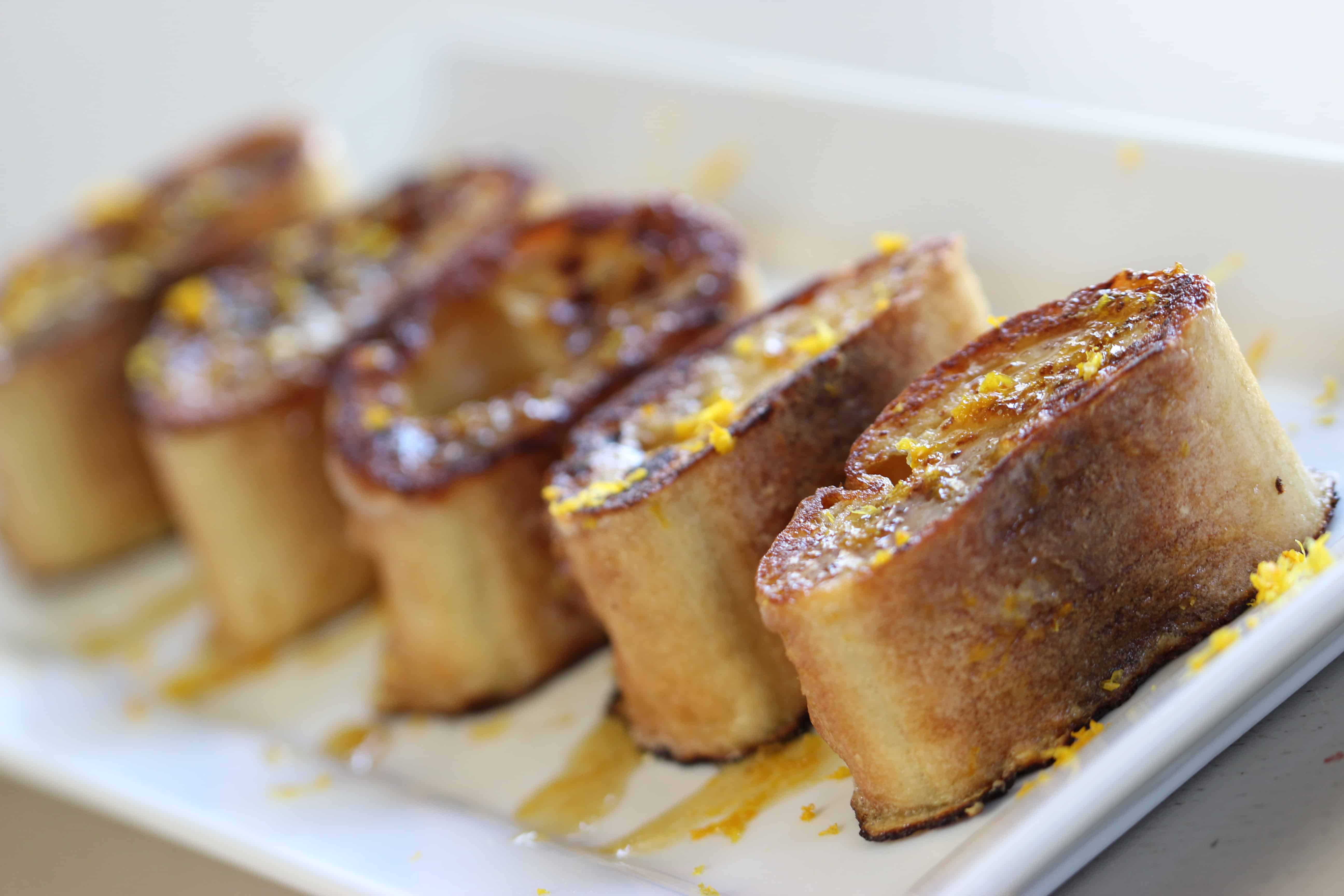 When you spend time in French homes you start to realize there's always a lot of French bread lying around.  Typically a few pieces left over from lunch, dinner and even breakfast. Because the French love their fresh bread, it's typically bought daily, and goes stale pretty quickly, and when it does it's hard as a rock!
So what to do with it you might ask? Pain perdu is your move.  Because really how many containers of bread crumbs do you really need? 🙂
Pain Perdu is really the origins of our American "French Toast" recipes, but I find it's even better with a thicker, heartier bread like a baguette.  So next time you're entertaining and don't get through a whole baguette, pop those slices in the freezer until you can make pain perdu; a fantastic little breakfast treat!
To watch a video demo of this recipe, click the player below. Subscribe to my YouTube Channel (it's free!) and never miss a recipe.  New videos post each Saturday!
Print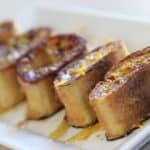 Beth's Pain Perdu Recipe
---
Author:

Prep Time:

15 mins

Cook Time:

15 mins

Total Time:

30 mins

Yield:

4

Category:

Breakfast

Cuisine:

French
Ingredients
BETH'S EASY PAIN PERDU RECIPE
Serves 4
1 day old baguette cut into 8 slices (2in thick)
3 eggs
1/2 cup (120 ml) milk
1 tsp (5 ml) sugar
¼ tsp (1.25 ml) salt
2 tsp (10 ml) vanilla
1 tbsp (15 ml) orange zest
2 tbsp (30 ml) syrup
2 tbsp (30 ml) butter
1 tbsp (15 ml) orange zest
A sprinkle of orange zest for garnish
---
Instructions
Slice baguette into 2″ thick slices set aside.
In a shallow bowl add the eggs, milk, sugar, salt, whisk that together and then add the vanilla and orange zest, whisk to combine.
Then place bread in the bowl to soak for at least a total of 6 mins (3 mins on each side)
While bread in soaking you can heat the syrup. In a sauce pan heat 2 tbsp (30 ml) of syrup, 2 tbsp (30 ml) butter and 1 tbsp (15 ml) orange zest until warm. Keep on a very low flame just to keep warm.
Then heat 1 tbsp (15 ml) of butter in a large non-stick skillet. Place soaked bread in pan, be careful not to crowd them so they can brown. Once browned on 1 side, flip them on the other side and cook for another 1-2 mins until golden brown. Then turn them on their sides to brown a bit, making sure the raw egg is being cooked on all sides.
Then remove from a pan and place on a serving platter. Drizzle the orange syrup over the bread and top with some freshly grated orange zest to garnish. Enjoy!
Entertaining with Beth is a weekly food series hosted by Beth Le Manach sharing easy recipes for elegant entertaining, that are also simple enough for a weeknight meal! Beth's motto is "Minimum effort for maximum impact!" Food tastes better when shared. So go ahead and have friends over!