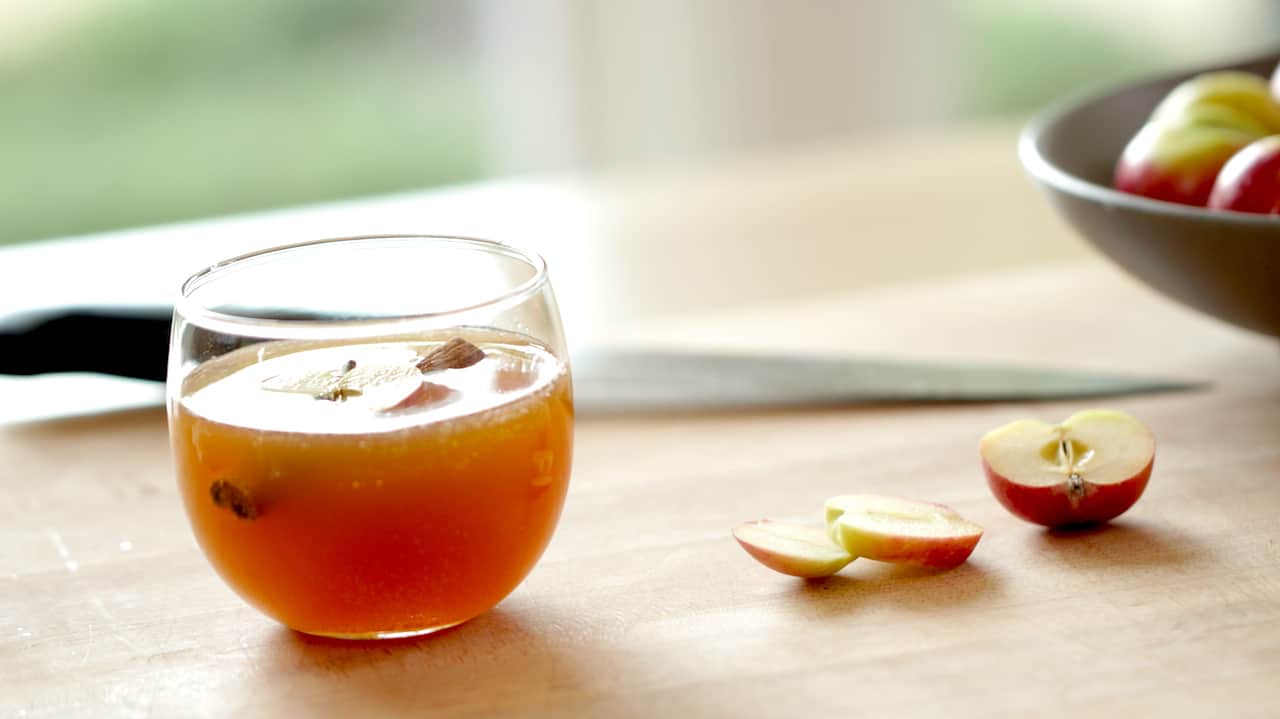 These three non-alcoholic party drinks are the perfect solution for a non-alcoholic take on a festive beverage.  The best part is they are as delicious as they are beautiful and easy to put together too!
I love this idea because the holidays typically involve lots of drinking and "speciality cocktails". I can remember the years I was pregnant around the holidays and wasn't drinking, and felt sort of "left out" because I wasn't holding some sort of fancy cocktail. These are also great for kids who always like to feel a bit more fancy and grown up around the holidays
For a step-by-step tutorial of these drinks you can watch my video below.  SUBSCRIBE TO YOU MY YOUTUBE CHANNEL and never miss a recipe! (it's free) New videos post each Saturday!
The Ginger Snap is a great one for Halloween or Thanksgiving parties. The kids go nuts for this one too!
Print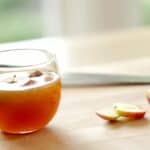 The Ginger Snap
---
Author:

Prep Time:

5 mins

Total Time:

5 mins

Yield:

1 drink

Category:

Drinks
Ingredients
1 part chilled apple cider
1 part chilled ginger ale
1 cinnamon stick
1 sliced crab apple, for garnish
---
Instructions
Pour cider in a small tumbler half way up the glass, top with ginger ale. Garnish with cinnamon stick and sliced apple. Enjoy!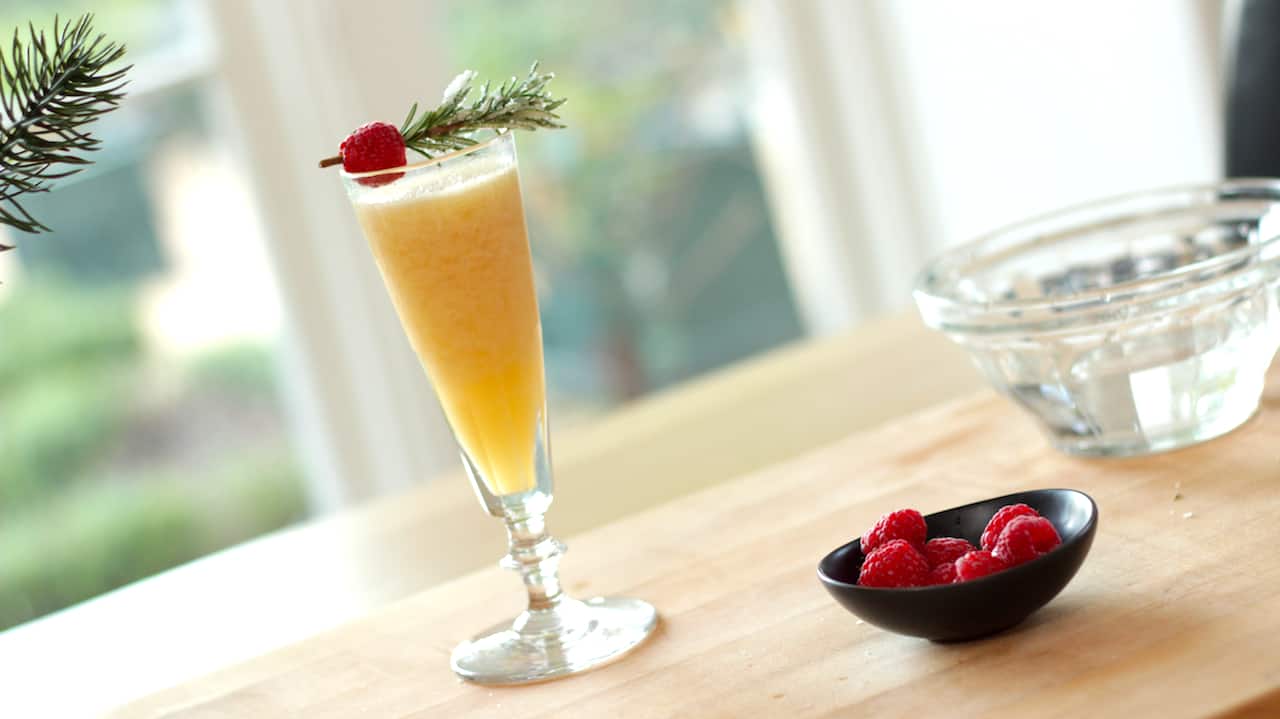 My second non-alcoholic drink is my Snow Drift "mocktail".  I love this one because it's looks so wintery and the tastes are wonderful too!  Pear and rosemary may seem like a strange combo…until you've tried it! Really fantastic "flavor mates"!  Once served, encourage your guests to drop the rosemary garnish into the glass, it will infuse the drink with a delicious subtle rosemary flavor.
Print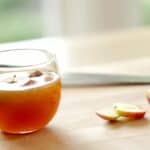 The Snow Drift
---
Author:

Prep Time:

10 mins

Total Time:

10 mins

Yield:

4 drinks

Category:

Drinks
Ingredients
1 cup of ice
2 cups pear juice
sparkling water
4 rosemary sprigs
1/4 cup white sugar
a small dish of water
4 fresh raspberries
---
Instructions
Combine ice and juice in a blender, whirl until smooth.
Pour puree into champagne flutes 3/4 of the way full.
Top with the sparkling water
Cut rosemary sprig long enough to rest across top of glass. Good idea to measure first!
Remove bottom leaves of rosemary sprig 1/3 of the way.
Then dip rosemary into dish of water and dredge through the sugar shake slightly.
Place raspberry on bottom end of rosemary sprig
Lay rosemary garnish on top of glass
Notes
This can be made alcoholic by topping off with champagne or prosecco instead of sparkling water.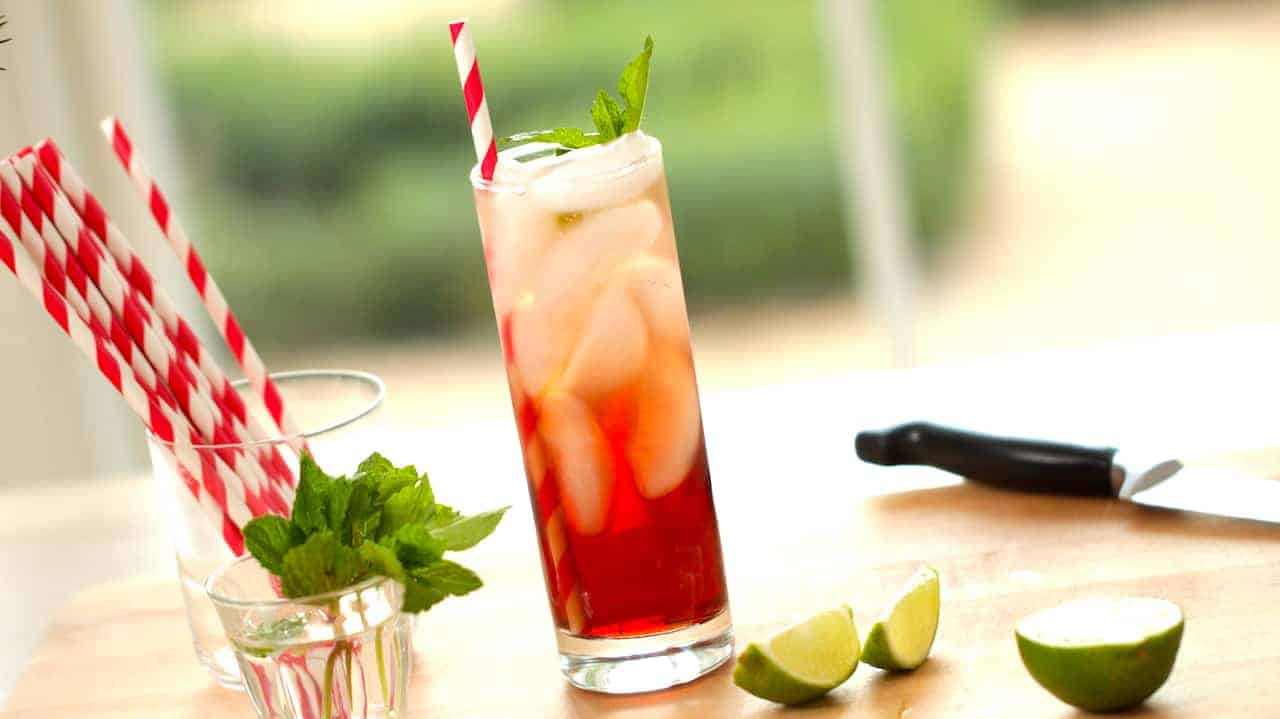 Finally for kids of all ages, I present the Santa Soda.  This is a great non-alcoholic drink around Christmas time and it's just a fun festive thing to say, "Santa Soda". The name alone makes you smile 🙂 You can purchase the festive stripped straws here. (This link goes to Amazon where I am an affiliate)
Print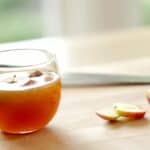 The Santa Soda
---
Author:

Prep Time:

5 mins

Total Time:

5 mins

Yield:

1 drink

Category:

Drinks
Ingredients
1/4 cup of ice
3/4 cup Cranberry Juice Cocktail (CranApple or CranRaspberry)
1/4 cup Sparkling Lime Flavored Soda
1 lime wedge
1 sprig fresh mint
---
Instructions
Place ice in a tall glass
fill 3/4 of the way with cranberry juice cocktail
top with lime sparkling water
squeeze lime wedge into glass
garnish with mint
I hope you enjoyed these non-alcoholic party drinks and that they make your holidays merry and bright!