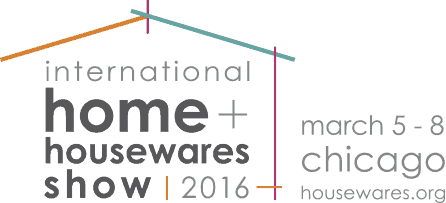 For the past few years I've had the pleasure of attending the International Home + Housewares Show in Chicago. This is where all the new houseware products are debuted before hitting the retail shelves for consumers.
For me it's like being a kid in a candy shop and I'm always inspired to discover so many great products.
I also went to scout out some new products to incorporate in my upcoming videos. I'm excited to announce that I'm now a Contributor for the IHA consumer website Inspired Home, where I'll be doing some related blog posts to many of the products I'll be featuring. So you can look for that in the coming months ahead.
So without further adieu, let me share with you my top picks for favorite products seen at the show (ones that will probably find themselves winding up in my videos because I think they are so great!)
First up in the category of...
WOW, THAT'S GENIUS!
The Party Bowl and Lid with Chevron Tote by Anchor Hocking
I love products that you know had to be created by someone who cooks or entertains a lot, because the idea is so genius it just couldn't have come from anywhere else. Such is the case with this little gem.
A party bowl, with lid placed into a stylish tote....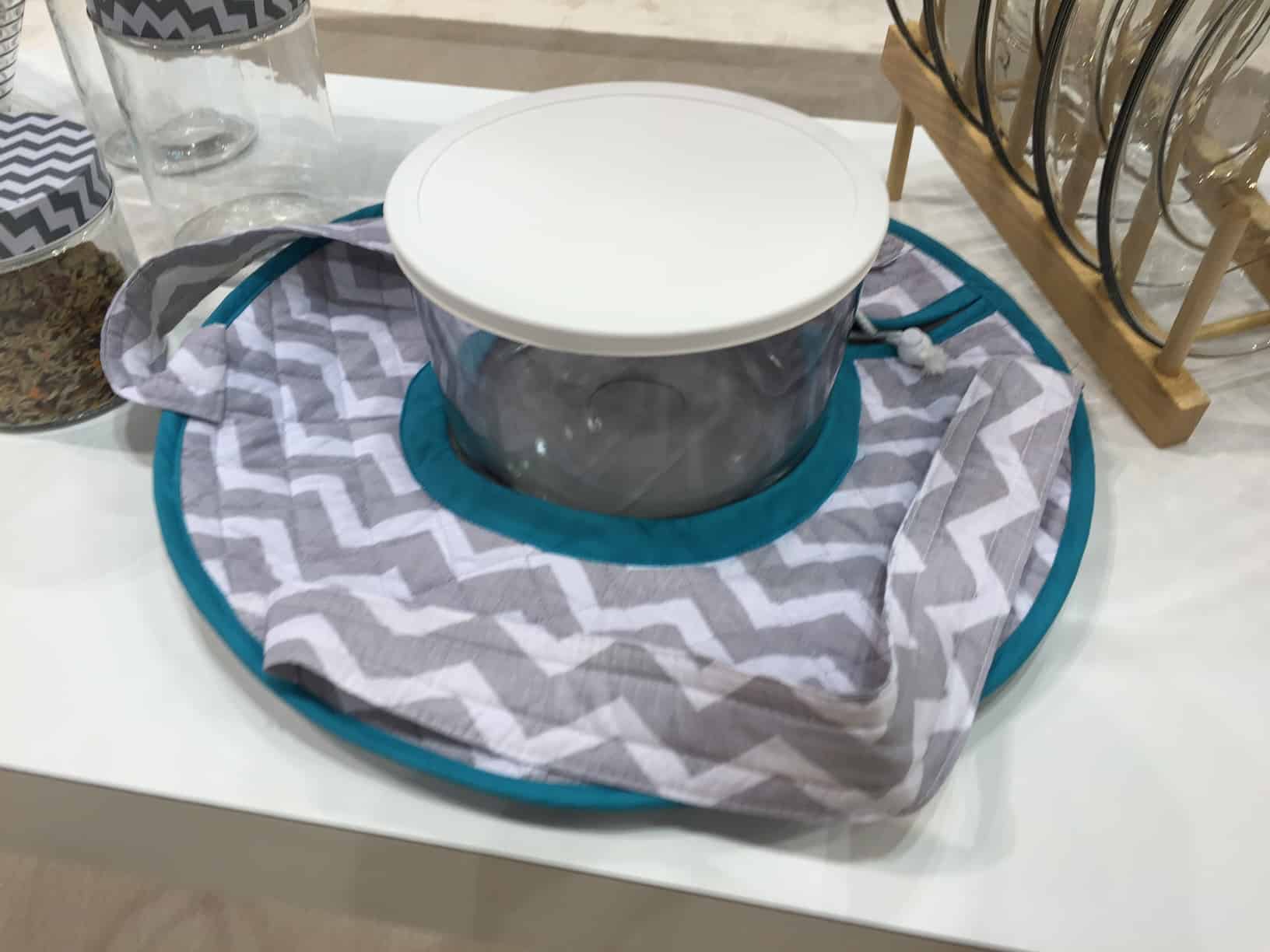 simply pull the drawstrings....et voila!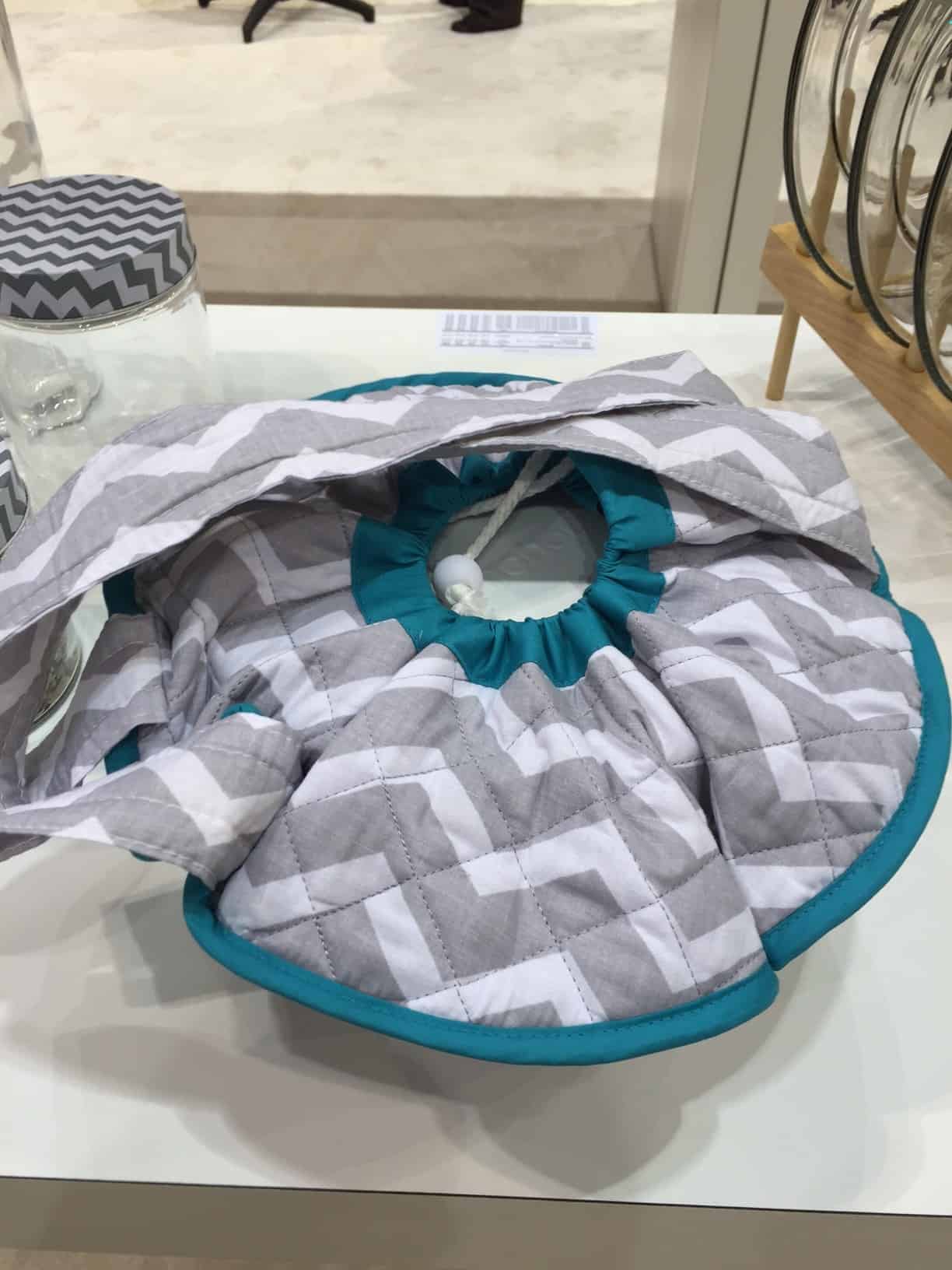 It turns into a stylish tote ready to take to your potluck or summer BBQ at the beach. I cannot wait to own several of these! I just love the concept. And what a great hostess gift too!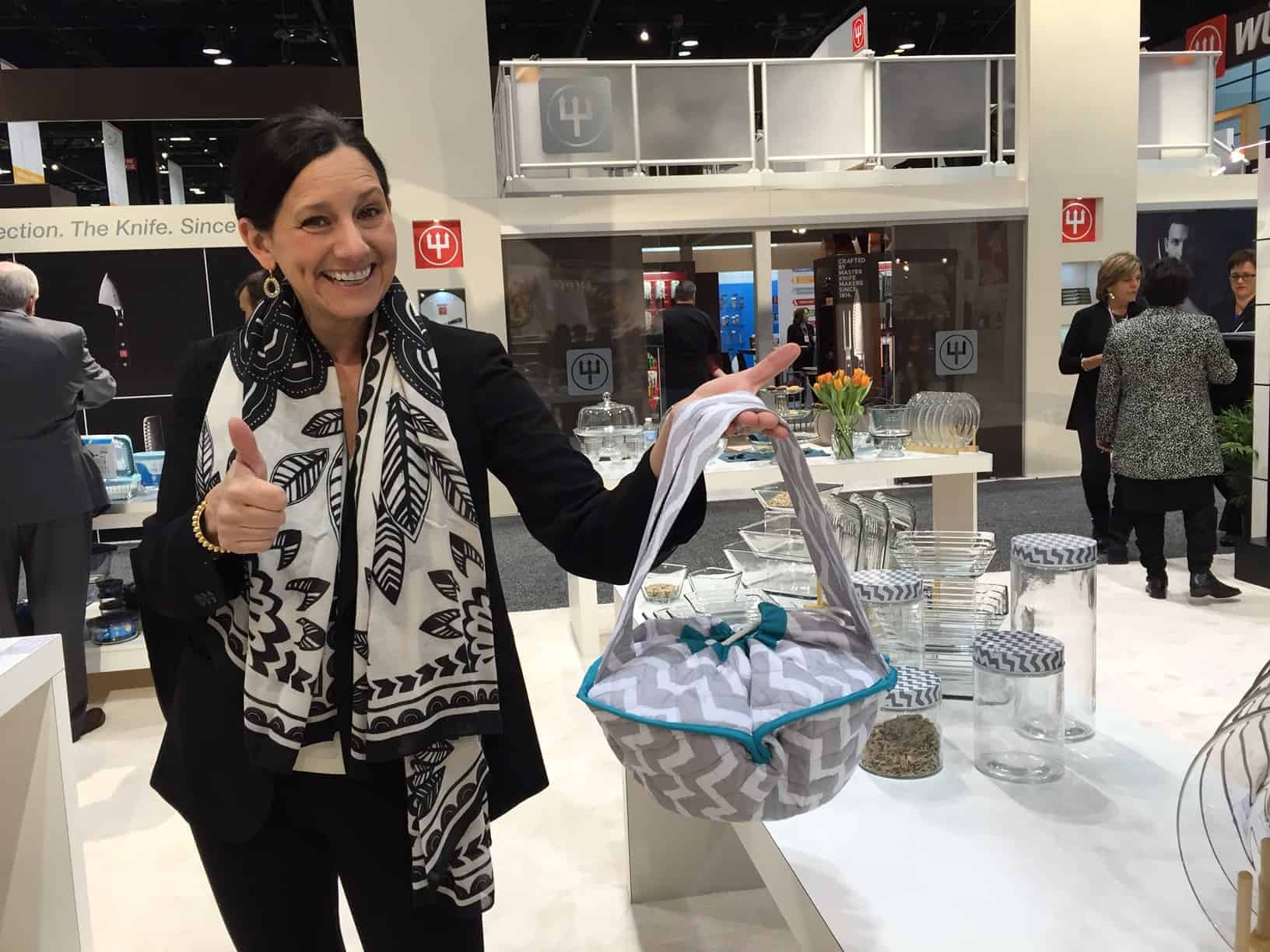 OK next up, another genius product...
The Rectangular Platter with Lid by Le Crueset
But wait here comes the genius part....!
The casserole dish comes with a lid that fits snuggly on top. So off you go out to the BBQ to grill your steaks, and you already have your platter ready to go to place your cooked meat on top. No more juggling 2 platters or racing back and forth to get a clean one. It's all here for you in one product. Seriously, LOVE this! Bien Fait Le Creuset!
BEST NEW EXHIBITOR!
In a sea of so many new products new exhibitors can easily get lost. But this one I personally sought out. I received an email about this product and I was intrigued! A revolutionary ice cream scoop by Midnight Scoop developed by an aerospace engineer Michael Chou.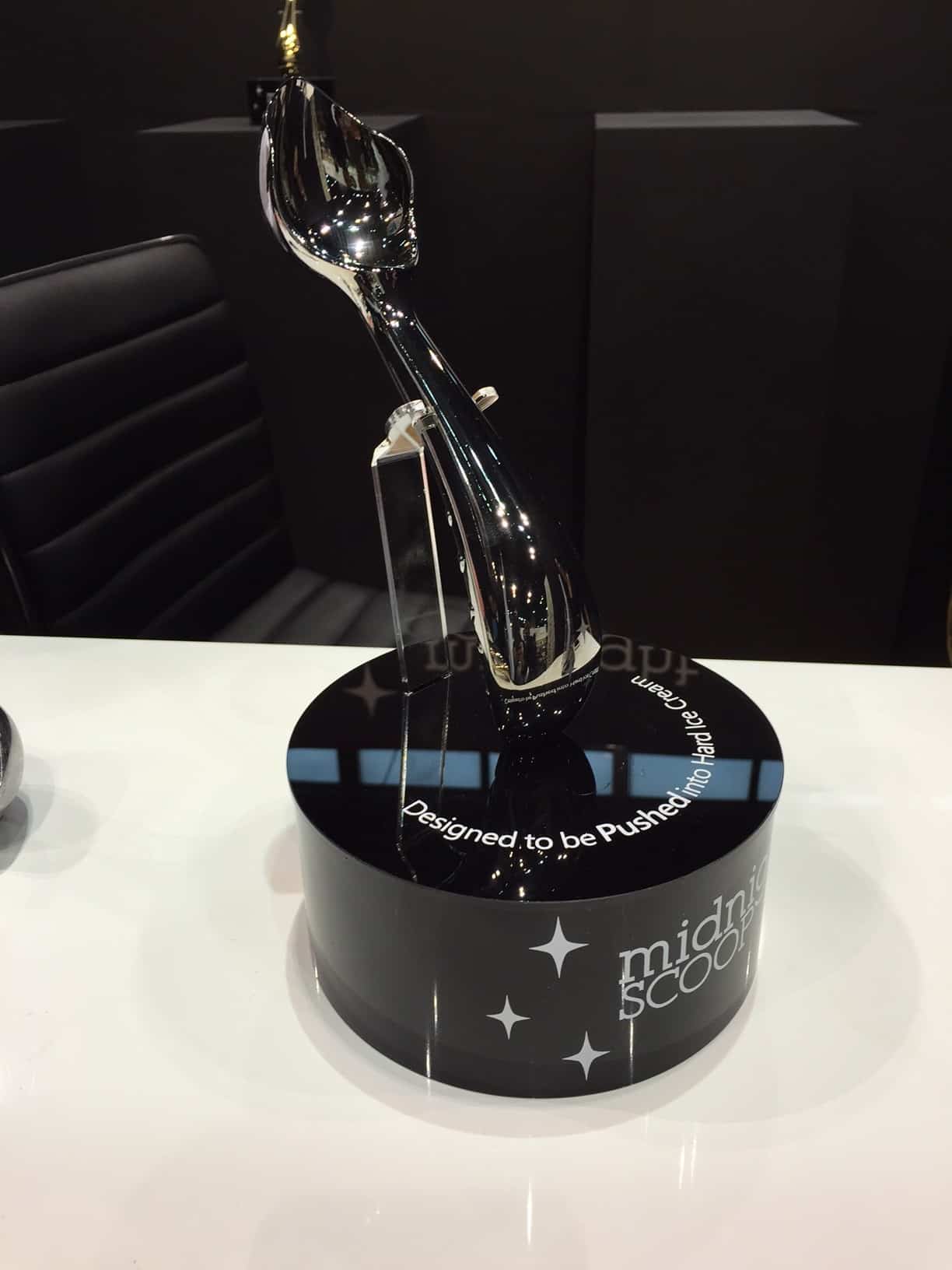 The idea is that for most of our lives we've been doing it wrong! Scooping ice cream is a chore because we are using our wrists, which are weak. This scoops works on a "push" method pushing the ice cream into generous scoops.
I was also charmed to learn that Michael's business was launched thanks to a kickstarter campaign! LOVE that 🙂 Way to go Michael! Best of luck to you and your ice cream scoop! I'll certainly be showing it "in action" this summer in an ice cream video.
PRODUCTS FOR HOW WE LIVE
It was also really interesting to see products begin to appear that address how our lifestyle is changing.
The Egg Carton, by Le Crueset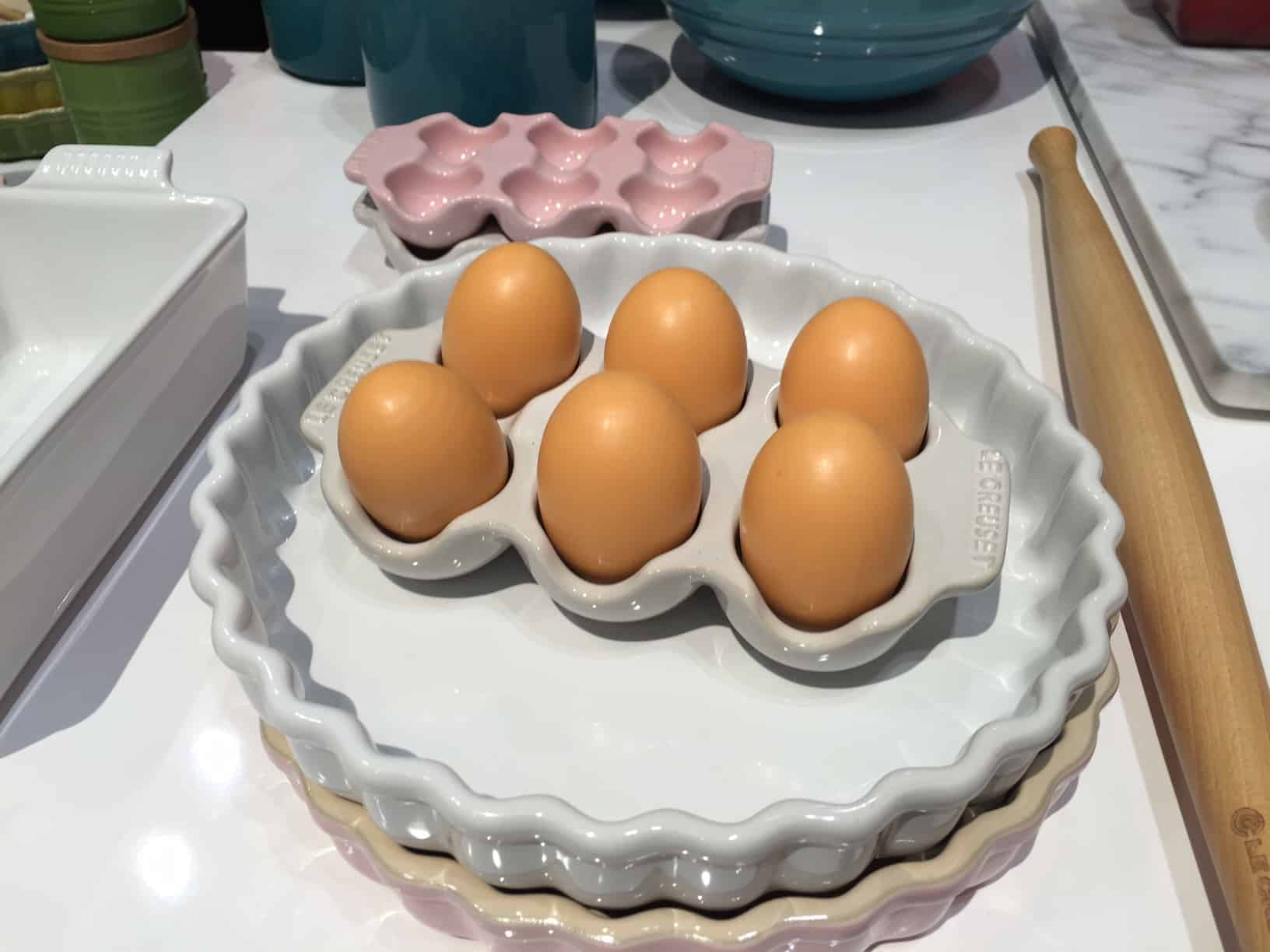 A perfect product for all you urban homesteaders out there raising chickens. You need someplace to store the eggs (real chickens don't supply the cartons!) I thought it was really interesting and progressive of Le Crueset to think of this and dedicate a product to this trend. Nice one!
Next up, tooth pick markers...from Simply Baked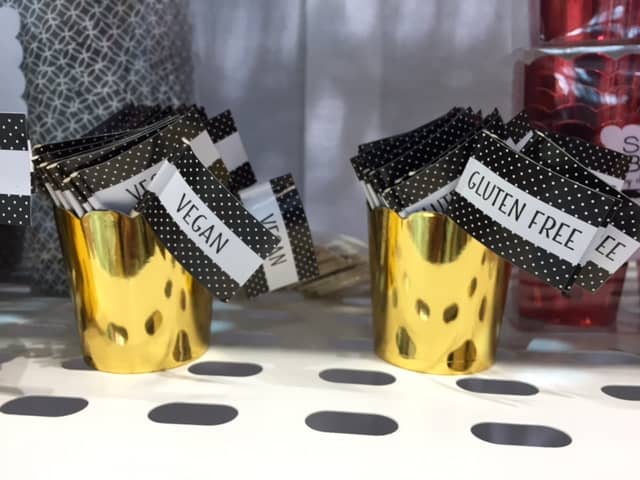 With so many people nowadays opting for special diets, it can be hard to identify "what's what" while surfing the buffet. I thought these picks were not only great looking but so thoughtful for hosts to incorporate for large gatherings.
Next up, I completely fell in love with these baskets from Artland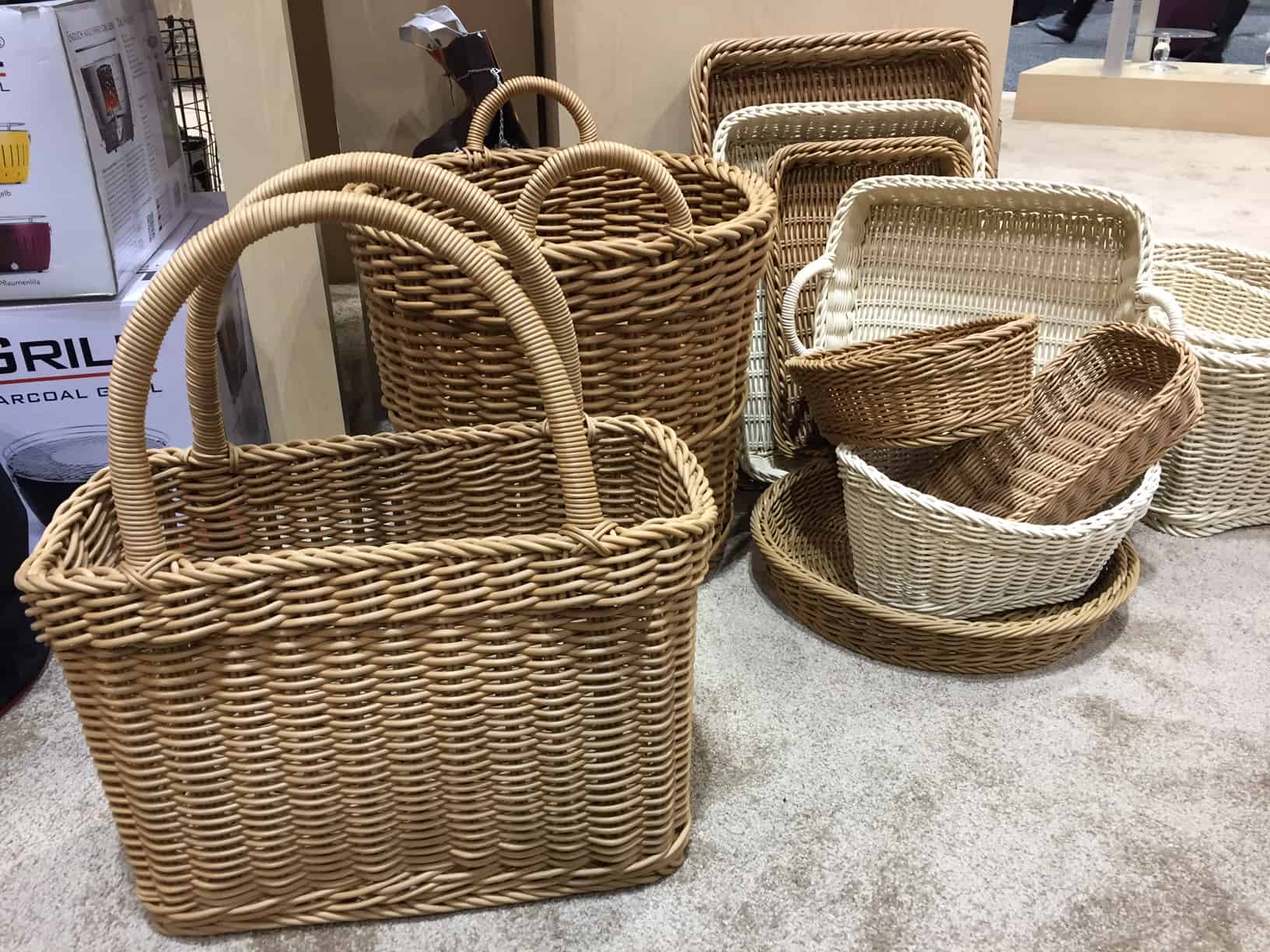 These baskets look like the real thing but are actually made from polypropylene. The large one is perfect for toting around wine or water bottles you may need to haul back from the grocery store. Easy to keep in the back of your car! And here's the best part...they are food safe and go in the dishwasher! I know right?!
Next up, these stylish jam pots from Le Parfait distributed by Down to Earth, Dist Inc.
With so many of us celebrating "slow food" and rediscovering the art of canning and making jams, this old world product fills a contemporary need. I love the fact that they come with plastic lids for easy storage. I'm certainly going to give these a try once my apricots start appearing!
WELL, HELLO THERE HANDSOME!
These products were so beautiful, so handsome that they would be real show stoppers in any kitchen.
Such as the Le Creuset Cerise Collection spiffed up with Gold Knobs. How fab! These will be out before Christmas and my what a lovely holiday gift for someone 🙂 (Hope my husband is reading this....hint ....hint)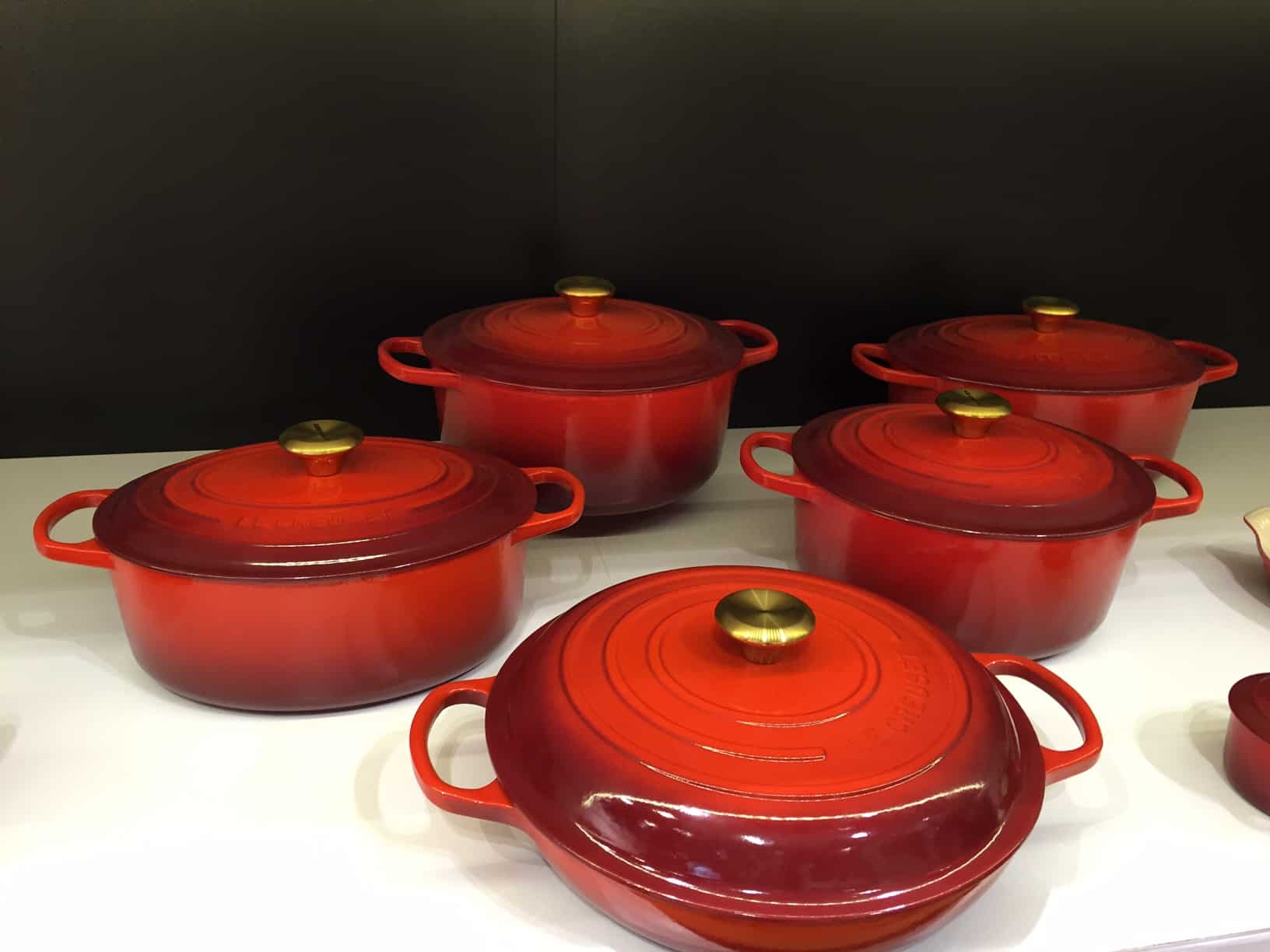 Then not to be outdone by the French Lagostina an Italian brand had this little beauty on display...
It's a risotto pot with a beautiful wood lid that flips over to function as a trivet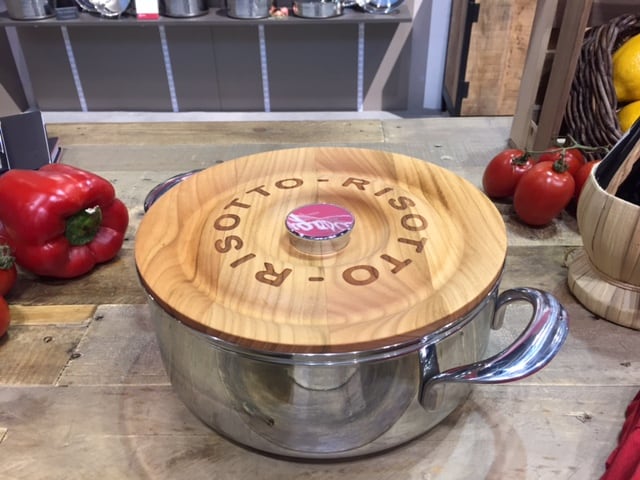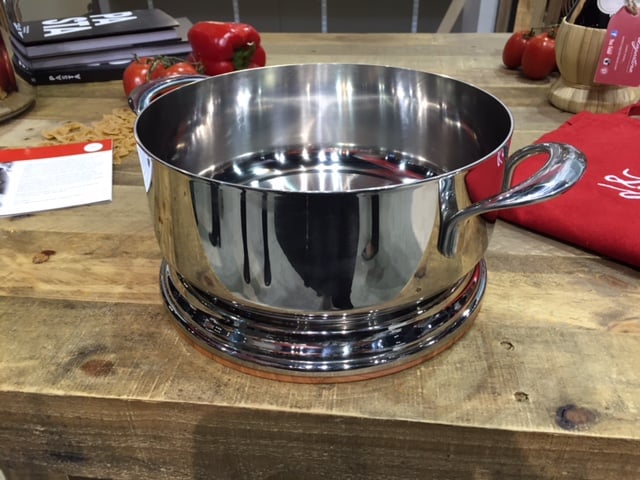 Allowing you to bring your risotto to the table and serve it as is. I can just imagine a beautiful Lobster Risotto being in served in this for New Year's Eve.
A VINTAGE FLAIR
Then there were the products that celebrated vintage designs. I'm always a sucker for the "good old days" and I love to see these designs coming back in fashion.
For example, the 1965 Vintage Collection from Sambonet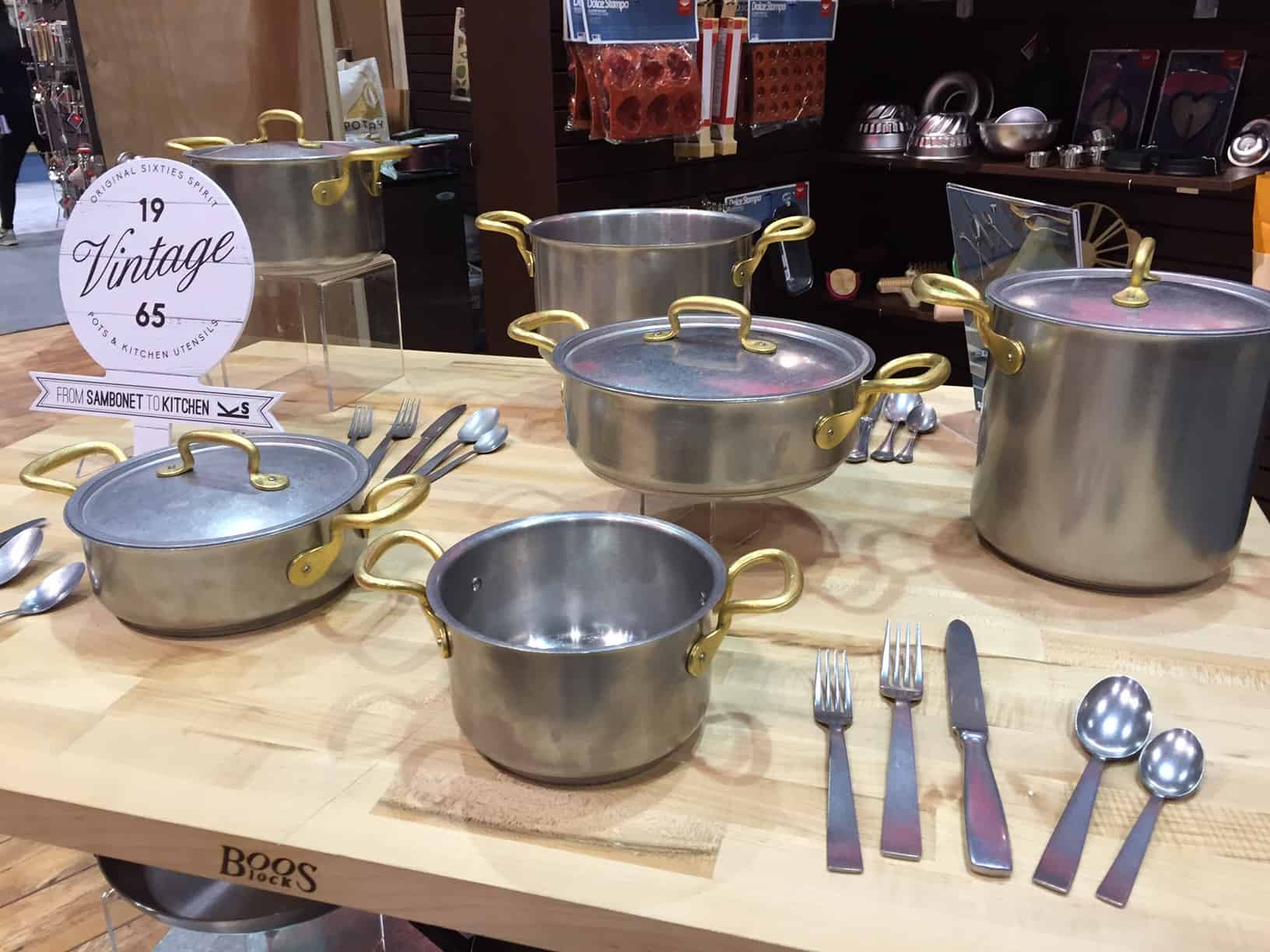 Beautiful stainless steel products that have been treated to look weathered. The flatware really got my attention! So beautiful and durable too!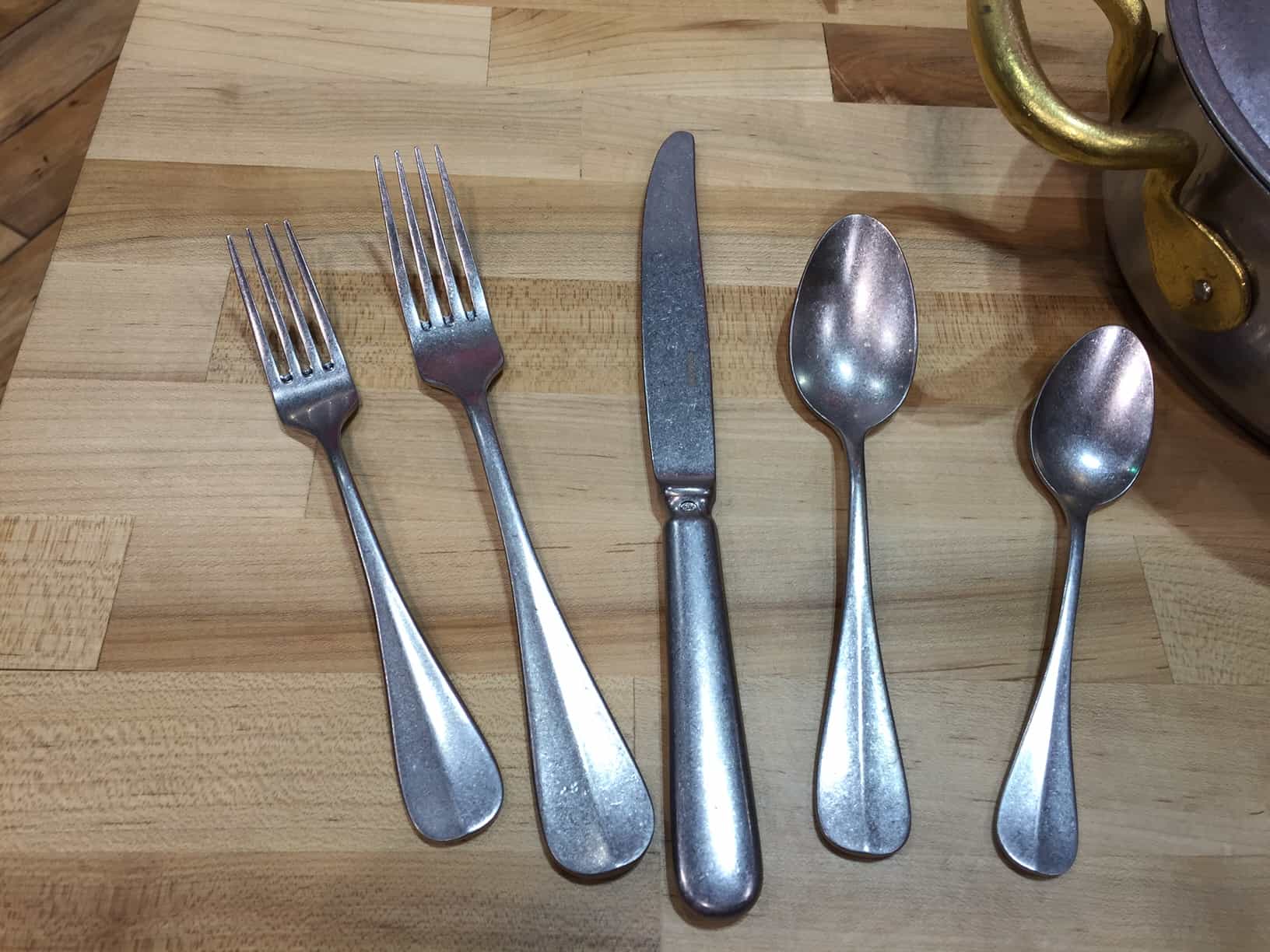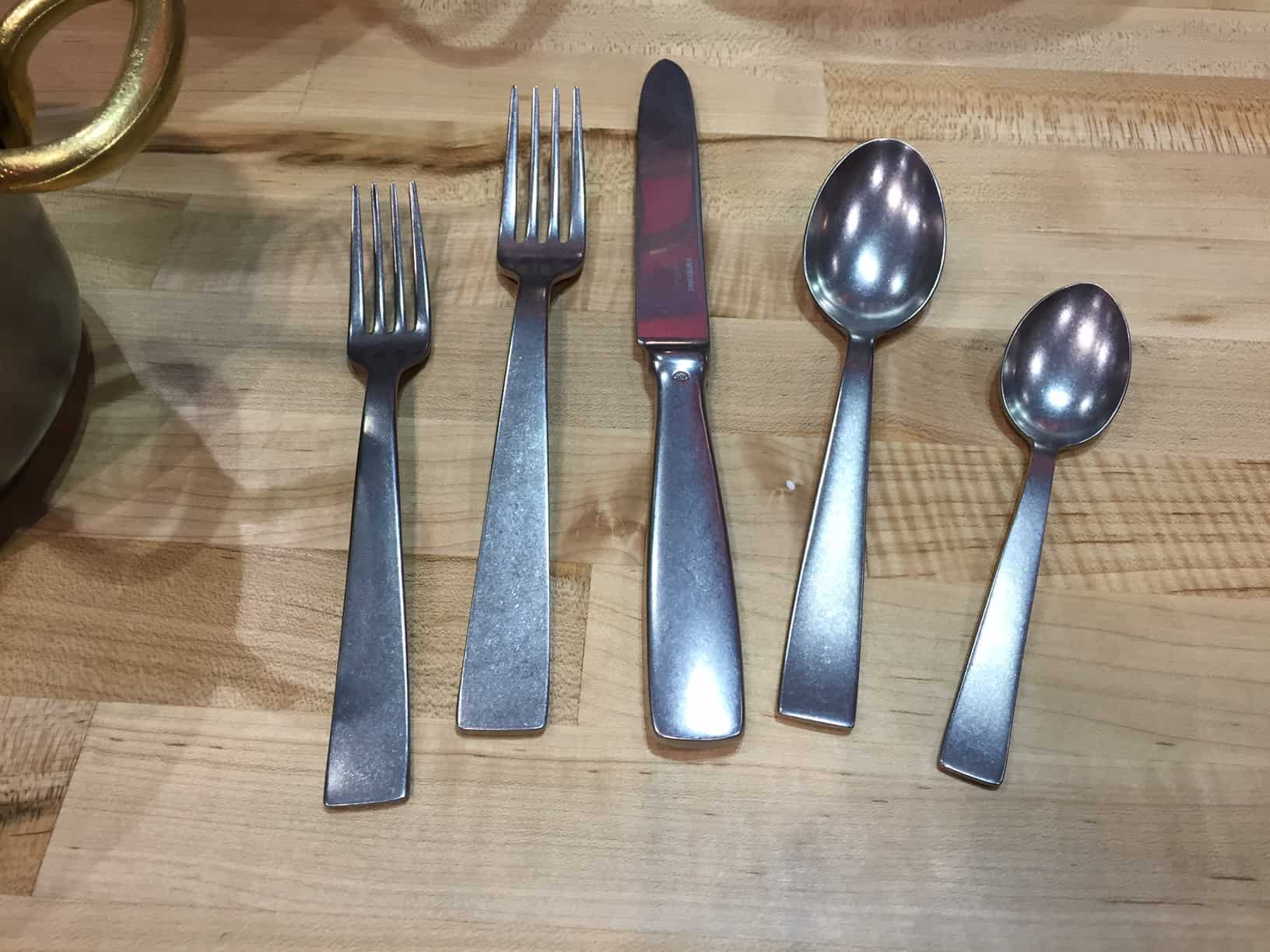 Next up, I have a soft spot in my heart for "splatter ware" by Crow Canyon Home
These pieces remind me of the antique spongeware bowls I grew up with in New England. But these are even better from a durability standpoint since they are made from enamel. They are lightweight and perfect for outdoor BBQs, potlucks or trips to the beach!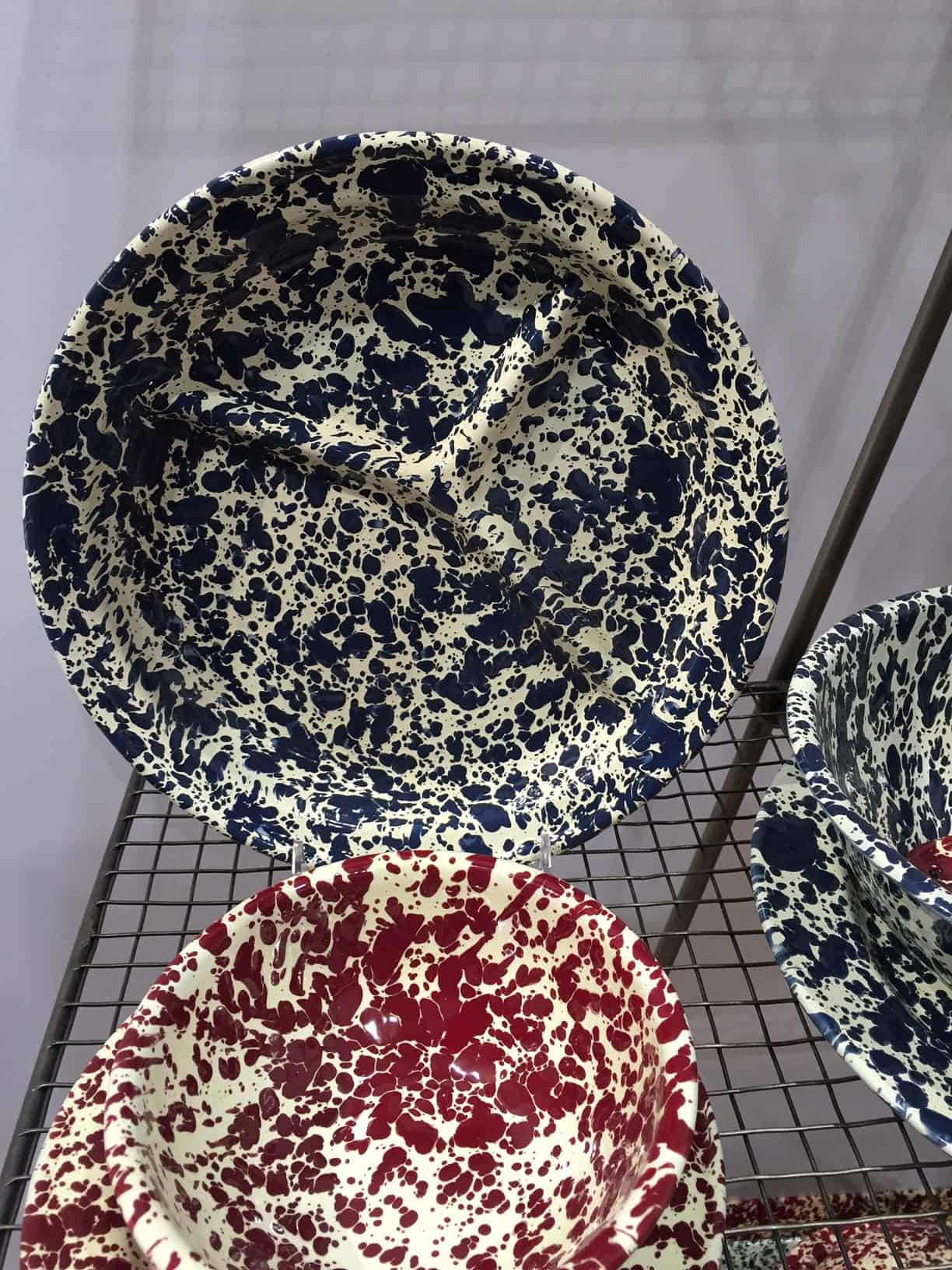 I also loved the portioned dinner plates and could just envision some lovely BBQ Chicken, Corn Salad and Fresh tomatoes filling up those crevices! 🙂
I also fell in love with these stylish aprons from Art Style Design Living
They are made of denim. They kind of reminded me of old California gold mining aprons. Beautifully made!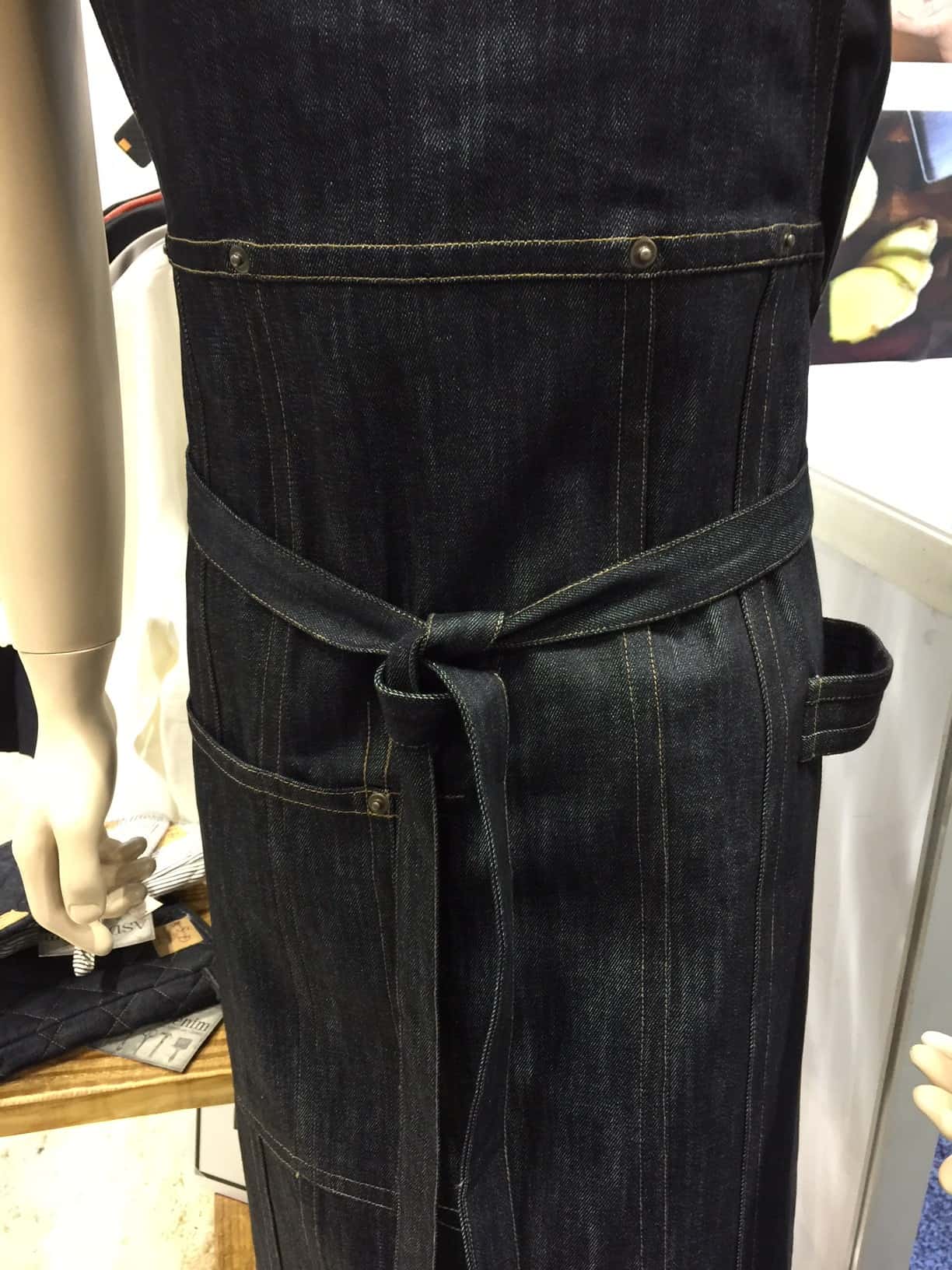 And they even come in child sizes too!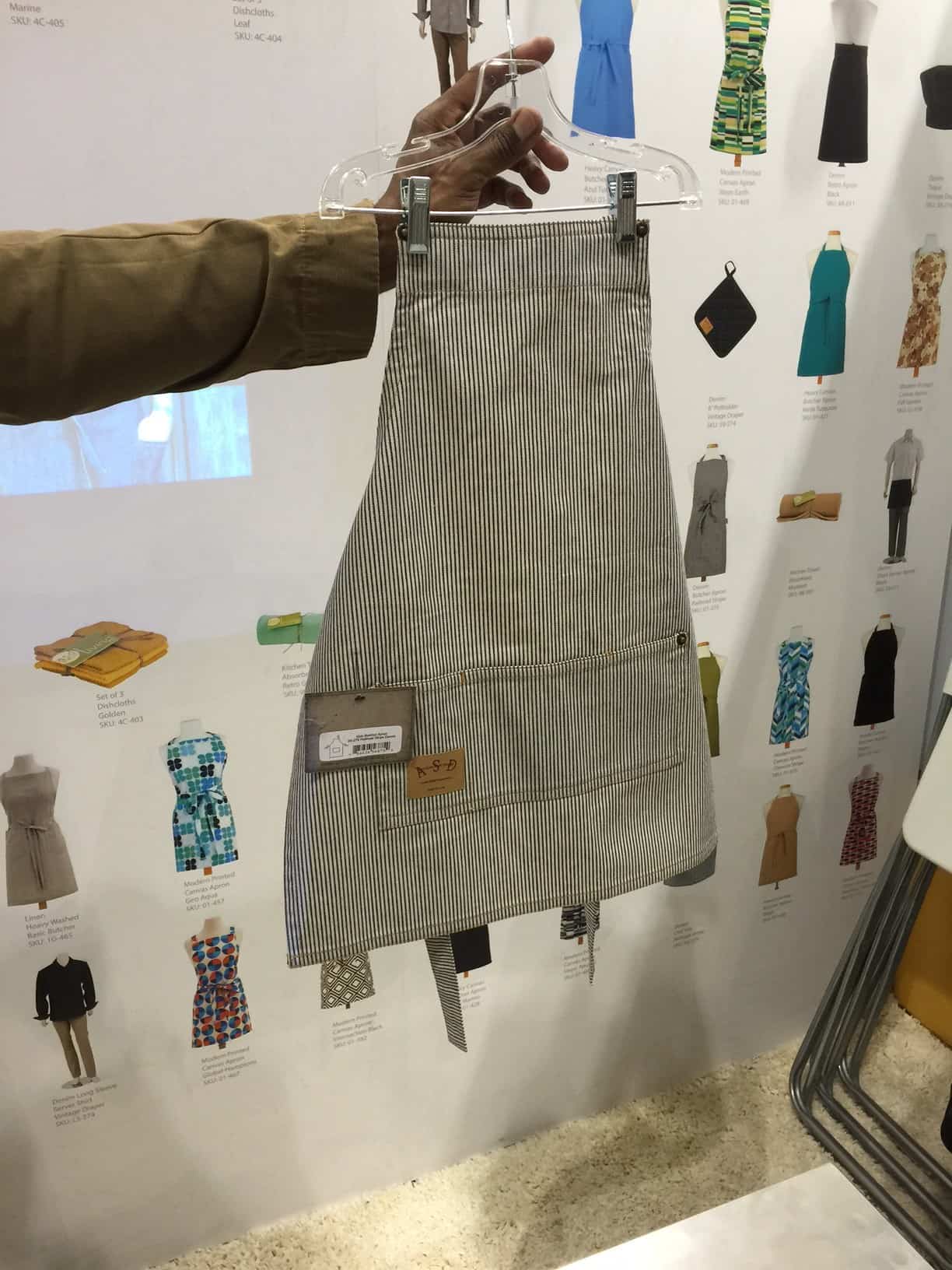 ECO-FRIENDLY
It's also always nice to see products that address the environment in some way, and these two were my favorite.
First up products made from bamboo by Method Sourcing. Made from excess raw materials of fast growing bamboo. These products are also biodegradable!
The mixing bowls were really great looking...
And so were the colanders...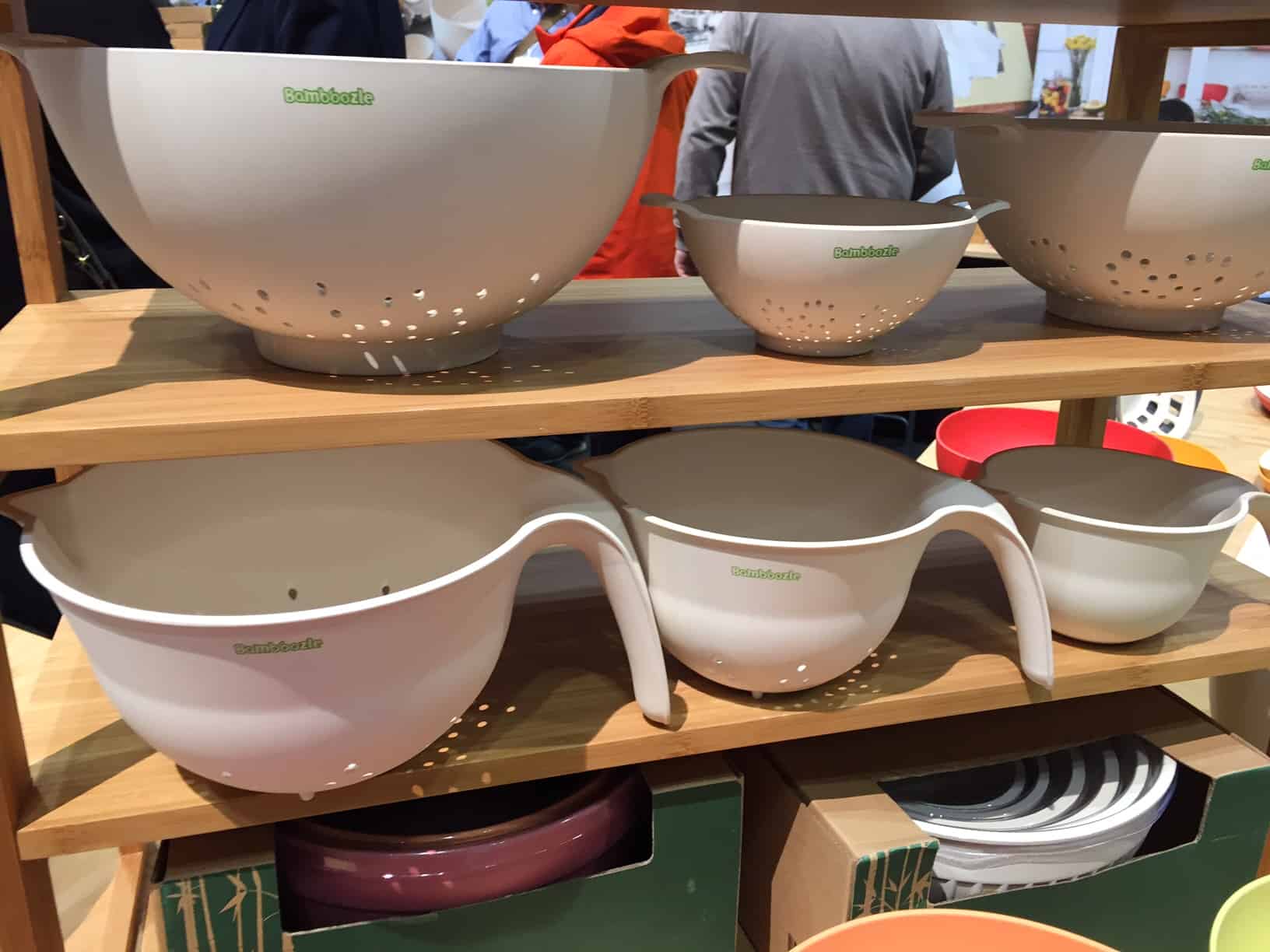 But the most charming of all were the darling serving plates for kids. So cute!
The other interesting product on display in this category were these beautiful mango wood serving pieces from Enrico Products.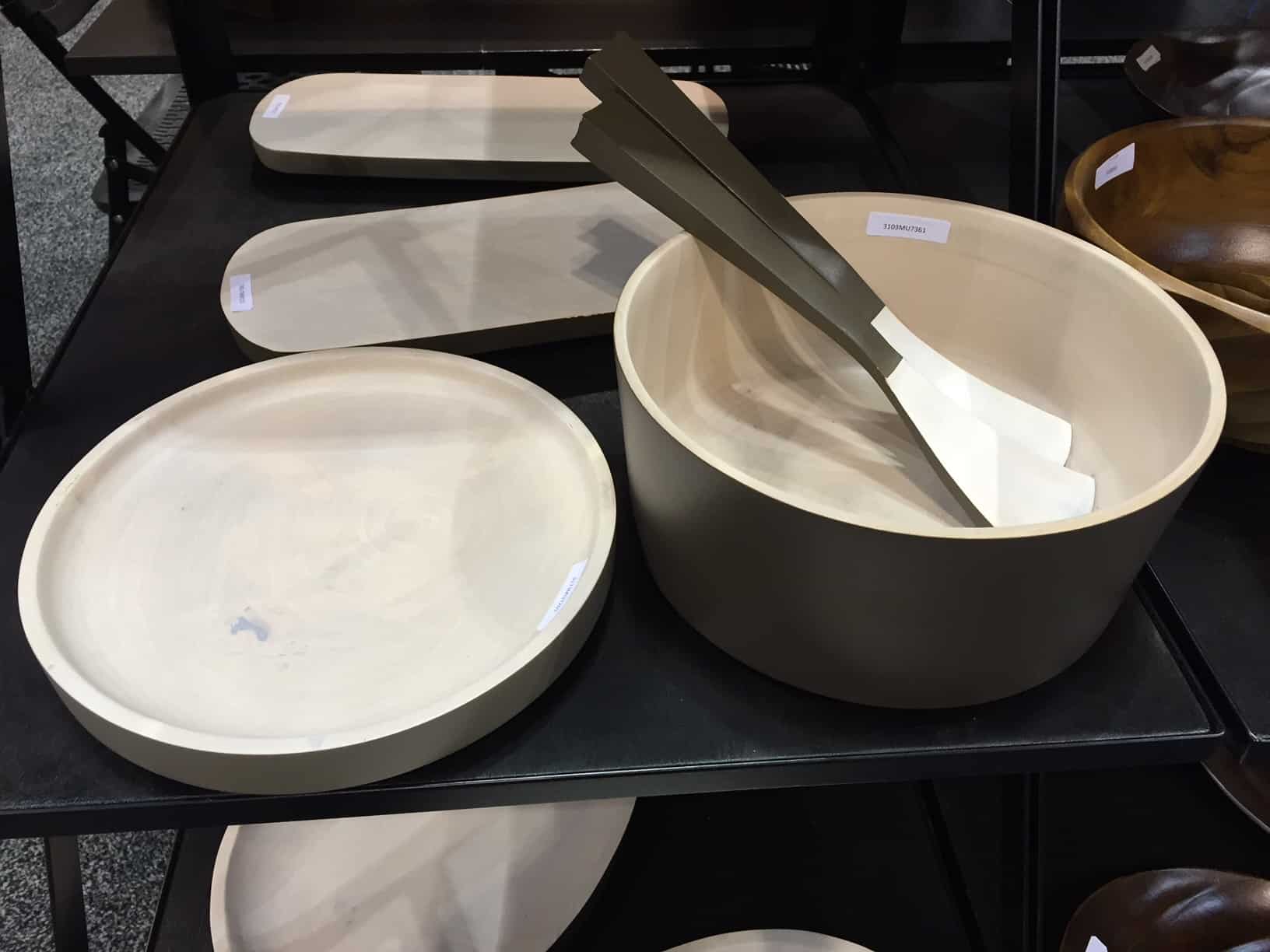 Apparently mango trees stop giving fruit after 25-30 years and then the trees are chopped down. But this company saw that as an opportunity to do something with the wood, and transformed it into these beautiful platters and bowls. I really love the salad bowl. How beautiful!
So there you have it, my top picks seen at this year's IHA Show! Sure was a great trip!