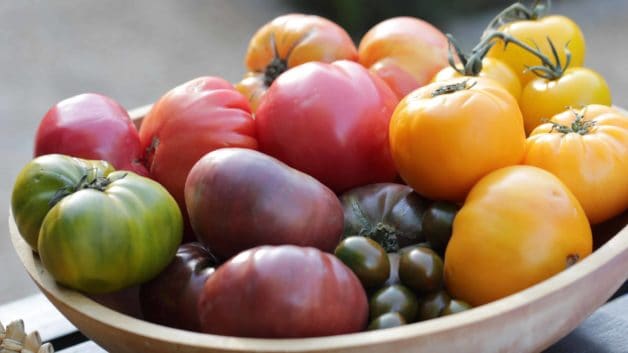 Tomatoes must be my favorite food on the planet! They are my ultimate comfort food! I'll eat them any way they come! Raw, broiled, stewed, baked you name it 🙂
If you fall into the camp of the "Tomato Obsessed" then you must at some point treat yourself to a homegrown tomato. There's nothing more satisfying than picking a tomato straight off the vine still warm from the sun and slathering it with some extra virgin olive oil and some delicate sea salt... ahhhh summer!
Watch my tomato growing tips below! Subscribe to my Garden Channel and never miss a video! (It's free)
H
Here are my top ten favorite varieties to grow:
1.) Sun Gold Cherry Tomato
2.) Sweet 100 Cherry Tomato
3.) Green Zebra
4.) Mr Stripey!
5.) Cherokee Purple
6.) Yellow Brandywine
7.) Arkansas Traveller
8.) Zapotec Pink
9.) Paul Robeson
10.) Golden Mama
For great info on growing tomatoes, watch my gardening tutorial here!