These flakey Lemon Blueberry Scones are the perfect treat for a Sunday brunch and a great way to use up all of those extra summer berries! They are light and flakey and extra moist! If you have ever had a dry crumbly scone, this is the recipe to change your mind about what a scone can taste like!

The great thing about this recipe is you can make these the day before. Just mix the dough, cut the scones, and place them on a baking tray. Then keep them in the fridge until you are ready to serve, pop them in the oven and bake!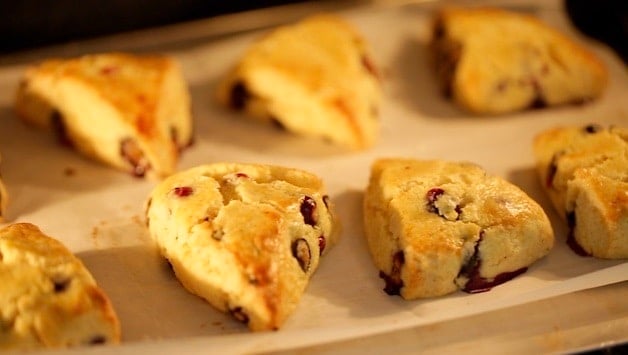 Finish with a little lemon glaze on top and sail off into breakfast heaven! If you have extra blueberries on hand use them in my Light and Crispy Blueberry Waffles or my Classic Blueberry Muffins.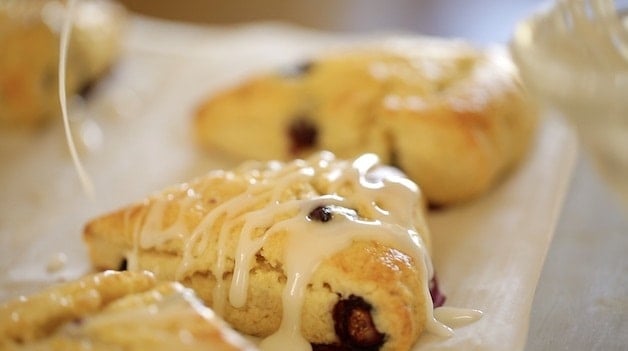 If you have overnight guests, make these to serve with coffee or tea the next morning and my Cheesy Egg Casserole and my Foolproof Roast Potatoes for an easy and delicious brunch.
How-To Make Lemon Blueberry Scones!
SUBSCRIBE TO MY YOUTUBE CHANNEL FOR MORE RECIPE VIDEOS! (IT'S FREE!)
How Do You Make Moist Scones?
A moist scone comes down to the mixing! There are two ways to make scones, by hand or in the food processor. I've made them both ways and definitely prefer mixing by hand for a flakey, moist scone and here's why:
When you mix by hand, the butter stays in nice chunks instead of broken-down bits made by the food processor.
When the little chunks of butter hit the oven and begin to melt, it creates air pockets.
These air pockets create nice and flakey scones which also keeps the scone moist.
Also, the addition of heavy cream and egg creates a richer, moister scone than those without.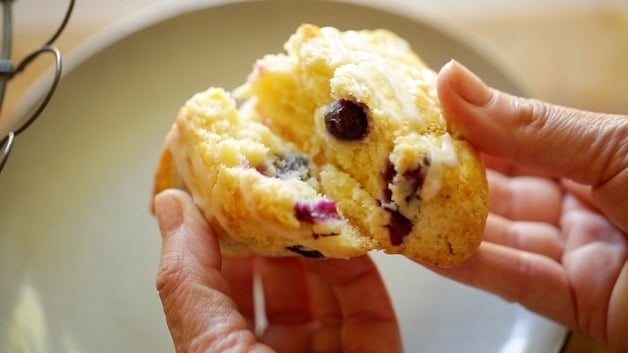 Sometimes with the food processor, it's easy to over-mix the butter and flour mixture. Instead of butter chunks, you end up with a fine meal. A fine meal won't create those air pockets when the butter melts in the oven, this in turn creates a dense, dry scone.
I also find the addition of an egg in this recipe, in the wet ingredient stage, creates a richness that also retains moisture and prevents a dry sconce.
Here's How to Make Lemon Blueberry Scones with Lemon Glaze
STEP 1: Prep the Scone Dough
In a large mixing bowl, add flour, sugar, baking powder, lemon zest, and salt (exact quantities in the recipe card below).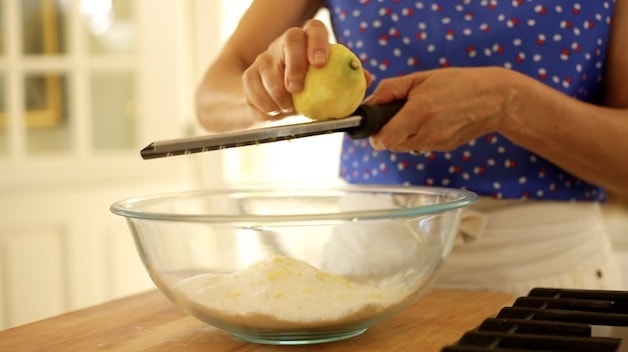 Whisk until well combined. Now, for the butter! It's important to start with very cold butter to get the perfect scone texture. I like to cut the butter into cubes then pop it in the freezer for a few minutes.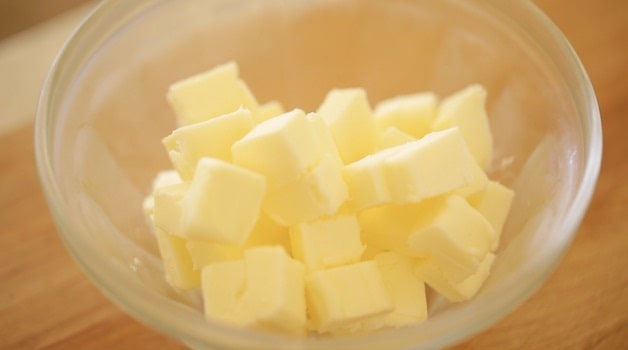 Add the cold, cubed butter to the flour mixture, and mush the flour and butter together with your hands.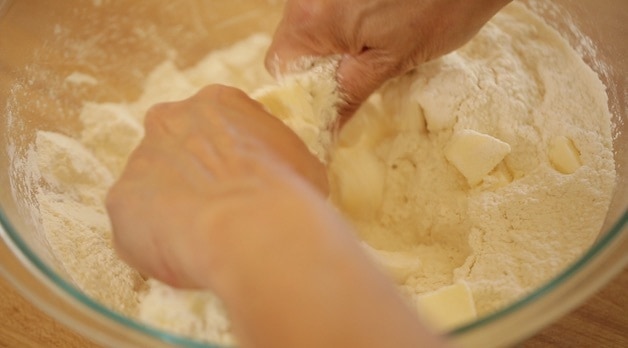 The mixture should resemble a coarse meal with crumbly, pea-sized butter pieces.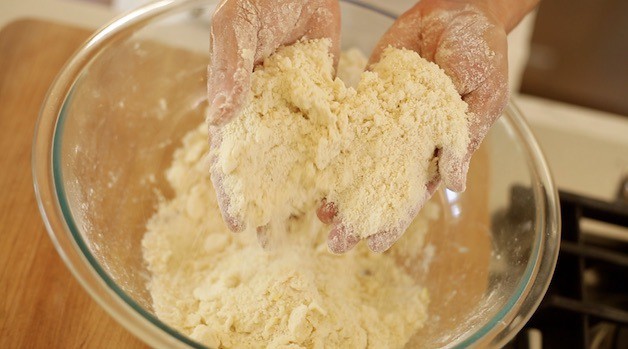 STEP 2: Mix in the Wet Ingredients
Then, add heavy cream, egg, and vanilla in a separate bowl and whisk to combine.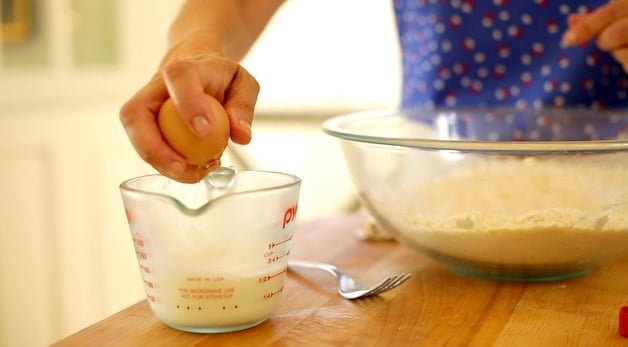 Now, create a "well" in the center of your dry ingredients and pour the cream mixture into it. Then place the blueberries on top.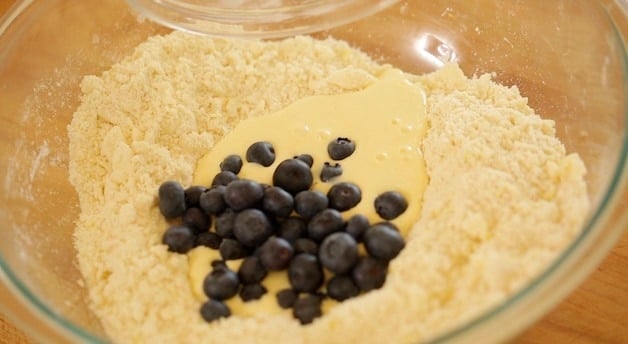 TIP:
Creating a "well" allows the wet and dry ingredients to combine in a way that incorporates them, but doesn't "over-mix" them.
Are there eggs in scones?
There are recipes that make scones with and without eggs. Eggs will add richness to the scone, so if you do want to amp up the richness use the egg, otherwise you can substitute the egg by increasing the amount of the milk or cream by 1/4 cup in this recipe.
Gently stir the dough together with a wooden spoon until well-combined. Or I like to use this Danish Whisk that my aunt just sent me. It's my new favorite thing! (This link goes to Amazon where I am compensated on products sold at no cost to the consumer)
It may look like an antique farm implement, but trust me it's perfect for mixing scone dough and not smashing the blueberries!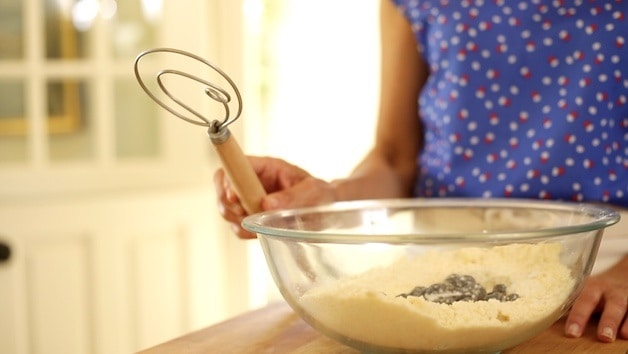 After everything is mixed well, flour your hands and form the dough into a large dough ball. Then, turn the dough out onto a floured surface and press it into a disk.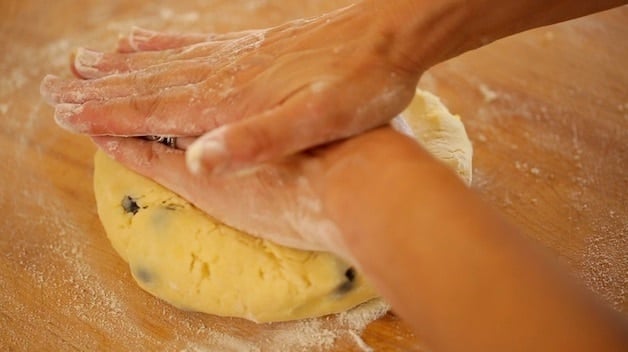 STEP 3: Form and Cut the Scones
Roughly form the dough into a square. Be careful not to overwork the dough or you will end up with a tough, flat scone!
Why do my Scones Spread Out and Not Rise?
Flat and tough scones can be caused by a few issues:
Too much handling! If you overwork the dough the scones will not rise as tall.
Another reason for flat scones could be expired baking powder. Make sure you are using baking powder that has been opened in the last six months.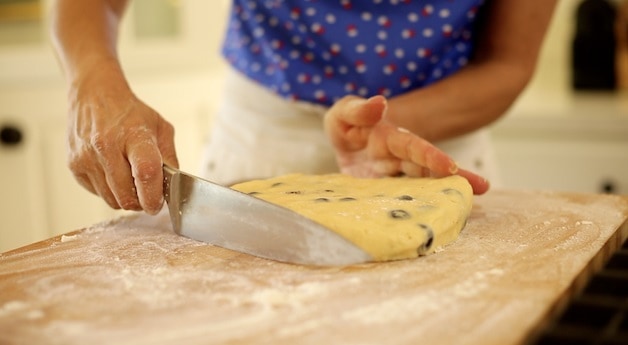 Why are my scones dry?
Not enough butter chunks in the dough, caused by mixing the dough in the food processor which can create too fine a meal.
You may have cut your scones too small and they over baked which can also cause dryness.
There's not enough milk or cream in the dough. If the scone dough is too dry when you turn it out on your board, add a little more cream or milk so that the dough comes together easily without crumbling.
Scones made without eggs also tend to be on the dry side. The egg in this recipe not only adds richness to the scones but also a bit of elasticity to the dough which also prevents dryness.
To cut your scones dip a chef's knife into a little flour. Cut the square-shaped dough in half, then in quarters. Then cut each quarter down the diagonal to create triangles.



Place the cut triangular scones on a baking sheet lined with parchment paper. The parchment paper will prevent the scones from browning too much on the bottom.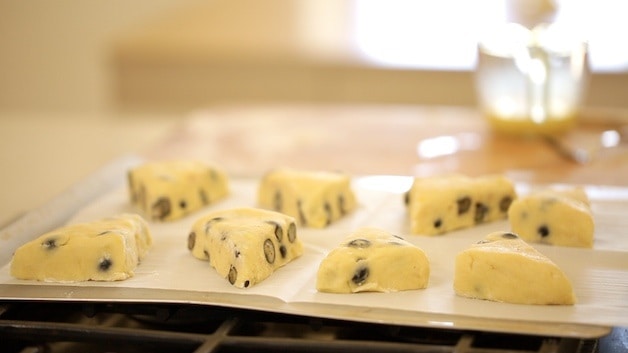 LAST-MINUTE TIPS:
Just before baking place your scones in the freezer for a few minutes to harden up.
This will prevent room temperature butter from melting out of the scones when they hit the hot oven.
It will also create a flakier scone if your butter is very cold before baking. Remember those air pockets!
If making this ahead of time, place in the refrigerator, covered loosely with foil, then remove the foil and bake when guests arrive.
STEP 4: Brush with Egg Wash and Bake!
To make the egg wash, add egg and milk and whisk to combine. Then, brush on the scone using a pastry brush.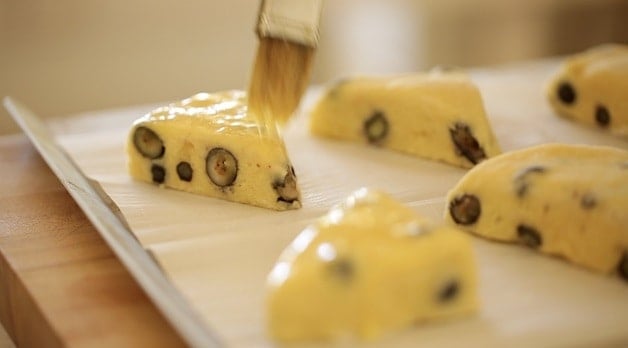 Place the scones in a 400F degree oven for 20-25 minutes until golden brown, risen and the berries are bursting!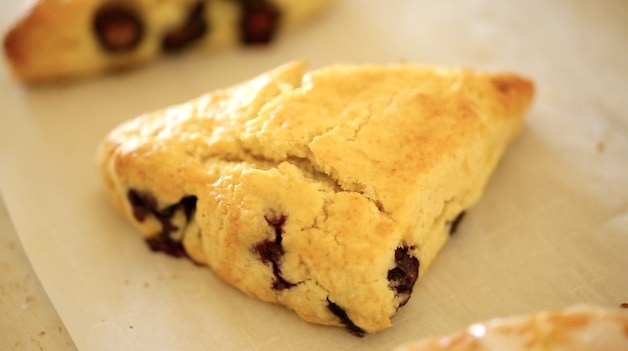 Then, remove the scones from the oven and allow to cool. They are delicious just like this with butter and jam, or you can kick it up a notch and make a Lemon Glaze!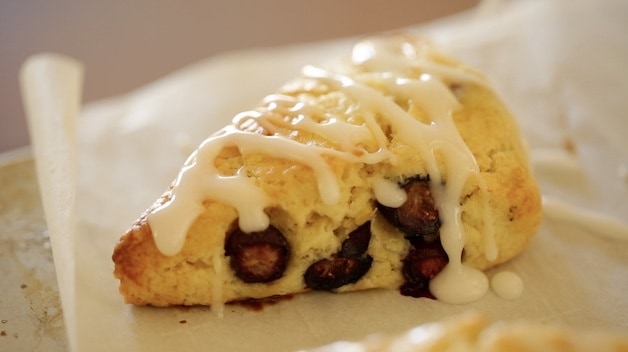 STEP 5: Make the Lemon Glaze
In a small bowl, add powdered sugar and lemon juice and whisk to combine.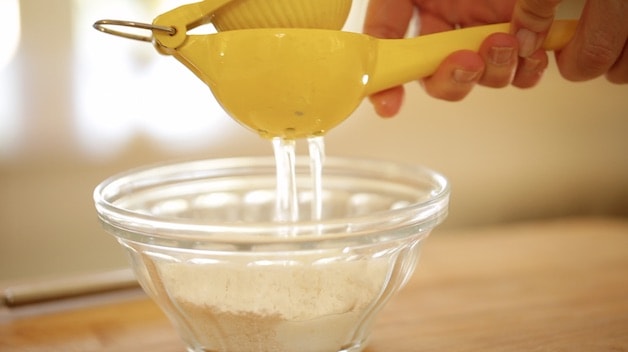 Then, over warm scones drizzle the glaze over each scone.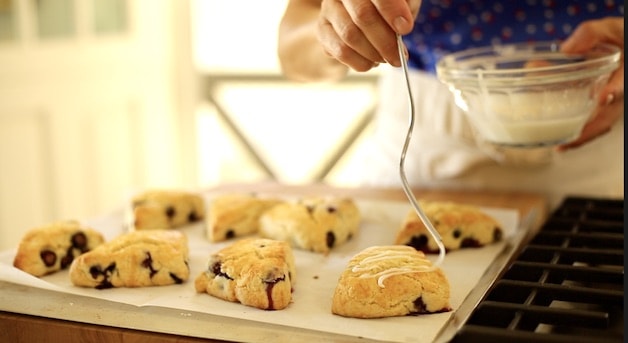 TIPS:
To be sure you have that "glazed" look, make sure your scones have cooled to room temperature before adding the glaze.
If you add the glaze while the scones are still hot, you will have a melty glaze which isn't nearly as pretty as a white, drizzled glaze!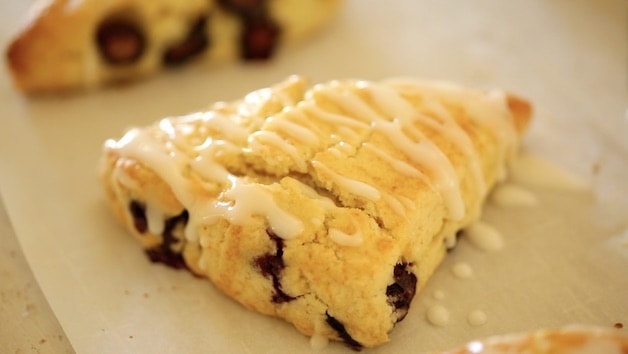 Now, you are ready to serve your beautiful scones!
MORE YUMMY BRUNCH TREATS!
PLEASE LET ME KNOW IF YOU MAKE THIS RECIPE
BY LEAVING A RATING AND REVIEW BELOW!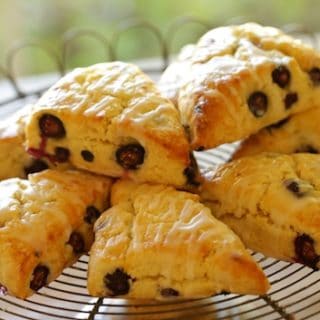 Lemon Blueberry Scones with Lemon Glaze
Total Time:
1 hour
10 minutes
Learn how to make these fantastic Lemon Blueberry Scones with my easy lemon glaze. They are light and flakey and bursting with blueberries! you'll also love that lemon kick of the lemon glaze. I'll share my tips for how to get a flakey and light scone!
Ingredients
2 cups (240g) flour
1/3 cup (65g) sugar
2 tsp (10 ml) of baking powder
¾ tsp tsp (3.75 ml) salt
1 tbsp (15 ml) lemon zest
10 tbsp (150 g) cold butter, diced into cubes
½ cup (120 ml) heavy cream
1 egg
6 ounces (170g) blueberries
¾ tsp (3.75ml) vanilla extract
Egg Wash:
Lemon Glaze:
¾ cup (75g) of powdered sugar
2 tbsp (30ml) fresh lemon juice
Instructions
Preheat oven to 400F (200C).
Line sheet pan with parchment paper.
In a bowl combine flour, sugar, salt, baking powder, and lemon zest.
Add butter and work by hand until dough resembles a chunky meal. Butter pieces should be these size of a pea.
In a small bowl whisk together the cream, the egg and vanilla extract. Create a well in the center of the dry mixture and pour wet mixture in the well. Add the blueberries into well.
Gently mix with a fork or Danish whisk until combined, and then grab dough with floured hands.
Turn dough out onto a floured surface. Shape dough into a square, cut into 4 squares and then cut the squares into triangles. You will have 8 triangles. P
lace the cut scones on a baking sheet lined with parchment paper. Brush each scone lightly with the egg wash.
Pop the tray of scones into the freezer for 5 mins to firm up, (or fridge for 15 mins) and then bake for 20-25 mins until golden brown.
Meanwhile, mix up the glaze. Add the sugar and lemon juice in a small bowl, and whisk until smooth. Dip a fork in the glaze and then drizzle it over the scones while still on the baking sheet, running the fork back and forth until scone is lightly covered with the glaze.
Notes
If you dough is too crumbly when you turn it out, add a bit more milk or heavy cream in 1-2 tablespoon increments until it comes together.
Be sure to start with very cold butter before adding it to the flour mixture. It helps to precut the butter into cubes and then place it in the freezer for 15 mins before working with it.
After your scones have been cut, place the tray in the freezer for 15 minutes to allow the butter to re-harden before hitting a hot oven. This will prevent the butter from seeping out of the scone as it bake while ensuring a flakey scone.
Nutrition Information:
Yield:

8
Serving Size:

1
Amount Per Serving:
Calories:

196
Total Fat:

16g
Saturated Fat:

10g
Trans Fat:

1g
Unsaturated Fat:

5g
Cholesterol:

87mg
Sodium:

255mg
Carbohydrates:

12g
Fiber:

0g
Sugar:

11g
Protein:

2g