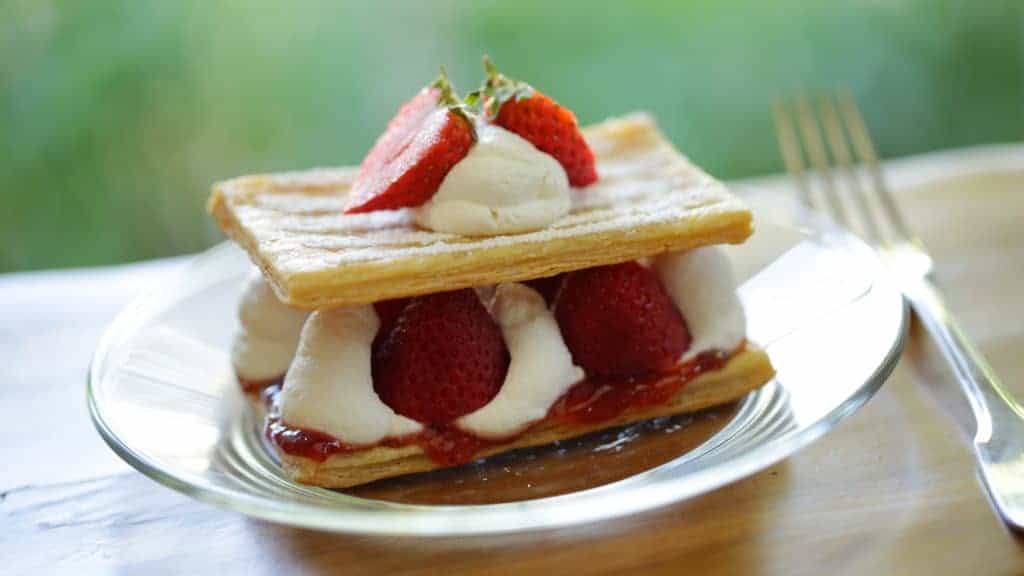 My favorite type of dessert is one that looks impressive but it's actually super simple to put together! My Easy Strawberry Napoleon Recipe will be your new favorite summer dessert idea!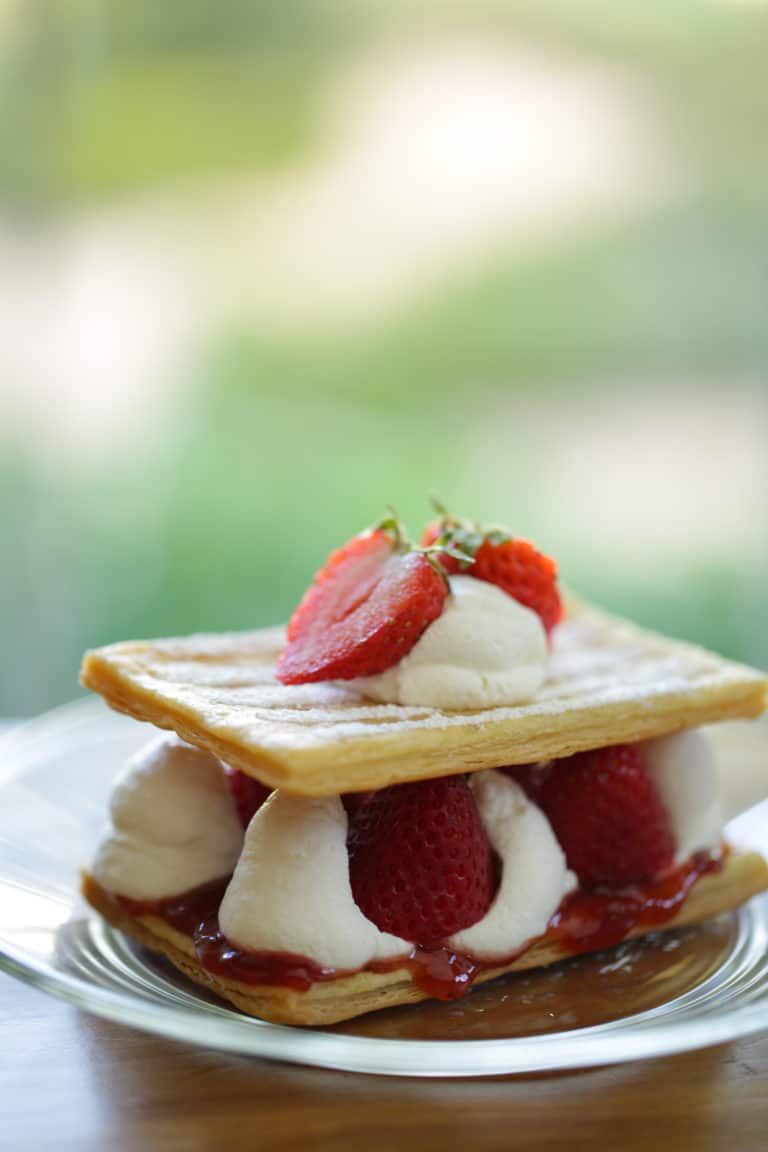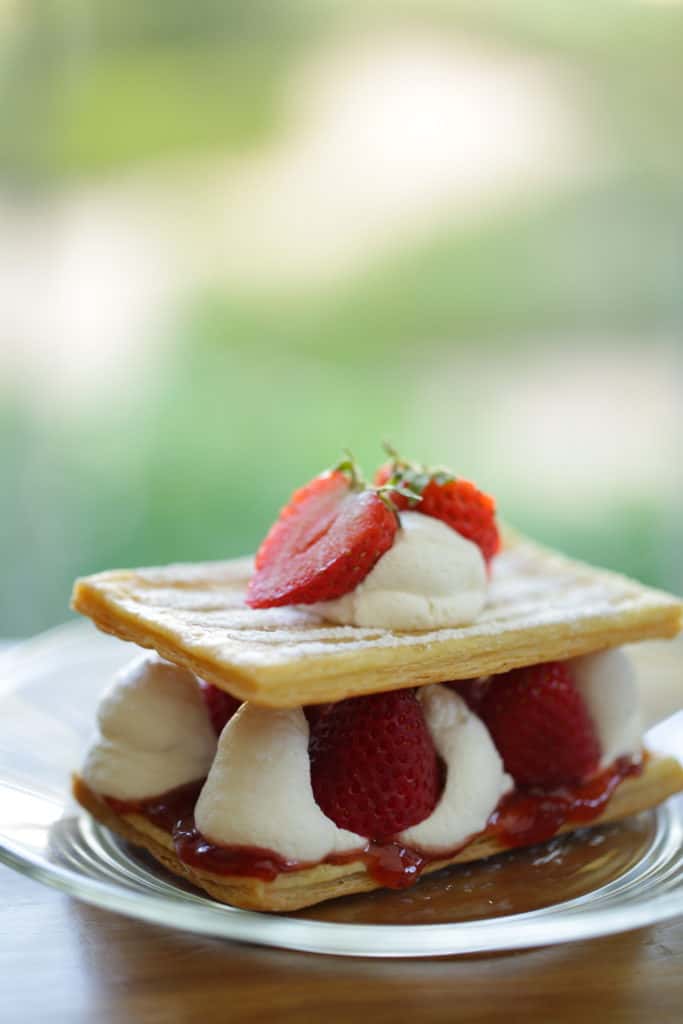 Strawberry Napoleons with Puff Pastry
What makes this so easy is the fact that you can use store-bought puff pastry. I like the Pepperidge Farm brand since it comes in sheets and is already scored for you.
All you have to do is cut it into rectangles and bake (sandwiched between 2 baking sheets so it doesn't puff up, but remains flakey)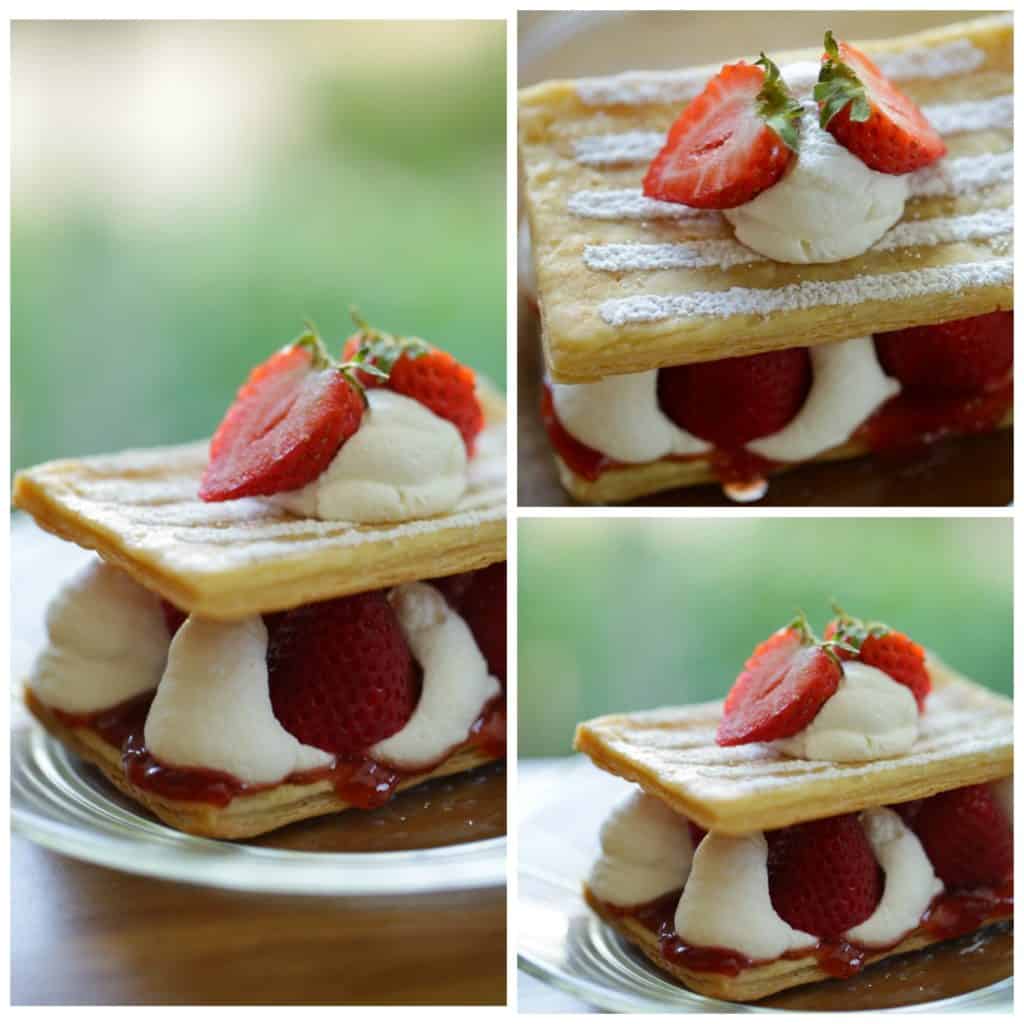 A little decorative stripe of powdered sugar adds a nice detail and would also be fun for July 4th celebrations.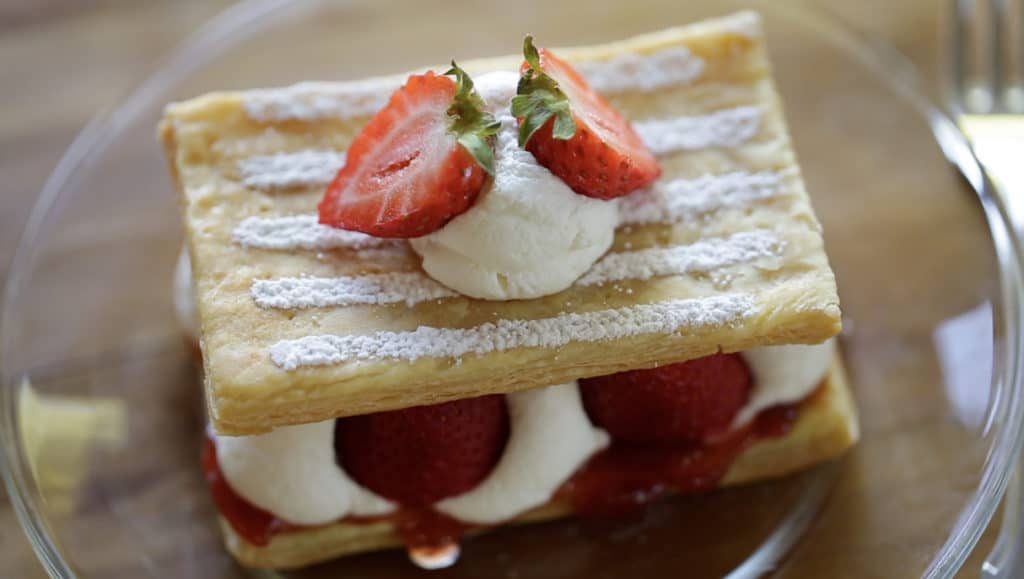 To create the stripe just place a slotted spatula over the puff pastry...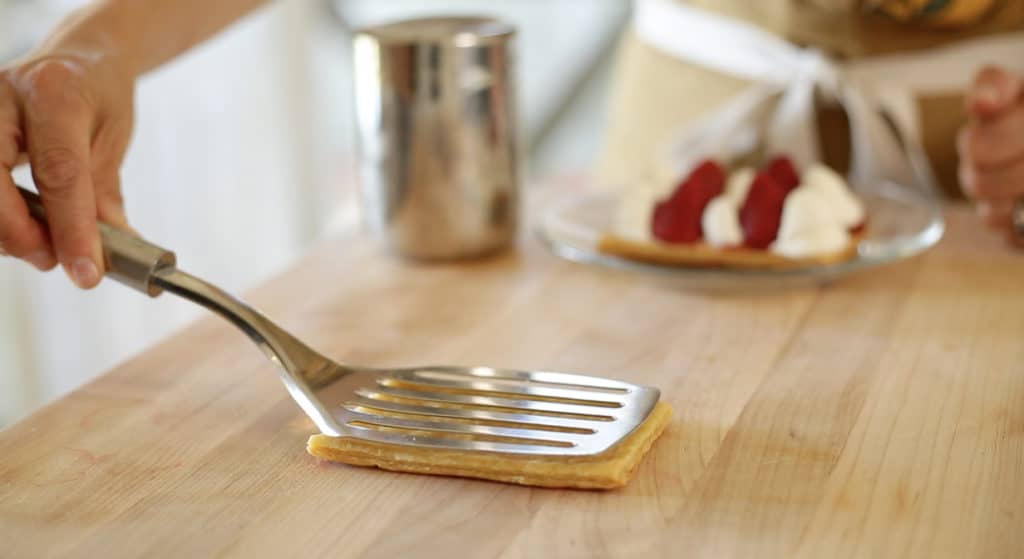 Dust with a good amount of powdered sugar. For this a sugar shaker is ideal for getting the right precision.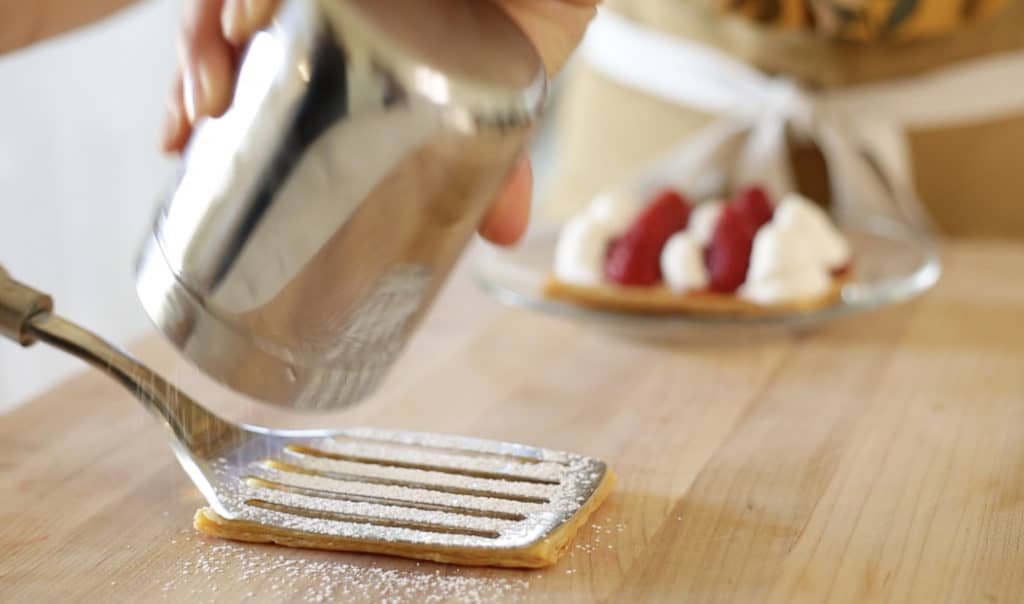 Release et voila! Looks just like something you purchased at the neighborhood bakery.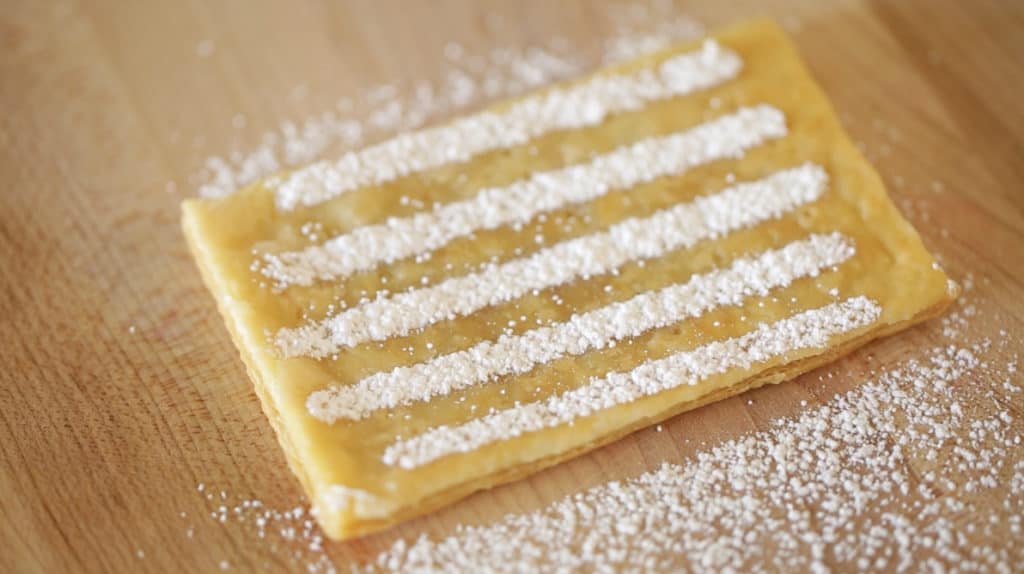 CLICK HERE TO SUBSCRIBE TO MY YOUTUBE CHANNEL and never miss a recipe! (It's free!) New videos post every Saturday morning.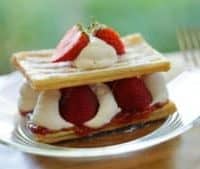 Easy Strawberry Napoleon
Total Time:
1 hour
25 minutes
An easy Strawberry Napoleon that uses store-bough puff pastry and can be prepped in advance and assembled just before serving.
Ingredients
2 sheets store-bought puff pastry (preferable Pepperidge Farm Brand since it's already scored)
2 tablespoon (30 ml) strawberry jam
2 cups (475 ml) heavy whipping cream
2 tablespoon (30 ml) powdered sugar + more for dusting
1 teaspoon (5 ml) vanilla extract
30 small strawberries
Instructions
Preheat oven to 400F (200C).
Turn out puff pastry onto a floured surface. Cut pastry, vertically into 3 equal-sized rectangles, then cut those horizontally into smaller, equal-sized rectangles.
Pierce pastry all over with a fork, transfer to a rimmed lined baking sheet, lined with parchment paper. Top pastries with another sheet of parchment paper, and place another rimmed lined baking sheet on top, essentially "sandwiching the puff pastry rectangles. This will prevent them from puffing up as they bake and will allow them to get golden brown and still remain flakey. Bake for 20-25 mins. Remove from the oven and allow them to cool.
TIP: Once completely cooled, the pastry can stay at room temperature on a cooling rack, covered with just a single pie of foil on top. Do not wrap the pastry or condensation can form and decrease the crispness.
To make the whipped cream, place the cream, powdered sugar, and vanilla in a bowl of an electric mixer and whisk on high enough stiff peaks form. Transfer to a pastry bag fitted with a round tip.
To serve, place 1 pastry rectangle on a dessert plate, spread 1 teaspoon of the jam evenly on the pastry. Pipe 6 mounds of whip cream (3 on the top of the rectangle, 3 on the bottom. Leaving space in between for 4 strawberries.
Slice tops of strawberries, making sure each strawberry is roughly the same height, and roughly the same height as your whipped cream mounds. Nestle the 4 strawberries in between the cream mounds. Two on top and 2 below.
Then take the second puff pastry rectangle, place a slotted spatula on top, dust powdered sugar over it, remove gently and decorative stripes will be left on your rectangle. Place pastry on top of your Napoleon. Pipe a mound of whipped cream on the center of the top, then leaving the top intact, slice this strawberry in half, and use it as a garnish, nestled in the center mound of cream, cut side up, going in opposite directions (tops facing each other)
Notes
I recommend using Pepperidge Farm store-bought puff pastry since it's already scored for you into panels  and it will make cutting even rectangles even easier
Recommended Products
As an Amazon Associate and member of other affiliate programs, I earn from qualifying purchases.
Nutrition Information:
Yield:

6
Serving Size:

1
Amount Per Serving:
Calories:

95
Total Fat:

6g
Saturated Fat:

3g
Trans Fat:

0g
Unsaturated Fat:

3g
Cholesterol:

11mg
Sodium:

17mg
Carbohydrates:

11g
Fiber:

1g
Sugar:

7g
Protein:

1g