One of my favorite breakfast recipes on a lazy weekend morning is this Dutch Baby Pancake Recipe. It's so easy to make and chances are you probably have most of the ingredients already on hand.
It's also a great one for visiting house guests because it bakes up quickly and guests are always impressed by it!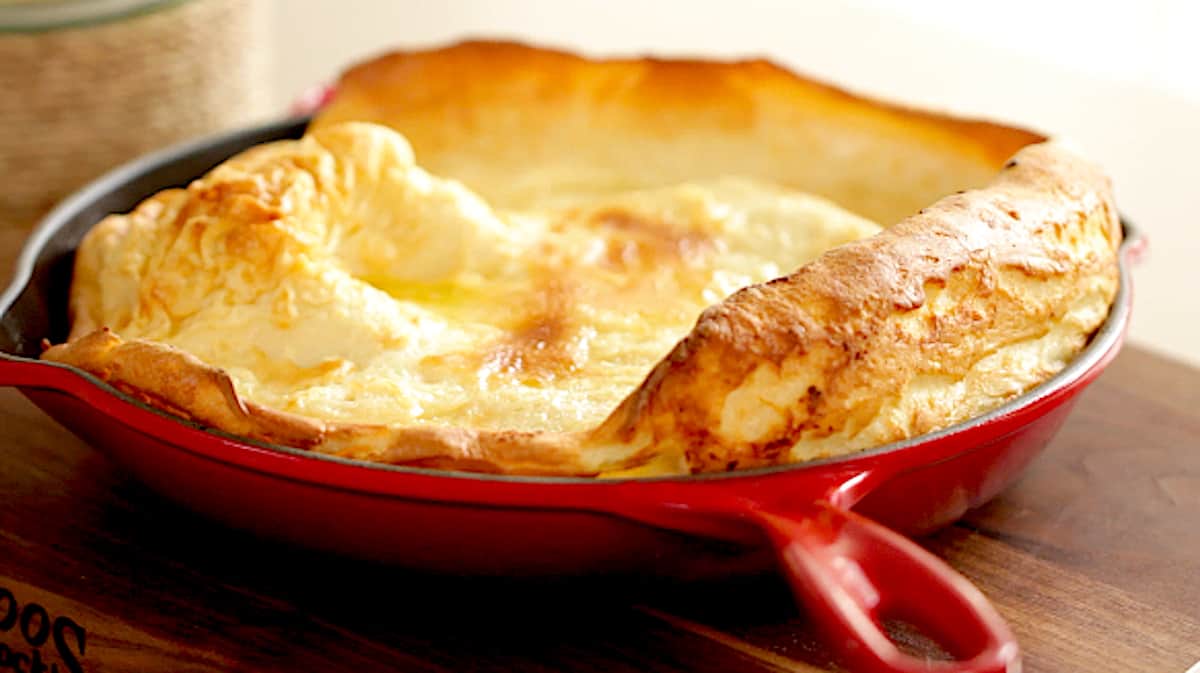 For me, they are best enjoyed topped with fresh lemon juice and powdered sugar. But they are also pretty great with strawberry jam as well.
Suggested Menu Pairings
Watch My Video Demo of This Recipe Below!
Subscribe to my YouTube Channel and never miss a recipe!
How do you make Dutch baby pancakes?
Dutch baby pancakes are easy to put together and always receive rave reviews!
But you need to work fast since they are best enjoyed straight out of the oven. So make sure everyone is seated before you present this pancake to the table since they will deflate the longer they sit.
But even if they do deflate they still taste delicious!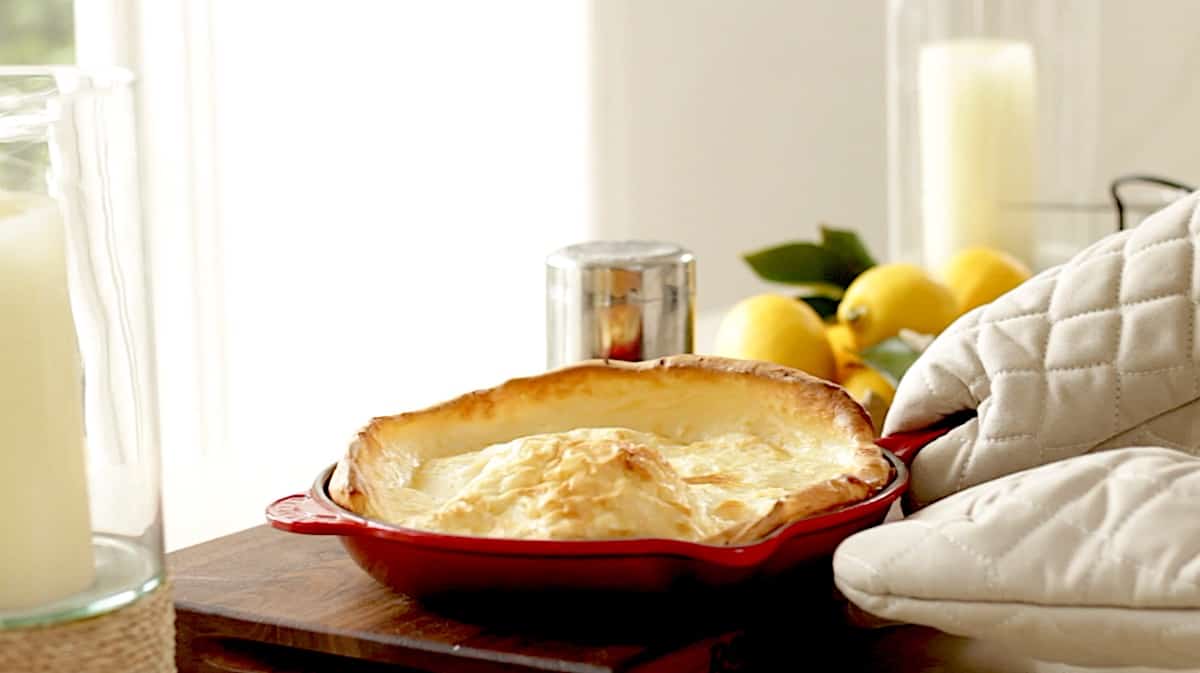 Step#1: Whisk up the Batter
To make the batter you will whisk up a simple mixture of flour, milk, eggs, sugar, vanilla extract, and melted butter.
I like to start by whisking the flour and sugar, with the milk first, this is the same technique I use for my Foolproof French Crepe Recipe and it really helps to prevent any lumps!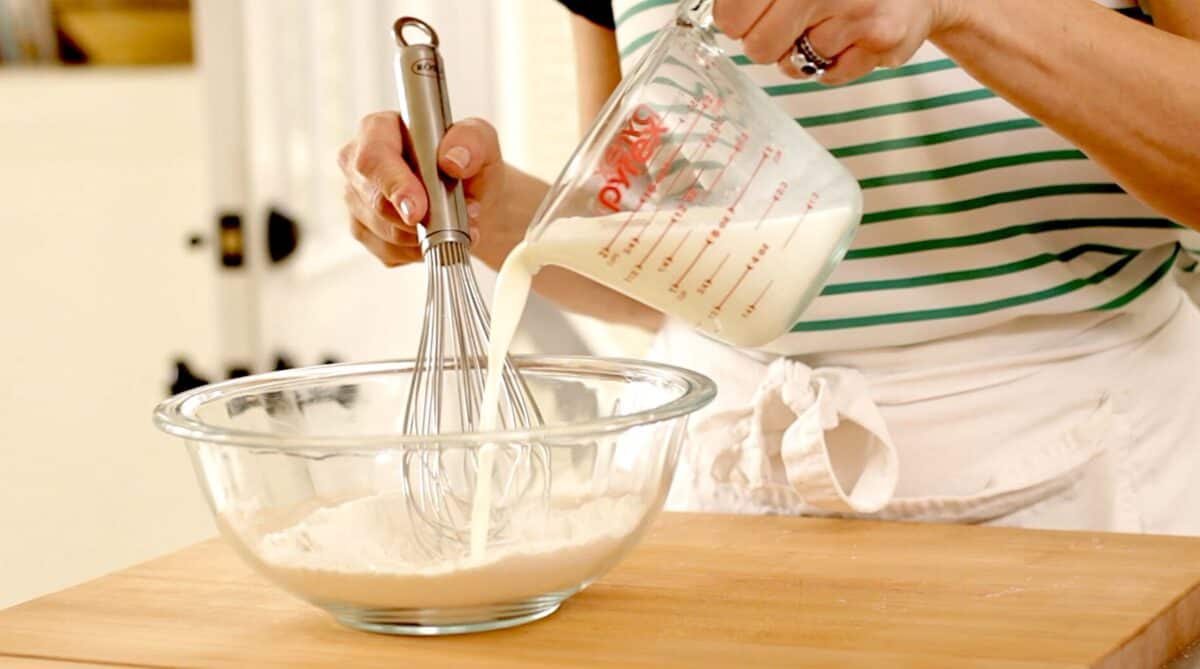 Step#2: Melt the Butter in the Cast-Iron Skillet
Traditionally Dutch Baby pancakes are made in cast-iron because the heat is so even and it keeps the butter sizzling while you add the batter in the next stage.
I like to use a 10.5" red enamel cast-iron pan for this because it makes a pretty oven-to-table presentation.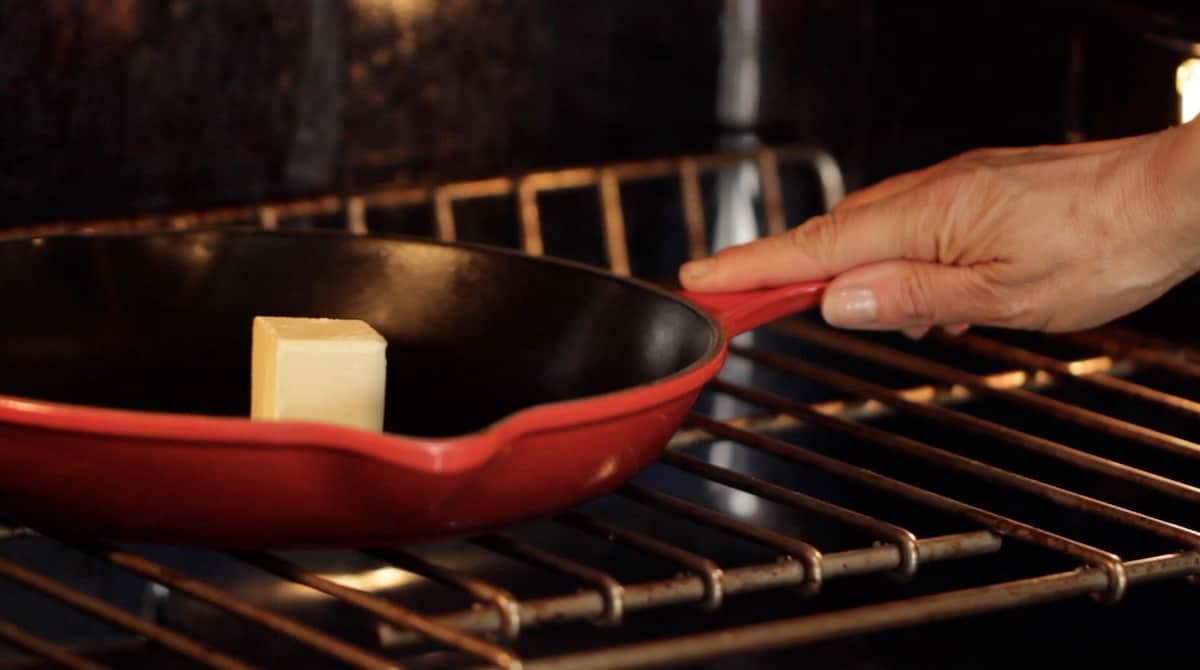 Can you make a Dutch baby pancake without a cast-iron skillet?
Yes, you can also make a Dutch baby in a metal cake pan that is 9-10". Just follow the same instructions as if it were a skillet.
In fact, this is how I was introduced to this recipe, by a lovely family friend who used to make them in metal cake pans. She also taught me how to make the most delicious Blueberry Crumb Cake Recipe on the planet!
Step#3: Pouring in the Batter
If it's easier, you may opt to transfer the batter into a Pyrex pitcher to prevent any spills.
Once your batter is made, you will carefully pour it into a hot skillet, sizzling with butter, and bake until cooked through and the pancake is puffed up.
Once the batter is in, close the oven door and don't open it until it's done! Otherwise, your pancake will deflate.
It's best to wait until you can see it's really puffed up and golden brown.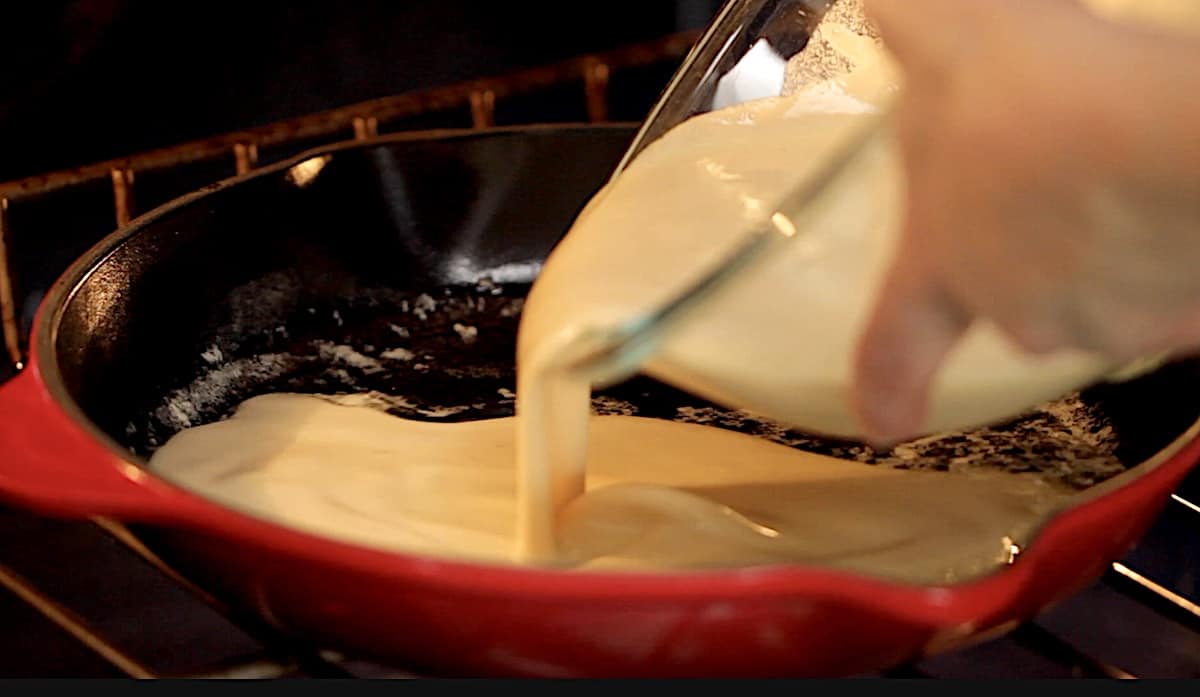 How to Know When Your Pancake is Done?
Make sure the edges are really golden brown and crispy before removing the pancake from the oven.
This will ensure that the center is cooked through and isn't too eggy. Assuring doneness will also prevent it from deflating too quickly.
Step#4: Prepare the Garnishes
While the pancake is in the oven, prepare your garnishes and set them on the table, that way you can dive in right away once it's done!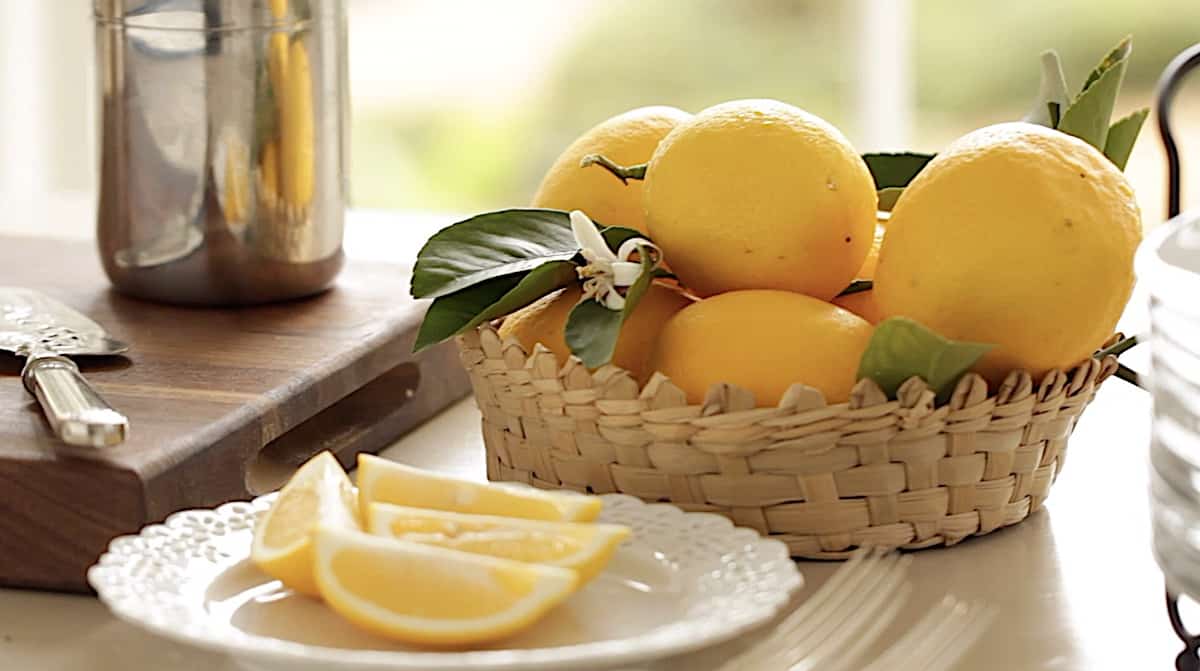 Serving Ideas:
I love to serve these pancakes with fresh lemon juice and powdered sugar. But you could also serve them with jam, fresh berries, and whipped cream too.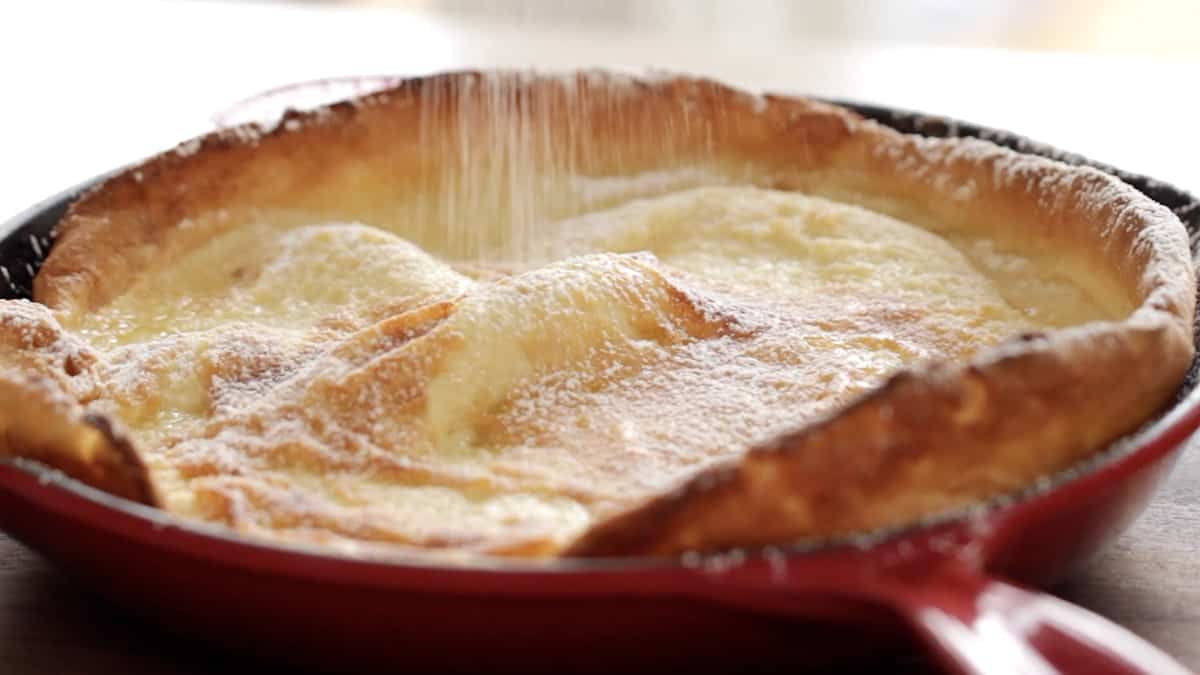 More Brunch Recipes!
Please let me know if you make this recipe
by leaving a rating and review below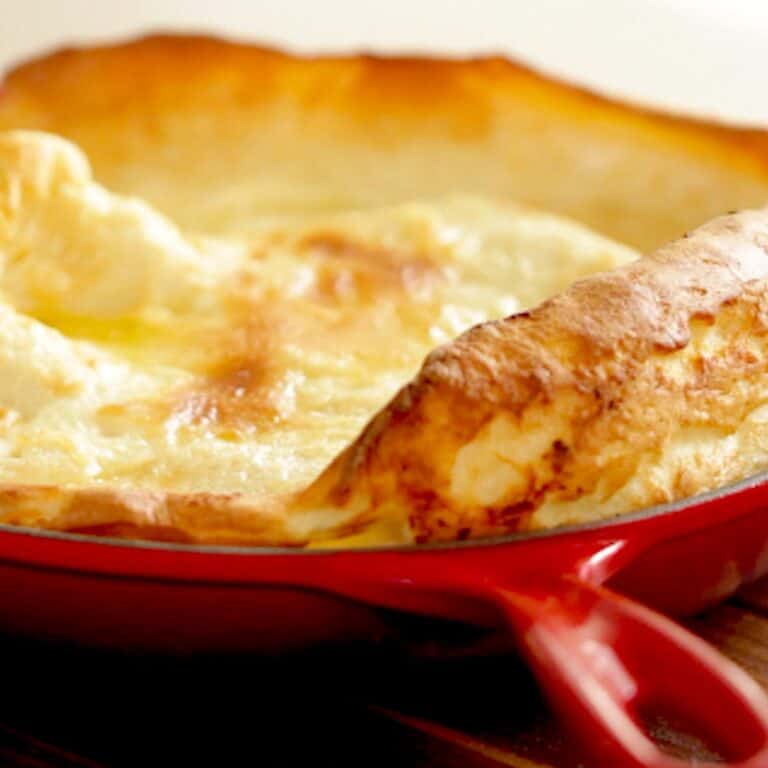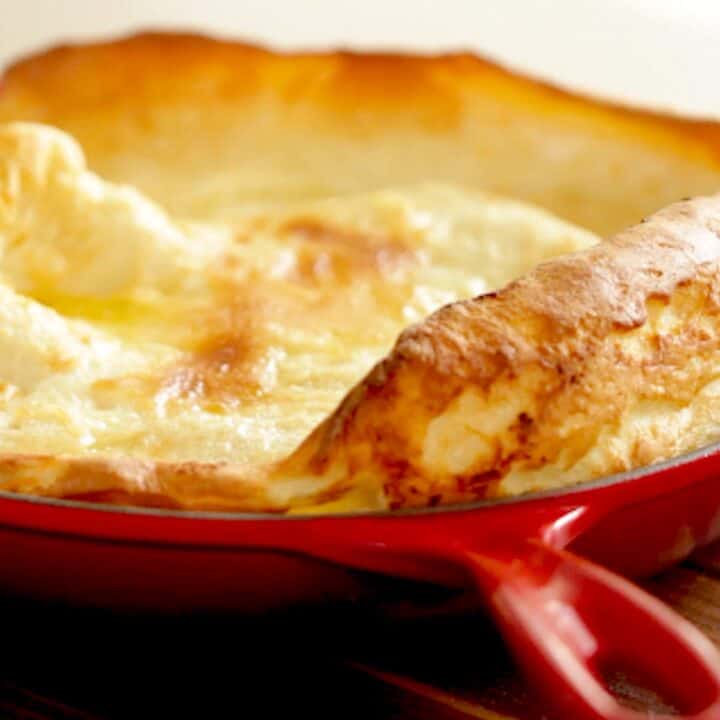 Dutch Baby Pancake
One of my favorite breakfast treats on a lazy weekend morning is this Dutch Baby Pancake Recipe! And I bet you already have most of the ingredients already on-hand!
Ingredients
3 tablespoon (45g) unsalted butter
½ cup (60 g) of flour
¼ teaspoon (1.75ml) salt
1 tablespoon (12g) sugar
1 cup (240 ml) of milk
2 eggs
1 teaspoon (5 ml) vanilla
1 lemon
1 tablespoon (7g) powdered sugar garnish
Instructions
Preheat Oven to 400F (200C)
In a medium bowl whisk together the flour and the milk until smooth, then add the eggs, salt, sugar and vanilla. Whisk to combine and then set aside.
Place butter in an oven safe skillet, place skillet in the pre-heated oven. Watch pan closely and once butter is sizzling, pour batter into pan. Shut the door (do not open!) and allow pancake to bake for 16-18 mins.
Remove from oven, and dust with powdered sugar.
Cut into wedges and serve. With fresh lemon wedges (or raspberry jam)
Notes
The pancake deflates quickly! So be sure everyone is at the table before you take it out and present it!
You can make the batter the night before and then all you have to do s pour into the hot skillet and bake!
Nutrition Information:
Yield:

6
Serving Size:

1
Amount Per Serving:
Calories:

140
Total Fat:

8g
Saturated Fat:

5g
Trans Fat:

0g
Unsaturated Fat:

3g
Cholesterol:

81mg
Sodium:

91mg
Carbohydrates:

12g
Fiber:

1g
Sugar:

1g
Protein:

5g