Beth's Easy Cheese Souffle Recipe
If you've ever been intimidated by making a souffle at home, don't be! This cheese souffle recipe is as easy as it gets! It's one of my favorite French recipes because it uses pantry staples and the results are just sublime!
Once you dive into it, you'll feel like you're eating a big, fluffy cloud. Once you master the cheese souffle, you must try my Chocolate Souffle Recipe. For a breakfast, souffle try my Easy Egg Bake Souffle.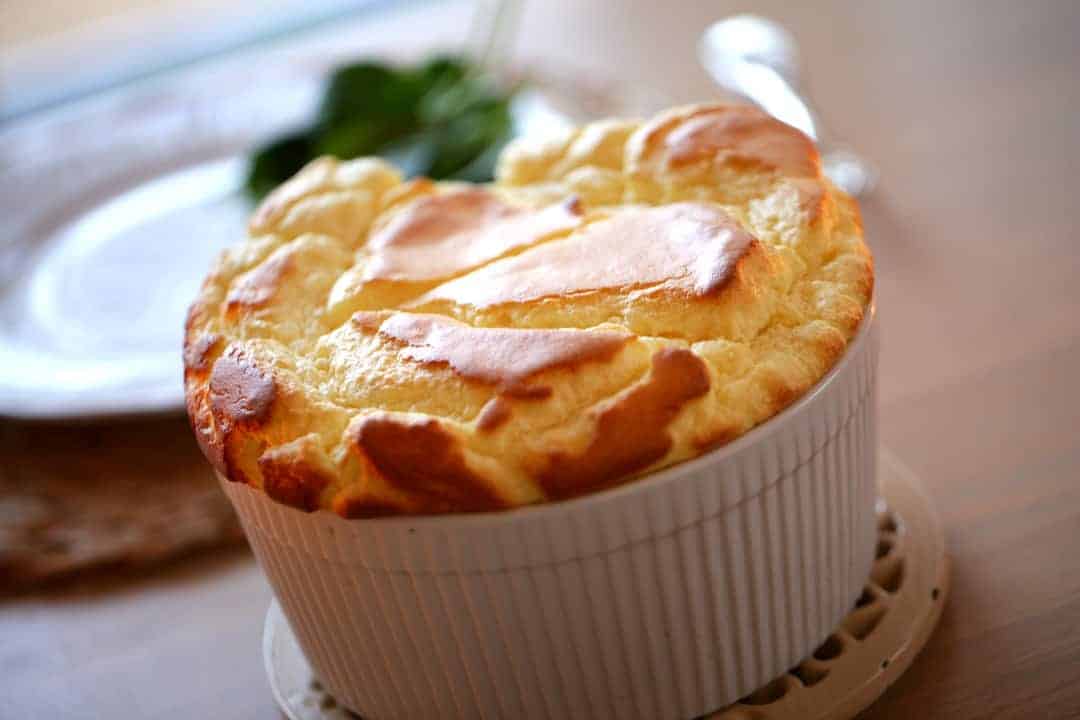 What To Serve with a Cheese Souffle?
You can serve this souffle with a tossed spinach salad to balance out the richness of the souffle! I think a tangy vinaigrette works best, my recipe is in the recipe card below.
Or another nice option would be my Charred Asparagus Salad with Thyme Vinaigrette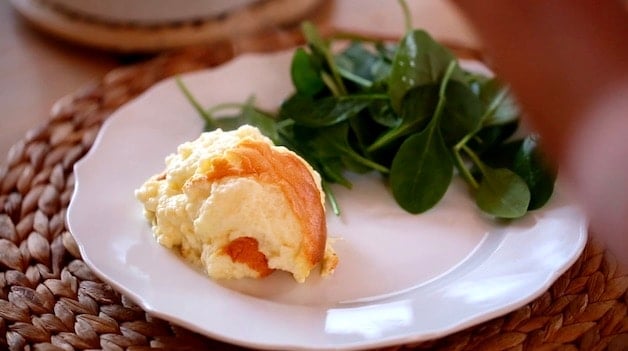 Watch My Cheese Souffle Video Below!
Subscribe to my YouTube Channel for my recipes!
Step#1: Prepare the Souffle Dish
A 6-cup, 48-ounce souffle dish works best for this recipe. But you could also make it across 6 individual, 1-cup ramekins too.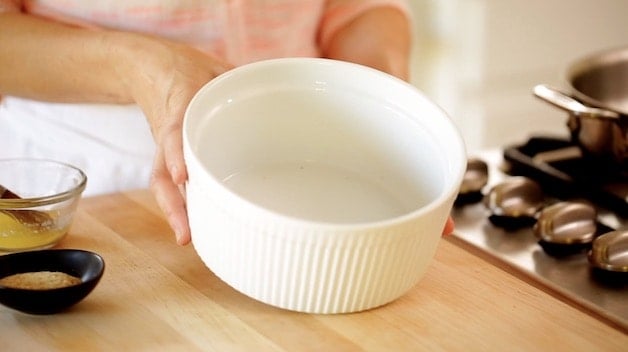 The Role of The Bread Crumbs For a Savory Souffle
Make sure the souffle dish is well-greased and then coat the bottom and all sides of it with Italian bread crumbs.
The bread crumbs give the souffle something to grip onto as it rises in the oven. And prevents your souffle from collapsing
They essentially play the role that sugar plays when making a chocolate souffle recipe.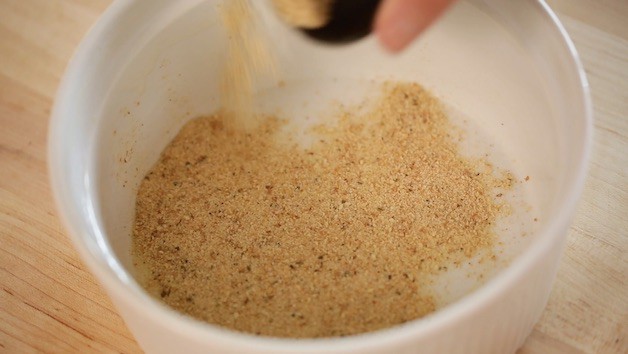 Step#2: Make the Bechamel Sauce
How-To Make Bechamel Sauce
You'll first melt the butter in a large deep skillet, then you'll add the flour. Whisk the mixture together until a silky paste forms. It also helps to cook it for at least a minute at this stage to cook off the flour taste.
Once it looks like this add the milk, whisking all the while until everything is incorporated.
Then simmer your bechamel sauce until it is thick enough to coat the back of a spoon.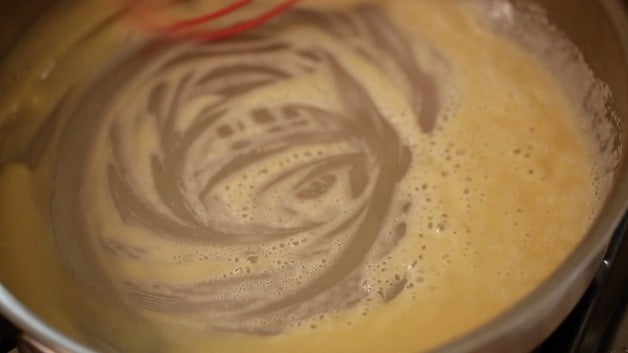 Do Not Rush Bechamel Sauce
A thick bechamel sauce will help give your souffle structure and volume once it combines with the egg whites in the next stage.
Otherwise, your mixture will be too runny and could make your souffle even more fragile once it's baked.
Why is My Cheese Souffle Too Soft?
Runny bechamel sauce can also contribute to your souffle being too soft and not firm enough to hold its shape.
So it's best to make sure your bechamel sauce is nice and thick before adding the rest of the ingredients. It should coat the back of a spoon.
Step#3: Add the Cheese and the Yolks
Then it's time to add the cheese. It will melt easily as you whisk it into the warm bechamel sauce.
The best cheese to use for this is Swiss cheese in my opinion because I like the bite it provides but you could also try this with blue cheese or goat cheese and even cheddar.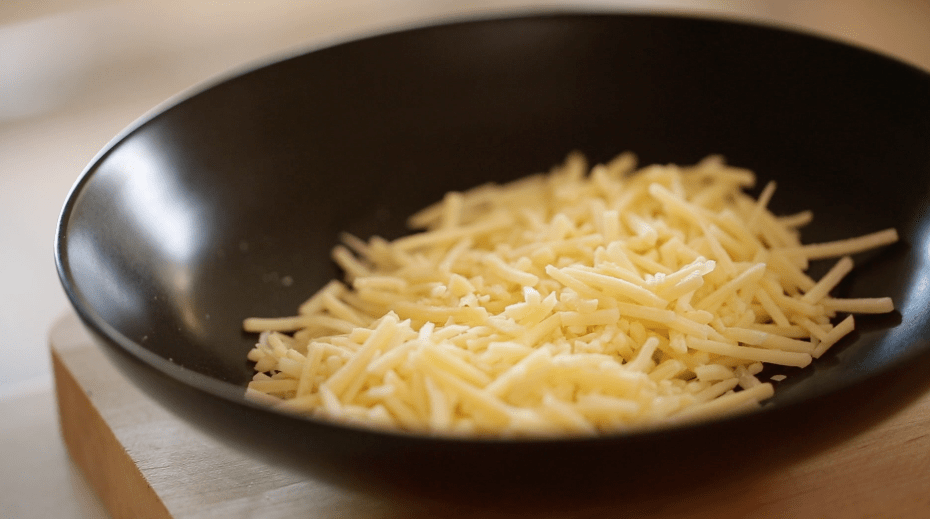 The Secret Ingredient!
Dijon mustard! Just a touch will create a really nice depth of flavor to your cheese souffle. Don't worry it won't taste "like mustard" it will just give it a nice little zing. Otherwise, your cheese souffle can taste a bit flat without it.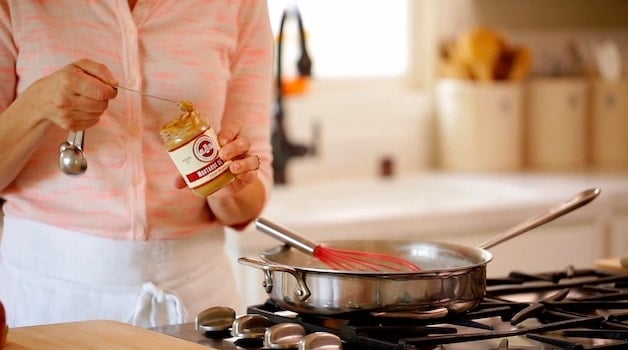 Step#4: Combine the Base with the Whites
Then allow your base to cool slightly and transfer it to a large bowl and set it aside while you beat the egg whites.
You don't want your base to be too hot, otherwise, it will deflate your egg whites!
You'll fold the whites into your base in stages. It's best if you add ⅓ of the whites at a time, lightening the base each time with the whites.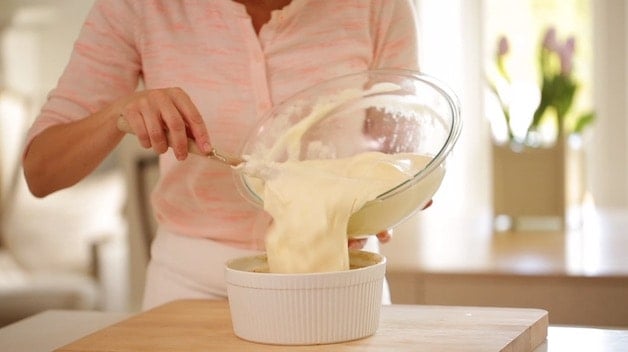 You'll end up with a fluffy mixture that to me resembles a thick egg nog!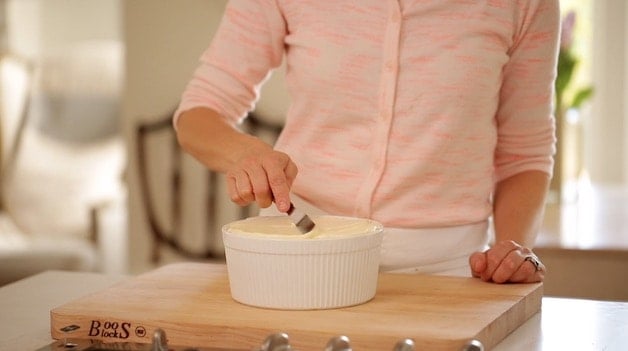 What's the Best Way To Bake a Souffle?
Place your souffle on the lowest rack in your oven, this will allow it to rise up without burning the top, which will stay a lovely shade of golden brown with big pillowy cracks in it.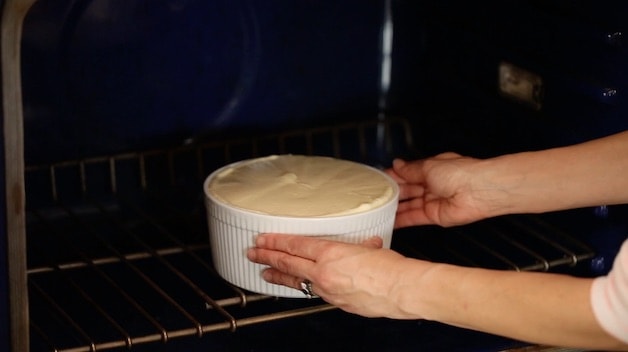 How to Serve a Souffle?
To preserve the "drama" of serving a souffle, make sure it's the last thing to arrive at the table.
Your table should be set, guests seated, and wine poured!
So that when your souffle makes its "grand entrance" you can dig into it right away!
When you bring the souffle to the table, pull the top of the souffle apart with two spoons going in opposing directions.
This will help preserve its volume. Then with the two spoons, transfer the serving to the plate.
Because you've set everything up in advance you'll be able to enjoy your souffle in the best way possible, piping hot from the oven!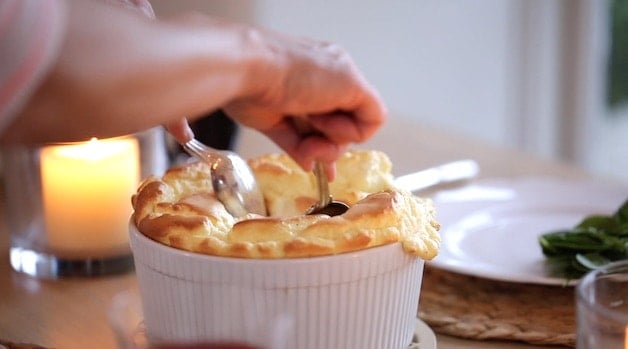 If you enjoyed this cheese souffle recipe
Please leave a rating and review below!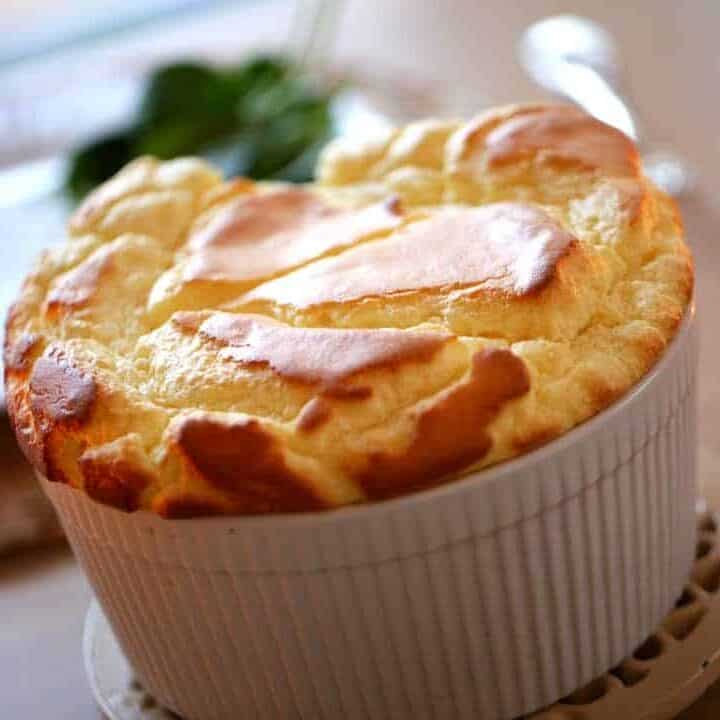 Beth's Easy Cheese Souffle Recipe
Total Time:
1 hour
5 minutes
If you've ever been intimidated by making a souffle at home, don't be! This cheese souffle recipe is as easy as it gets! It's one of my favorite French recipes because it uses pantry staples and the results are just sublime!  
Ingredients
4 tablespoon butter (60g) + 1 tablespoon (15 g) for greasing
3 tablespoon (22 g) flour
2 cups (475 ml) milk
1 cup (240 ml) gruyere cheese
5 eggs, separated
½ teaspoon (2.5 ml) salt
¼ teaspoon (1.25 ml) Dijon Mustard
Pinch of ground nutmeg
½ teaspoon (2.5 ml) cream of tartar
2 tablespoon (30 ml) bread crumbs
Instructions
Preheat oven to 350F (176C) and remove any extra rack in the oven. Souffle should be baked on the lowest rack possible.
Then grease a 6-cup (1440 ML) soufflé dish with melted butter. Add bread crumbs and move dish to distribute the crumbs until they coat all sides of the dish. Set aside.
In a large sauté pan melt butter until foamy. Add flour and whisk until a paste forms. Cook 1 minute. Slowly add milk whisking until combined. Bring to a simmer, whisking, until slightly thickened.
Then add cheese, salt, mustard and nutmeg. Whisk to combine. Allow sauce to cool slightly and then add 5 egg yolks. Whisk until combined and then transfer mixture to a large bowl. Set aside.
In the bowl of an electric mixer add egg whites and cream of tartar. Whip on high until stiff peaks form.
Fold in egg whites, in stages, into soufflé base, until mixture is light and egg whites and base are incorporated. Transfer mixture to soufflé dish. The mixture should go all the way to the top. Smooth out top with offset spatula.
Bake for 35 mins. Serve immediately with a tossed salad!
Notes
Because you must serve a souffle immediately right from the oven, it helps if your guests are seated, the salad is tossed and the wine is served! Then it can make a grand entrance as soon as it is done!
Nutrition Information:
Yield:

4
Serving Size:

1
Amount Per Serving:
Calories:

119
Total Fat:

8g
Saturated Fat:

3g
Trans Fat:

0g
Unsaturated Fat:

4g
Cholesterol:

239mg
Sodium:

138mg
Carbohydrates:

1g
Fiber:

0g
Sugar:

0g
Protein:

9g