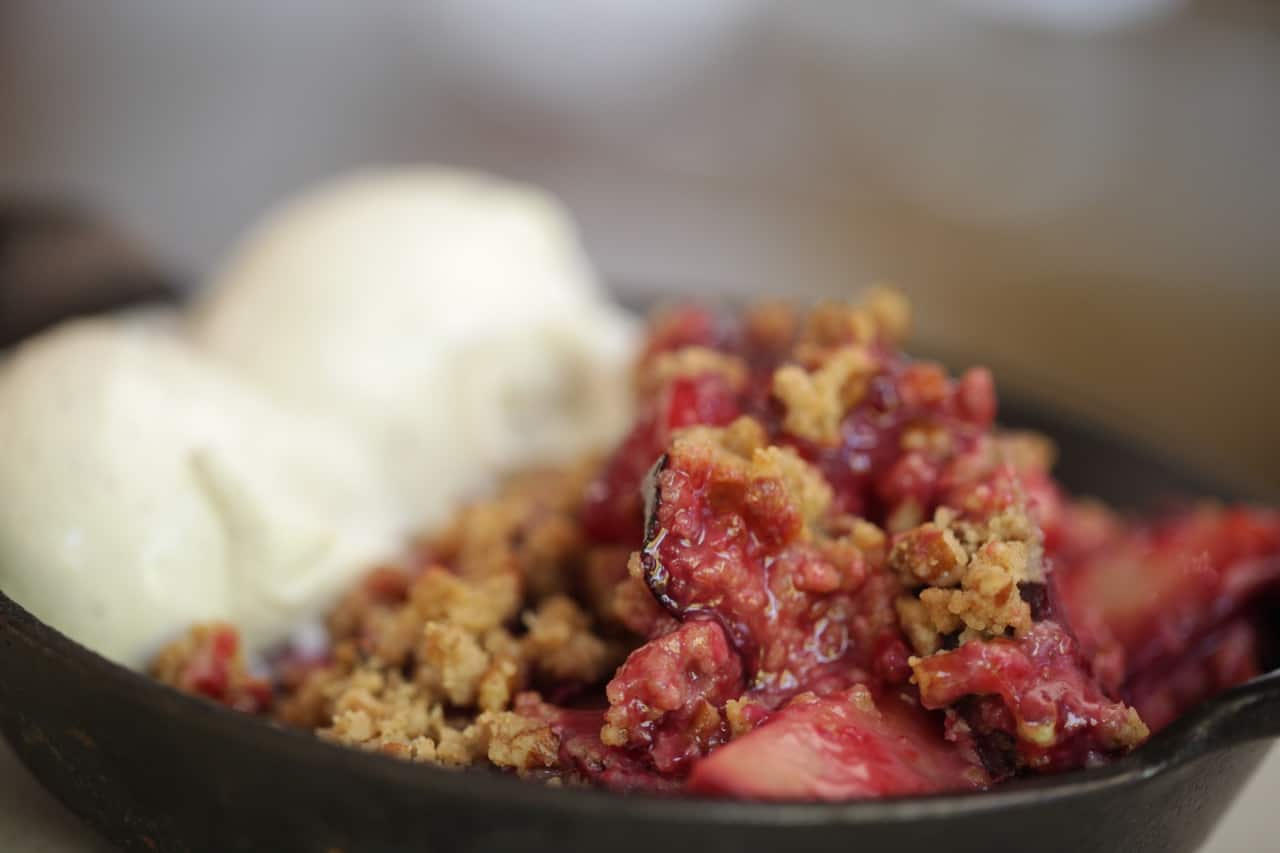 Plums are at their best right now and if you are looking for a dessert to bring to a summer BBQ, this is the ticket! I love this easy plum crumble recipe because it's so delicious and a bit unexpected. You'll also love how portable it is too!
You can use regular Black Friar Plums which has the yellow flesh inside or  some red plums. I love the deep red Santa Rosa Plums we get out here in California this time of year they are just spectacular.  But often I'll just do a mix of both.
In fact if the plums aren't labeled properly at the market it can be hard to know what you are buying until you cut into them.  So if you really want the red ones, ask the produce department to verify they are in fact the variety you think they are, typically they'll even slice one open and allow you to taste it.
The best part about a crumble is the fact that you can assemble the whole thing ahead of time and just pop in your fridge.  Then when you sit down to dinner, pop it in the oven and bake.  That way once dinner is over you'll have a hot bubbling crumble ready to serve to your guests. This pairs really well with some high-quality vanilla ice cream (yes, this would be the time to spring for the Haagen-Dazs)
For a step-by-step tutorial you can watch my video below. SUBSCRIBE TO MY YOUTUBE CHANNEL  and never miss a recipe! (It's free!)
Easy Plum Crumble
Ingredients
5 lbs (2,250 g) firm, red plums, pitted and quartered
½ cup (100g) of sugar
⅓ cup (40g) flour
Crumb Topping
1 cup (120 g) of flour
1 tsp (5 ml) baking powder
4 tbsp (58g) brown sugar
½ (2.5 ml) tsp salt
¾ tsp (3.5 ml) cinnamon
1 cup (150g) of chopped pecans
½ cup (120g) of melted butter
2 tbsp (30 ml) heavy cream
1 tsp (5 ml) vanilla extract
Instructions
Preheat oven to 375F (190C)
Toss plums with sugar and flour and set aside.
For crumble, mix all ingredients together with a fork until a wet crumble forms.
Pour plum mixture into a 14 x 9 greased oven safe casserole dish. Sprinkle the crumble evenly on top.
NOTE: At this point you could cover and refrigerate until ready to bake. This is a great dessert to make the day before and just bake while you are having dinner, and present to the table right out of the oven.
Bake for 25-30 mins until top is golden brown and juices begin to bubble.
Serve warm with a big scoop of vanilla ice cream. Happy Summer! Enjoy!